Before we moved to Las Vegas, I lamented all the great hiking we were giving up moving from the Pacific Northwest. I never dreamed how amazing the hiking in the Las Vegas area would turn out to be. The beauty of the desert is one of a kind and we're having a lot of fun exploring it.
It's hard to believe outside the hustle and bustle of the Vegas Strip that you can be hiking the heart of the Mojave Desert in less than an hour.
It's even more unbelievable that places like this actually exist near Vegas.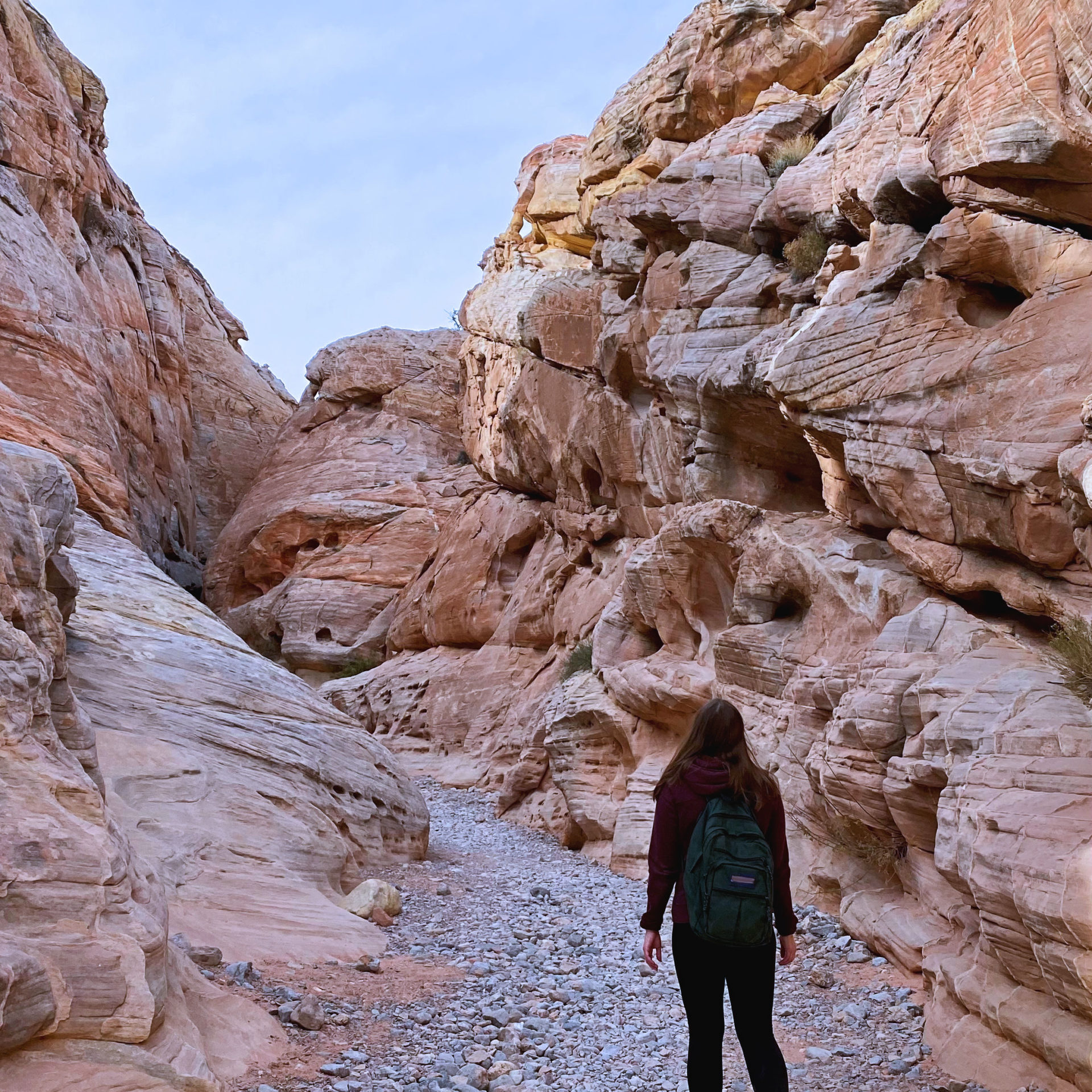 Practical Information for Hiking in Vegas
Areas to hike in Las Vegas
Las Vegas has five main hiking areas to explore:
Each of the areas has its own distinct features and offers a wide variety of hikes for varying abilities. We'll explore each of the areas more below.
Interactive map of hikes near Las Vegas
But first, the question I get most about hiking in Vegas is when to go.
Best time for hiking in Las Vegas
High season for hiking in the majority of the Vegas area is October through April.
Temperatures soar during the hot summer months making it too hot to venture on the desert trails.
Temperatures get so warm in the Vegas Valley that some of the local hikes are closed to all visitors during the heat of the summer. This was a direct result of too many folks getting in trouble on trails in the harsh desert sun.
If you happen to visit Vegas in the summer and you can't miss out on a hike, we recommend jumping straight to the Mount Charleston hikes. Due to its high elevation, Mount Charleston is consistently 20 degrees cooler than the Vegas Valley. Combining an early morning hike with the cooler temperatures at Charleston makes for a great hiking experience in the summer months.
Now that you know when to go, what should you bring on a desert hike?
Hiking Gear Checklist
Hiking in the desert has its own hazards and special gear needs. For more information on how we stay safe in the desert, you can read our in-depth guide.
This is what we bring on our hikes.
Essential gear:
Personal Locator Beacon (we use the Rescueme PLB1)
Adequate water for our intended trip plus extra water in the car
Adequate snacks for the hike plus a few extra granola bars
A sweatshirt and light rain jacket for extra layers
Waterproof matches (yes, it sometimes rains in the desert)
A headlamp
First aid kit including aloe vera and ice packs
A multi-tool and extra batteries
Sunscreen, a hat and appropriate clothing
An emergency blanket (yes, it can freeze in the desert at night)
Navigation equipment/compass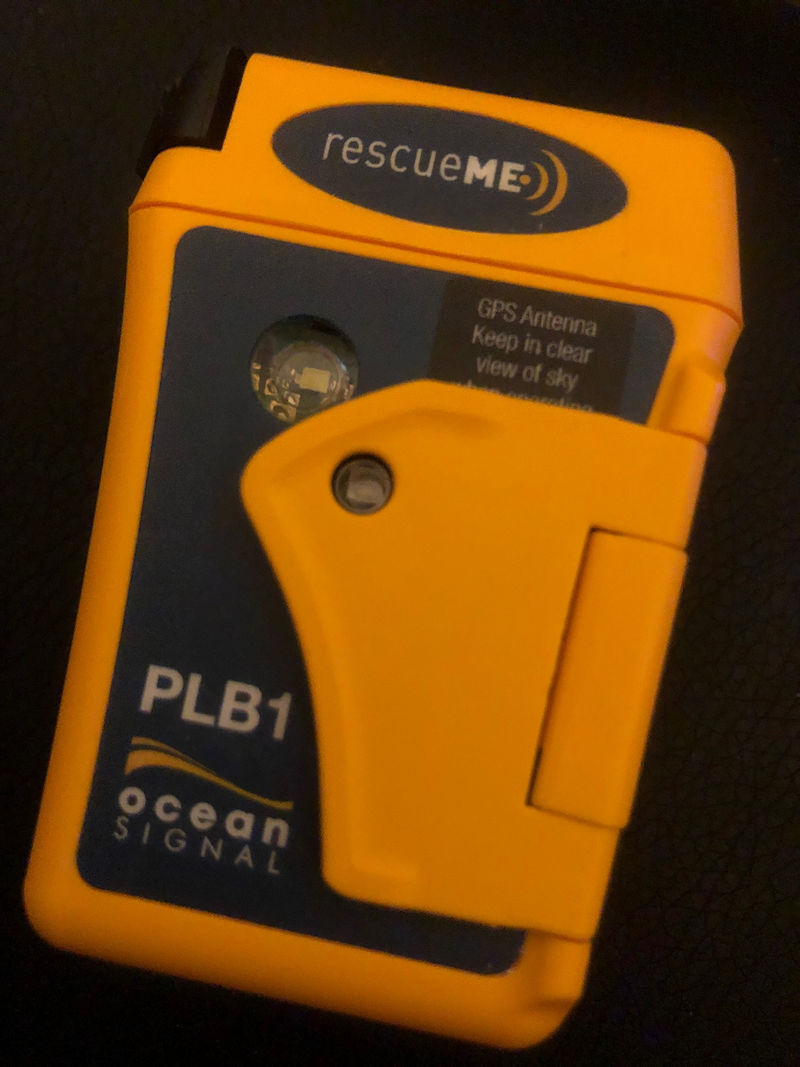 Extra gear:
Smartphone for GPS with Alltrails
Camera
Travel Tripod
Binoculars
Bug spray
Transportation & Tours to Las Vegas Hikes
If you're visiting Las Vegas from out of town and want to check out some of these hikes, you'll need a rental car. It's by far the most efficient way to visit these areas.
We do not recommend taking an uber/lyft to these hikes as you will likely won't be able to get back.
If you are against renting a car for a couple days to explore the area or want to go with a group, there are several tours you can book that will allow you to explore some of the areas.
Note: we haven't taken any of these tours, so I can't say whether or not they are enjoyable, but they have great reviews.
Here's a few examples:
Now that we have all the practical information out of the way, let's dive into each of the five areas.
The first Vegas hiking area is Red Rock Canyon. It's located about 17 miles west of the Las Vegas Strip.
Red Rock Canyon National Park is known for being a mecca to hikers, bikers and climbers alike. You can enjoy the 13-mile scenic loop around the park while you find the perfect hike to explore the beautiful canyons.
Red Rock Canyon Info
What we like about Red Rock Canyon:
We've spent hours exploring Red Rock Canyon and we're always wanting to go back. Every visit to the park brings a new scenic view, a new wildlife sighting and a unique experience we will never forget.
From the scenic views at the top of Turtlehead Peak to the colorful sandstone on the Keystone Thrust trail, the landscape seems to be ever changing.
The park has hikes for all ages and abilities. Ranging from short paved paths to scrambling, rock climbing and everything in between.
The Visitor Center is also worth stopping at. It's packed full of exhibits and during the right season you might get lucky enough to see a desert tortoise!
What we don't like about Red Rock Canyon:
Red Rock Canyon gets over 2 million visitors annually. This leads to some busy days! The park recently started a reservation system during high-season to enter. While it has helped congestion, the park still gets insanely crowded and finding solitude can be tough.
Parking can be a challenge at some of the trailheads if you don't arrive early. Calico I and II along with Ice Box Canyon are particularly challenging to park at if you arrive later in the day.
More resources for your Red Rock Canyon Visit
Mt. Charleston is a not-so-hidden gem that many locals take advantage of in the hot summer months to continue hiking year-round. Located around 43 miles from the Las Vegas Strip, Mt. Charleston is consistently 20 degrees cooler than the Las Vegas Valley and has some amazing mountain hikes to explore.
Mount Charleston Info
What we like about Mount Charleston:
As Mount Charleston is a little further from the strip (around 50 minutes) it gets a lot less visitors. We love the relative solitude at this beautiful mountain. You'd never know you were about to enter an amazing wilderness area on your drive through the desert to get there.
The area has tons of hiking to enjoy during the summer and with temperatures around 20 degrees cooler than the Las Vegas valley, it's a great escape if you're visiting during the hot season.
On the weekends during the summer, the Lee Canyon Ski Resort is open with various activities including disc golf, archery, axe throwing and more.
There's no passes or fees to utilize the area (except in the winter at the ski resort).
What we don't like about Mount Charleston:
There's not a ton of restaurants in the area and we find it's easier to drive back into Vegas for a bite to eat.
Many of the Mt. Charleston trails are quite popular on the weekends with visitors and locals alike. This can lead to a bit of congestion if you go at the wrong time. If you can visit on a weekday, you'll enjoy a quieter visit on most trails.
More resources for your Mt. Charleston visit
3. Lake Mead National Recreation Area
A popular stop on every bucket list for Las Vegas is the Hoover Dam and neighboring Lake Mead. The Lake Mead National Recreational area spans across 1.5 million acres of mountains, canyons, valleys and of course, lakes. Located just 24 miles from the Las Vegas Strip, this is a not to be missed area for amazing views of Lake Mead and secret slot canyons.
Lake Mead Area Info
What we like about the Lake Mead area:
Exploring the hidden slot canyons around the lake area and the expansive views of the lake.
Except for the extremely popular historic railroad hike, we've found there to be less crowds around the Lake Mead area.
There are tons of unique rock formations throughout the trails.
What we don't like about the Lake Mead area:
It's disheartening to see the Lake Mead water levels at an all time low.
The area is seasonal for hiking and shuts down during the summer months due to the extreme temperatures.
More information for your trip to Lake Mead
4.
Valley of Fire State Park
The Valley of Fire is a one-of-a-kind geological wonder located 50 miles from the Las Vegas Strip.
Visitors will take a trip back in time to witness 2,000-year-old petroglyph carvings, huge red sandstone formations and if you're lucky a few bighorn sheep to cap off the day.
The Valley of Fire attracts more than 250,000 visitors each year.
Valley of Fire Info
What we like about the Valley of Fire:
The Valley of Fire is one of those places that after you see it, the memories stay vivid for years.
We loved the stunning red sandstone and towering rock formations.
It's a photographer's paradise with endless amounts of scenic backdrops to choose from.
We've been to the area twice and feel like we've barely scratched the surface of the park.
What we don't like about the Valley of Fire:
While it's not nearly as crowded as Red Rock Canyon, the most popular trails in the park draw quite a crowd if you go at the wrong time (we're looking at you Fire Wave Trail).
Parking can be a challenge at the trailheads of the most popular trails.
More information for your trip to the Valley of Fire
5. Sloan Canyon National Conservation Area
South of the Las Vegas Strip, you'll find Sloan Canyon, a 48-thousand-acre conservation area which contains the famed Sloan Petroglyph Site. This famous site has been included in the National Register of Historic Places since the late 1970s and boasts over 1700 individual petroglyphs. In addition to this historic site, Sloan Canyon is home to some of the best city views of the Las Vegas Strip.
Sloan Canyon Info
What we like about Sloan Canyon:
The Las Vegas city views seen from many of the Sloan Canyon trails are great.
The rich history of the area including its volcanic past and ancient petroglyphs are an unusual bonus for hiking around Las Vegas.
Sloan Canyon gets less visitors than other hiking areas in Vegas allowing for a bit of solitude on the trails.
What we don't like about Sloan Canyon:
There aren't as many hikes in Sloan Canyon as there are in some of the nearby areas.
While the majority of the Vegas area is quite barren (it is the Mojave Desert after all), it feels just a little more bleak in Sloan Canyon.