In this guide:
Balanced Rock Hike Quick Stats
| | |
| --- | --- |
| Trail Description | Out and back |
| Location | Balanced Rock, Overton, NV 89040 |
| Parking Lot | Valley of Fire Visitor Center Parking Lot |
| Round Trip Mileage | 0.25 miles |
| Average Time | <30 minutes |
| Difficulty | Easy |
| Elevation gain | ~6 feet |
| Best time to visit | October through April |
| Amenities at trailhead | The nearby Visitor Center includes: restrooms, water, park information, and paved parking. |
| Entrance Fee | Valley of Fire State Park requires a $10 per vehicle ($15 for non-NV vehicles), pricing subject to change. Reservations will be required sometime in 2023. |
| Rating | 3.0 Mooses |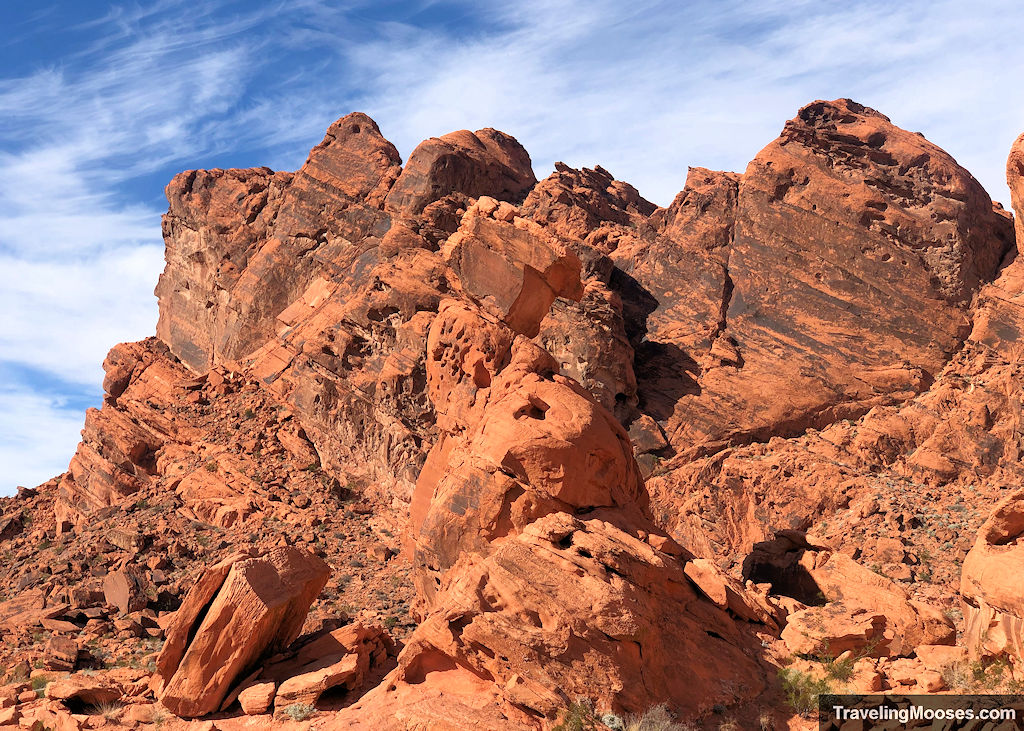 What to expect on the trail
The trail to Balanced Rock leaves from the parking area at the Valley of Fire Visitor center.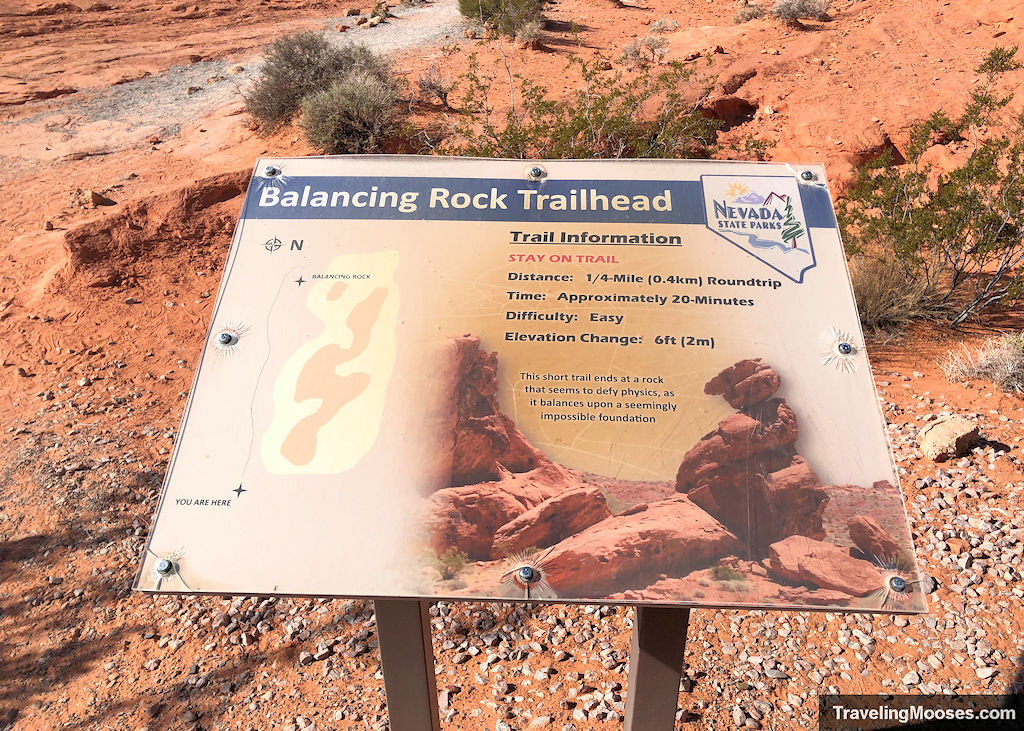 From the visitor center you can see the balanced rock in the distance.
Began by heading west on the trail.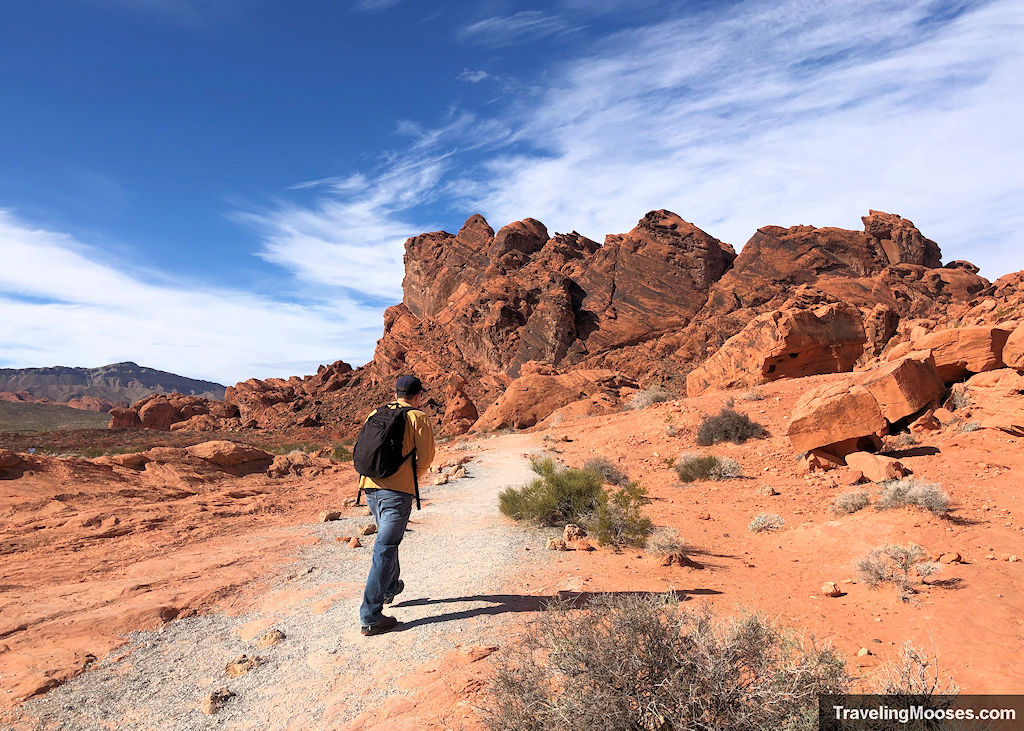 The path is mostly gravel and relatively flat. You'll see sweeping views of red sandstone rock formations throughout the Valley.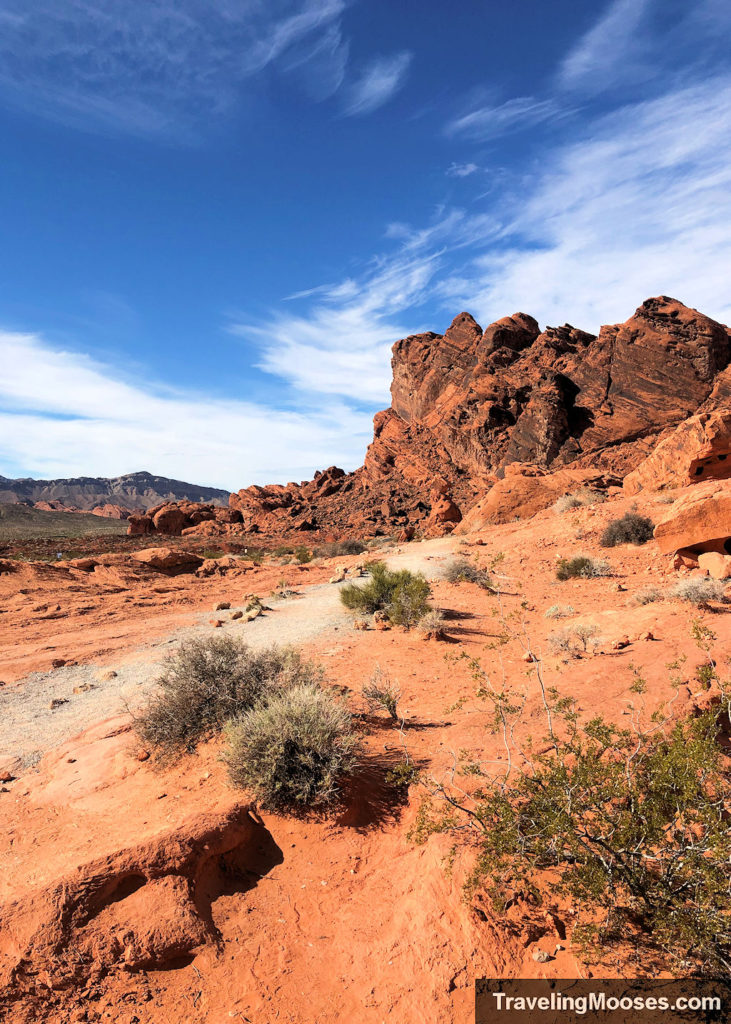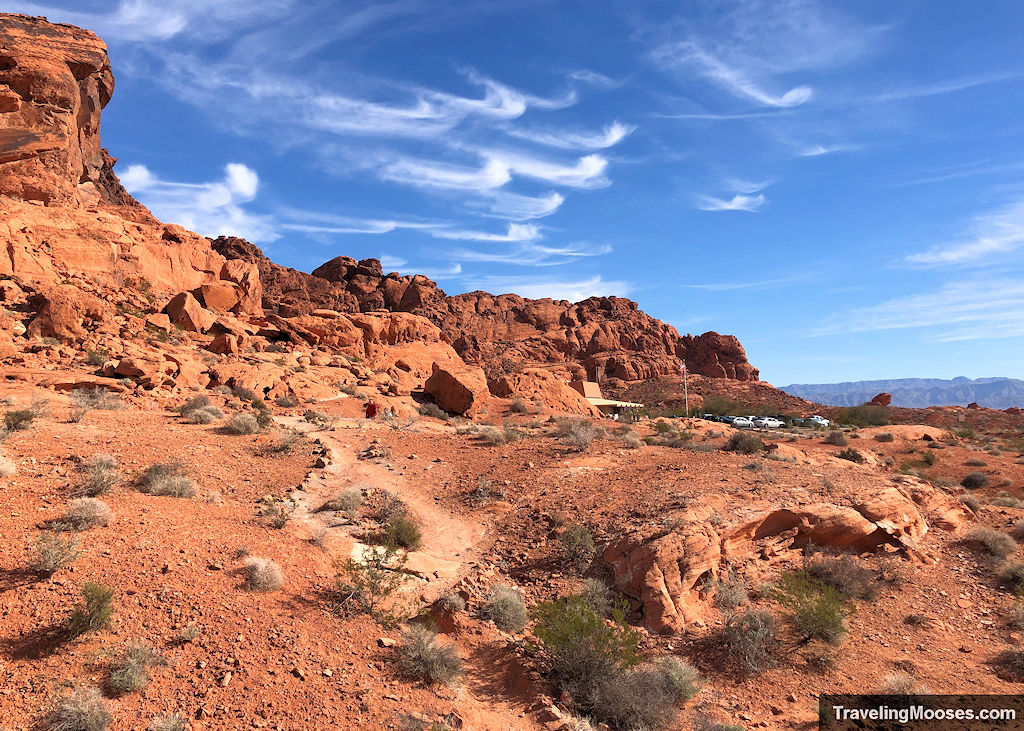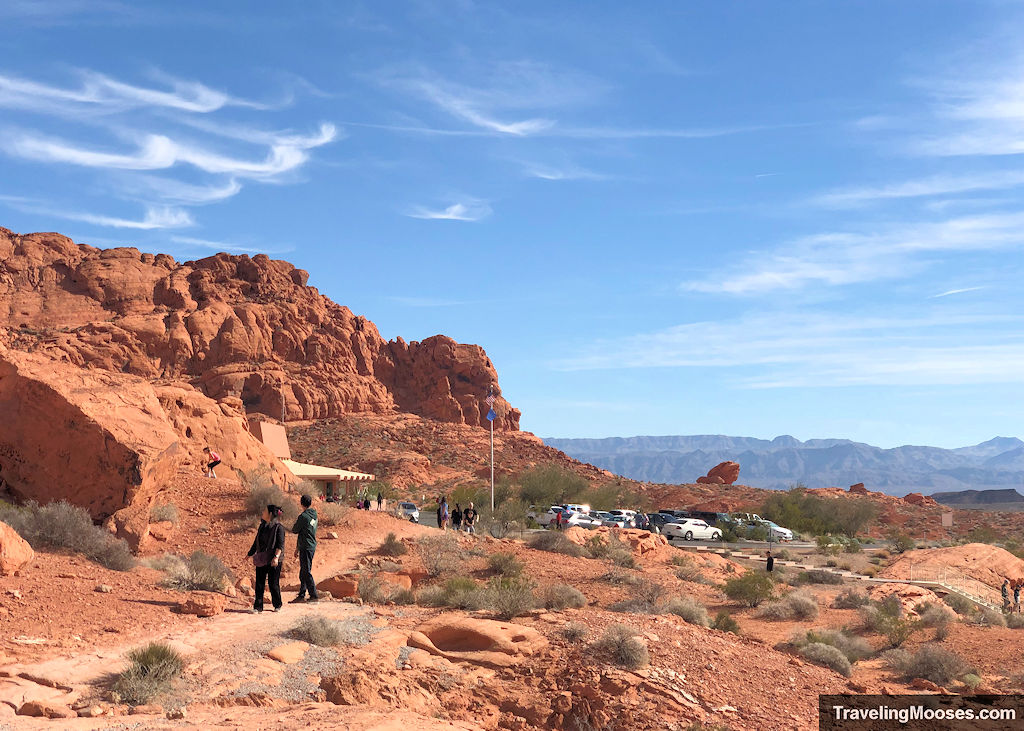 Be sure to explore the many different angles the rock has to offer.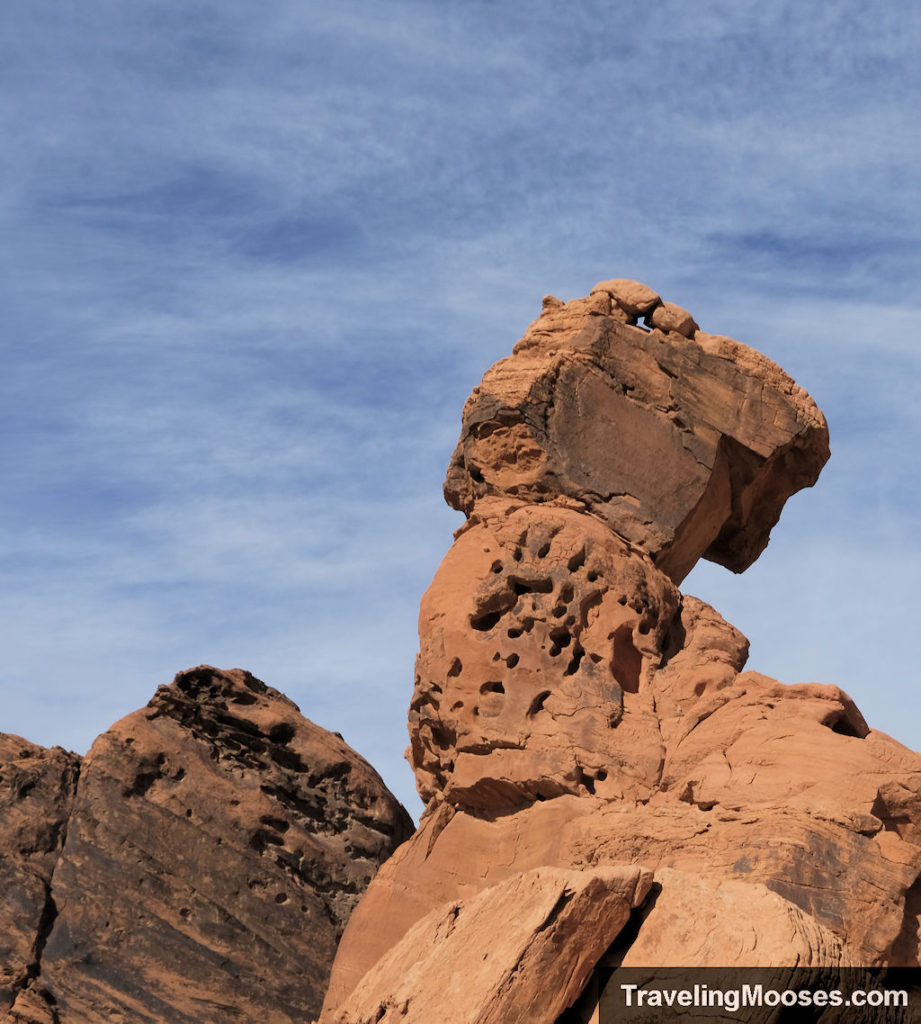 Once you're done, head back the way you came and check out the Visitor Center before exploring the rest of the park.
Is the hike worth it?
Rating: 3.0 Mooses

What we liked:
The trail was short, sweet and well-constructed.
You can see the balanced rock from multiple angles along the trail.
What we didn't like:
From some angles, you can't tell the rock formation is really balancing.
The trail is adjacent to the visitor center, so it gets quite busy. You may need to wait to get a photo in front of the rock structure.
There's no shade on the trail.
Verdict: It's a quick stop if you're looking to stretch your legs within the park. If you're pressed for time, you could snap a picture from the parking area and head up to the Fire Canyon lookout for a more unique experience.
Practical information for your trip
Current trail conditions
Check Alltrails for recent trail conditions.
Check Valley of Fire's website for any closures.
Check the weather for temperature forecasts.
What to bring
Be sure to check the weather conditions and pack appropriately. This is what we bring on all our hikes.
Standard Gear:
The 10 Essentials. These are a must for us on every hike (Yes, even short ones).
Special Items of note:
Footwear – You could get away with wearing just about any type of footwear on this trail, but we recommend close toe shoes for the best experience.
Clothing – In the hot summer months, bring sunglasses, a hat and wear sunscreen.
Water / Snacks – Bring plenty of water (especially in the hot summer months) and extra snacks.
Navigation – The trail is well marked and you can always see the visitor center where you started.
Parking
Parking is free once you've entered the park.
There is a large parking area at the Valley of Fire visitor center, divided into an upper and lower lot. The upper area is closer to the trailhead, but fills up quickly on busy days.
Entrance Fees
Valley of Fire is a Nevada State Park and requires an entry for access. Once in the park, you can park for free in any designated parking area.
The entrance fee is currently $10 per vehicle. ($15 non-NV vehicles). While a reservation isn't currently required, it is coming sometime in 2023. Current information about fees can be found here.
All pricing is subject to change.
More info for your visit to the Valley of Fire
Have you been to the Valley of Fire?
Tag #travelingmooses in your pictures on Facebook or Twitter! 🙂