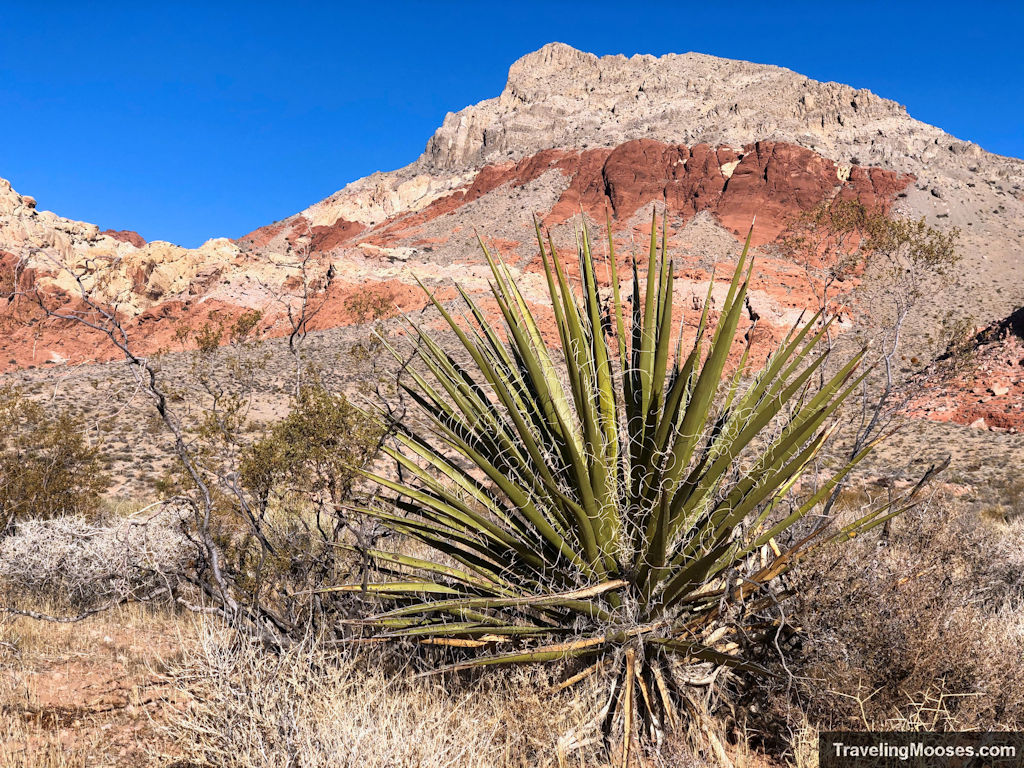 Kraft Mountain & Upper Gateway At a Glance
| | |
| --- | --- |
| Trail Description | Out and back, unless you want to traverse a steep gulley and make it a loop |
| Trail Location | Red Rock National Conservation Area, Nevada 89161 |
| Trail Start | 36.15687, -115.42109 |
| Round Trip Mileage | 5.3 Miles |
| Average Time | 2 – 4 Hours |
| Difficulty | Strenuous |
| Entrance Fees | Currently Free. Note: BLM is currently studying whether to make this a fee area. Fees may apply in the future. |
| Parking | Currently Free – lots fill up quickly on the weekends. |
| Elevation Gain | 1,712′ |
| Best time to visit | Fall, Winter & Spring – when temperatures aren't too high |
| Rating | 5 Mooses |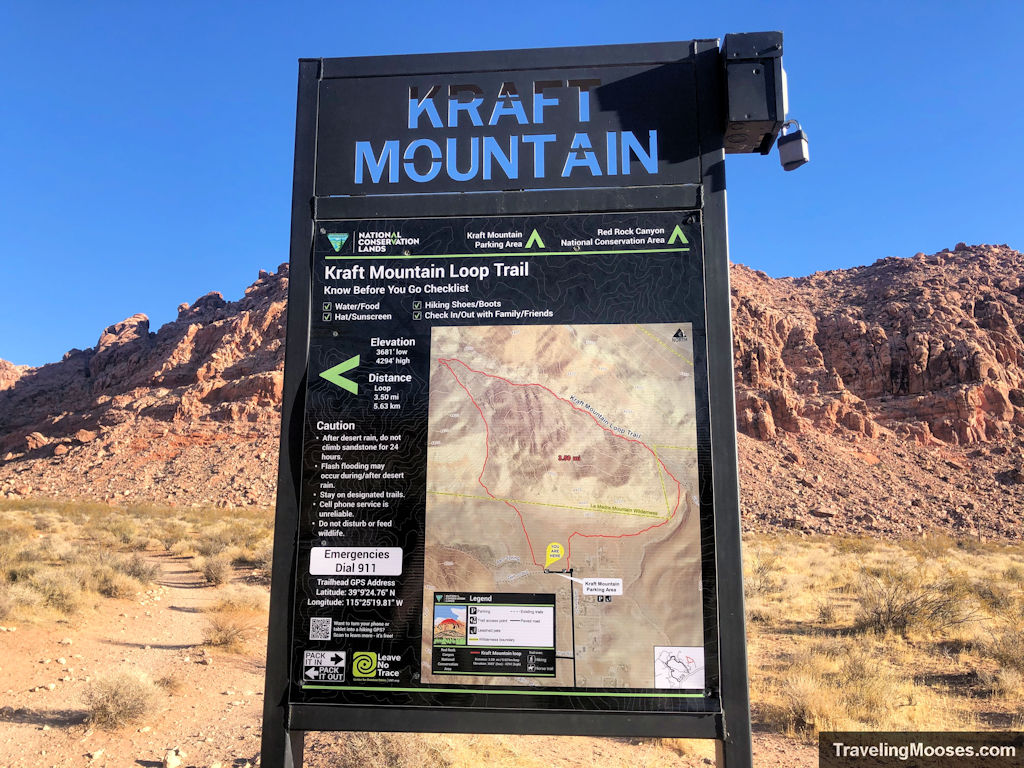 Our experience on the Kraft Mountain Loop and Upper Gateway Hike
We set out early to hike the Kraft Mountain Loop. The Kraft Mountain trail is a quick 3.5 loop with over 600 feet in elevation gain, most of which occurs during the "Hell Hill" portion of the hike.
The weather conditions were sunny, with light wind and temperatures in the mid 40's to low 50's. We were excited to see Kraft Mountain and despite reading online that several folks had become lost on the trail, we weren't worried. After all, how hard could it be to follow a trail around a mountain?
It turns out, it can be pretty difficult.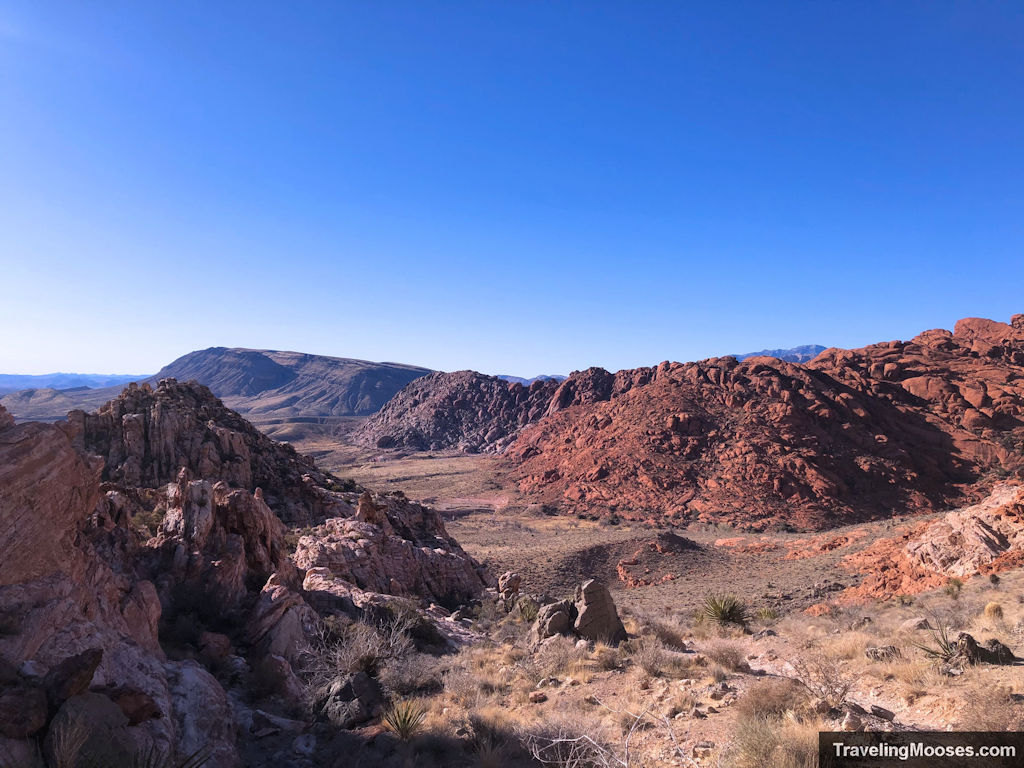 After leaving the Kraft Mountain Loop parking area, we began on the well-marked trail towards "Hell Hill" through the Red Rock National Conservation area. Once we summited Hell Hill and crossed over into the La Madre Wilderness, this is where the trouble started.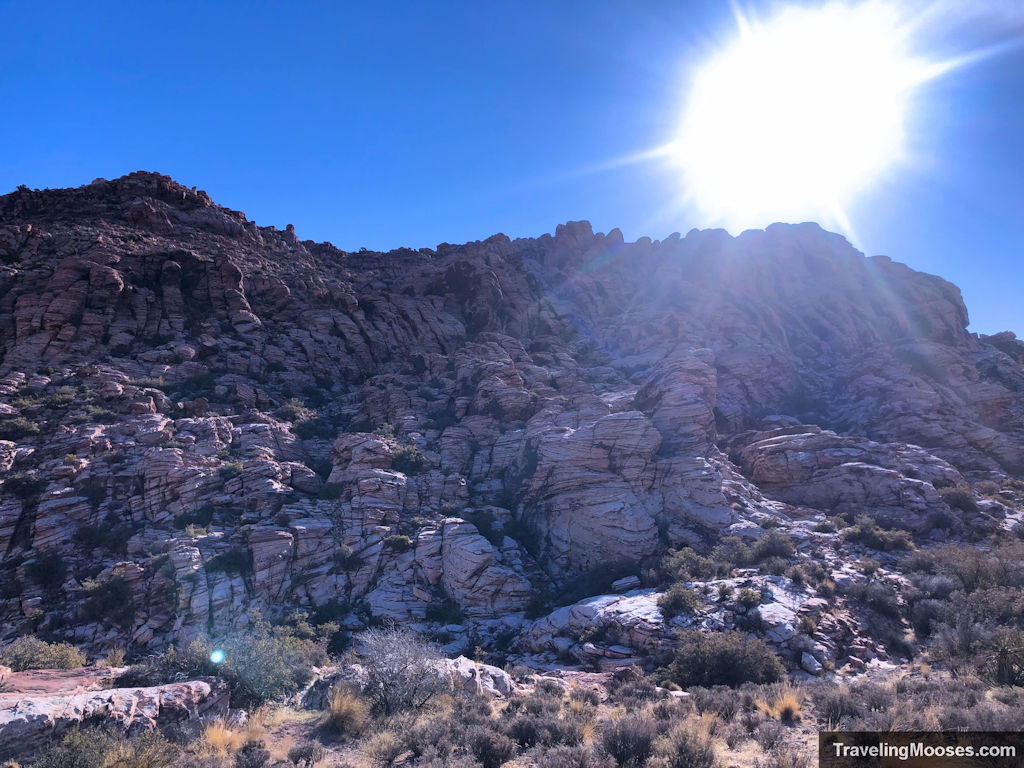 Insider tip: Arrive at the parking lot early, especially on weekends as it fills up quickly.
After cresting the hill, the trail is well worn to the West and towards the towering Turtlehead peak. We love Turtlehead Peak and were distracted by the beautiful views. So distracted in fact, that we missed the trail to the right that would have led us around the Kraft Mountain loop.
While it's not 100% clear where the correct turnoff is, if you make it to the wash, be sure you turn right and not left.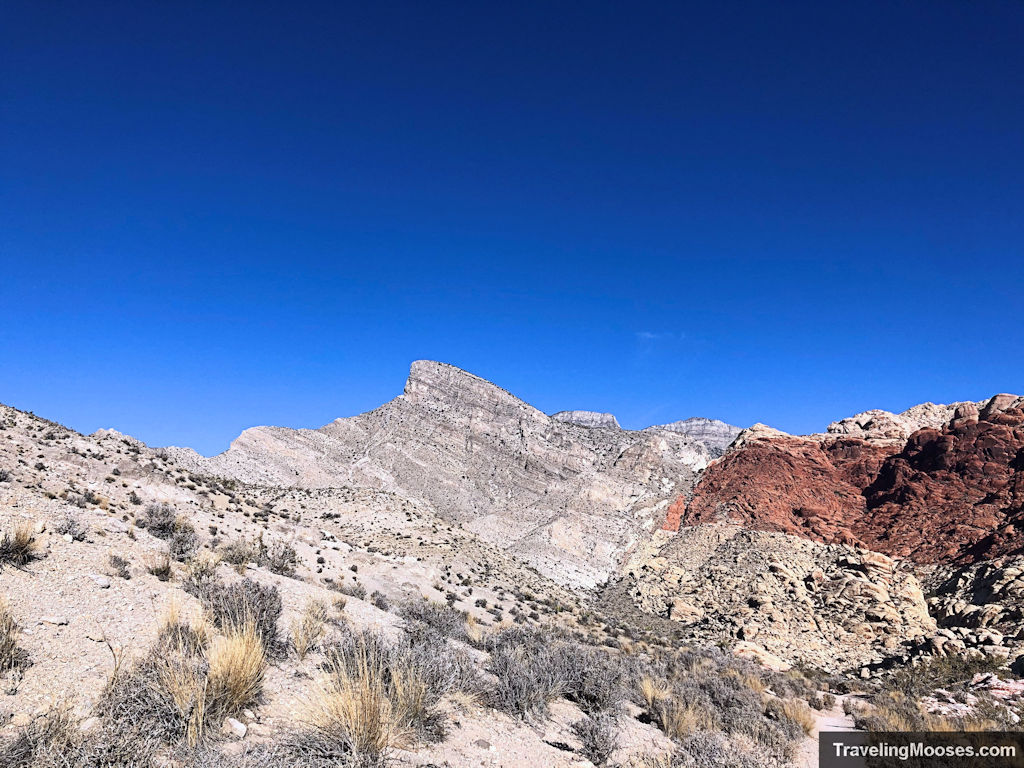 To make matters worse, there was a fairly quick hiker that was heading down the same path we were headed. We joked about having an unofficial guide to follow knowing that others had been lost on the trail.
By this point we had reached the wash and turned left towards Turtlehead, the same way as our now unofficial guide.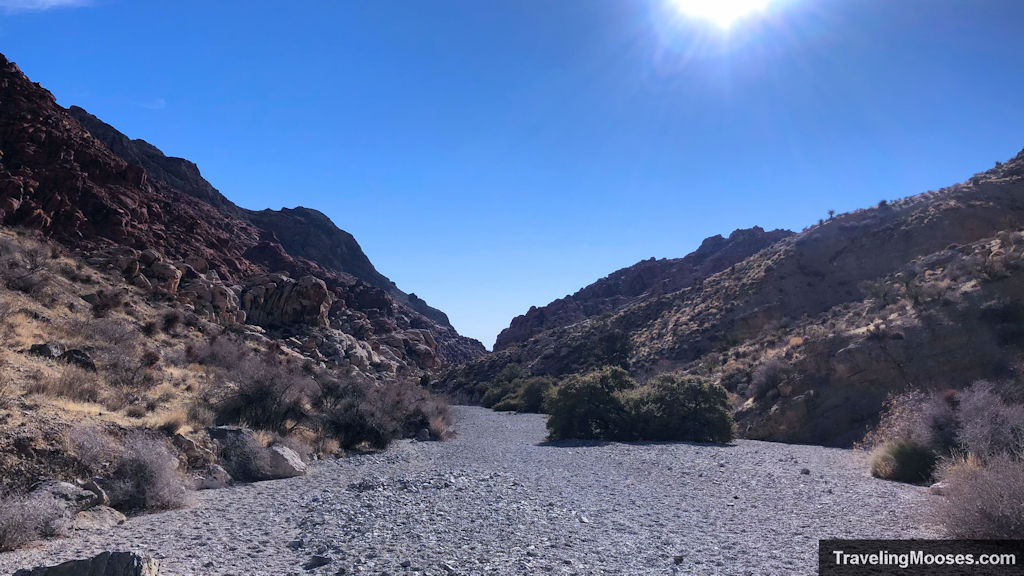 After traversing the wash for maybe 15 minutes, we came to a fork in the trail. Knowing we needed to traverse around Kraft Mountain to the east, we opted for the right fork. By this point, our "unofficial guide" had disappeared, wow was he fast! We later wondered whether or not he was real or just a mirage.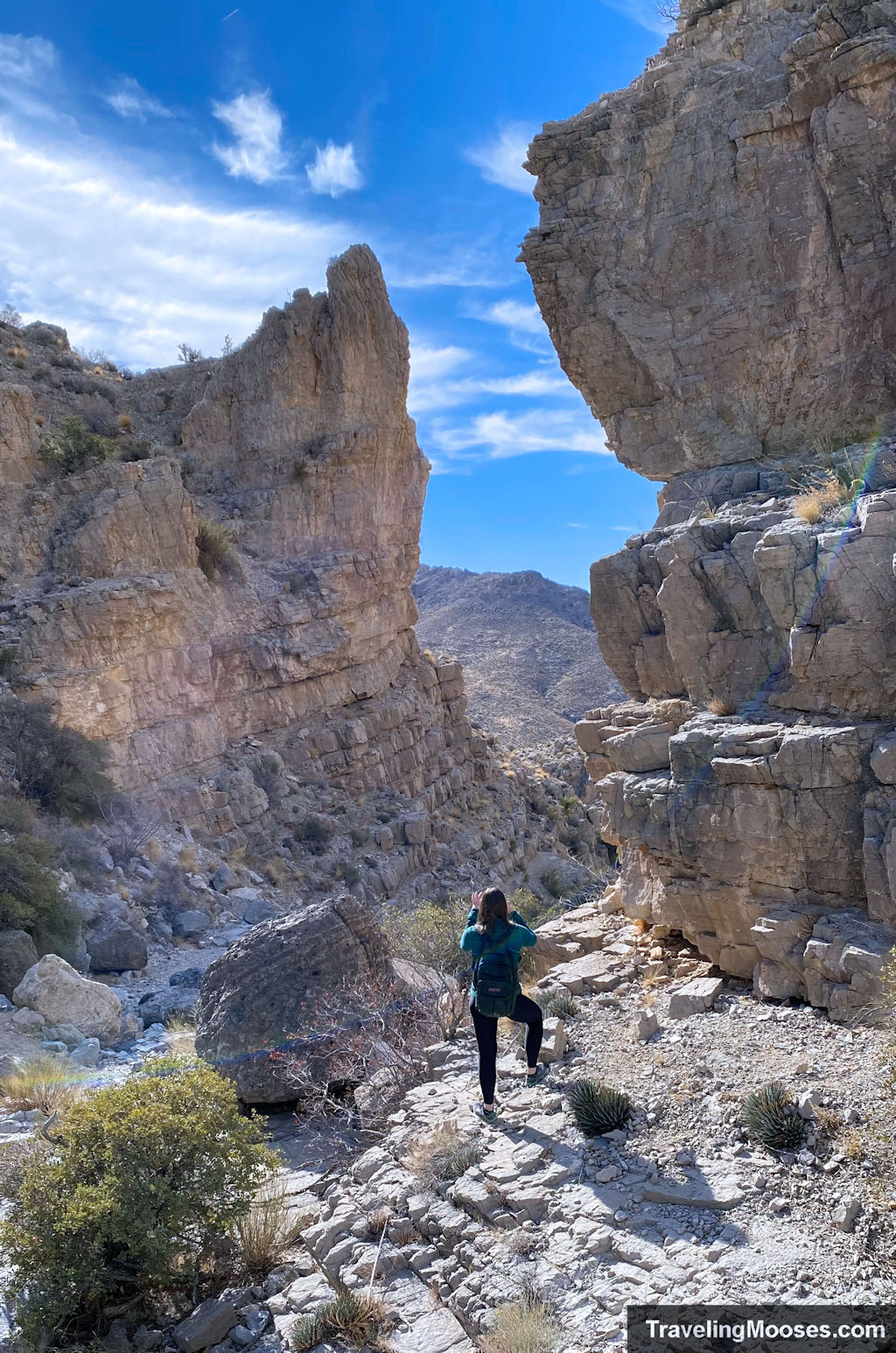 The fork to the right led to a long wash and beautiful canyon views. We were happily climbing on rocks and enjoying what we thought was the way around Kraft Mountain.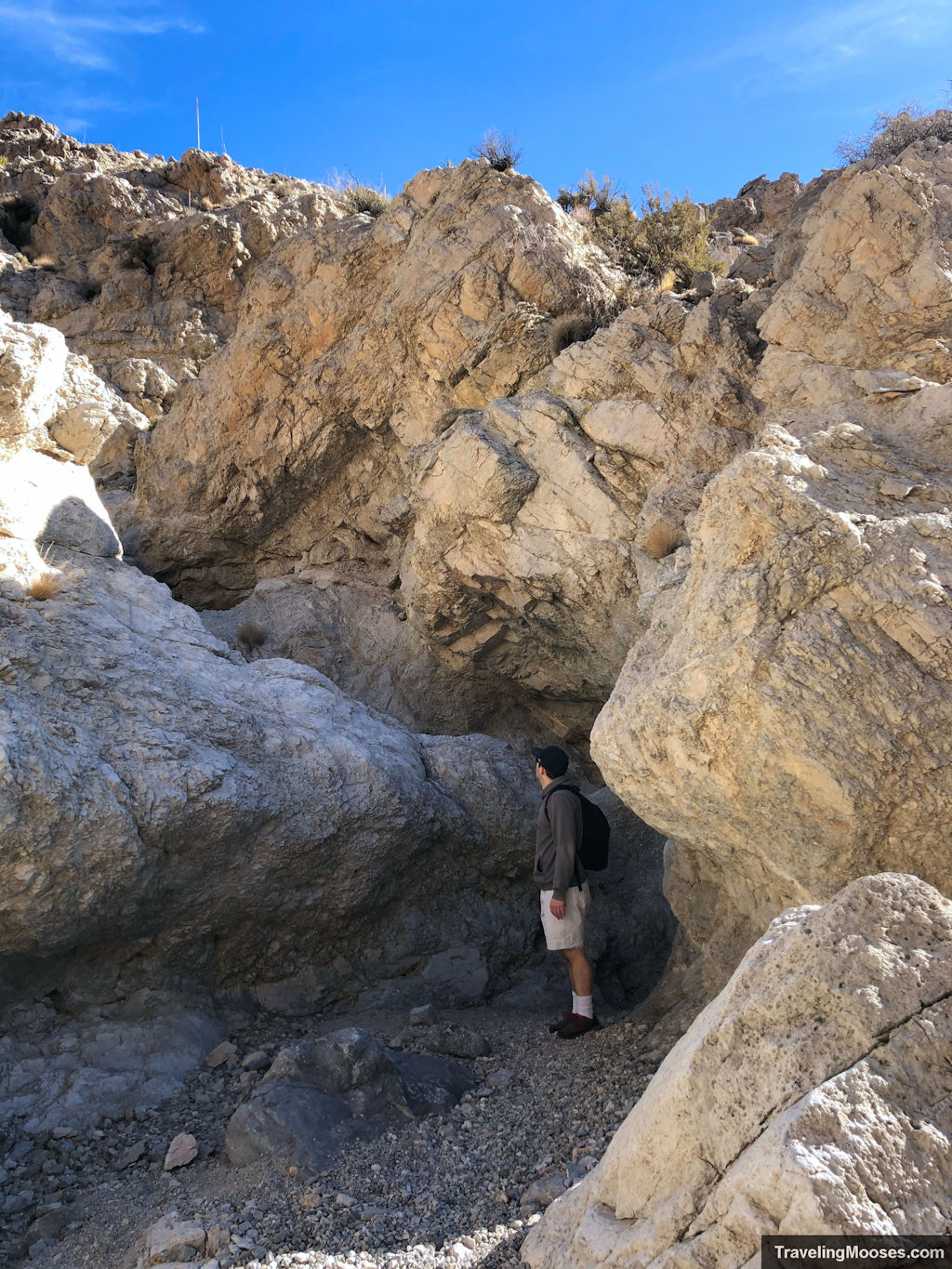 What we didn't know, was that we had unknowingly started on the "Upper Gateway" trail. What a fun trail it turned out to be! The trail follows a route filled with bouldering and mild scrambling, over what clearly is subject to dangerous flash floods in the wrong conditions. It was also breathtakingly beautiful and we didn't see a soul on this lightly traffic trail.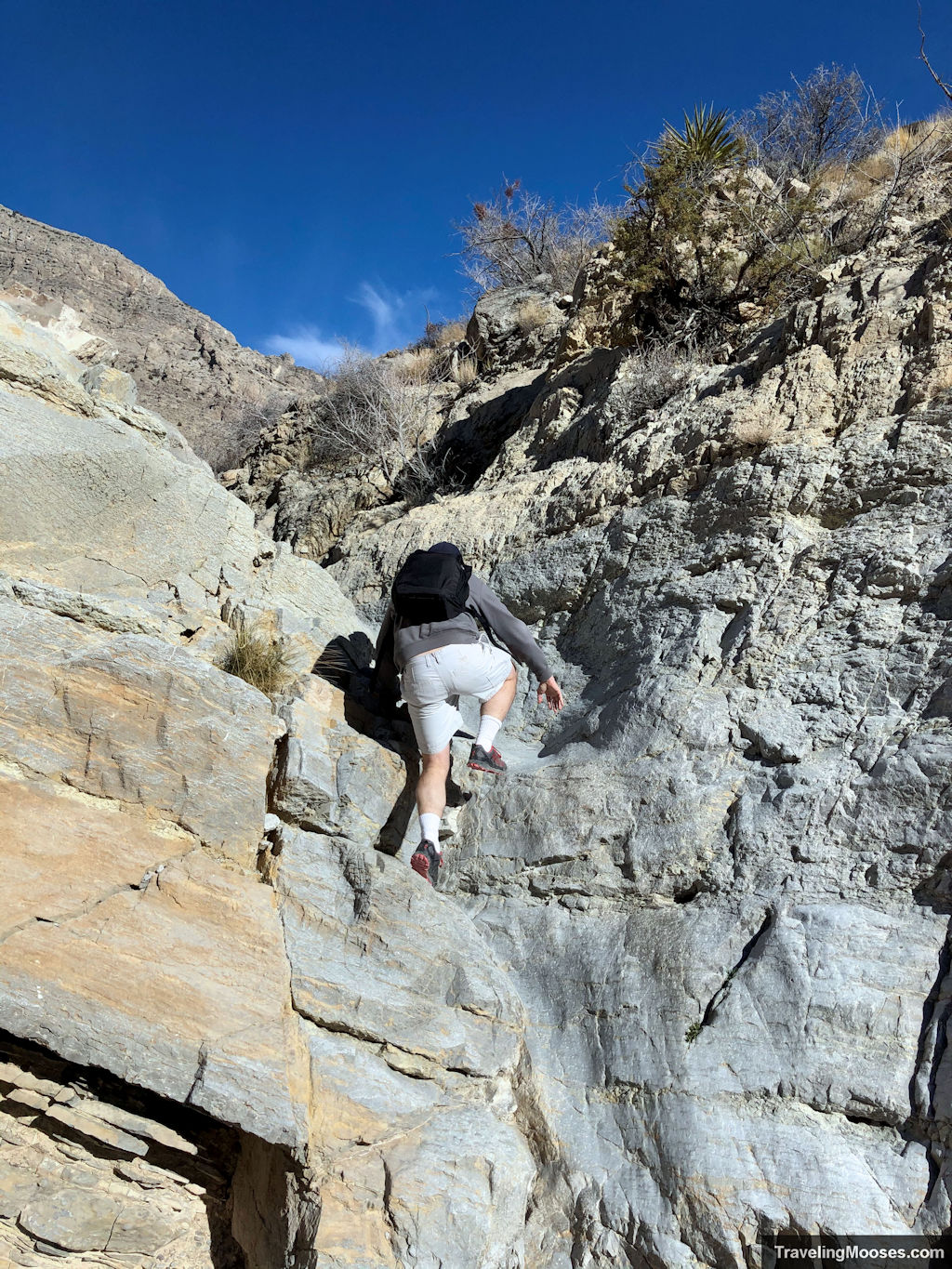 Around two hours into the hike, we entered a clearing with a large peak to our right (which we decided to summit), while the official Upper Gateway trail continued to the left. We decided this peak to our right must be Kraft Mountain and were determined to climb it.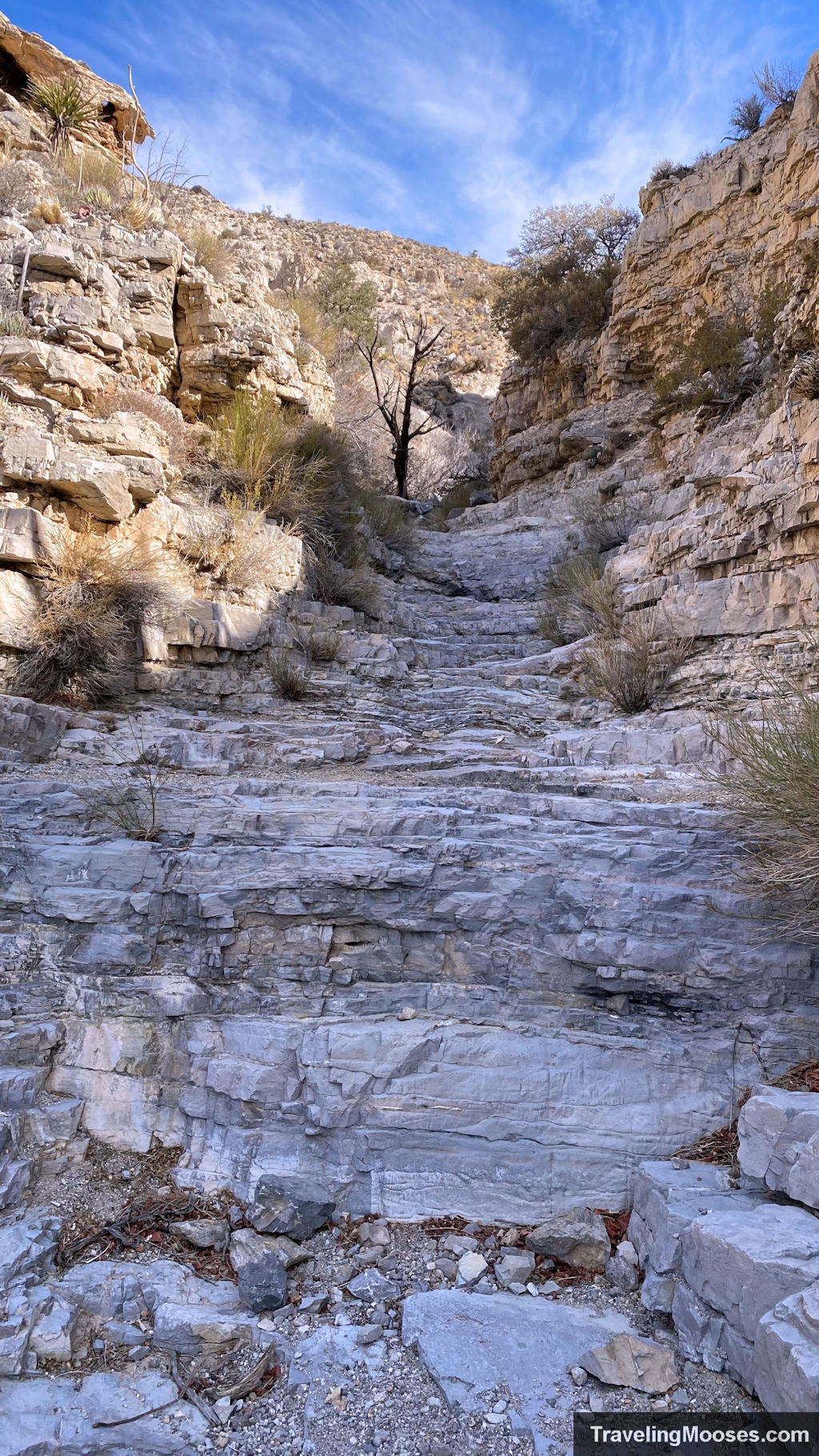 The peak was mostly soft gravel, which sank under our feet as we trudged up the side. If you are afraid of heights like Mrs Moose is, you might feel a little uneasy on this exposed mountain side.
We reached a landing area near the summit (with a gorgeous view of Turtlehead peak to the West) and noticed we could keep climbing up to the true summit of this peak. Up we went!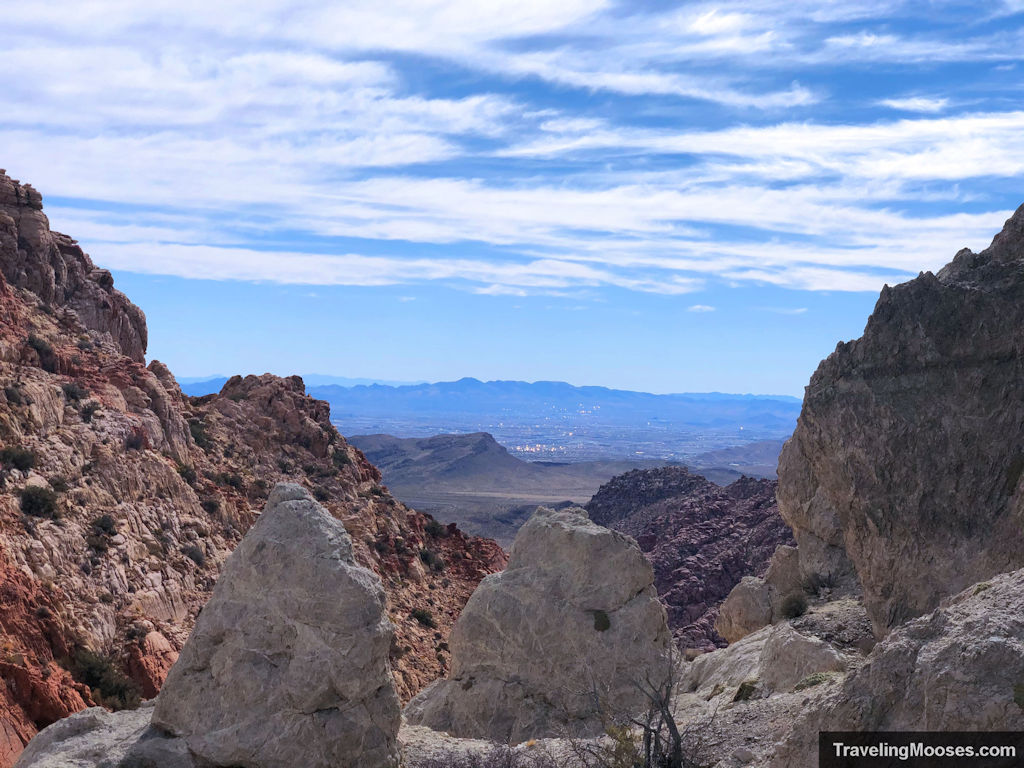 What a view it was! While there is no official name for this peak that we could find, the elevation was around 5,000 feet. We were rewarded with a spectacular view of the real Kraft Mountain and the glimmering Las Vegas in the distance.

After we enjoyed the view, we had to make a decision as to what to do next. The Upper Gateway trail was fun to climb up, but Mrs Moose wasn't all that excited to go back down the scramble, and we hadn't planned on a long hike (which meant no lunch on-hand). After a quick debate, we decided we would try to go down the gulley and meet back up with the original wash we had traversed through. After all, we had a beautiful view of exactly where we needed to go.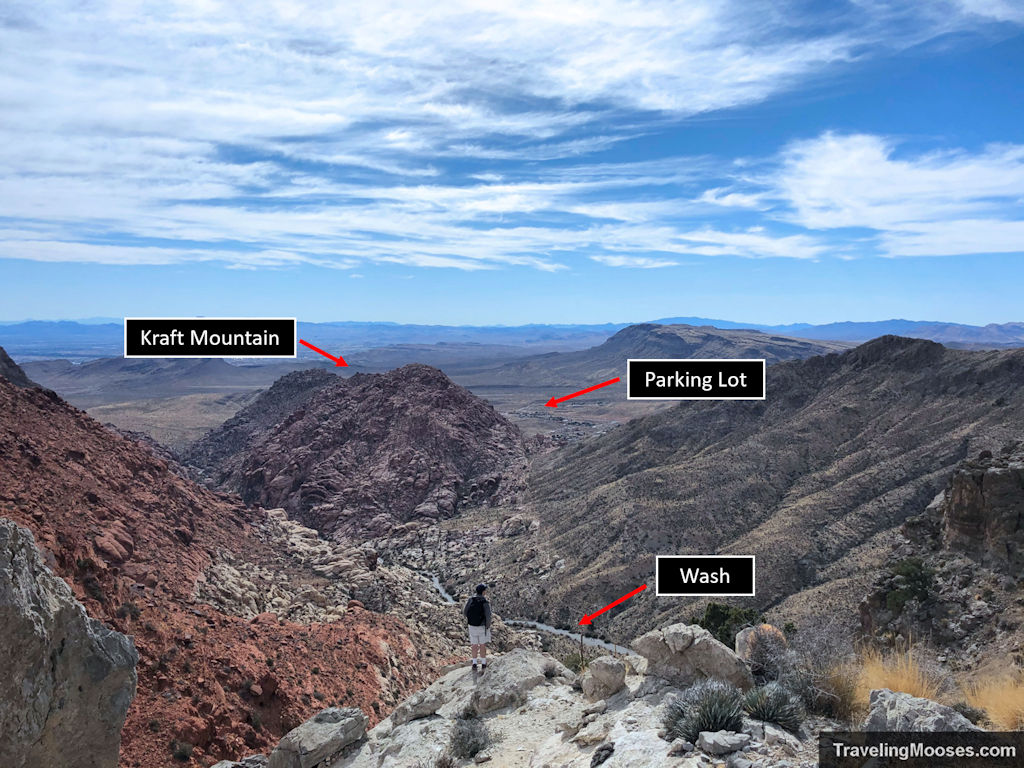 Mr Moose scouted ahead on the trail and we both agreed if it looked too difficult, we would turn back. Thankfully, the trail down had occasional cairns to mark the way. Shout out to those lovely people! We slowly picked our way down the steep incline.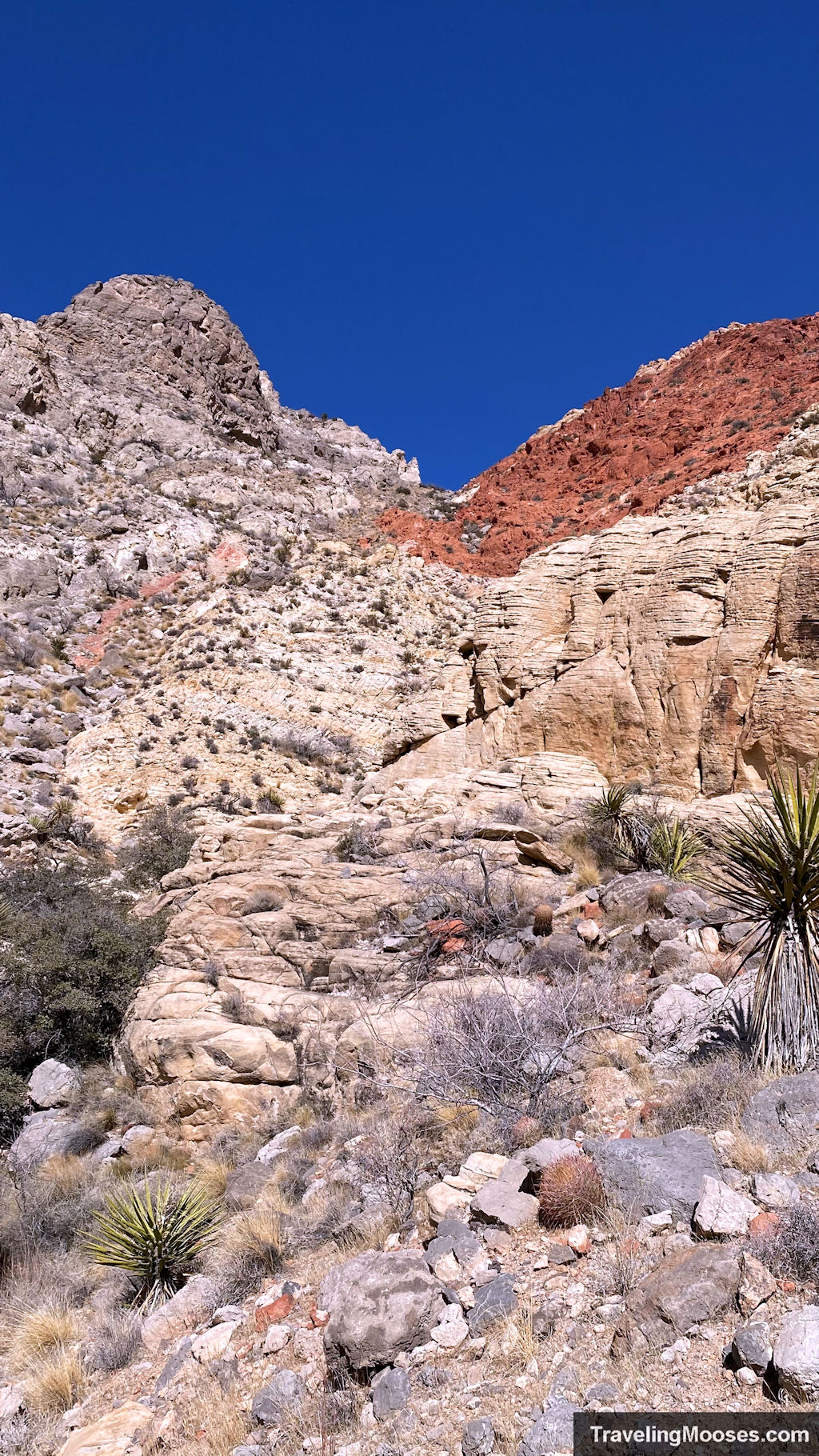 When we finally hit the wash we breathed a huge sigh of relief, though a few hikers we stumbled upon seemed very perplexed that we came out of nowhere.
Finally back on the correct trail, we could have continued on our original intended route of the full Kraft Mountain loop, but instead we decided to head back the way we came and save the loop for another day.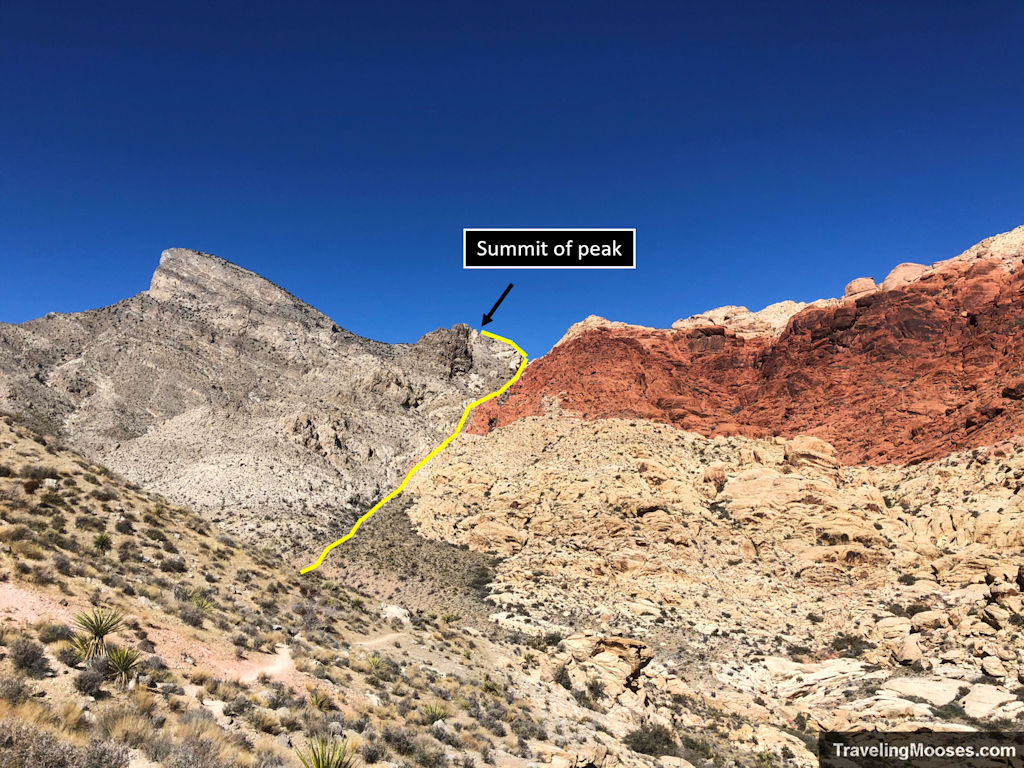 Lessons Learned
Always tell someone where you are going and when you're going to be back. While it turned ok for us this time, you never know when it won't.
Don't rely on cell service. We were optimistic we'd have enough cell service to keep on the intended path. Totally wrong. Cell service was spotty at best.
Make sure you know where you're going by researching the trail adequately in advance.
Always bring the ten essentials in case something goes wrong. Read more about what essential gear we use to stay safe in the desert.
Enjoy the journey when life throws a curveball at you. It might just be one of the most epic stories you ever get to tell.
Map of our route along Kraft Mountain Loop & Upper Gateway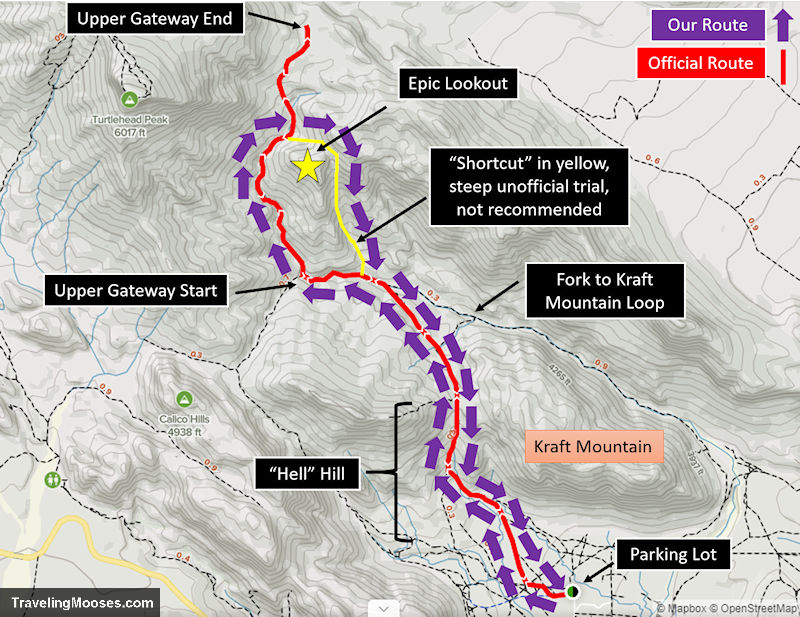 Should you visit the upper gateway trail or skip it?
Rating: 5.0 Mooses


While we didn't complete our intended hike for the day, we loved this alternative route. The views from the summit we stumbled upon were breathtaking! If we had it to do over again, we likely would have gone back the way we came, or perhaps brought trekking poles to make the decent on the backside of the mountain a little easier.
Verdict: Check it out, but we recommend going back down the official Upper Gateway trail.
Frequently Ask Questions about Kraft Mountain to Upper Gateway trail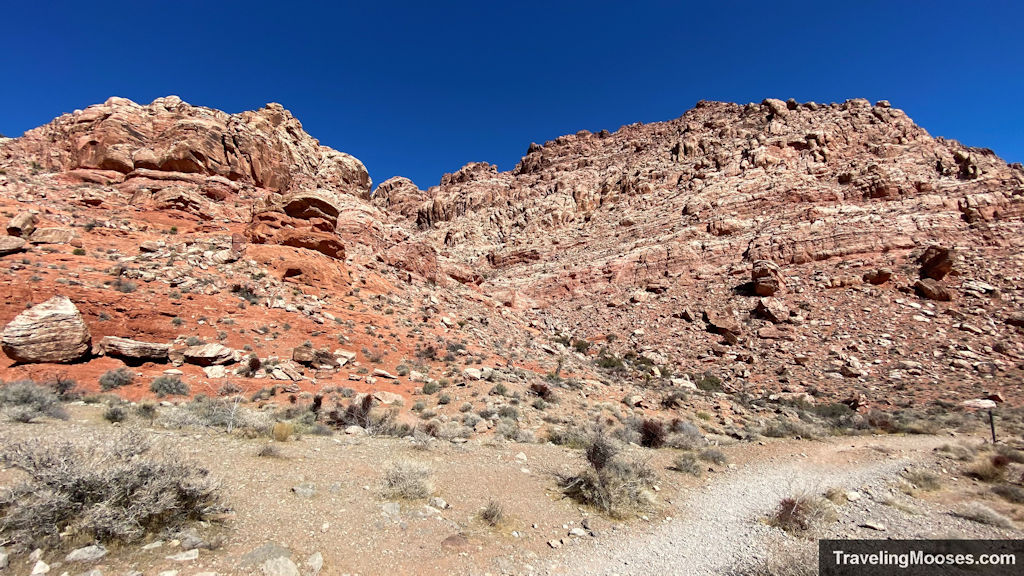 What is the parking like at Kraft Mountain Loop?
The parking lot at the Kraft Mountain loop trailhead is a decent size and holds around 75 – 100 cars. It is a long and narrow parking lot located in a neighborhood and not in the official Red Rock National Conservation area.
If the parking lot is full, we did see a lot of cars lining up on the street near the parking lot, however, keep in mind this is a neighborhood area. Please be respectful as one day they may ban the overflow parking. This is an extremely popular area on the weekends as you can avoid the $15 charge to enter Red Rock Canyon. The neighborhood is the start of several trails in the area, including a popular area with rock climbers. Go early to secure yourself a spot!
Keep in mind that BLM is currently studying whether or not to make this a fee area. A decision is expected to be made in Jan 2022.
Where is the parking lot located for Kraft Mountain Loop?
The Kraft Mountain Loop parking lot is located at: 36.15687, -115.42109. Once you turn off Highway 159 on Calico Basin Rd, continue following it until you get to Calico Dr and turn Right. We made the mistake of stopping in the parking lot that dead ends at Calico Basin Road, and that is not the correct parking lot.
After turning right on Calico Dr, you will turn left on Assisi Canyon Ave (the first opportunity you have to turn). Follow the road around to the right which turns into Sandstone Dr. Follow Sandstone Dr until the road ends. The official parking lot will be on your left.
More Information for your trip to Red Rock Canyon
You might also like: