45 minutes from Las Vegas, the 11,916′ Mount Charleston stands tall in Nevada's Spring Mountains. Hiking, skiing, wild horses and adventure awaits at this mountain oasis in the desert.
About Mount Charleston
Interactive Map
Mount Charleston Attractions
Mt. Charleston Hikes
Where to stay in the Mount Charleston area?
Mount Charleston has a mix of lodging and campgrounds to choose from in the area.
There are two popular resorts to stay at:
Unfortunately, in late 2021, there was a fire at the Mount Charleston lodge and it burned down. Luckily, the cabins have re-opened and there are plans to rebuild the lodge in the future.
There are several overnight campgrounds in the Mount Charleston area.
There is also day use only areas available to reserve for group picnics/events.
If you'd like a little more adventure, dispersed camping is also allowed in many areas of the Spring Mountains. More information on where dispersed camping is allowed can be found here.
Frequently Asked Questions about Mount. Charleston
Where is Mount Charleston located?
The Mount Charleston Wilderness area is located about 45 minutes from the Las Vegas Strip.
There are two main sides to Mount Charleston, Kyle Canyon and Lee Canyon.
Kyle Canyon boasts the famous Mount Charleston resort, the Spring Mountains Visitor Center, multiple hiking trails and camping areas.
Lee Canyon is home to the Lee Canyon Ski Resort, which includes scenic chair rides, skiing/snowboarding, mountain biking, axe throwing, disc golf and more. Lee Canyon also offers many hiking trails and several campgrounds.
Is Mount Charleston Free?
The Mount Charleston Wilderness Area is free to enter. The only exception is the local campgrounds which require a fee and also parking at the Lee Canyon Ski Resort during the winter months.
It is free to park at all the trailheads in the area and to visit the Spring Mountains Visitor Center. The mountain gets busy during the summer months and on the weekends, so be sure to go early to get a parking spot.
Are there bears in Mount Charleston?
No, there are no bears in the Mount Charleston area. The Spring Mountains are surrounded by the Mojave desert and bears have never lived in the area. Additionally it would be difficult for them to cross the desert from surrounding areas to relocate.
Are there mountain lions on Mount Charleston?
Yes, it is possible to run into mountain lions on Mount Charleston. It is rare to run into them, unless you're in a more remote location around the mountain or at higher elevations. You can find warnings of mountain lions at certain trailheads, such as Mary Jane Falls.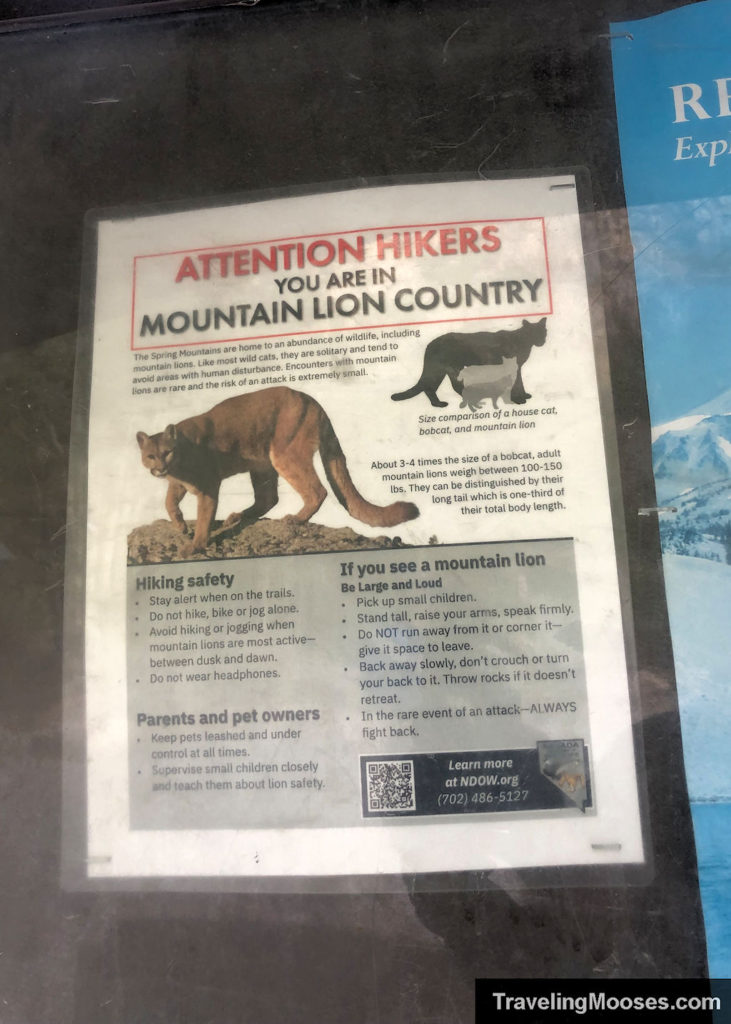 If you see a mountain lion, the park recommends the following:
Pick up small children
Stand tall, raise your arms and speak firmly.
Do NOT run away from it or corner it – give it space to leave.
Back away slowly, don't crouch or turn your back to it. Throw rocks if it doesn't retreat.
In the rare event it does attack, ALWAYS fight back.
I would add, don't try and take any selfies or get too close. Mountain lions are dangerous!