Just 45 minutes from the Las Vegas strip you'll find one of our favorite adventure getaways, the Spring Mountains National Recreation Area and the famous Mt. Charleston.
Over 1 million visitors a year take advantage of the scenic views, hiking, skiing, and so much more. Buckle up and read on for the 15 best things to do in Mount Charleston!
1. Beat the heat of Las Vegas
Looking for a break from the sweltering heat of the desert? Mt. Charleston might just be for you. The area boasts average temperatures 22 degrees lower than nearby Las Vegas.
This bodes well to beat the summer heat and enjoy some outdoor activities without melting. Why stay in the Vegas Valley when you can frolic in the higher elevations of the Mt. Charleston area?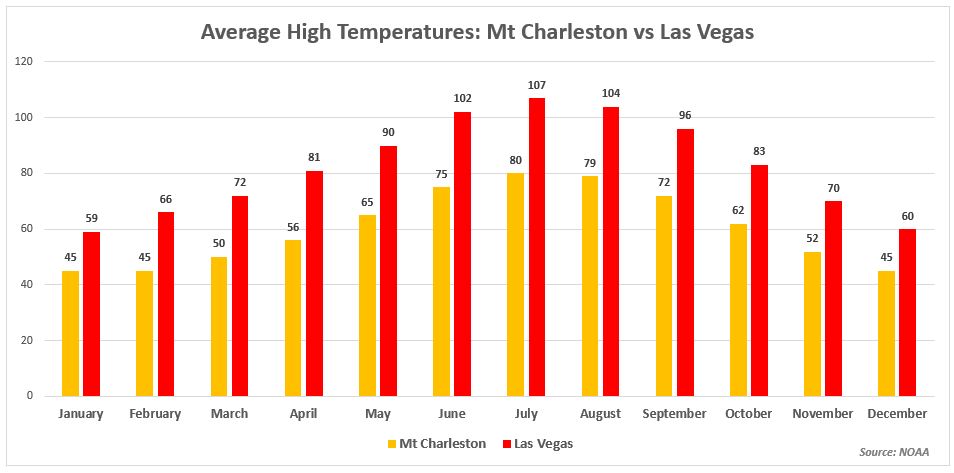 2. Enjoy one of the scenic drives in the area
The Mt. Charleston Scenic Byways are sure to take your breath away. Whichever option you choose, you'll be amazed at the sheer size of the mountains rising out of the barren desert floor.
If you're new to the area and planning on spending a whole day at Mt. Charleston, we recommend completing the entire loop by starting on the south end with NV-157 and access to Kyle Canyon.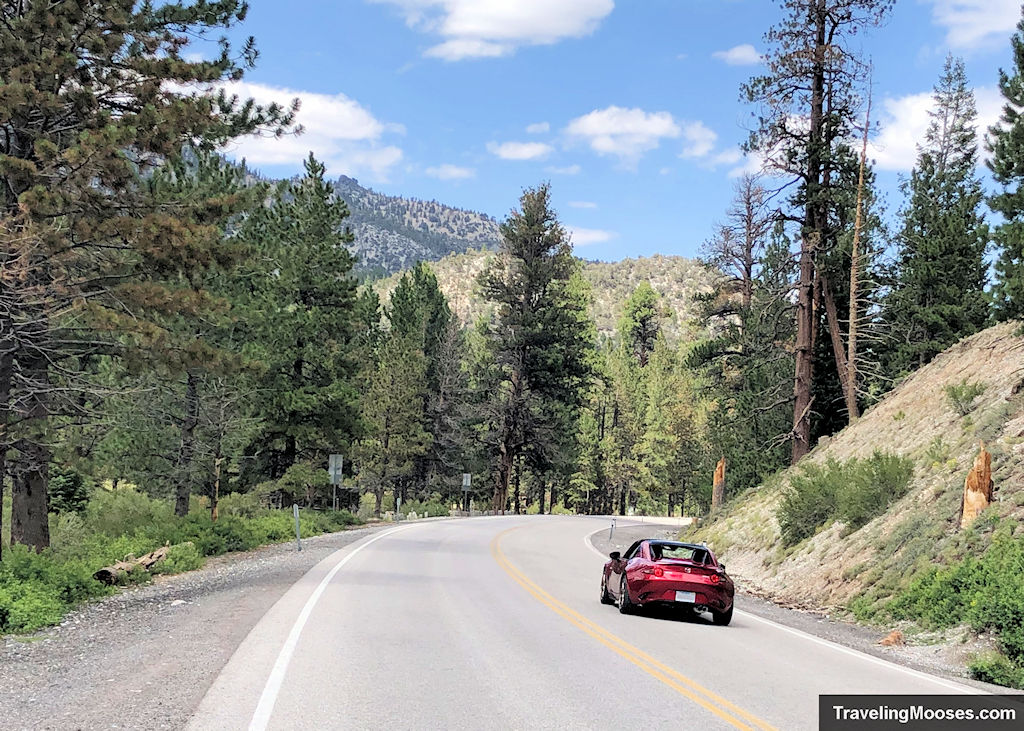 NV-157, Kyle Canyon (21.6 miles)
Starting with the south side of the loop is great way to get acclimated to the Spring Mountains with a stop at the Spring Mountains Visitor Gateway.
Enjoy the visitor center, learn about the history of the area and the Pauite Indians, and take a short stroll on the Kunav Huveep trail. Before headed up the NV-158 to connect to Lee Canyon, a few other popular hikes in the area include Mary Jane Falls or Cathedral Rock trail.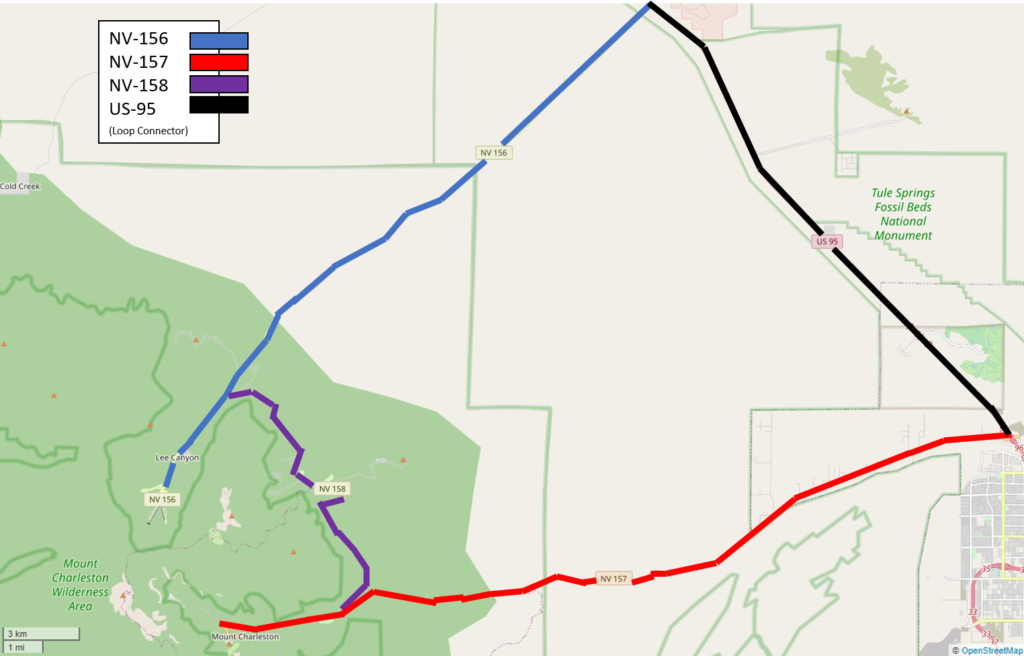 NV-158, Connector between Lee & Kyle Canyons (8.8 miles)
After exploring the Kyle Canyon side of Mt. Charleston, hop on the NV-158 to connect to Lee Canyon.
Relax and take in the sights of beautiful forests, rugged mountains, and panoramic desert views. Along the way you'll find a picnic area, a number of hiking trails, and two campgrounds.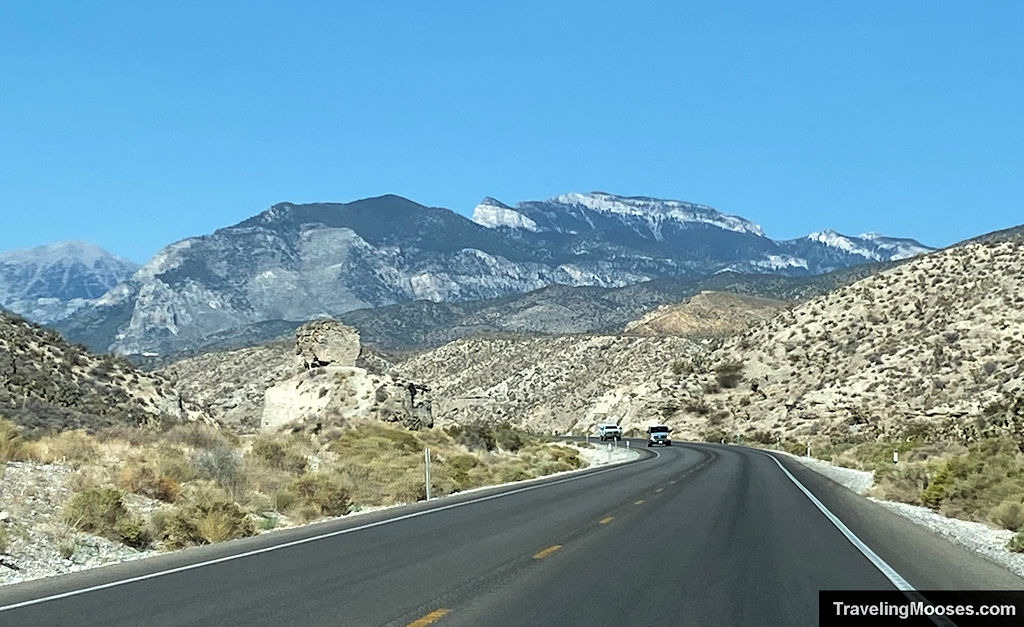 NV-156, Lee Canyon (17.5 miles)
When you reach the end of NV-158, head to the left to visit the famed Lee Canyon Ski & Snowboard Resort. There you can have a quick bite to eat at their Bighorn Grill, try your hand at archery or axe throwing, play a round of disc golf, or enjoy a scenic chair lift ride to over 9,000 feet in elevation (check summer hours).
3. Spring Mountains Visitor Gateway
The Spring Mountains Visitor Gateway is the perfect spot to begin your journey into the Mt. Charleston area. Open year-round (on the weekends), this 128 complex acre complex begins with a visitor center to acclimate you to the area. The visitor center features many interactive exhibits, an information desk and a bookstore.
If you have time, you can also check out the following:
Visit the Silent Heroes of the Cold War Memorial, which honors the thousands of individuals who lost their lives during this conflict.
Celebrate the heritage of the Southern Pauite tribe at the Seven Stones Plaza. You can find more information about the meaning of this special place here.
Attend an event at the Mt. Charleston or Kyle Amphitheaters.
Stop at the Education Building which offers various programs for all ages. Check out their event calendar to see what is available.
4. Explore over 100 miles of hiking trails
Late spring to early fall brings premier hiking opportunities in the Mt. Charleston area. With over 100 miles of trails, waterfalls, gorgeous views, wildlife, wildflowers and more, there's a hike you're sure to enjoy in the area.
Choose your own adventure by exploring the best hikes on two different sides of Mt. Charleston: Kyle Canyon and Lee Canyon.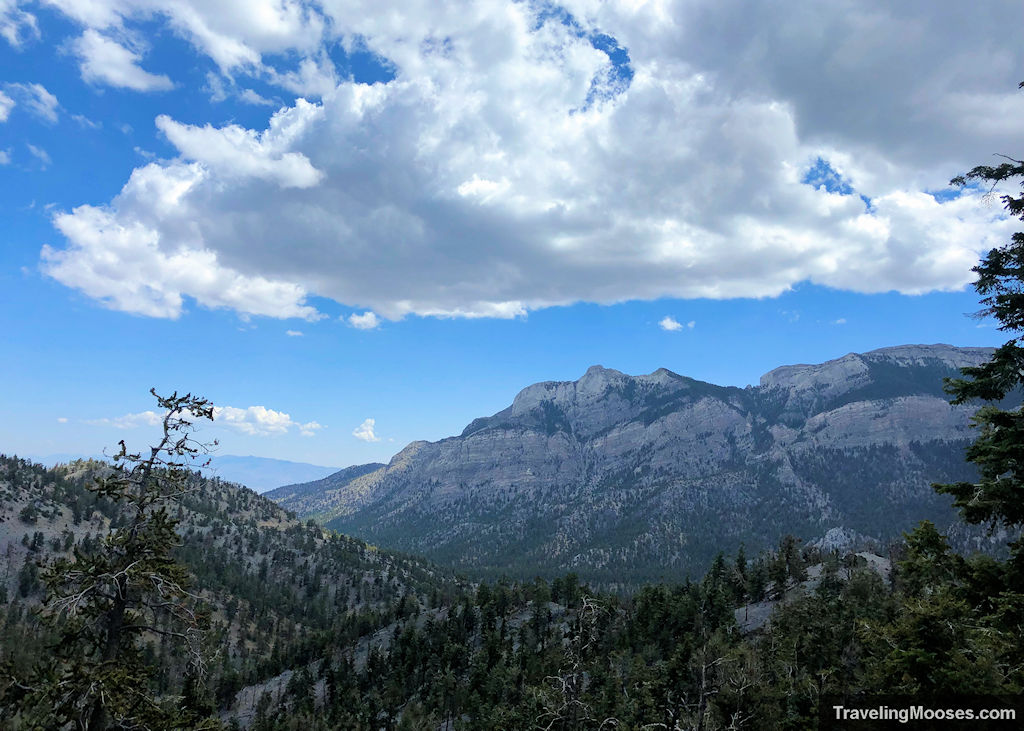 Best hikes in the Kyle Canyon area
| | | | |
| --- | --- | --- | --- |
| Trail Name | Distance (miles) | Difficulty | Average Time |
| Eagles Nest Loop | 2.7 | Easy | Less than 2 hours |
| Kunav Huveep | 0.6 | Easy | 30 min |
| Acastus Trail | 3.5 | Easy | 1.5 hours |
| Cathedral Rock Trail | 2.8 | Moderate | 2 hours |
| Mary Jane Falls | 3.9 | Moderate | Less than 3 hours |
| Pack Rat Route Trail | 1.4 | Moderate | 1 – 1.5 hours |
| Big Falls Trail | 4.5 | Moderate | Less than 3 hours |
| Fletcher Canyon | 4.0 | Moderate | 1.5 – 2.5 hours |
| Escarpment Trail Loop | 3.7 | Moderate | 2 hours |
| Little Falls Trail | 0.8 | Moderate | 30 min |
| Stanley B Springs Trail | 3.0 | Moderate | 2 hours |
| Mt. Charleston Peak – South Loop | 16.6 | Strenuous | All day |
| Trail Canyon Trail | 3.9 | Strenuous | Less than 3 hours |
| Echo Overlook Trail | 4.6 | Strenuous | Less than 3 hours |
| Fletcher Peak | 7.2 | Strenuous | Less than 5 hours |
| Cave Spring via Trail Canyon | 4.7 | Strenuous | 3 – 4 hours |
| Cockscomb Peak | 6.3 | Strenuous | 3 hours |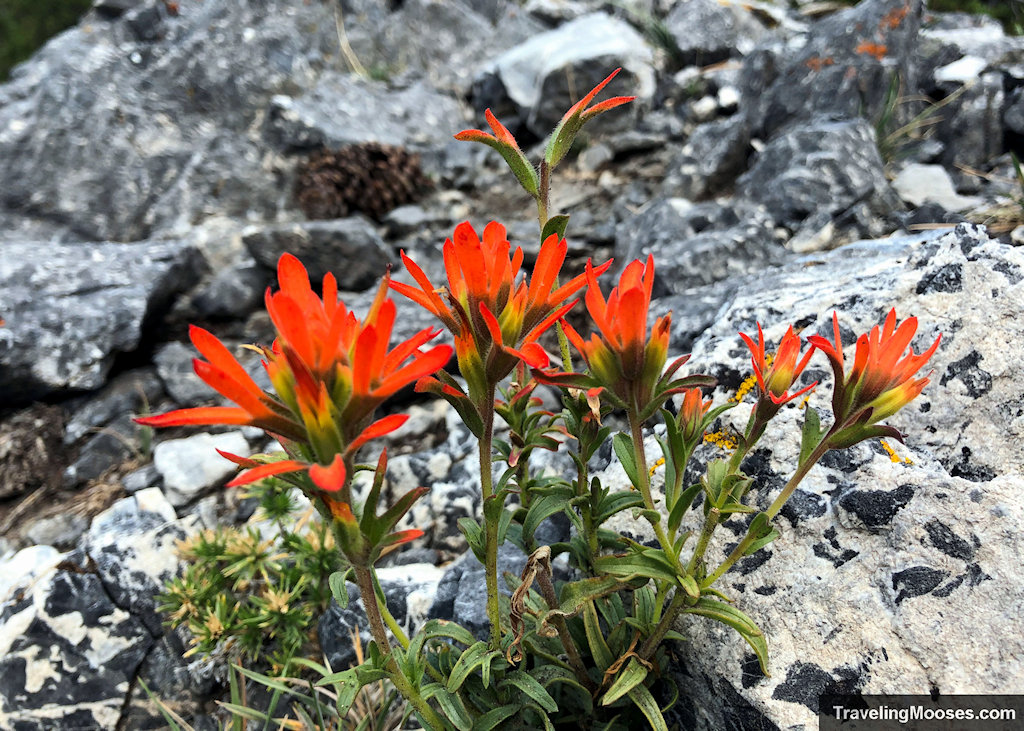 Best hikes in the Lee Canyon area
5. Take a ride on the scenic chair lift at the Lee Canyon Resort
In the summer months, the Lee Canyon Ski Resort offers scenic chair rides on the weekends. Enjoy the short ride up the mountain to enjoy panoramic views of the Spring Mountains area.
Tickets are only $10 (prices subject to change) for adults and free for children 5 and under. Cap off your day with a visit to the Bighorn Grill to enjoy a local craft beer and something hot off the grill.
6. Play a round of disc golf
With limited options in the Las Vegas area to play a round of disc golf, head out to Lee Canyon to play our favorite course in the area.
Boasting 180-degree views of beautiful mountains and varied terrain to keep the holes interesting, this course is sure to satisfy your disc golf desires.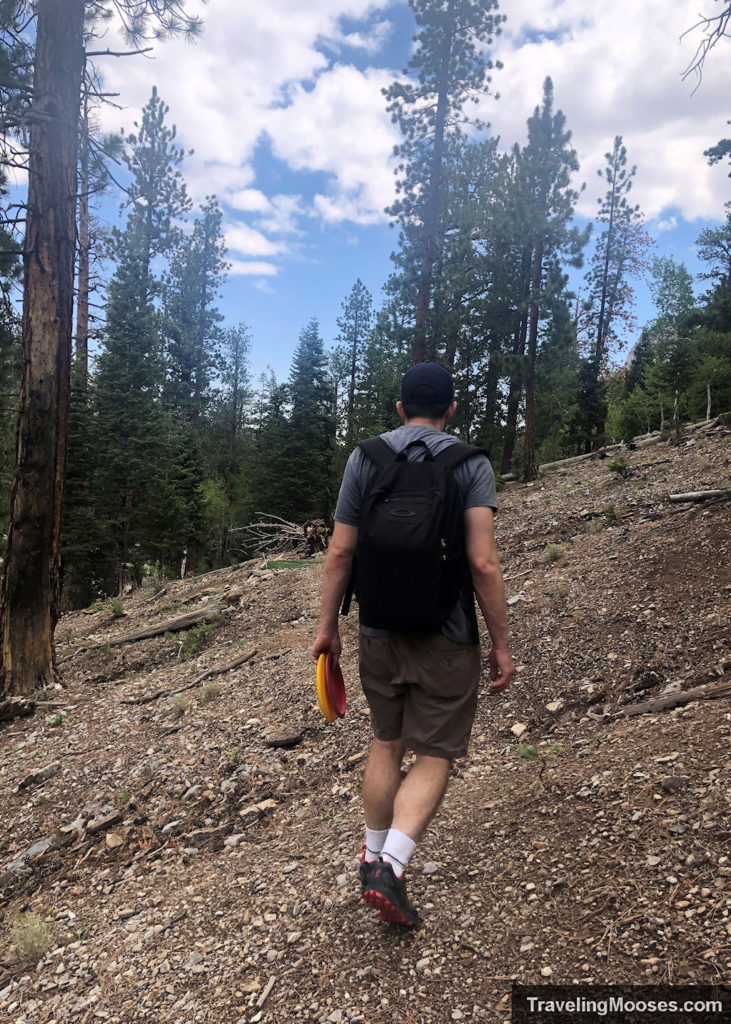 The course is best used on the weekends when the scenic chair lift is open. For the more adventurous, try your hand at a round during the week and hike up the ski hill to complete the course.
Packages available (prices subject to change):
$20 for gear and chair lift ride
$10 for chair lift only
Check out our review of the Lee Canyon Disc Course.
7. Mountain biking
Mt. Charleston has several routes for the avid biker. These are considered multi-use trails, so use caution to watch out for hikers and wildlife. Keep in mind there are no bike rental shops nearby, so you'll have to bring your own bike.
Coming soon: In the Summer of 2023, Lee Canyon is scheduled to open down hill mountain biking.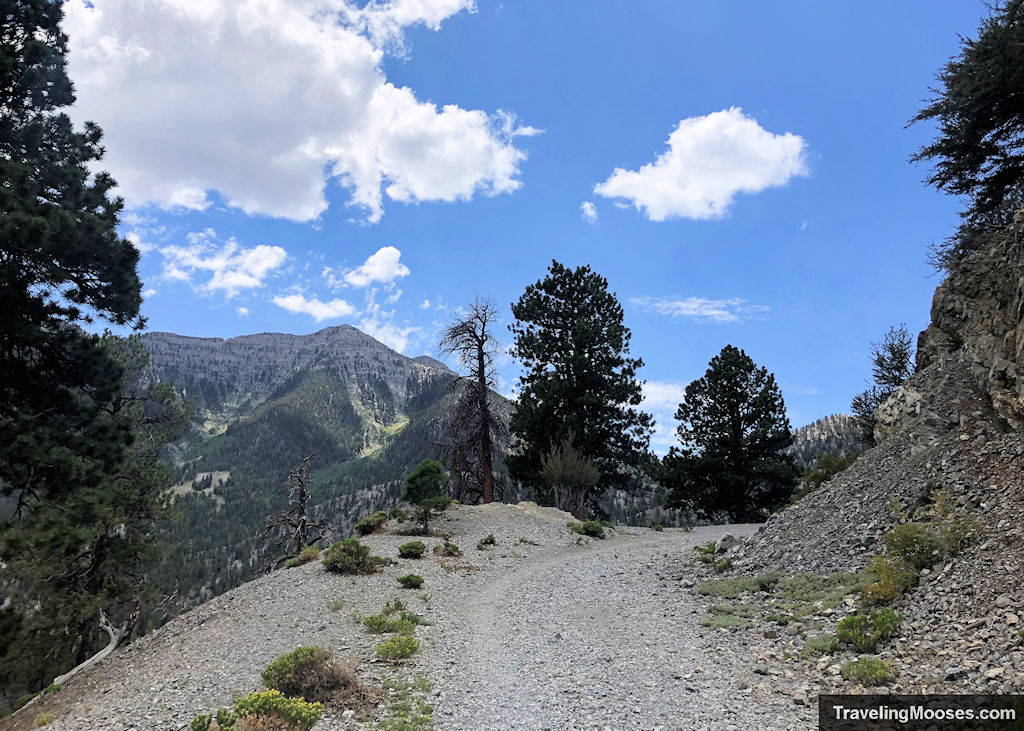 | | | |
| --- | --- | --- |
| Trail Name | Distance (miles) | Difficulty |
| Shady Holly | 0.7 | Easy |
| Lower Bristlecone Trail | 3.0 | Easy |
| Sawmill Trail | 1.3 | Easy/ Intermediate |
| Tin Can Alley | 4.1 | Intermediate |
| Twilight Alternative Cut | 0.9 | Intermediate |
| Little Daytona | 1.7 | Intermediate |
| Pixie | 1.4 | Intermediate |
| Lower Showgirl | 5.3 | Intermediate/ Difficult |
| Twilight Loop | 10.6 | Intermediate/ Difficult |
| Upper Bristlecone Trail | 2.3 | Intermediate/ Difficult |
| Adam Bomb | 0.9 | Difficult |
| Chutes and Ladders | 0.6 | Difficult |
| Rocky Gap Road | 8.2 | Very Difficult |
8. Try your hand at axe throwing
Ever dreamed of trying axe throwing? Lee Canyon is just the place to hone your skills with a 30-minute session for only $25 (prices subject to change).
You can challenge your family and friends to a friendly competition with bragging rights going to the victor. Find out more here.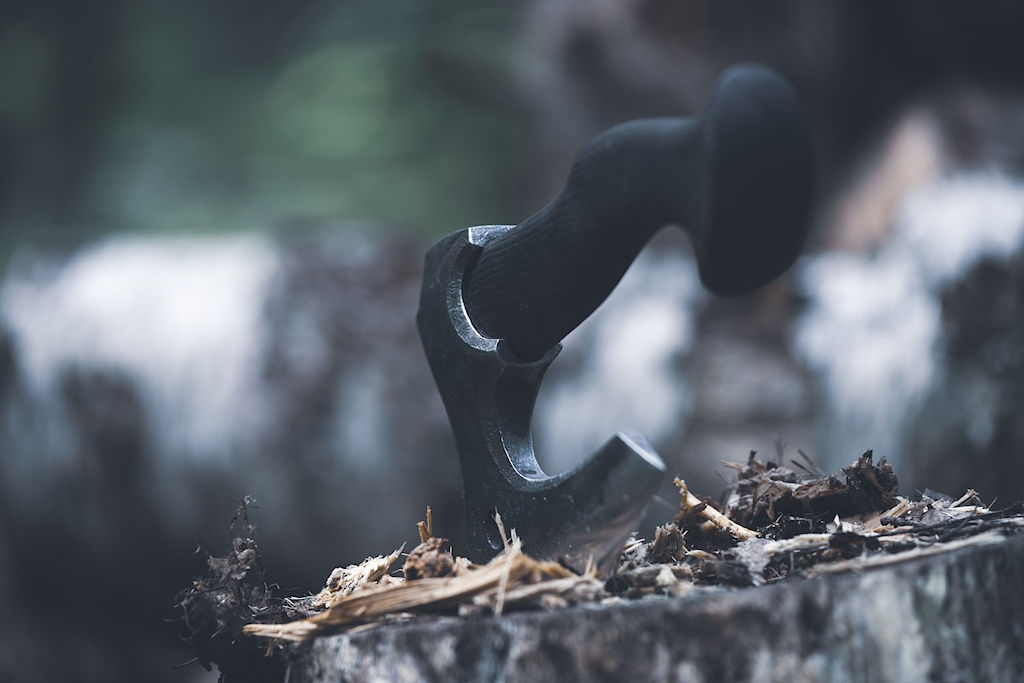 9. Hit a bullseye with a round of archery
Take a shot at hitting the bullseye with a round of archery at Lee Canyon. Popular with children and adults alike, the Lee Canyon Ski Resort offers a round of archery with all the equipment needed for only $25 for a 30-minute session (prices subject to change).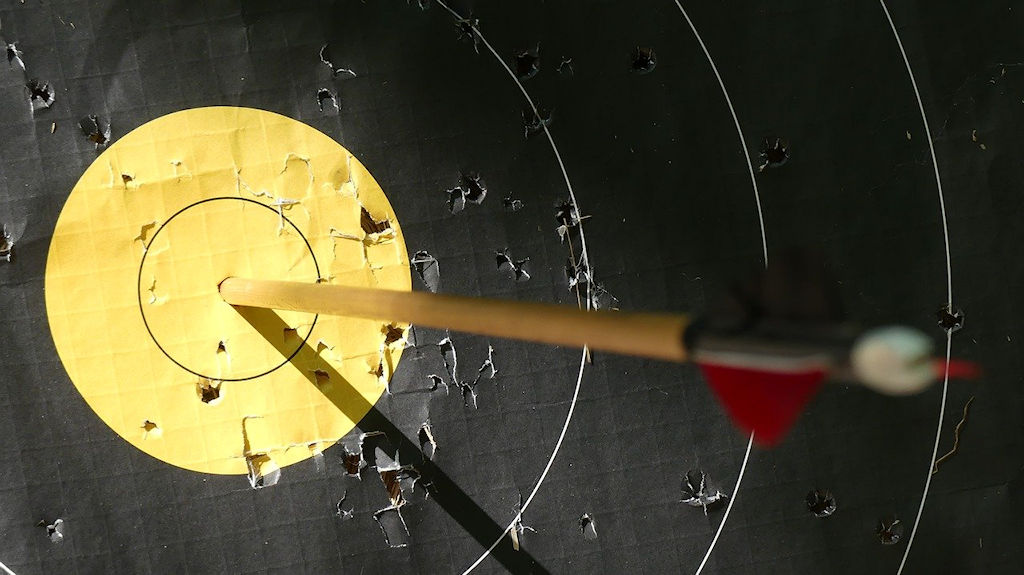 10. Catch a glimpse of wild horses or burros
Mt. Charleston and the Spring Mountains have long been home to roaming wild horses and burros.
Visitors have a high likelihood of spying one of these beautiful animals on hikes or visiting one of the many parks in the areas.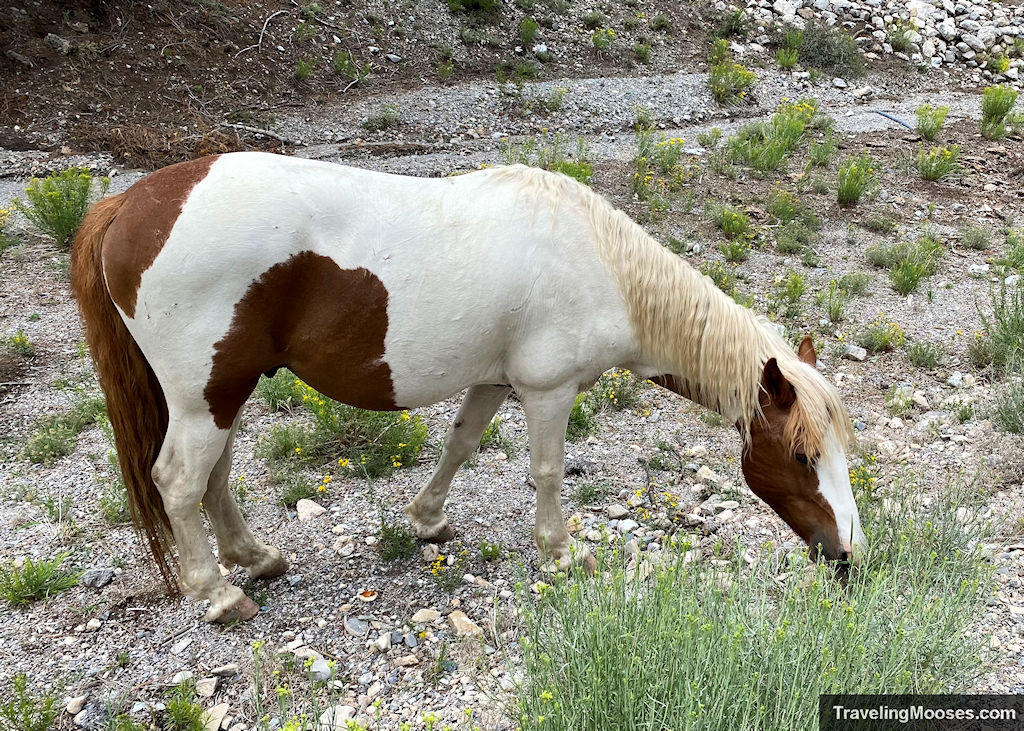 Occasionally, the USFDA Forest Service and Bureau of Land Management round up the horses and relocate them to areas with more forage resources, but they always seem to slowly make their way back.
If you do get lucky enough to see them, be sure to stay at least 40 feet away and never feed them. Both the wild horses and burros are protected under the 1971 Wild-Free roaming Horses and Burro Act. You can read more about it here.
11. Visit Caves at Robbers Roost
Transport yourself back to the 1880s during a time of legends when outlaws supposedly took refuge in the limestone caves at Robber's Roost. This small 'cave' system is located on the 158 scenic highway between Lee Canyon and Kyle Canyon.
There you will find a 0.4 mile short (but steep) trail leading to the caves. While no pictures seem to exist of the area from the 1880s, I imagine it to look similar to this Robber Baron's cave in Texas taken back in the 1920s.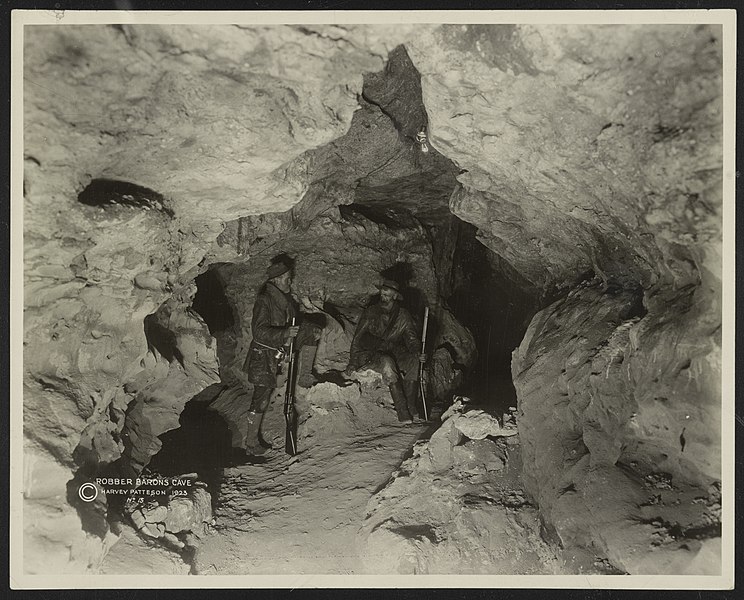 And here is what it looks like today: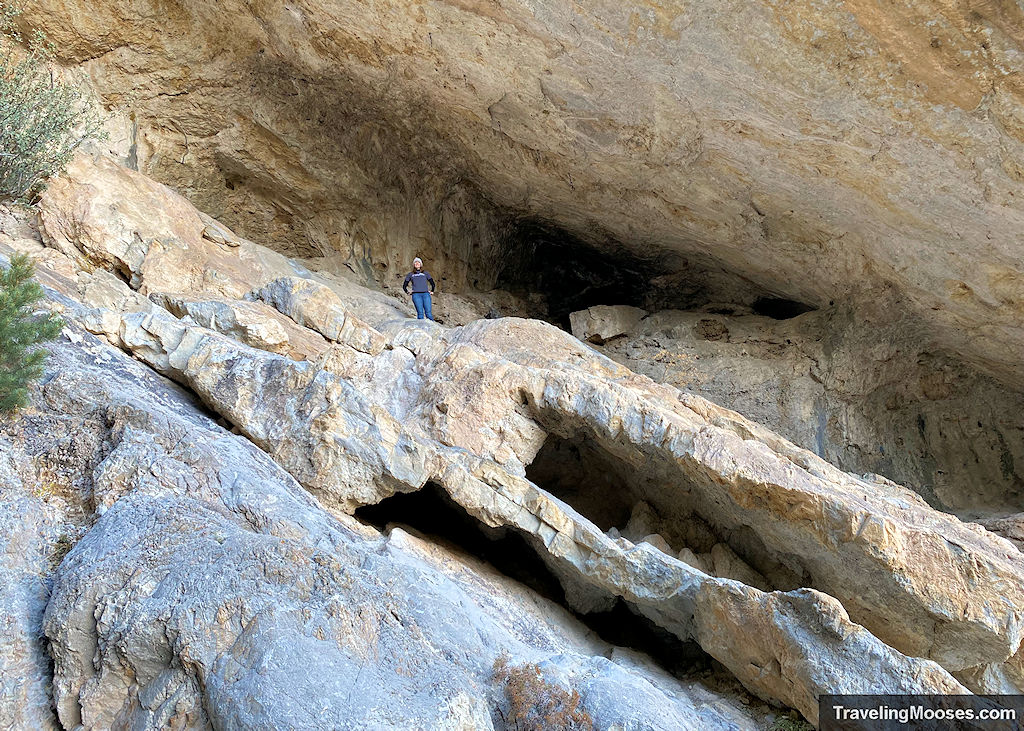 Related: Check out our visit to Robbers Roost!
12. Spend the night under the stars at one of the many local campgrounds
There are several overnight campgrounds in the Mt. Charleston area.
There is also day use only areas available to reserve for group picnics/events.
If you'd like a little more adventure, dispersed camping is also allowed in many areas of the Spring Mountains. More information on where dispersed camping is allowed can be found here.
13. Race down the slopes at Lee Canyon
Snow! Yes, that's right. There's skiing and snow located just 45 minutes from the heart of Las Vegas.
Located at 8,600 feet in elevation, you'll find the ski resort of Lee Canyon. With 3 chairlifts and 27 different runs ranging from easy to expert, you'll be soaring down the slopes in no time.
The typical season runs from early December through early April.
14. Fly down the snow tubing hills or go sledding at the Foxtail Snow Play Area
Lee Canyon has more to offer than just skiing. Head over to the tubing area to race down dedicated tubing tracks.
The area is fully equipped with a handle tow to make it a breeze to get back the summit and race down again.
Prefer flying on a sled instead? Head over to the Foxtail Snow Play Area and enjoy slipping and sliding on your own saucer. You're sure to get an extra good workout by walking up the hill before sledding back down.
These activities are more geared towards younger children, but why not embrace your inner child and participate!
15. Enjoy the majestic views of winter on a snowshoe trek through the mountains
The McWilliams Snowshoe area, located at the McWilliams campground in Lee Canyon is the perfect place to trek through snow-covered trees on a sunny afternoon.
The short, out and back trail is great for beginners and you can even bring your loving pet. Don't have your own snowshoes? No problem, rentals are available on the weekends for only $10 (prices subject to change).
Check out the video below of the Lower Bristlecone Trail in the snow.
More Information for your trip to Mt. Charleston:
You might also like: