Echo Overlook trail is a popular hike in the Mt. Charleston wilderness area that leads hikers through fields of gorgeous wildflowers, past the towering Echo Cliffs and ends with views of Cathedral Rock and Mt. Charleston.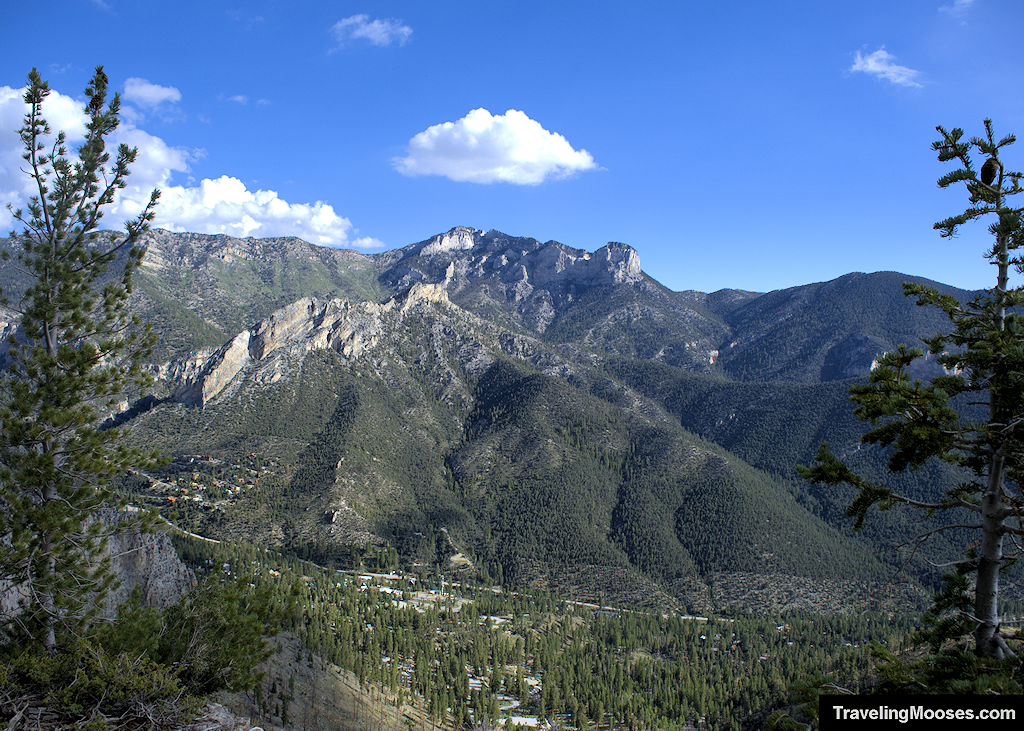 In this guide:
Echo Overlook Trail Stats
| | |
| --- | --- |
| Trail Description | Out and back |
| Location | Echo Overlook, South Loop Trailhead / Mount Charleston NRT |
| Parking Lot | South Loop Trailhead / Cathedral Rock, Mount Charleston, NV 89124 |
| Round Trip Mileage | ~4.6 miles |
| Average Time | 3.0 hours |
| Difficulty | Moderate/Hard – The trail is considered moderate/hard due to the max elevation and uneven ground. Higher elevations are tougher to hike in. The trail includes switchbacks and some roughly made stone stairs. |
| Elevation Gain | ~1,410 feet |
| Elevation Start | ~7,661 feet at parking area. (Source) |
| Elevation Max | ~9,071 feet at Echo Overlook |
| Best time to visit | Summer and Fall. – Note: The trailhead closes in the winter months. |
| Amenities at the Trailhead | Upper and lower parking lots, trail map / information board, primitive bathrooms, benches, water, trash receptacles. |
| Entrance Fee | None |
| Rating | 5.0 Mooses |
What to expect on Echo Overlook Trail
Echo Overlook is reached via the South Loop trail aka Mount Charleston NRT (National Recreation Trail) and starts in the same parking area as the Cathedral Rock trailhead.  Hikers may also opt to continue past Echo Overlook on the South Loop trail to reach Griffith Peak or Mount Charleston Peak.
We planned to visit on a weekend and knew it was going to be busy, so we arrived at the trailhead just after 7 a.m.
The lower parking area holds around 50 vehicles and we found about 9 spots open when we arrived. The upper parking lot was mostly empty and holds approximately 25 vehicles.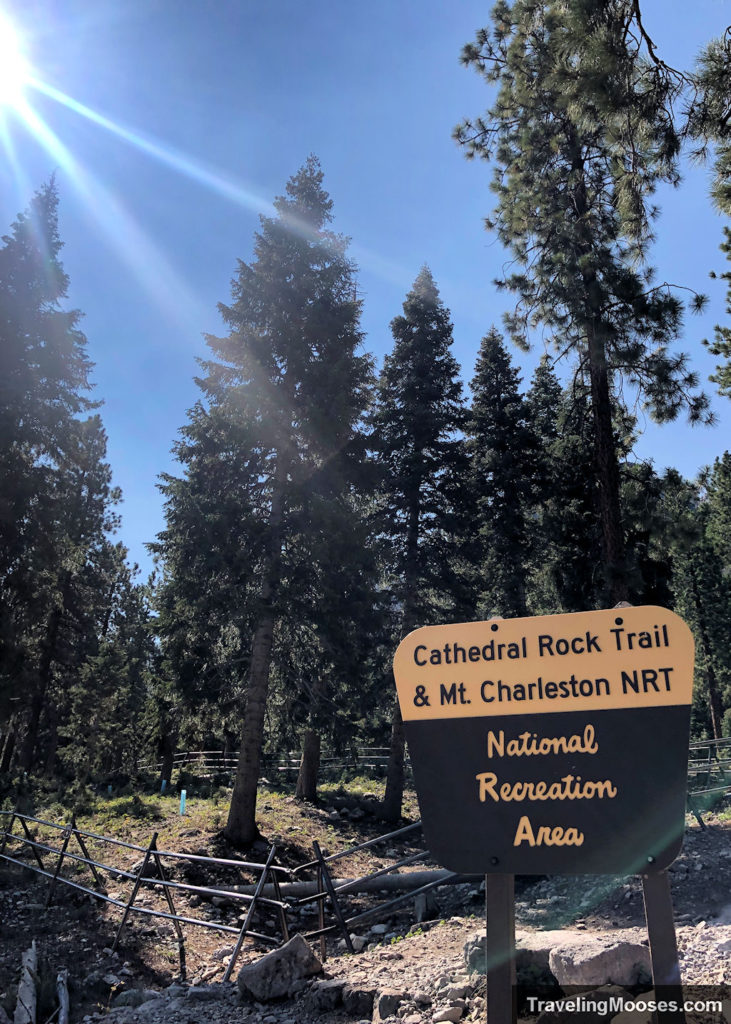 To begin, look for the large Cathedral Rock / Mount Charleston NRT sign and follow the trail to the left.  You'll quickly come to a fork with Cathedral Rock headed to the right and the South Loop trail heading straight/left. 
Related: How to hike Cathedral Rock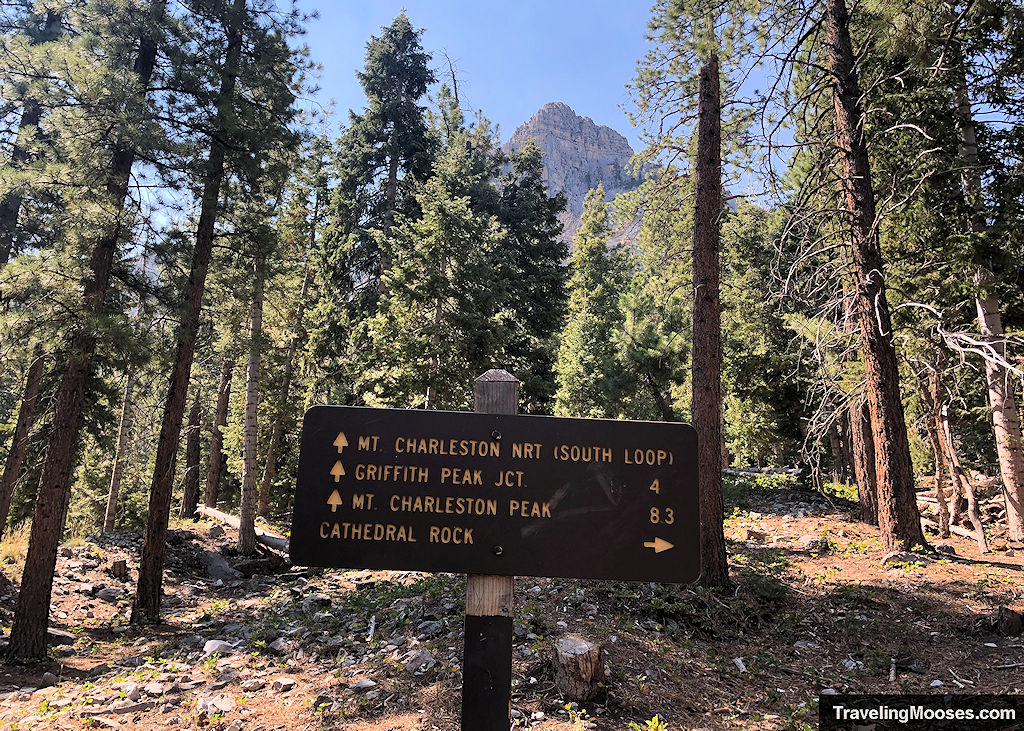 You'll notice the elevation gain starts immediately after the trail fork and it won't let up until you've reached the overlook.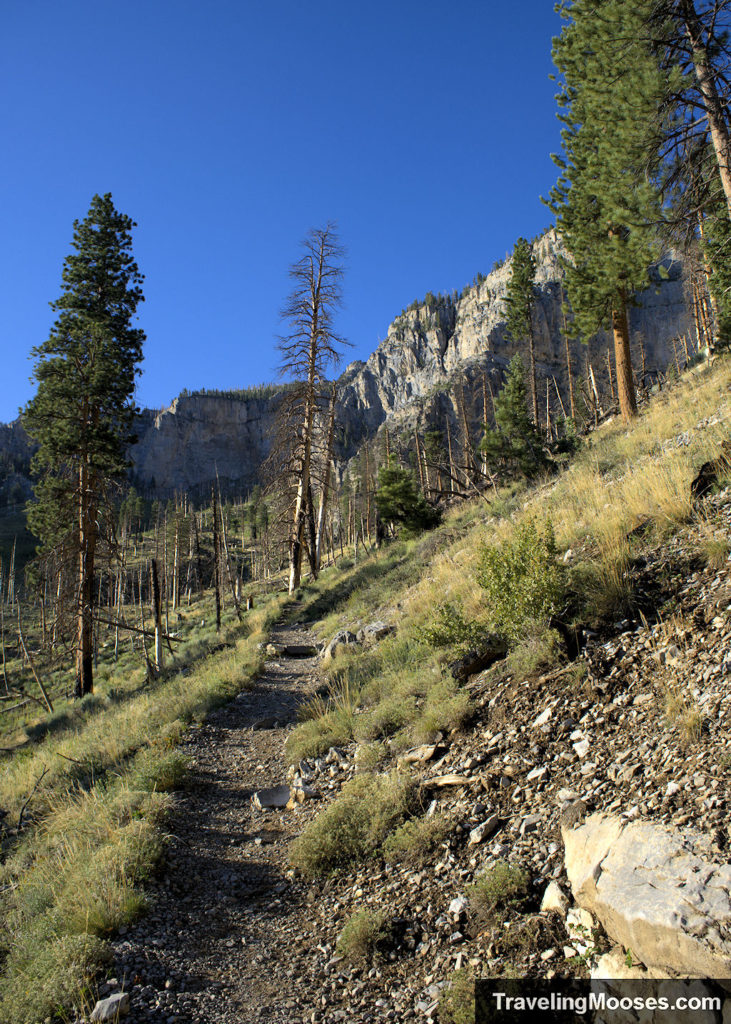 As the trail progresses, you'll be met with views of the valley, towering cliffs and seasonal wildflowers.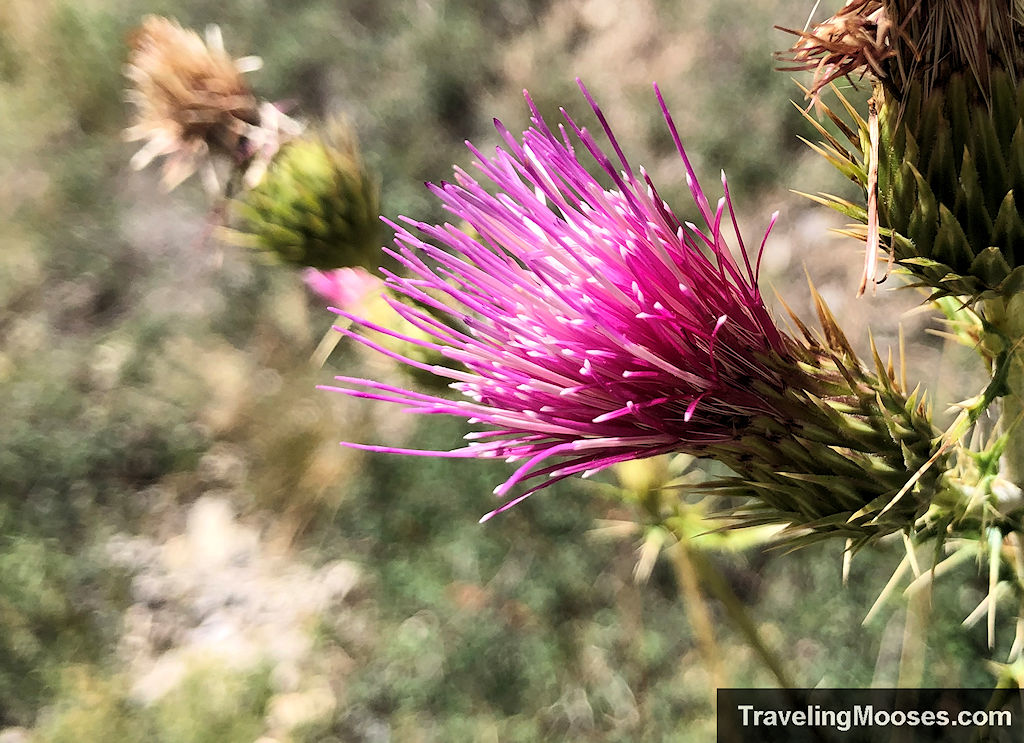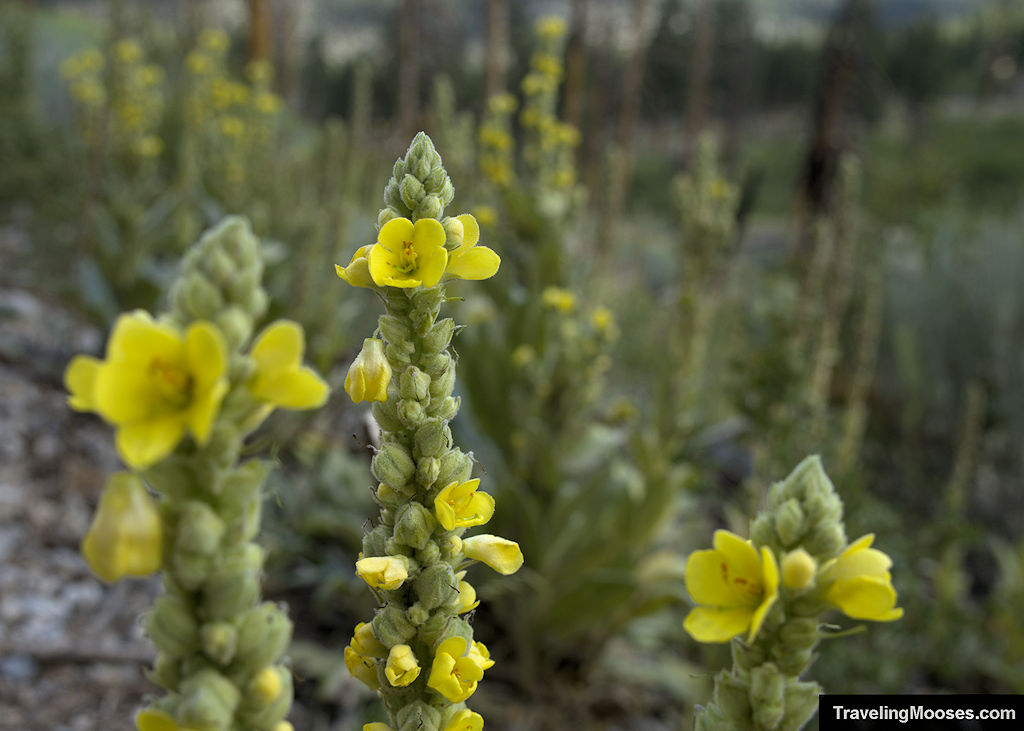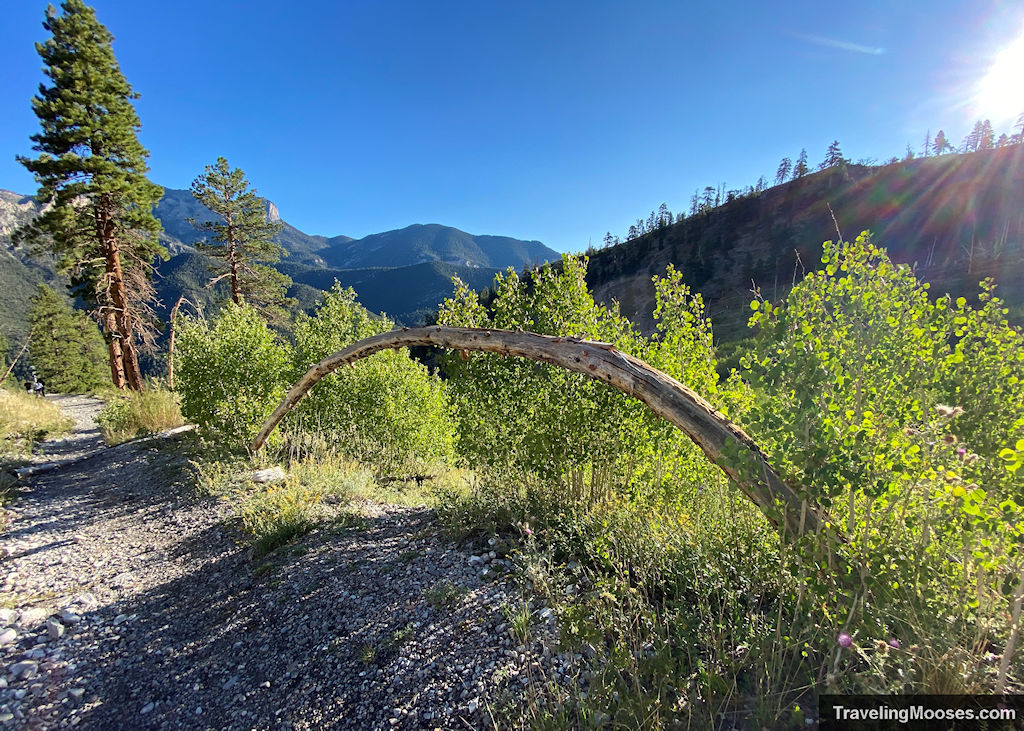 You may even be lucky enough to see the endangered Mount Charleston Blue Butterfly or a little caterpillar.  The Charleston butterfly can only be found in the Spring Mountains area (it lives nowhere else in the world).  They are most often found in late July to early August.  This is our third sighting, and while I wasn't able to get a photograph this time, it's always fun to see them on the trail.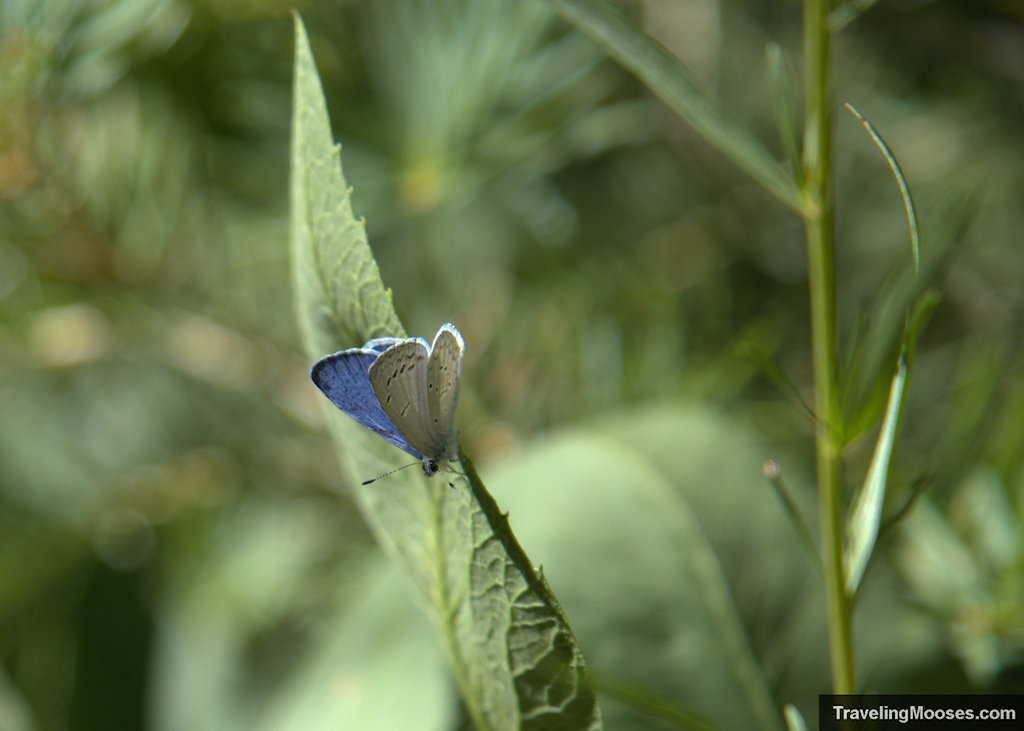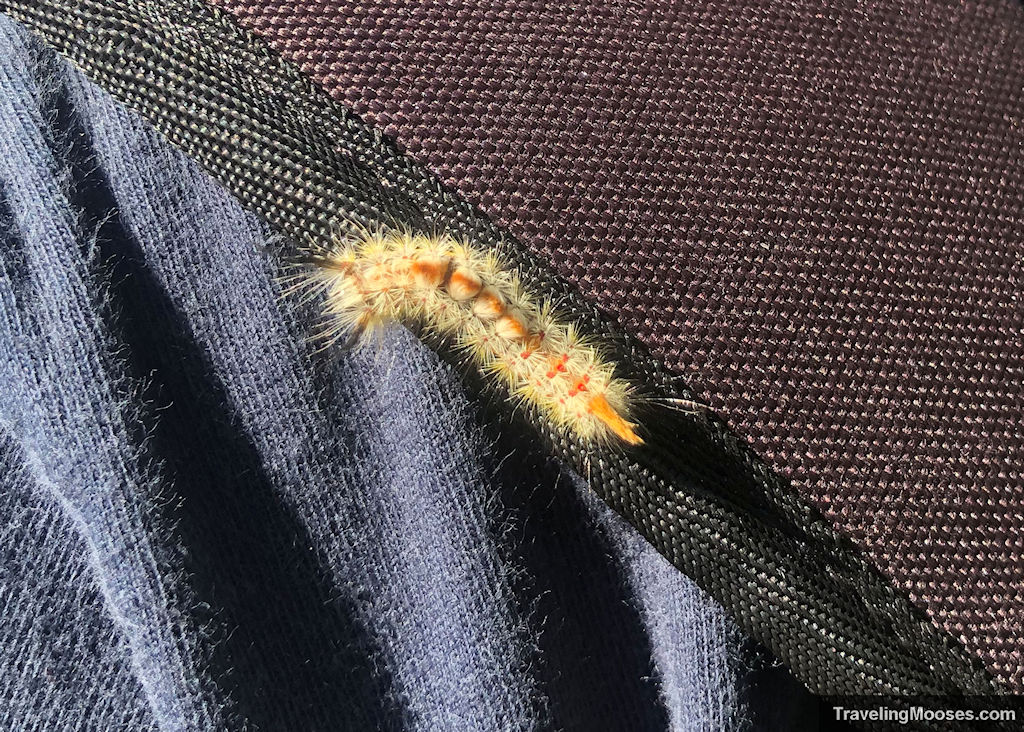 As you progress along the trail, you'll see a large prominent rock feature. This is the ultimate destination, Echo Overlook. You'll wrap around the back after a series of switchbacks to reach the summit.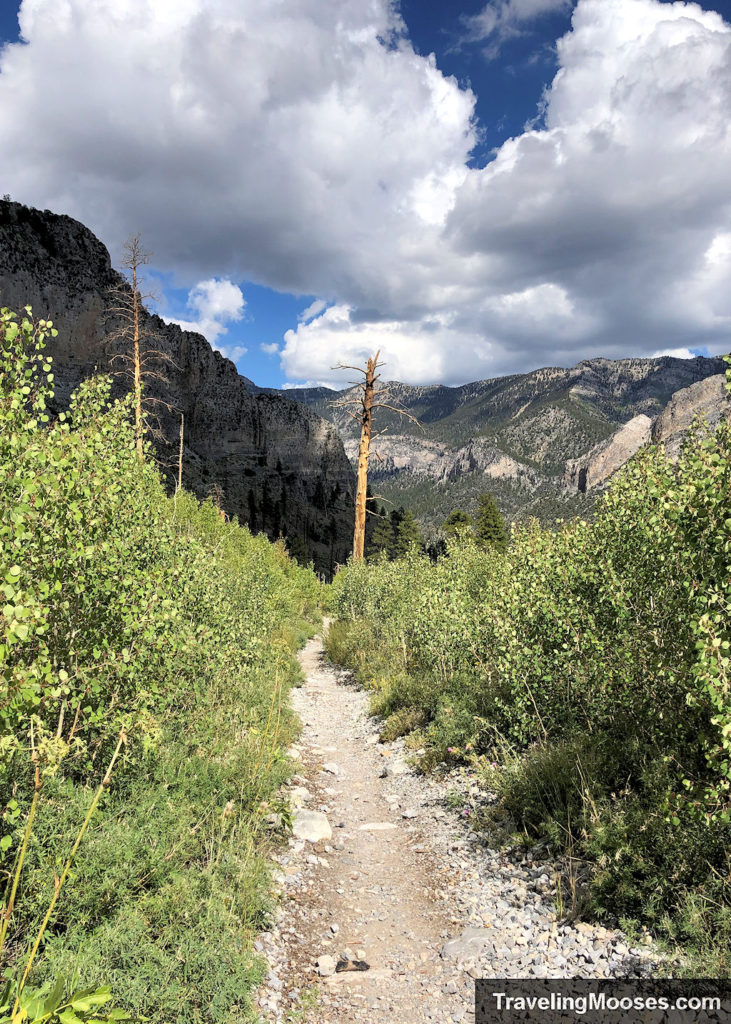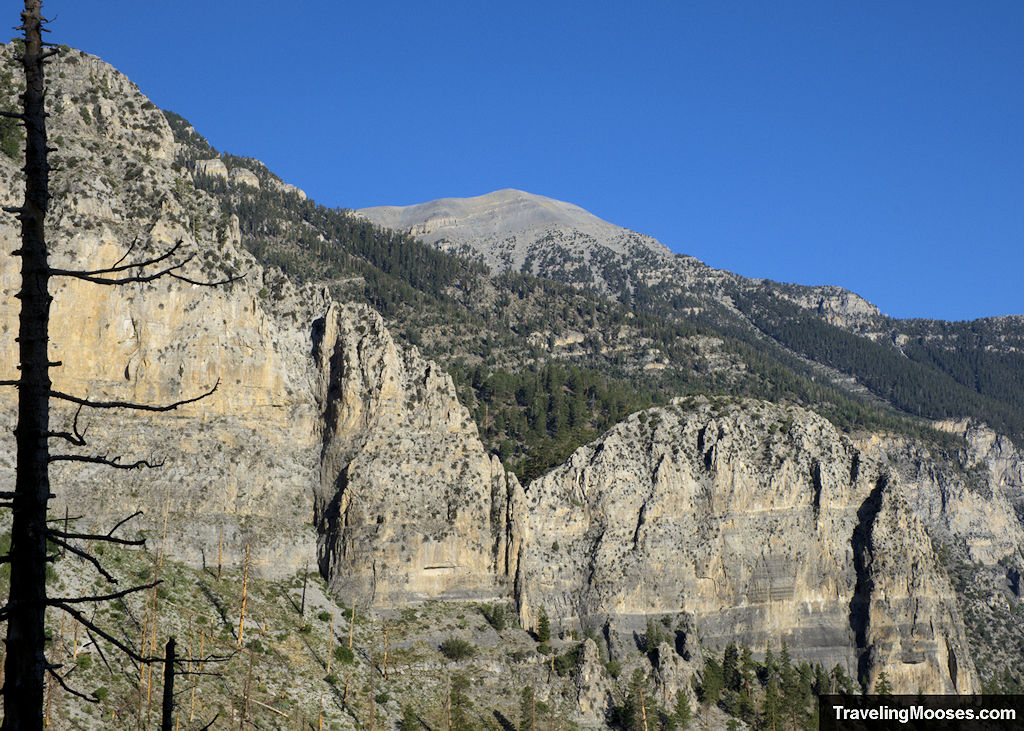 Continuing on, you'll be met with stone stairs that lead further up in elevation and wind through various trees and foliage.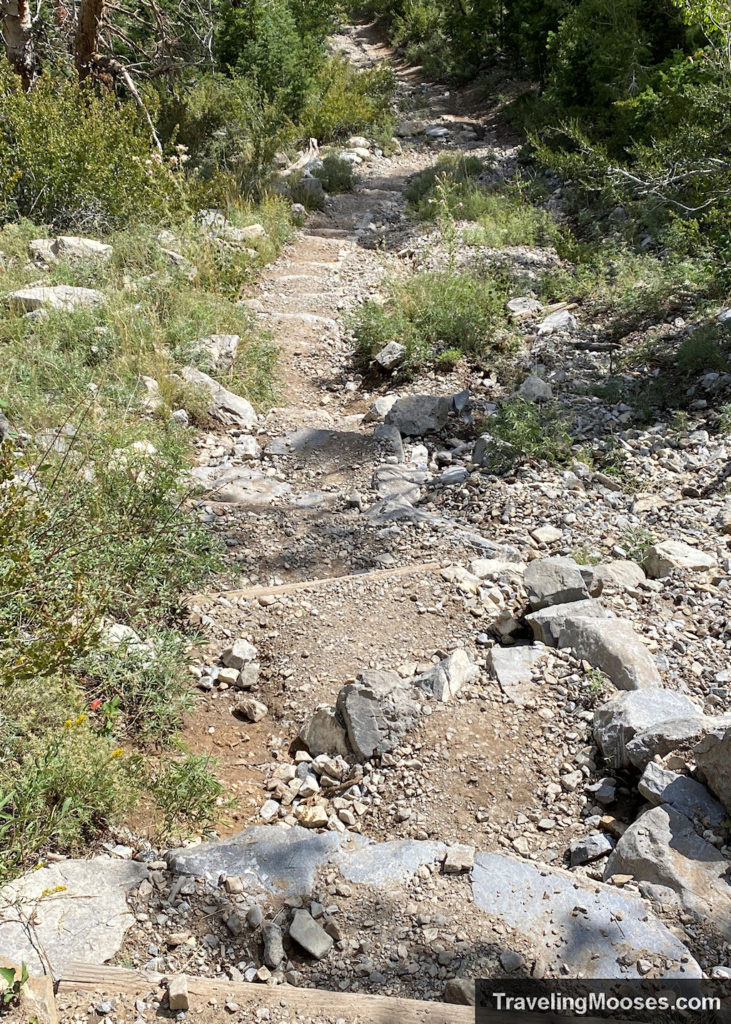 Be sure to turn around often and enjoy the views of the valley.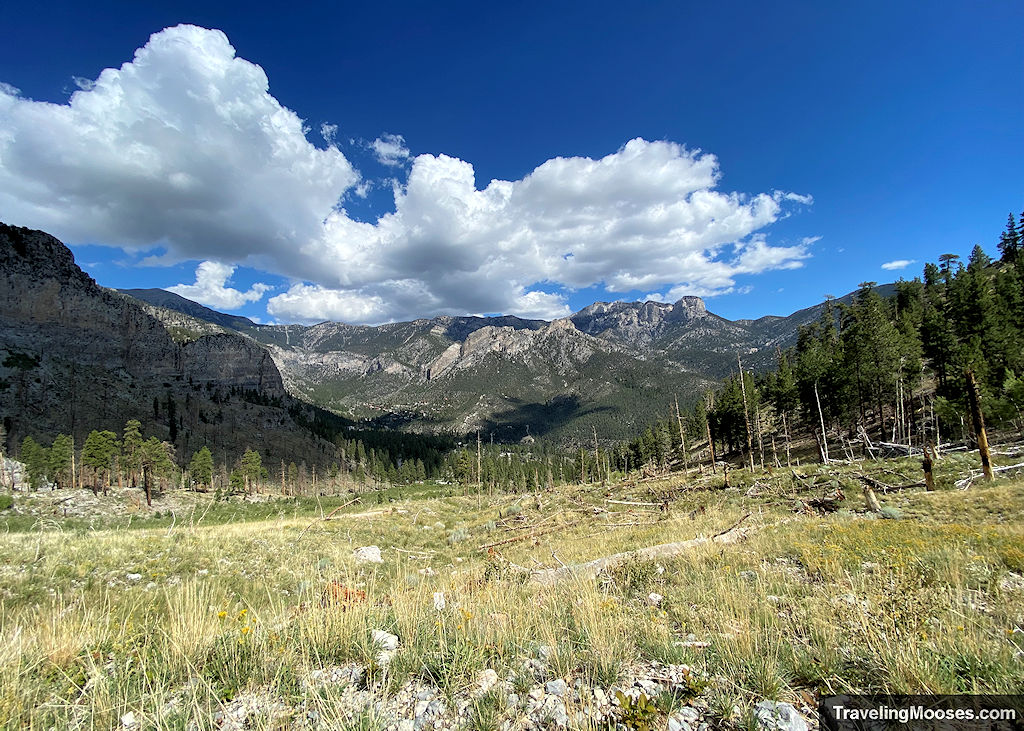 Just before the switchbacks start, you'll notice a cave located in the cliff walls, and if you're there in the summer, you may hear a small waterfall in the distance.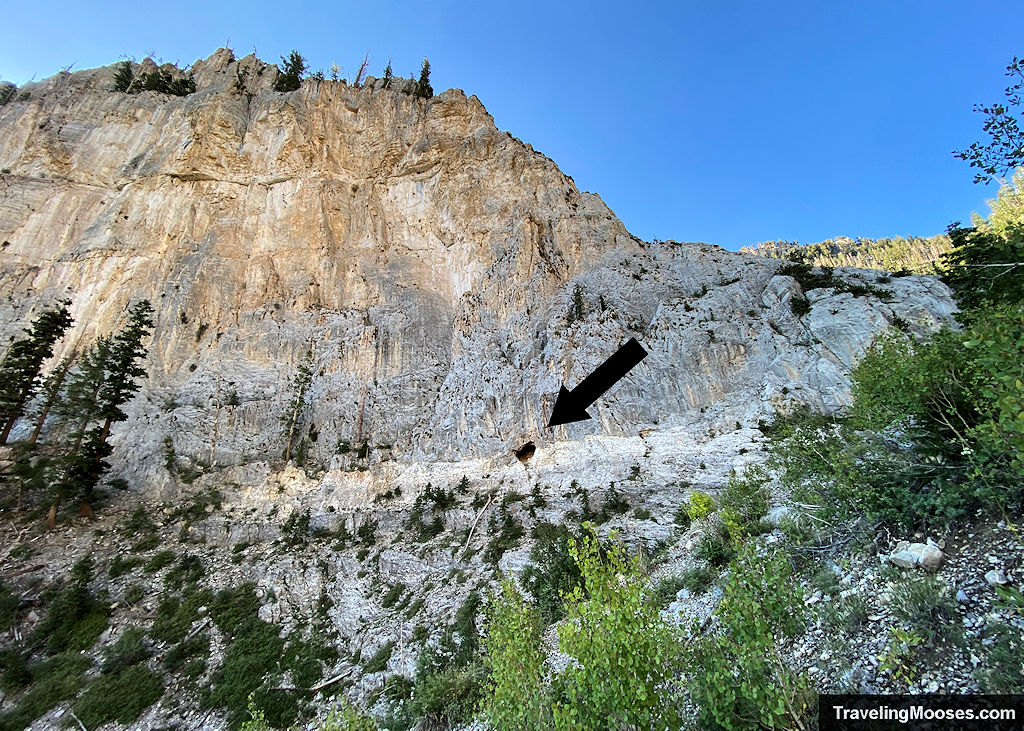 Note: We did not attempt to climb up into the cave. It didn't look safe to us, but we were wondering how many people had attempted to explore inside.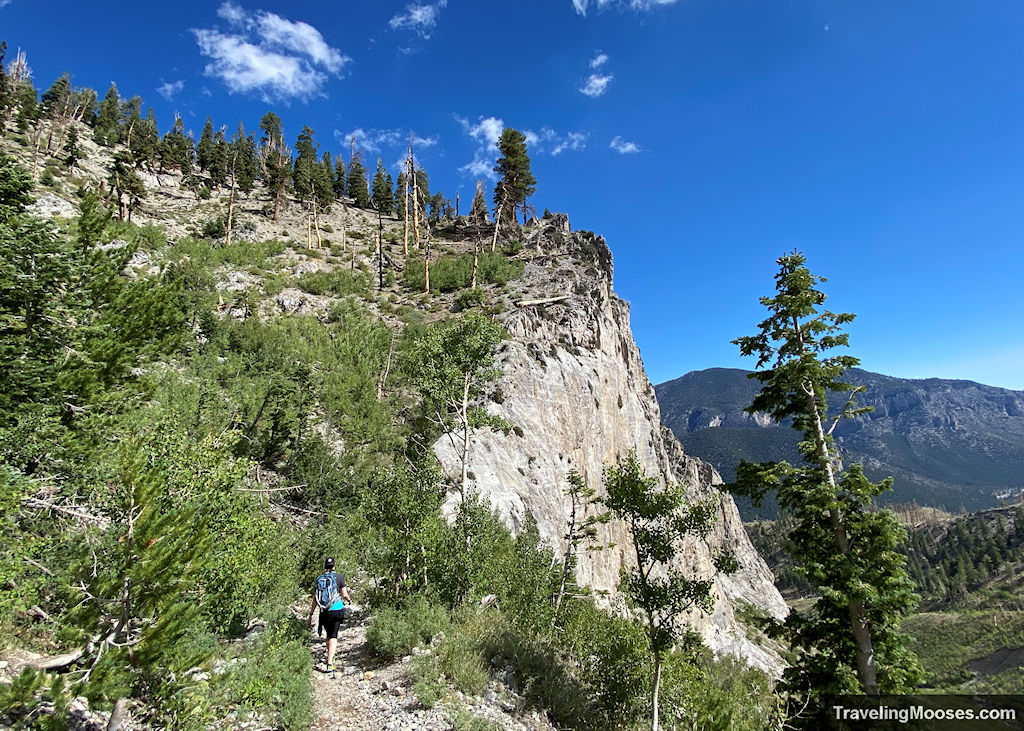 As you're trekking up the switchbacks, you may notice a side trail leading in the general direction of the waterfall.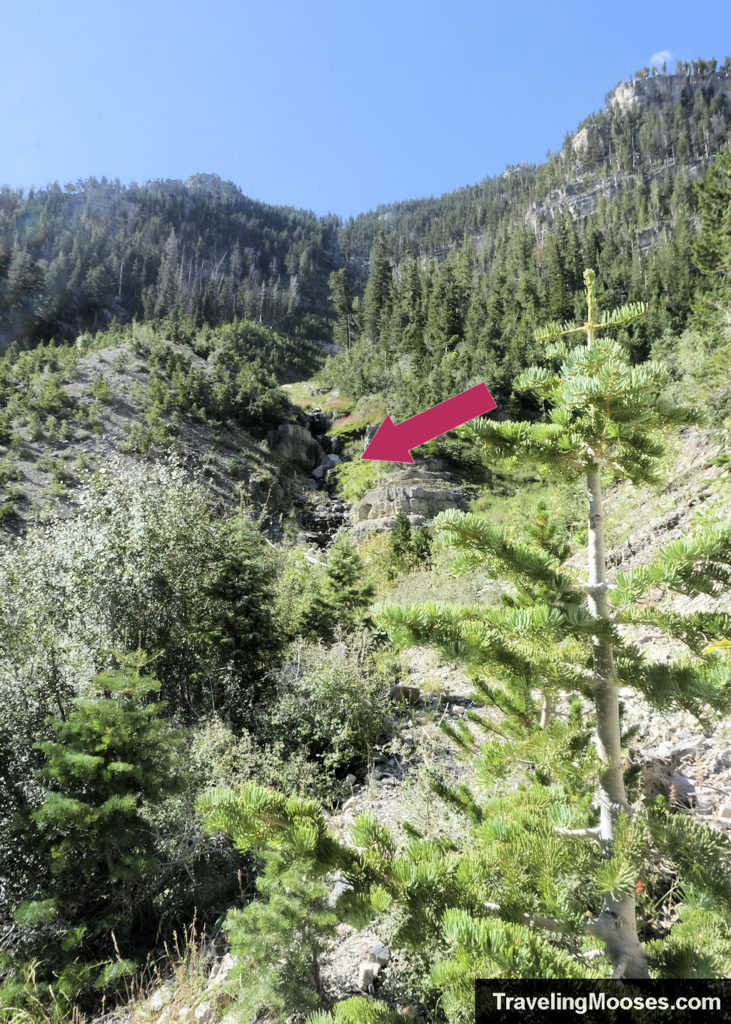 We generally don't take side-trails to chase after waterfalls, especially after watching the horrific "I Shouldn't Be Alive" episode of a couple in California. You can read more about their story here. And yes, even after reading their story, we went and summited San Jacinto Mountain. It is an amazing hike and if you're ever in Palm Springs, we highly recommend it. Just don't go chasing waterfalls.
Related: Our experience hiking up San Jacinto.
We decided the trail looked established enough to try and see the waterfall. I would actually describe it as more of a trickle, but to be fair, it had more water flowing than our recent trek to Mary Jane Falls.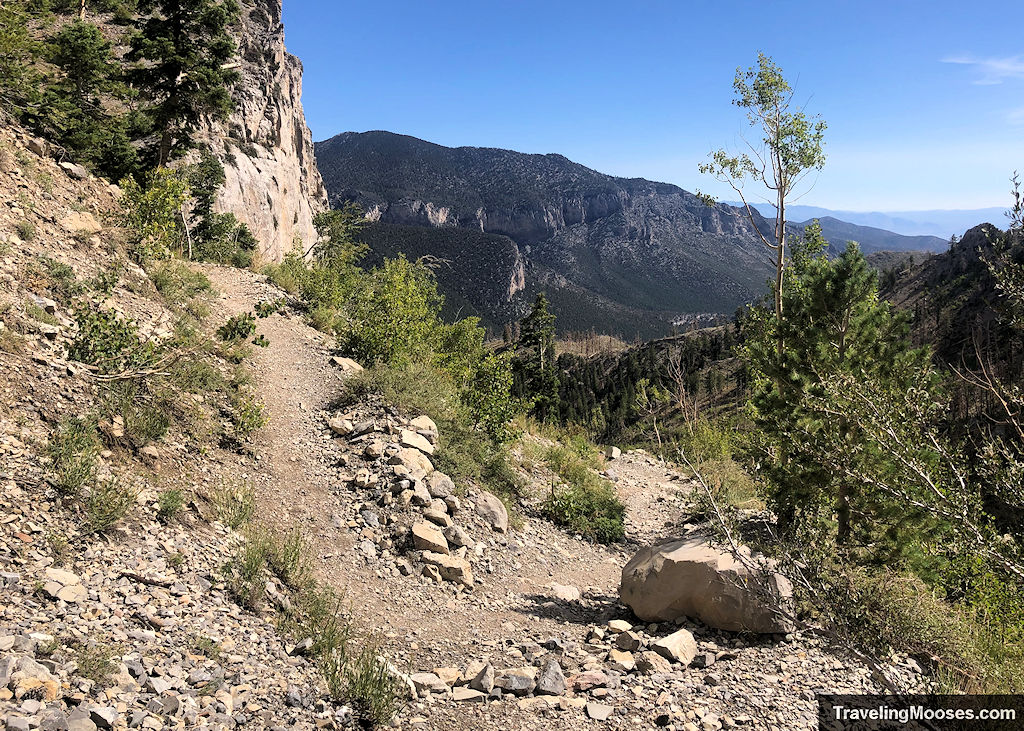 It was a fairly straight shot to reach the "waterfall" and not far off the main trail. We're glad we made the trek as it was quite peaceful and no one else was around.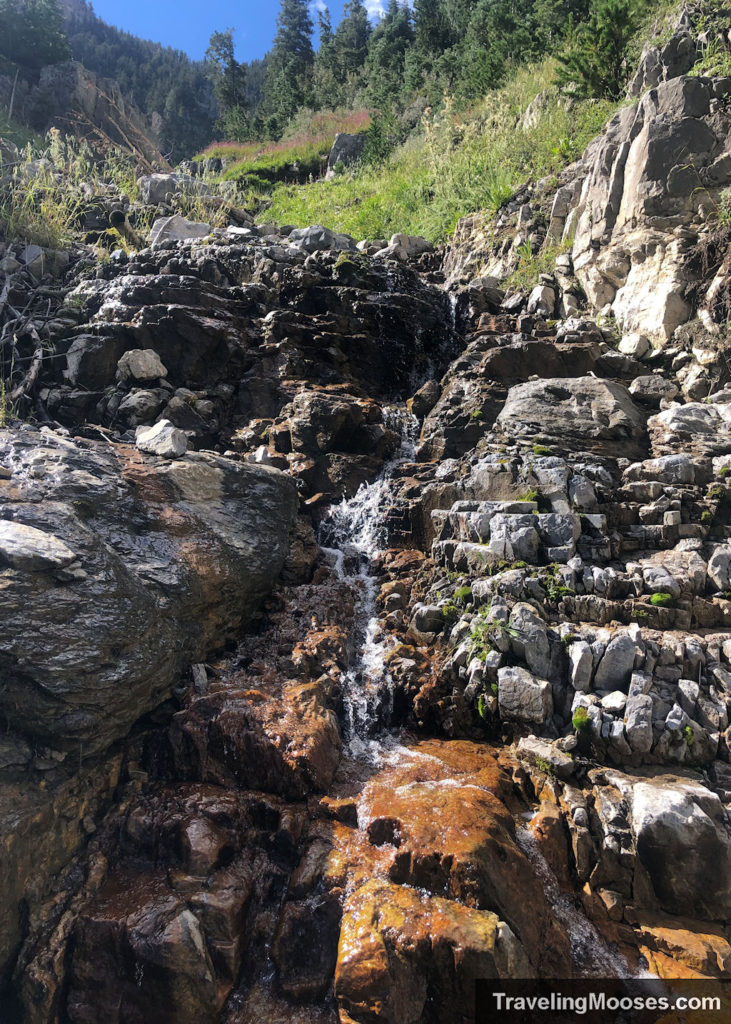 As we were heading back to the main trail, we saw this odd shape in a rock that we believe to be a fossil. If anyone knows what this is, please email us.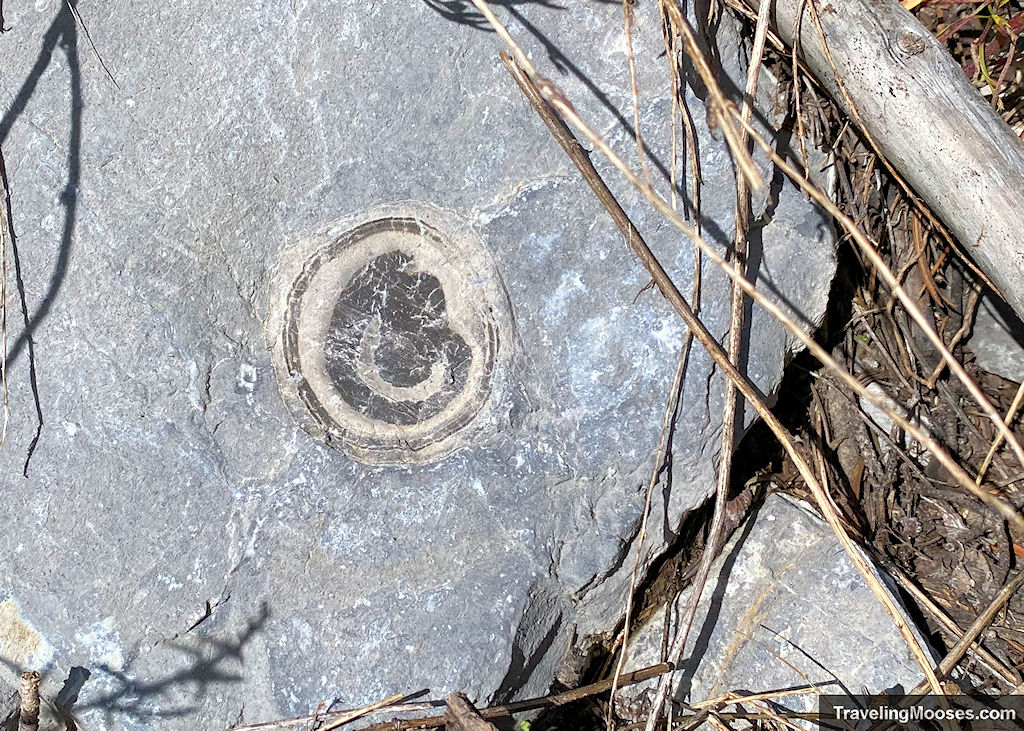 Back on the main trail, we continued up the remainder of the switch backs.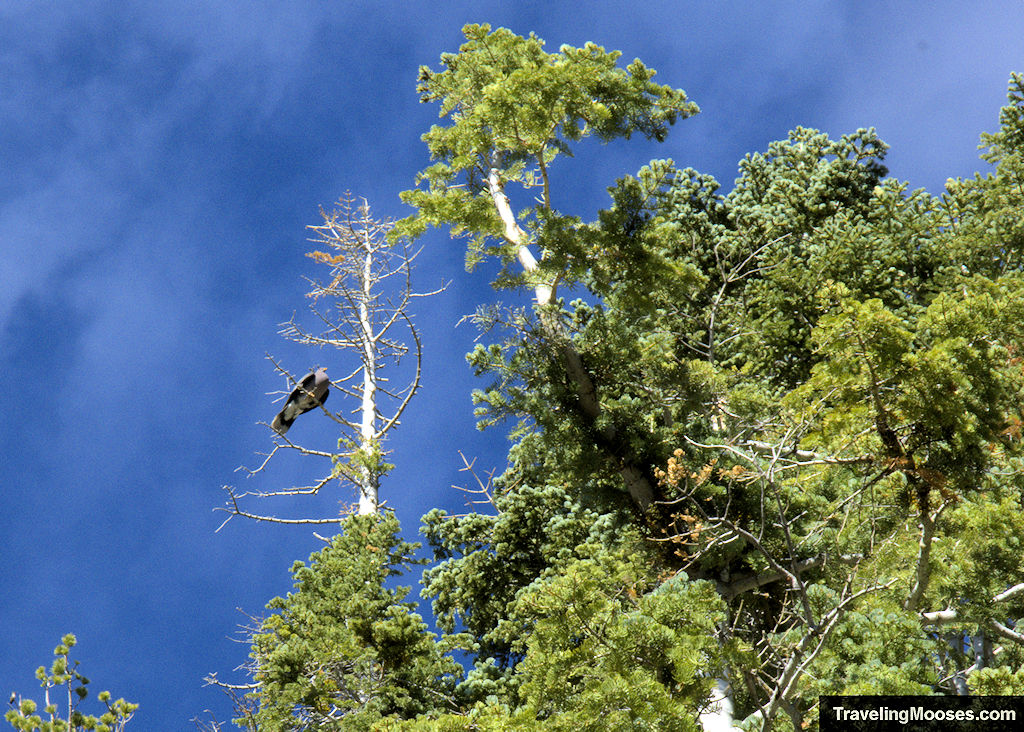 After the switchbacks are done, the trail finishes with a gentle slope up to Echo Overlook.
When you reach the overlook, you'll have several vantages to choose from.
Cathedral Rock and Mount Charleston will be to the west. If you have binoculars, you should be able to see people on top of Cathedral Rock. It was challenging to see Mount Charleston through the trees, but it was there.
Warning: Be careful walking around Echo Overlook – there are no guardrails and the ground can be slippery.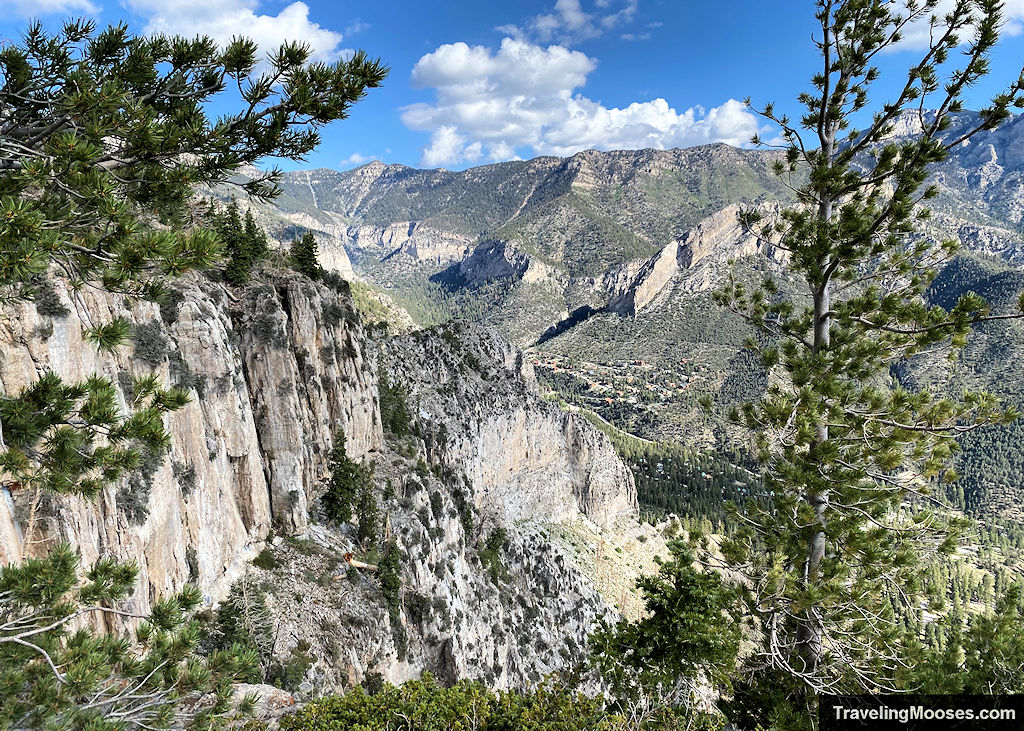 Mummy Mountain can be seen to the north.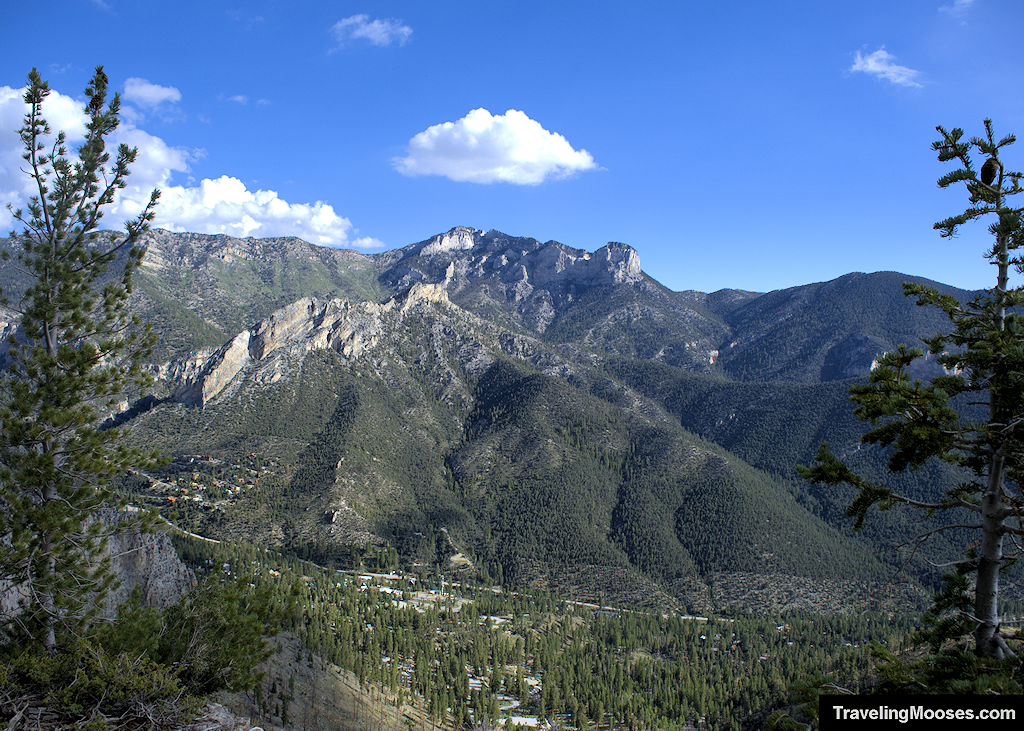 The town of Mount Charleston can be seen in the shadow of Mummy Mountain.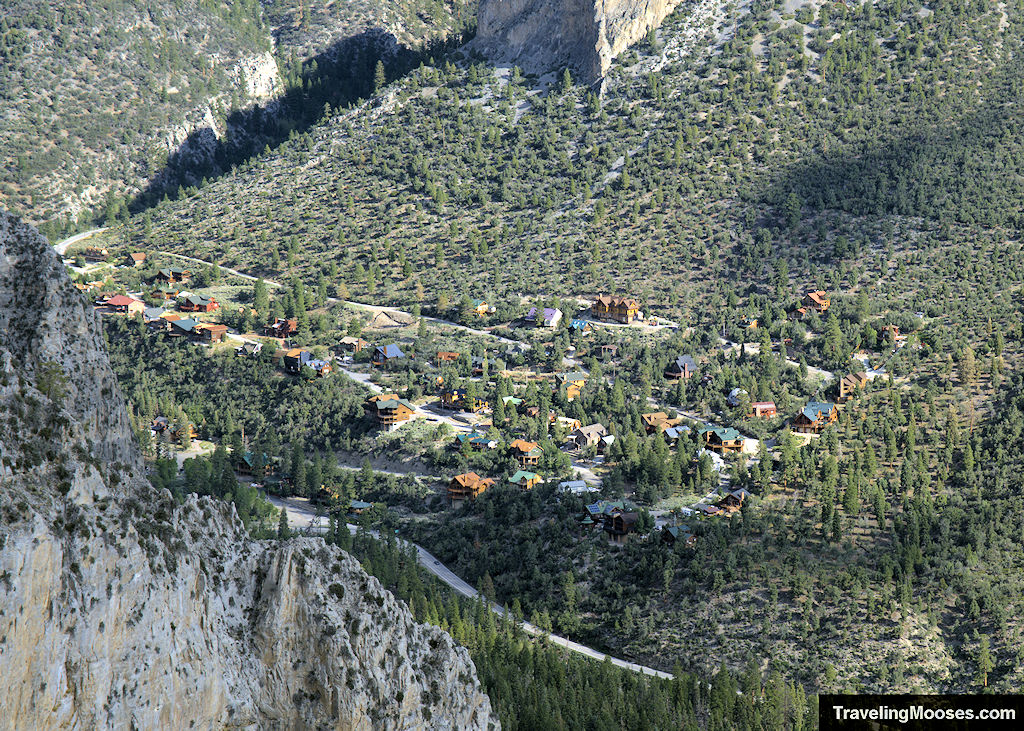 To the east, you can enjoy beautiful cliffs and views of the valley.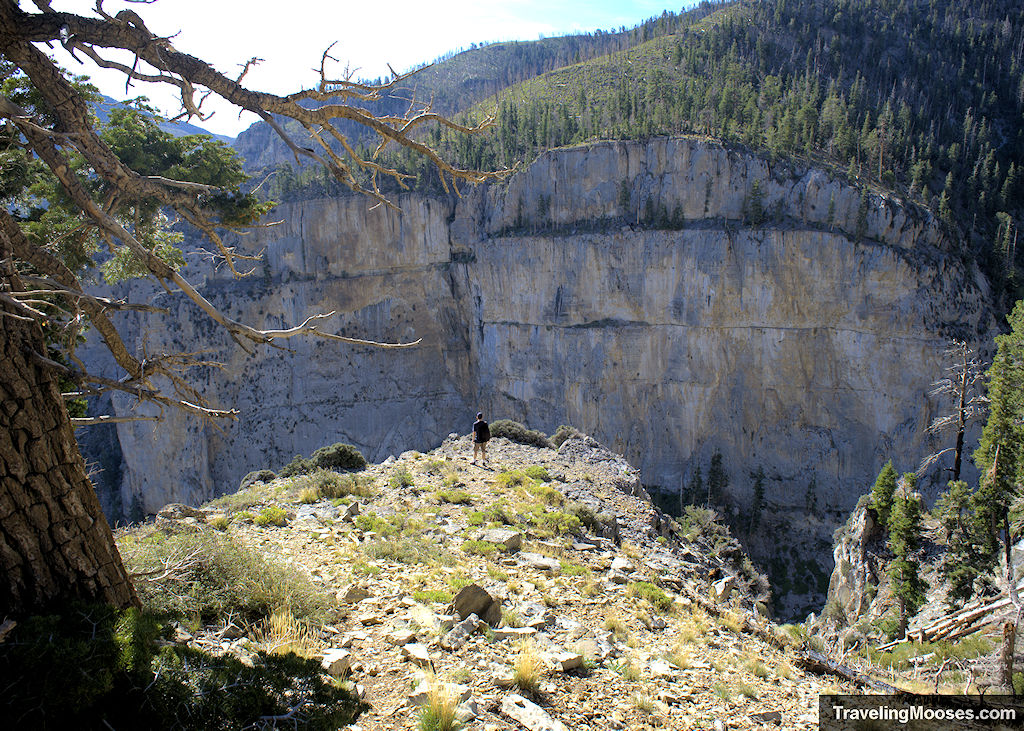 While we were at Echo Overlook, we were treated to a beautiful yellow western tanager bird. He stopped long enough for me to take a quick snap.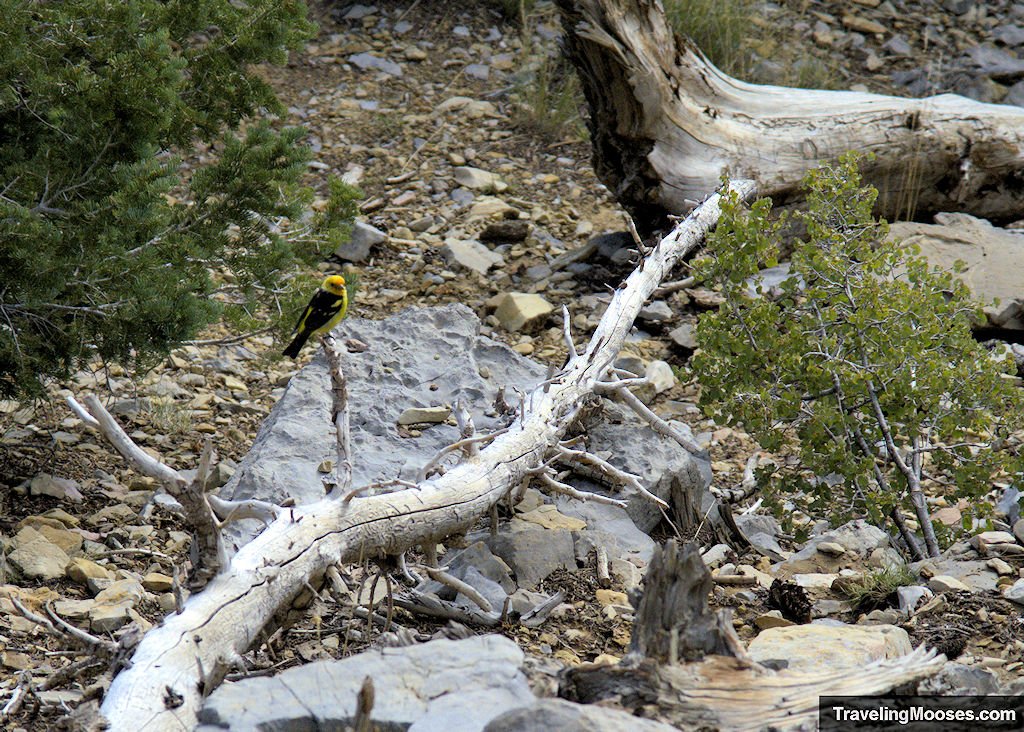 After enjoying some time at the overlook, we decided to head back down. The trail was getting quite busy and we weren't prepared for a longer trek up to Griffith Peak or Charleston.
Be sure to enjoy the gorgeous views on the way back down the trail.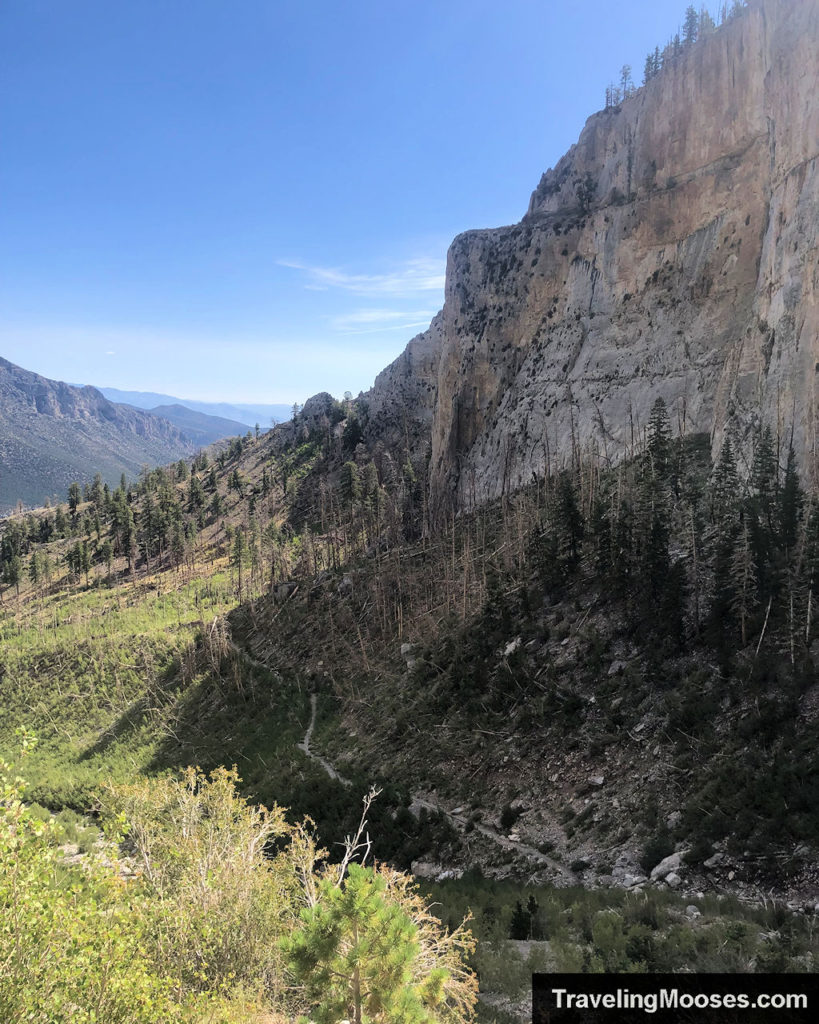 Is hiking Echo Overlook trail worth it?
Rating: 5.0 Mooses


We really enjoyed this hike. It was scenic the entire way and we enjoyed the overlook as well. We're looking forward to going back and completing both Griffith and Charleston Peaks.
What we liked:
Beautiful scenery persists all the way from the trailhead to Echo Overlook.
We took a side trail to a fun little waterfall and had it all to ourselves.
The switchbacks were well made and we found it easier to get up to the overlook with them.
Lots of wildflowers on the trail.
Amazing views at the top of Echo Overlook.
What we didn't like:
We arrived early enough to snag a parking spot, but on the weekends, there isn't enough room for all the visitors.  There were cars stalking us when we left and we saw hikers walking up Kyle Canyon Road from an overflow lot to get to the trailhead.
There's no official signage directing you to "Echo Overlook."  The overlook is along the Mount Charleston NRT / South Loop Trail and many hikers pause briefly on their way to summit Griffith or Charleston Peaks.  The actual overlook has a nice view and a relatively flat area, but it would be easy to continue past the overlook on the South Loop trail.
It's a popular trail, so don't expect solitude.
Practical Information for your Hike
Current Trail Conditions
What to bring
Be sure to check the weather conditions and pack appropriately. This is what we brought for this hike:
Standard Gear:
Special Items of note:
Hiking Boots or closed toe shoes – There were a lot of rocks on the trail. We recommend wearing shoes with a good grip on them.
Water / Snacks – It was relatively cool the day we visited (around 65 degrees) in the summertime and we only needed one 32-ounce bottle of water for each of us. Keep in mind that when hiking at higher altitudes you generally need more water than normal. By the time we were coming down it was quite warm.
Navigation – We used Alltrails for navigation, however we felt the path was easy to follow.
Entrance Fees
There are no fees to enter the Spring Mountain Wilderness area, nor to park at the South Loop Trailhead / Cathedral Rock Trailhead area.
If you're interested in staying overnight at the nearby Fletcher View Campground, there is a nightly fee. Alternatively, you can utilize the day use Cathedral Rock Picnic Area for a fee.
The trailhead does close during the winter months.
Getting to the parking area for Echo Overlook
The Echo Overlook trail is accessible from the South Loop Trailhead / Cathedral Rock Trailhead.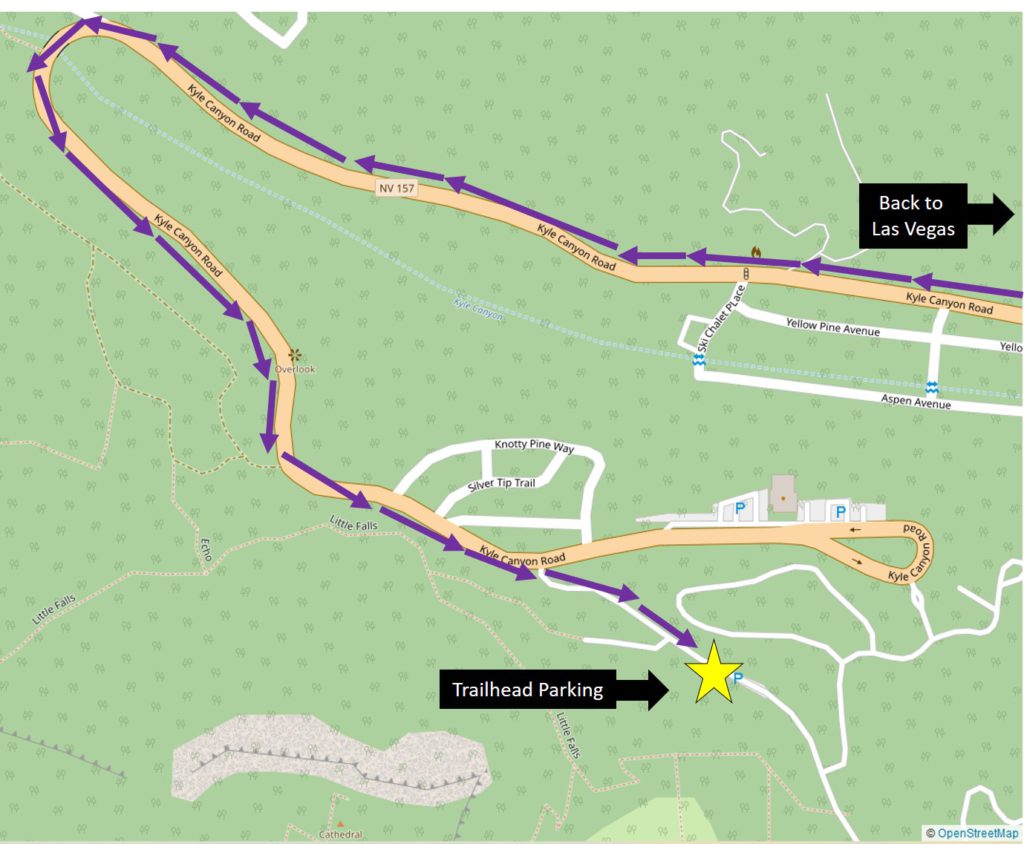 From Las Vegas:
Take Highway 95 Northbound until you reach Exit 96 (Kyle Canyon / NV 157 / Sunstone Pkwy). Turn left off the exit onto NV-157 / Kyle Canyon Road. Drive approximately 22 miles. You'll see a sign to turn right into the Cathedral Rock Trailhead parking area. If you miss the turn, NV-157 turns into a deadline and you'll be able to loop around and then turn left into the parking area.
Parking at South Loop Trailhead
There are two parking lots at the start of the South Loop Trailhead.
The trail is very popular, and it fills up quickly on the weekend. We arrived at 7 a.m. on a Sunday and there were less than 10 spots available. By the time we left three hours later, the parking lot was full.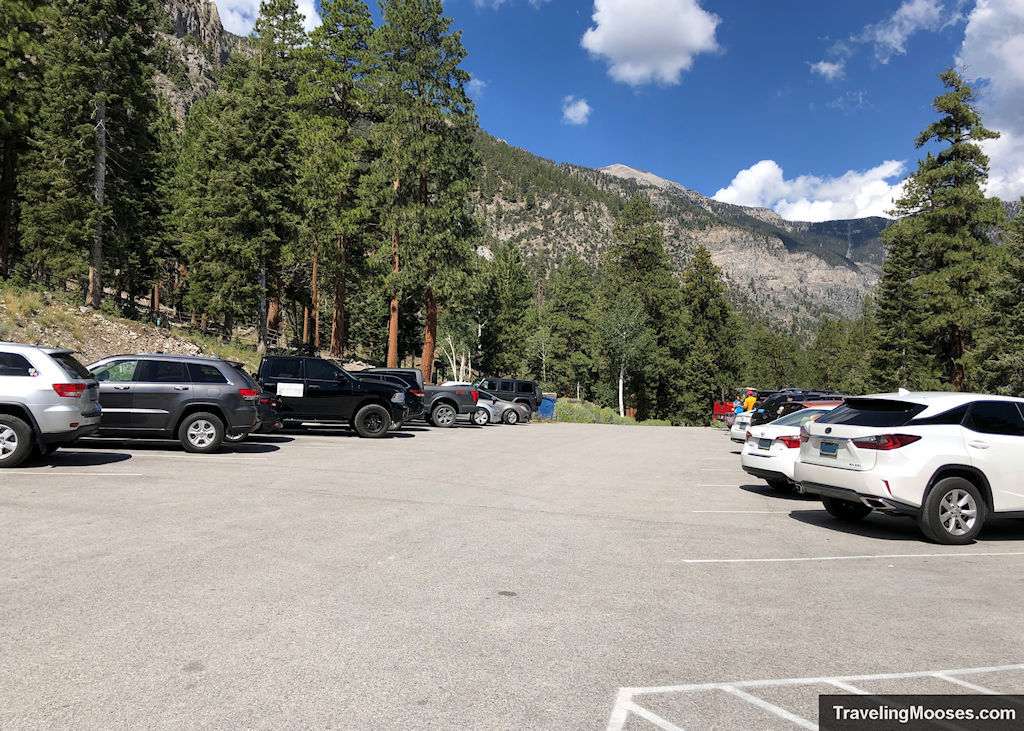 Trail Maps
The maps at the trailhead do not mark Echo Overlook on the map. After you finish the switchbacks, you'll have one final push up to a landing area that serves as the overlook. It's a popular resting place for those heading up the trail further to either Griffith Peak or Charleston Peak.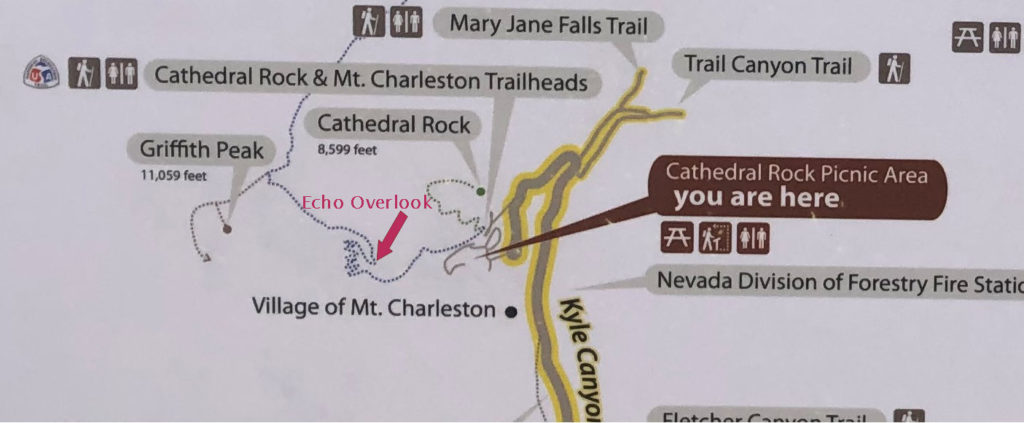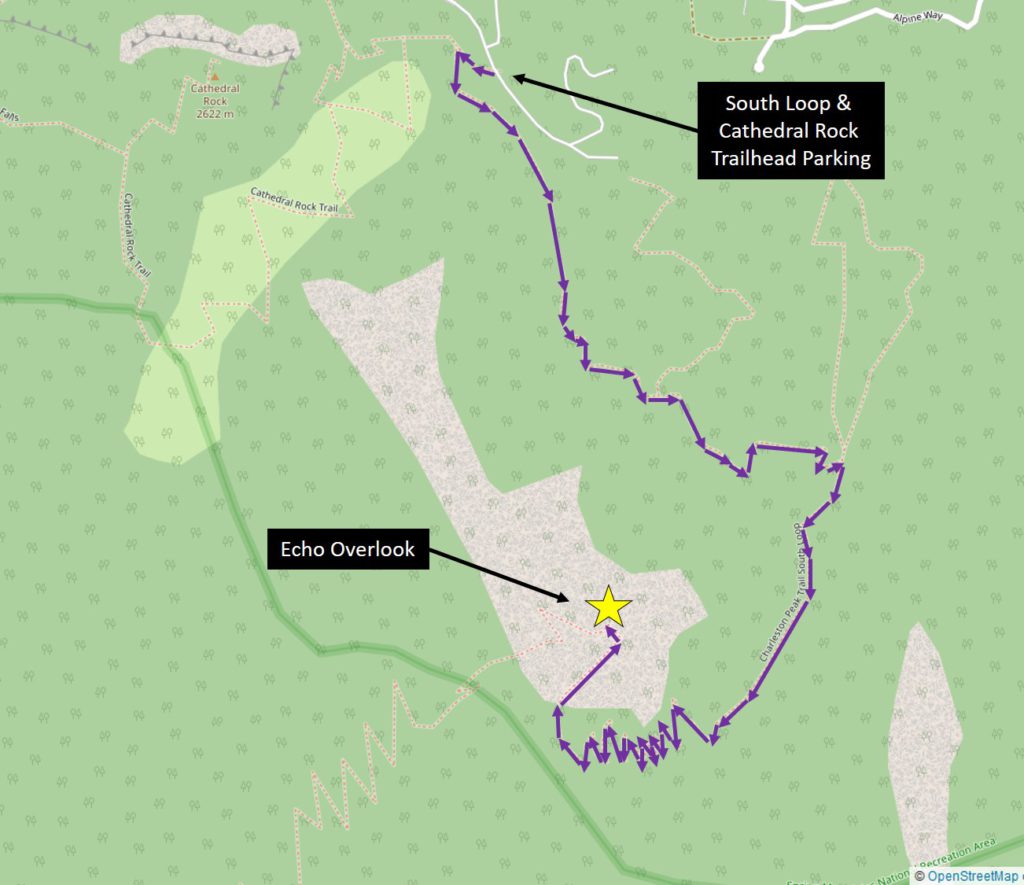 Trailhead Amenities
Two parking areas, one with about 50 spots and one with around 25.
Trail Information and trail map of surrounding areas (however Echo Overlook is not marked)
Primitive Restrooms
Trash Receptacle
Benches
Water Spigot
Nearby to the Fletcher View Campground and Cathedral Rock Picnic Area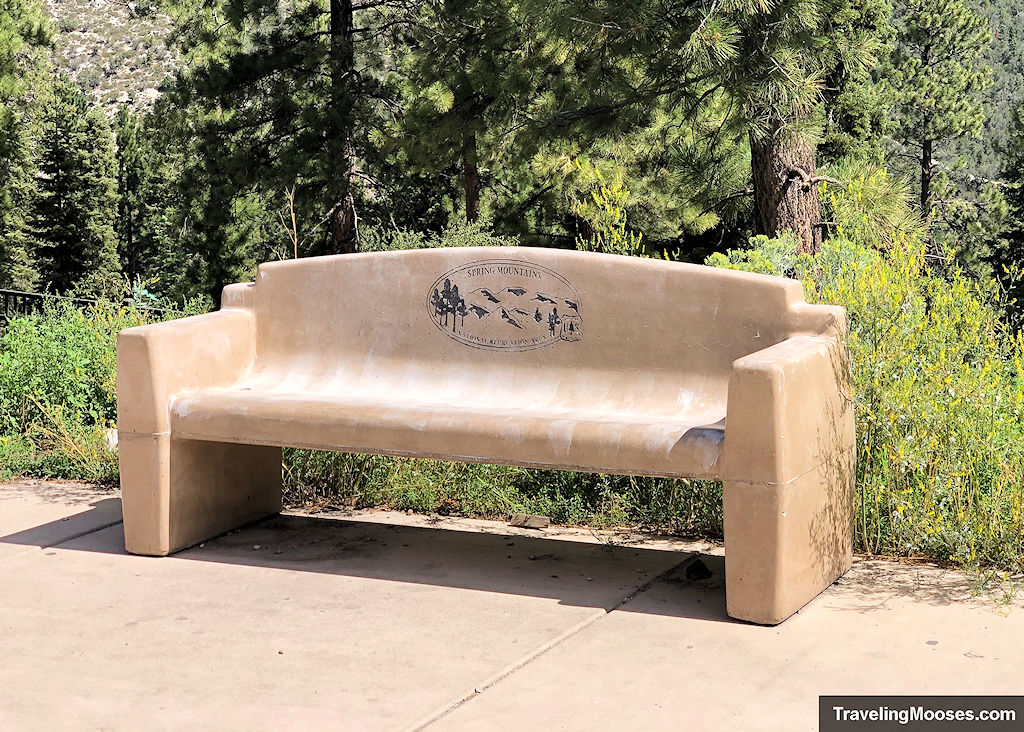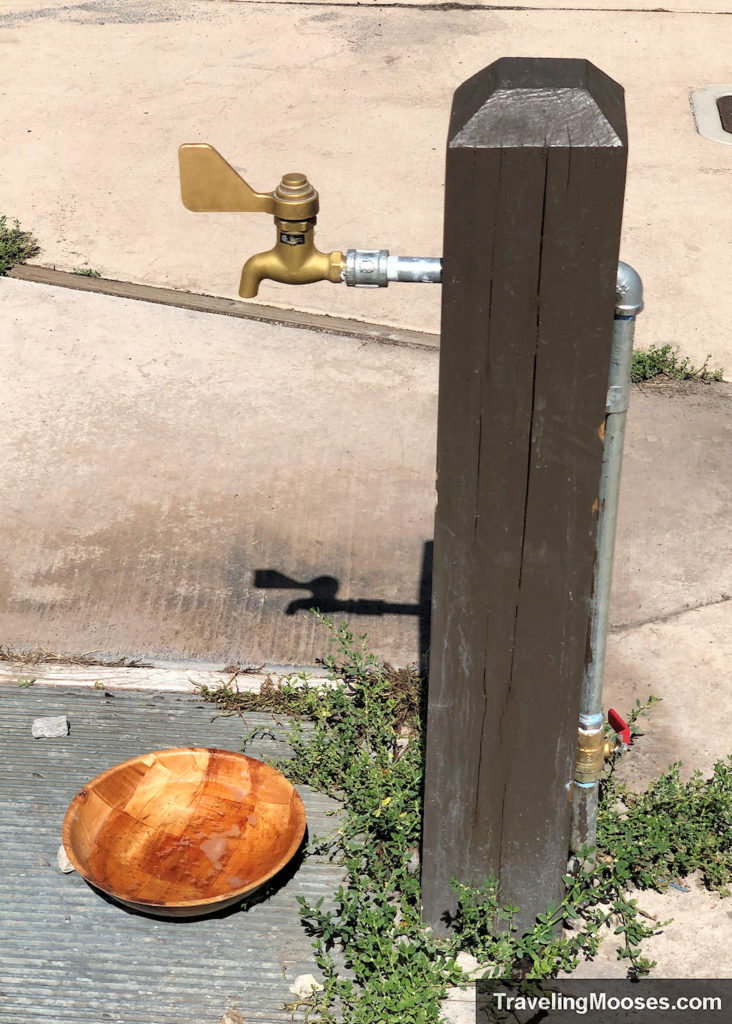 Trail Tips
A few tips are posted on the information sign boards at the trailhead:
Plan Ahead: know where you're going and what conditions you may encounter. Let someone know when your plans and when you'll be back.
Pack Smart:

Layers of protective clothing (warm and wind-proof)
Sturdy hiking shoes
Sunglasses and sunscreen
Plenty of water (more than you think you'll need)
Food
First aid kit
(For longer hikes): camping gear, or emergency overnight gear
Cell phone

Pace yourself: know your own limits and stay well within them…save plenty of energy for the return trip. If in doubt, turn around.
While we didn't see any other recommendations, other trails in the Spring Mountains area offer a few extra tips:
Bring a Flashlight – Allow for ample hiking time.
Leave wildflowers, plants and artifacts. Please leave these behind to be enjoyed by others.
Take photographs and memories and pack out any trash.
Stay on trails.
More hiking trails near Mount Charleston