A crown jewel in the Las Vegas desert, Red Rock Canyon is a jaw-dropping natural marvel.
Red Rock Canyon Quick Stats
Location
Red Rock Canyon – 1000 Scenic Loop Drive, Las Vegas, NV
Entrance Fee
$20 per vehicle or the America the Beautiful pass. Reservations are required during high season from October 1 – May 31.
Park Hours
6 a.m. – 8 p.m., April through September
6 a.m. – 7 p.m., October and March
6 a.m. – 5 p.m., November through February
Current Info / Closures
Official Website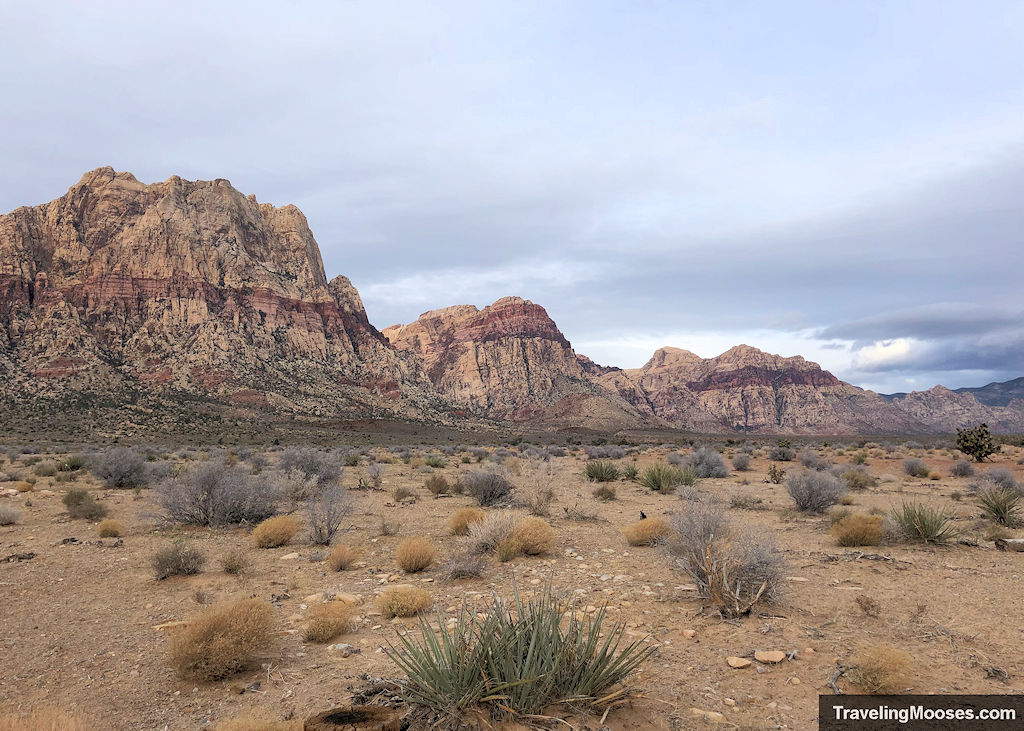 About Red Rock Canyon
Red Rock Canyon National Conservation area is located near Las Vegas, Nevada. The popular area boasts over 2 million visitors a year and includes a one-way 13-mile scenic loop, hiking trails, wildlife, geology, and much more.
Formed over 600 million years ago, the area you see today used to be completely covered by a deep ocean. Today, visitors will enjoy many geologic wonders such as red sandstone mountains, ancient petroglyphs, the Keystone Thrust Fault line and seasonal waterfalls.
Activities to enjoy include hiking, biking, climbing, photography, the scenic loop drive and more.
Red Rock Canyon Interactive Activity Map
Scenic Drive
A 13-mile one-way loop takes you throughout the scenic Red Rock Park.
Attractions
Red Rock Canyon Visitor – A perfect stop to learn about the history of the area and get acclimated with all the park has to offer. If you visit at the right time, you may see several desert tortoises which live at the visitor center.
Red Springs Boardwalk – Located in the heart of Calico Basin, this quick 0.5-mile loop boasts gorgeous views, petroglyphs and at times a lush meadow full of plant life.
Petroglyph Wall Trail – Within the scenic loop, you'll find a short trail leading to a variety of petroglyphs and pictographs.
Learn more:
Scenic Overlooks
Red Rock Canyon has three major scenic overlooks in the park.
Red Rock Canyon Overlook
Red Rock Wash Overlook
High Point Overlook
Each one is easily accessible via car (or bicycle) and offer spectacular views.
Hiking
Red Rock Canyon is filled with incredible hikes. Whether you enjoy summiting peaks, scrambling over red sandstone formations, or exploring slot canyons, the park has something for everyone.
These are some of our favorite hikes in the park.
Frequently Asked Questions
Is Red Rock Canyon worth visiting?
Yes, without a doubt! The area is filled with stunning hikes, historic petroglyphs, a robust visitor center and the chance to see wildlife such as wild burros roaming the park.
Do you have to pay to drive through Red Rock Canyon?
Yes, a day pass for $20 per vehicle is required for entry. During high season, a timed reservation is also required. The America the Beautiful Pass is accepted as well.
What is the best time to visit Red Rock Canyon?
The best months to visit Red Rock Canyon are from October 1 through May 31st. You'll need a reservation to enter the park after 8 a.m. During these months, the temperatures are milder, but the crowds are larger. We recommend entering the park before 8 a.m. during these months to maximize your visit.
Can you tour Red Rock Canyon on your own?
Absolutely! You'll just need to purchase an entry fee into the park of $20 per vehicle, or show your America the Beautiful pass. Many visitors tour the park on their own every day.
You might also like