We've been to the Valley of Fire multiple times. On this visit, we wanted to check out Mouse's Tank which is found along the Petroglyph Canyon trail.
In this guide:
Mouse's Tank at a Glance
| | |
| --- | --- |
| Trail Description | Out and back |
| Location | Mouse's Tank, Valley of Fire, Overton, NV 89040 |
| Parking Lot | Petroglyph Canyon Parking Lot, Overton, NV 89040 |
| Round Trip Mileage | 0.75 miles |
| Difficulty | Easy |
| Elevation Gain | ~16 feet |
| Best time to visit | October through April |
| Amenities at trailhead | Parking, information board including trail map, primitive bathrooms, trash receptacle |
| Entrance Fee | $10 per vehicle ($15 for non-NV vehicles) |
| Rating | 3.5 |
What to expect on the Petroglyph Canyon Trail
We arrived early at the trailhead to try and beat the crowds for this popular route.
Below is an interactive map of our journey which includes photos along the route.
The parking area is fairly small, but we grabbed a spot and started towards the trailhead. You'll be met with an information sign board which provides history about where Mouse's Tank got its name and be shown a trail map. There's also a heat warning for the summer months.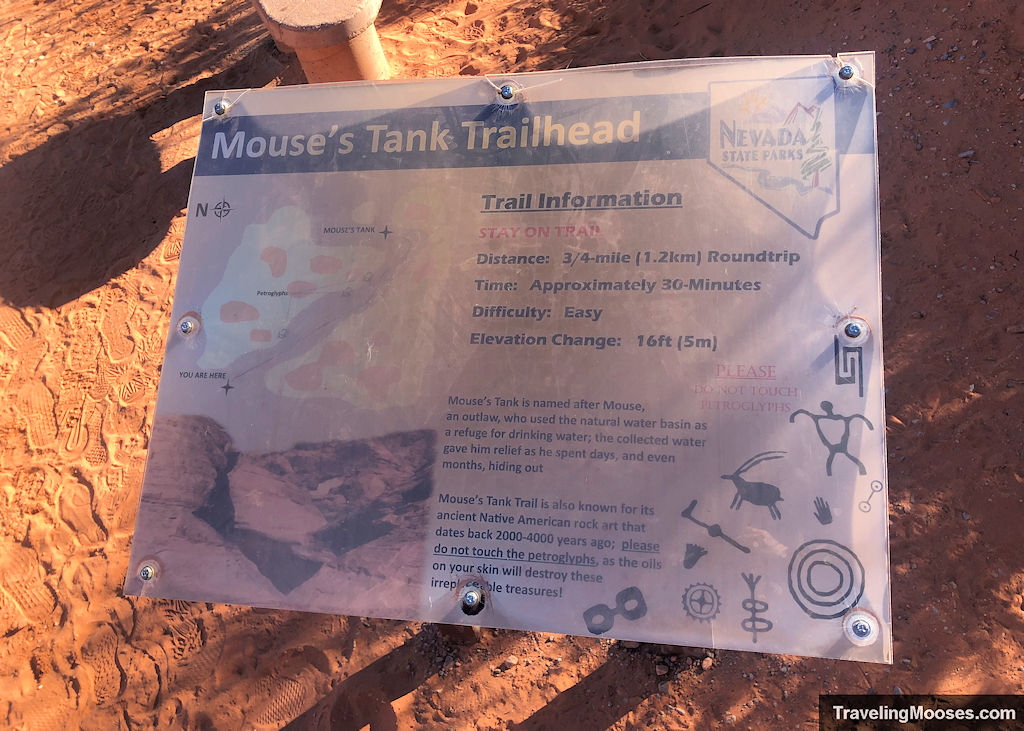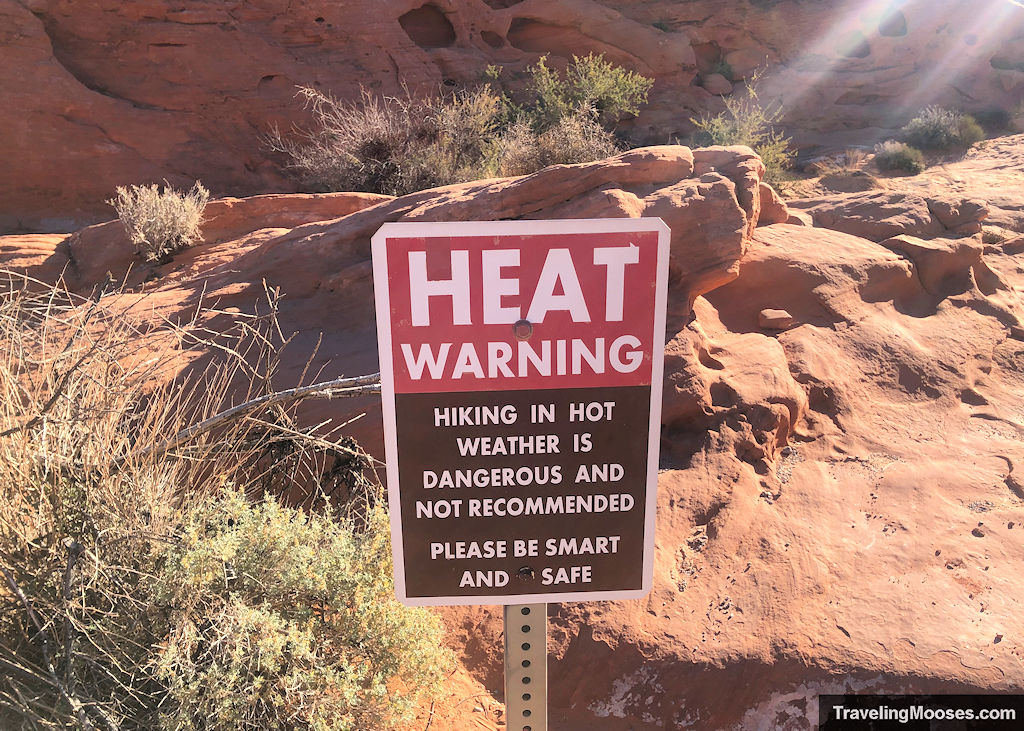 Where did Mouse's Tank get its name?
"Mouse's Tank is named after Mouse, an outlaw, who used the natural water basin as a refuge for drinking water; the collected water gave him relief as he spent days, and even months hiding out."
When you reach the end of the trail, you can see where Mouse hid out.
The trail starts out going down a paved sidewalk and immediately enters the first of many rock formations.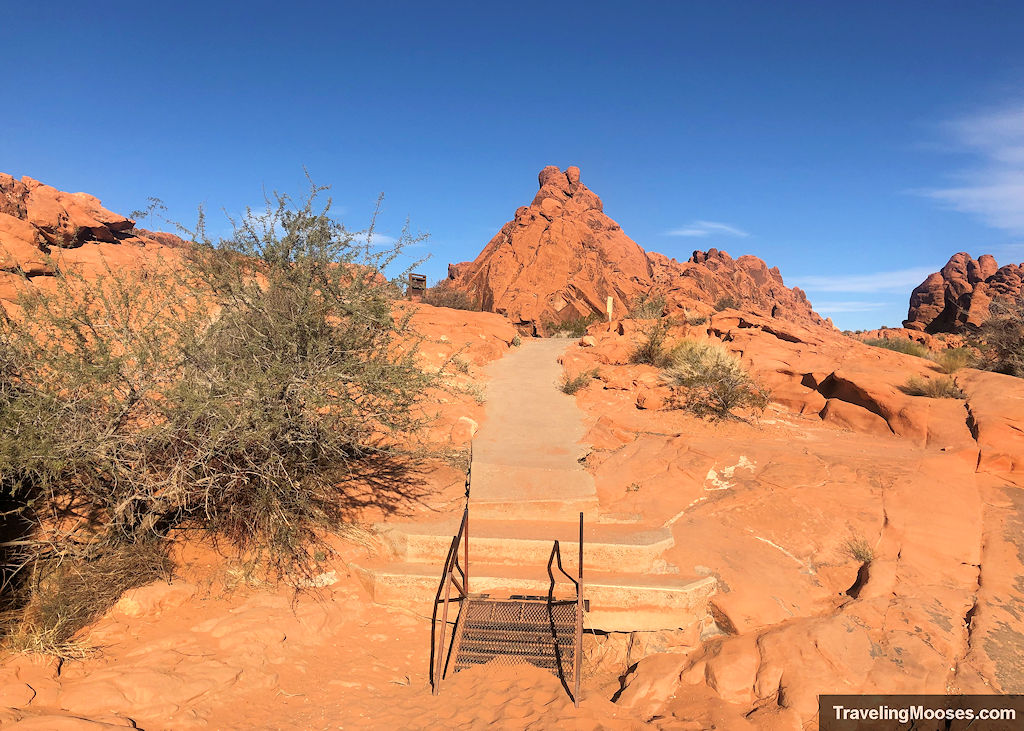 After the concrete ends, you'll walk on soft reddish sand that persists throughout the entirety of the trail.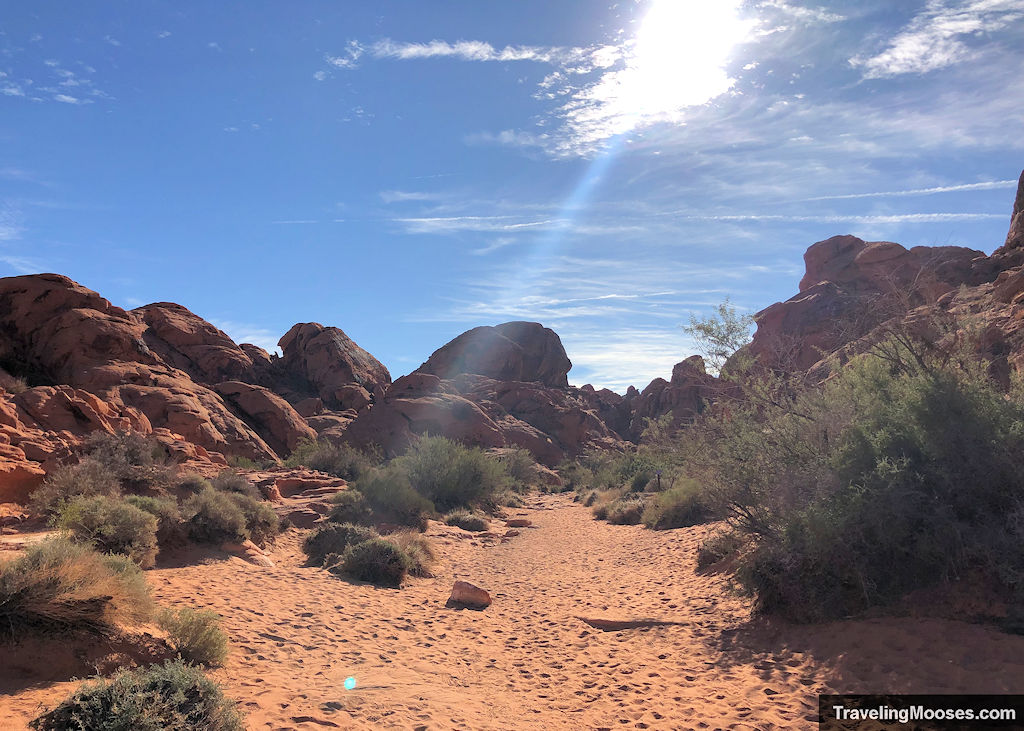 Since this is a short trail, it won't take long until you can view the first petroglyphs. Keep your eyes out for a large blackened area on the rocks to the left-hand side of trail. This is where you'll find the first petroglyphs.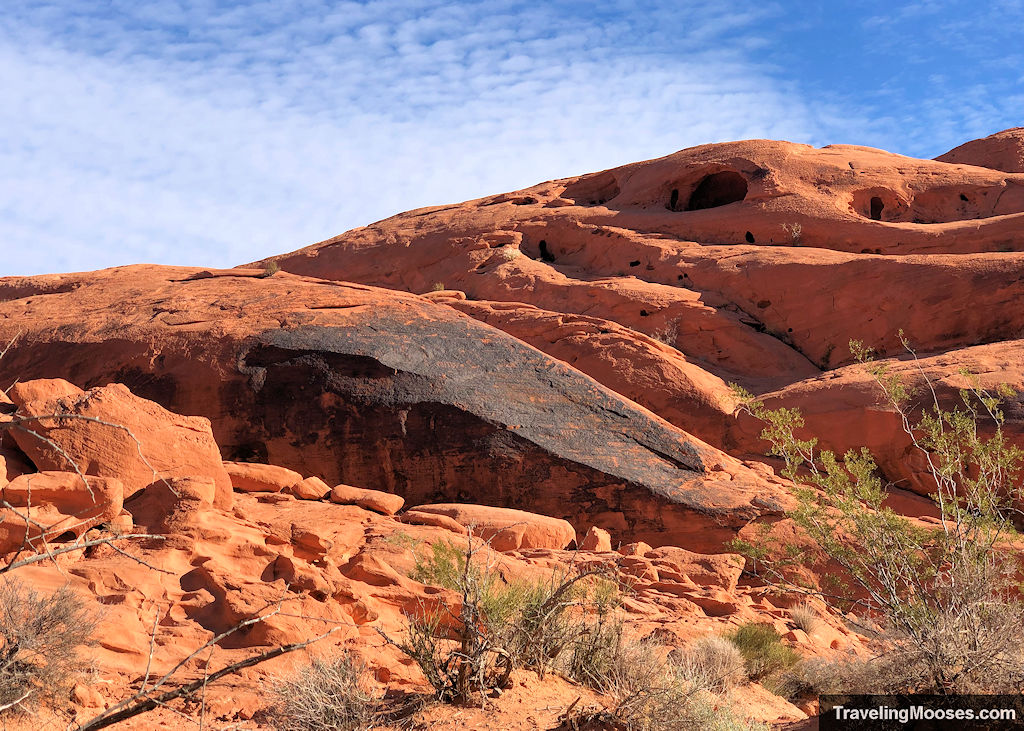 We stopped to explore this area and found this neat slot canyon right off the trail.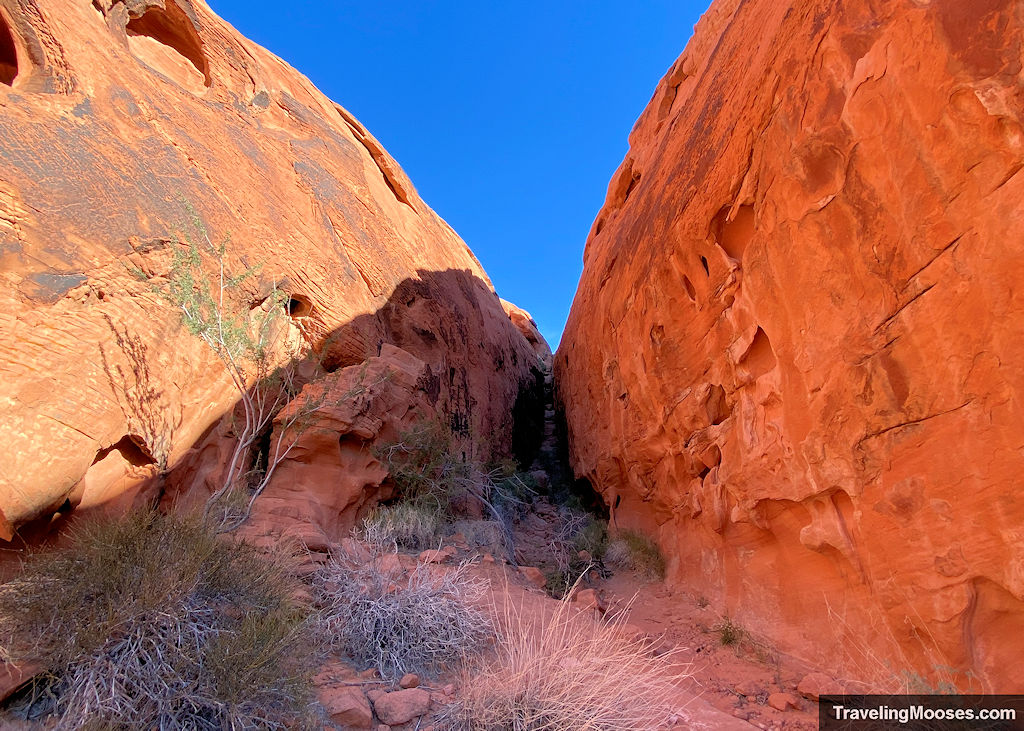 After exploring a bit, we got back on the trail and continued towards the tank area.
Along the trail, we were treated to some lovely yellow wildflowers. It's always surprising to see such delicate flowers live in such a harsh climate but perhaps they aren't so delicate after all.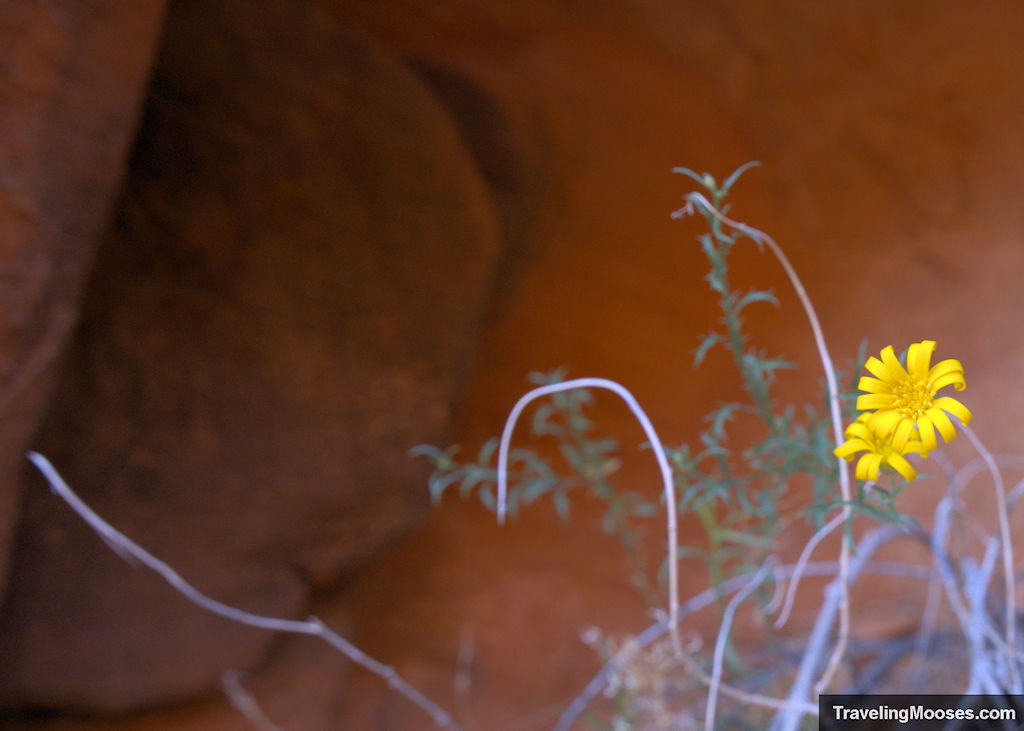 We've heard some hikers see lizards on this trail, but none were out when we visited. Valley of Fire Park also has a family of big horn sheep that meander around. If you're lucky, you might spy one of these incredible creatures.
Continuing down the trail, keep examining the rocks to your left, as you'll find many more petroglyphs carved in the walls.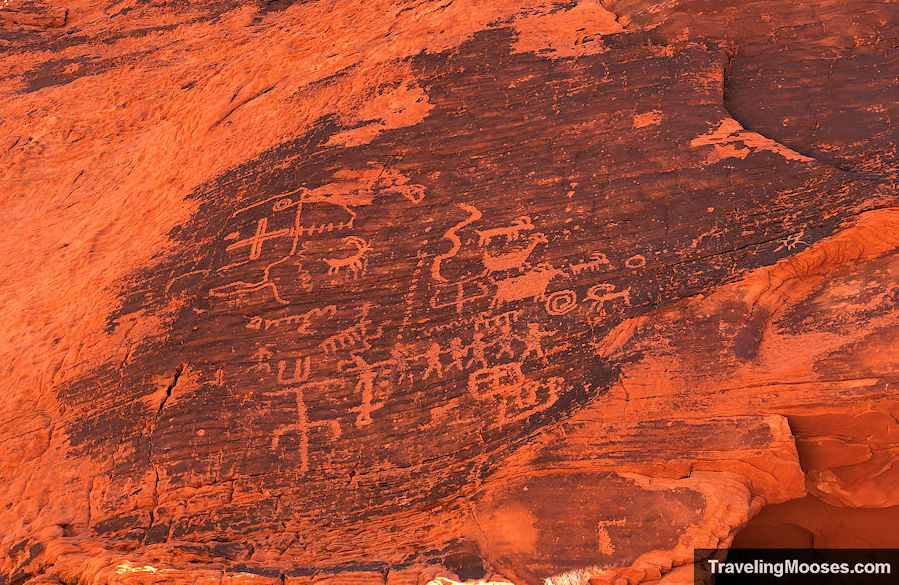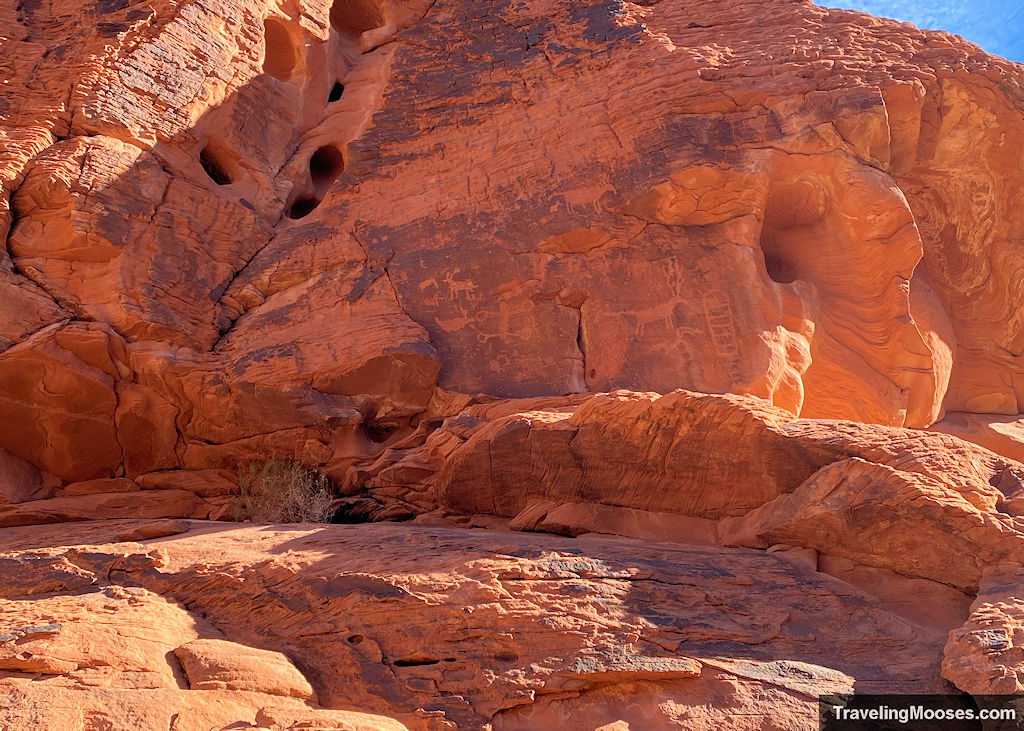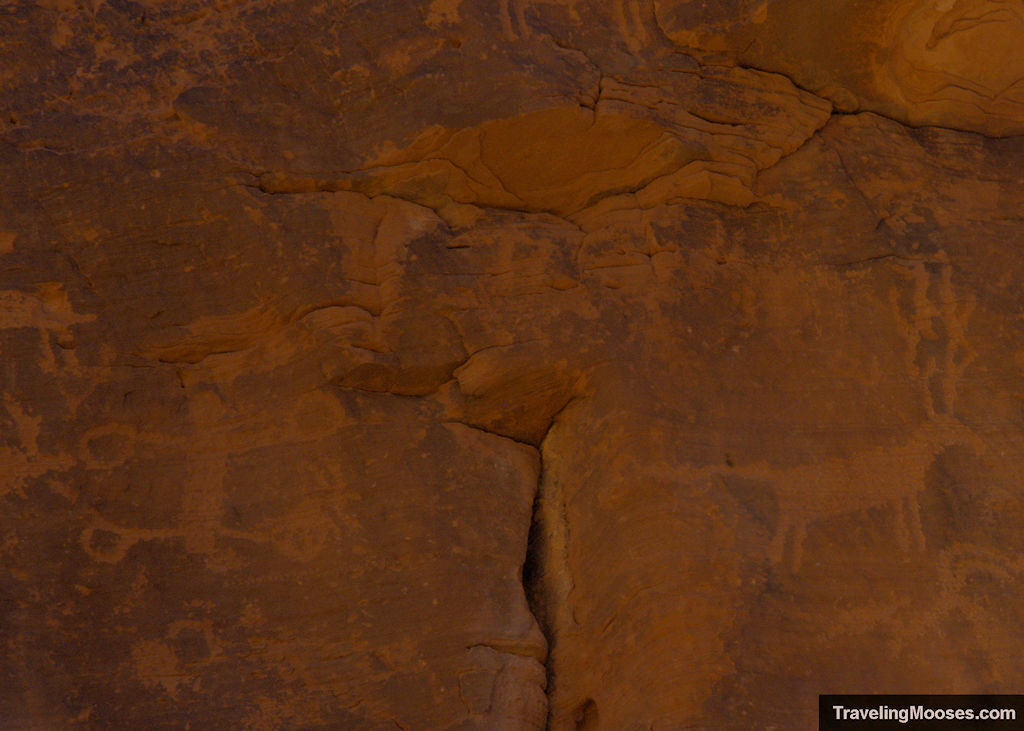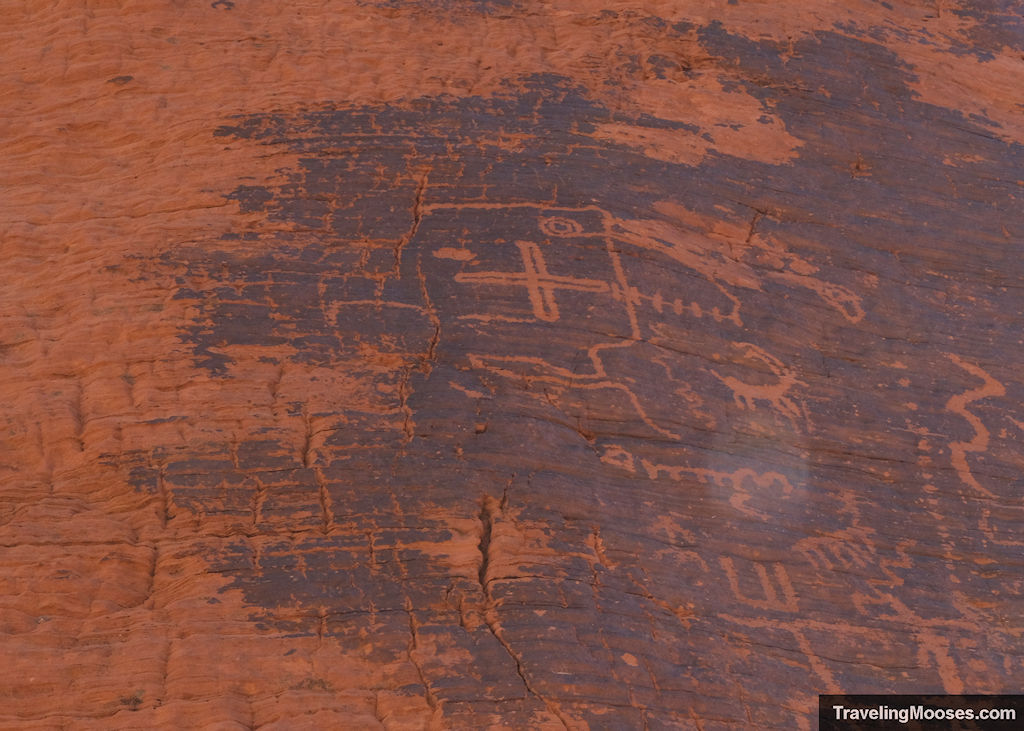 Continue down the trail to reach the Mouse's Tank.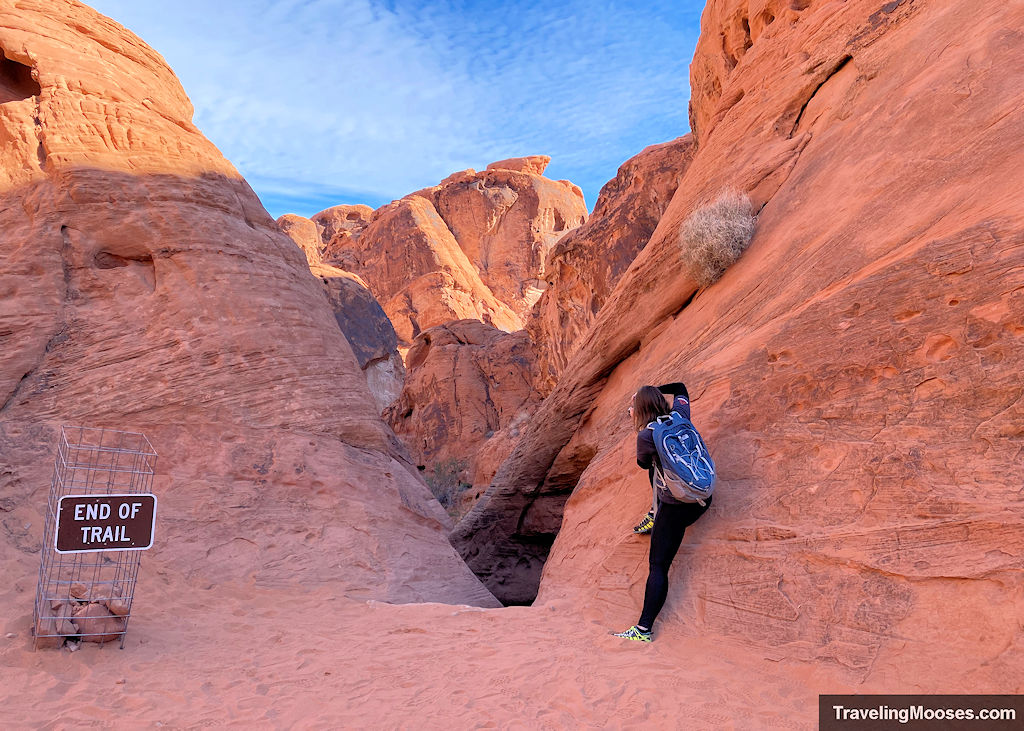 If you're lucky, you'll see some water in the tanks. We've heard some people climb around in the tanks area, but we didn't the day we were there as there was a small amount of water in the tanks. It also looked difficult to climb back up.
Below is the view from the end of the trail.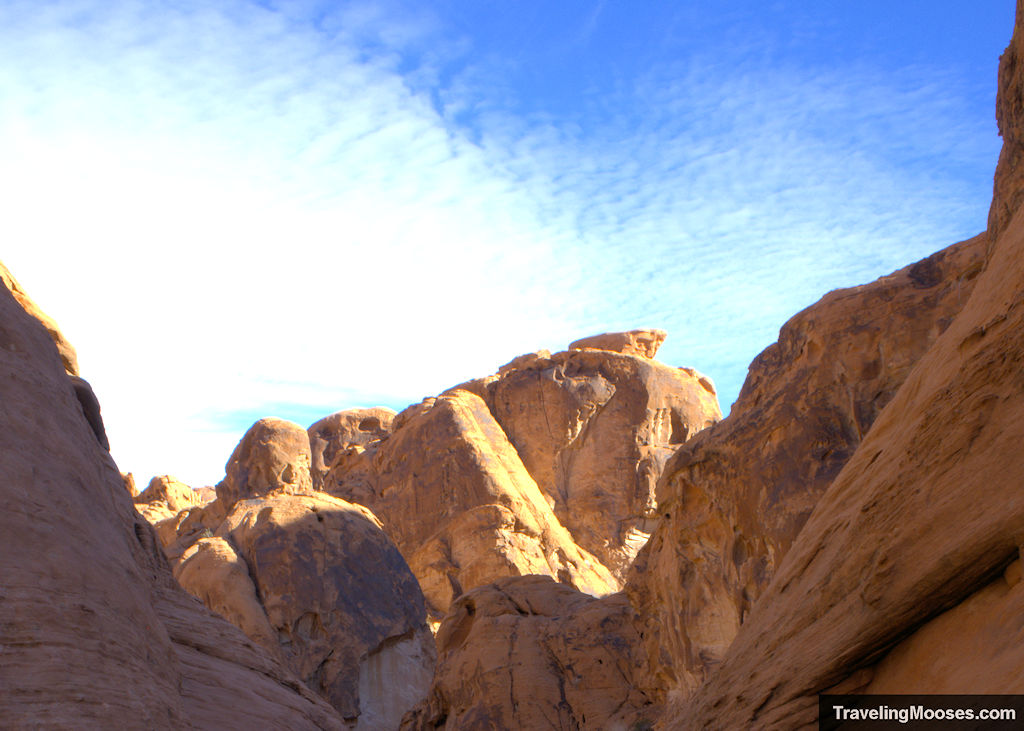 Is Mouse's Tank hike worth it?
Rating: 3.5 Mooses


What we liked:
The trail was filled with easily accessible petroglyphs.
There are side canyons and rocks to climb around if you want to explore off the trail.
The rock formations along both sides of the canyon were incredible to look at.
What we didn't like:
The majority of the trail is soft sand, which is harder to hike in.
We felt the trail end was a bit anticlimactic. The best part of this trail is the journey, not the ending.
This trail attracts a lot of visitors and is considered "easy" so you will won't have any solitude.
Verdict: If you only have a short time in the park, it might be a good trail to check out. We did enjoy the Rainbow Vista hike more (which is close by and also considered easy).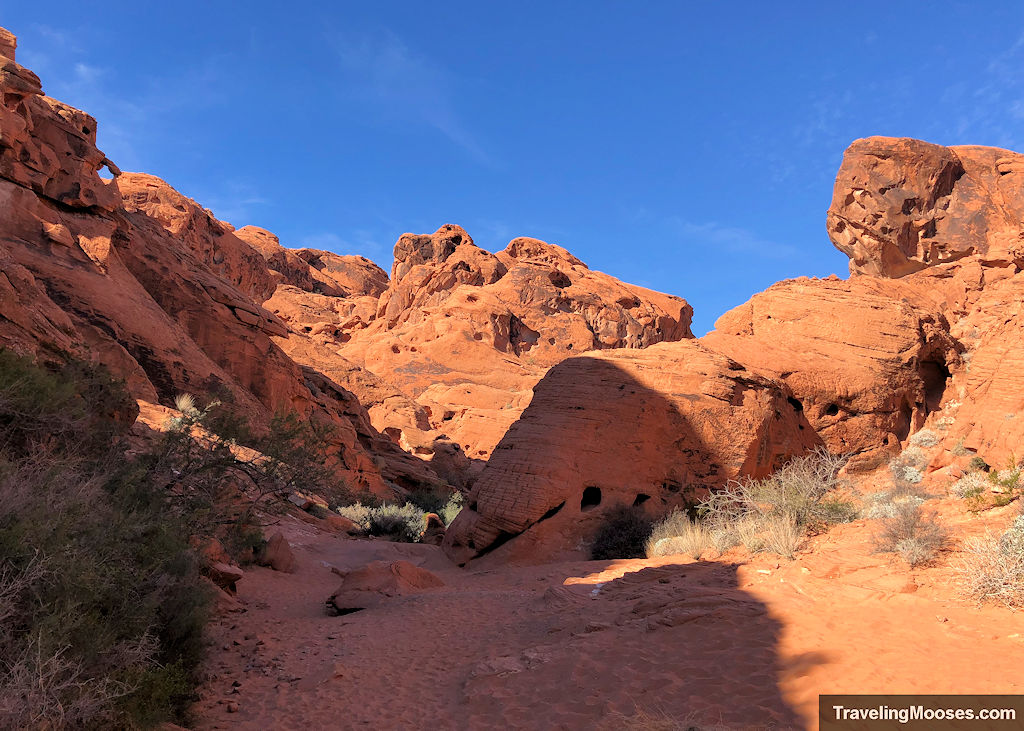 Practical Information for you trip
Current trail conditions
Check Alltrails for recent trail conditions.
Check Valley of Fire's website for any closures.
Check the weather for temperature forecasts.
What to bring
Be sure to check the weather conditions and pack appropriately. This is what we brought for this hike:
Standard Gear:
Special Items of note:
Hiking Boots or closed toe shoes – This trail is filled with soft reddish sand. The sand in the Valley of Fire has stained people's shoes and clothing before, but we've never experienced it ourselves. Sandals would not be recommended on this trail.
Clothing – Be sure to bring appropriate clothing for rapidly changing conditions. Weather can change extremely fast, especially during monsoon season. In the hot summer months, be sure to bring sunglasses, a hat and wear sun protection.
Water / Snacks – There is no running water available at the trailhead. Bring plenty of water (especially in the hot summer months) and extra snacks. While this trail is only 0.75 miles, it takes longer than expected to navigate due to the soft sand. Water is a must.
Navigation – We use Alltrails (no affiliation) on all our hikes. The trail was well marked and we didn't need it, but you should always have a form of navigation on any hike you take. This is especially true if you plan to go off trail and explore the multitude of canyons and side trails in the area.
Parking
Parking is free once you've entered the park. There are two lots to access this trail. The one directly in front of the trail and an overflow lot across the road.
Be careful crossing the street if you end up in the overflow lot. The speed limit is low, but park visitors are often gawking at the amazing rock formations in the area and paying less attention to their driving.
Aerial view of parking area here.
Entrance Fees
Valley of Fire is a Nevada State Park and requires an entry for access. Once in the park, you can park for free in any designated parking area (including Mouse's Tank trailhead).
The entrance fee is currently $10 per vehicle. ($15 non-NV vehicles). While a reservation isn't currently required, it is coming sometime in 2023. Current information about fees can be found here.
All pricing is subject to change.
Trail Map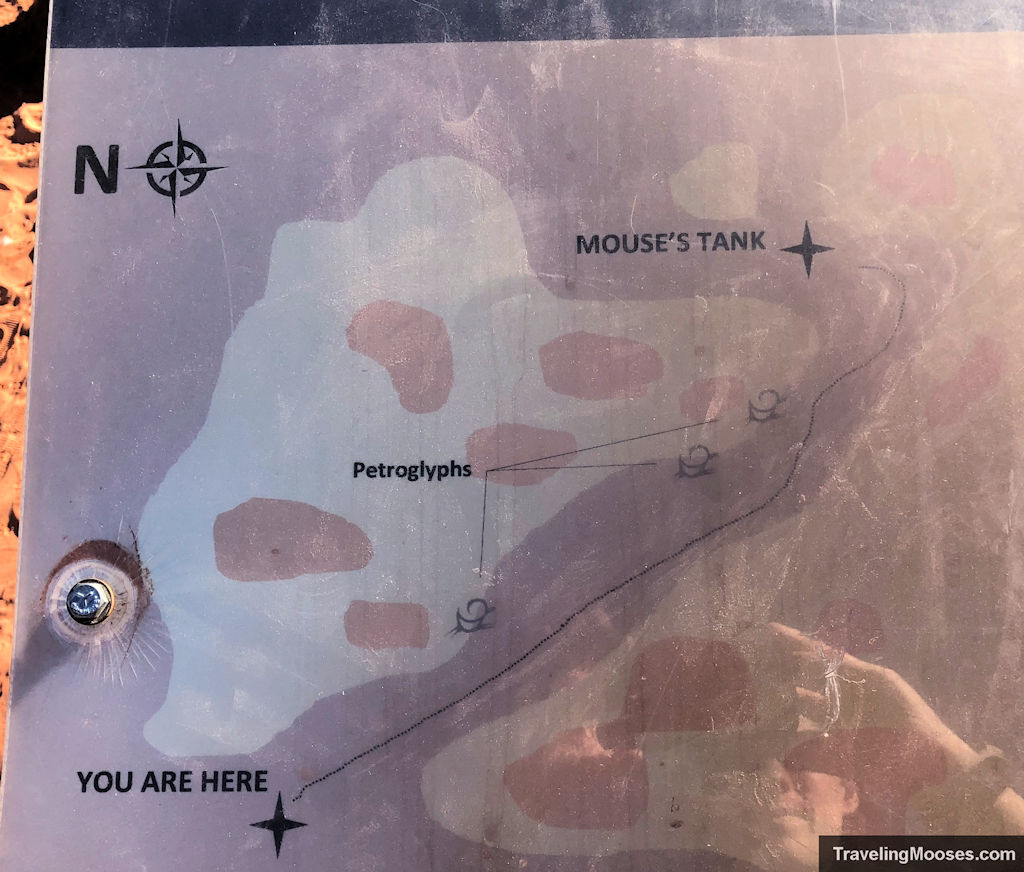 Trailhead Amenities
You won't find a lot of trailhead amenities at Mouse's Tank, but luckily there are a few.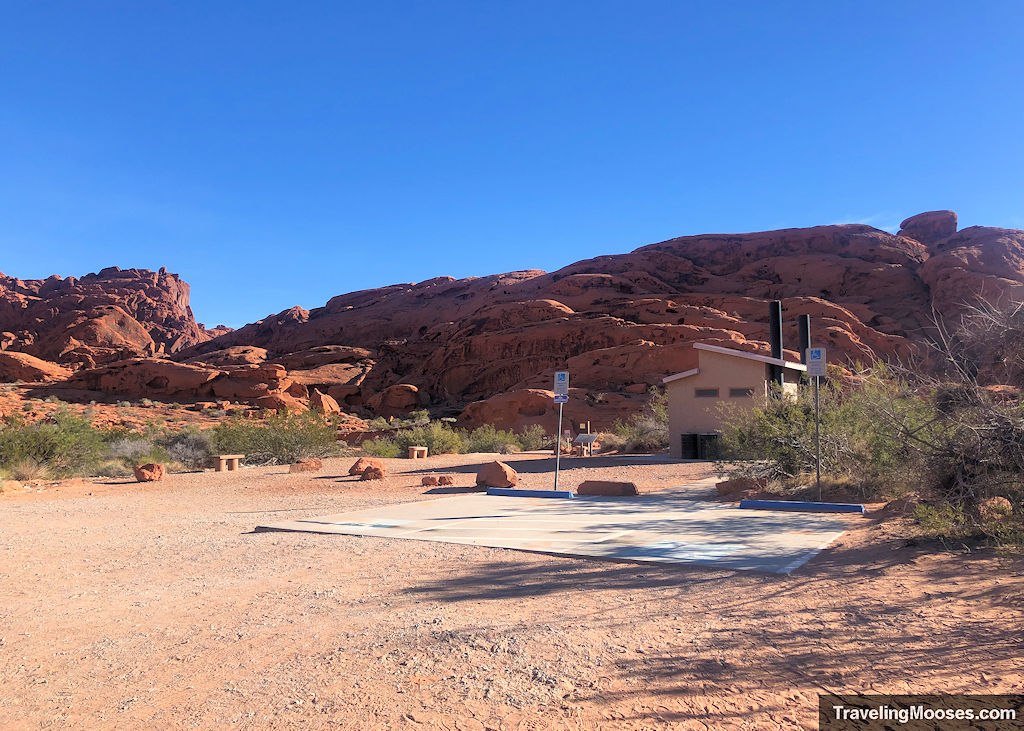 Primitive restrooms
Trash receptacles
Trail information
Parking on gravel lot
Overflow parking and picnic tables across the street
More information about your trip to the Valley of Fire
You might also like