Clocking in at 4.6 miles round trip and 1,988 feet elevation gain, the Turtlehead peak trail is sure to have your heart pumping with exertion as you make your way up the sweeping panoramic views of the valley.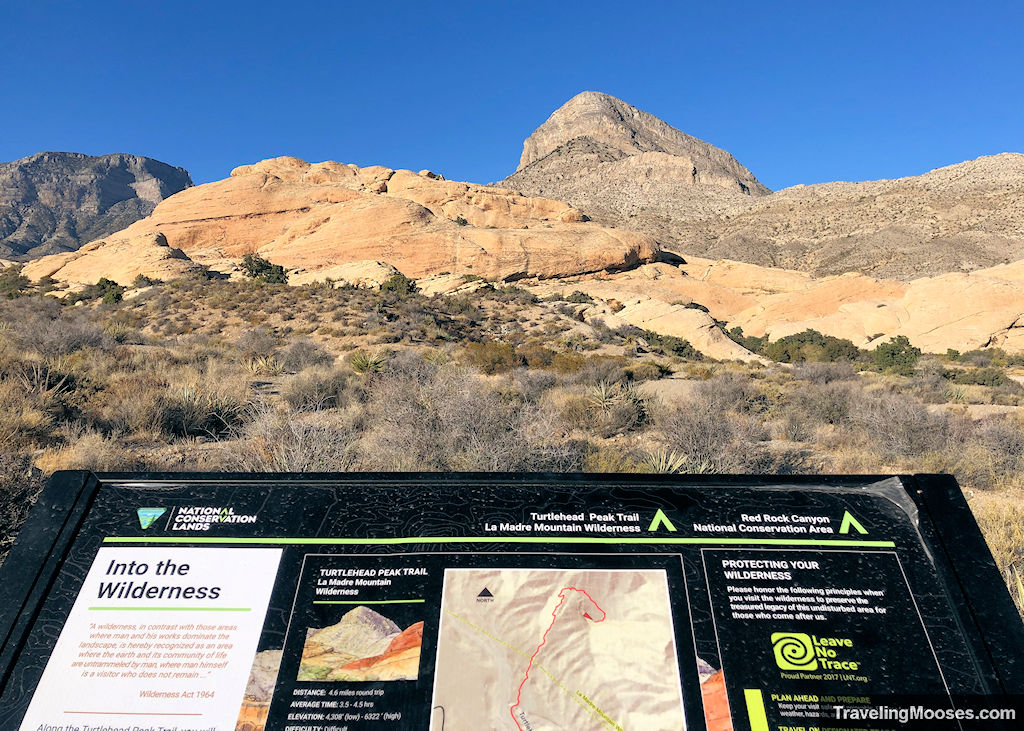 Turtlehead Trail Peak
| | |
| --- | --- |
| Round Trip Mileage | 4.6 miles |
| Elevation Gain | 1,988 feet |
| Highest Elevation | 6,322 feet |
| Average Time | 3.5 – 4.5 hours |
| Difficulty | Moderate |
| Entrance Fees | $15 per vehicle or America the Beautiful pass, plus $2 reservation fee required (after 8 a.m.) during high season (October 1 – May 31) (Pricing subject to change.) |
| Rating | 5 Mooses |
| Our Hike | It took us 2 hours 10 minutes to reach the summit and 1 hour 30 minutes to come back down. |
Why do they call it Turtlehead Peak?
Red Rock Canyon was founded as a conservation area in 1967 by the Bureau of Land Management. Around 10,000 acres were designated as the "Red Rock Recreation Lands." Along with over 600 species of plants in the area, the area is a protected habitat for the desert tortoise. You can also find a habitat at the Visitor Center that houses several tortoises.
Related: Check out our visit at the Red Rock Canyon Visitor Center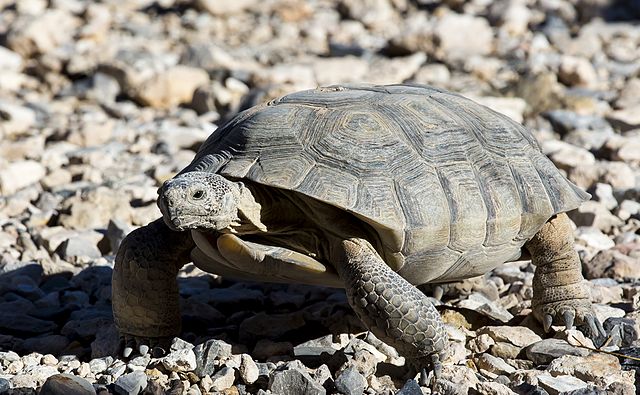 Fun Fact: The Tortoise is Nevada's official state reptile.
From a distance, the Turtlehead Summit looks like the head of a tortoise with its hard shell extending back into the distance.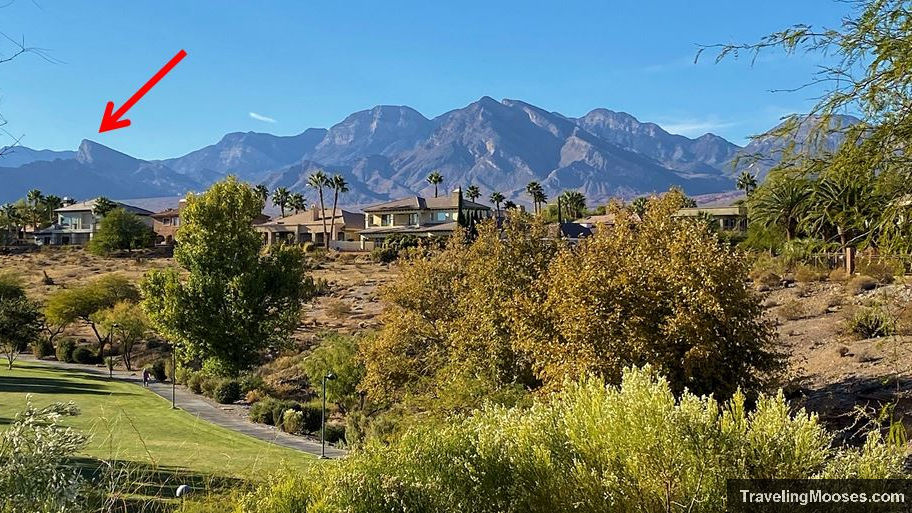 Know before you go: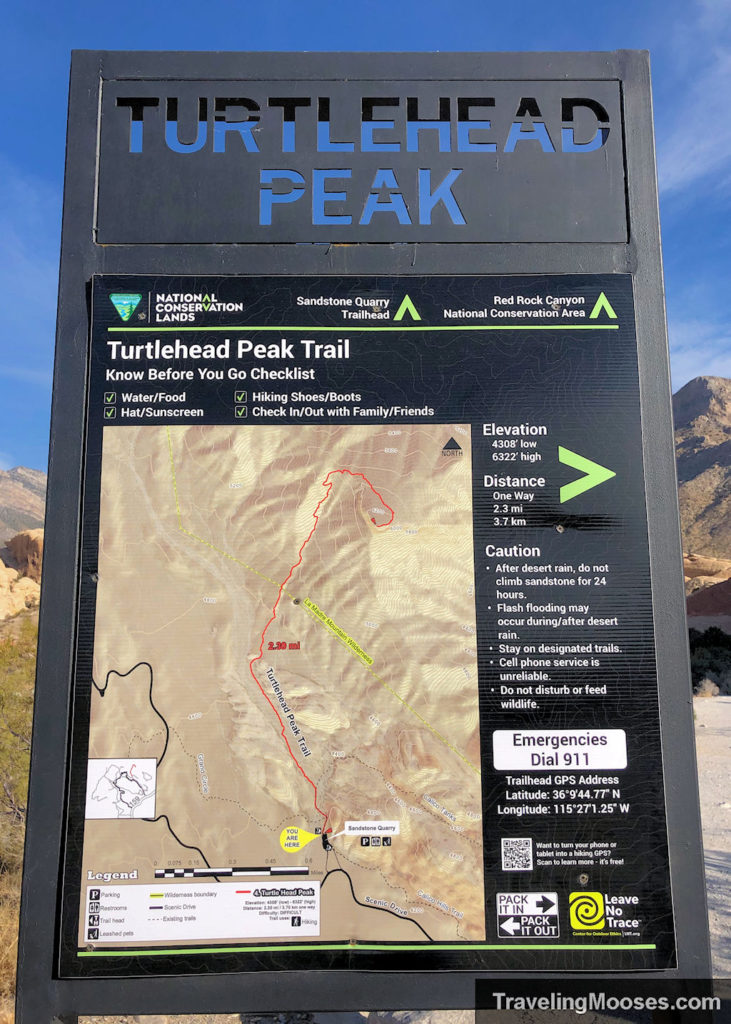 Trail Quality
The first half mile of the trail is easy terrain. Gravel or light rocks line the trail and the path is clearly marked with official signs.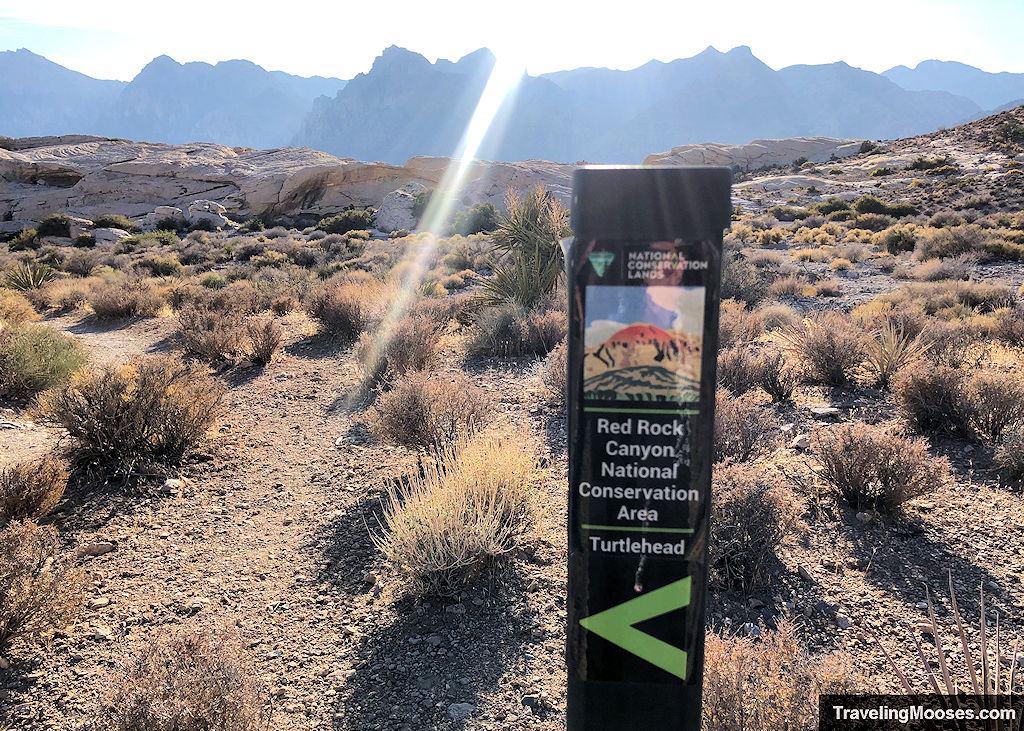 There's a clear demarcation of when the trail starts to get rougher. The official signs turn into red / white arrows or more commonly dots. Occasionally you'll get a larger trail marker as well.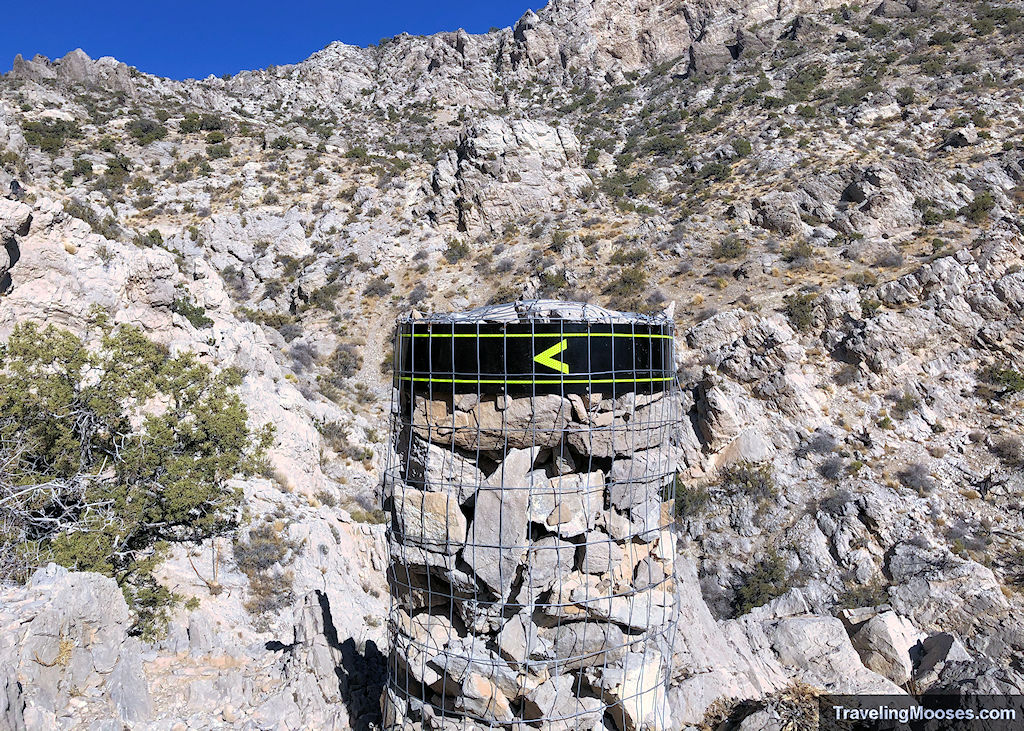 The rocks get larger and loose gravel becomes the norm. As you climb higher, the path becomes rougher and I found many times I would be doing minor scrambles up sharp rocks (requiring my hands for stabilization and leverage). I never felt like there was large amounts of exposure and I'm not comfortable with heights.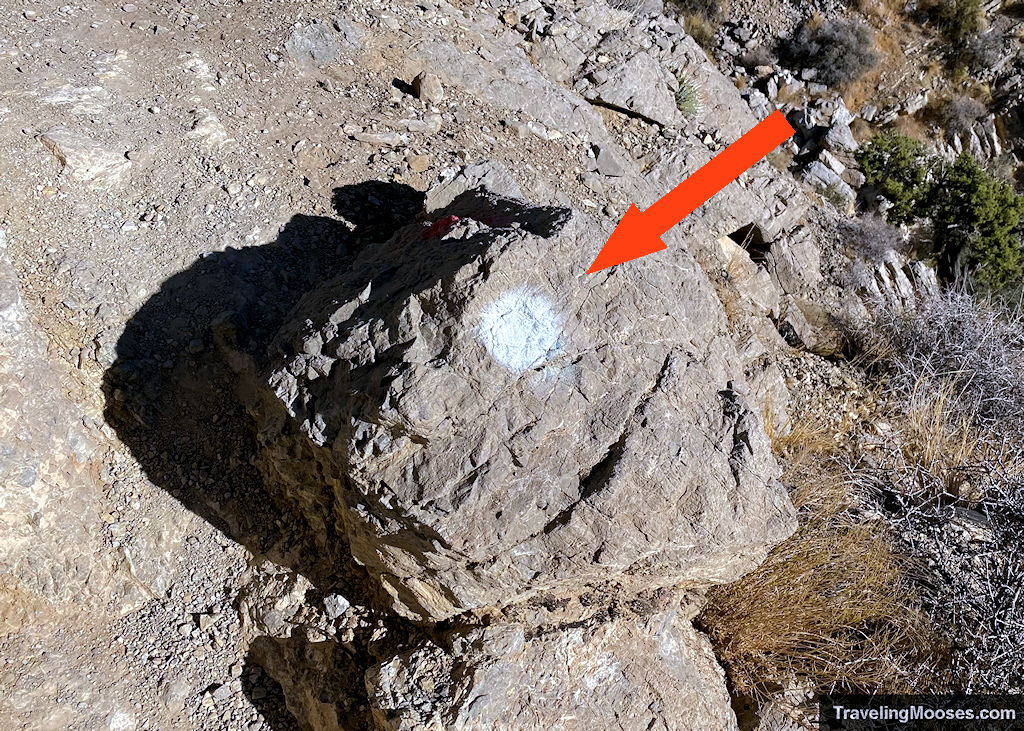 It's easy to miss the trail dots both on the way up (and the way down) and we found that many hikers (including us) made several wrong turns.
The great news is, even if you go off trail, you're likely to meet up with the intended trail at some point. Some hikers intentionally take a straighter path up and still made it to the top.
I would advise staying on the trail as much as possible to avoid getting lost. Plus, it's easier and there was definitely more scrambling for those that went off trail.
Supplies
It's always advisable to have the "ten essentials" whenever you're hiking and this is no exception. You can learn more about what we do to keep our safe in the desert here.
When hiking in the desert, I've found the need for extra water is critical to having an enjoyable day. Having salt is also a big deal. I neglected to bring any electrolytes and my muscles started cramping near the top of the trail. Mr. Moose and I joke sometimes about if the salt pills actually do anything, but for me, I've found they do alleviate cramps on the trail.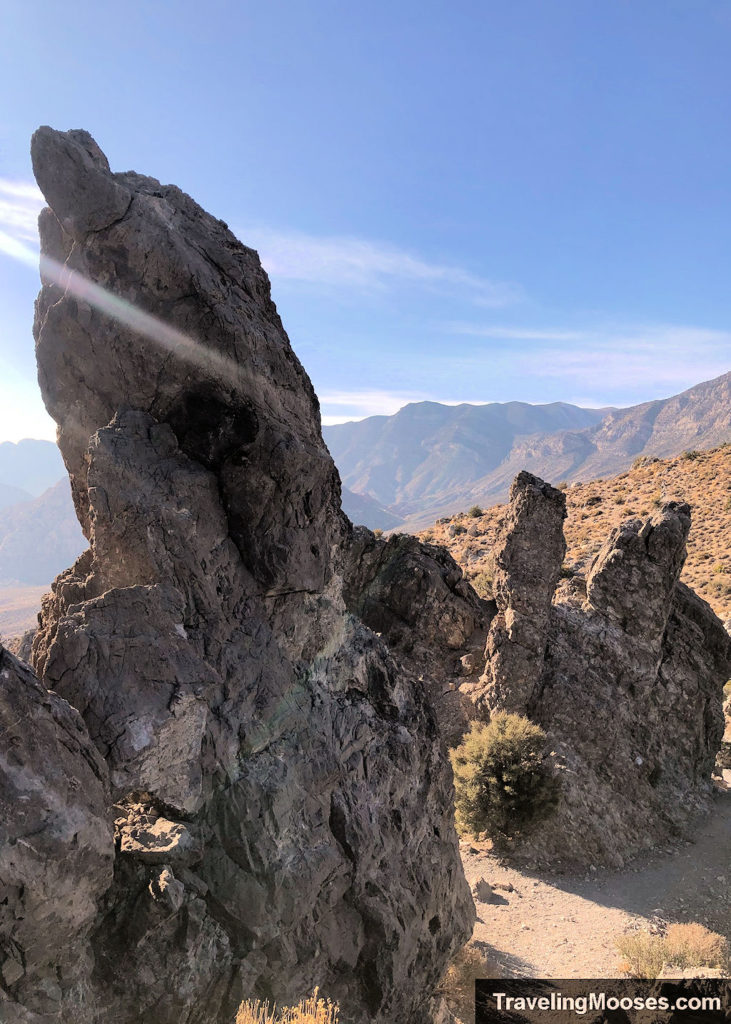 Sun protection is also a must on this trail. There is almost no shade on the trail. We found only a couple of trees and one rock area where there was a little shade. A sun hat and sun screen are the way to go!
Crowds
The Turtlehead trail starts out from the same parking lot as the Calico Tanks Trail.
In fact, the first quarter mile or so is shared with Calico, until the fork where you go left for Turtlehead and stay right for Calico.
Since the trails are shared at the beginning, there is a lot of foot traffic. While Turtlehead is slightly less popular due to the length and elevation gain, it's considered a heavily traveled trail and it's advisable to get an early start.
Plus, if you enter the park before 8 a.m., you don't need a reservation!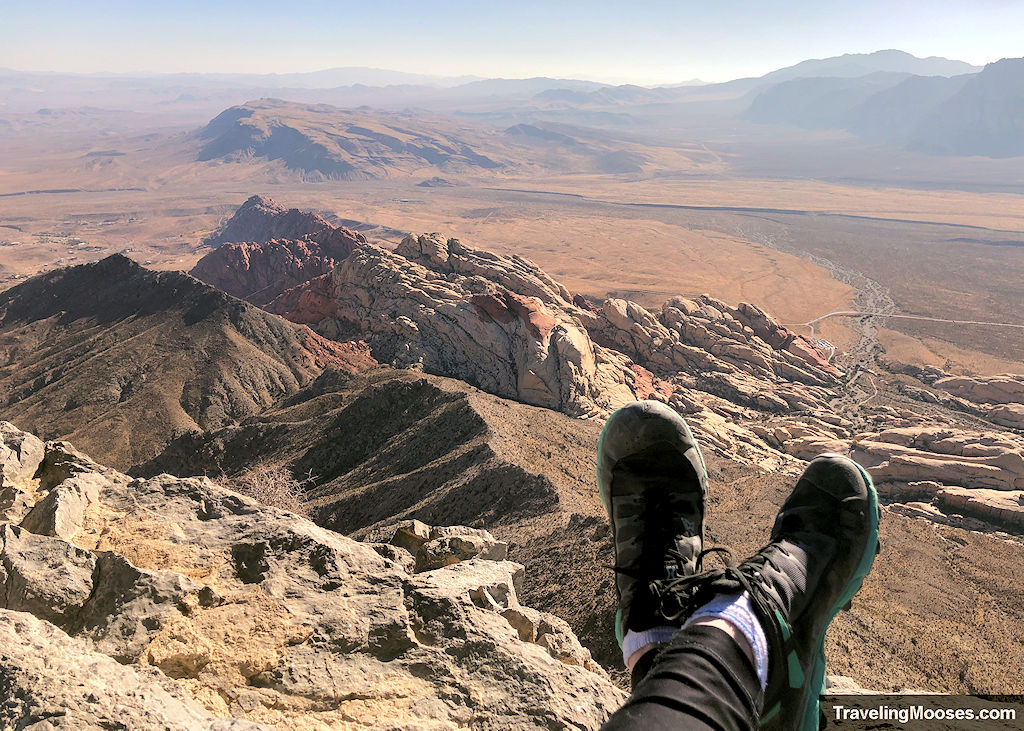 When to visit
Turtlehead peak caps out at 6,322 feet in elevation. In the winter, the trail gets snow and even in mid-November we found some snow on the ground.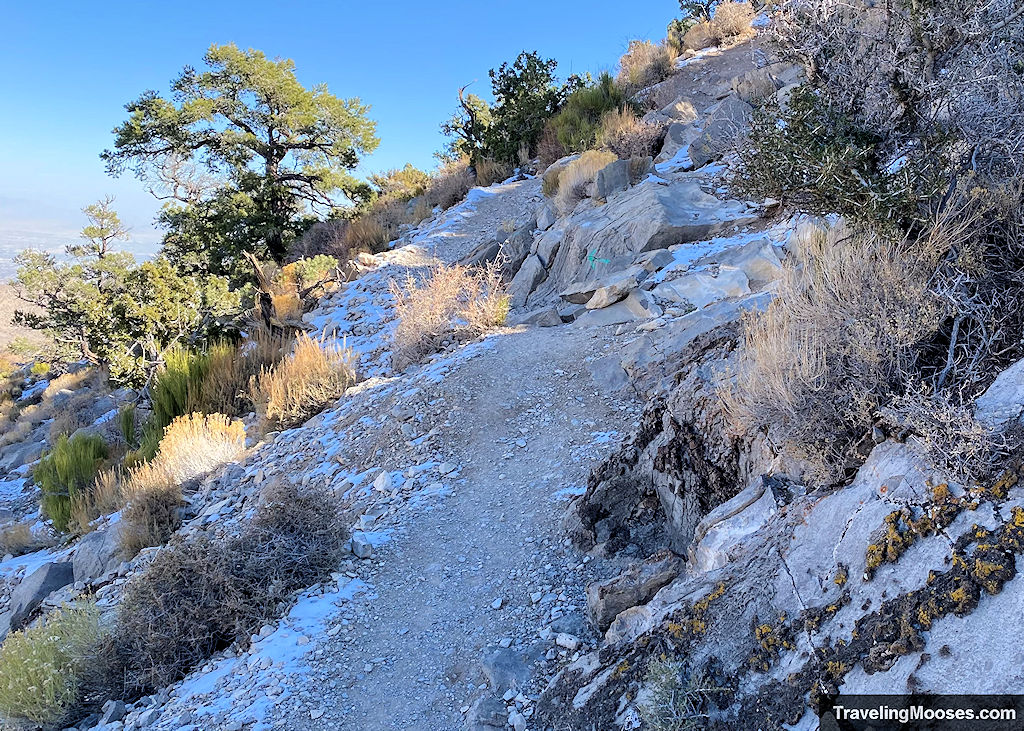 The trail is open year-round but be cognizant of the various seasons.
The temperature was in the mid-60's temperature at the Visitors Center when we hiked up in mid-November. While the temperature dropped as we climbed, we found it ideal for the level of exertion needed to get to the summit.
Keep in mind the temperature will be 10 – 15 degrees cooler at the top than at the desert floor.
Average Temperatures – Red Rock Canyon Area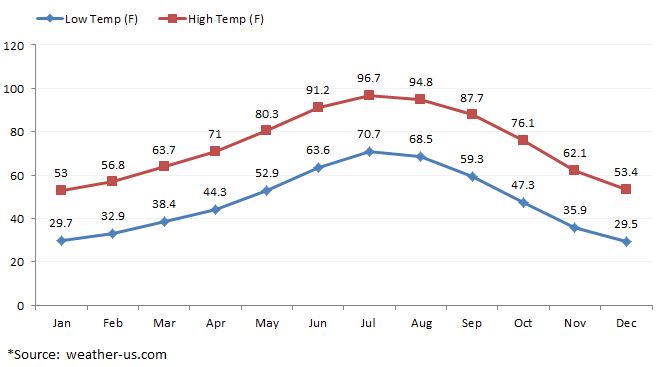 The summit of Turtlehead can be quite chilly. We found it to be very windy, with only a few places here and there to block the wind and enjoy our lunch.
A good rule of thumb to keep in mind for the temperature is that it drops around 5.4 degrees Fahrenheit for each 1,000 feet of elevation gain. Add in a potential wind chill factor and it can feel mighty cold up there.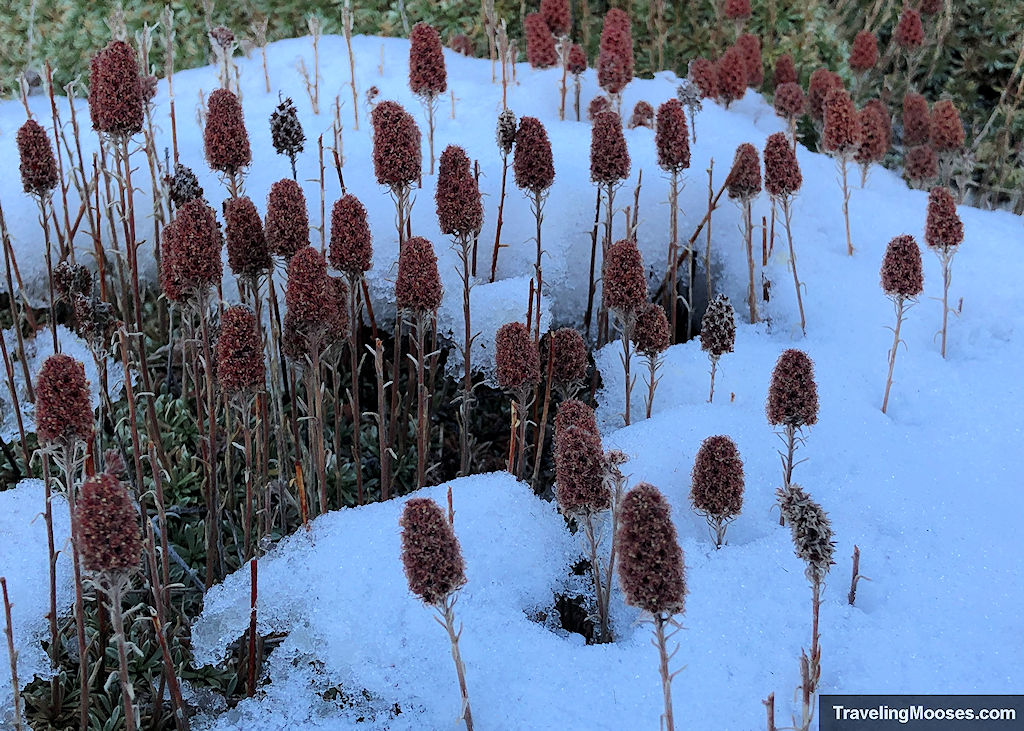 Safety Considerations
This is a desert hike and with any hike, there are inherent dangers on the trail. Use caution and take appropriate steps to keep yourself safe.
The park recommends the following:
After desert rain, do not climb sandstone for 24 hours.
Flash flooding may occur during/after desert rain.
Stay on designated trails.
Cell phone service is unreliable.
Do not disturb or feed wildlife.
Bring food/water, hiking shoes/boots, hat/sunscreen, and check in/out with family or friends.
Views at the Top
When you finally make it to the top, there are two main views from Turtlehead. The cityscape and other parts of Red Rock Canyon. It's hard to choose a favorite. The day we went, the skies were pretty clear and the summit was windy. If it's hazy or overcast, I recommend trying a different day.
If you're looking for a fun day-trip outside of Las Vegas, check out Red Rock Canyon for a great desert hiking experience!
Related: A map with other hikes we've been on in Red Rock Canyon and the Las Vegas area, or if you prefer lists, here's a list of all the hikes we know about in the area. We've also made a hiking guide for the Las Vegas area.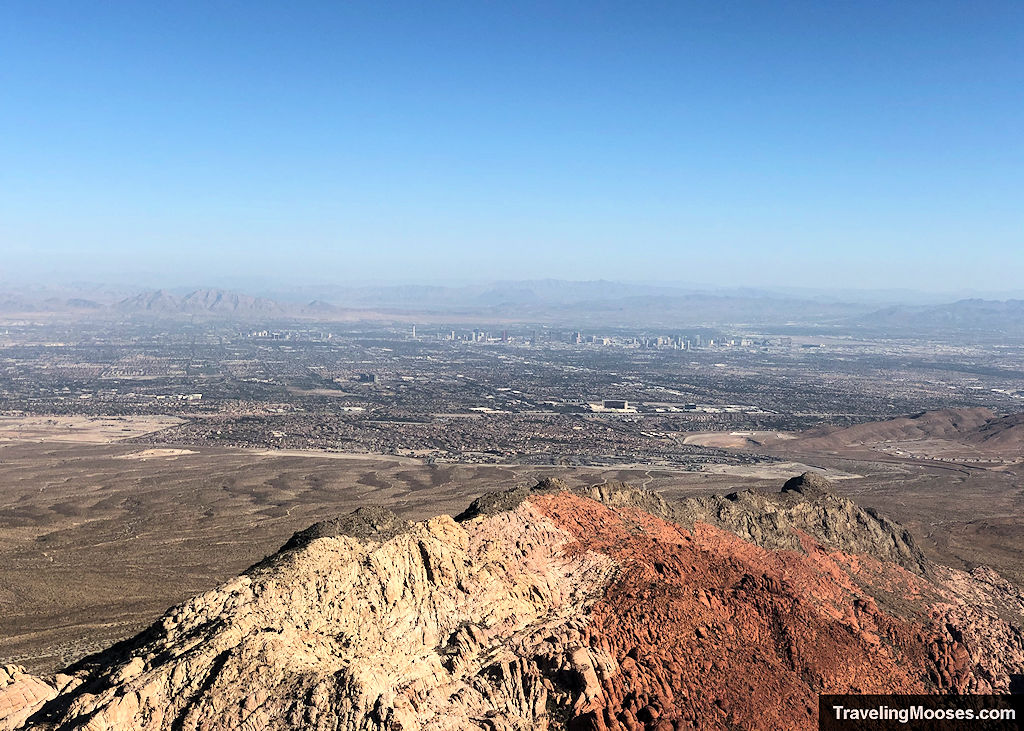 Should you climb Turtlehead Peak?
Rating: 5 Mooses


Sweeping views and a great workout makes this a top-notch place to visit and earns this trail 5 Mooses. We highly recommend a visit and every time we see Turtlehead Peak from the park or around the city, we love that we've been to the top.
Verdict: If you're up for a challenge, great rewards await at the summit.
More Information for your Trip to Red Rock Canyon:
Red Rock Canyon (within the park on the scenic loop)
Calico Basin (entrance is currently free)
Red Spring Boardwalk (Picnic area / photo spot, short walk and jumping off point for other hikes).
Hiking:
Along NV-159 (outside the scenic loop)
You might also enjoy: