In this guide:
Valley of Fire Visitor Center Quick Stats
Address
Valley of Fire Visitor Center, Overton, NV 89040
Phone Number
702-397-2088
Office Website
Valley of Fire Park
Visitor Center Hours
9:00 a.m – 4:00 p.m. Daily

Valley of Fire Park Hours
Daily from sunrise to sunset
24-hour access to campgrounds
Entrance Fee
$10 per vehicle ($15 Non-NV) for entrance into the Valley of Fire. The Visitor Center is free once you're in the park. (Pricing subject to change). Reservations will be needed sometime in 2023.
Amenities
Gift shop, restrooms, parking area, drinking water, park information, park map, exhibits, first aid, ranger talks, and trail access to Balanced Rock.
Average Visit time
< 1 hour
Rating
3 Mooses
How to get to the Visitor Center
The visitor center is just off the main road in the central area of the park. In fact, if you are headed to the famous Mouse Tank Road (aka White Domes Road), you'll pass by it on your way there.
Insider tip: We recommend getting an early start to visit Mouse Tank Road as it's the most popular area of the park.
From the west entrance:
Drive east on the Valley of Fire Highway
Take a left onto Mouse's Tank Rd. / White Dome Road
Follow signs for Visitor Center Parking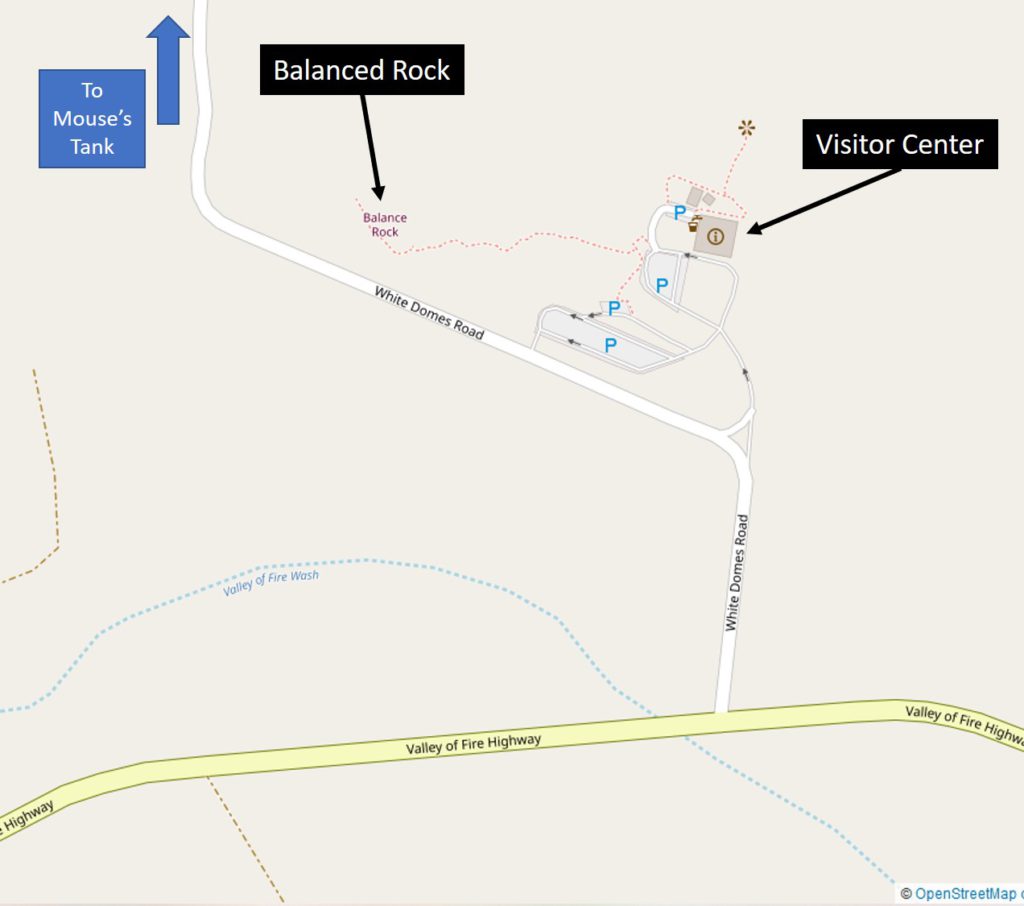 What to expect on your visit
After hiking to the Silica Dome (great for Star Trek fans) and Mouse's Tank (great for petroglyph fans), we arrived at the visitor center around 11 a.m. on a Saturday.
The large parking area is split into sections and we grabbed the last spot in the smaller upper lot.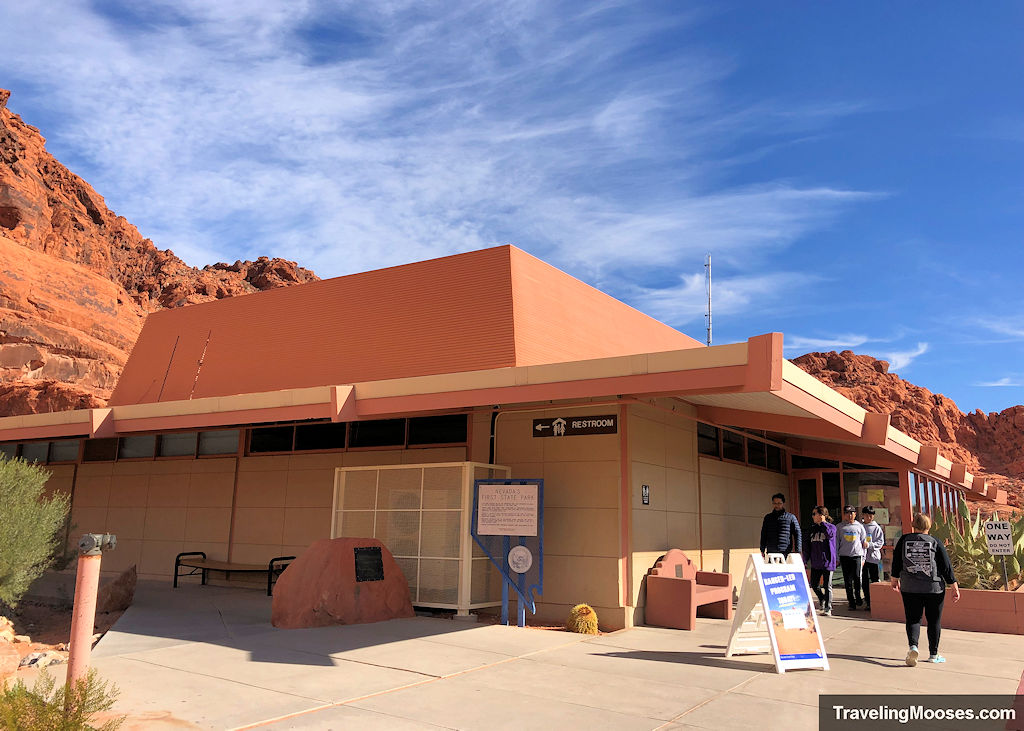 The Valley of Fire is actually Nevada's First State Park. It was established on March 26, 1935 as the Boulder-Dam-Valley of Fire State Park.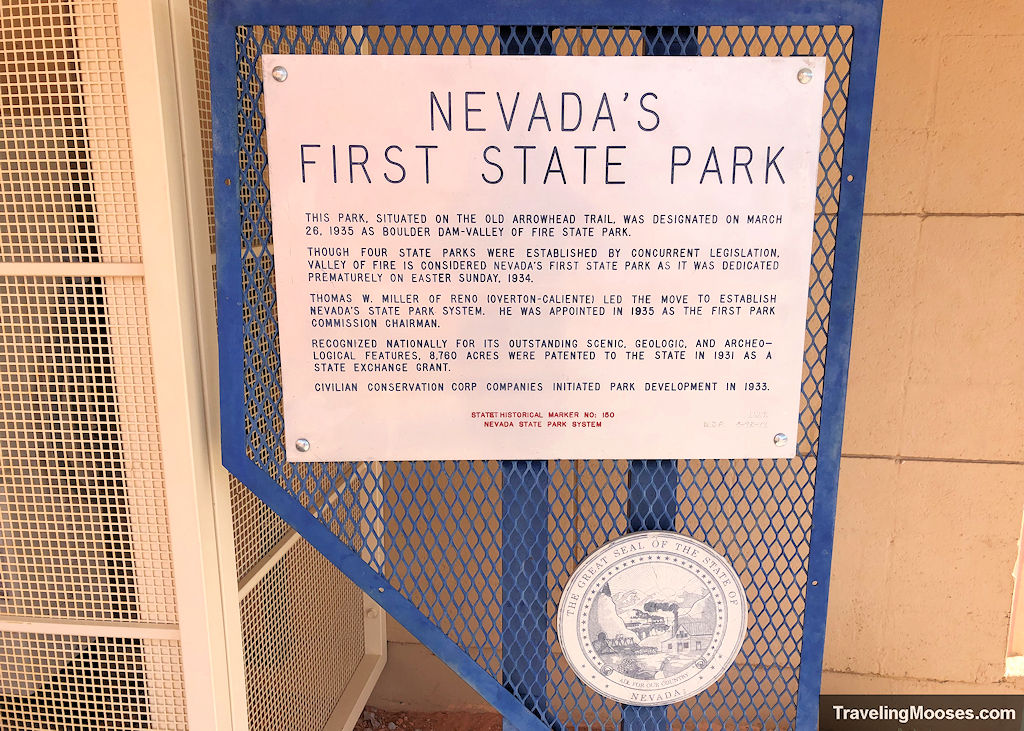 The sign outside the building, reads as follows:
"This park, situated on the old arrowhead trail, was designated on March 26, 1935 as Boulder Dam-Valley of Fire State Park.
Though four state parks were established by concurrent legislation, Valley of Fire is considered Nevada's first state park, as it was dedicated prematurely on Easter Sunday 1934.
Thomas W. Miller of Reno (Overton-Caliente) led the move to establish Nevada's State Park system. He was appointed in 1935 as the first park commission chairman.
Recognized nationally for its oustanding scenic, geologic, and archeological features, 8,760 acres were patented to the state in 1931 as a state exchange grant.
Civilian Conservation Corp companies initiated park development in 1933."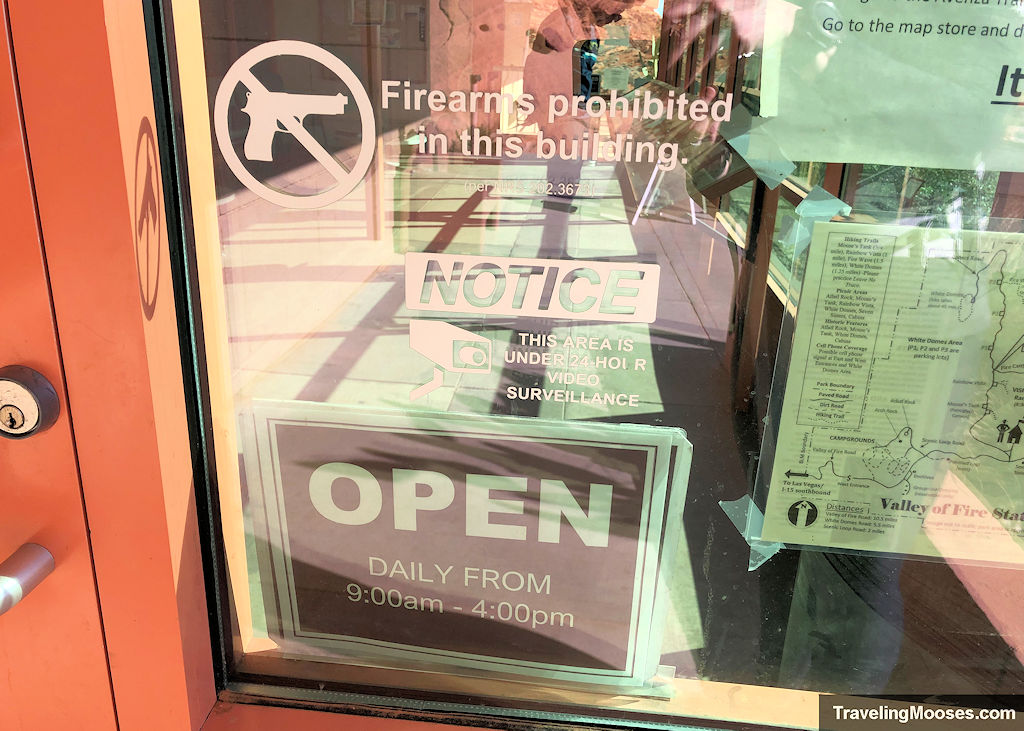 Once inside the building, you'll find an abundance of things to explore.
Exhibits
The visitor center contains a wide variety of exhibits that describe the history of the area.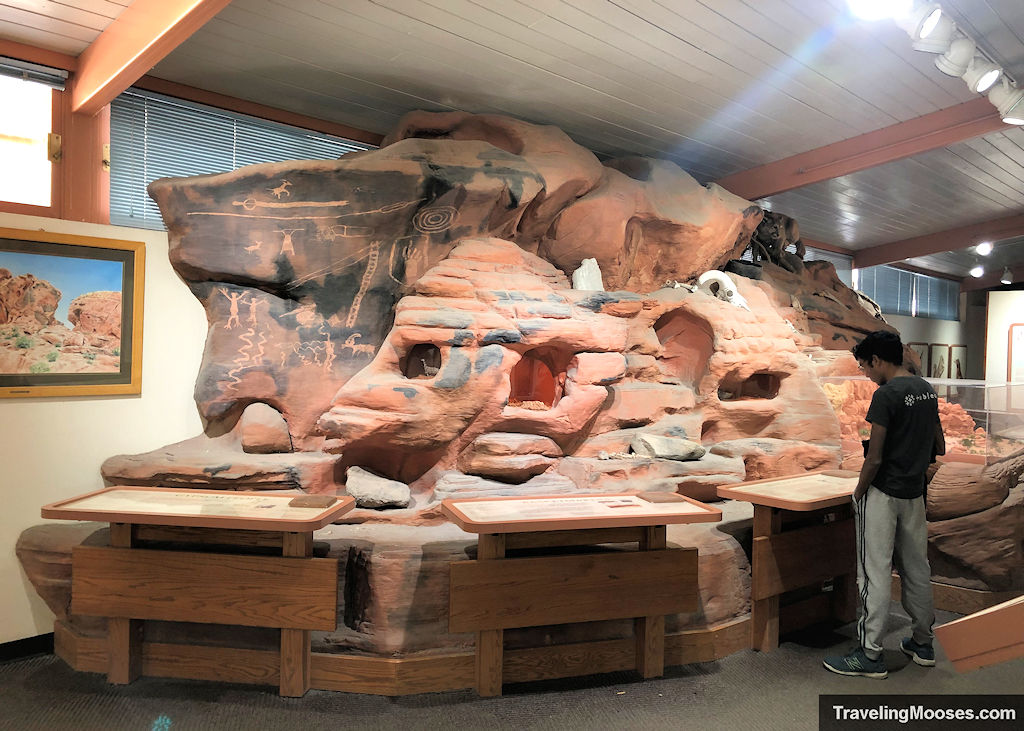 Additionally, there are several repilicas of local wildlife.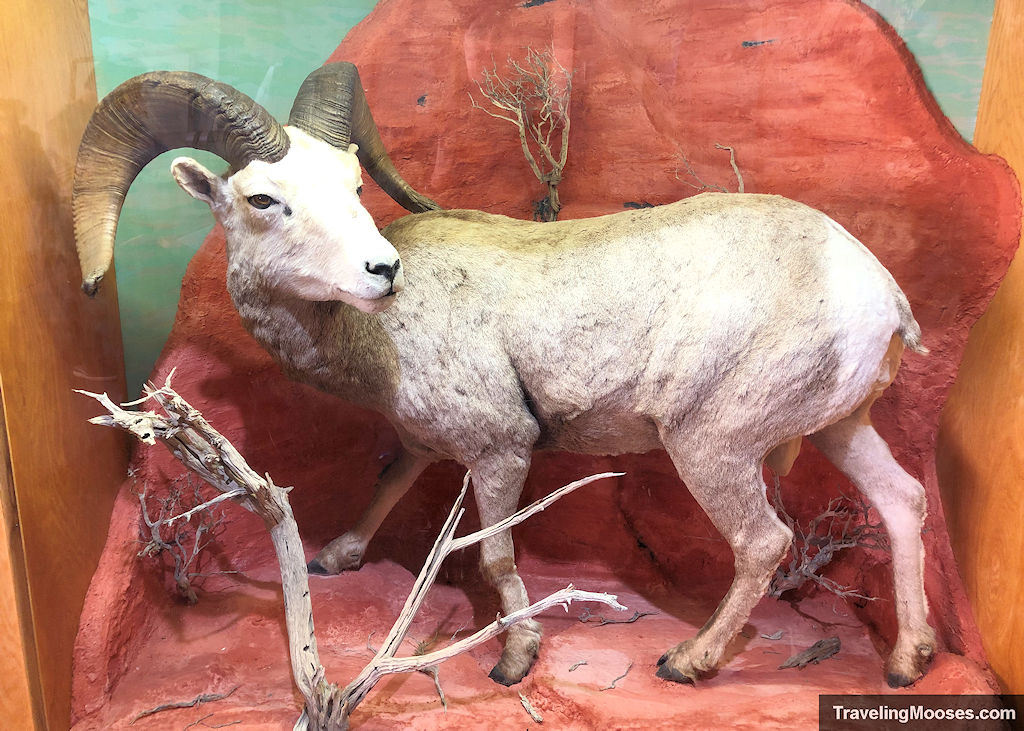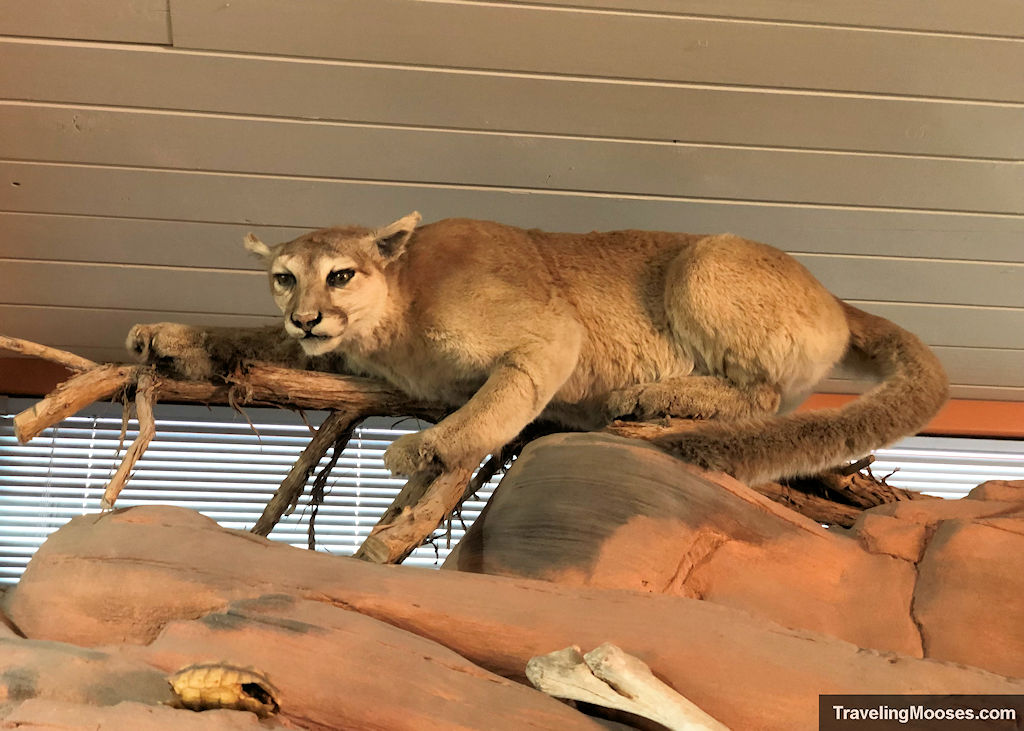 Finally, you'll see artifacts and information about early dwellers and how they thrived in the harsh desert climate.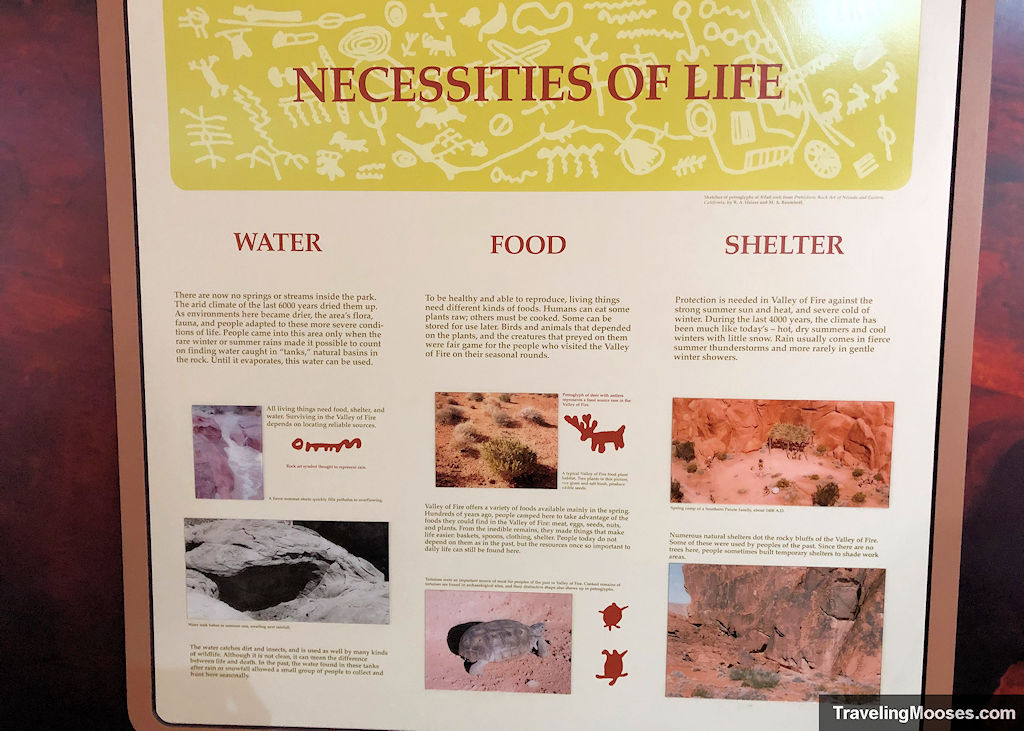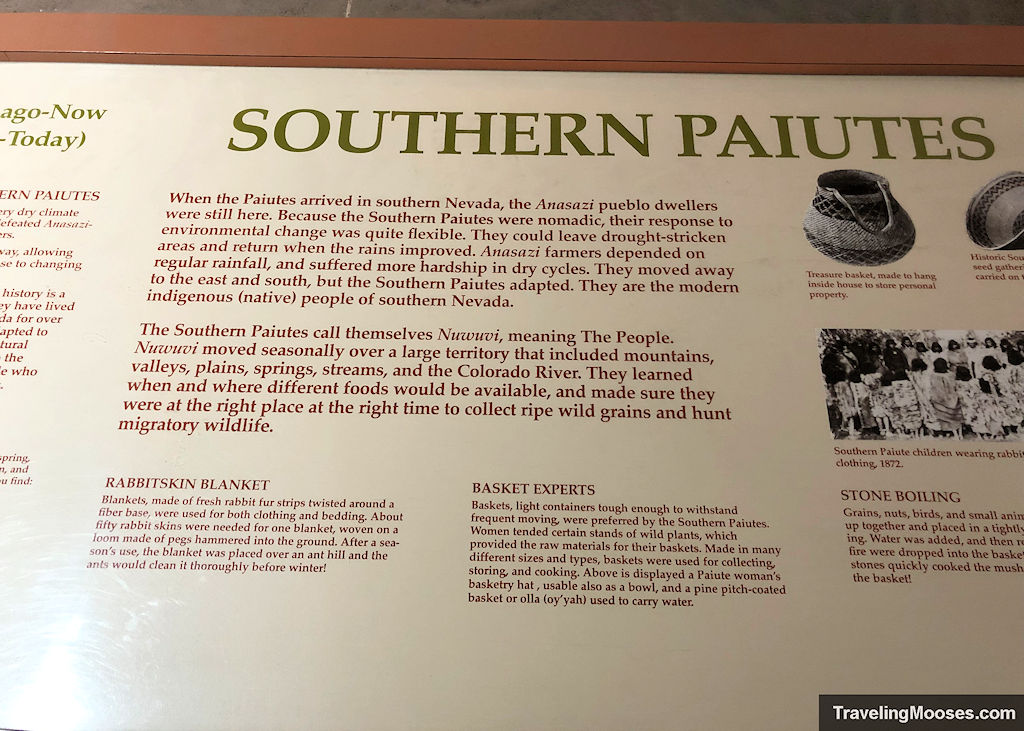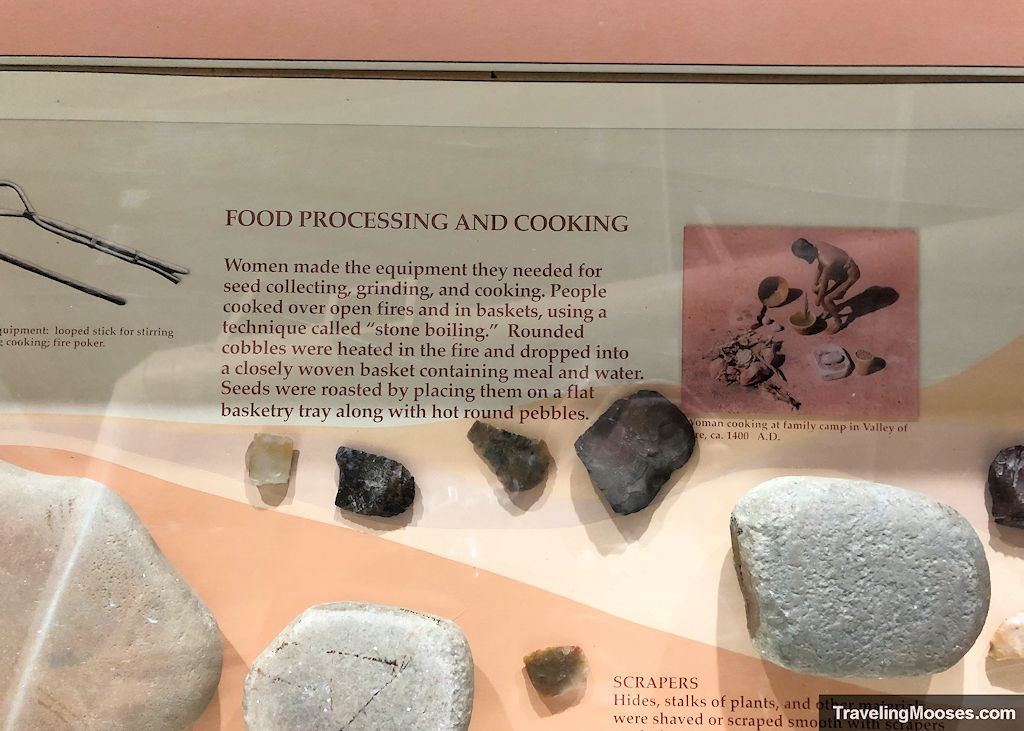 One of our favorite exhibits was the "Ancient Sea" reader board.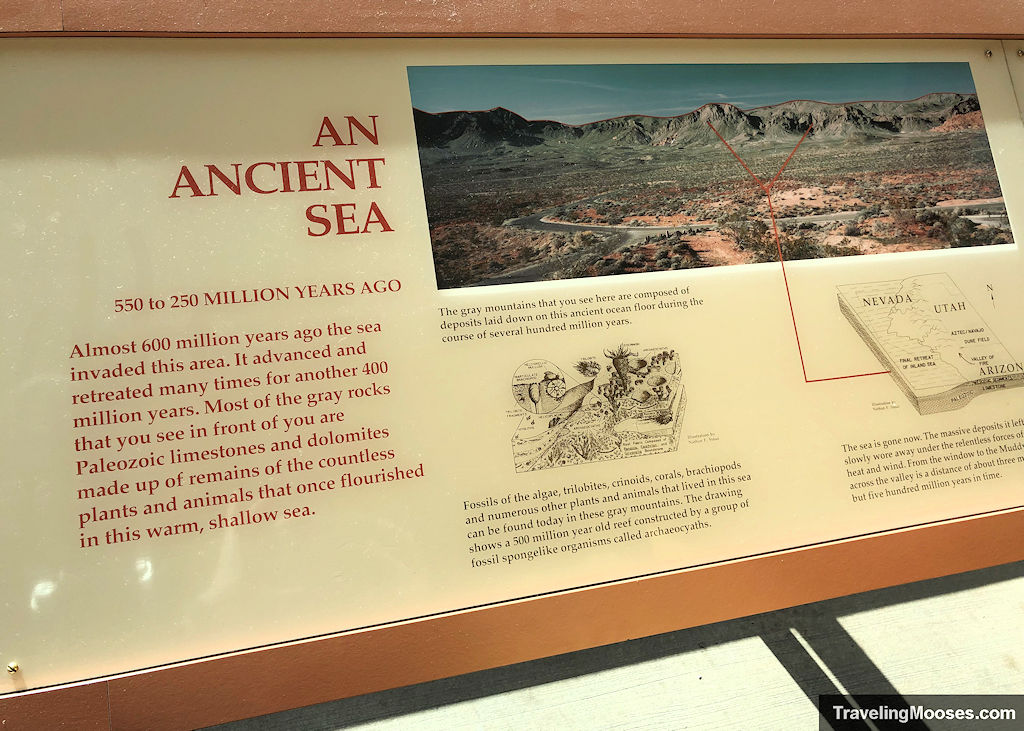 The sign reads:
"Almost 600 million years ago, the sea invaded this area. It advanced and retreated many times for another 400 million years.
Most of the gray rocks that you see in front of you are the Paleozoic limestones and dolomites made up of remains of the countless plants and animals that once flourished in this warm, shallow sea."
We were surprised to learn the area had once been covered in water.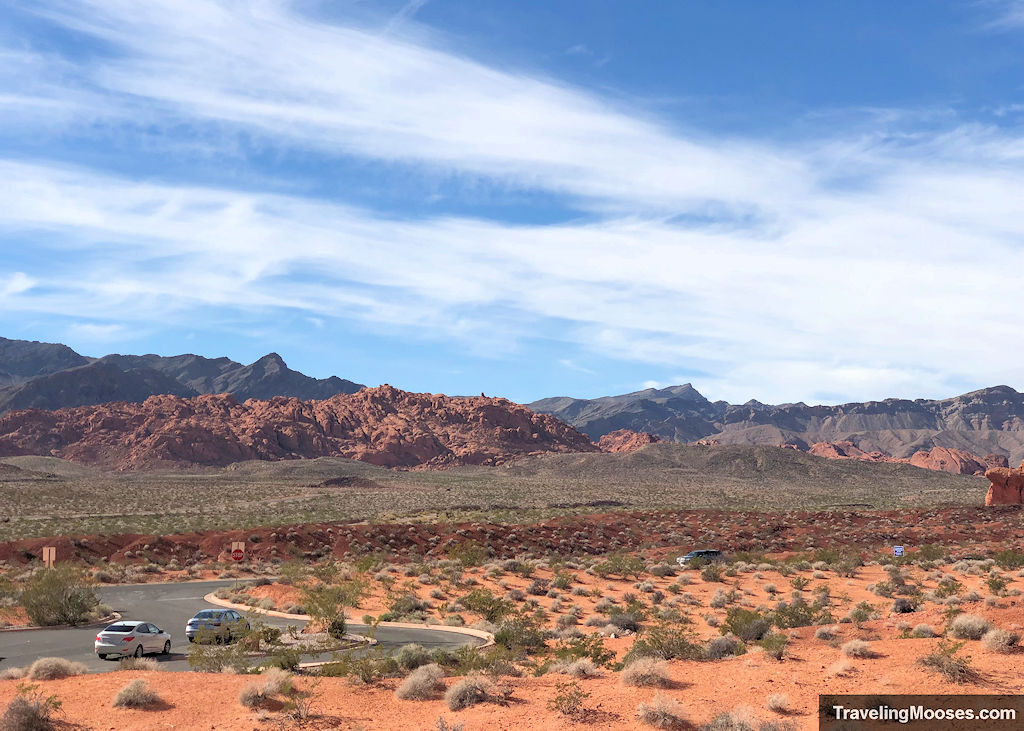 Park Information
Rangers were onsite to answer visitor questions and park maps were also available.
We did notice a reader board with current weather condtions.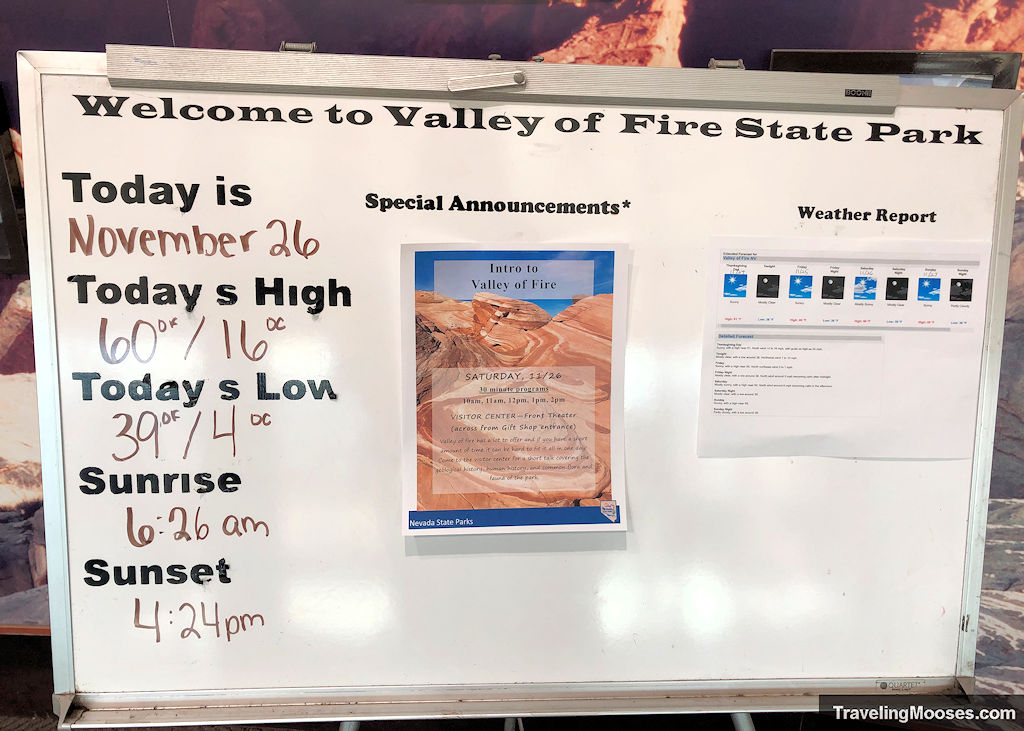 Some days they offer a 30 minute program that includes information about the parks geological history, human history and common flora and fauna of the park.
Separately, they had a small theater with a continuous running program.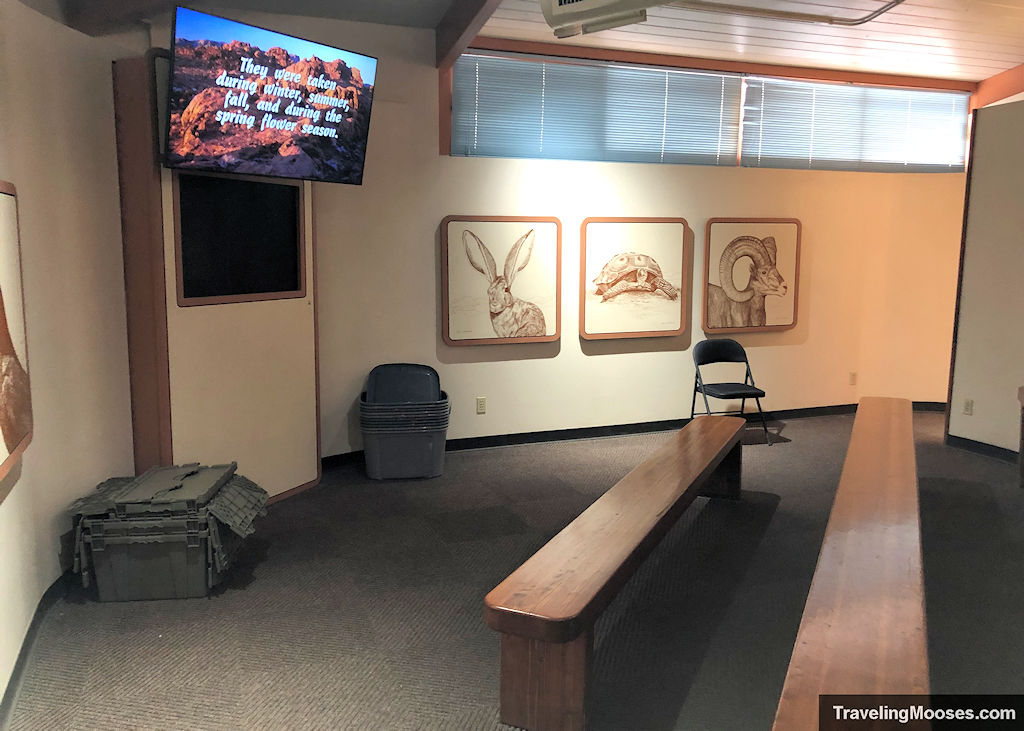 Amenities
You can enjoy a picnic in the back of the building, fill up your water bottle (highly recommended as it gets hot in desert), use the restrooms or fuel up on snacks in the gift shop.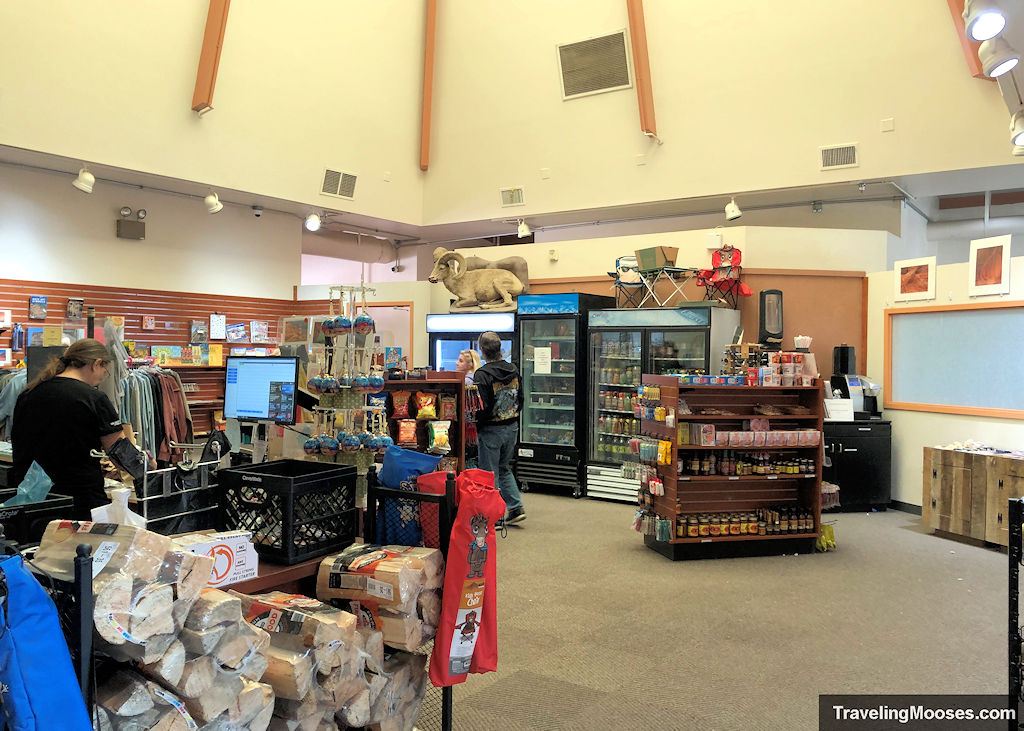 View of the picnic area behind the visitor and red rock formations.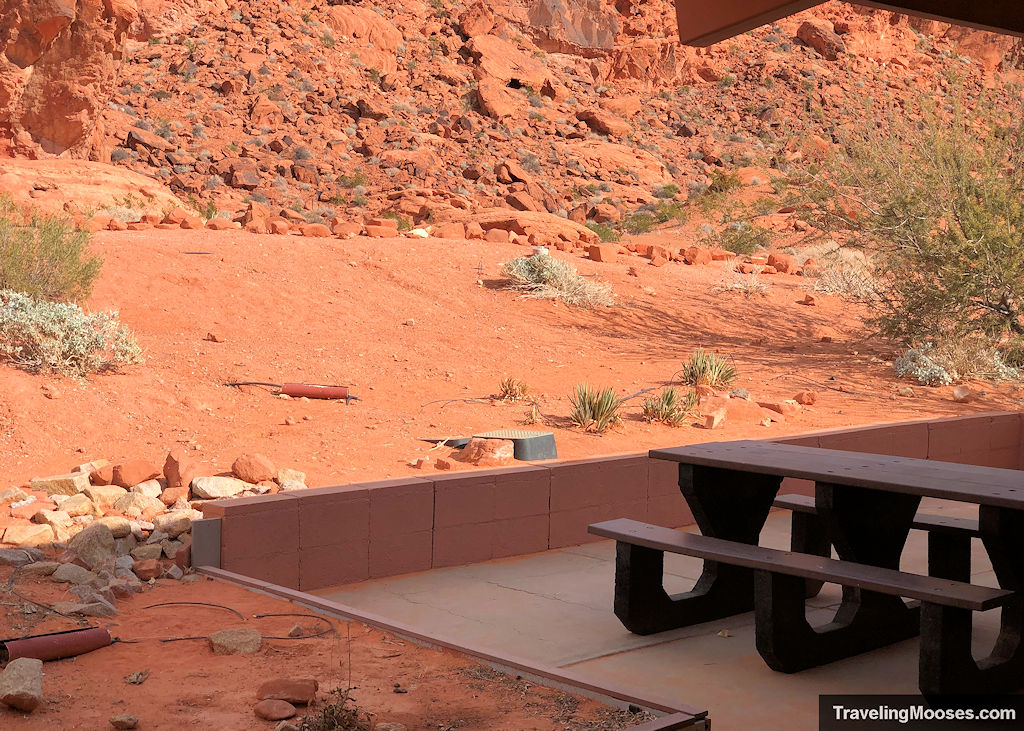 After you finish touring the visitor center, we recommend taking the short walk over to Balanced Rock. This is a 0.25 mile round trip hike that leaves directly from the visitor center and is suitable for all ages.
Is the Valley of Fire Visitor Center worth the visit?
Rating: 3.0 Mooses

What we liked:
There were a fair amount of detailed exhibits about the history of the park and historic artifacts on display.
The short trail to Balanced Rock leaves from the parking area at the visitor center.
There was plenty of parking and despite it being a fairly busy Saturday, we didn't feel too crowded at the exhibits.
What we didn't like:
The gift shop could have carried a few more options.
It would have been nice to sprinkle in more interactive exhibits. To be fair, the space they are in is small, so it would be difficult.
Verdict: If you need information from park rangers or you'd like to learn more about the park's history, then we would recommend a visit. If you're short on time, we recommend checking out some of the other areas of the park instead.
More info for your trip to the Valley of Fire