Mary Jane Falls trail is an extremely popular hike in the Mount Charleston wilderness area that leads hikers to a seasonal waterfall.   This moderate hike showcases epic views of the Spring Mountains, seasonal wildflowers and caves to explore near the waterfall. 
Notice: Mt. Charleston recently experienced substantial storm damage from Hurricane Hillary. Be sure to check for updated information about closures here.
In this guide:
Mary Jane Falls Trail Stats
Trail Description
Out and back
Location
Mary Jane Falls
Parking Lot
Mary Jane Falls Trailhead, 6-34 Kyle Canyon Rd, Mount Charleston, NV 89124
Round Trip Mileage
~3.7 miles
Average Time
2.0 – 3.0 hours
Difficulty
Moderate

The trail is considered moderate/hard. What makes the trail moderate in our opinion is the max elevation gain and uneven ground when you reach the last third of the trail. There is no scrambling, unless you choose to climb up into the caves at the base of the waterfall.
Elevation Gain
~1,014 feet
Elevation Start
~7,818 feet (Source)
Elevation Max
~8,832 feet
Best time to visit
Late spring through fall
Amenities at the Trailhead
Parking, trail map / information board, primitive bathrooms.
Entrance Fee
None
Rating
4.0 Mooses
Where did Mary Jane Falls get its name?
In the early 1900s, Mr. Edmund W. Griffith (known as E.W.), moved to Las Vegas (from Canada) to work on the Union Pacific Railroad and decided to stay in the U.S.
He went on to found the Mount Charleston Park resort in 1915 with his son. He later named Mary Jane Falls after his granddaughter, who spent many summers around the Mount Charleston area.
You can learn from about E.W. here.
What to expect along the Mary Jane Falls trail
We planned to visit on a weekend and knew it was going to be busy, so we arrived at the trail just after 7 a.m.
The trailhead had less than 10 cars at it, so we were thinking we made it early enough (we didn't, more on that later).
After getting the lay of the land at the trailhead sign, (apparently there are mountain lions in the area, so keep your eyes peeled), we set off down the trail.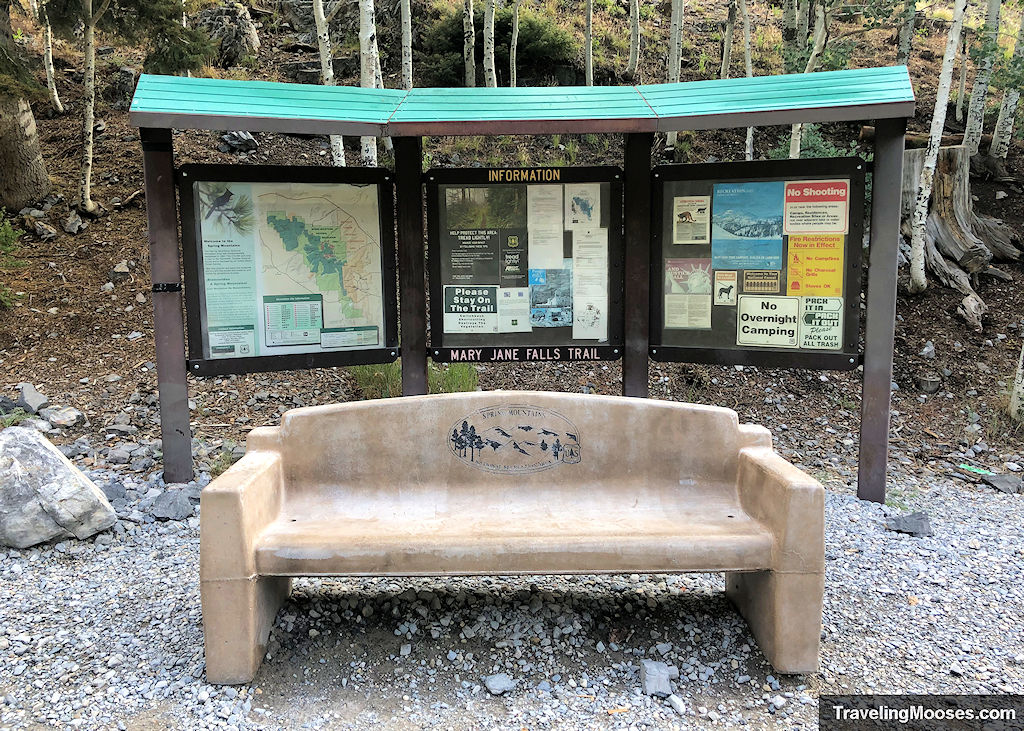 The trail starts off wide and flat (although rocky).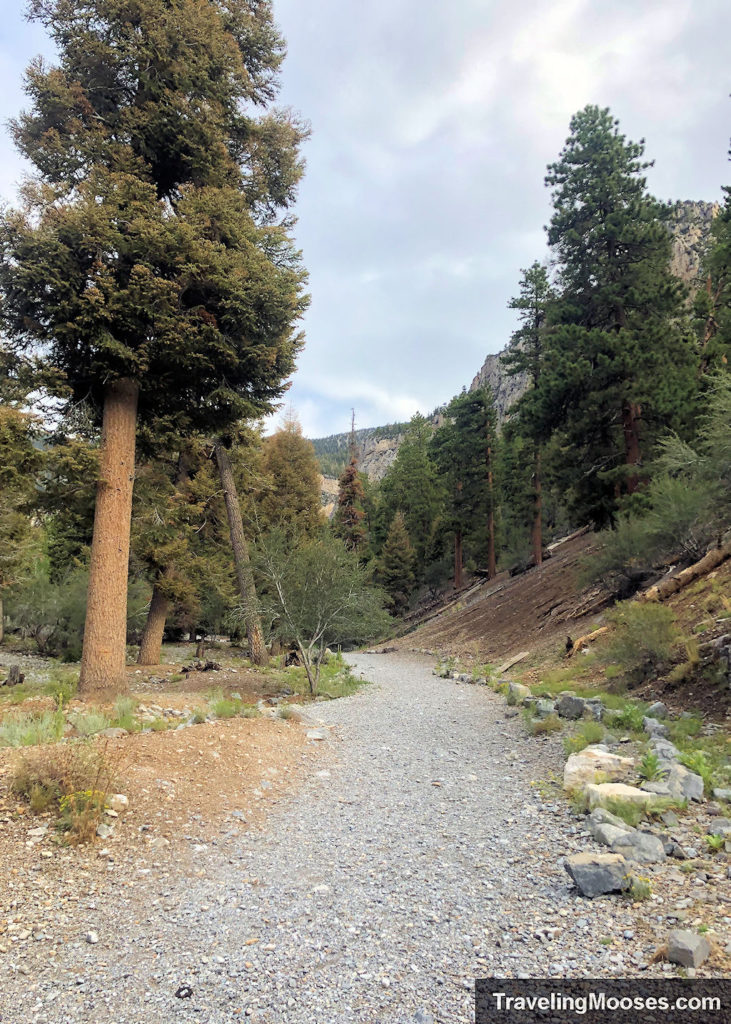 The path wanders through a variety of trees and gradually starts picking up elevation. Not long up the trail, you'll be met with a wide path that has a line of boulders running up the center.
We couldn't figure out why the trail was built that way. It did make for a nice passing lane when we ran into other hikers.
This portion of the trail was a bit disappointing with a number of "presents" left behind from inconsiderate dog owners. We were also dismayed at the large number of carvings we found in many of the trees.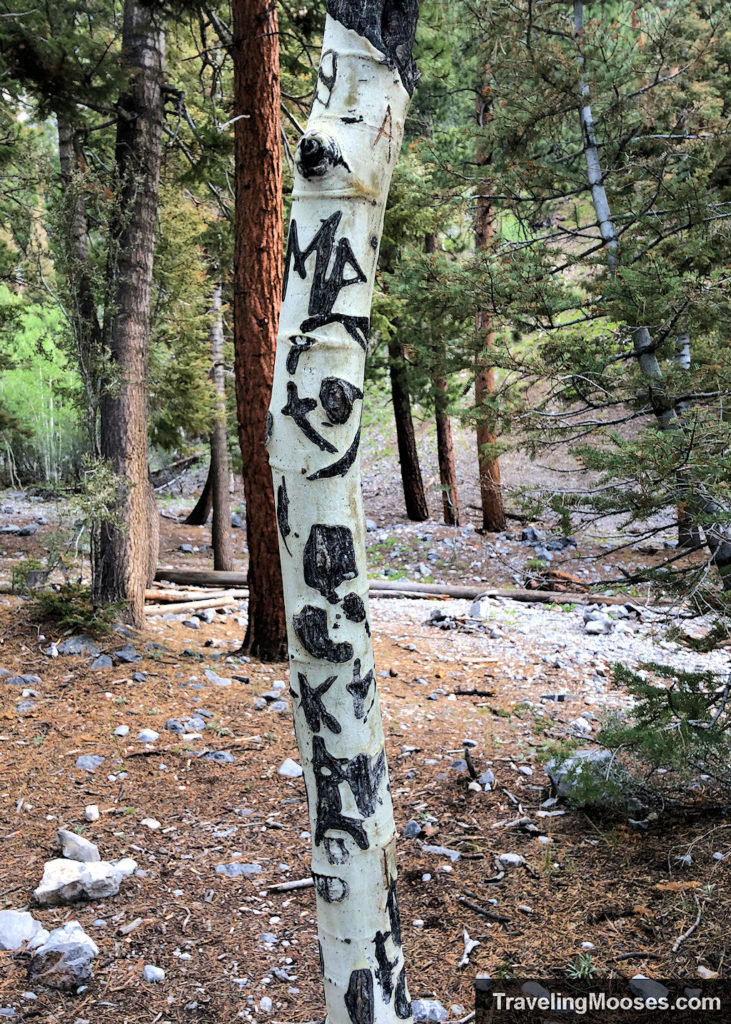 Learn about how tree carvings harm trees here.
We continued along the trail and reached an area where the incline steepens, the ground becomes rougher and the switchbacks begin.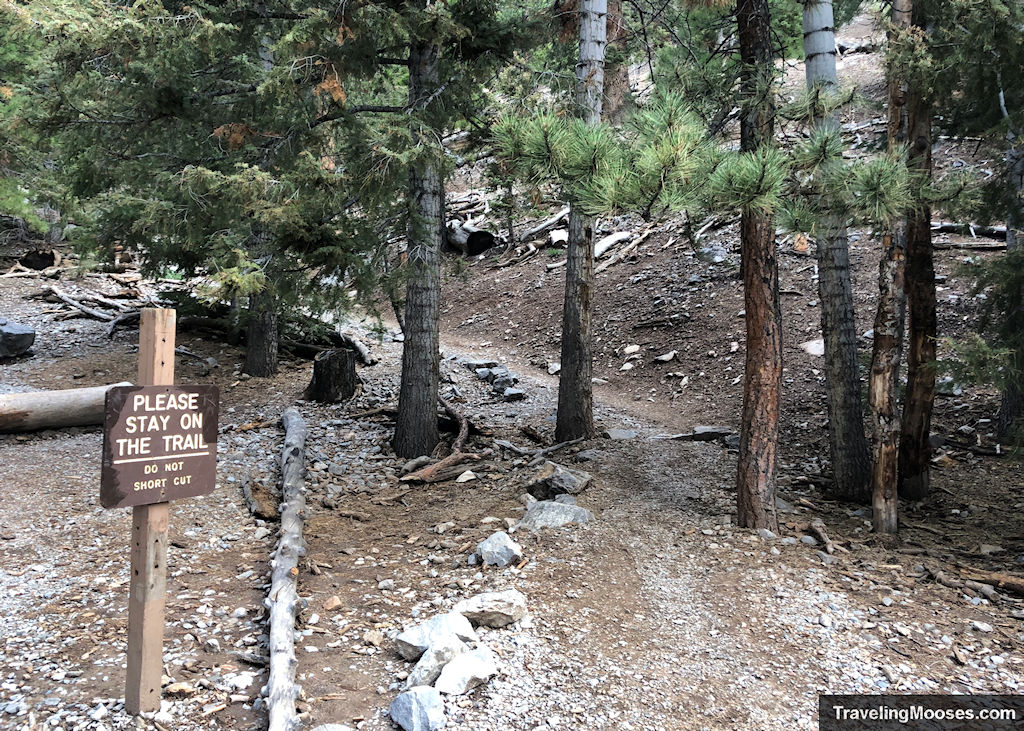 After the switchbacks began, it become apparent we finally needed to pass the group of hikers in front of us. Up until that point, we had been purposefully hanging back, but it was no longer feasible. It was at this point, we wished we had arrived even 20 minutes earlier.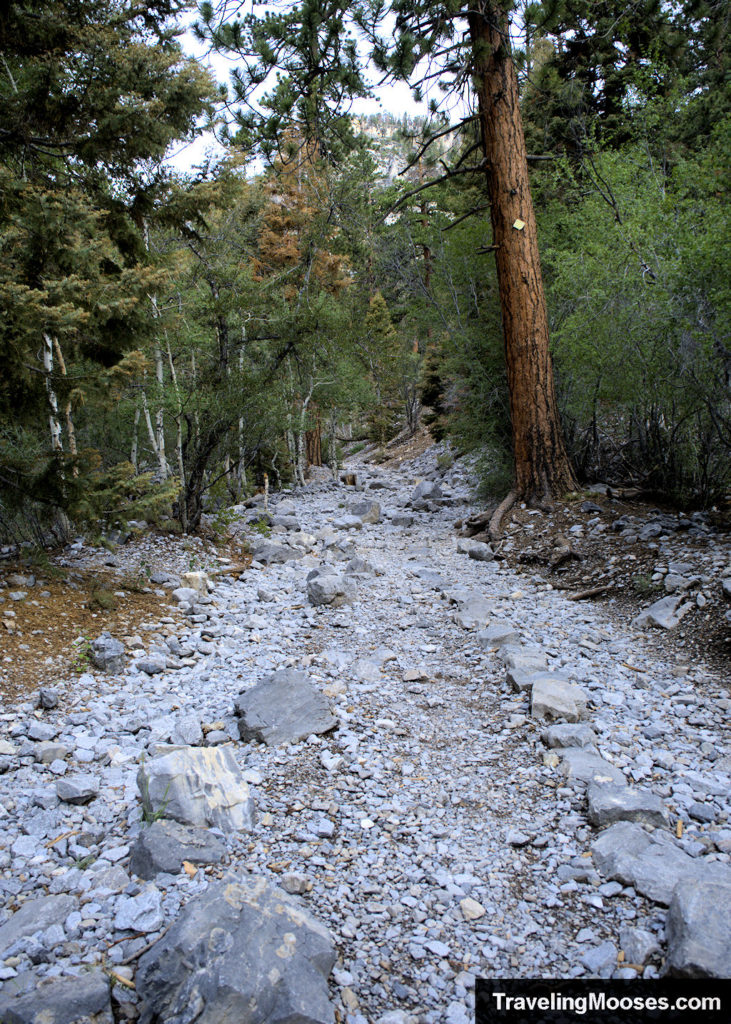 So, what's the big deal? It's not a problem to pass people on the trail… right? Normally, no. Most hikers are courteous and allow others to pass (as these hikers did), but it then leads to an awkward game of: "who is going to go faster than everyone else."
The game goes something like this:
The hikers are going too slow in front of you. You speed up to pass them. They speed up too. Alternatively, they stopped for a quick rest break and as they see you coming, they immediately start going again.
You finally catch up and pass them, but you went a little faster than you wanted to accomplish it. Now you have to go even faster to put some space between you. Somehow in the process, they are now going even faster now to "catch you."
It seems to be some sort of unconscious herd mentality, similar to what happens in vehicles. This is a fun read about the occurrence in vehicles (though a bit off topic).
Ironically, we've noticed the "passing game" seems to happen less when trails are busier.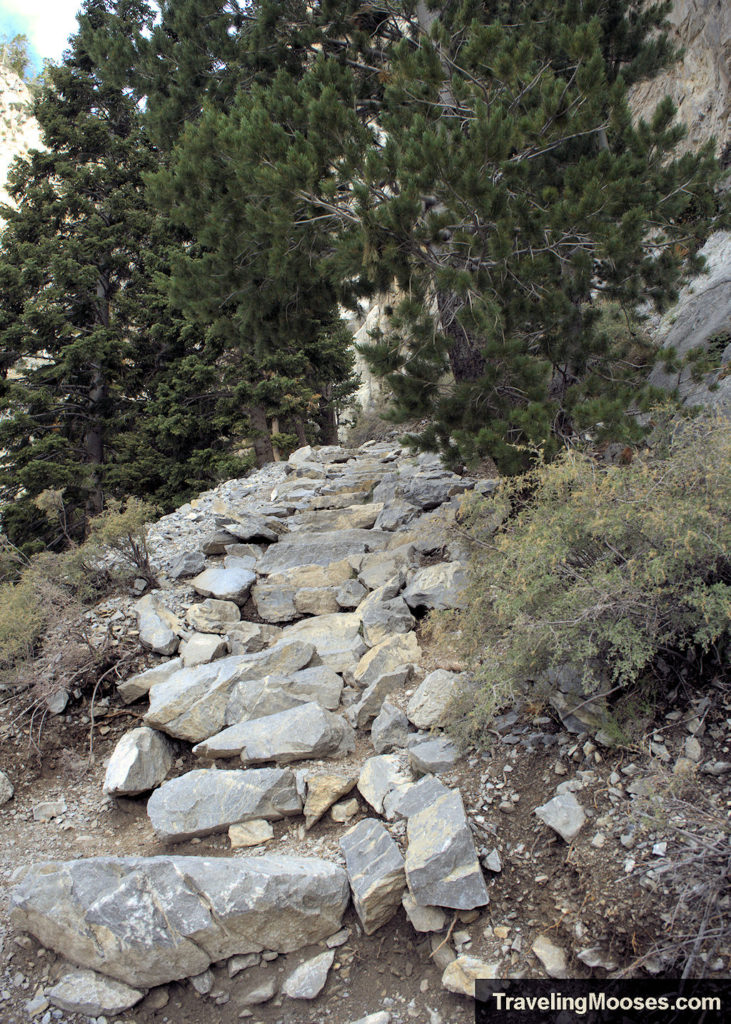 The last third of the trail consisted of this "tension" between several groups of hikers pushing up the trail faster than any of us probably meant to go.
As you are traversing the last part of the trail up the switchbacks, you'll notice a cave in the side of the cliffs.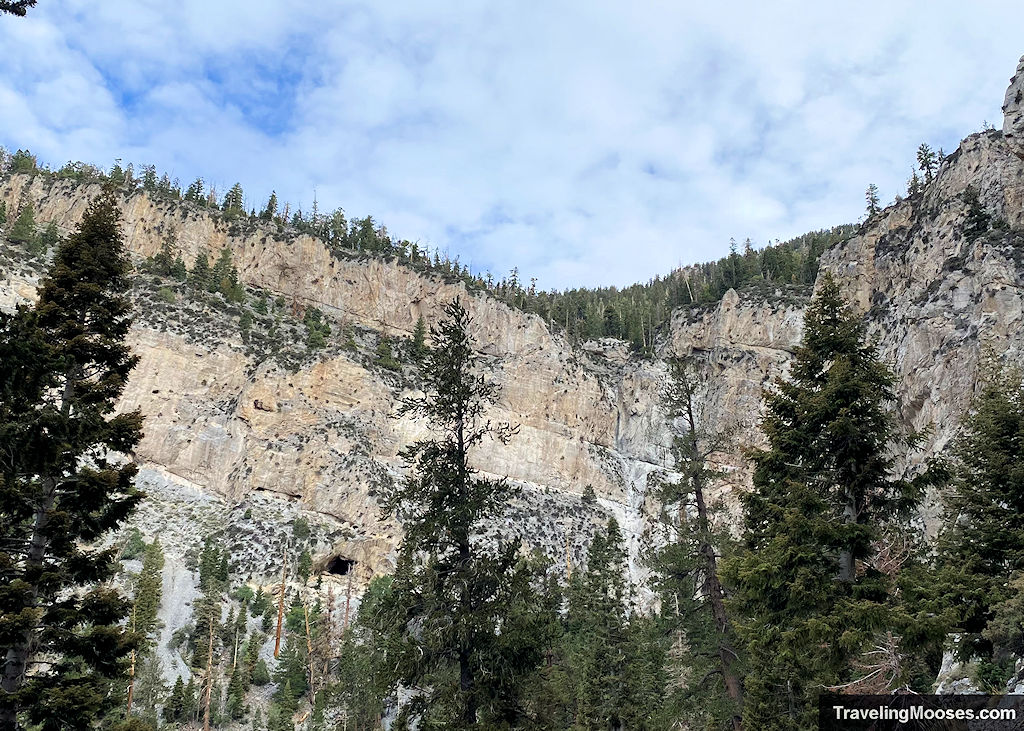 While we didn't do it, there looked to be a way to reach the cave if you're willing to go off trail. I can't vouch for how safe it is, but it didn't look too bad. It looked to be accessible after you reach the falls area.
You can also find a few pictures online of people that have taken pictures from inside looking out.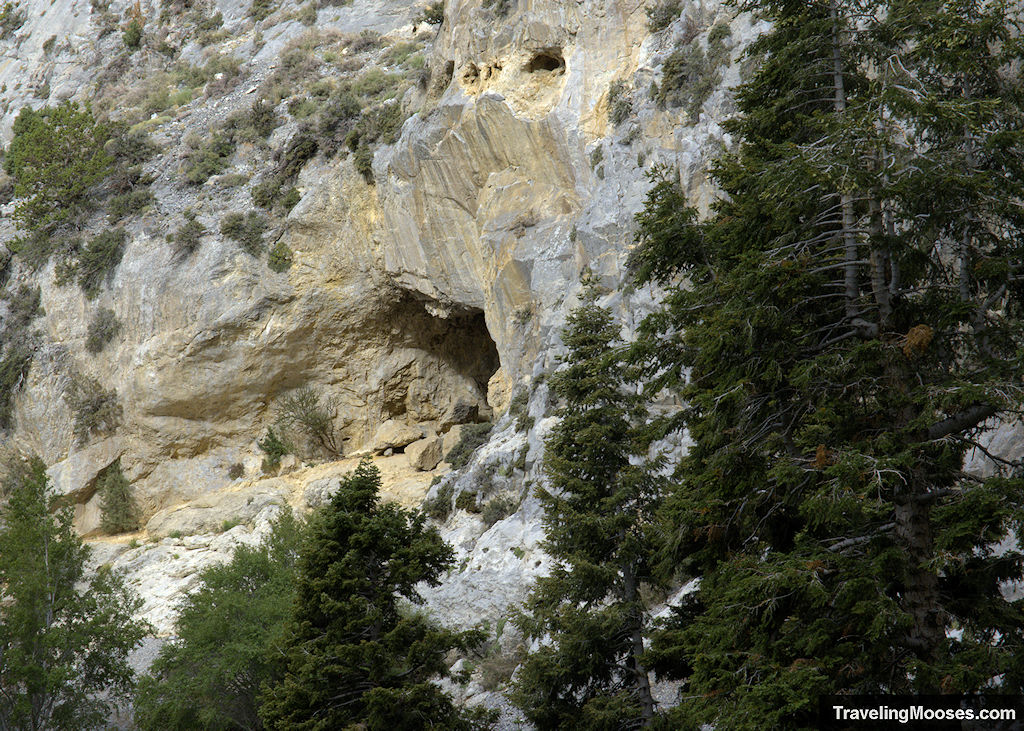 We reached the falls about 55 minutes from the trailhead.
There were quite a few people up at the falls when we arrived, despite it being only 8 a.m.
The water was barely flowing, which was expected, but also disappointing. We'd like to visit again in the spring, or perhaps late winter when ice crystals have formed on the falls.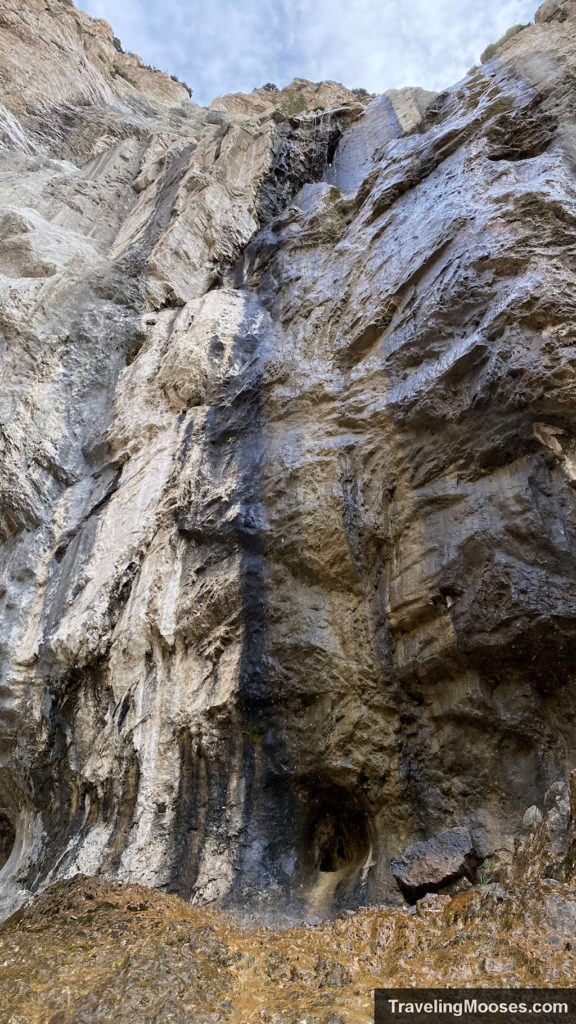 There is an opportunity to scramble up a 10–15-foot wall into a cave area right next to the falls. We decided not to, but watched a group of hikers (and their dog), climb up without issues. This would be a good time to have footwear with good grips on the bottom.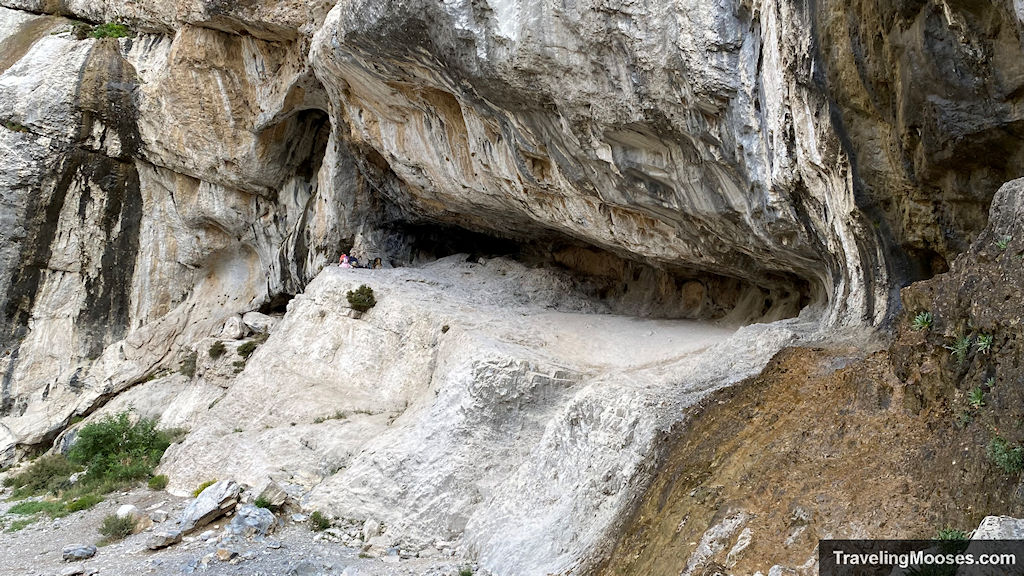 After enjoying the scenic views of the valley and snapping some photos, we decided to head out.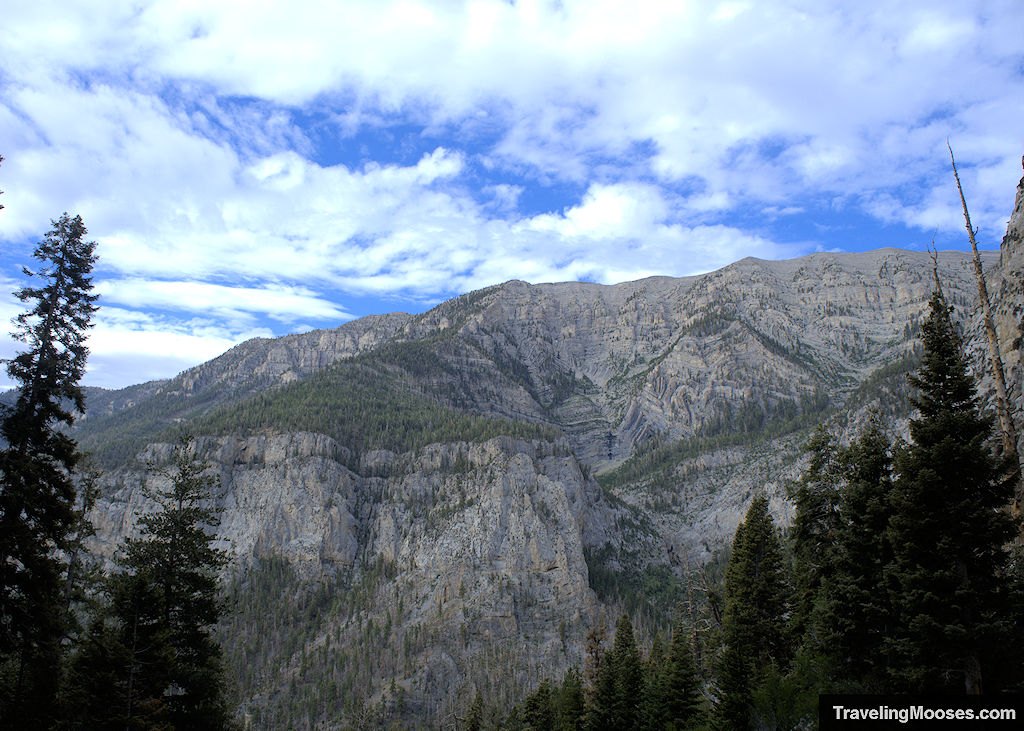 As we were just about to get back on the trail, a large family of chipmunks began descending upon us and were begging for food. They were chirping and running around all over the place. While cute, they were a bit aggressive in how close they will come to you.
We did not feed them, but it is apparent that many hikers do.
The way back down the trail was pleasant, though we ran into many groups heading up.
We reached the parking lot area at 1 hour and 59 minutes. We found the lot mostly full and more hikers were showing up when we arrived. We recommend going early on the weekends if you want any solitude.
Is hiking Mary Jane Falls trail worth it?
Rating: 4.0 Mooses


We debated this rating a lot and waffled between a 3.5 and a 4.0. Overall, the hike had great scenery and was short and sweet. The waterfall was barely a trickle (which we knew), but it was still lackluster. The crowds really dampened the whole experience which ultimately took off a whole star for us. In the right circumstances, I think it could be an amazing hike.
What we liked:
Immediately upon arrival in the parking area you're met with gorgeous views of the mountains. This persists the entire way up the trail.
The trail was short but had a lot of character in the last third with stone steps to climb and caves to gawk at.
We had a fun time trying to photograph the very hungry chipmunks at the waterfall area. (Please don't feed them!)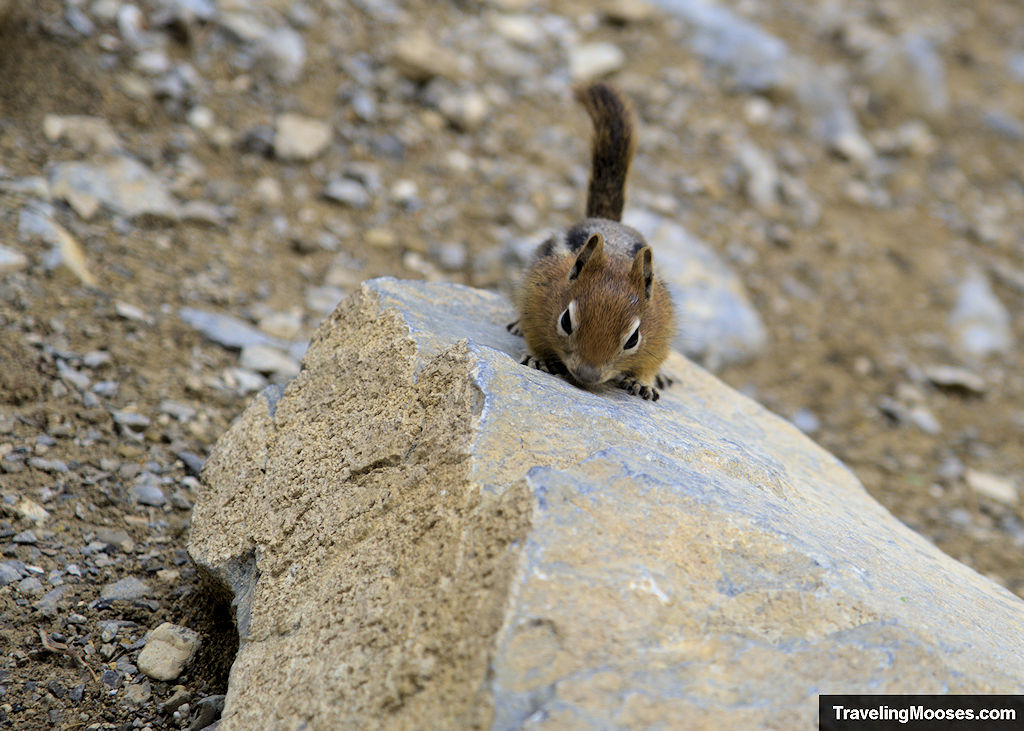 What we didn't like:
The waterfall was barely a trickle when we visited.
While the crowds were fairly low when we started, this is an extremely popular hike and was very busy on the way back down.
Several folks were not obeying the leash laws.
For whatever reason, people cannot or will not pick up after their pets. Watch your step.
A fair number of trees have been vandalized with carvings in the bark.
Good luck getting a peaceful video of the waterfall (if it's running) as the rock walls echo and other hikers were loud.
Practical Information for your Hike
Current Trail Conditions
What to bring
Be sure to check the weather conditions and pack appropriately. This is what we brought for this hike:
Standard Gear:
Special Items of note:
Hiking Boots or closed toe shoes – There were a lot of rocks on the trail. We recommend wearing shoes with a good grip on them, especially if you plan on climbing around in the caves at the end of the trail.
Water / Snacks – It was relatively cool the day we visited (around 65 degrees) and we only needed one 32-ounce bottle of water for each of us. Keep in mind that when hiking at higher altitudes you generally need more water than normal.
Navigation – We used Alltrails for navigation, however we felt the path was really well-marked and we didn't need it.
Photography – If you're there when the water is running, you may want to pack a tri-pod for some long exposure shots.
Entrance Fees
There are no fees to enter the Spring Mountain Wilderness area, nor to park at the Mary Jane Falls trailhead.
If you're interested in staying overnight at the nearby Fletcher View Campground, there is a nightly fee.
Getting to the Mary Jane Falls Trailhead
The start of Mary Jane Falls can be found at the end of Echo Rd / Kyle Canyon Rd (aka NV-157).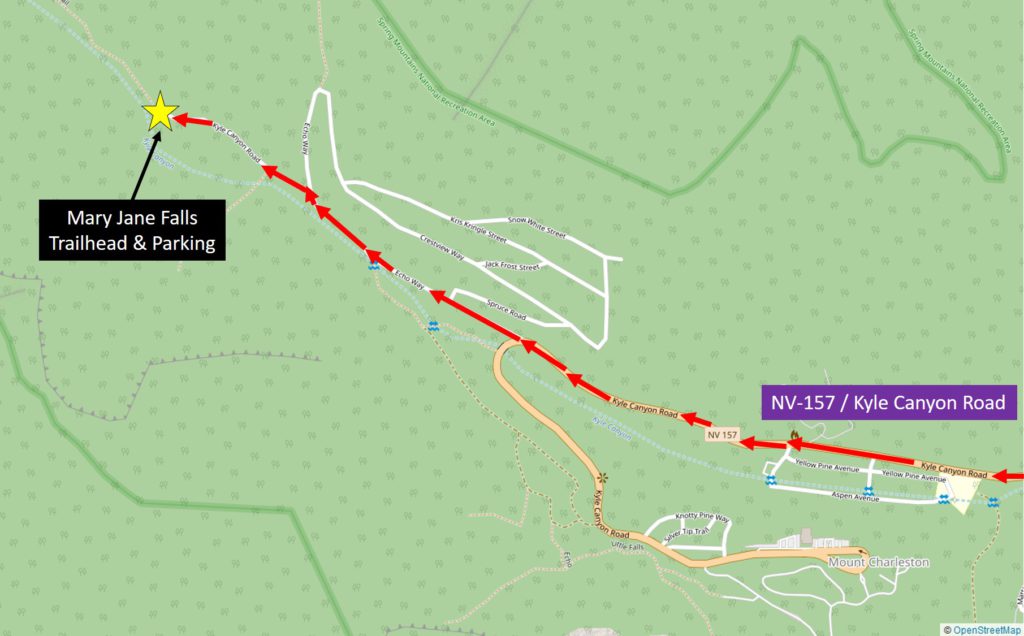 From Las Vegas:
Take Highway 95 Northbound until you reach Exit 96 (Kyle Canyon / NV 157 / Sunstone Pkwy). Turn left off the exit onto NV-157 / Kyle Canyon Road. Drive approximately 20 miles.
You'll see a sign for Mary Jane Falls / Trail Canyon that stays straight rather than continuing on NV-157. This road is now Echo Rd / Kyle Canyon Rd. Continue straight down this road and follow the signs to Mary Jane Falls (it eventually turns to well-graded gravel). You'll find a relatively large parking area at the trailhead.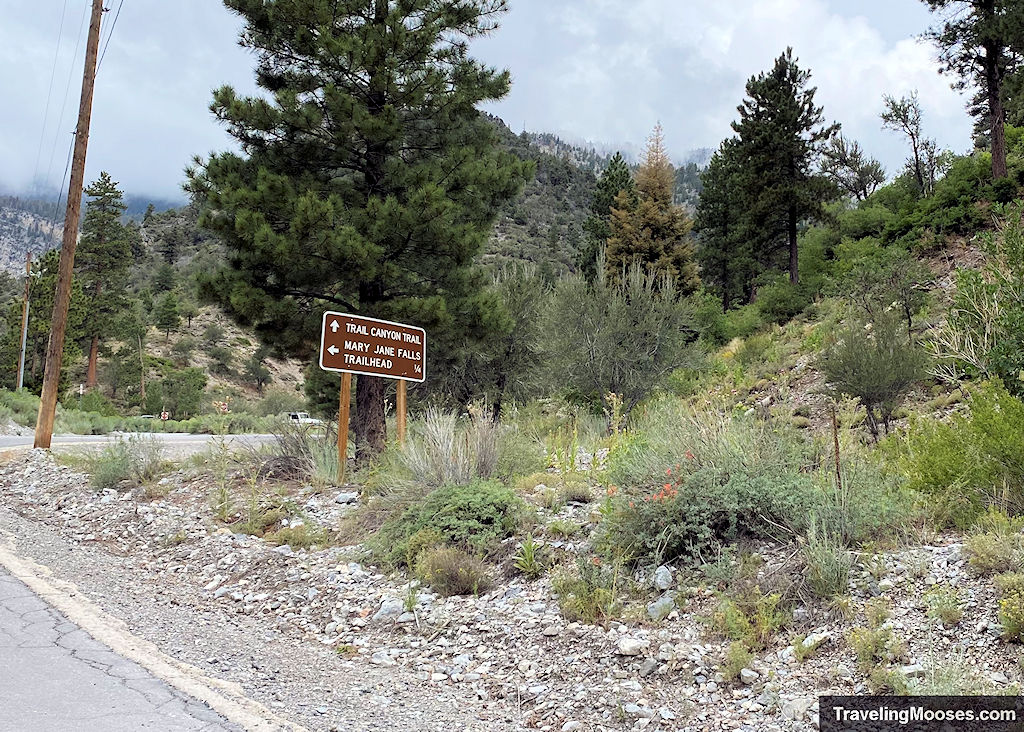 It's tempting to speed on NV-157. We highly recommend against it. We frequently see police cars driving around Mount Charleston and bikers / hikers are often on the narrow shoulders or crossing the highways at various trailheads.
Parking at Mary Jane Falls Trailhead
There is a large, well-marked gravel parking lot at the start of the Mary Jane Falls trail.
The trail is very popular, and it fills up quickly on the weekend. We arrived at 7 a.m. on a Sunday and there were less than 10 cars. By the time we left just two hours later, the parking lot was mostly full.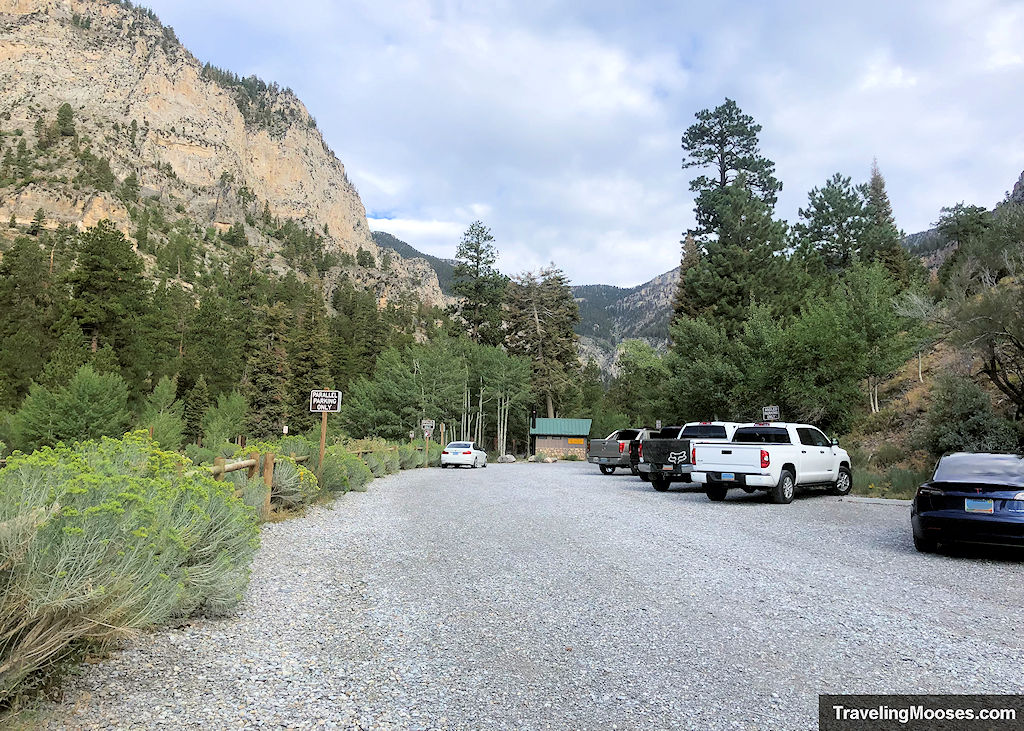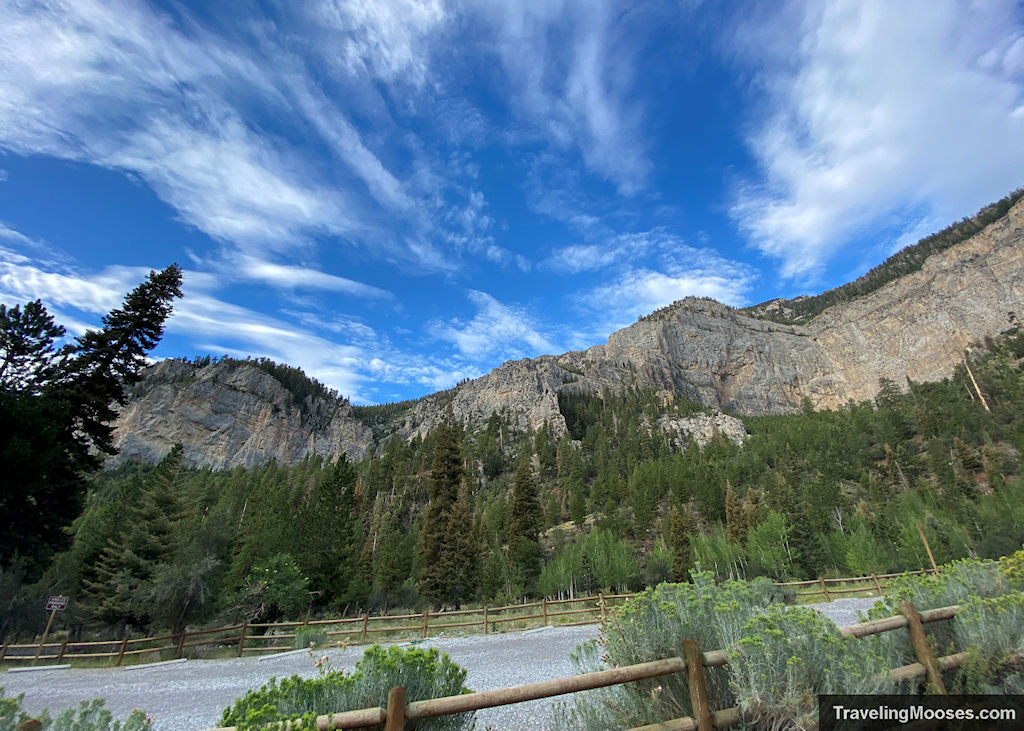 There is overflow parking allowed on one side of the gravel road leading up to the official parking lot. Make sure you follow all the marked signs to avoid being ticketed or towed.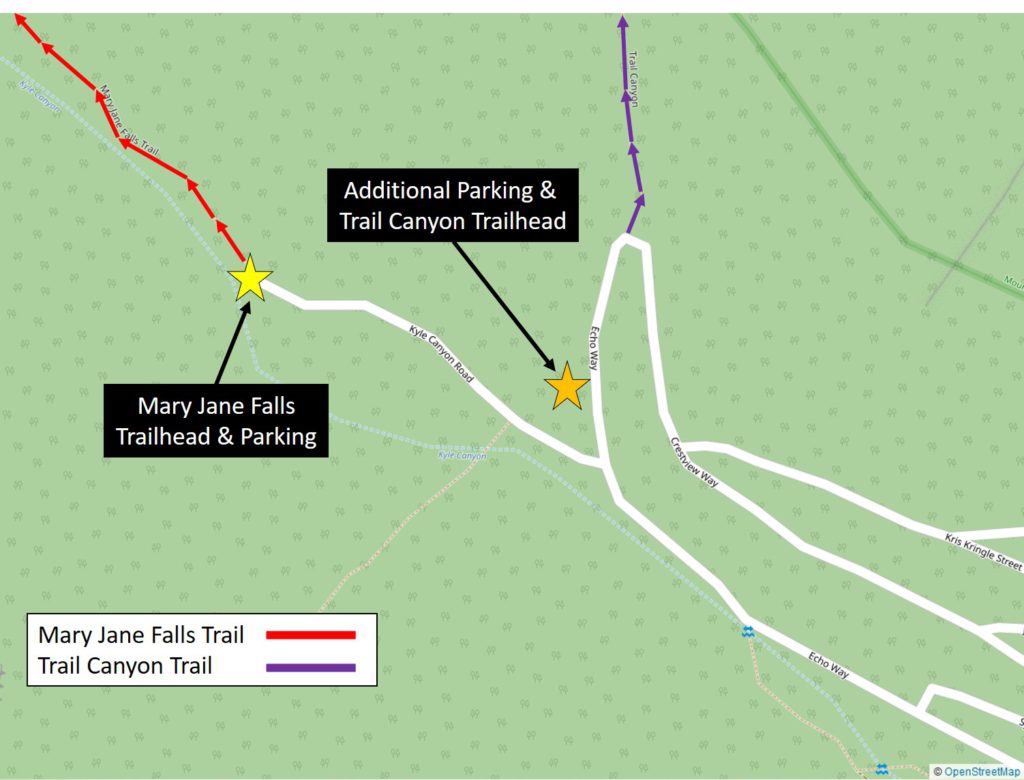 If both the parking lot and the street are full, there is another lot at the start of Trail Canyon Road that can be used. However, it will likely also be full if everything else is.
Insider-tip: If you find both lots full and cars lined up along the road. We suggest turning around and going somewhere else. The trail is going to be crazy.
Trail Maps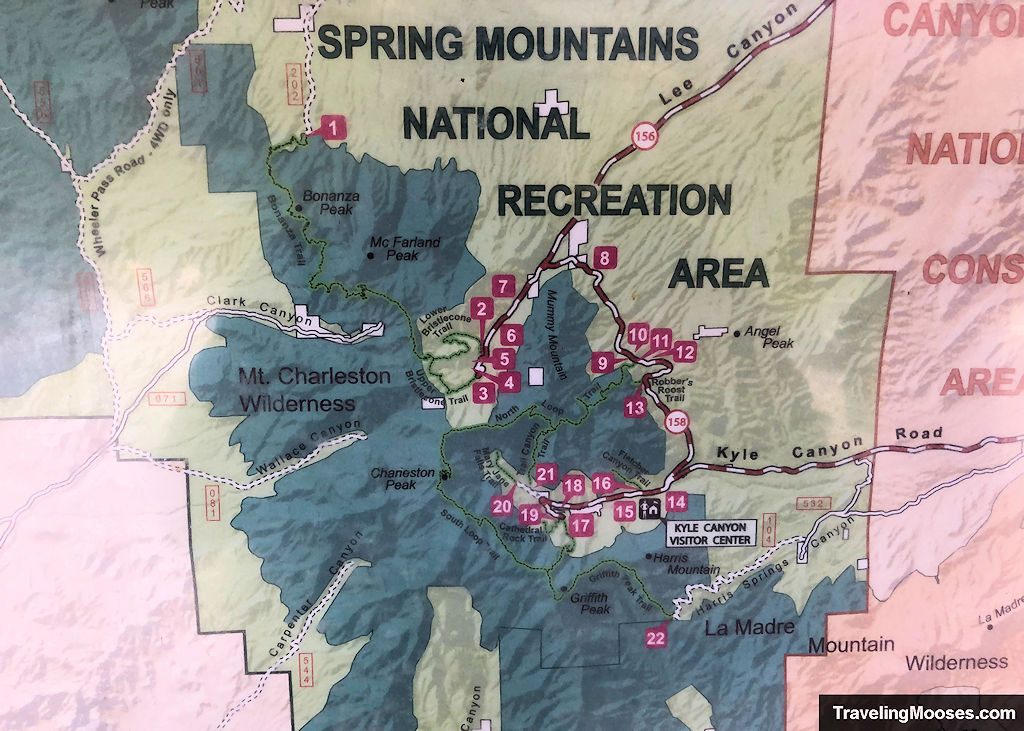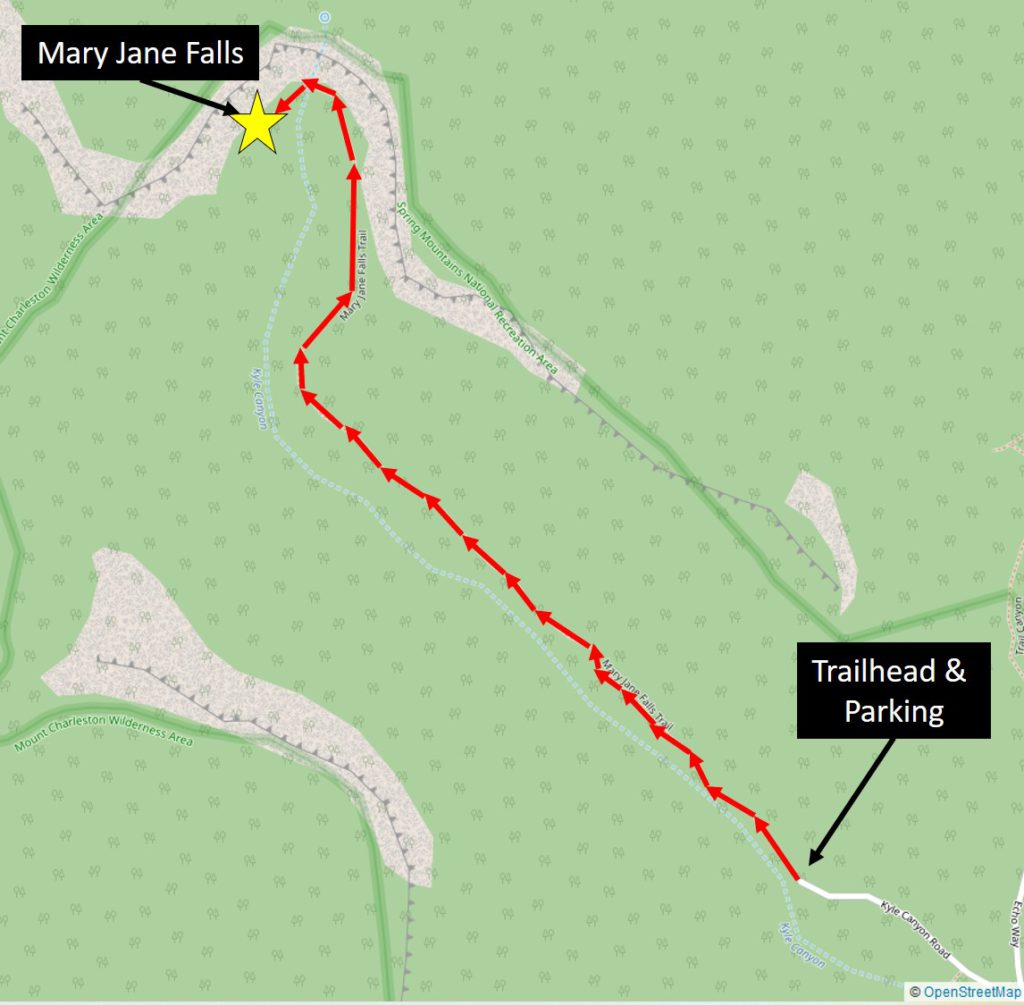 Are dogs allowed on the trail?
Yes, dogs are allowed on the trail with a leash. We saw around 10 dogs on our journey, and two of them were not leashed.
Trailhead Amenities
Parking area in a gravel lot, well-marked
Trail Information and trail map
Primitive Restrooms
Trash Receptacle
Bench
Nearby to the Fletcher View Campground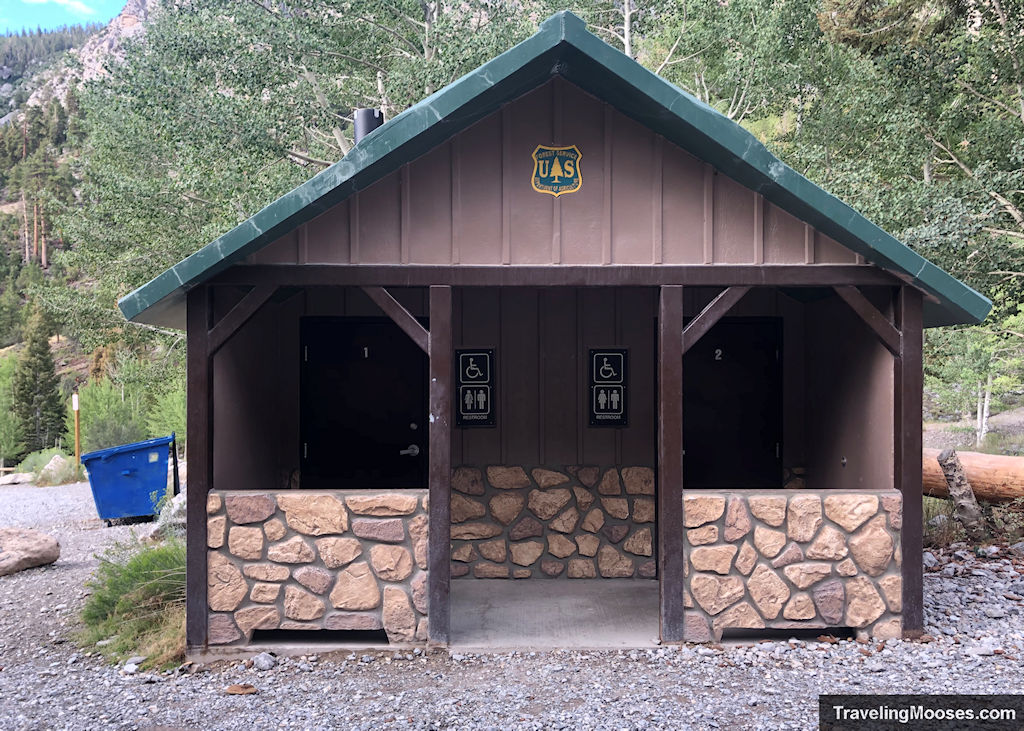 Trail Rules
A few rules exist along the trail as posted on the information sign boards at the trailhead:
No overnight camping is allowed.
No shooting in or near the following areas: camps, residences, recreation sites or areas. Nor over adjacent lake or water bodies where people may be.
No campfires or charcoal grills are allowed due to fire restrictions. Stoves are ok to use.
If you pack it in, pack it out. Do not leave trash in the wilderness area.
Pets must be leashed.
Stay on the trails. Cutting switchbacks impacts the integrity of the trail and creates erosion.
Do not damage or disturb rock art. Do not remove artifacts.
Watch out! Mountain lions may be found in the area. Stay alert when on trails and avoid hiking alone. Mountain lions are most active between dusk and dawn.
While we didn't see any other safety tips at the trailhead, other trails in the Spring Mountains area have the following recommendations:
Bring extra water
Wear sturdy hiking shoes or boots
Wear sunscreen and a hat. At higher elevations, the atmosphere provides less protection from the sun's harmful rays.
Flashlight – Allow for ample hiking time.
Bring clothing for cool or wet weather. Weather changes rapidly in the mountains.
Leave wildflowers, plants and artifacts. Please leave these behind to be enjoyed by others.
Take photographs and memories and pack out any trash.
Stay on trails.
Let family or friends know where you plan on hiking and when you expect to return. Know your limits and remember, you will need to walk back as far as you have walked in.
Have you been to Mary Jane Falls? Tag us in your photos on Instagram or Facebook and let us know how it went!
More Hiking Trails in Mount Charleston