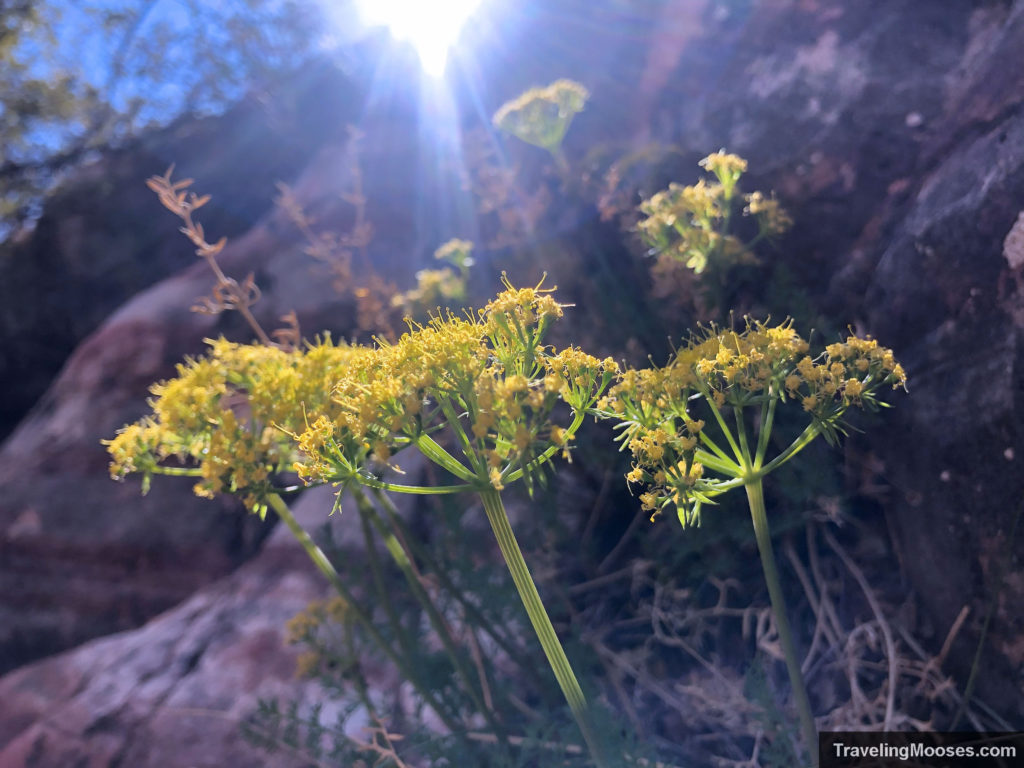 Kraft Mountain Loop Trail Hiking Stats
| | |
| --- | --- |
| Trail Description | Loop – typically clockwise |
| Trail Location | Red Rock National Conservation Area, Nevada 89161 |
| Trail Start | 36.15687, -115.42109 |
| Round Trip Mileage | 3.5 Miles |
| Average Time | 2.5 Hours |
| Difficulty | Strenuous |
| Entrance Fees | Free. Note: BLM is currently studying whether to make this a fee area. Fees may apply in the future. |
| Parking | Free – lots fill up quickly on the weekends |
| Elevation Gain | 613′ |
| Best time to visit | Fall, Winter & Spring – when temperatures aren't too high |
| Rating | 4 Mooses |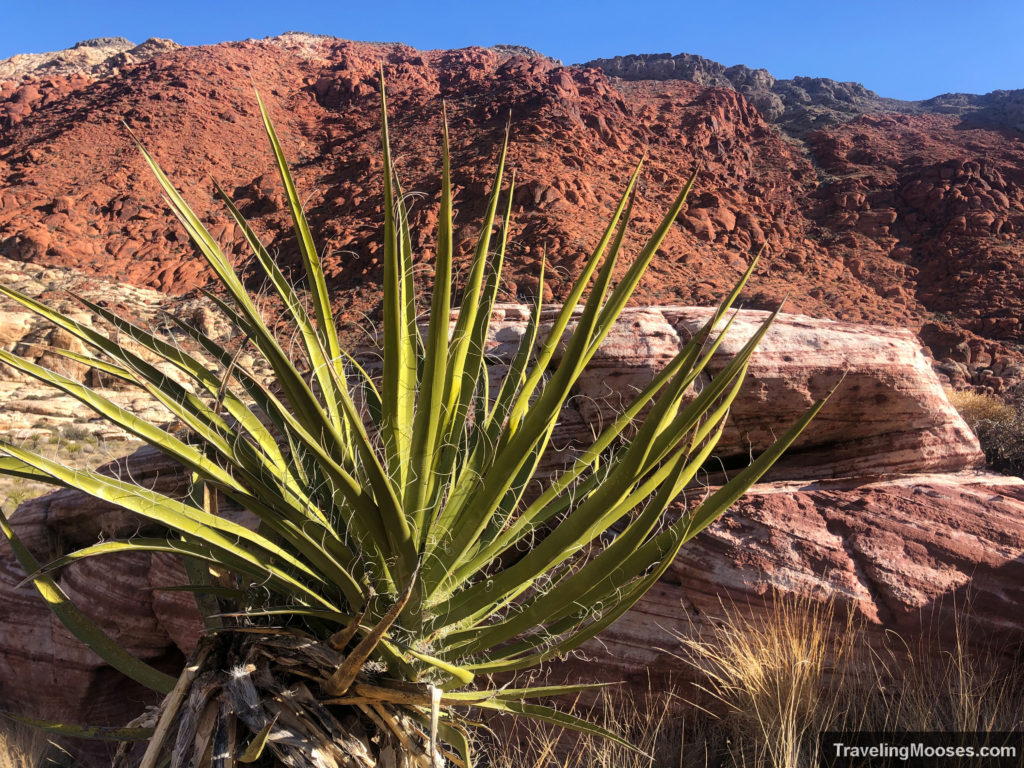 Our Experience on the Kraft Mountain Loop Trail
A few weeks prior, we set out to hike Kraft Mountain loop and ended up on the Upper Gateway trail. We were anxious to get back and follow our original intended route around Kraft Mountain. We're glad we went back!
Related: Hike Kraft Mountain Loop to Upper Gateway
We decided to go clockwise around the trail which starts with a nice up-hill climb on "Hell Hill." The temperatures were in the mid 60's and the sun was shining. We were excited to enjoy a nice warm day after a long winter of colder temperatures.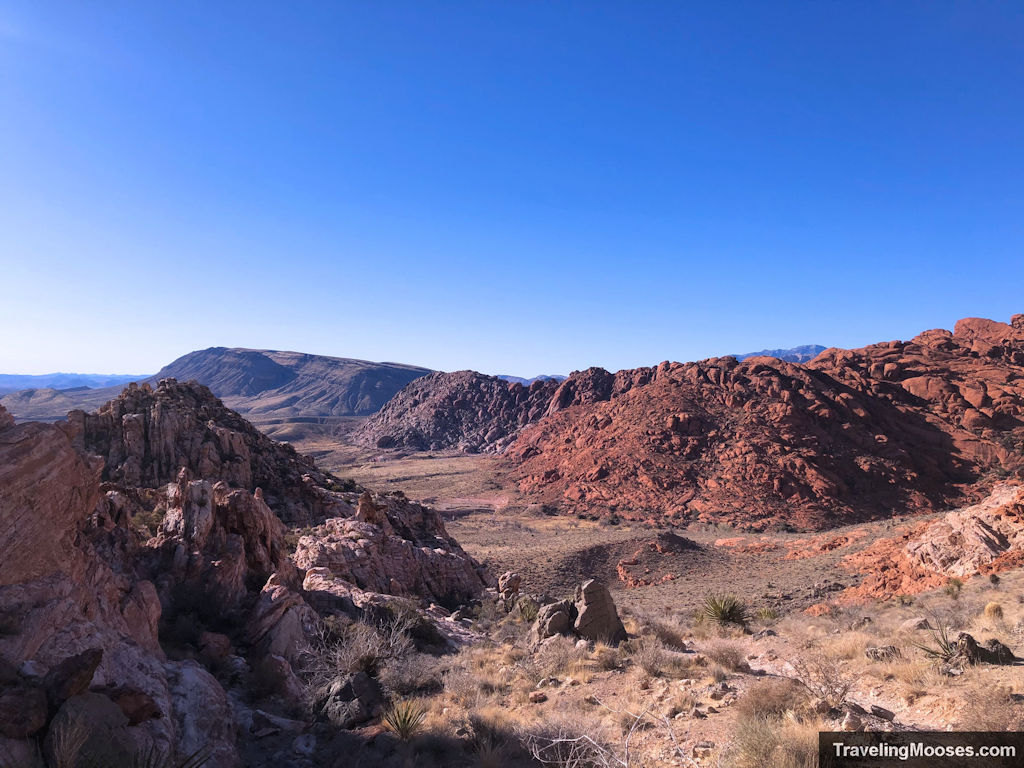 After summiting Hell Hill, we turned left towards Turtlehead and followed the trail until we reached the wash. The trail was crowded for it being 7:30AM on a Saturday. The parking lot was only 25% full when we arrived but as we were headed down to the wash a group of 25-30 people were headed towards us from a counter-clockwise hike that morning. They must have started at day-break.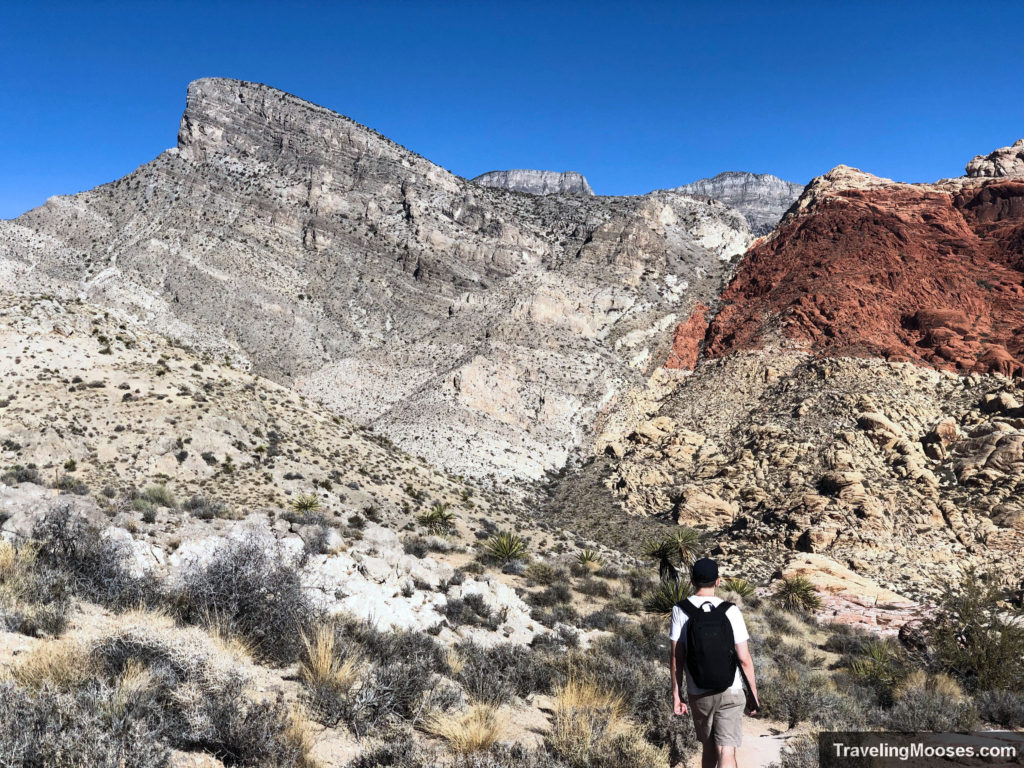 On the back-side of the trail, the wash heads towards the East and around Kraft Mountain through a series of towering canyon walls. The red sandstone rocks have a variety of patterns and shapes to enjoy. A photographers dream to shoot!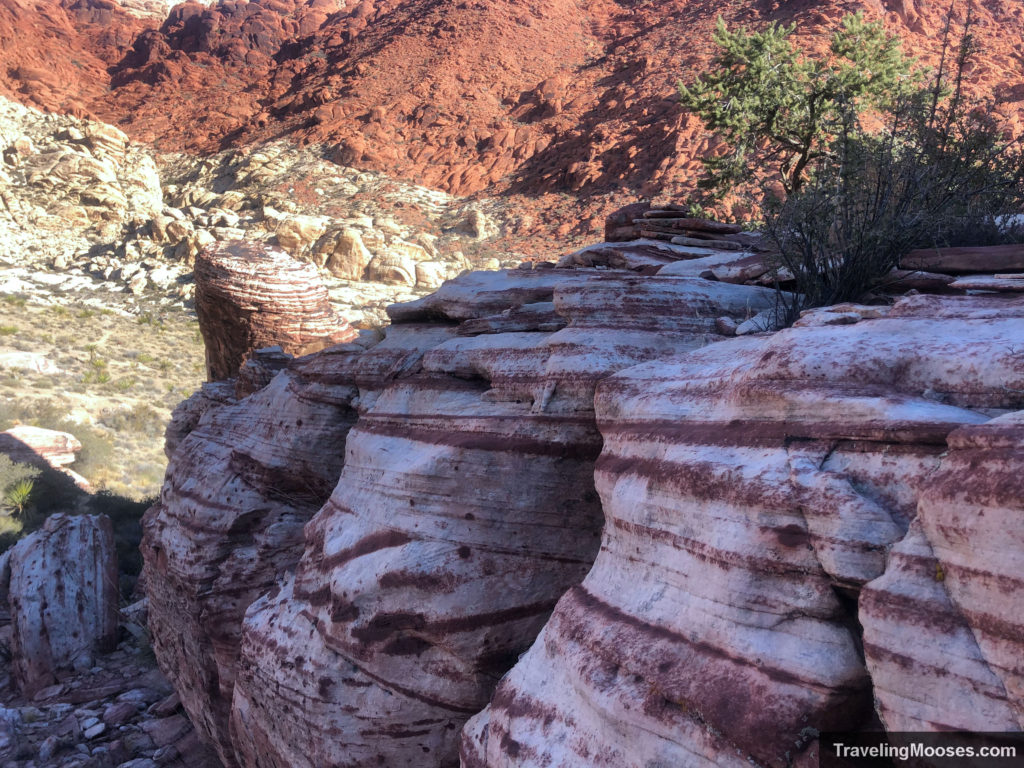 After walking up the wash for maybe a half of a mile we found ourselves looking down a steep "waterfall" looking area that was probably 10-15 feet straight down. As we were debating trying to down climb this area, we decide to go back and search for an alternative route. Luckily, we found a a much more friendly (though still a scramble) path that we were able to climb down. It was an area where the trail split off to the right that we had missed prior.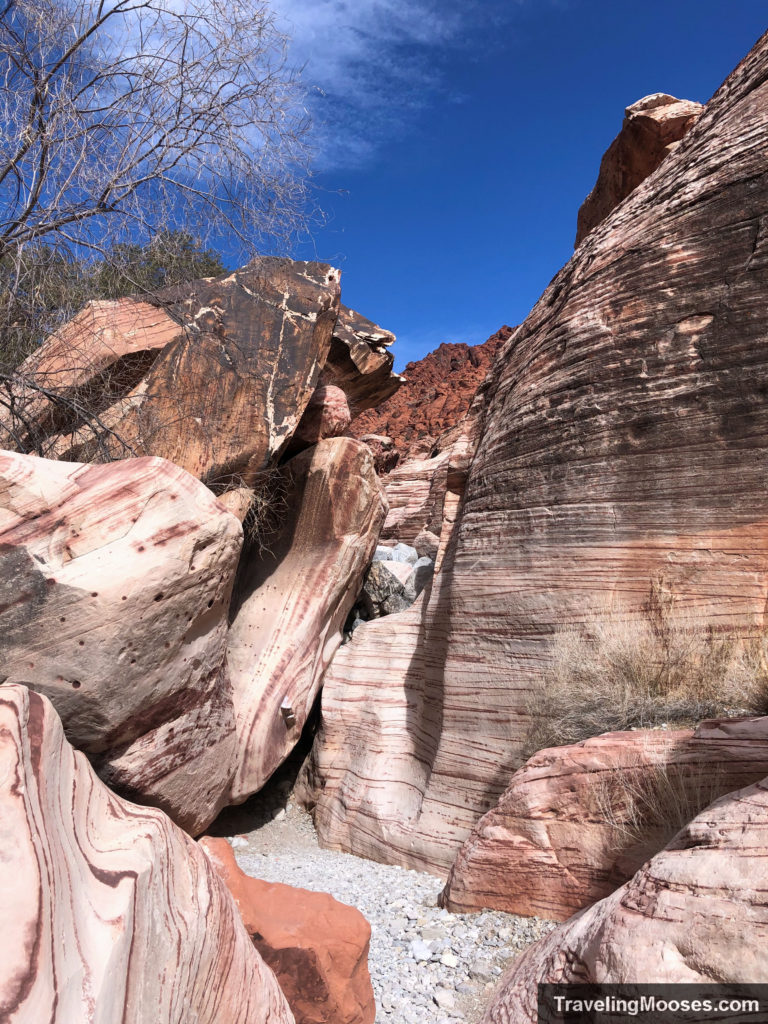 Take your time during this part of the trail and enjoy the wildflowers and opportunistic vegetation. We took a few detours on this part of the trail to climb around on the sandstone rocks.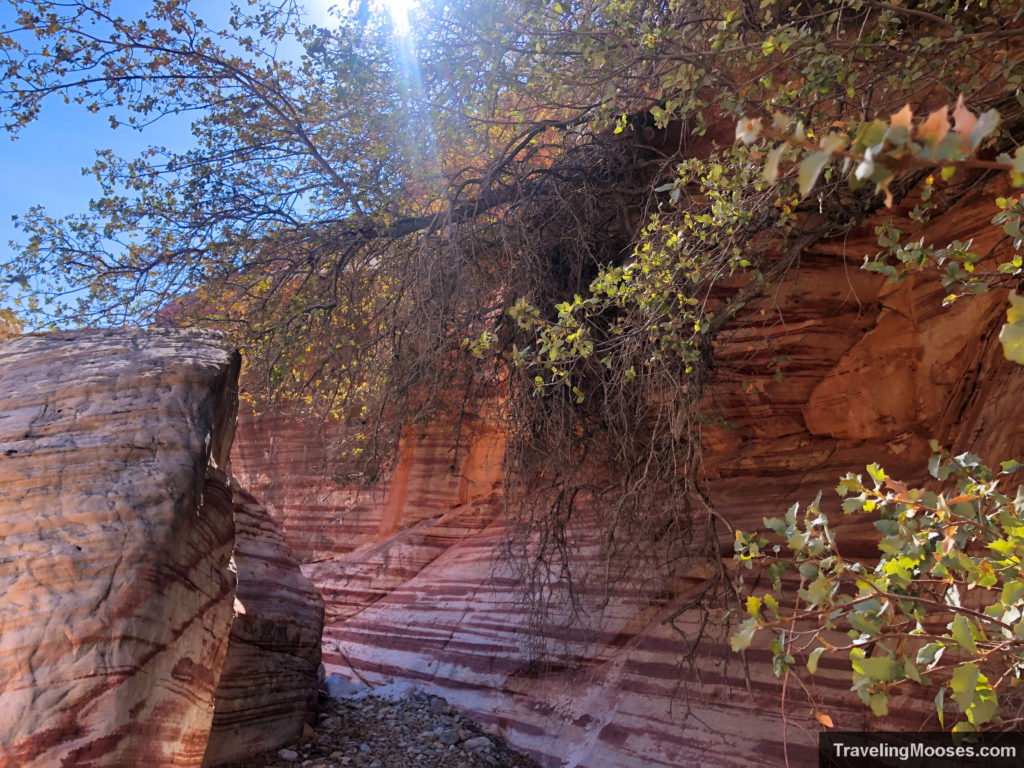 After getting through this fun part of the trail, the canyon walls open up and you enter a much wider part of the landscape. Nearing the end of the trail before looping back south on the trail you can see a sliver of Las Vegas in the distance.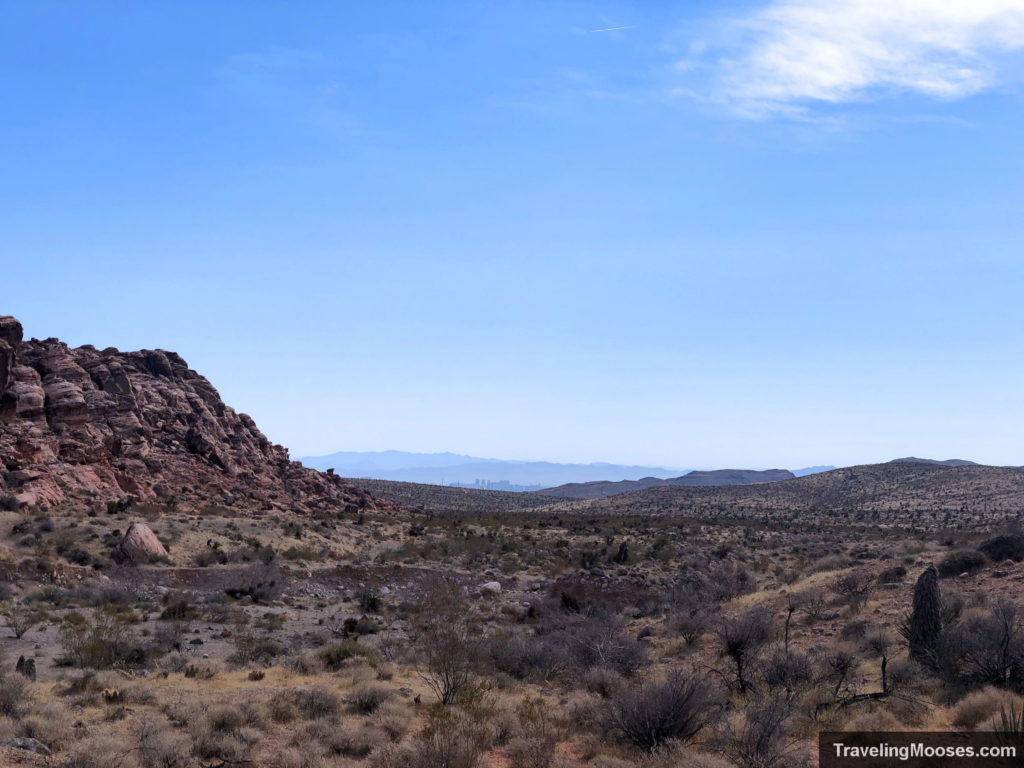 The trail turns to the south and wraps around towards the parking lot. The last mile or so of the trail leads through a series of boulders where climbers were taking their turns attempting to scale their way to the top. It was quite a treat to watch them make their way up. Though we were wondering how they got back down (it looked tough).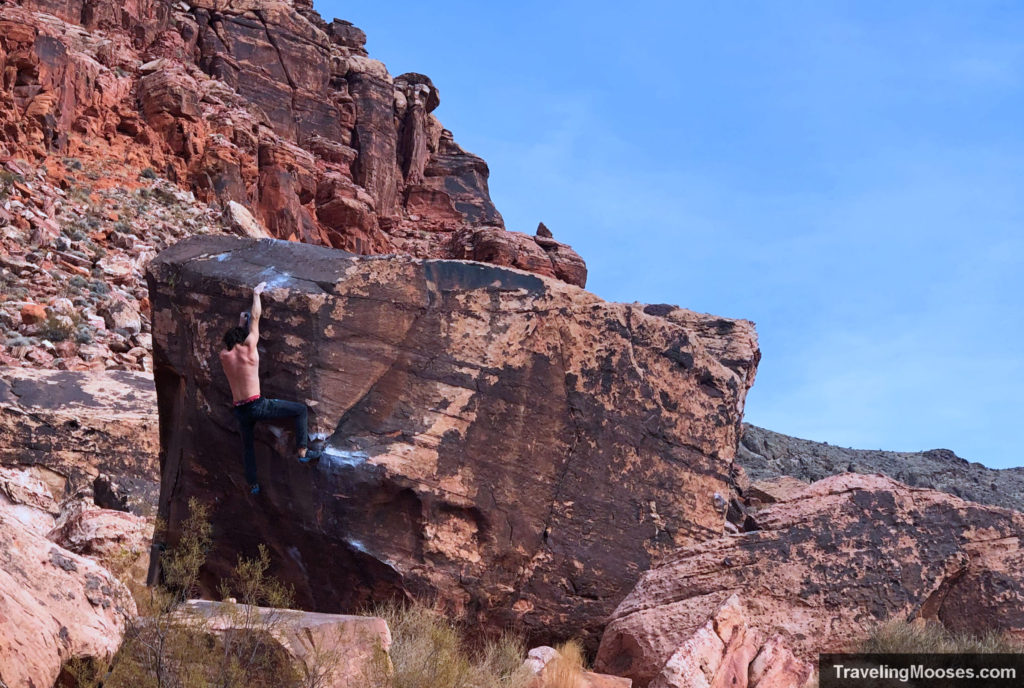 The quick 3.5 mile hike was over before we knew it and we found ourselves back to the car in just over 2 hours. It was a fantastic trail and we'll be back to tackle it again in the future.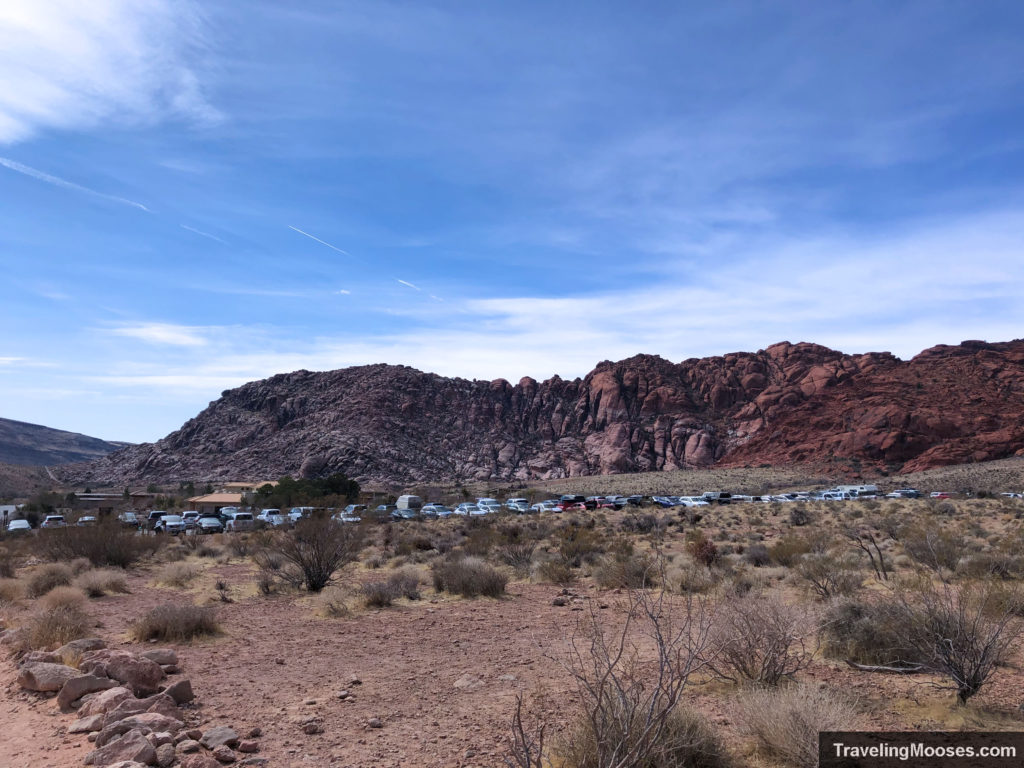 Insider tip: The parking lot is extremely long and narrow. Park at the end very end when you first turn in for easy access out.
Visit or Skip?
Rating: 4.0 Mooses


What we liked

Short and quick hike
Free! Limited parking so make sure to go early.
Varied terrain, great views and light scrambling.

What we didn't like

Popular trail – gets busy and we prefer lighter crowds. The Upper Gateway trail had more character and a lot less foot traffic.
Multiple people would not respect keeping their dogs on a leash.
Getting out of the parking lot was difficult. It was a narrow and a highly trafficked area.
Verdict: If you're short on time and can get there early, check it out. For more of a challenge and less crowds, check out the Upper Gateway trail instead.
Frequently Ask Questions about the Kraft Mountain Loop trail
Which way should I go around the Kraft Mountain Loop?
Each way has its benefits. Most go clockwise around the loop to get the elevation gain out of the way and also to downclimb the scrambling areas instead of going up them. Going counterclockwise has the added benefit of a more gradual elevation gain, but may not be desirable for those that don't enjoy hiking downhill. Whichever way you choose, make sure to turn around frequently and view the trail from both directions.
Where are the best bouldering spots on Kraft Mountain?
As mentioned above if you want to hike, head clockwise. If you want to go bouldering, head counter-clockwise.
Leave the parking lot on the east side (near the entrance) and head counter-clockwise on the trail. The main boulders begin around a 1/2 mile up the trail and extend for around a half-mile. On a busy Saturday morning, you'll find a multitude of climbers and may have to share rocks or try your hand on a harder boulder.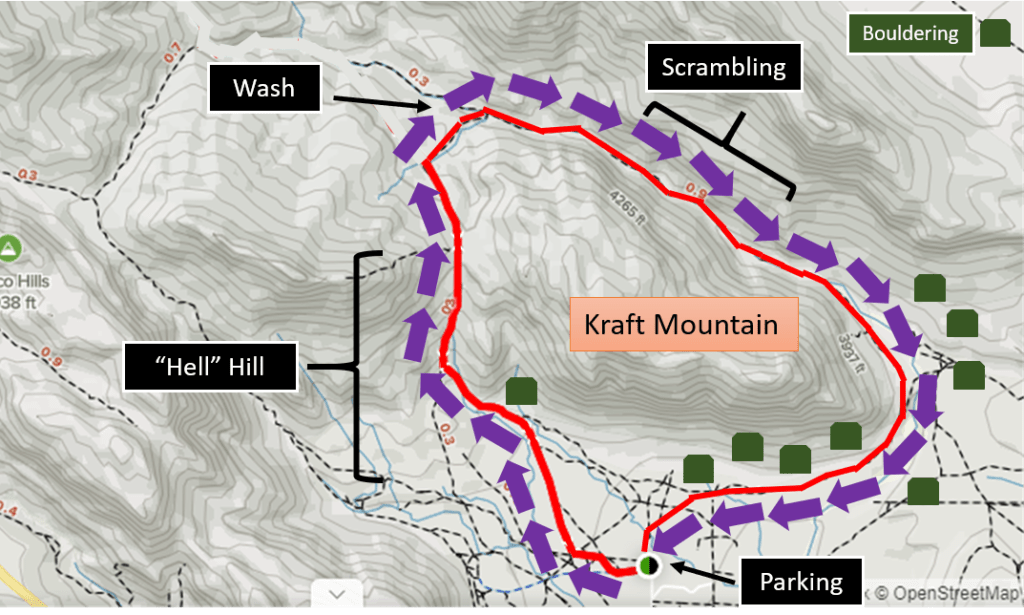 Is Kraft Mountain Loop Dog friendly?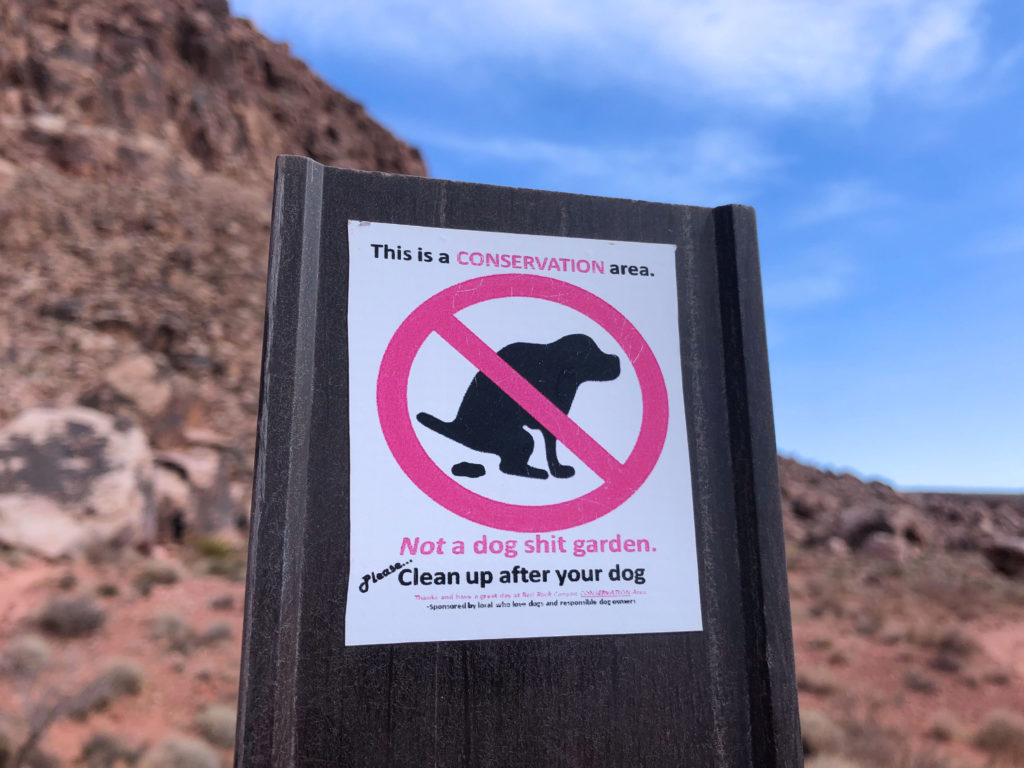 Yes and no. Dogs are allowed in the area on leashes. The majority of the trail is just fine for dogs. There are several places on the trail that requires scrambling.
With a small dog, you could hand it up to a hiking partner. A larger dog would be difficult to get up some of the rocks. Regardless, we saw a lot of folks with a range of small and large dogs on the trail.
Is the Hell-Hill climb really that bad?
After traversing up the hill twice, I can say it isn't that bad. It's approximately 600′ in elevation gain and takes 10-15 minutes, maybe 20 if you have a heavier pack to reach the summit. You're rewarded with a sweeping view of the valley and an equally impressive view of Turtlehead on the far side. Alternatively, you can take a counter-clockwise approach to the hike and enjoy a more gradual gain in elevation.
I've heard it's easy to get lost on the Kraft Mountain loop trail. Is this true?
We'd love to say no to this question, but if you've read our review on the Kraft Mountain to Upper Gateway trail, you'd know that wasn't true. When we finally hiked the real Kraft Mountain Loop, it turned out to be easier to follow than we had expected. Here are a few tips on the clockwise route:
Leave the parking lot and head to the North West of Kraft Mountain (which is directly in front of you as leave the parking looking North.)
After you summit Hell-hill, head further to the West towards Turtlehead. Keep your eye out for a trail that leads to the right down to the wash. If you miss the main trail, you will intersect with the wash and may add approx 0.3 miles to your hike.
When you reach the wash turn RIGHT. If you turn left, you'll be headed to the Upper Gateway Trail.
Once you're in the wash, follow it until you're out of the canyon area.
Kraft Mountain will be on your right. Wrap around the backside of Kraft Mountain and follow the loop around back to the parking lot.
Because Kraft Mountain is half in the Red Rock National Park, and half in the La Madre Wilderness, the signage varies. The signs are much better on the Red Rock side than in La Madre. As long as you know which mountain is Kraft, you should have no problem following it around.
For the second trip, we did download the full version of AllTrails ($30 annually or $60 for 3-years). AllTrails is an app that has hundreds (thousands?) of trails across the world. You can use the app for free with cell service, but most places we've found either had spotty or no service. When you download the trail map, you can pinpoint your location with GPS and help stay on the path. So far, we're pretty happy with it.
Always make sure you bring the ten hiking essentials with you anytime you're in nature and be safe out there! No app is full proof.
More Information for your trip to Red Rock Canyon
You might also like: