Are you looking for a way to see the beauty of Red Rock Canyon without paying the entrance fee for the scenic loop?
Red Rock Canyon Overlook may be what you're looking for!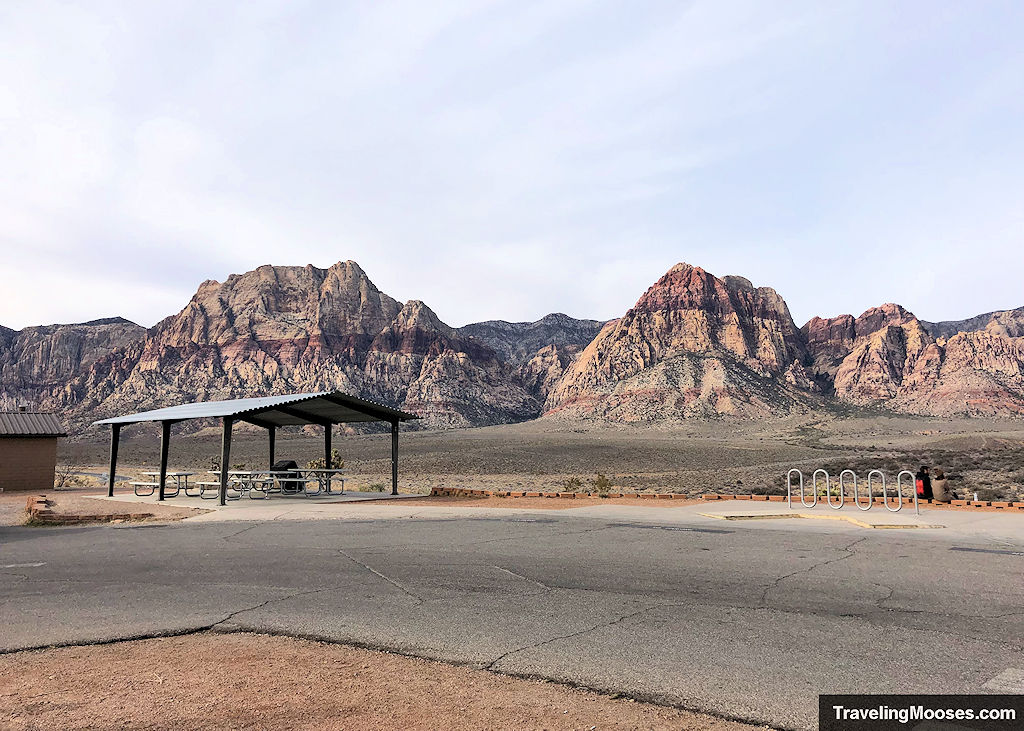 Red Rock Canyon Overlook Info
| | |
| --- | --- |
| Location | Red Rock Canyon Overlook, Las Vegas, NV 89161 |
| GPS Coordinates | 36.11715561893145, -115.444882739179 |
| Entrance Fee | Free – located off NV-159 on the north side of the road. |
| Elevation | ~3,796 feet |
| Average Time | < 30 minutes |
| Amenities | Restrooms, picnic tables, trash receptacles, bike racks, air pump for bike tires, information sign boards |
| Rating | 4.5 Mooses |
What to expect at the Red Rock Canyon Overlook?
After pulling in the parking area, you'll be met with a set of restrooms to your left and multiple picnic tables scattered throughout the location.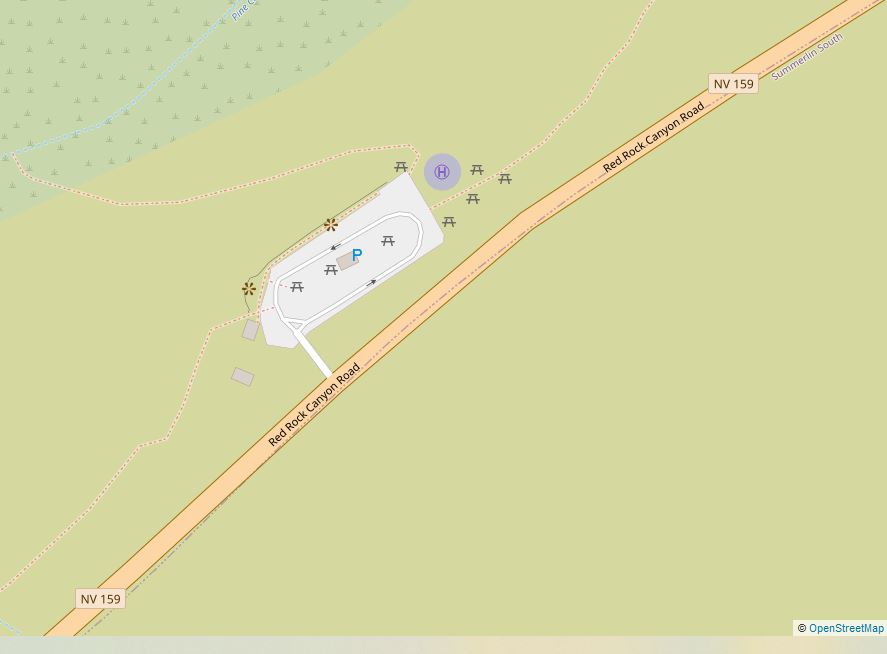 The parking area is fairly large and you shouldn't have any trouble finding a spot. When we visited, there was even a large motor home (pulling a trailer) taking up several spots and we still didn't have any issues.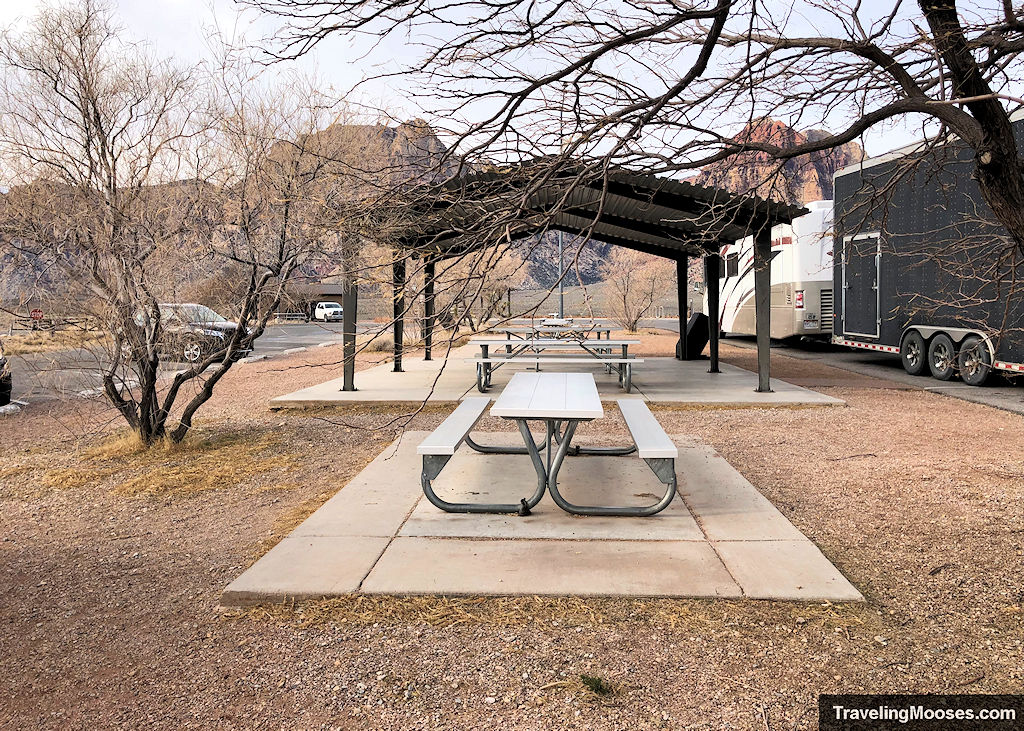 You'll find a few sign boards with some information about the area and a wide variety of visitors enjoying the overlook.
The overlook is a popular spot for weddings, photographers, and those looking for a break on long road trips. It also serves as a popular spot for adventure tours around Las Vegas.
If you want to stretch your legs a little, there is a 0.5-mile round trip hike called the Red Rock Overlook Trail that will supply additional views of the valley area.
The path is paved and there are benches to enjoy the vast views.
Notable landmarks seen from the overlook
North – Turtlehead Peak and the La Madre Mountains
West – Rainbow Wilderness Area (including Mount Wilson & Bridge Mountain)
Northeast – Calico Hills
Northwest – White Rock Hills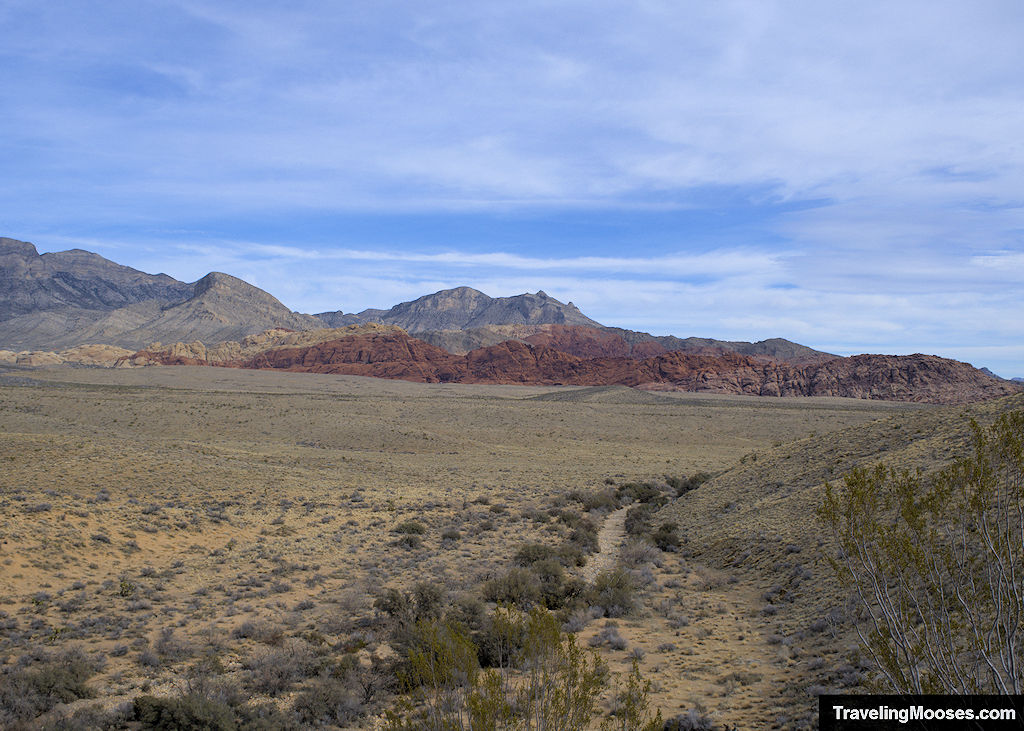 Should you visit the Red Rock Canyon Overlook?
Rating: 4.5 Mooses

Yes! We highly a recommend a visit in the following circumstances:
You don't have time to visit the scenic loop or you're looking for a free option to see the area.
You're heading to Death Valley and you happen to be driving past the overlook.
What we liked
The accessibility and free access to this overlook makes it a top-notch spot to see Red Rock Canyon.
If you forget or are unable to get reservations during your visit to Vegas, it's a way to see the beautiful landscape.
What we didn't like
As this is a free area and easily accessible off NV-159, it gets busy. While beautiful, there's generally no solitude at this stop.
The entrance to the area can sneak up on you when traveling on NV-159. There is no turn lane when approaching from Las Vegas, and if you've just left the scenic loop, there is a very short left hand turn lane. Keep in mind the speed limit on NV-159 is only 50 MPH, but many drivers go insanely fast making the turn more difficult. Please keep your speed down as it is a frequent speed trap and there are lots of bikers that use the road.
If you're looking for more ideas for your visit to Red Rock Canyon, check out our 1-day itinerary in the park (or see below).
More Information for your Trip to Red Rock Canyon:
Red Rock Canyon (within the park on the scenic loop)
Calico Basin (entrance is currently free)
Red Spring Boardwalk (Picnic area / photo spot, short walk and jumping off point for other hikes).
Hiking:
You might also enjoy: