We are annual pass holders of the America the Beautiful pass (and believe it's an amazing deal), but we also understand the need and desire to find a good deal.
So today, we're going to talk about how to visit Red Rock Canyon for FREE!!!
Why visit Red Rock Canyon for free?
Before all the haters come out and say "if you can't afford to go to Las Vegas and see the sights, don't go!" there are a couple of reasons why visitors might need an alternative.
Cost of Admission
Tickets into the park can be pricey for those on a budget:
Daily Entry: $20 / car or truck, $45 for annual pass or $80 for an annual America the Beautiful National Parks pass. (prices subject to change)
Additionally: Reservations are required during high season (October 1st through May 31st from 8 a.m. – 5 p.m.)
As of March 31, 2022, the $2 reservation fee was stopped after a court case found the park could no longer charge the fee, however, it could be back in the future.
You can make reservations for the timed entry here.
Reservations may not be available
During high season, a timed reservation is required to enter the scenic loop between 8 a.m. and 5 p.m.
Timed permits do sell out, especially on holidays and weekends. You'll be out of luck if you haven't planned ahead and secured a spot.
It is an option to enter the park prior to 8 a.m. without a reservation, but this may not fit the schedule of many visitors.
How can you visit the park for free?
The Red Rock National Conservation Area covers a large area. You can find an official BLM map here.
In comparison, the fee zone is a much smaller portion of the conservation area. This allows visitors to enter the fee area from different parts of the park.
*Note: If you want to walk or bike-in starting at the fee station, you'll have to pay a $5 per person charge. This is a popular option for cyclists looking to bike the scenic-loop.
Calico Basin
Calico Basin is by far the easiest option to visit Red Rock Canyon without having to pay the entrance fee.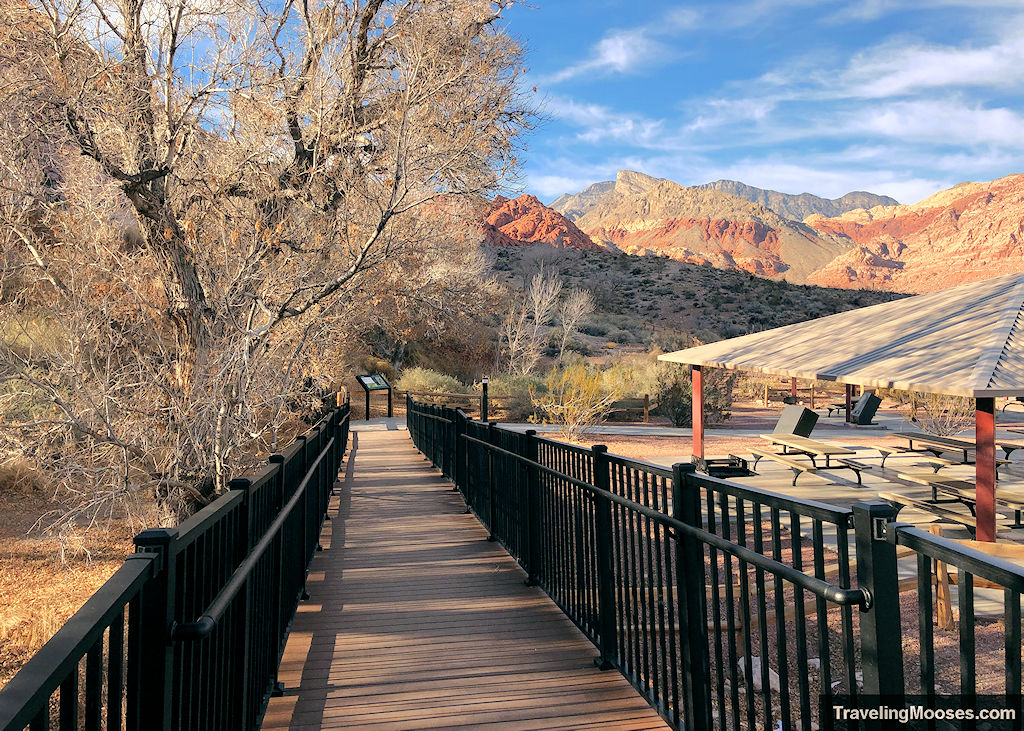 *Note: BLM is discussing whether or not to make Calico Basin a fee area in the future. As of January 2023, it remains free.
How to get to Calico Basin
Coming from the Las Vegas strip, you'll head towards Red Rock Canyon and end up on NV-159.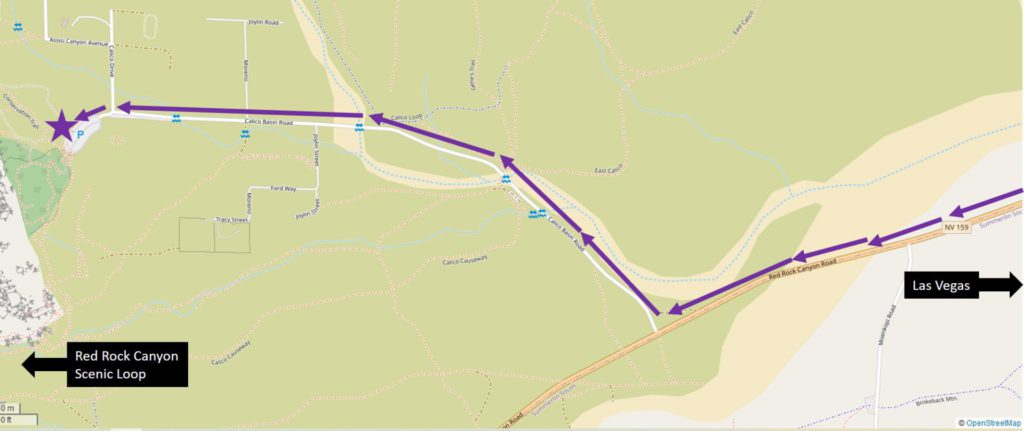 About a mile before the fee station, you'll take a right on Calico Basin Road. The road dead ends into the Red Spring parking area which is the closest to the boundary of the scenic drive.
I recommend putting "Red Spring Picnic Area" into your GPS for detailed directions.
What is accessible from Calico Basin?
Many choose to stay within the Calico Basin area and hike around Kraft Mountain (which is an excellent choice), or to check out the Red Spring Boardwalk.
For those that want to enjoy parts of the fee area, you can hike either the Guardian Angel trail or the Calico Basin loop trail.
If you're up for a long day of hiking, you can also get to Calico Tanks or Turtlehead Peak from the Red Spring parking lot. Keep in mind, it would add an additional 6 miles round trip to get to the start of those hikes.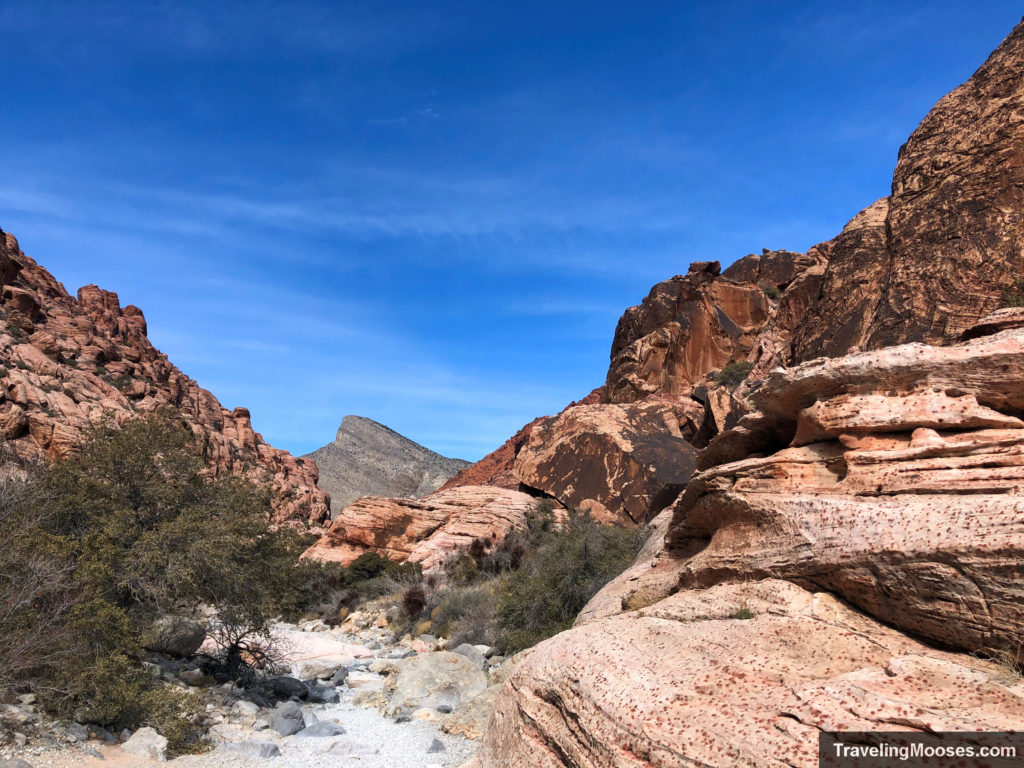 NV-159 Access Points
Red Rock Canyon Overlook
Red Rock Canyon Overlook is another great location to see portions of the park and use as a potential launch point to see Pine Creek Canyon (2.6 miles to trailhead).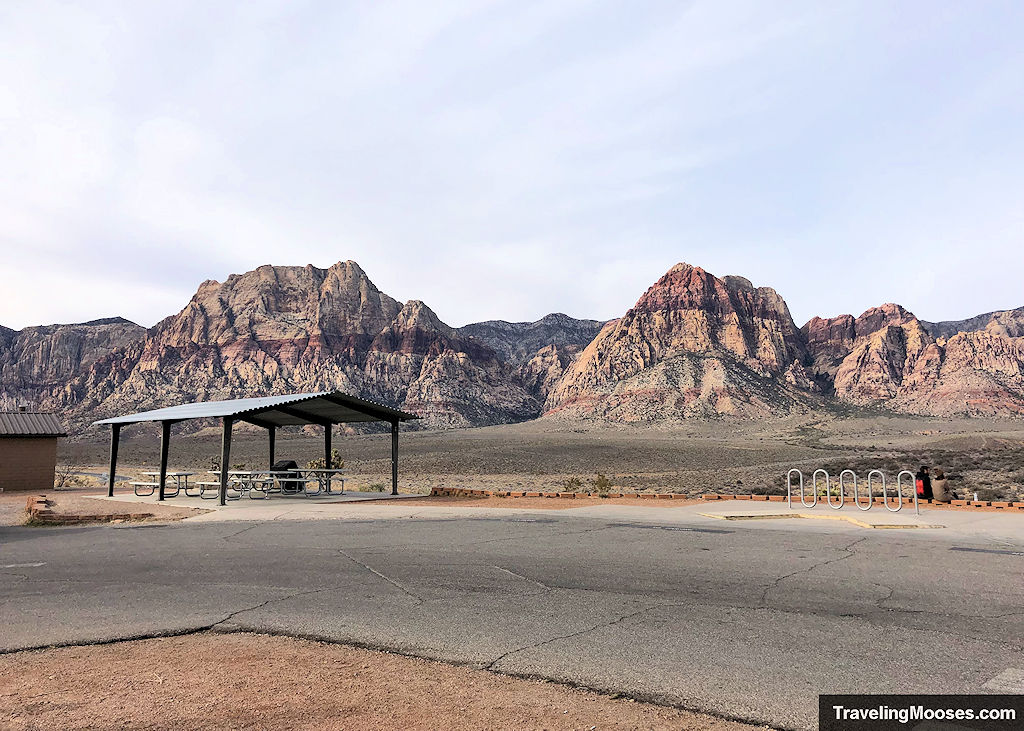 The overlook can be found on NV-159, about a half of mile beyond the turn-off to the fee station.
There is a small hiking trail at the overlook, but it doesn't extend far. It's still a great spot to stop and enjoy the beauty of the park.
More info: Red Rock Canyon Overlook
Lower Red Rock Parking Area
The lower Red Rock parking area is located at the end of the scenic loop drive. The parking area is just off NV-159 and allows for free visitor day parking.
From this parking area, you could walk to the start of the Oak Creek Trailhead (1.4 miles) or the Pine Creek Trailhead (2.0 miles).
*Warning: The scenic drive is a one-way loop. Do not attempt to drive the wrong way on the road. There are also traffic control spikes to prevent cars driving the wrong way.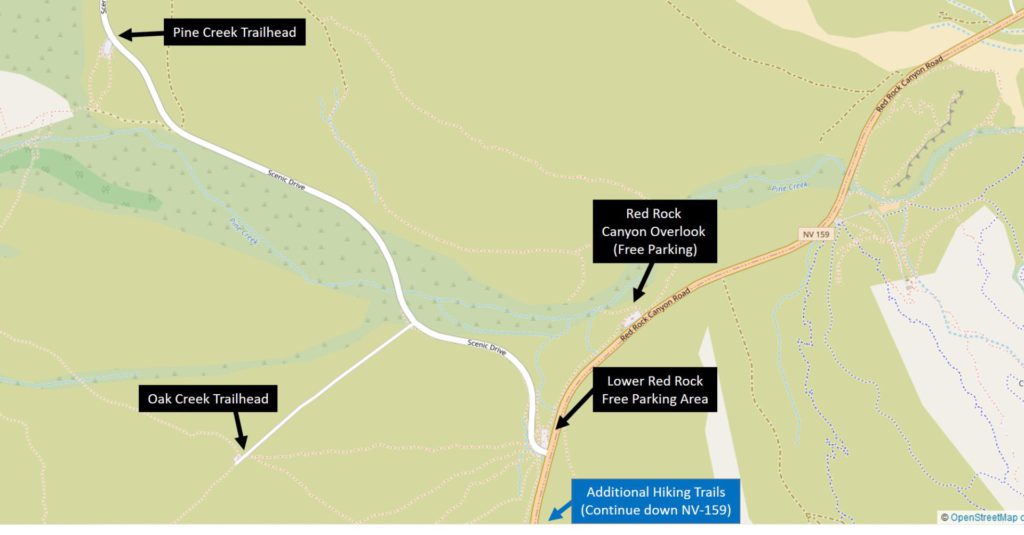 Middle Oak Creek, South Oak Creek and First Creek Trails
As you continue down NV-159, you'll run into 3 more trails that are free to park at and use.
Each trail is varying in length, but takes you into the Red Rock Canyon area.
Rocky Gap Road via Lovell Canyon Road
If you have a high clearance 4WD vehicle and a lot of time on your hands, there's one last potential option to visit Red Rock Canyon for free.
Warning: This road is unmaintained and not for the faint of heart. We've never made this journey and have no plans to.
Starting from the Las Vegas Strip, it's approximately a 45-minute drive to the start of Lovell Canyon Road.
You can find the entrance of Lovell Canyon Road off of NV-160.
GPS coordinates to start of Lovell Canyon Road: 36.0187817012641, -115.56136878707464
Follow Lovell Canyon Road until the Rocky Gap Road turn off (to the right), or you can turn onto Tufted Hairgrass Road, which connects to Rocky Gap Road as well.
Rocky Gap Road will then take you all the way to the Petroglyph Wall Trailhead at the Willow Springs Parking area which connects to the scenic loop within the park.
Here's a few websites that might help you if you decide to go (we have no affiliation and cannot vouch for their accuracy):
You might also like: