Spring Mountain Ranch State Park is located near the Red Rock National Conservation area and boasts a 528-acre oasis in the shadows of the famous red and white sandstone rock walls.
Despite being listed on the Historic Register of Historic Places, offering seasonal yoga classes, a summer theater program, an opportunity to tour the once proudly used ranch house and several hiking trails, we believe you shouldn't waste your time visiting.
In this guide:
Spring Mountain Ranch Quick Stats
Location
Spring Mountain Ranch: 6375 NV-159, Blue Diamond, NV 89004
Average time
1 – 2 Hours
Best time to visit
October through April
Entrance Fee
$10 per vehicle ($15 for non-NV vehicles). $2 per bike. (Pricing subject to change).

See current pricing here.

Nevada residents can sign up at their local library for a free 1-week pass to visit all our state parks.
Amenities
Group use and picnic area, ranch house, guided tours, living history programs, hiking trails, yoga classes, summer theater and scenic views.
Hours
Hours vary by season (and subject to change.)

June, July & August: 8 a.m. – 8 p.m.
September: 8 a.m. – 7 p.m.
October: 8 a.m. – 6 p.m.
November, December, January & February: 8 a.m. – 4:30 p.m.
March: 8 a.m. – 6 p.m.
April & May: 8 a.m. – 7 p.m.

*Note: The ranch house hours are more restrictive.
Rating
2.0 Mooses
You can learn more about the history of the park here.
What to expect at Spring Mountain Ranch (our experience)
Spring Mountain Ranch is located off NV-159, around five miles from the entrance to the extremely popular scenic loop drive of Red Rock Canyon.
Related: Learn more about Red Rock Canyon.
We visited on a Saturday, and wanted to beat the crowds as normally everything in the Red Rock Canyon area is crazy busy on the weekends.
We arrived just after 8 a.m., their scheduled opening time, and to our surprise the gates were not open. Worse, there was a line of cars forming on the busy highway waiting to get in.
We sat and waited, unsure of what to do and searching online to see if we missed a park alert or closure. We found nothing.
An employee finally drove up (from inside the park), and opened the gate. It became awkward as cars rushed to get by him. Ultimately, everyone had to wait for him to turn his car around and drive back to the gatehouse to collect entry fees.
It seems like there should be a better system.
Despite the odd opening, we parked in large parking area and began to explore the park.
The Ranch House
After bumbling our way through an open lawn from the parking lot (signage was not great), we made our way up a long gravel road that led to the ranch house.
When we got there, a gate blocked the way to enter the ranch house, with no signage as to when it opened. We figured it was just slow employees again, but later found the hours on the brochure they provide when you arrive at the park.
It turns out the earliest the ranch house opens is 10 a.m. and some months (June – August) it opens at 11 a.m.
We never could find this information on their website (at least at the time of writing this article), or we would have arrived later.
Hiking Trails
After our failure to visit the ranch house (at least we got to see a cow), we decided to check out the hiking trails.
They have several to choose from:
Sandstone Canyon Loop – 1.3 miles
Overlook Loop – 0.8 miles
Lake Harriet – 0.4 miles
North Ash Grove Loop – 0.3 miles
South Ash Grove Loop – 1.4 miles
The signage for the hiking trails was pretty good, but the trails themselves were lackluster.
We checked out two of them.
Lake Harriet Loop
The Lake Harriet Loop is only 0.4 miles in length, but completely surrounded with a barbed wire fence to keep visitors out. Signs available on the trail tell the tale of the Pahrump poolfish, an endangered and protected fish that can only be found in Southern Nevada.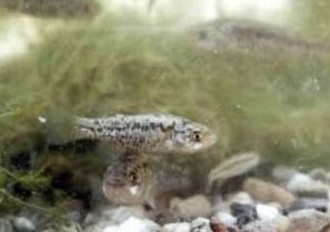 After reaching a split in the trail to continue along the Sandstone Canyon loop trail, we decided to head back without completing the loop.
While the red sandstone rocks are always a treat, the barbed wire fencing ruined the moment. At least the poolfish will be safe.
On the positive side, the trail was well marked and included many signs warning visitors to not go off the path.
Enjoy this very similar view from a photo taken a couple miles away on the First Creek Trail, where you can find a seasonal waterfall and it's free to hike.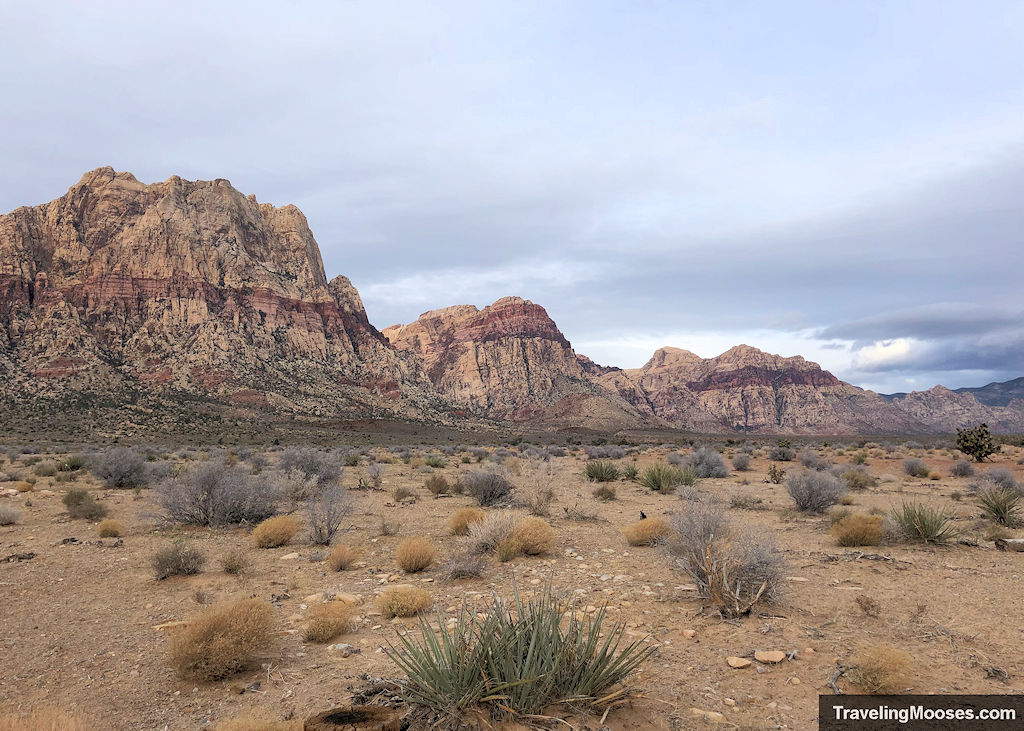 Overlook Trail
The Overlook trail ends up intersecting with the lake trail (and can also be accessed from the parking area). We walked a short distance up the trail and came across the Wilson Cemetery.
An information board was posted about the history of those souls laid to rest.
Sadly, this area also necessitated a fence with barbed wire. This time it was a large 6-foot chain link fence plus three layers of angled barbed wire surrounding the entire site. You could see an original more respectful barrier inside the larger added fence.
Apparently, humans cannot be trusted in these types of places which ultimately ruins it for everyone.
We continued on past the cemetery and followed signs to the overlook.
The overlook consisted of a slightly raised hill with a view of the parking area and grass hills in distance.
This was extremely disappointing given the amazing views in the area.
To be fair, the trail continued, but the terrain looked remarkably similar to where we were standing and we decided to call it a day.
After arriving back in the parking area, we lounged around awhile on a picnic table enjoying the pleasant summer day. We did watch a few visitors go into the ranch house before it opened and get ushered out.
If you're planning on going, we recommend arriving at the park later when the ranch house is open and the guided tours are running. Even then, it's probably not worth it. We did hear there are some extensive summer theater events that occur that many people like going to. We didn't go to one, so can't say if that may be worth it or not.
Is visiting Spring Mountain worth it?
Rating: 2.0 Mooses

What we liked:
The weather was nice the day we visited. It was around 75 degrees and mostly sunny with a few clouds.
The park was filled with cute little lizards running around and sunning themselves on the rocks.
The towering sandstone rocks surrounding the ranch are beautiful.
There weren't many people at the park, despite being a pleasant summer weekend day.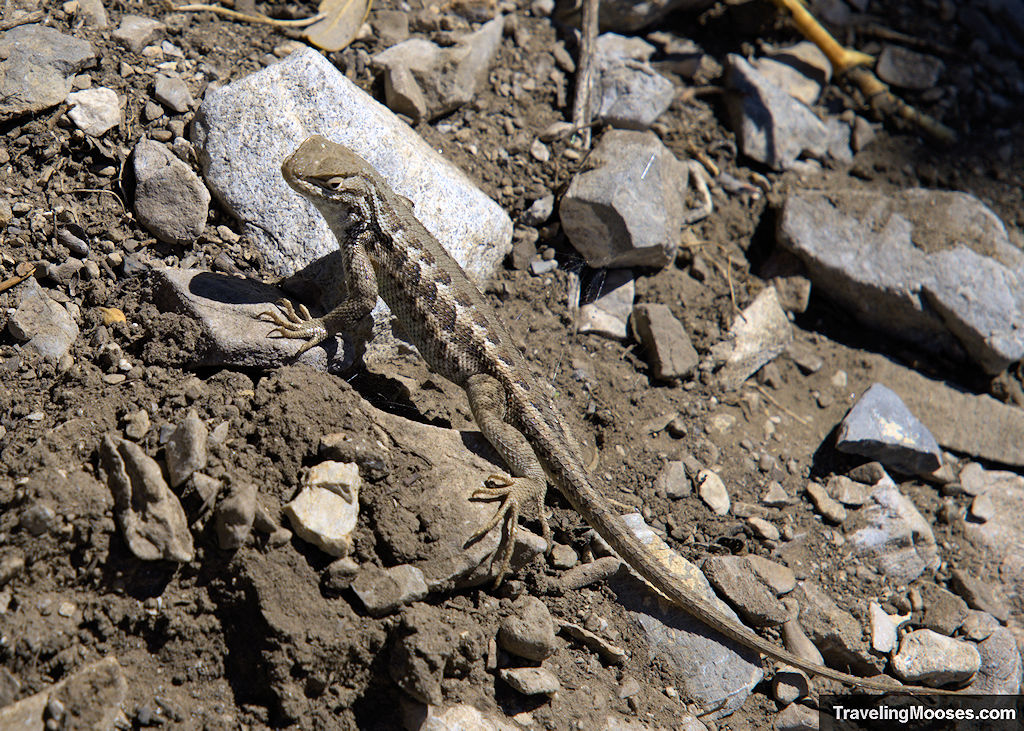 What we didn't like:
When we arrived, the park wasn't open yet, despite arriving at their published opening time. We had to wait on the highway (with a line of other cars), until the gates were finally opened. We later read reviews online of people complaining about them closing early or otherwise changing their hours at the last minute. We can't speak to that, but we did witness them open late.
Much of the ranch is off-limits to visitors. Fenced off areas, closed buildings and warning signs are abundant on the property. There are stories online of visitors getting fined for leaving the trail and it isn't cheap!
The hiking trails were short and we felt there wasn't much to see. The overlook was sad, and you couldn't get near the lake due to the protected (and endangered) pool fish.
While not a huge deal, there were quite a few bugs the day we visited, including grasshoppers, flies, and a few bees. The area can be quite wet (it does have a spring and a lake), so lush foilage and bugs are not unusual.
We were unable to visit the main ranch house, as didn't open until two hours after the park opened.
There are a lot of complaints online about overzealous rangers fining tourists for going off trail, or threatening photographers as it appeared they were there for "commercial use" when it was really just family snaps. While we didn't personally have any issues, we did witness plenty of "no admittance" or "don't go here" signs. Someone online even referred to it as a "jail in nature" due to rangers following them around and interrogating their every move. Another described it as "walking around on someone's private property they turned into a pseudo state park." We didn't have any issues with rangers, but the private property comment rings true for us. Check out other reviews on Yelp and TripAdivsor before you head out.
Verdict: We can't recommend visiting Spring Mountain Ranch. Too much of the park has restricted access, they don't seem to care about opening on time and the hiking trails were lackluster.
Practical info for your trip
Current conditions
Check the weather for temperature forecasts.
Hours of Operation
This could change so it's best to call and make sure these are still the hours. We're including as we would have changed our visiting time if we had additional information that isn't available on their website.
Main Park
Hours vary by season (and subject to change.) – these are listed on the website.
June, July & August: 8 a.m. – 8 p.m.
September: 8 a.m. – 7 p.m.
October: 8 a.m. – 6 p.m.
November, December, January & February: 8 a.m. – 4:30 p.m.
March: 8 a.m. – 6 p.m.
April & May: 8 a.m. – 7 p.m.
Ranch House Hours
We couldn't find these on their website, but found on the brochure.
April, May, September and October: 10 a.m. – 5 p.m.
June, July, August: 11 a.m. – 7 p.m.
November thru March: 10 a.m. – 4 p.m.
Guided Tour Hours
We couldn't find these on their website, but found on the brochure.
Monday – Friday: 12, 1 & 2 p.m.
Saturday & Sunday: 12, 1, 2 & 3 p.m.
What to bring
Be sure to check the weather conditions and pack appropriately if you plan on hiking.
We counted a total of 4.2 miles of available hiking trails (if you were to complete them all).
Standard Gear:
The 10 Essentials. These are a must for us on every hike we go on.
Special Items of note:
Hiking Boots or closed toe shoes – If you don't plan on hiking, tennis shoes or even sandals would be fine to walk from the parking area to the main ranch house on the grass picnic area. We do recommend some sort of hiking shoes if you explore the trails.
Clothing – Be sure to bring appropriate clothing for rapidly changing conditions. Weather can change extremely fast, especially during monsoon season.
Water / Snacks – We didn't see any fountains or water filling stations, though we weren't able to visit the ranch house. It's possible something may have been available there.
Navigation – The park provided us a map when we arrived. We found the trails well established and marked. In fact, they prohibit visitors from leaving the paths.
Parking
There is plenty of parking at the location. Most people park at the first area they come across (as did we). It is paved and the park wasn't busy on a Saturday at 8 a.m.
Rules & Regulations
Below you'll find some of the rules we found most impactful. You'll have to contact them for their full list, as even what's listed on their website says it isn't a complete list of rules, which you can find here.
Keep off the ranch house lawn.
The historical area is closed unless during a supervised tour by park staff or volunteers.
Lake Harriet is home to the endangered Pahrump Poolfish. No disturbing of this sensitive wildlife habitat is allowed. No recreation is permitted around Lake Harriet other than hiking. NOTE: The area is fenced, with barbed wire, so you're not getting close anyway.
Visitors must stay on designated park trails and roads due to the sensitive historical and natural resources. NOTE: They will fine you if you go off trail, don't do it.
No climbing or hanging from trees. Many of them are 200-300 years old and are extremely fragile. – NOTE: They do have some really cool trees surrounding the ranch house (not so much on the trails).
You're not allowed to put up a tent in the lawn area or have anything else like dunk tanks, climbing walls, trampolines or bounce houses. Also, no water balloons or pinatas.
Pets have to be on a leash no longer than 6 feet.
Commercial photography is prohibited without a permit, which requires insurance.
Alcohol is allowed, however all state laws are enforced by Law Enforcement Rangers
Trail Map
A trail map can be found on the Nevada Parks website here.
Why are there no photos of the park in this article?
Photography in the park is strictly regulated. Here's an excerpt of the rule:
If you are engaged in photography that may interfere or obstruct with the public's use and enjoyment of the park, disturb resources, entering a restricted or closed area for your photographic pursuits, or are engaged in photography for financial gain, you will need to get a photo permit per NAC 407.050.
The term "financial gain" as per NAC 407.050 may preclude us from putting up display ads. We don't sell our photos, but in the interest of being on the safe side, you'll have to have to google Spring Mountain Ranch for photos.
We did find some really odd complaints online regarding this rule. One couple talked about how they were taking a photo of themselves (we presume a selfie), and a ranger yelled at them as the act of them being in the photo was considered commercial use.
Some others complained they took their fancy camera aka professional looking camera with them and were asked to leave.
No one said anything to us for taking photos with our iPhone, but we won't be posting them.
An interactive map for things nearby
Other places to visit nearby
You might also like