The Chains is a fun filled hike that takes adventurers across unique sandstone and down to the edge of the Colorado River. Hikers will enjoy views of beautiful canyon walls, the Glen Canyon Dam and have the opportunity to go for a quick dip in the cool waters if they desire.
In this guide (jump to a section):
The Chains Trail Stats
Trail description
Out and back
Location
The Chains, Page, AZ 86040
Parking lot
Parking area
Round trip mileage
~0.5 – 2 miles*

*Depending on the route you take and far you'd like to explore. We went approximately 1.65 miles.
Average time
1 – 2 Hours
Difficulty
Moderate – due to the uneven and unmarked trail that requires some scrambling. It varies greatly depending on the route you take (especially if you want to reach the water).
Elevation gain
Varies based on route and water level. Less than 50 feet.
Elevation start
3,725′
Best time to visit
October through April (non-summer months when temperatures are high).
Trailhead Amenities
Restrooms, trash cans and abundant parking.
Entrance Fee
Free with a caveat. The hike is technically part of the Glen Canyon National Recreational Area. While we didn't see any signs saying we needed our America the Beautiful pass, nor were there any collection stations or "fee area" signs posted, you may want to leave your National Park Pass in your window, just in case.
Rating
4.5 Mooses
Interactive Map
If you can't see the map below, you can view it directly on google maps here.
What to expect on the trail (our experience)
On our last day in Page, Arizona, we wanted to get some hiking in before heading back to Las Vegas.
As many of the hikes in the greater Page area require a guided tour or reservations (such as the "Wave" trail), we had limited options to choose from.
We found "The Chains" and "Hanging Garden" trails to be close to our hotel and without needing special permissions or reservations to visit. It was time to check them both out!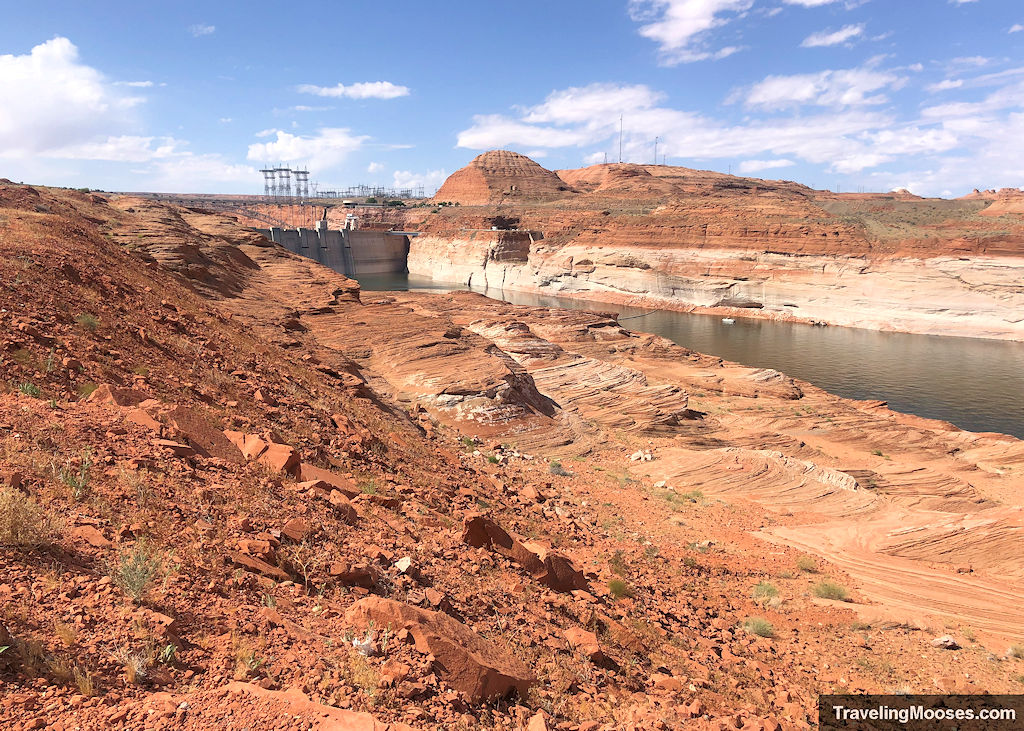 NPS describes this hike as:
"Explore this area with a self-guided adventure through slickrock sand formations. Great views of canyon walls and the Glen Canyon Dam. Lakeshore access is possible depending on the current lake elevations. The lake is very deep at this location and good swimming skills are required."
We arrived at the trailhead around 10 a.m. on a weekday and found the large gravel parking area nearly empty.
Before you leave the parking area, you can see the river from high above.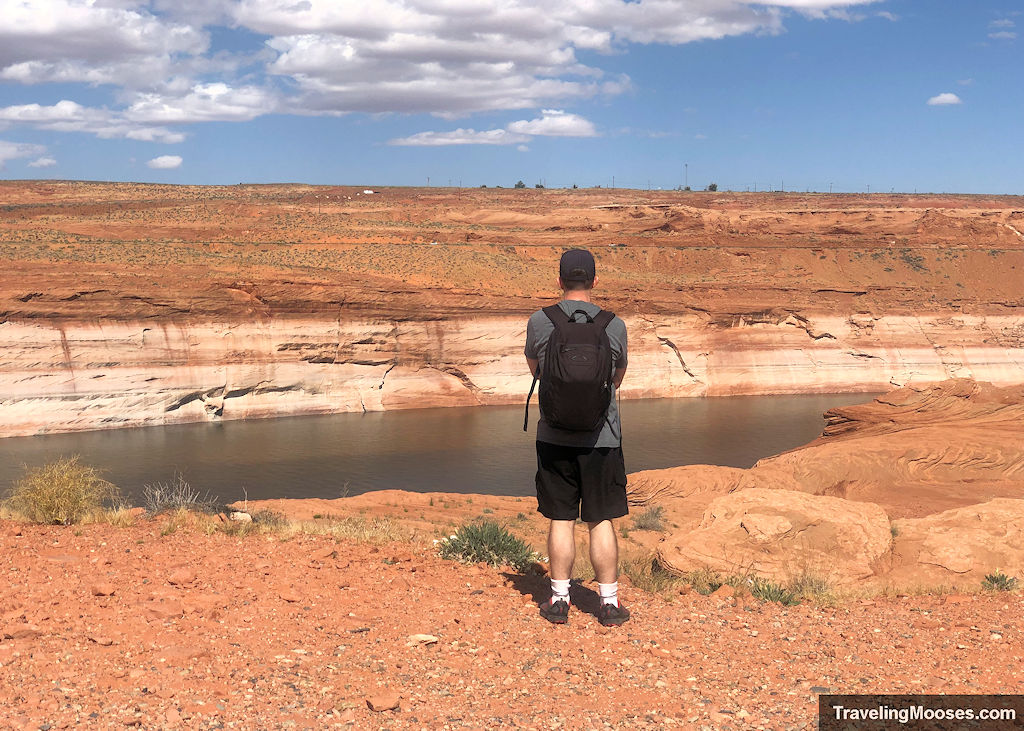 With no clear trail markers of where to go, we set off towards the north of the parking lot following some hikers that clearly had been to the area before. They came bearing an umbrella and other gear that made us think they would be lounging near the water for a while.
The trail starts out pretty flat and goes parallel to the river.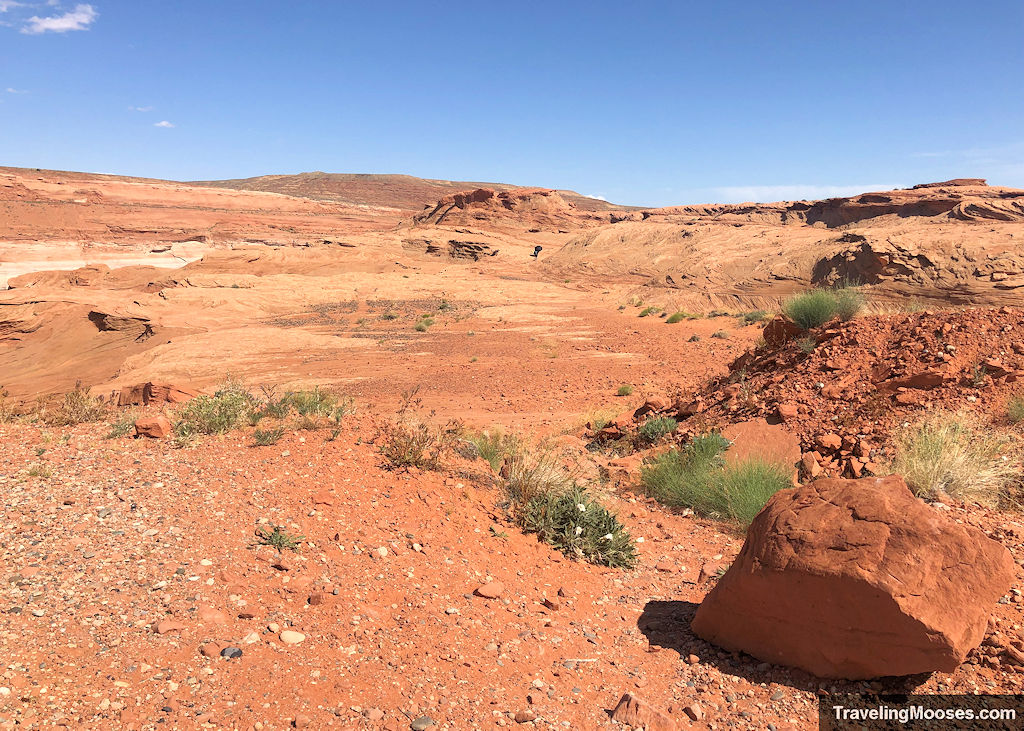 It quickly turns into a "choose your own adventure" trail and you can decide if you want to follow the ridge line or scramble down to the river.
We chose to start making our way down to the river.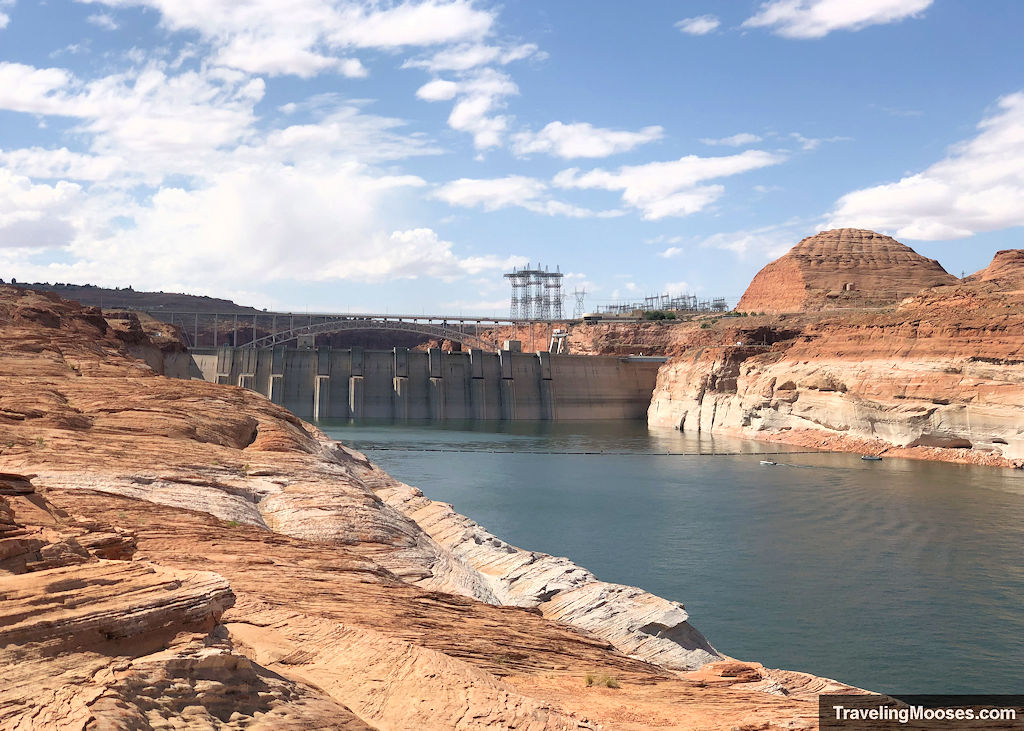 Pretty early into the hike we came across carvings in the rock. What ever happened to "leave a place better than you found it." Sigh.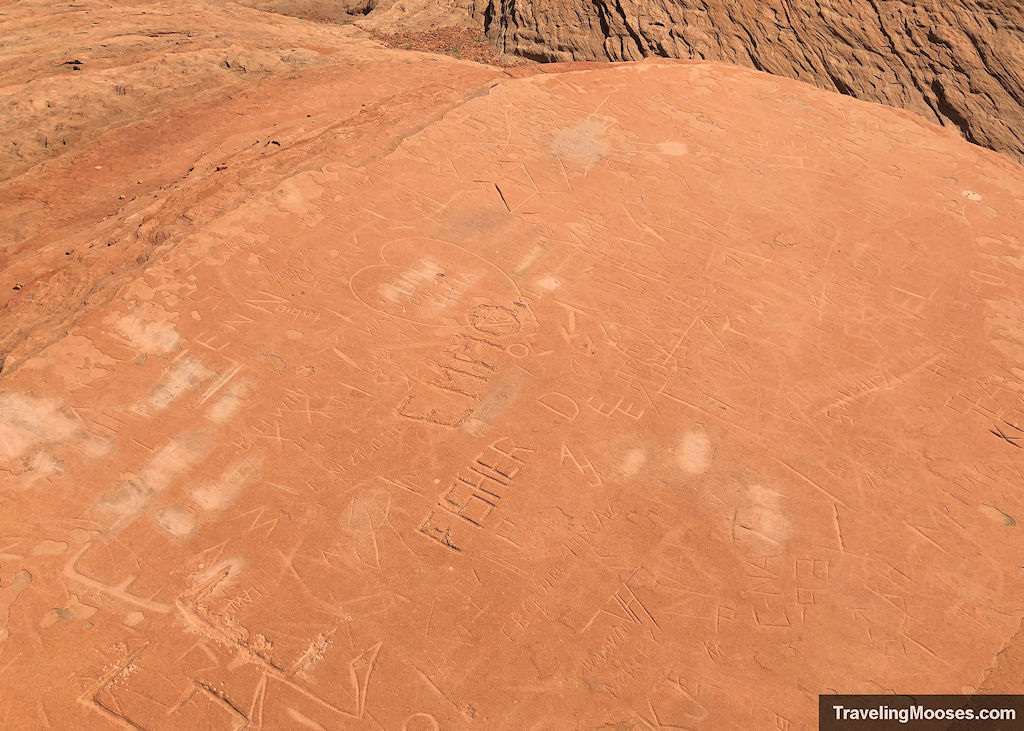 We continued exploring the area and ultimately found a path down to the water.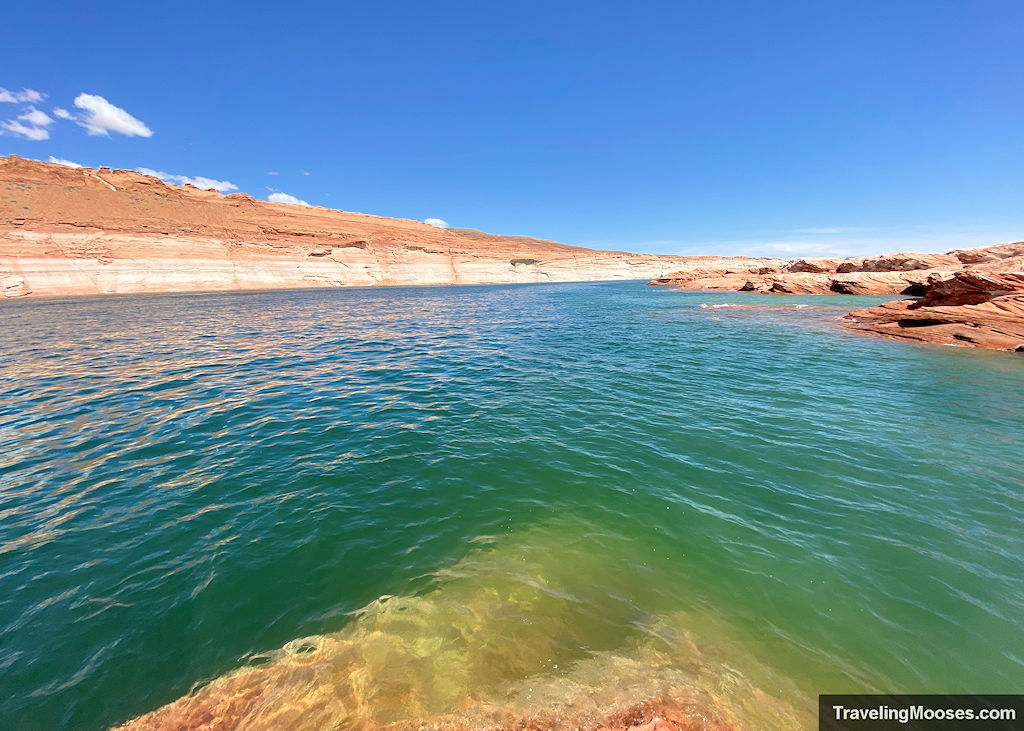 After enjoying the cool water, we decided to keep going north towards the Wahweap Bay intersection.
We wound our away up and away from the water's edge and explored the ripples in the sandstone.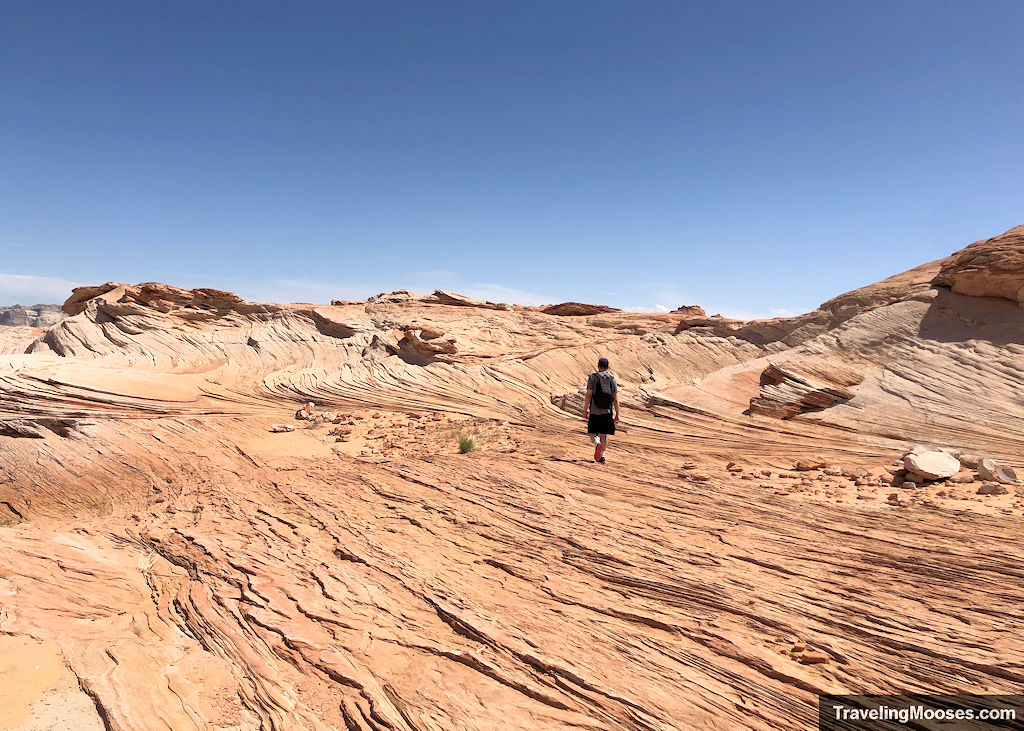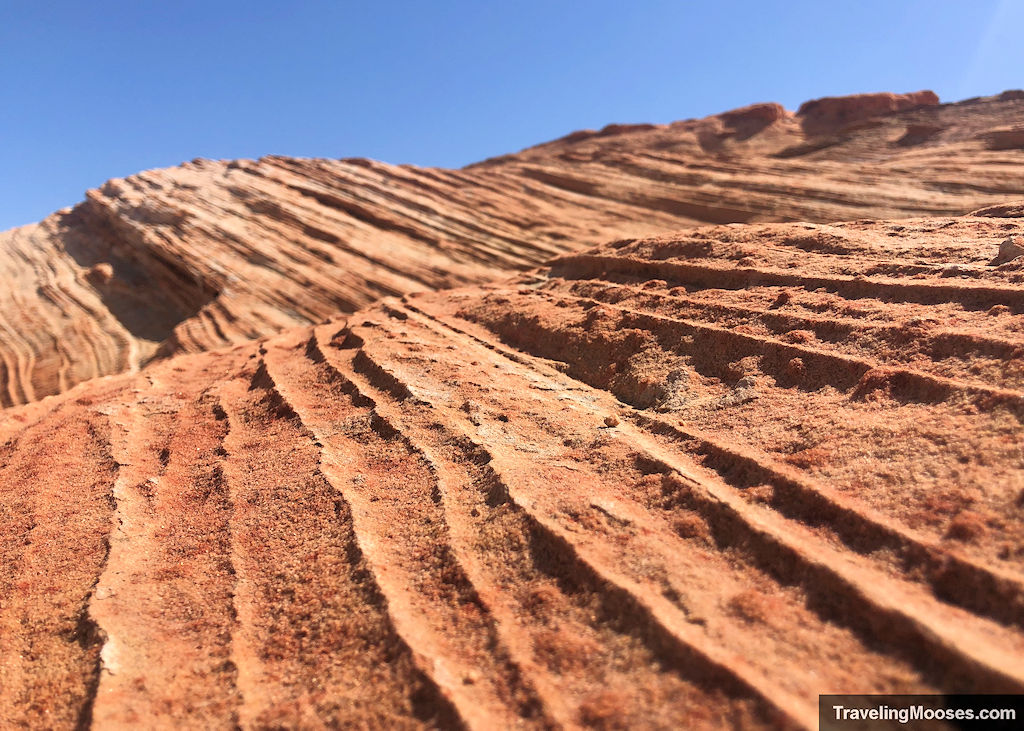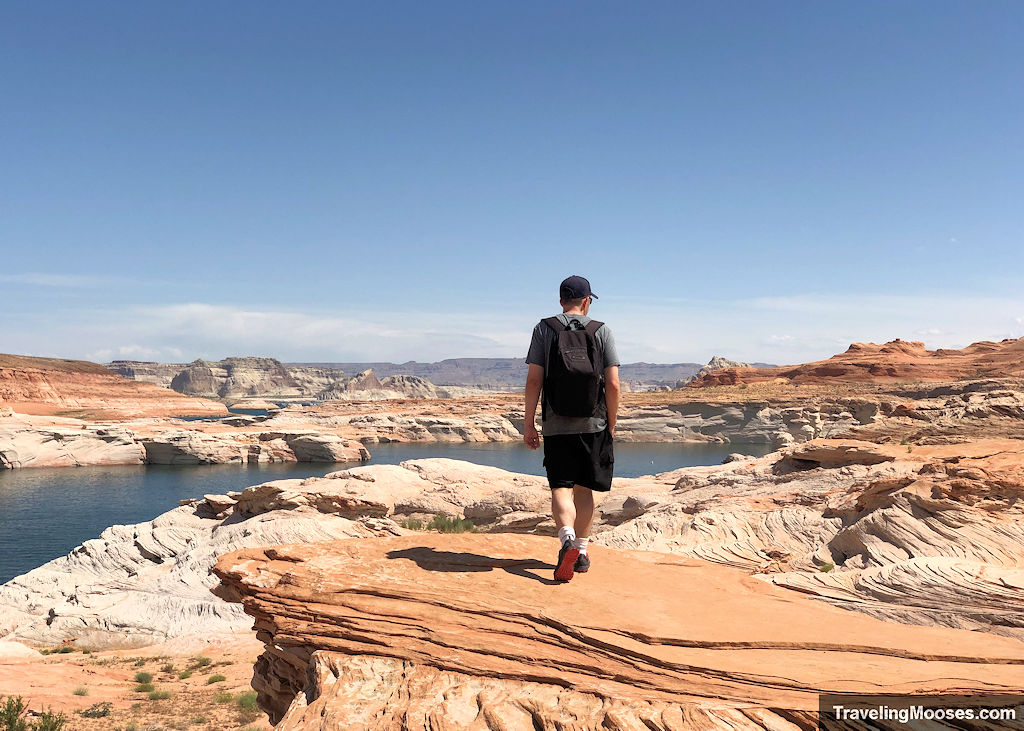 As we approached the river intersection with Wahweap Bay, we saw a swimmer enjoying a vigorous swim through the chilly water.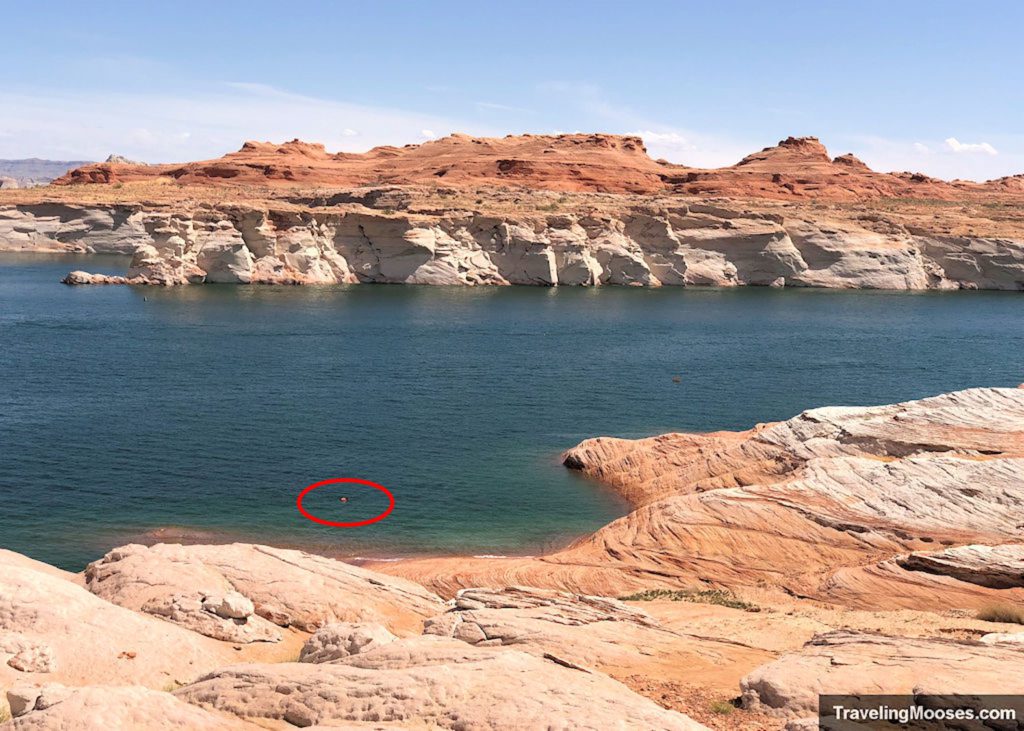 We were impressed with how fast they were moving through the water.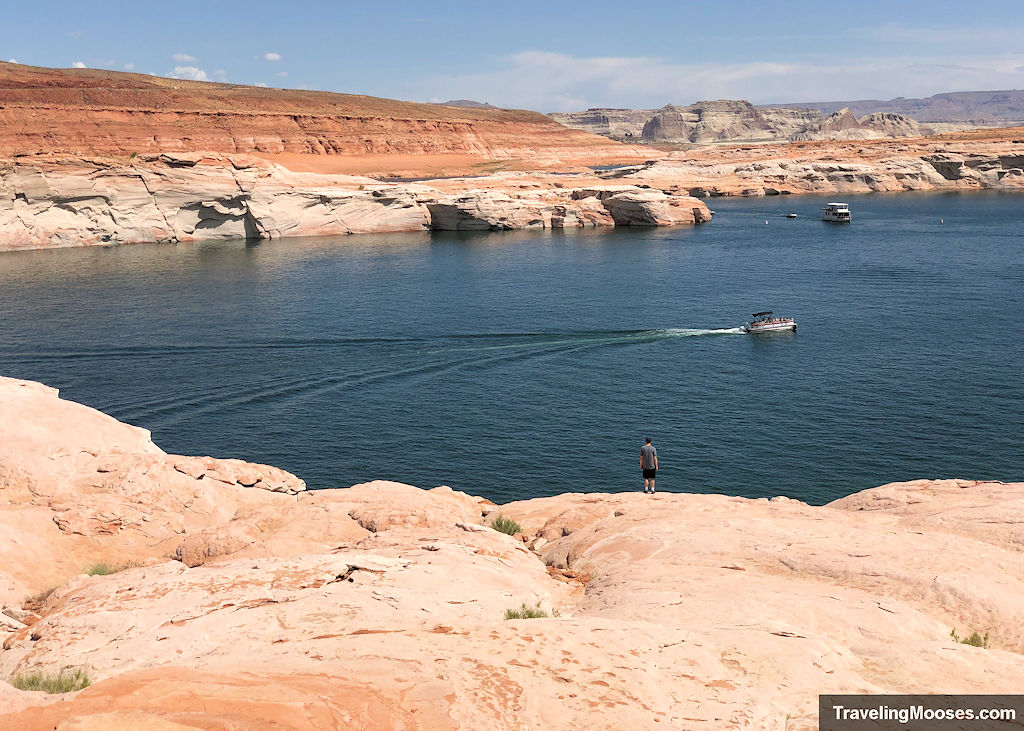 We enjoyed the boats racing around and decided it was getting warm enough that we should head back.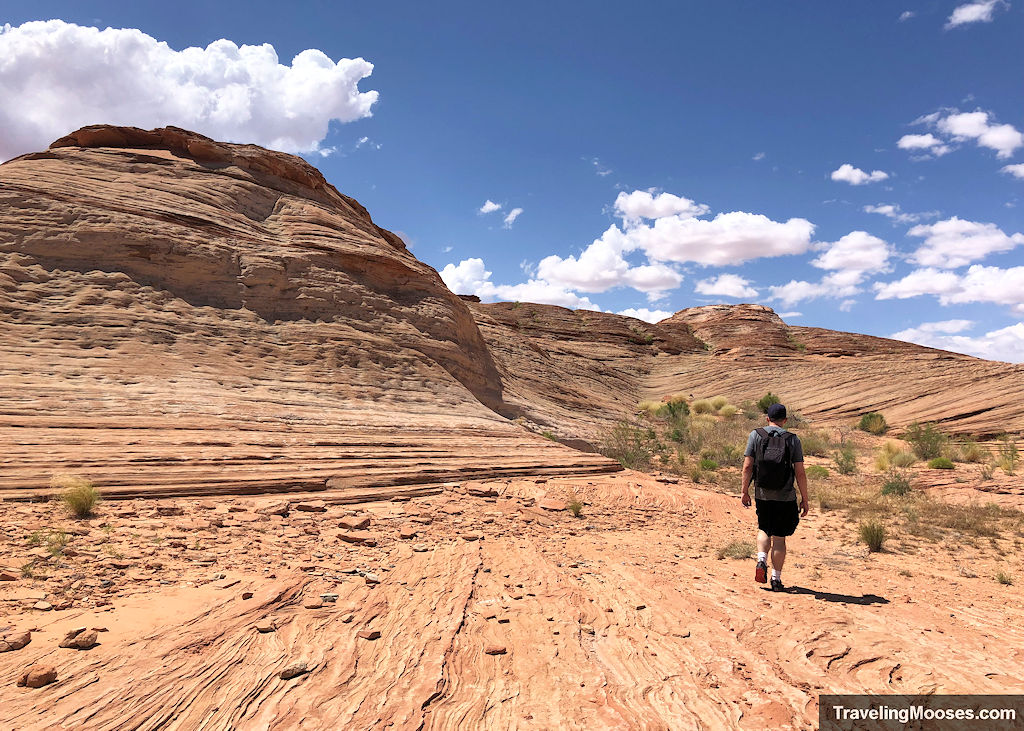 We did have to do a little scrambling on the way back. It is immensely easier to scramble up than down, and we took a slightly different path to get back to the car.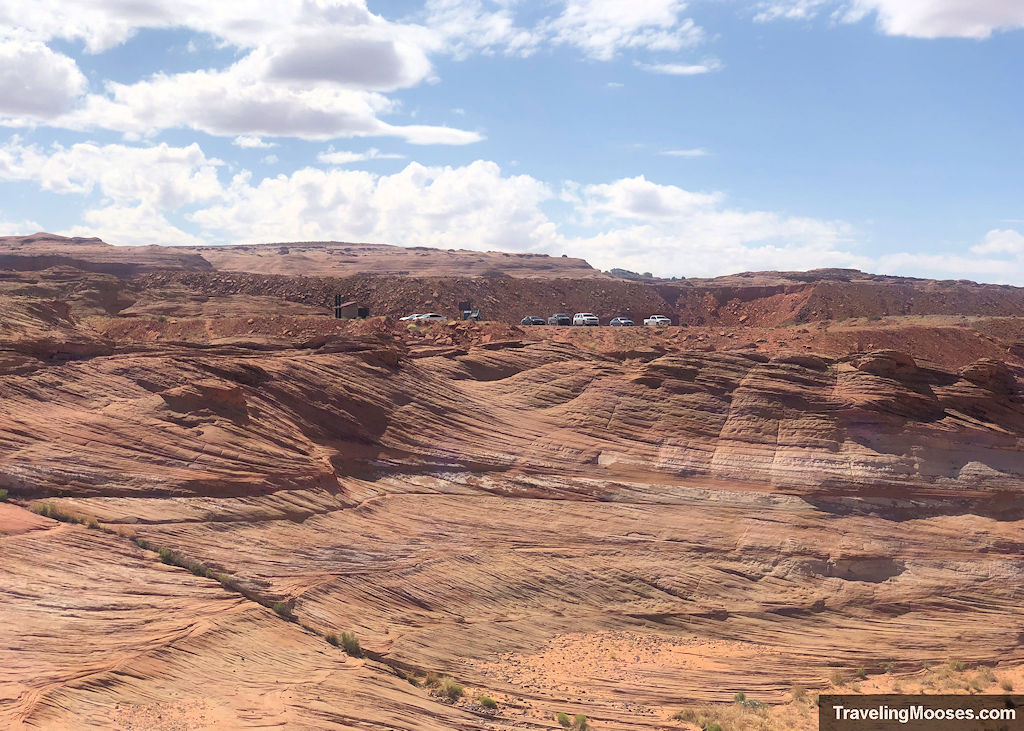 If you're feeling up to it, you can check out the Hanging Garden trail on your way back into town like we did.
Is hiking The Chains worth it?
Rating: 4.5 Mooses

What we liked:
We enjoyed views of the steep canyon walls and seeing the Glen Canyon Dam from a different vantage.
The water in the lake was refreshing. While we didn't swim, we did splash some of the cool water on us as it was a pretty warm day. Actually, it was only 75 degrees when we visited, but it feels much warmer in the direct sun walking around on rocks that retain heat! We would not want to be hiking out there if it was 90+ degrees, or even 85.
The sandstone rocks were grippy and fun to walk on.
The day we visited we watched a swimmer in the water and multiple boats and jet skis go zooming up the river.
We mostly had the area to ourselves.
What we didn't like:
There is no clear path or markers denoting where the official "Chains" hike is supposed to be nor end. This may mean back-tracking to find the safest route on the sandstone rocks. Some areas do get a little steep.
We saw many instances of carvings in the rocks and broken glass. We also found beer bottles and other litter that was either left by inconsiderate hikers or potentially had fallen off a boat when the water level was higher.
The fluctuating water level (mostly lower), means your visit will be different than ours. It's not entirely clear how to get to the water's edge but most of the visitors we saw were able to make it at some point.
Verdict: We enjoyed our visit to the Chains and would check it out again if we are in the area.
Practical info for your trip
Current trail conditions
What to bring
Be sure to check the weather conditions and pack appropriately. This is what we brought for this hike:
Standard Gear:
Special Items of note:
Hiking Boots or closed toe shoes – The sandstone rocks are pretty grippy, but sometimes there was some sand or other grit that made it a little slippery. We could see it being slick in a rainstorm. We wouldn't recommend sandals or flip-flops.
Clothing – Be sure to bring appropriate clothing for rapidly changing conditions. Weather can change extremely fast, especially during monsoon season.
Water / Snacks – There is no running water available at the trailhead. Bring plenty of water (especially in the hot summer months) and extra snacks.
Navigation – We use Alltrails (no affiliation) on all our hikes. We don't feel like their map helped us on this trip. We always recommend having a form of navigation for any hike you take.
Parking
This hike is officially located within the Glen Canyon National Recreational Area, which does require a National Park Pass.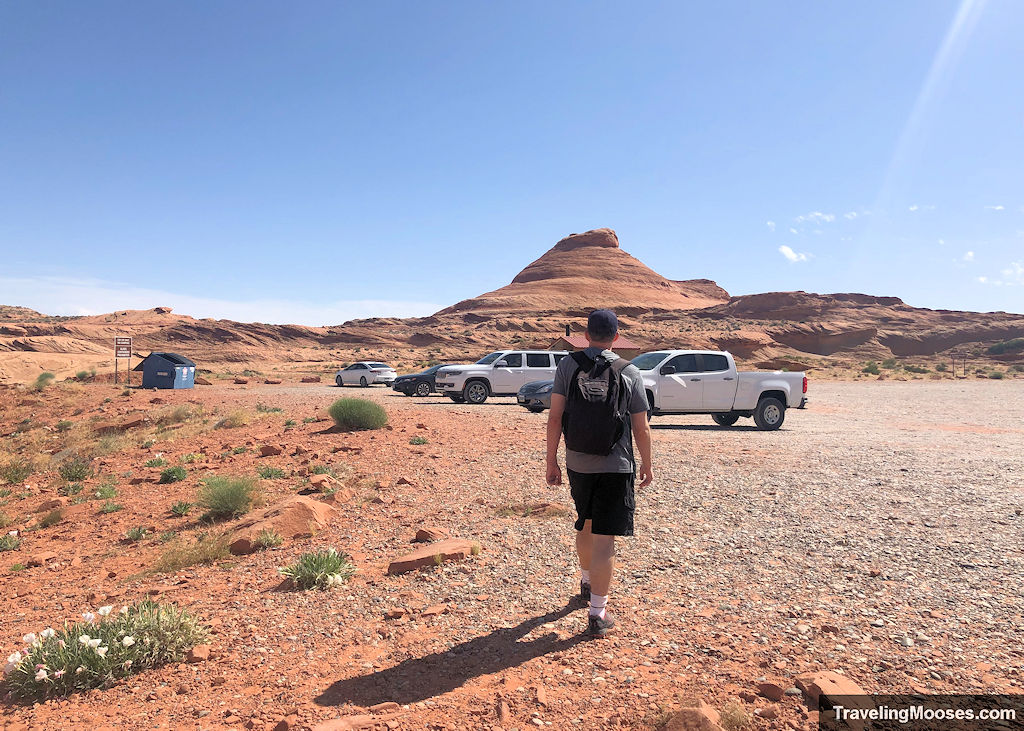 What's interesting is there were no signs mentioning this, and no fee collection box.
We also didn't see anyone displaying a National Park Pass.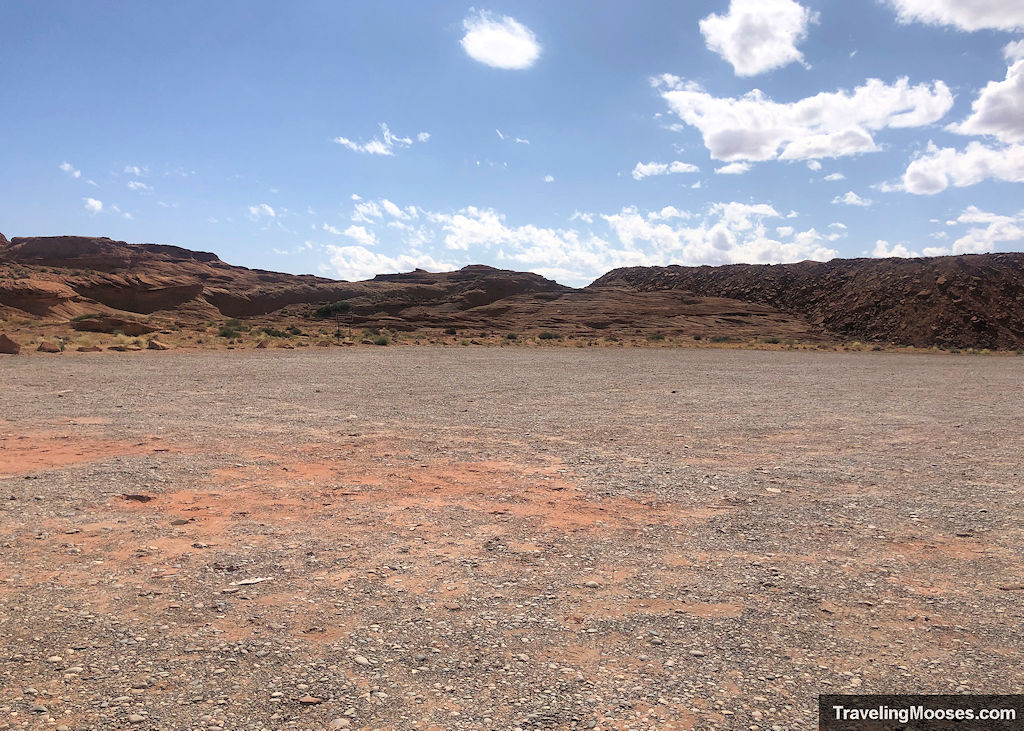 Here's a link to the map with boundaries of the park. We believe it was free to park and hike there, but we can't say for sure. You may want to display your pass just in case.
*Note: If you type in "Carl Hayden Visitor Center" in the map, you'll see the Chains trail to the right of the dam, within the confines of the park boundary.
Trail and Area Map
Below you'll find an interactive map on google of our actual route along "The Chains" along with pictures that are geocoded to the actual spot we took them.
You'll notice it appears we "went into the water." We did not. The water level has drastically shrunk since the google map photo was last taken. The water level may vary when you visit and the route you take will absolutely differ. It's a "choose your own adventure" type of hike in our opinion.
The trail starts off of "Chains Road" near the Glen Canyon Dam.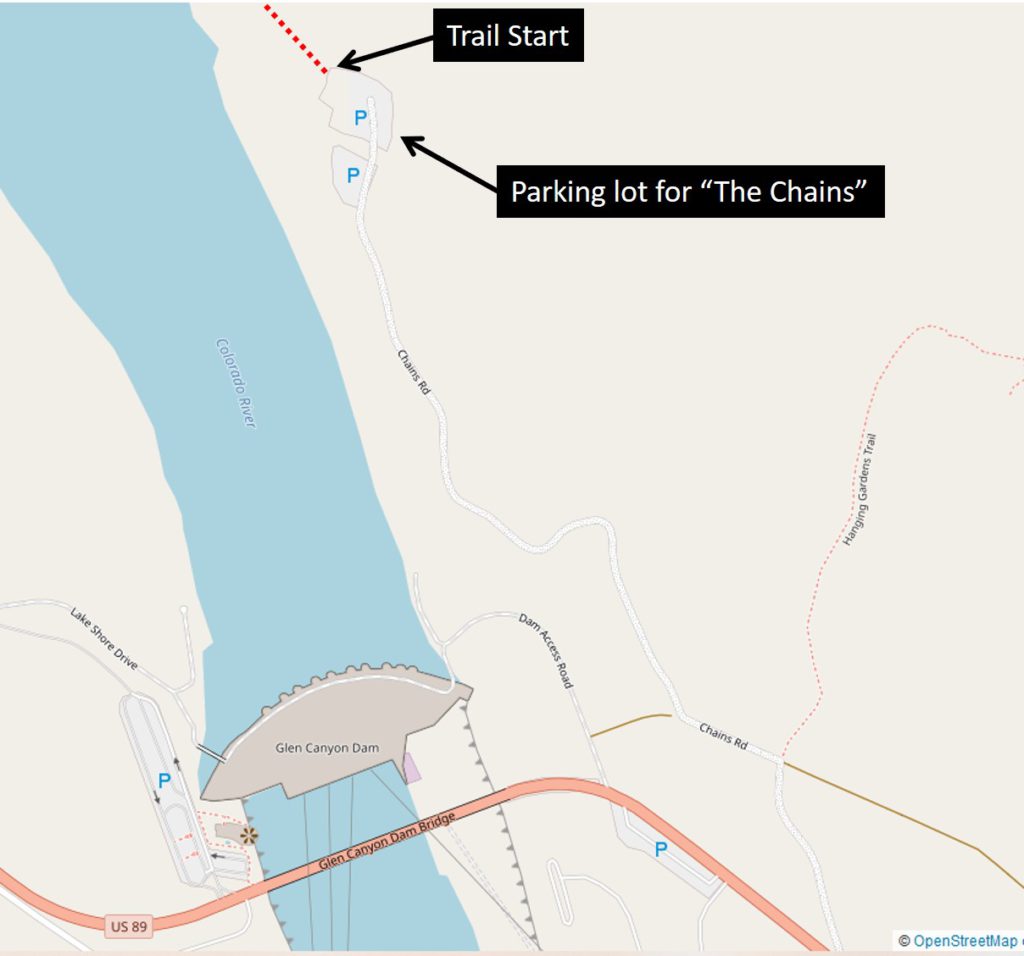 Trailhead Amenities
There are a few amenities at the trailhead including a primitive bathroom, trash cans, plenty of parking and views of the nearby Glen Canyon Dam. We didn't see any other trail information posted.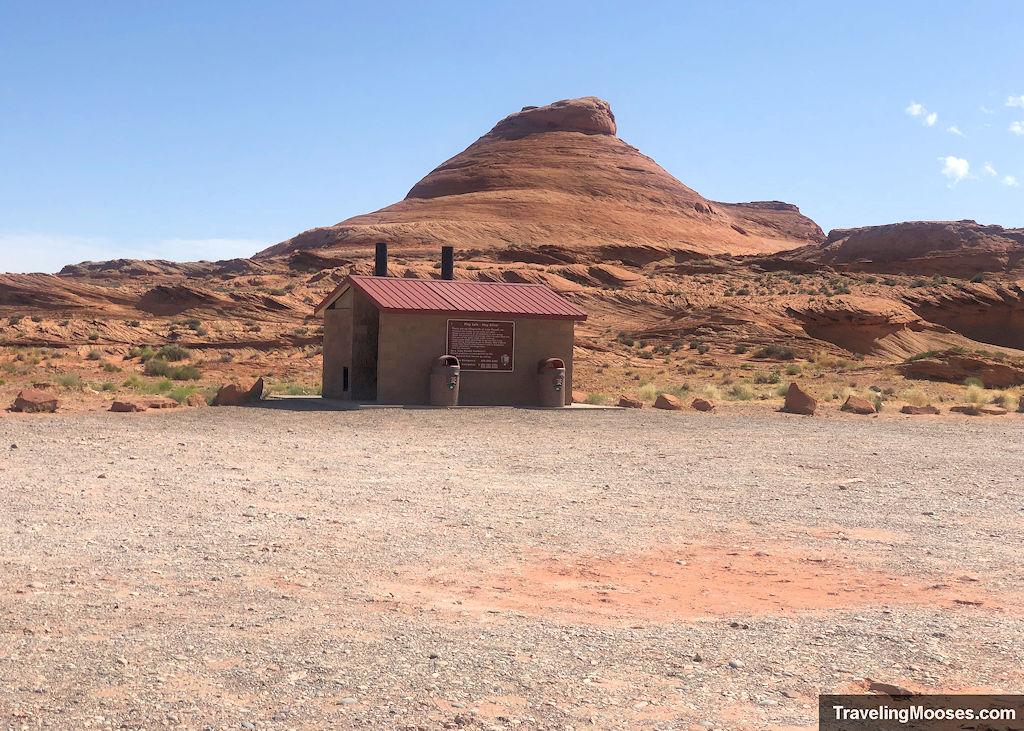 More info for your trip to Page, AZ
You might also like