The Hanging Garden trail found near the Glen Canyon Dam in Page, Arizona leads hikers to a "not-so" secret desert oasis.
Hikers will enjoy an easy stroll across the desert landscape and end at a lush spring-fed group of plants nestled under the wall of a towering cliff.
In this guide: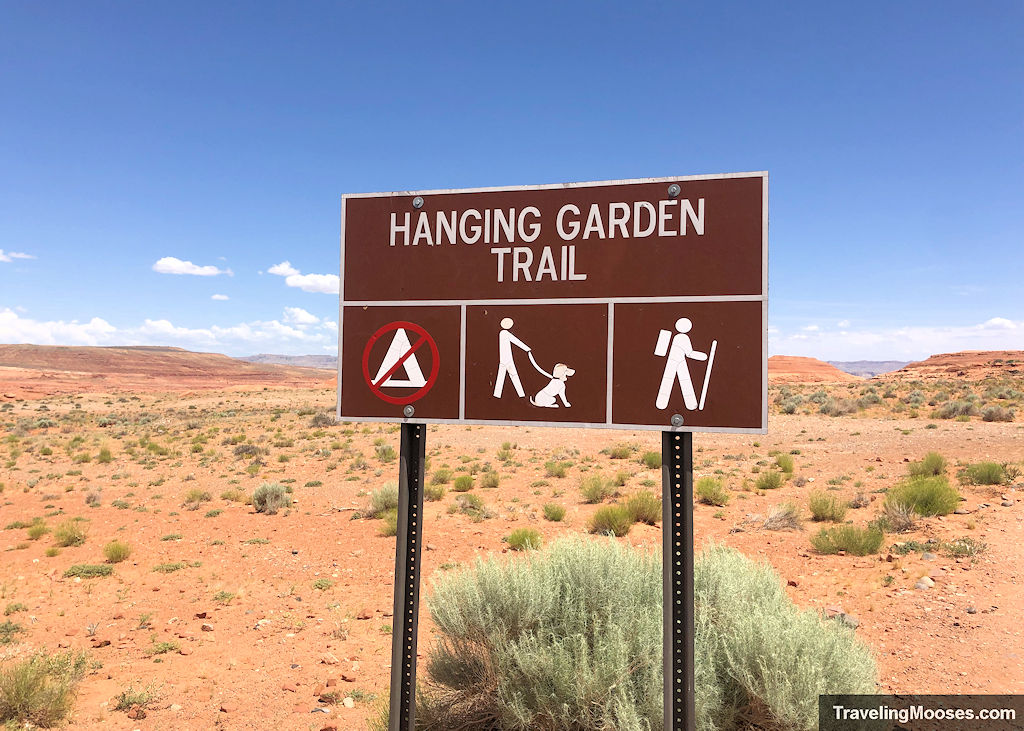 Hanging Garden Trail Stats
| | |
| --- | --- |
| Trail description | Out and back |
| Location | Hanging Garden Trailhead, Page, Arizona |
| Parking lot | Trailhead Area |
| Round trip mileage | 1.5 Miles |
| Average time | Around 1 Hour |
| Difficulty | Easy – the path was well marked and mostly flat. |
| Elevation gain | ~40 |
| Elevation start | ~3,871 |
| Elevation max | ~3,911 |
| Best time to visit | Late Fall – Late Spring. Avoid hot weather days. |
| Amenities | None at the trailhead. |
| Entrance Fee | Free with a caveat. The hike is technically part of the Glen Canyon National Recreational Area. While we didn't see any signs saying we needed our America the Beautiful pass, nor were there any collection stations or "fee area" signs posted, you may want to leave your National Park Pass in your window, just in case. |
| Rating | 4.0 Mooses |
Interactive Map
If you can't see the map for some reason, you can view it directly on google maps, here.
What to expect on the Hanging Garden trail
After an action-packed week of kayaking down the Colorado and visiting the nearby Horseshoe Bend and Antelope Canyon, we were ready for a tamer outdoor activity.
We decided to check out both the "Chains" hike and all Hanging Garden Trail.
NPS describes the hike as: "Securely hidden by Jurassic Navajo sandstone, this seep spring quickly takes hostage every drop of rainwater it can absorb creating a lush plant and animal habitat."
We couldn't resist and figured it was the perfect way to wrap up our trip to Page.
We arrived on a Thursday morning around 11 a.m. and found the parking area mostly full (which isn't hard to do given the small size).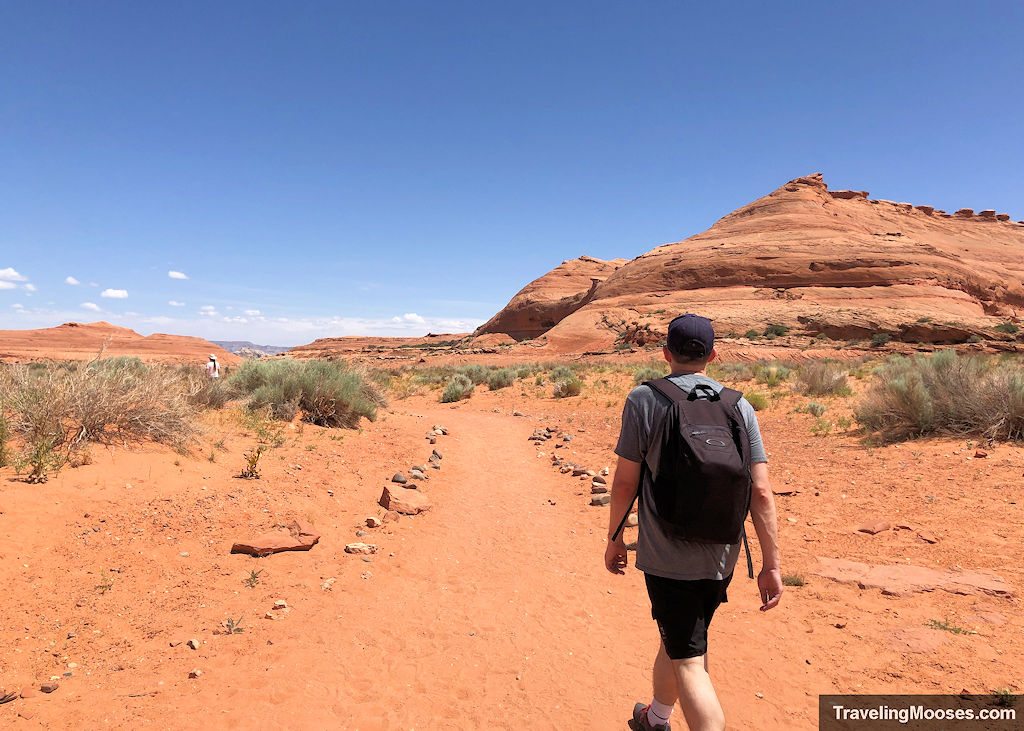 It was already 76 degrees Fahrenheit when we set out and it was forecasted to be in the low 80s that day.
It's amazing how hot 76 degrees can feel in the relentless desert sun. We were glad we had plenty of water (even for a short hike), a nice sun hat and plenty of sunscreen.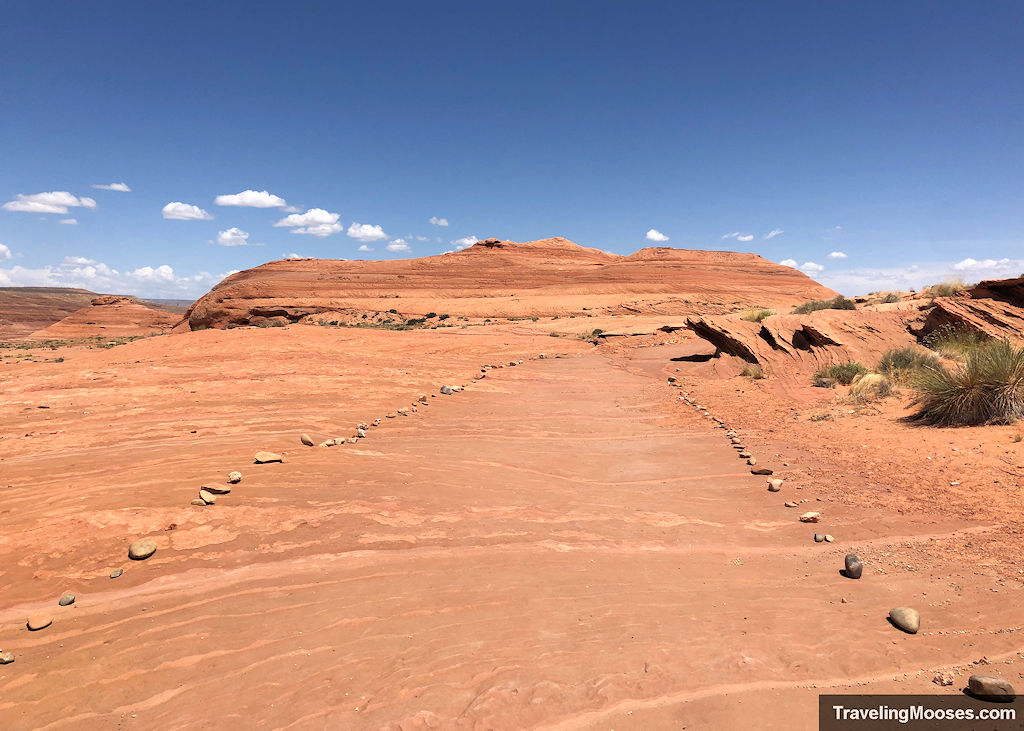 The path starts out wide and lined with rocks on each side. While some parts of the trail had a little sand, it was a hard packed trail and easy to walk on.
After a while, the trail will begin to bend and gain a bit of elevation.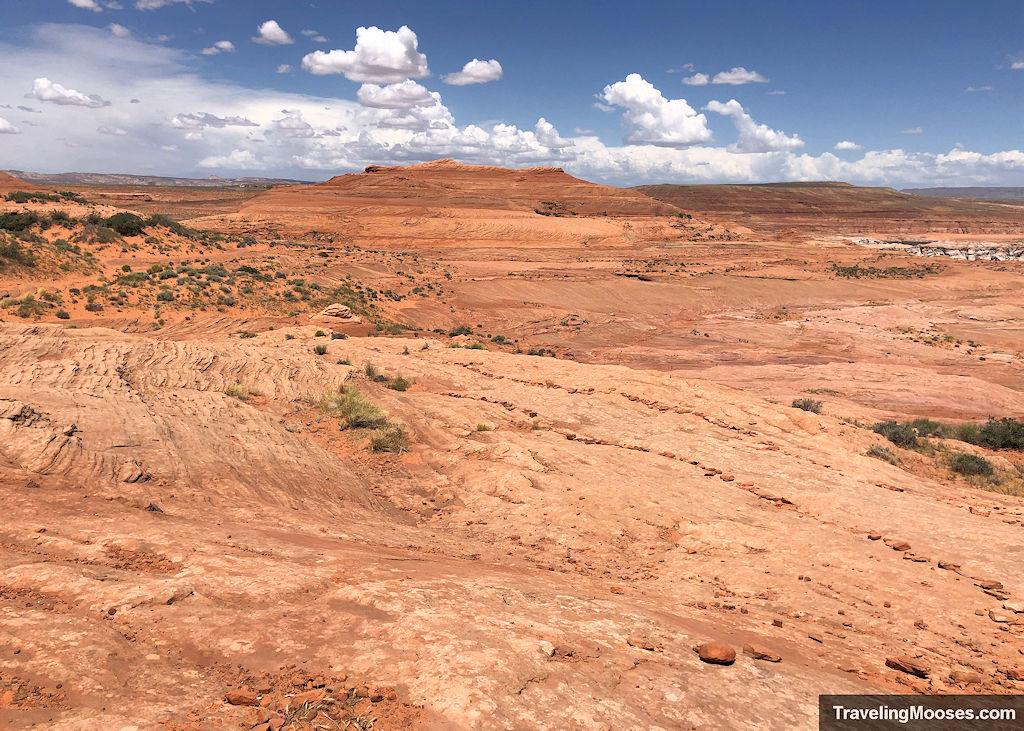 While it is possible to "cut the corner" and skip the last part of the trail, we recommend sticking on the path until the end to prevent erosion. It's a short extra distance.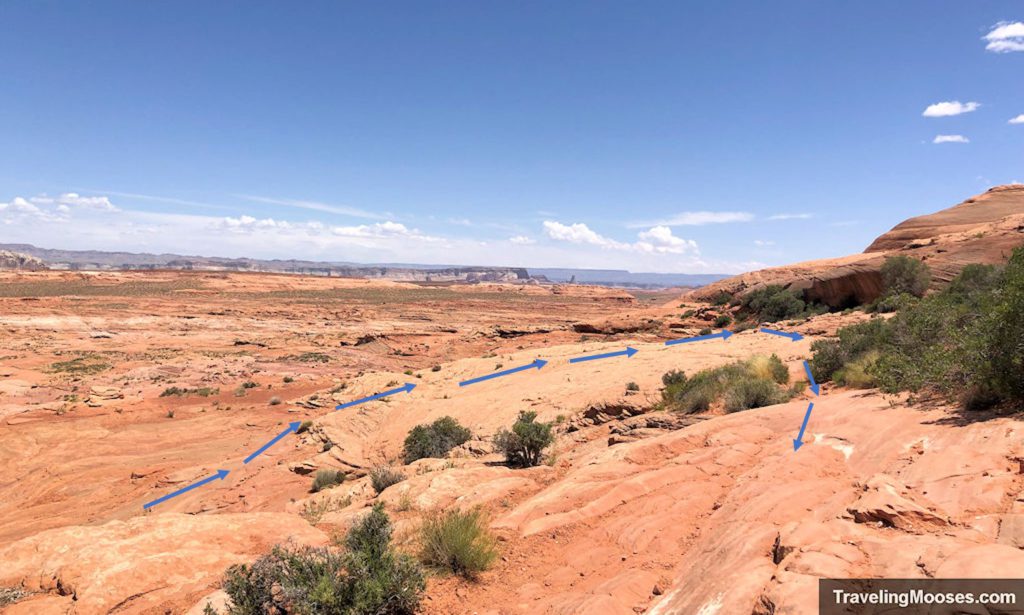 After you round the bend, you'll be met with the entrance to the gardens.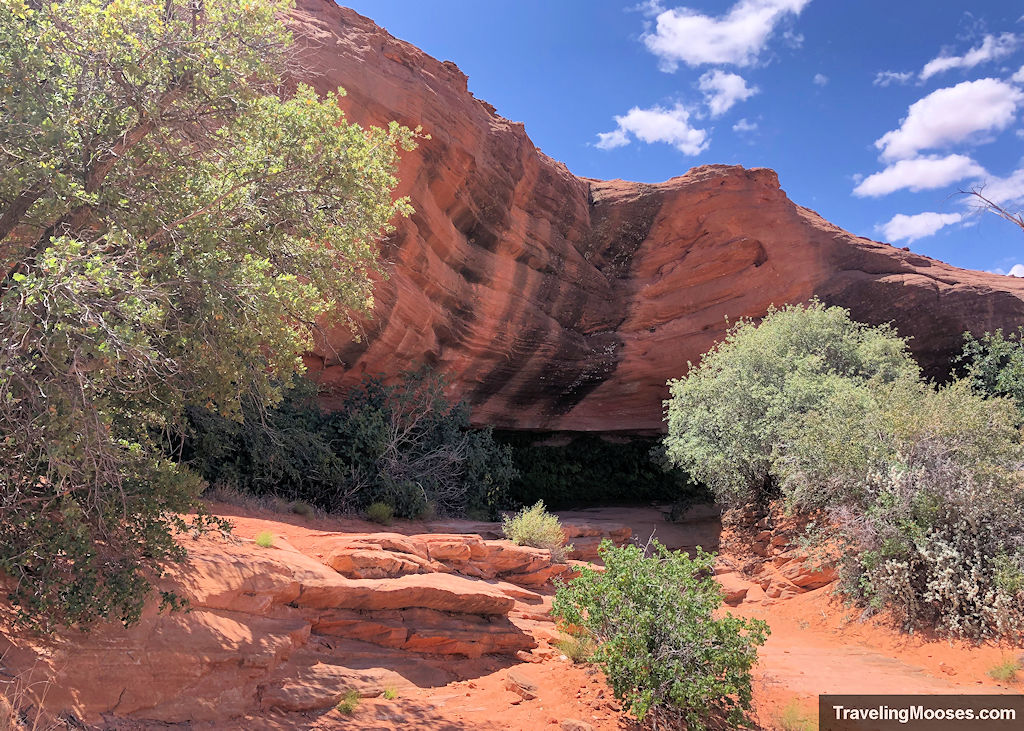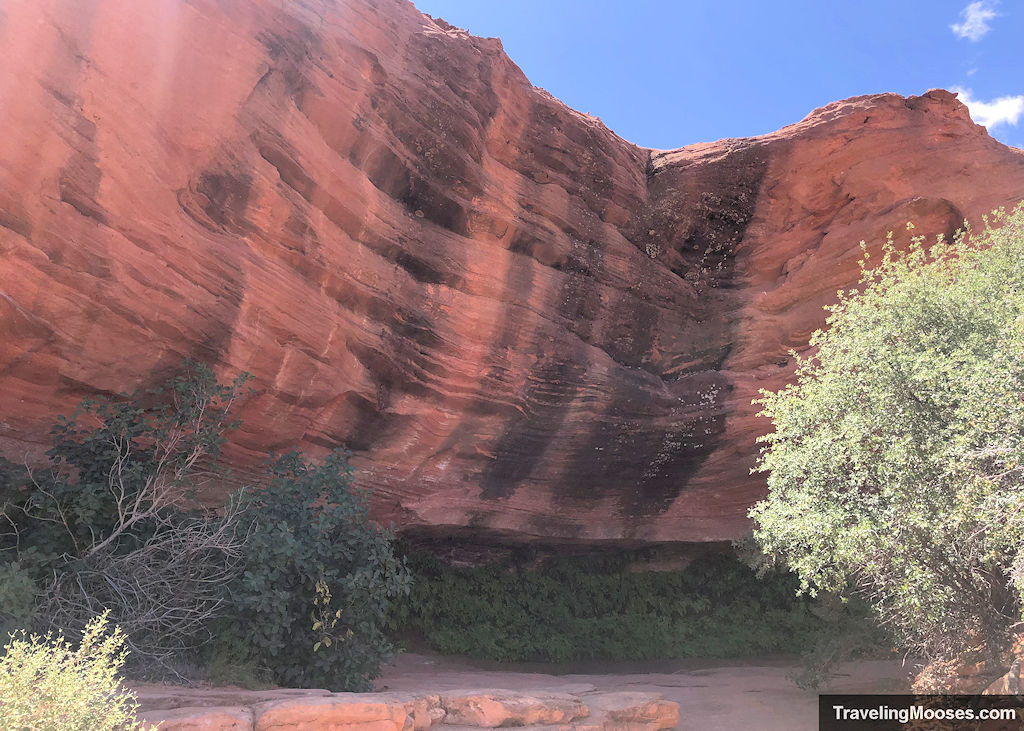 If you're interested in learning more about why these hanging gardens exist, check out this article by the National Park Service. There are several more of these hanging gardens in the Page area.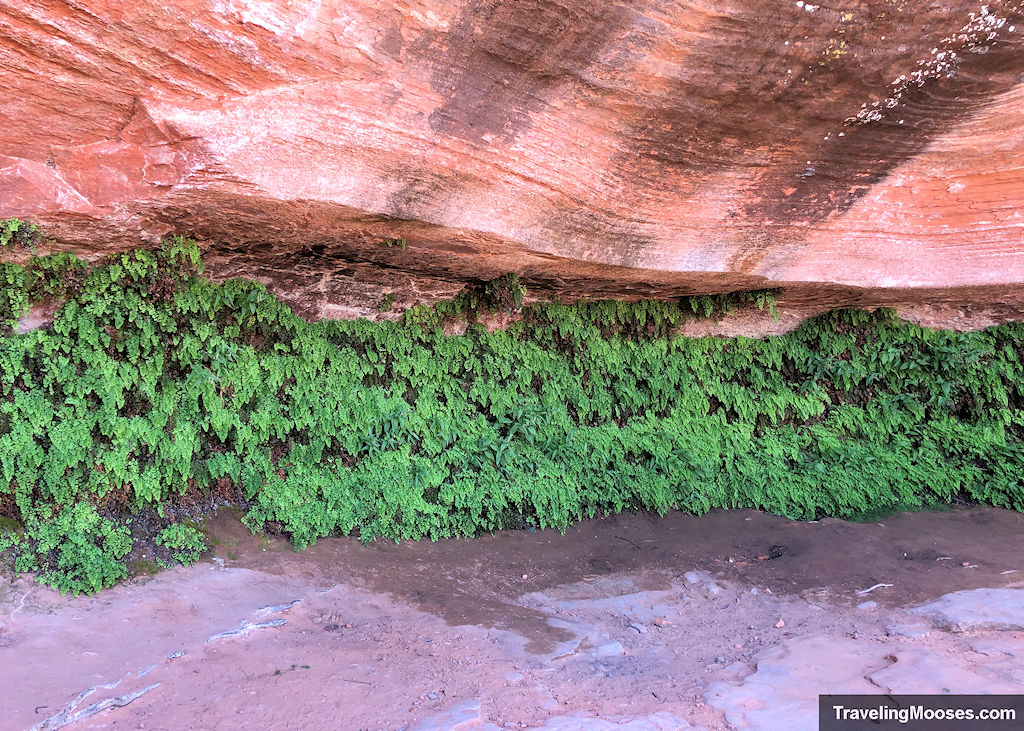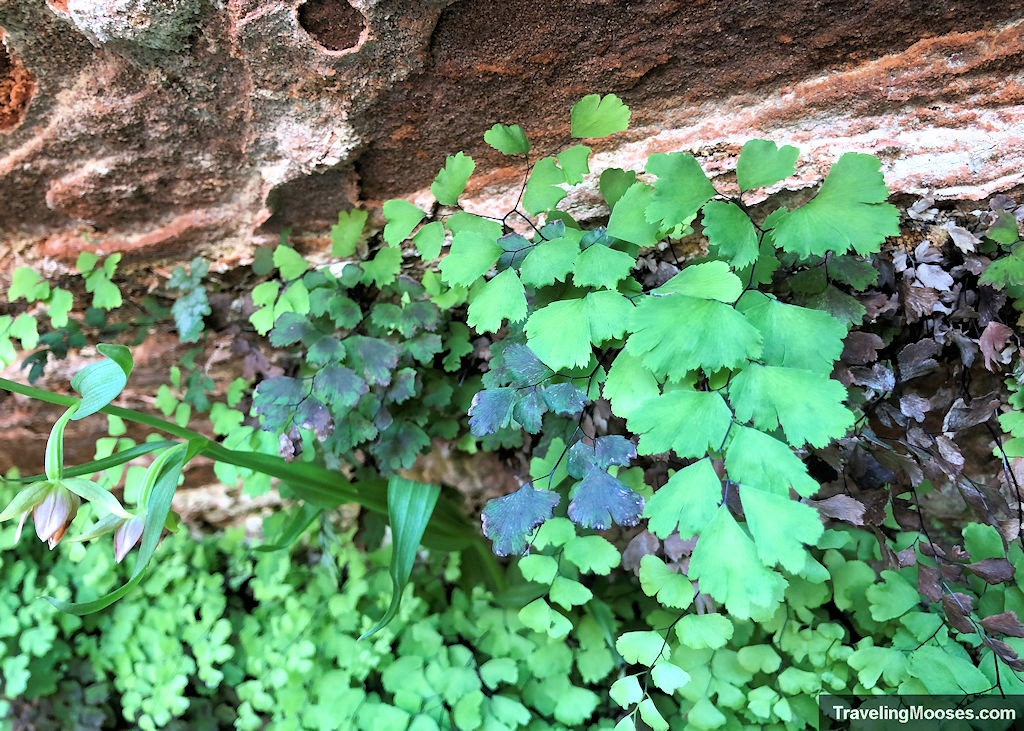 After you enjoy the Hanging Gardens, retrace your steps back the way you came.
They even made a "Trail End" marker to encourage visitors to take the official trail back.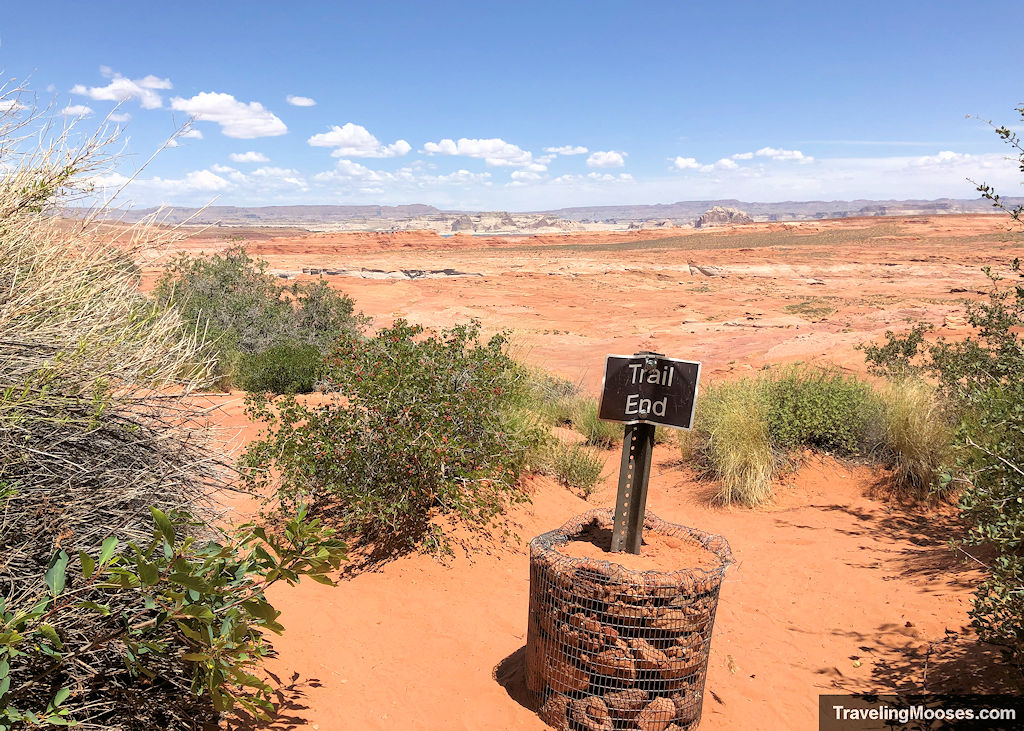 Is hiking the Hanging Garden trail worth it?
Rating: 4.0 Mooses

What we liked:
The trail was short and sweet.
The gardens at the end were quite vibrant and the shade at the end of the trail was a welcome reprieve from the heat.
The path was well marked, and mostly flat the entire way (except for the end).
What we didn't like:
The parking area for this hike is pretty small. We visited on a weekday and didn't have any issues, but we could see it being a problem on a weekend.
Verdict: We can't give it five stars, but if you're in the area and looking for a quick hike, we recommend giving it a try.
Practical info for your trip
Current trail conditions
What to bring
Be sure to check the weather conditions and pack appropriately. This is what we brought for this hike:
Standard Gear:
Special Items of note:
Water / Snacks – There is no running water available at the trailhead. Bring plenty of water (especially in the hot summer months) and extra snacks. There is virtually no shade on this trail. The only reprieve we found was at the end of the trail at the Hanging Gardens. Bring water!
Hiking Boots or closed toe shoes – The trail was pretty smooth, mostly hard packed dirt and some sandstone near the end. You could get away with wearing sandals if that's all you had, but we don't recommend it. Especially since there are four species of rattlesnake in the Page, AZ area.
Clothing – Be sure to bring appropriate clothing for rapidly changing conditions. Weather can change extremely fast, especially during monsoon season.
Navigation – We use Alltrails (no affiliation) on all our hikes. The trail was well marked and we didn't need it, but you should always have a form of navigation on any hike you take.
Parking
This hike is officially located within the Glen Canyon National Recreational Area, which does require a National Park Pass.
What's interesting is there were no signs mentioning this, and no fee collection box.
We also didn't see anyone displaying a National Park Pass.
Here's a link to the map with boundaries of the park. We believe it was free to park and hike there, but we can't say for sure. You may want to display your pass just in case.
*Note: If you type in "Carl Hayden Visitor Center" in the map, you'll see the Hanging Garden trail to the right of the dam, within the confines of the park boundary.
Trail Map
We found the Hanging Garden trail was well established and marked. Below is a map of the route.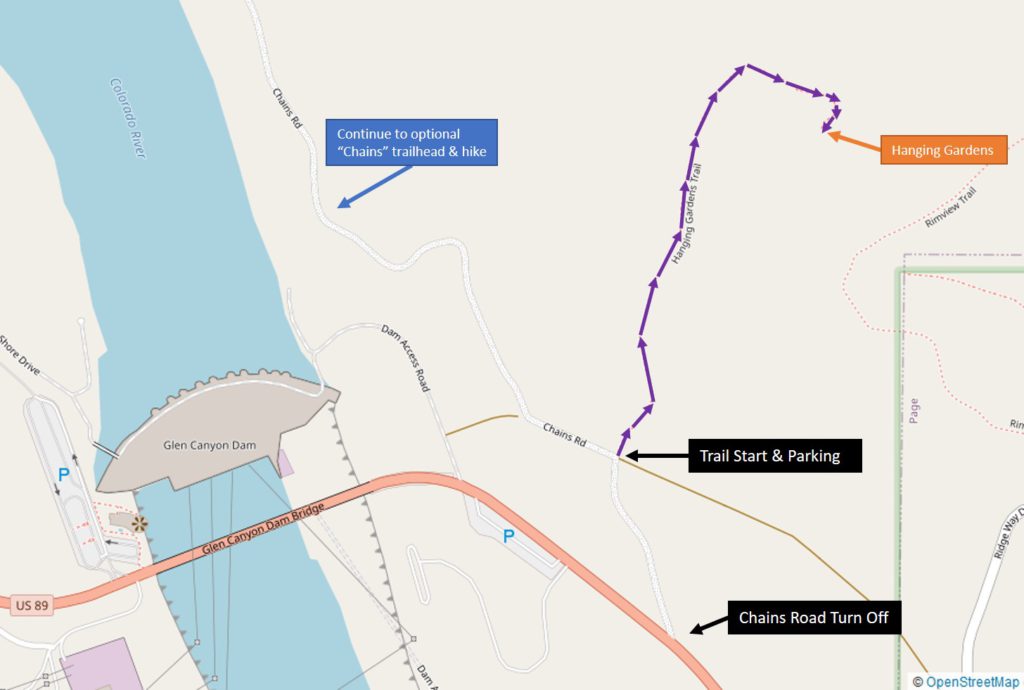 Trailhead Amenities
There are no amenities at the trailhead other than a sign that marks the hike and a small parking lot.
You might also like