Twenty miles south of the Las Vegas strip, you'll find seven towering "magic mountains" rising from the Mojave Desert floor.
We wanted to find out if the Seven Magic Mountains were worth visiting.
Spoiler alert, they aren't.
Seven Magic Mountains Quick Info
| | |
| --- | --- |
| Location | 35.838561658398426, -115.27185379067717 |
| Directions from Las Vegas | Follow I-15 S to Sloan Rd (exit 25). Turn left (east) to Las Vegas Boulevard. Drive approximately 7 miles south on Las Vegas Blvd. and the artwork will appear on your left (east). |
| Website | Seven Magic Mountains |
| Cost of Admission | Free |
| Hours of Operation | Always Open |
| Best time to visit | Mornings and weekdays when crowds are less likely |
| Pets | Pets are allowed onsite |
| What to bring | Extra water, hat, sunscreen, camera |
| Rating | 2.0 Mooses |
What are the Seven Magic Mountains?
The Seven Magic Mountains is a public art display made by the artist Ugo Rondinone. The exhibit is sponsored by the Art Production Fund and the Nevada Museum of Art and stands more than thirty feet tall.
You can learn more about the artist here.
Personally, I would describe them less as "art" and more as large boulders that have been spray painted and stacked on top of each other.
Or alternatively, a giant version of a project that could be made in a child's art class.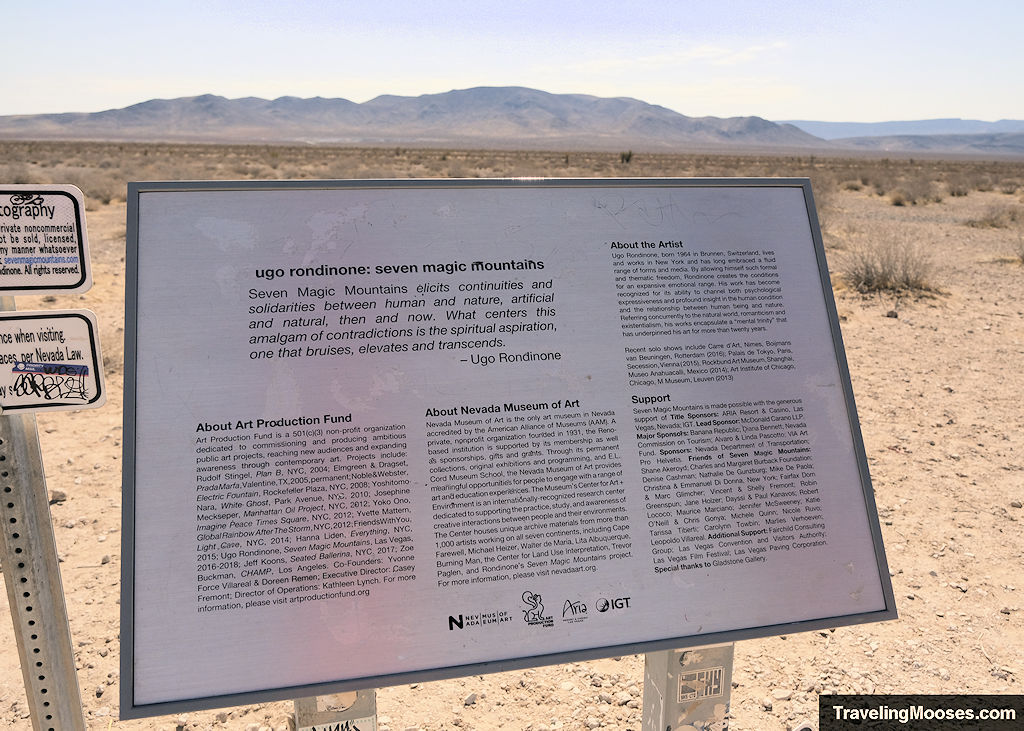 Our experience at the Seven Magic Mountains
Since I heard about the Seven Magic Mountains exhibit, I really wanted to visit. After all, what wouldn't be exciting about seeing giant-colored stones in the desert?
Plus…well I'll just say it…
It was the hot influencers with their cute flowing clothes. Totally cliche, I know.
For copyright reasons, I won't post the photos, but you can see them at the links below:
Mr. Moose wasn't extremely excited, but I was adamant about making the trek.
Turns out, he was right in his lackluster enthusiasm.
Note: The structures are located on federal land and were originally leased through the end of 2021. The artist has expressed a strong desire to have the project remain standing, and as of 2022, the stones remain.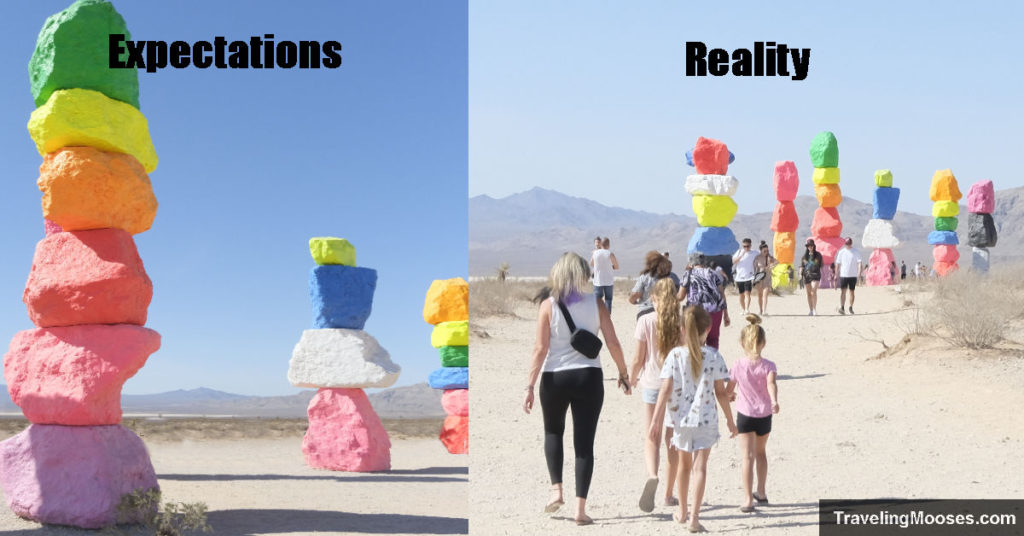 The first time we tried to visit the exhibit, we missed the turnoff on the freeway. We saw the stones from a distance in the car, but we were too stubborn to backtrack.
The second time, we pulled up to the parking area and it was overrun with cars. There were almost no spots available and we immediately gave up and left.
The picture below is how many people we could see milling around that day.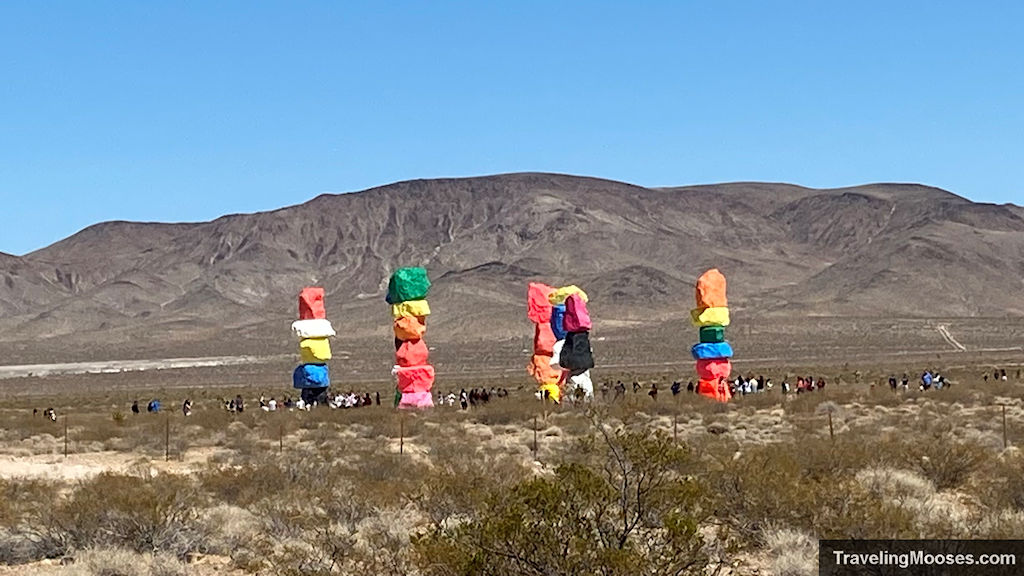 The third time is a charm?
We tried again on an early morning in July, arriving around 9 a.m. with a temperature of 97 degrees. There was a heat wave coming through the day we visited and it ultimately got to 113 degrees.
Despite the early hour and warm temperatures, the parking lot was fairly full and many visitors were streaming out to the exhibit.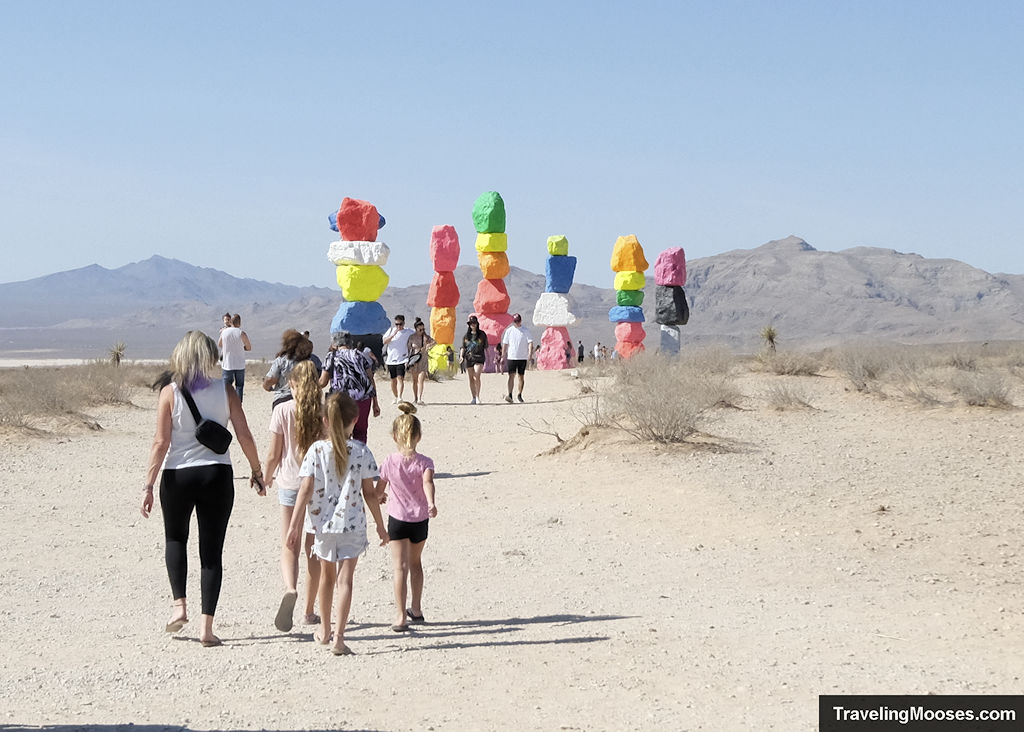 Needless to say, we didn't spend a ton of time gawking at the colored rocks.
We snapped a few pictures and high-tailed it back to our air-conditioned car.
How to get to the Seven Magic Mountains?
There are two ways to get to the Seven Magic Mountains.
1. Drive
Unfortunately, there is no public bus system or other transportation available to visit the site. It's in the middle of the desert in a remote location.
If you don't have a vehicle and cannot convince a friend to drive you there, you'll either need a rental car, or to pay for an uber/lyft.
Just for fun, I did a random price check on Uber and it was $37.12 from Caesars Palace to the Seven Magic Mountains.
You'd have to arrange for them to wait and take you back, so at a minimum you'd be looking at $75 + wait time + tip for your journey. Maybe $100 all-in?
If you decide to use this option, don't let the Uber /Lyft driver leave without you as you won't find one to bring you back.
2. Utilize a tour group
There are several tour groups that offer trips out to the area. The only group the official Seven Magic Mountains website recommends is: Mr. Las Vegas Tours. Unfortunately, it looks like they only do a combined trip to the Seven Magic Mountains plus the Hoover dam (and it was pricey).
For our trip, we ended up driving and would recommend a rental car over a guided tour if you have the option. Plus, you could use the rental car to see other things such as: Red Rock Canyon, Mt. Charleston, or the Valley of Fire.
If you do end up using a tour group, we prefer using Viator tours.
We can't vouch for the specific Seven Magic Mountains tour they offer, but they have several options to choose from.
Special rules and things to keep in mind for your visit
There is no charge for admittance to this exhibit. Be aware of tour groups trying to charge admittance or parking fees.
Photographs are only permitted for non-commercial use. Professional photography equipment such as lighting or tripods, etc. is not allowed.
Do not attempt to climb or move the structures.
Overnight camping at the installation is prohibited. The exhibit is open 24 hours a day, however they prefer visitors come between sunrise to sunset.
Any visitor who defaces or places graffiti on the monument is subject to criminal penalties, pursuant to NRS 206.330.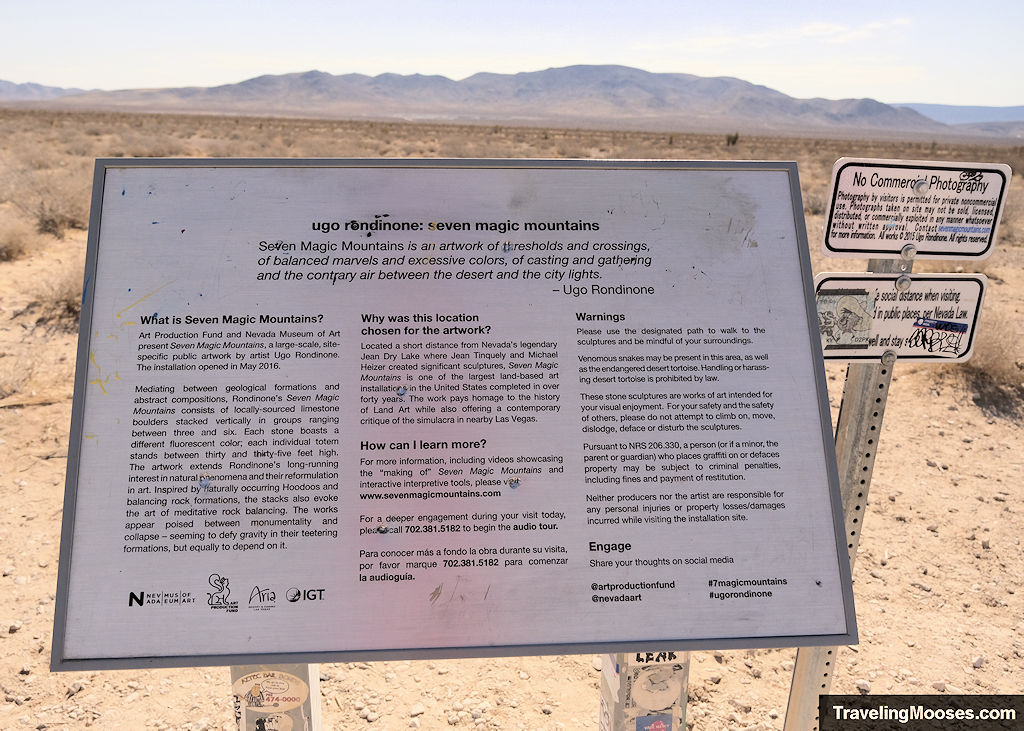 Should you visit the Seven Magic Mountains exhibit?
What others are saying:
It's a waste of time.
This is stupid. It's ugly and not worth stopping by to look at this so called piece of "Art."
Being up close was pretty cool in my opinion! Not sure I'd ever stop there again though lol.
It's hard not to agree with some of those opinions. For us, it was a one and done activity.
Our Rating: 2.0 Mooses

What we liked
While a bit gaudy, we liked seeing the colorful rocks in the otherwise monotone colors of the desert.
The structure was a short walk from the parking area, which was important on the day we went due to the hot temperatures.
What we didn't like
Not much shade on hot days. I guess you could stand under the rocks for some shade, but tourists wanting to take photos of the rocks may take issue with prolonged lurking.
It was a zoo the day we went. There was no hope of taking a snap of the monument without humans blocking your shot.
There are no services in the area. No water, restrooms, or snacks.
Verdict: If you're driving by anyway, by all means, stop and gander. We recommend skipping this attraction if you're planning on making a specific trip to see it.
You might also like these day trips from Las Vegas: