The Sawmill loop trail near Mount Charleston is a short 1.3 mile loop trail that is popular with hikers, bikers and horseback riders.
In this guide:
Sawmill Loop Trail Stats
| | |
| --- | --- |
| Trail Description | Loop |
| Trail start | Sawmill loop trail (aka yellow trail) |
| Parking Lot | Sawmill trailhead, Sawmill Dayuse Loop A Rd, Las Vegas, NV 89166 |
| Round Trip Mileage | ~1.3 miles |
| Average Time | ~1 Hour |
| Difficulty | Easy |
| Elevation Gain | ~160 feet |
| Best time to visit | Spring through Fall |
| Amenities at the Trailhead | Parking, trail map / information board, primitive bathrooms, trash receptacles, picnic benches |
| Entrance Fee | None |
| Rating | 2.0 Mooses |
What to expect along the Sawmill loop trail (our experience)
We arrived at the trailhead at 9 a.m. on a Saturday and had our pick of the mostly empty parking lot.
The trailhead is a jumping off point for multiple trails in the area and the Sawmill loop trail (aka yellow trail) starts to the north west of the primitive restrooms in the parking lot.
Related: Sawmill Trailhead Top things to Know
After locating the loop trail entrance, we decided to go clockwise around the loop.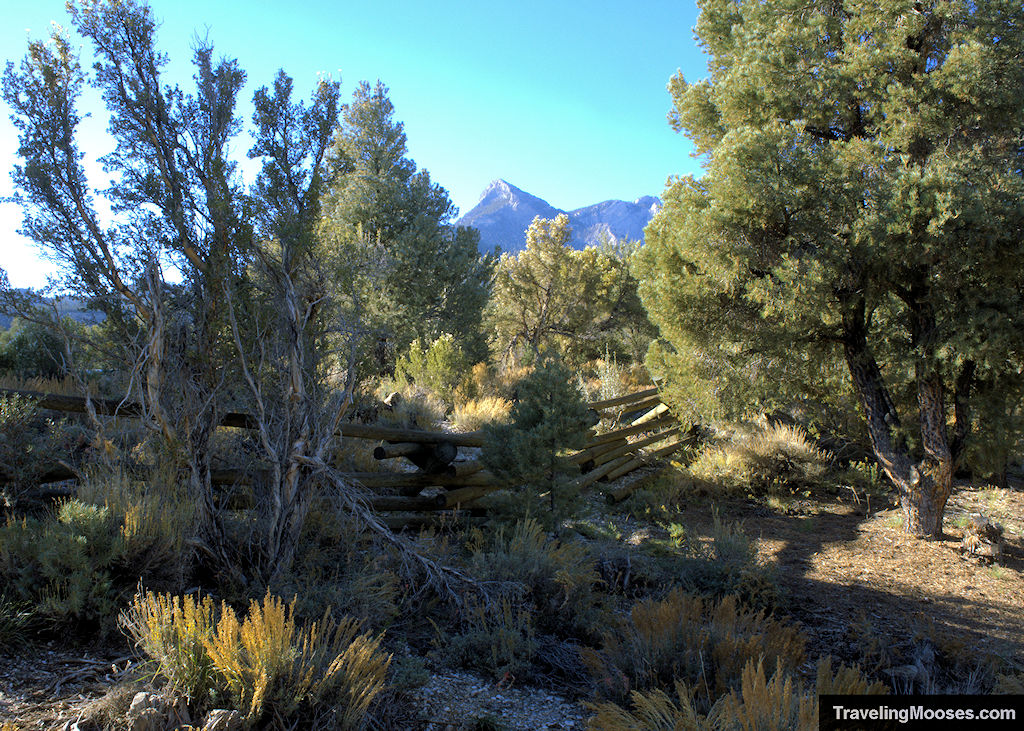 You'll notice at the start of the trail there are tall trail marker signs. You'll want to keep your eyes out for these along the trail.
They are color coded with arrows pointing in the direction of travel.
"Yellow" is the Sawmill loop trail.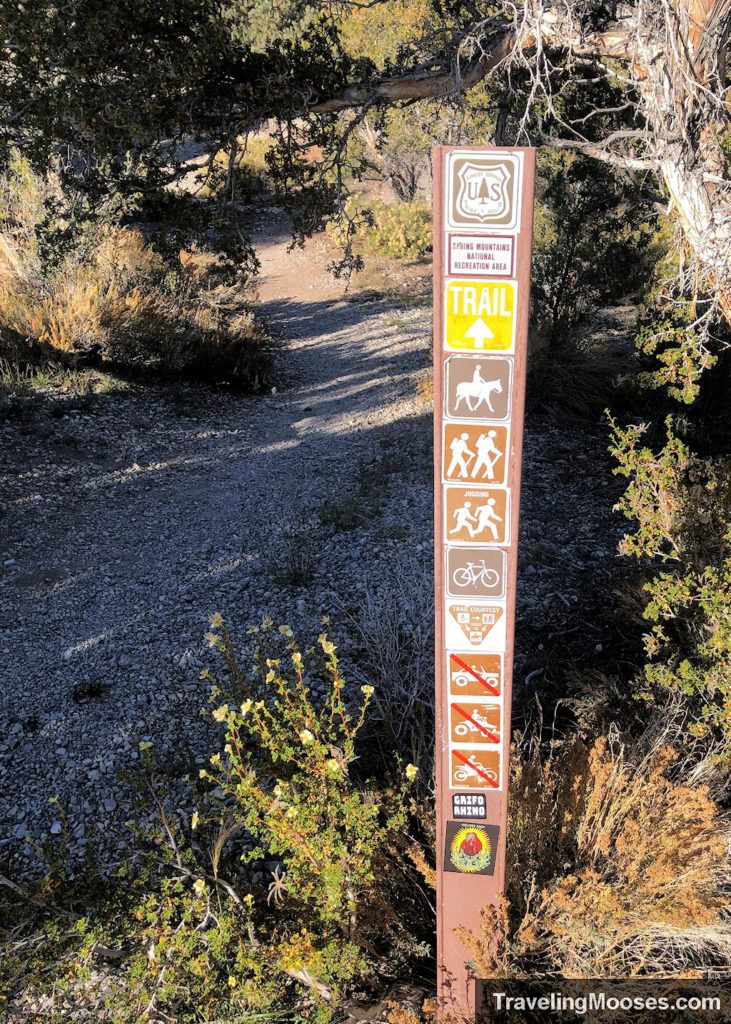 "Red" is the Pinyon Pine loop trail.
"Blue" is the Blue Tree loop trail.
We didn't run into the other colors based on our path of travel, but we're guessing they follow the colors on the map at the trailhead or (also below).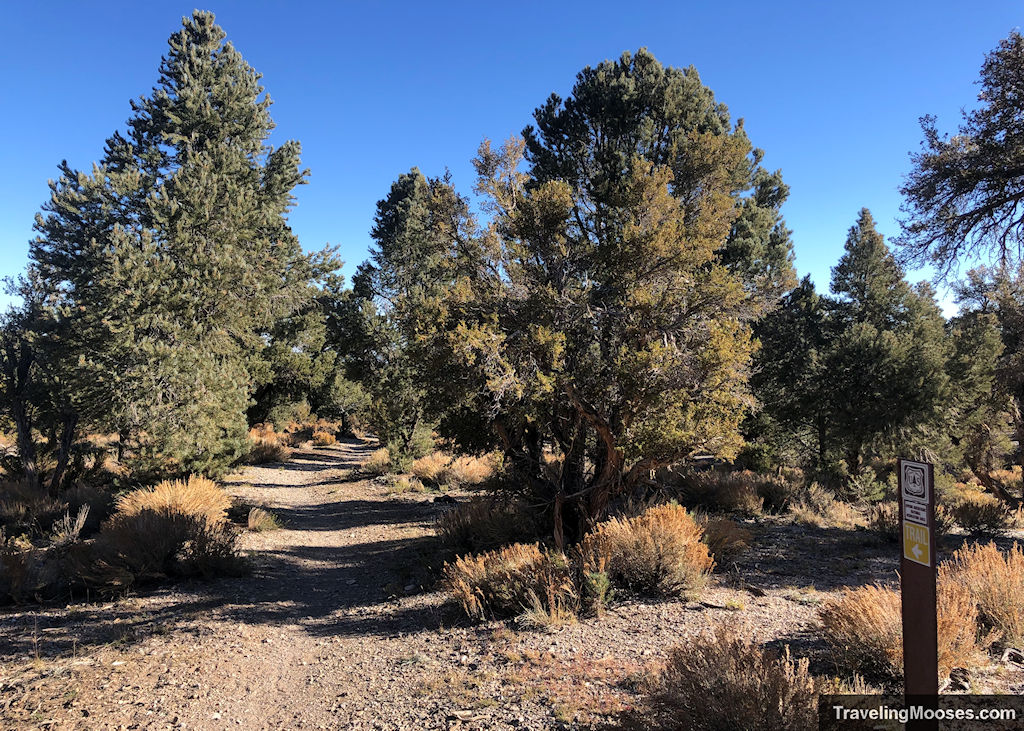 We do recommend having a GPS device with you as some hikers left reviews they felt the trail was unclear. We didn't have any issues navigating.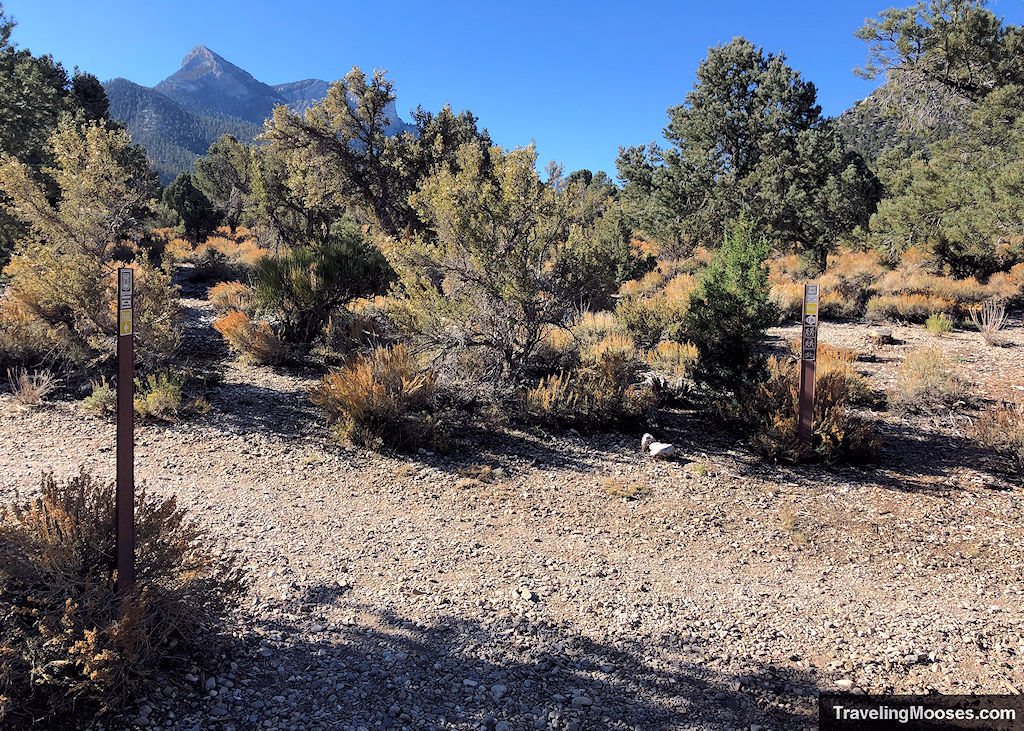 Along the trail, we found several different types of wildflowers, despite it being late in the season.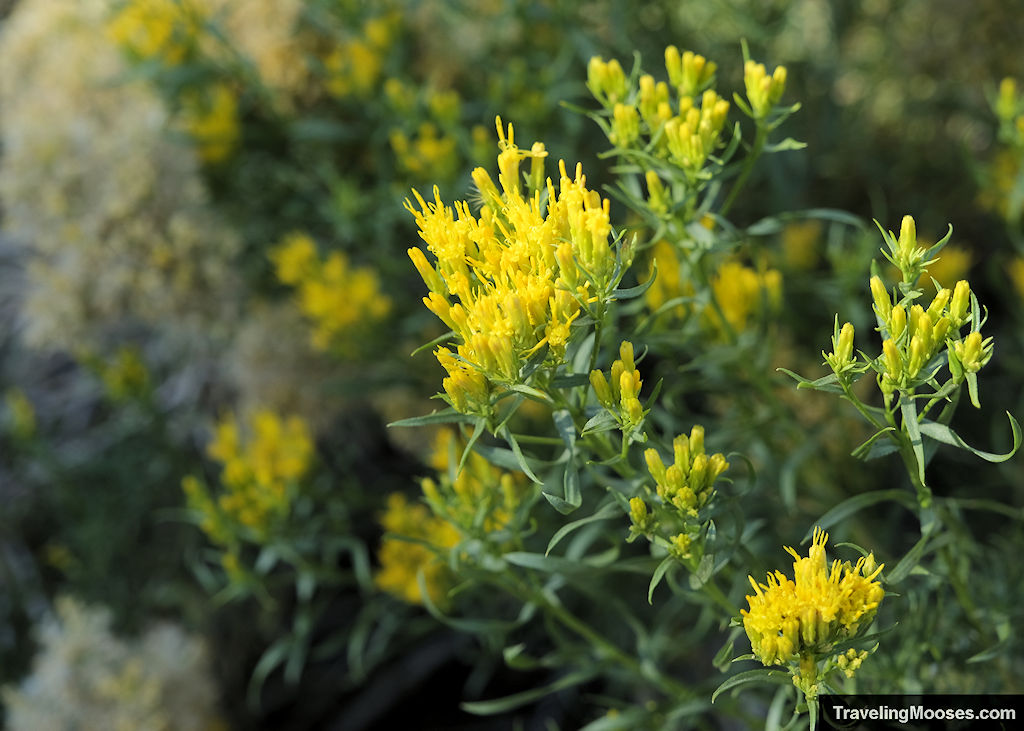 We also saw a few cacti.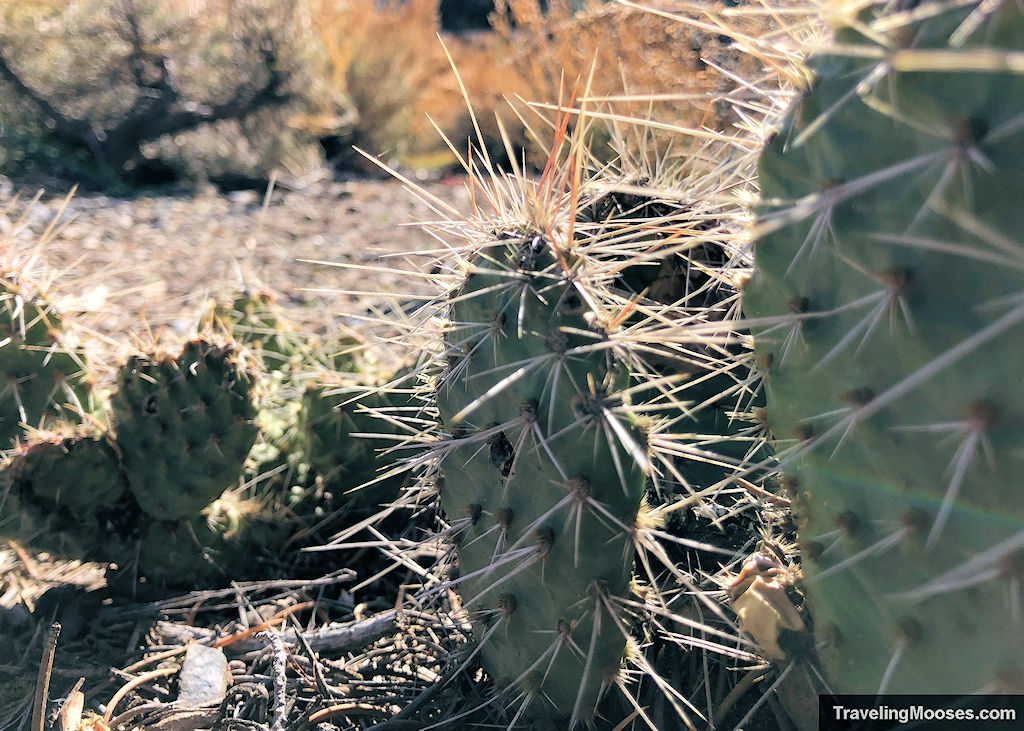 On the back part of the loop, you'll come to a fork for the Pinyon Pine loop. If you're going clockwise like we did, the trail continues to the right.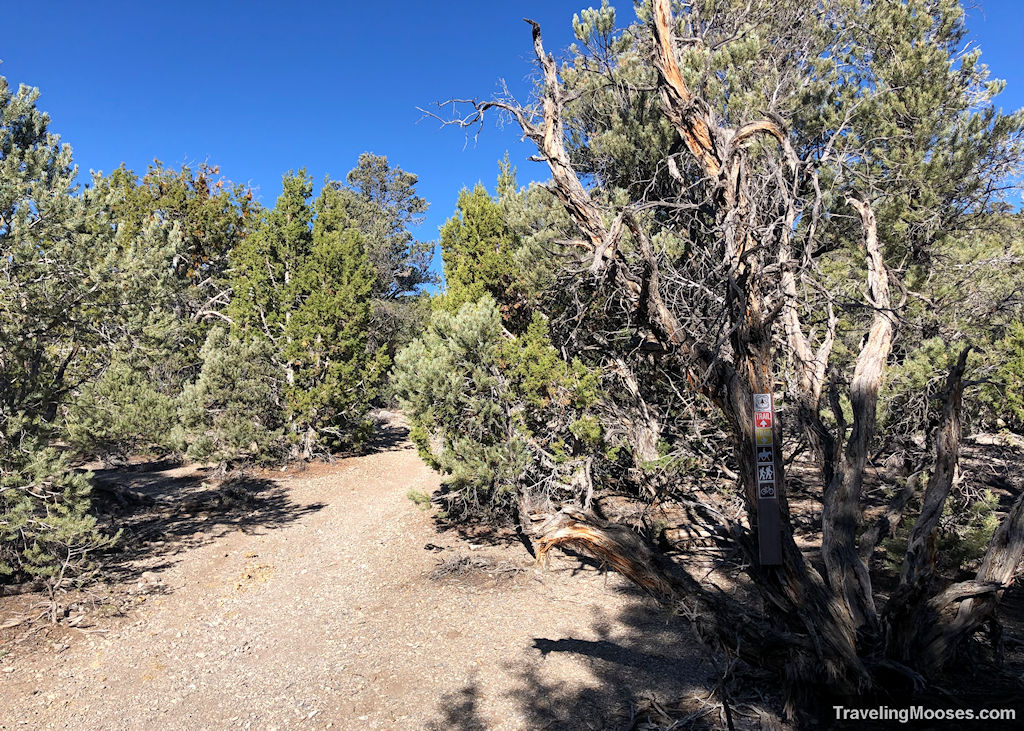 The path will wander through various trees and be mostly flat throughout the loop.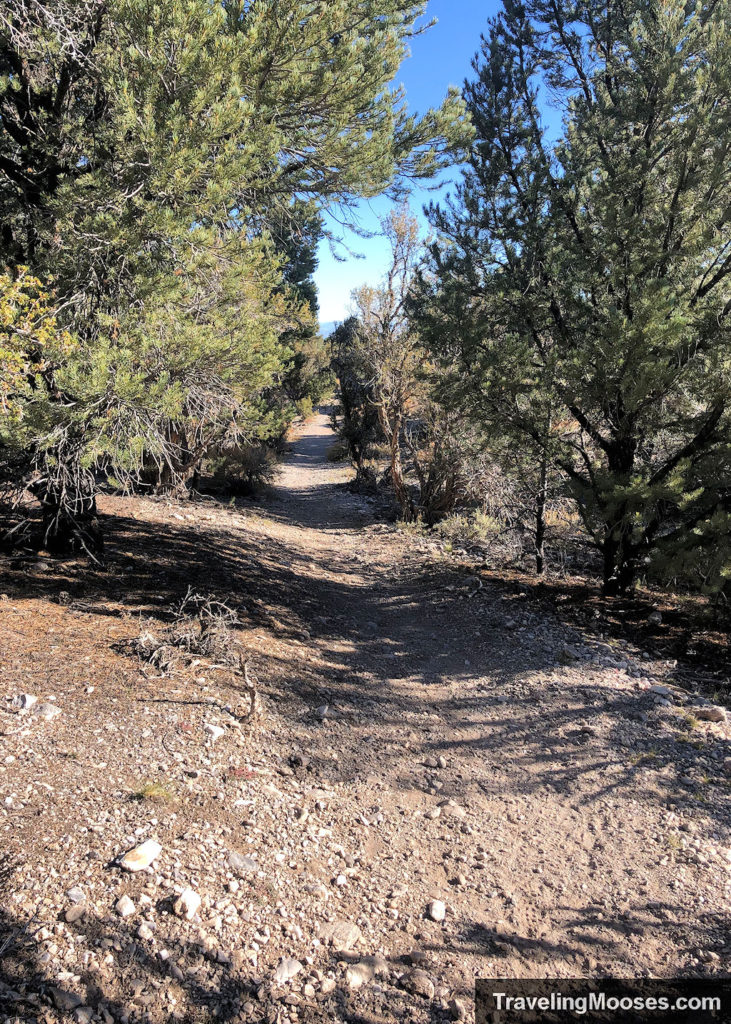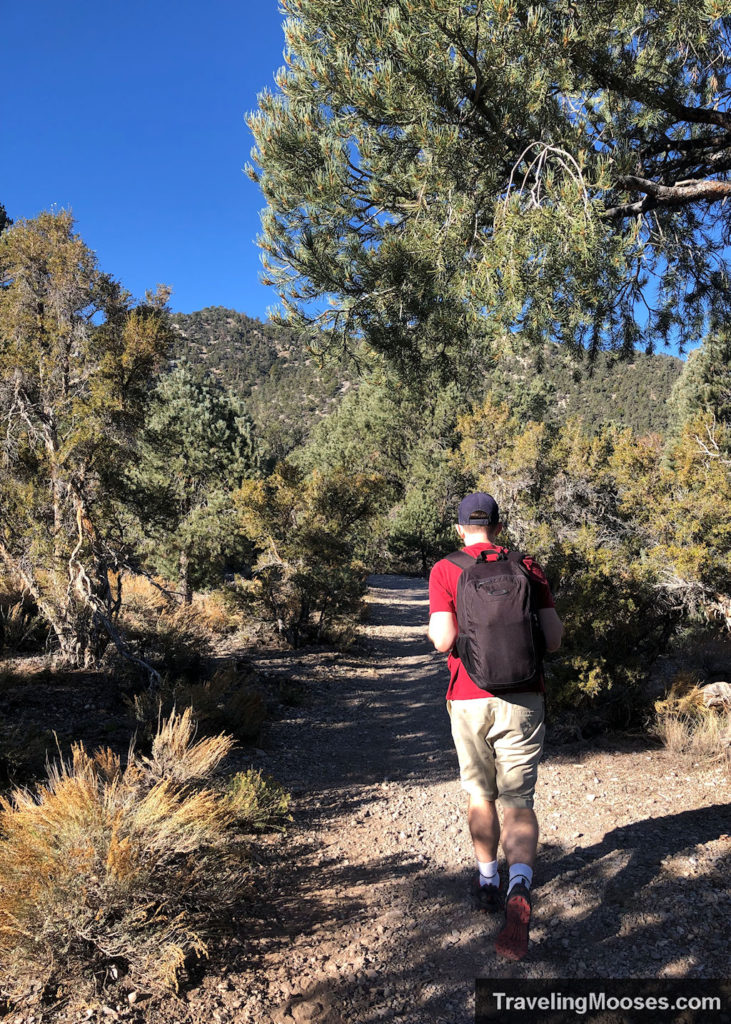 Nearing the end of the trail, we were met with views of the north summit of Mummy Mountain.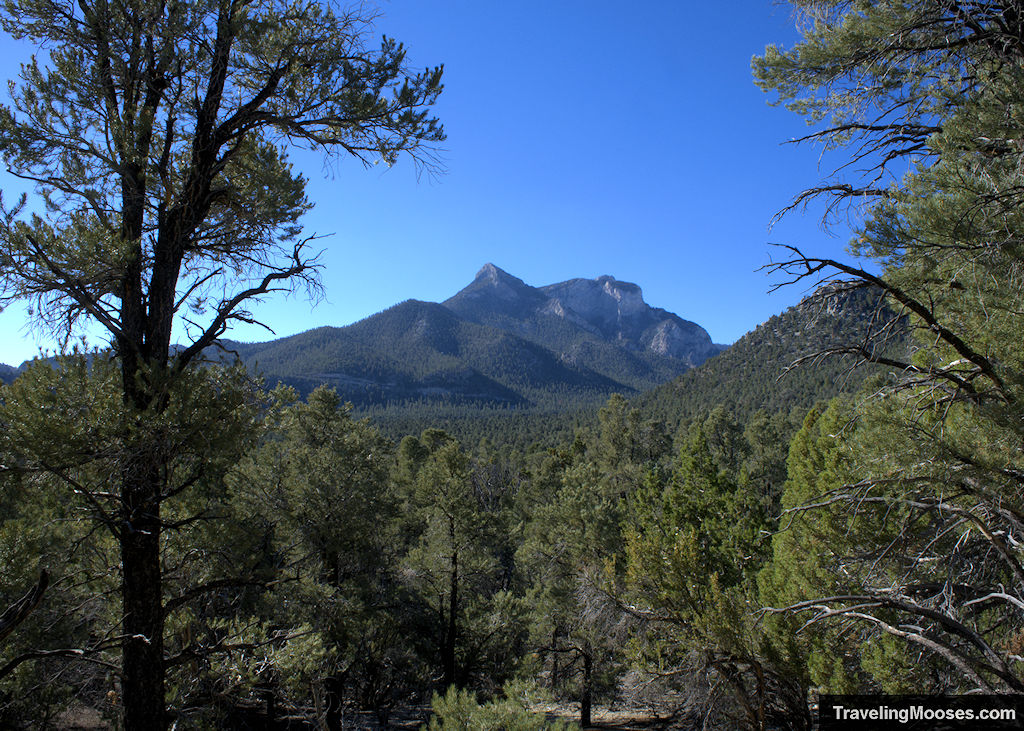 Not long after, we finished the loop and arrived back at the trailhead area. Our Garmin mileage clocked in at 1.37 miles (close to the official trail mileage of 1.3) and it took us around 38 minutes to complete the loop (including time for photos).
Is hiking the Sawmill loop trail worth it?
Rating: 2.0 Mooses

What we liked:
The hike was short and sweet.
We enjoyed the ample parking area and not having to get up crazy early as is normal with most Mount Charleston hikes.
We didn't see anyone on the loop trail when we hiked and enjoyed the solitude.
There was plenty of shade if you visit on a hot day.
What we didn't like:
There isn't a ton to see on this trail. There a couple of views of the Mummy Mountain North Summit, but mostly the trail just winds through some Juniper trees.
There was a lot of horse droppings along the trail. Watch your step.
The trail is fairly narrow, so if you happen to come across horses, you'll need to go off the trail to allow them to pass.
Verdict: If you're looking for an easy trail to stretch your legs, it was ok. There are better easy hikes in the Mount Charleston area.
Related: Easy Hikes in the Mount Charleston area
Practical Information for your Hike
Current trail conditions
Check MtCharleston weather for current conditions in the area.
Check GoMtCharleston for trail closures.
Check Alltrails for recent trail reviews and to download a map of the area (we always prefer the pro-version so we can view it offline). We have no affiliation with Alltrails.
What to bring
Be sure to check the weather conditions and pack appropriately. This is what we brought for this hike:
Standard Gear:
Special items of note:
Hiking Boots or closed toe shoes – The trail was well established, but we recommend wearing hiking boots or trail shoes. We do not recommend wearing open toe shoes as there was a lot of horse droppings along the trail and a fair amount of loose dirt/small rocks.
Clothing – Be sure to bring appropriate clothing for rapidly changing conditions in the mountains. Weather can change extremely fast.
Water / Snacks – There are no services in the area, so be sure to bring water and snacks with you. The nearest food (if it's open) is the Lee Canyon Ski resort. It's generally only open on weekends.
Navigation – We used Alltrails for navigation, however we didn't need it. Make sure you keep a close eye out for the "yellow" trail markers at each trail fork.
Parking for Sawmill Loop Trail
You'll find a large parking lot off of NV-156/Lee Canyon road about 13 miles from the turn off on US-95.
We found two other cars in the lot when we arrived at 9 a.m. on a Saturday. When we left several hours later, there were maybe three cars.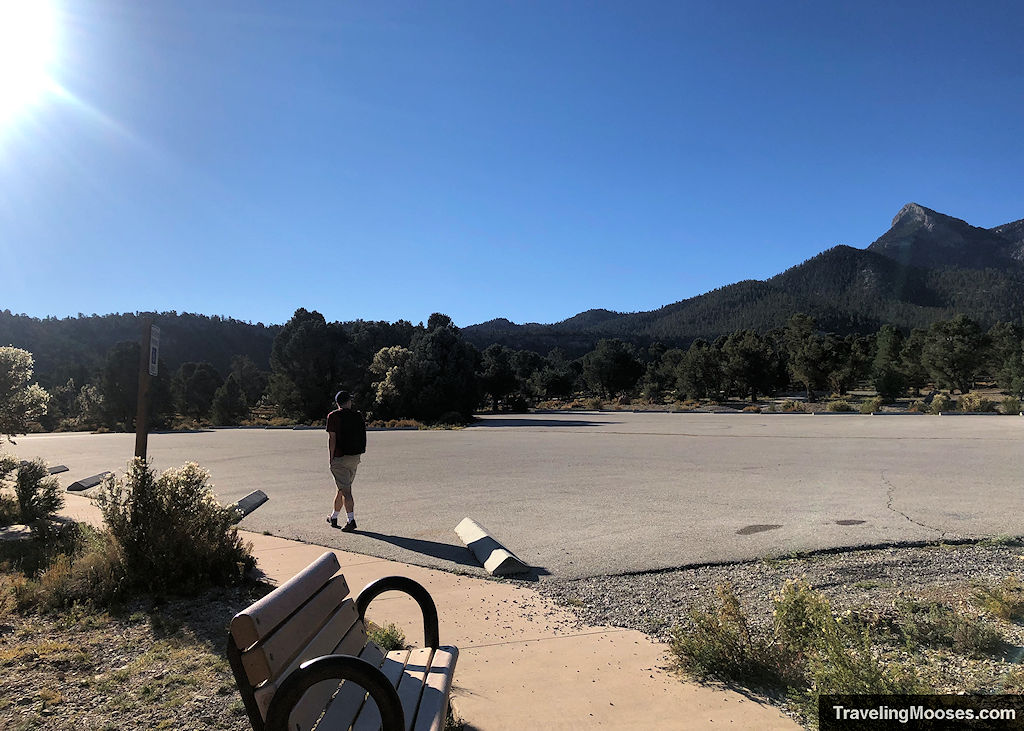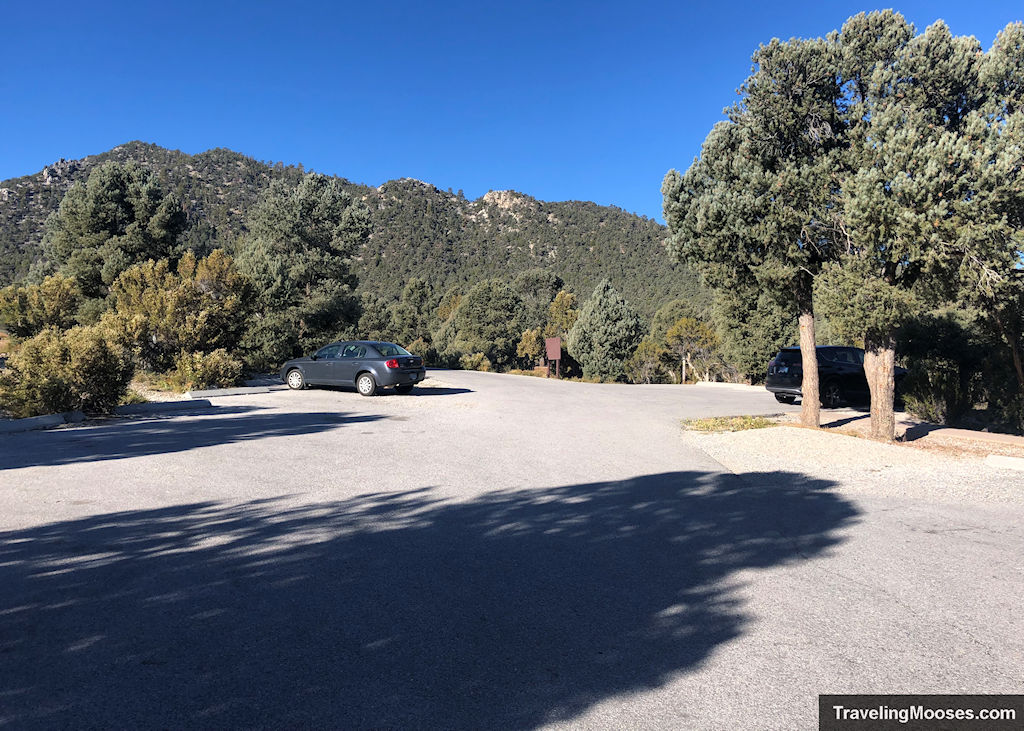 Entrance Fees
There are no fees to park at the Sawmill trailhead.
Getting to Sawmill Trailhead
Location: Sawmill trailhead
The Sawmill trailhead can be found off Highway NV-156 (aka Lee Canyon Road), approximately 13 miles from the turnoff of Highway 95.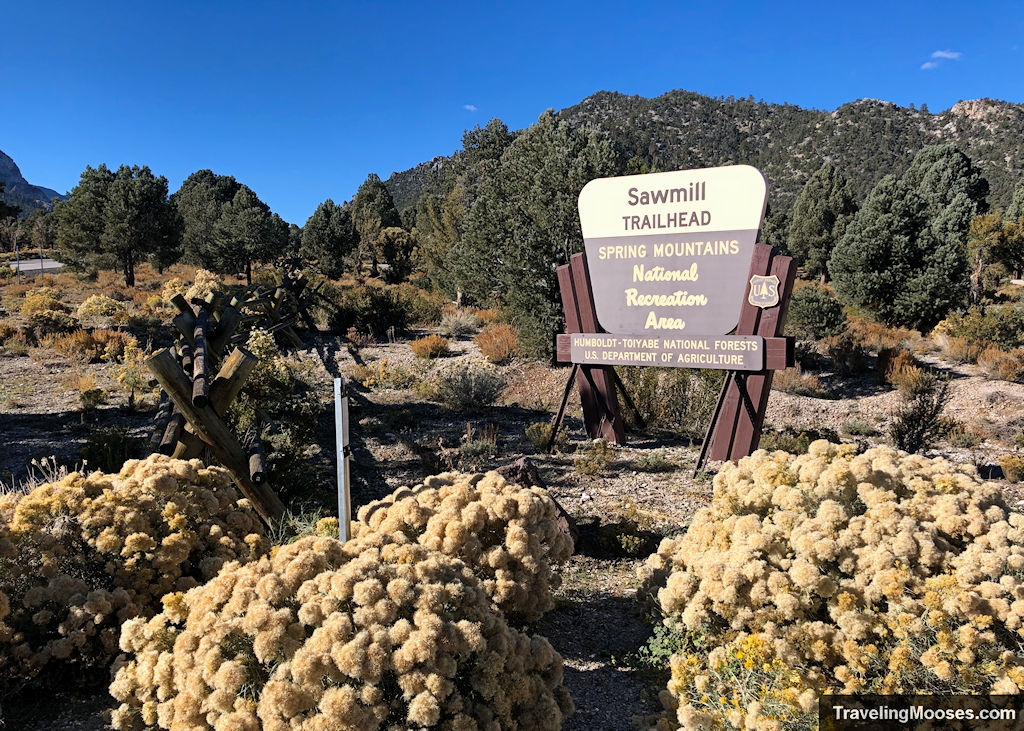 From Las Vegas:
Take Highway 95 Northbound until you see signs for Lee Canyon (NV/156). There will be a left hand turn that sneaks up on you with only a simple left hand turn lane.
Once on Highway 156 / Lee Canyon road, drive approximately 13 miles. You will see a sign for the Sawmill trailhead on your right.
After turning in the parking area, keep to the left to find the day use parking area. If you turn right, you'll end up at the equestrian parking area.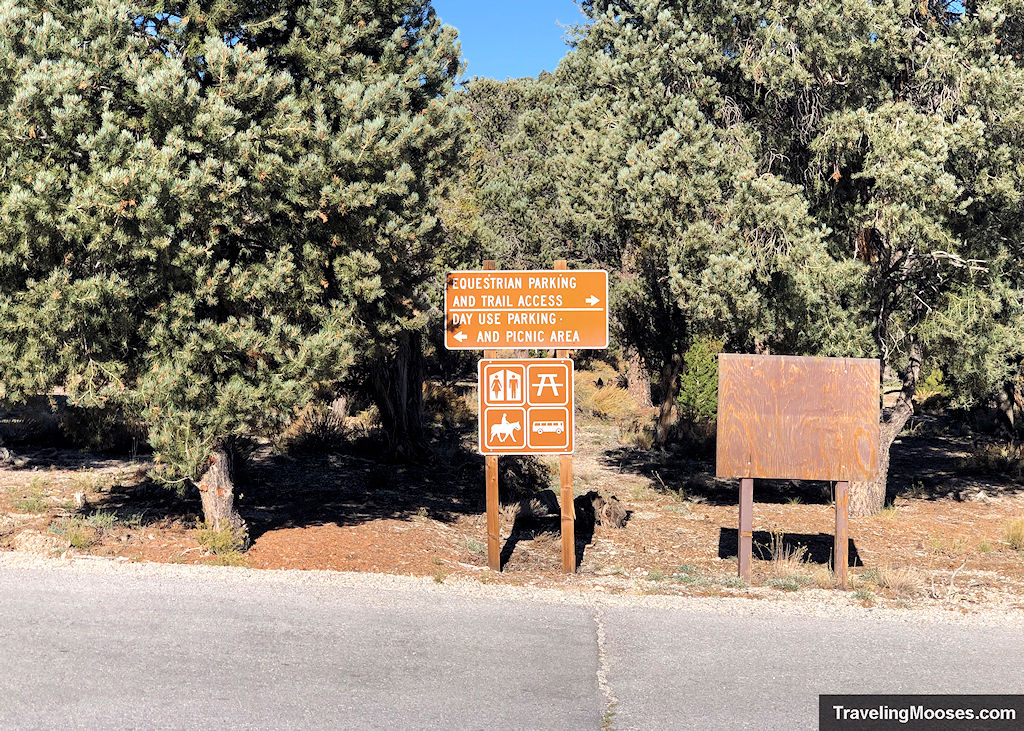 Trail Maps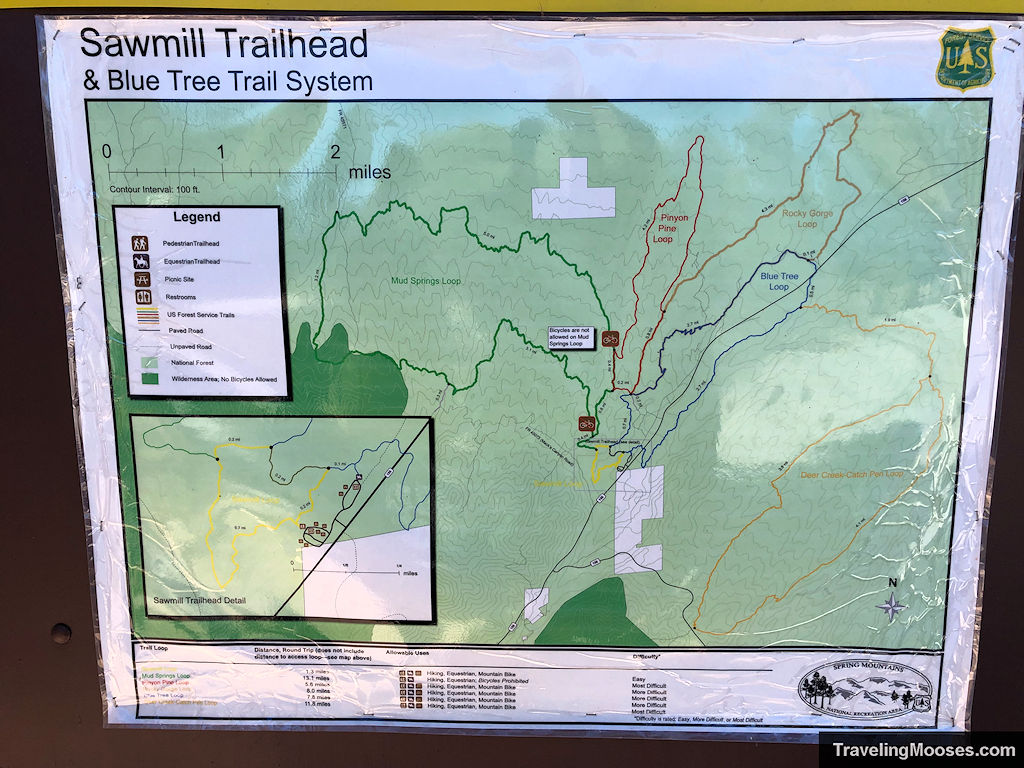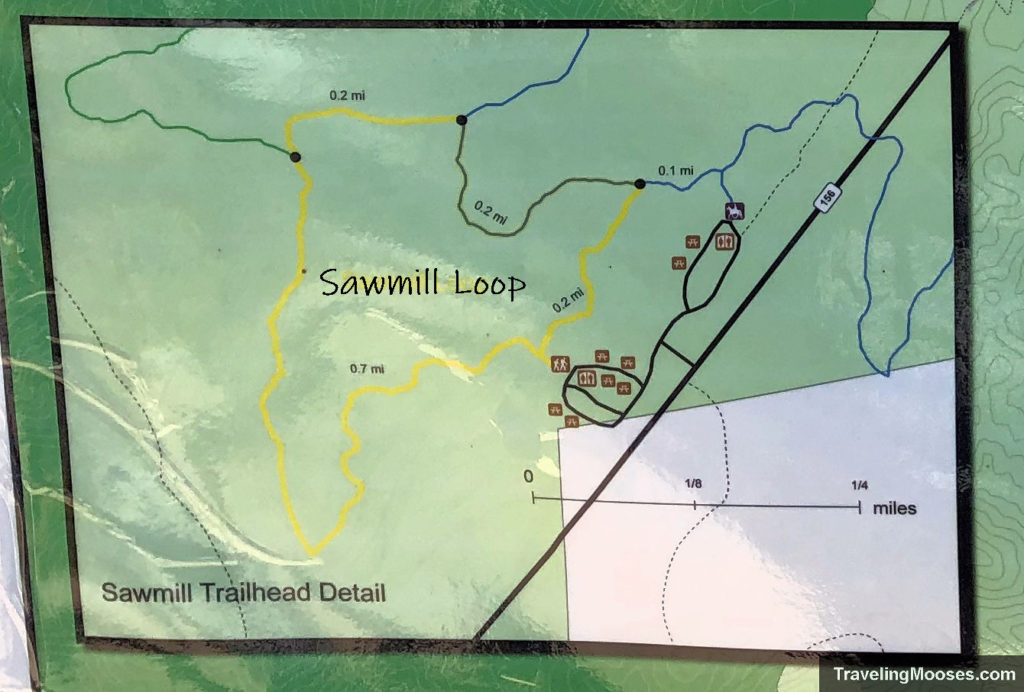 Trailhead Amenities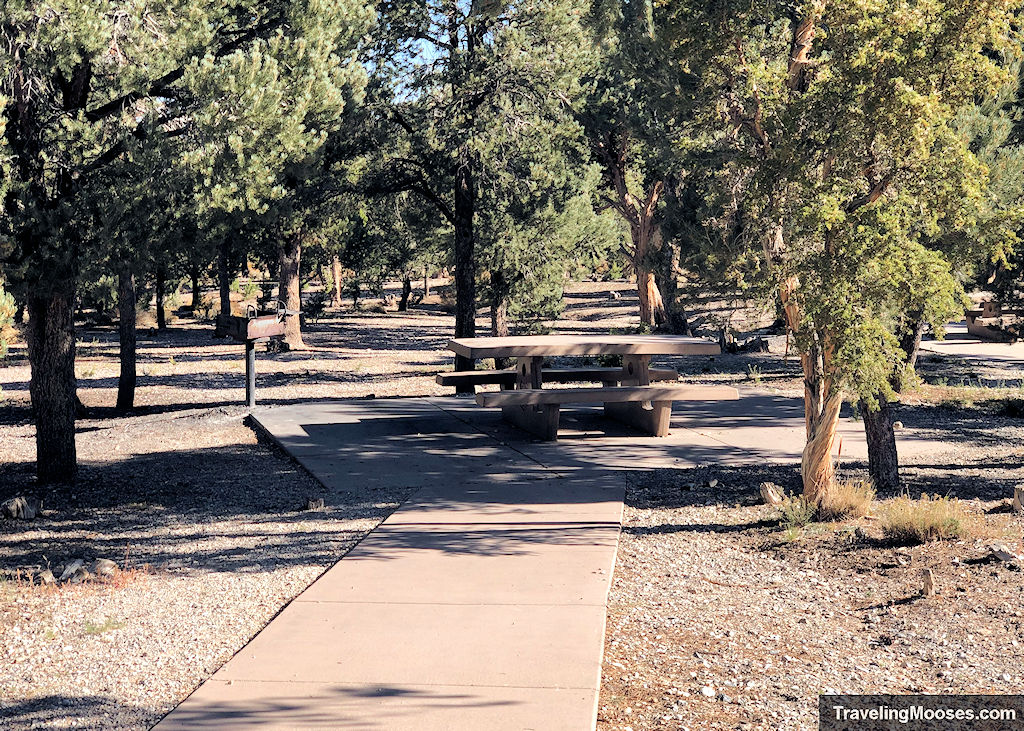 A large parking area
Local trail information, trails maps and Spring Mountains Recreation area map
Primitive restrooms
Trash receptacles
Access to several different trails, Sawmill Loop (1.3 miles round trip), Mud Springs Loop (13.1 miles round trip), Pinyon Pine Loop (5.6 miles round trip), Blue Tree Loop (7.8 miles round trip), Deer Creek Catch Pen Loop (11.8 miles round trip)
Nearby to the Blue Tree Group Camp area and equestrian parking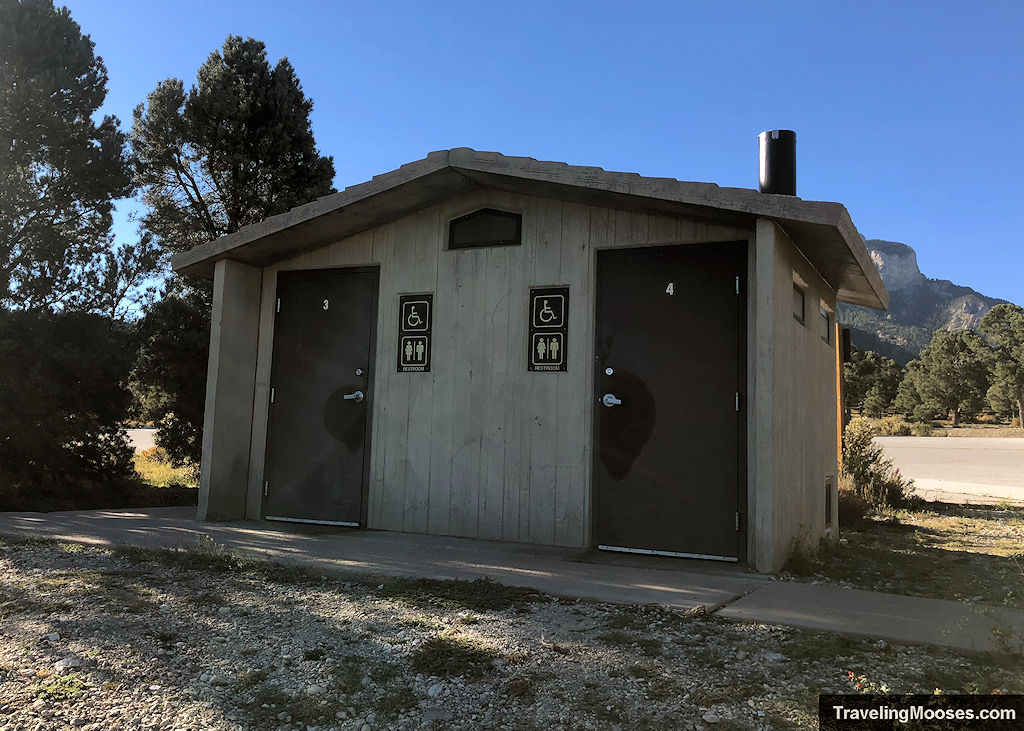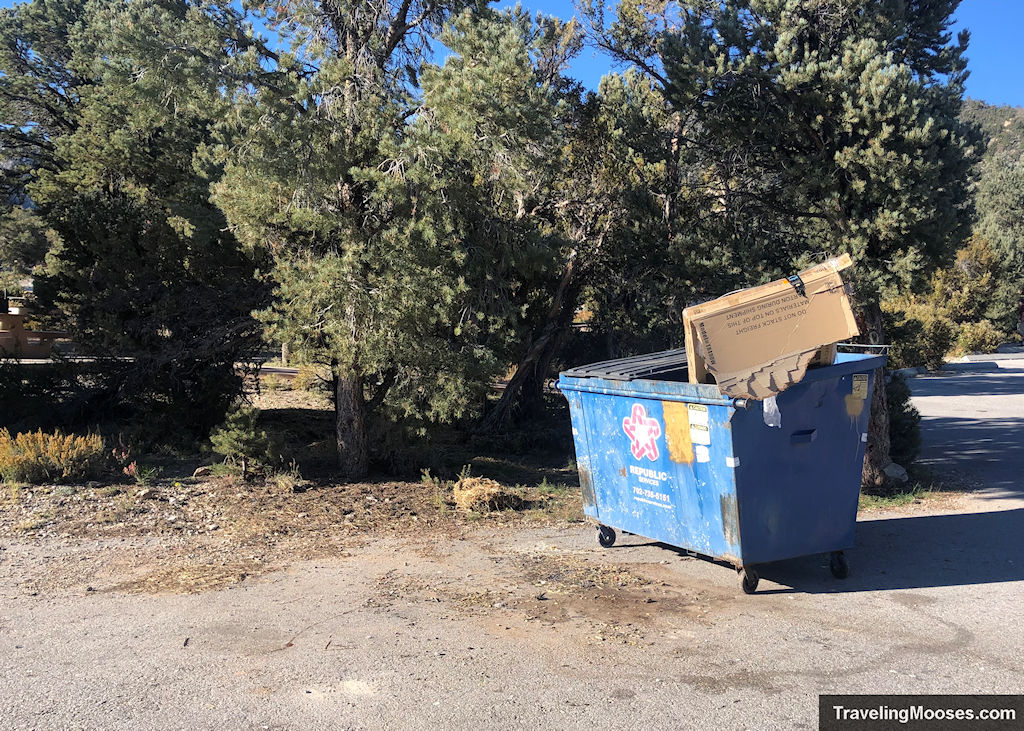 Trail Rules & Regulations
A few rules exist along the trail as posted on the information sign boards at the trailhead: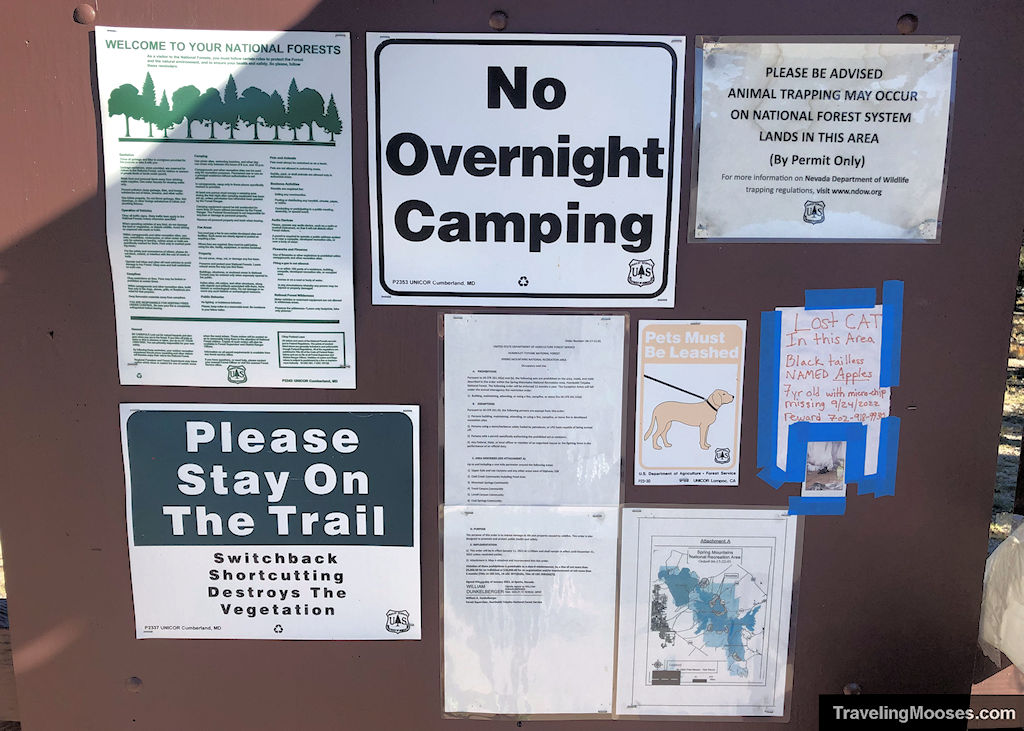 No overnight camping is allowed.
Pets must be leashed.
Please stay on the trail. Switchback shortcutting destroys the vegetation.
Fires are not permitted except in developed recreation sites.
Operation of audio devices such as radio or musical instrument should be used in a way that will not disturb other forest visitors.
Use of fireworks or other explosives is prohibited.
Day use areas are for use between 6 a.m. and 10 p.m.
Other rules and regulations may apply and are subject to change at any time. Please read and respect all rules posted at the trailheads.
More Hiking Trails in Mount Charleston