Fletcher Canyon Trail is a moderate hike with beautiful views of the Spring Mountains, seasonal wildflowers and ends in an captivating journey through a variety of towering slot canyons.
Notice: Mt. Charleston recently experienced substantial storm damage from Hurricane Hillary. Be sure to check for updated information about closures here.
In this guide: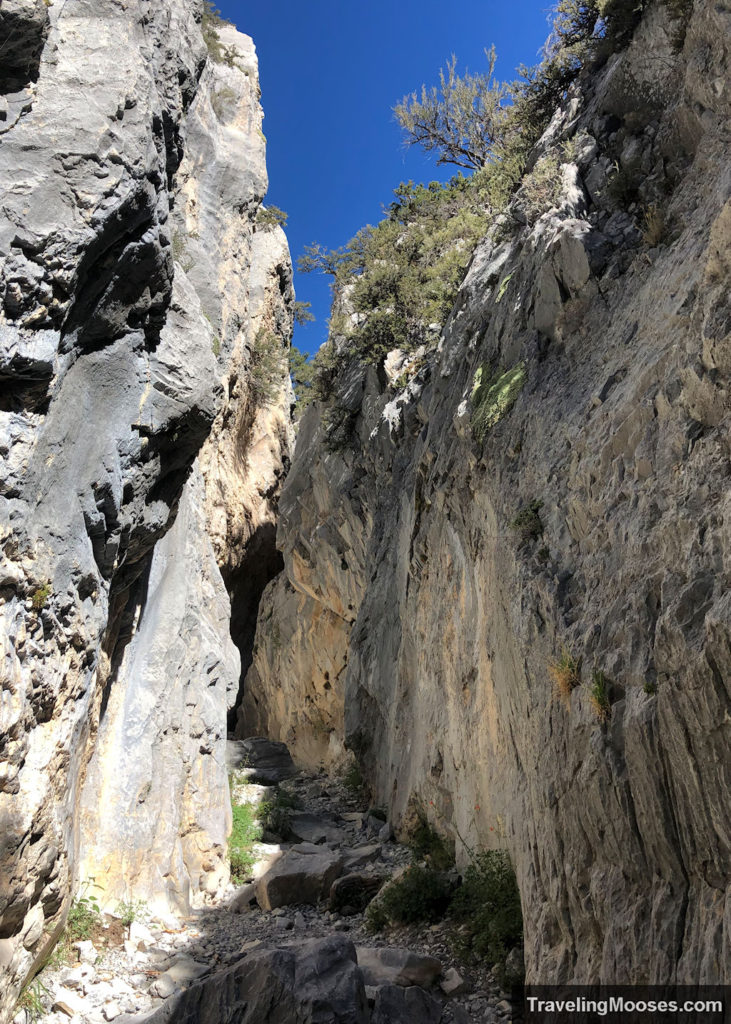 Fletcher Canyon Trail Hiking Stats
Trail Description
Out and back
Trail Location
Fletcher Canyon Trailhead, Mt. Charleston, NV 89124
Parking Lot
36.26335449308857, -115.61225088620047
Round Trip Mileage
3.6 miles

We found the mileage to be closer to 4.0 miles, however the trail is officially marked at 1.8 miles each way.
Average Time
1.5 – 2.5 hours
Difficulty
Moderate

The trail is considered officially moderate; however, the majority of the trail is "easy" with some light scrambling / elevation gain at the end of the trail. Scrambling was not necessary for us to see the slot canyons. It is possible to continue past the end of the official trail, which would require some climbing.
Elevation Gain
~1,000 feet

Our Garmin said we gained 915 feet. If you consider the official trail marker, the elevation gain is 430 feet. Alltrails considers this a ~1,200 foot gain.
Elevation Start
6,890 feet
Elevation Max
7,320 feet
Hiking Season
Spring through Fall
Amenities at the Trailhead
Parking, restrooms (primitive), trash receptacle, boot brush station, trail map / information board
Entrance Fee
None
Rating
4.5 Mooses
What to expect along the Fletcher Canyon Trail
We arrived at 8 a.m. on a weekday and found the parking lot mostly empty. There is room for approximately 16 cars in the main lot and there's also a small overflow lot immediately to the east.
We were surprised as we visited the same lot just two days before at 10 a.m. and we took the last available spot in the main lot (also a weekday).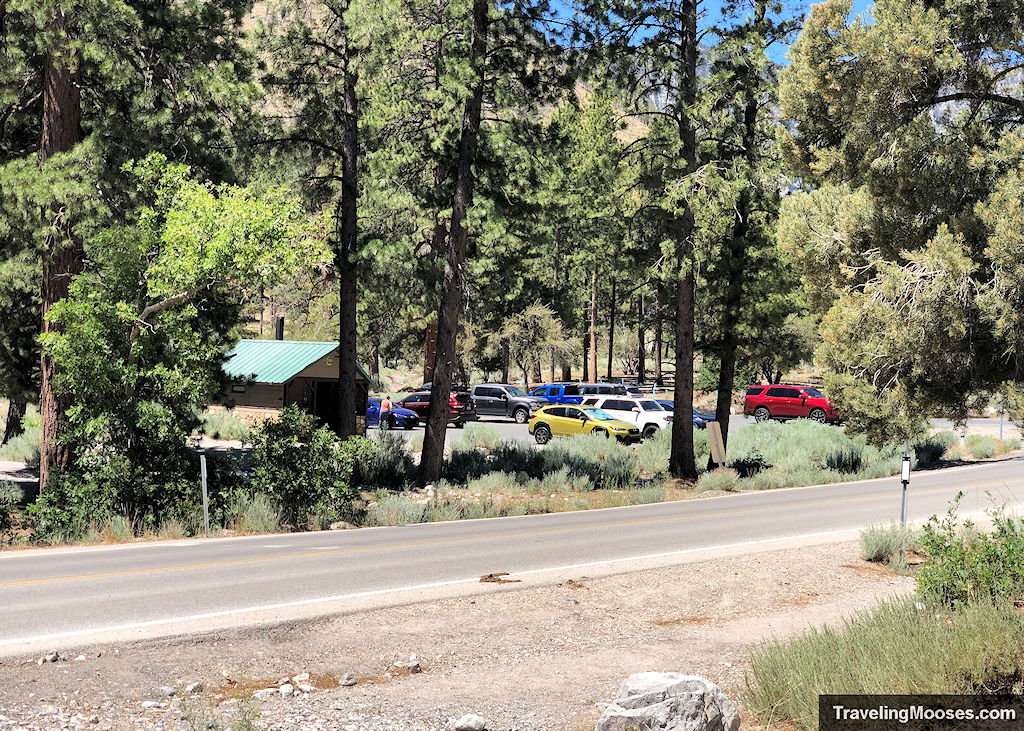 Walking from the parking lot, you will need to cross NV-157 / Kyle Canyon Road to reach the trailhead. The speed limit is 35 mph on this road, but we noticed vehicles were going quickly and not always stopping for pedestrians. Cross carefully.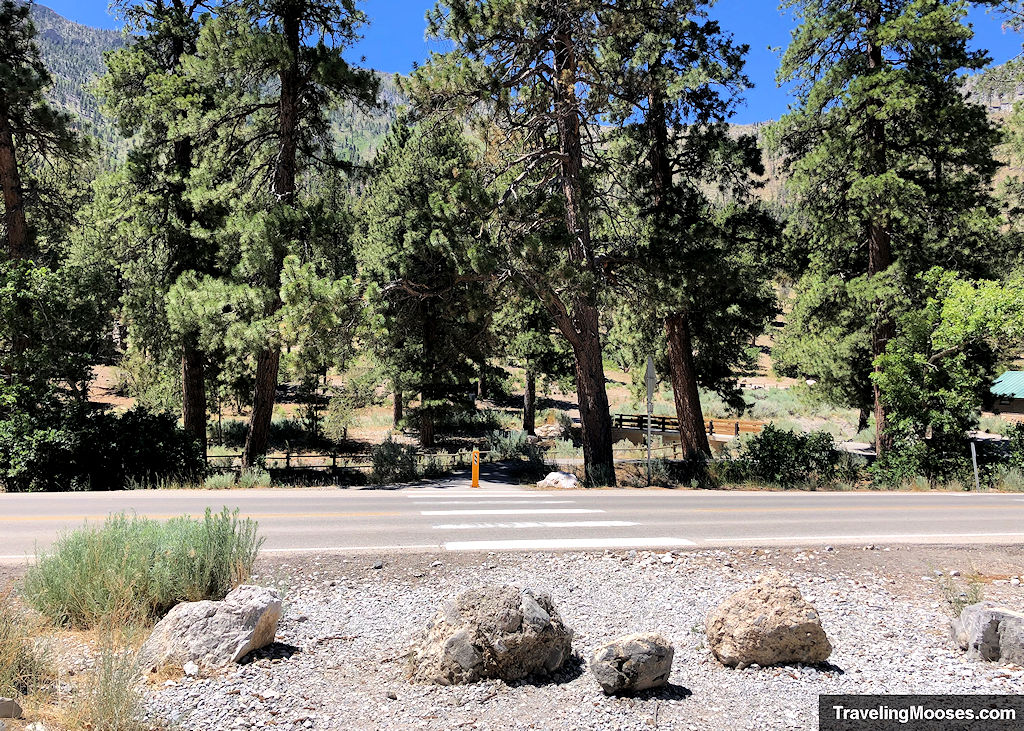 After crossing the street, we found a trail map, boot brush station and trail information for both Fletcher Canyon and Eagle's Nest Loop.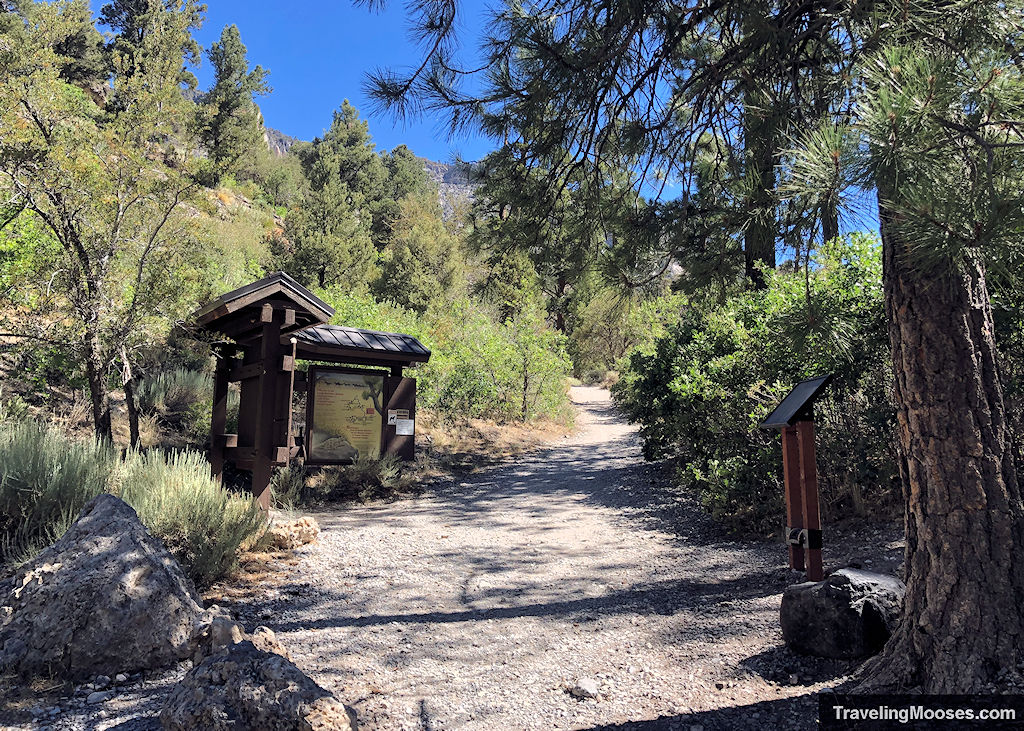 Fletcher Canyon is an out and back trail around 3.6 miles (officially), and more realistically around 4.0 miles to get to the end. Some hikers recommend continuing on past the official end of the trail, which would increase the mileage, but we decided to stop.
The first portion of the trail also doubles as the route to reach Eagle's Nest Loop.
As the trail begins, you'll find a wide-open hard packed dirt path with a fair number of loose rocks scattered about. The trail starts out easy to follow and offers some shade from the sun (this can vary depending on the time of day).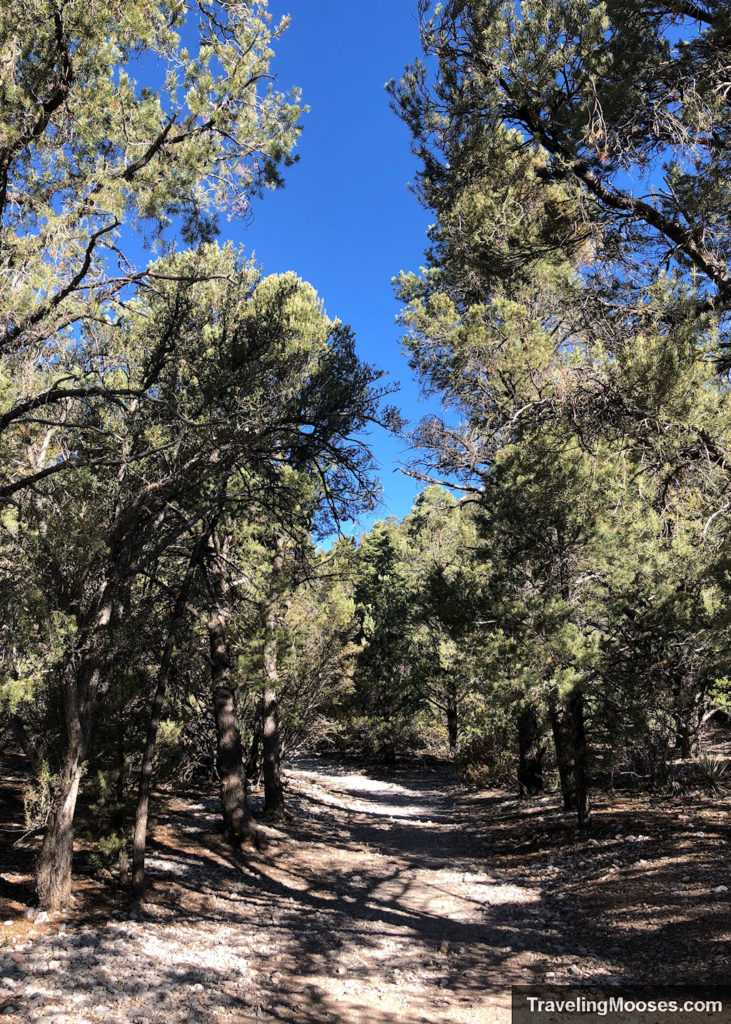 We were quickly met with views of steep rock walls everywhere we looked. And since we had arrived early, we had the trail all to ourselves.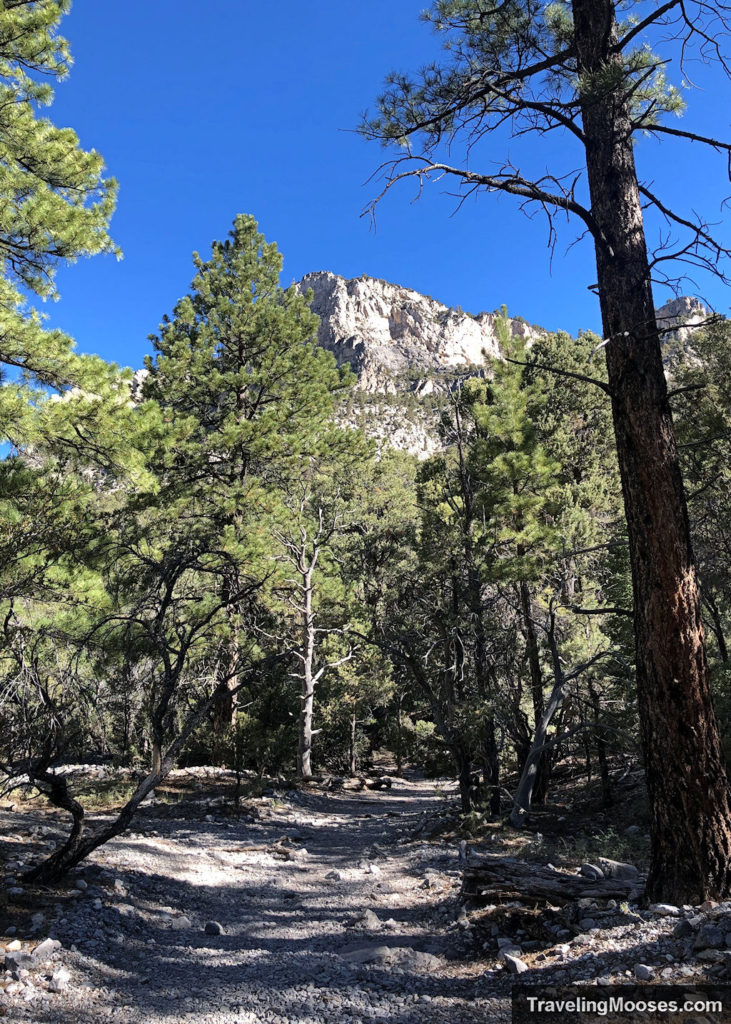 After about 0.3 miles, you'll come to a fork in the trail. If you go right, you'll end up on the Eagle's Nest Loop trail. Stay to the left and you will remain on the Fletcher Canyon Trail.
Related: Hike the Eagle's Nest Trail
The trail continues through fairly similar terrain over the next mile. It winds past towering cliffs, through various trees and intersects with Fletcher Spring. Fletcher Spring is seasonal and is usually dry in the summer and fall.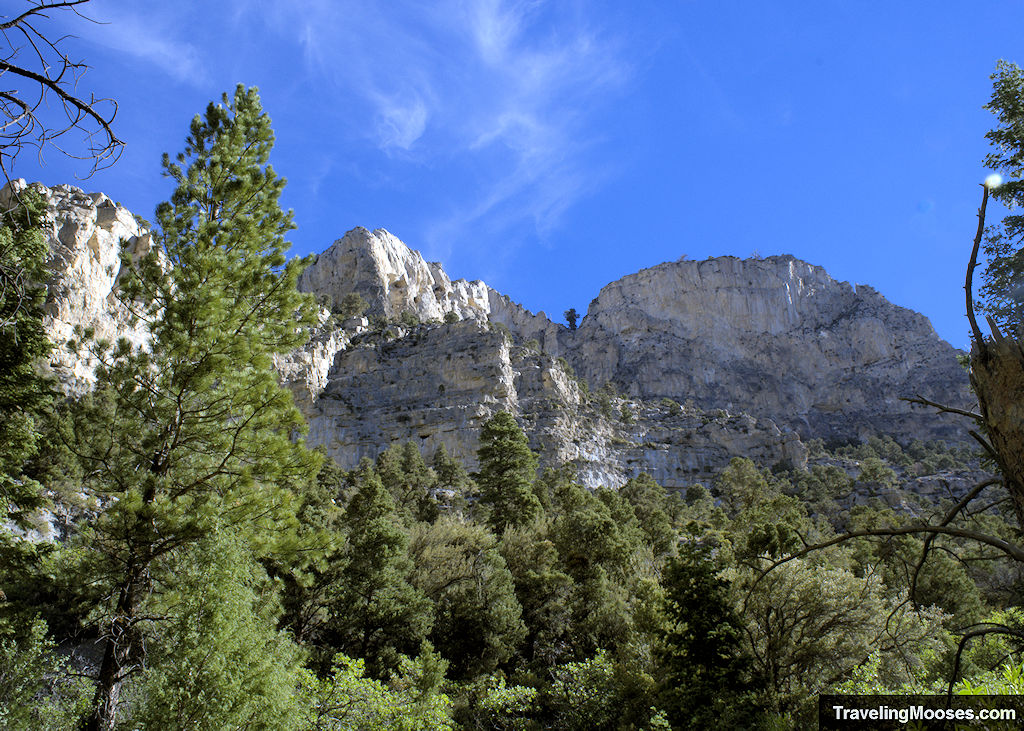 Not far up the spring, the slot canyons will begin and the trail gets a little rougher. It is easy to go off the trail at this point and some end up in the spring itself (if it's dry). We went off trail at least once, but were quickly able to find our way again.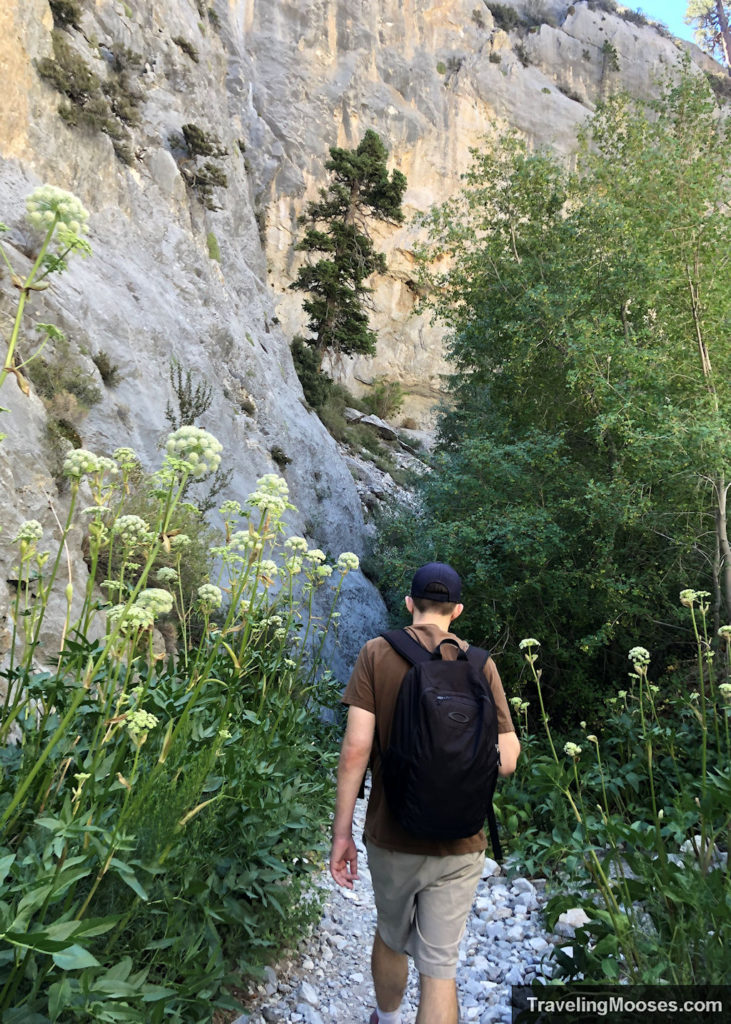 If you happen to visit in the summer months (July / August), you might be lucky enough to run into the endangered Mt. Charleston Blue Butterfly.
These beautiful butterflies were put on the endangered species list in 2013, and are considered endemic to the Spring Mountains. This means they don't exist anywhere else in the world.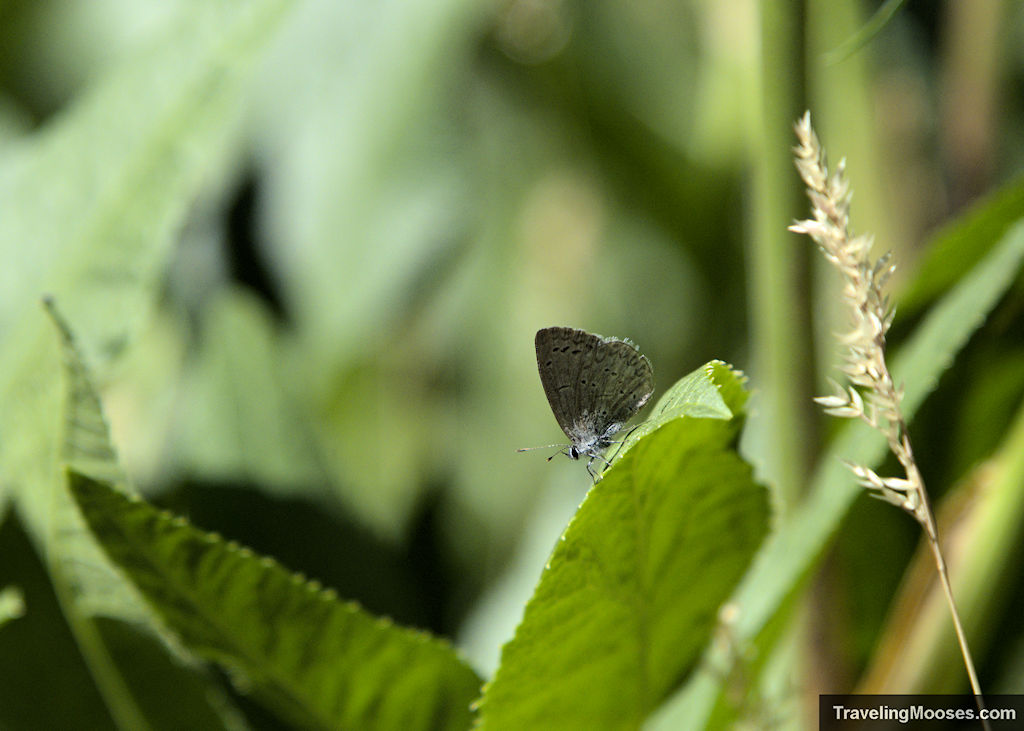 We found them in a field full of white flowers, darting around and landing on various plants. They are quick and small. A little patience is needed when trying to photograph them.
Along this part of the trail, we were also treated to bees, purple bull thistles, and the occasional lizard.
Learn more about the butterflies here.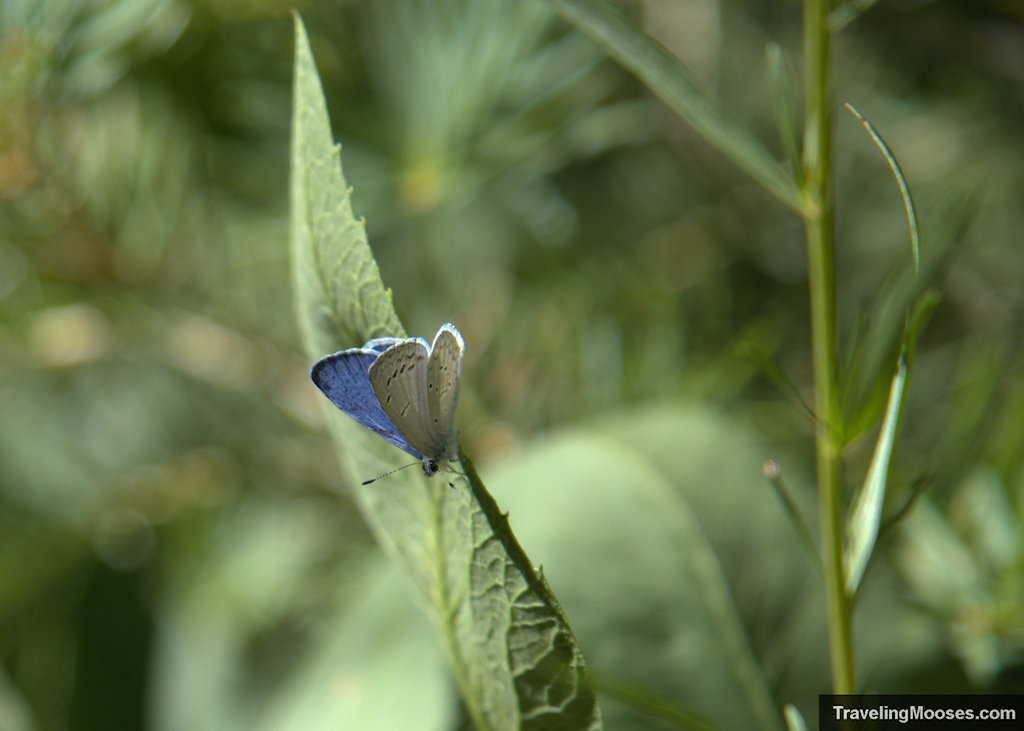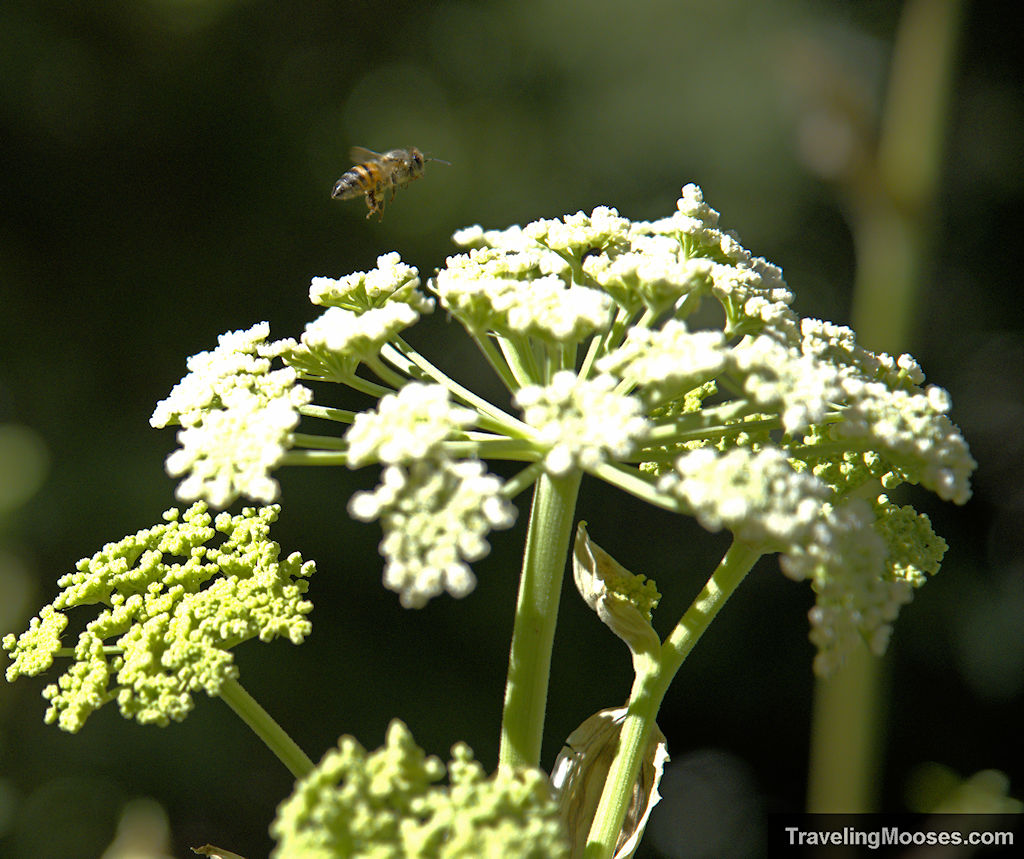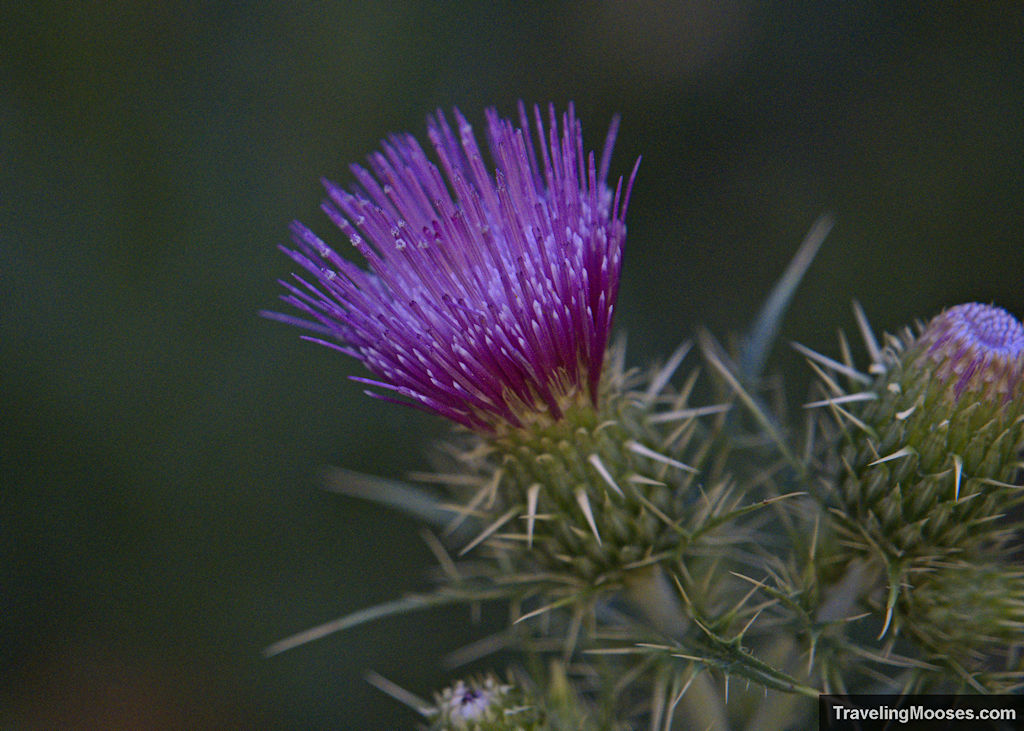 Continuing on through the canyons, we came to another turn in the trail and almost missed a small cairn that other hikers had placed on the trail. You may want to consider bringing a trail map to help you find your way.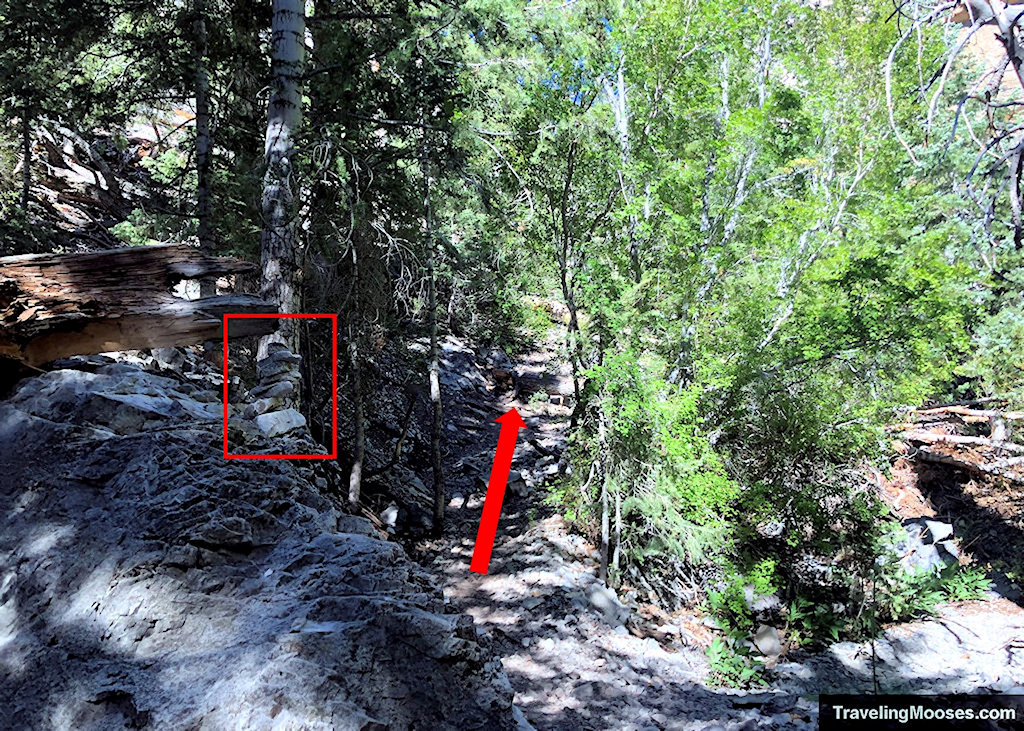 Only a short time later, we finally reached the famed slot canyons and they were worth the trek.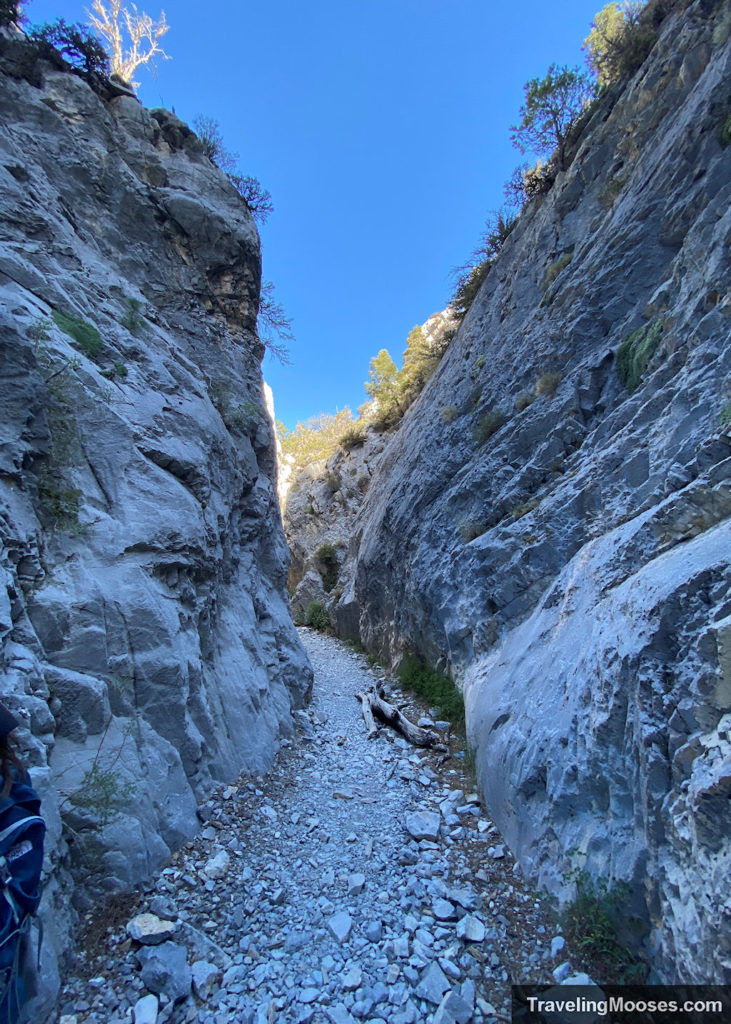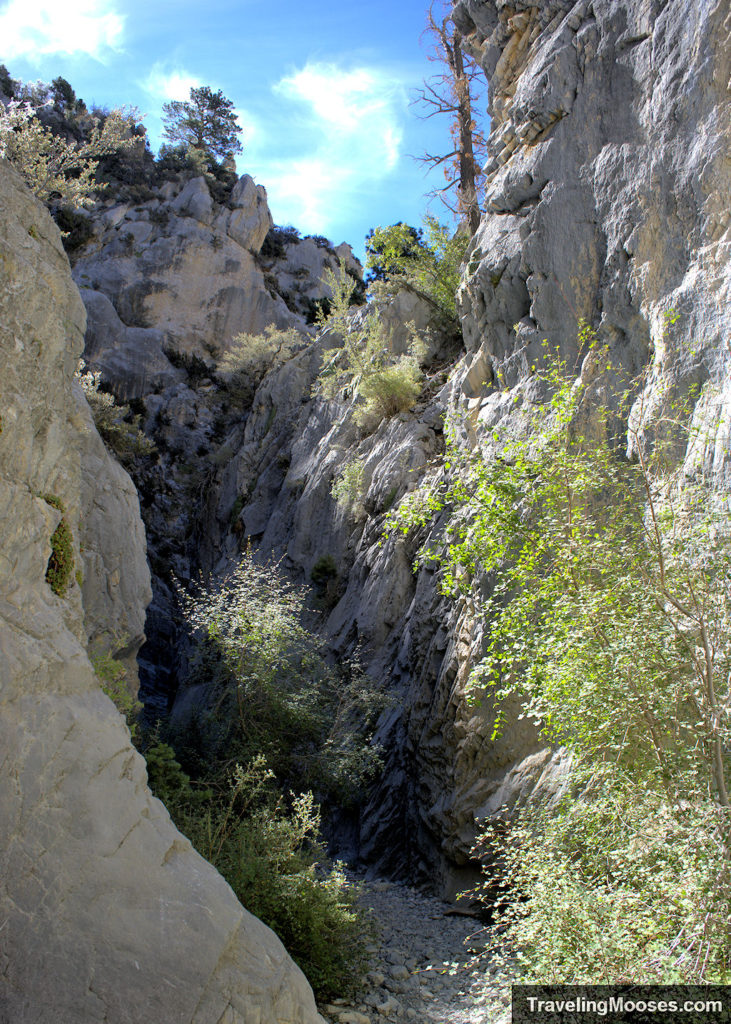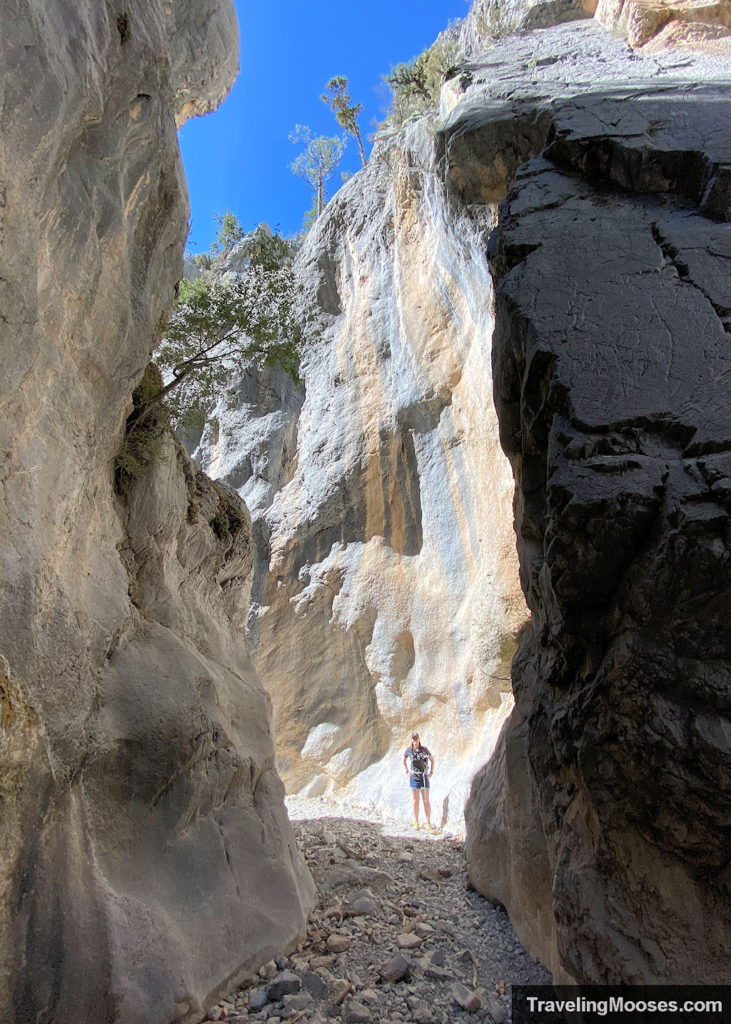 We reached the end (at least we thought it was the end), with a large rock blocking the path. On the left hand side is a "rock chute," where we can imagine water runs in the wet season. The rock felt as smooth as glass.
If you're willing to scramble, you could continue on past this point, but we decided to turn around.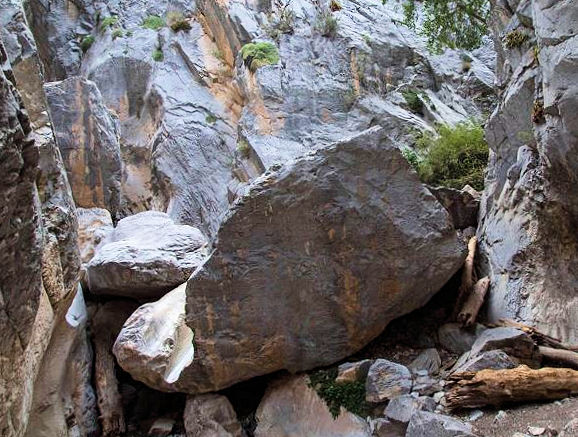 Should you visit Fletcher Canyon?
Rating: 4.5 Mooses

This was a great hike. Short, with moderate elevation and a fun payoff of slot canyons at the end. This is one trail we would like to visit again.
What we liked:
The slot canyons at the end of the trail were breathtaking.
The temperatures at Mt. Charleston were about 20 degrees less than in the Las Vegas Valley, making for a fun summer outing.
We enjoyed the views of Mt. Charleston and multiple rock walls.
The famed (and endangered) Mt. Charleston Blue Butterfly made several appearances (seasonal – typically July through Mid-August).
What we didn't like:
The first 1.5 miles of the trail was a bit repetitive and lackluster (except for the mountain views).
The trail could have been better marked. There were a few places we had to traverse over logs to continue on the correct path. It would be easy to end up in the wash instead of the regular trail.
The parking area fills up quickly.
Practical Information for your Hike
Entrance Fees
There are no fees to enter the Spring Mountain Wilderness area, nor to park at the Fletcher Canyon Trailhead.
If you're interested in staying overnight at the nearby Fletcher View Campground, there is a nightly fee.
Getting to the Fletcher Canyon Trail
The start of Fletcher Canyon Trail can be found off of Highway NV-157 (aka Kyle Canyon Road), approximately 18 miles from the turn off on Highway 95.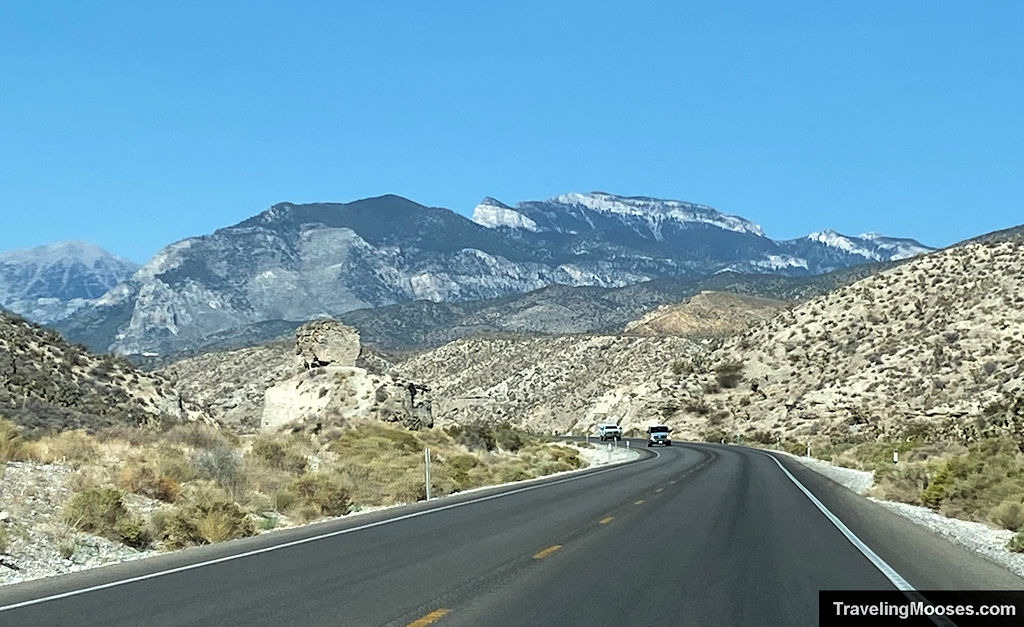 From Las Vegas:
Take Highway 95 Northbound until you reach Exit 96 (Kyle Canyon / NV 157 / Sunstone Pkwy). Turn left off the exit onto NV-157 / Kyle Canyon Road. Drive approximately 18 miles. You'll see the parking area for Fletcher Canyon on the left-hand side of the road.
It's tempting to speed on NV-157. Don't do it. We frequently see police cars driving around Mt. Charleston, including a blind speed trap you can't see until it's too late. For reference, it is located just after the speed limit drops from 55 to 35.
Parking at Fletcher Canyon
There are two small parking lots used to service several hiking trails:
Fletcher Canyon
Eagle's Nest
Acatus Trail
The lots are popular and fill up quickly.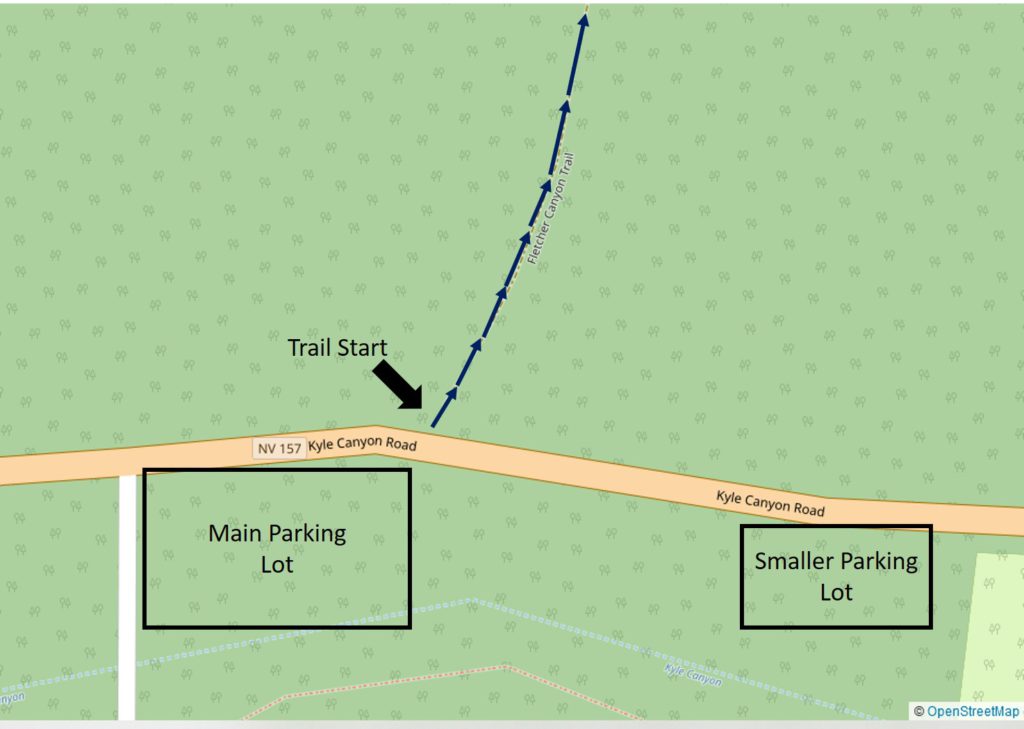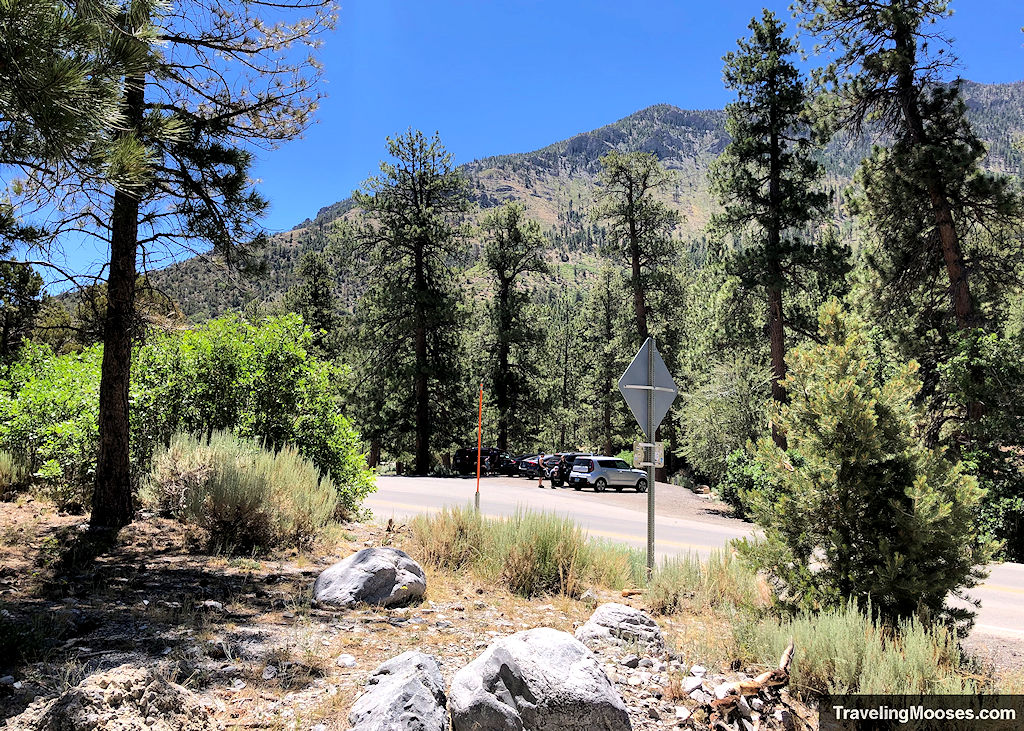 We did see another area along the road that could probably be used as overflow parking, but luckily, we didn't need to use it. While we didn't see any signs prohibiting it, there wasn't a lot of room to get off the highway. We recommend going early to snag a spot in the official lots.
Trail Maps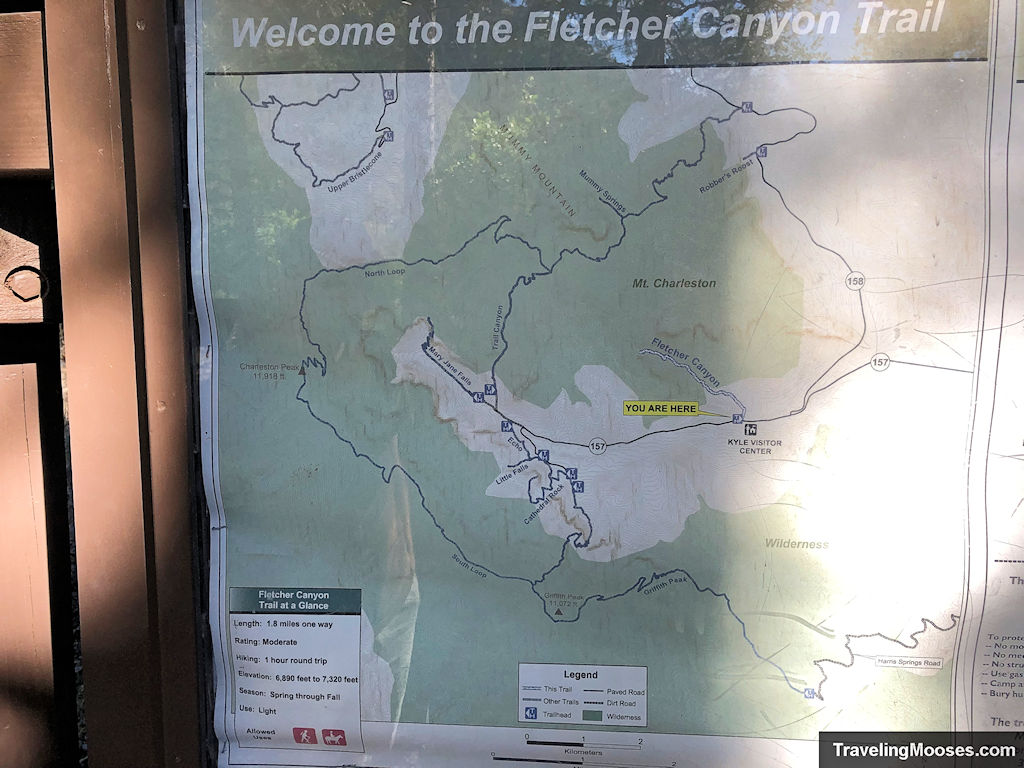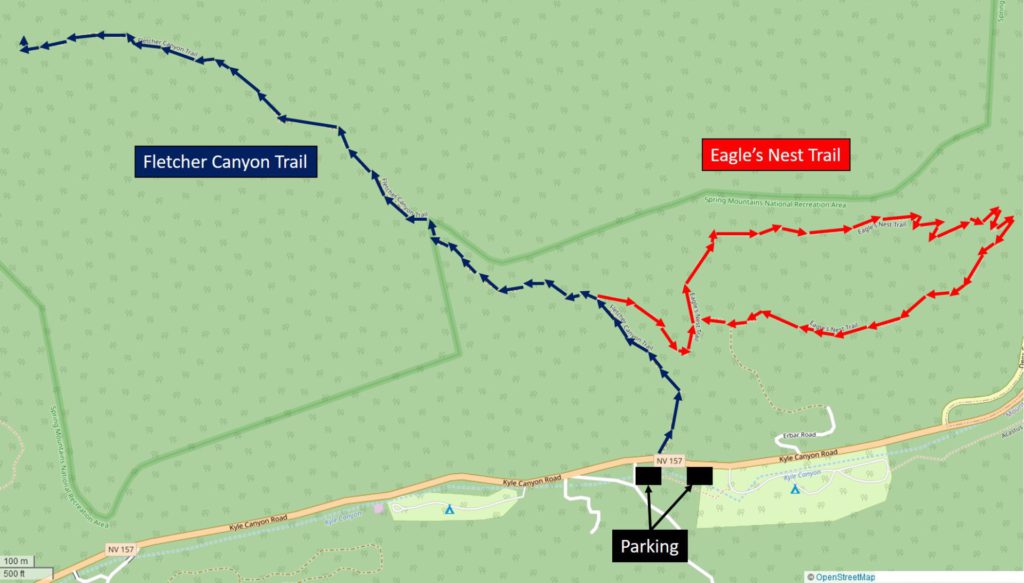 Are dogs allowed on the trail?
Yes, dogs are allowed on the trail with a leash. Horses are also able to use this trail.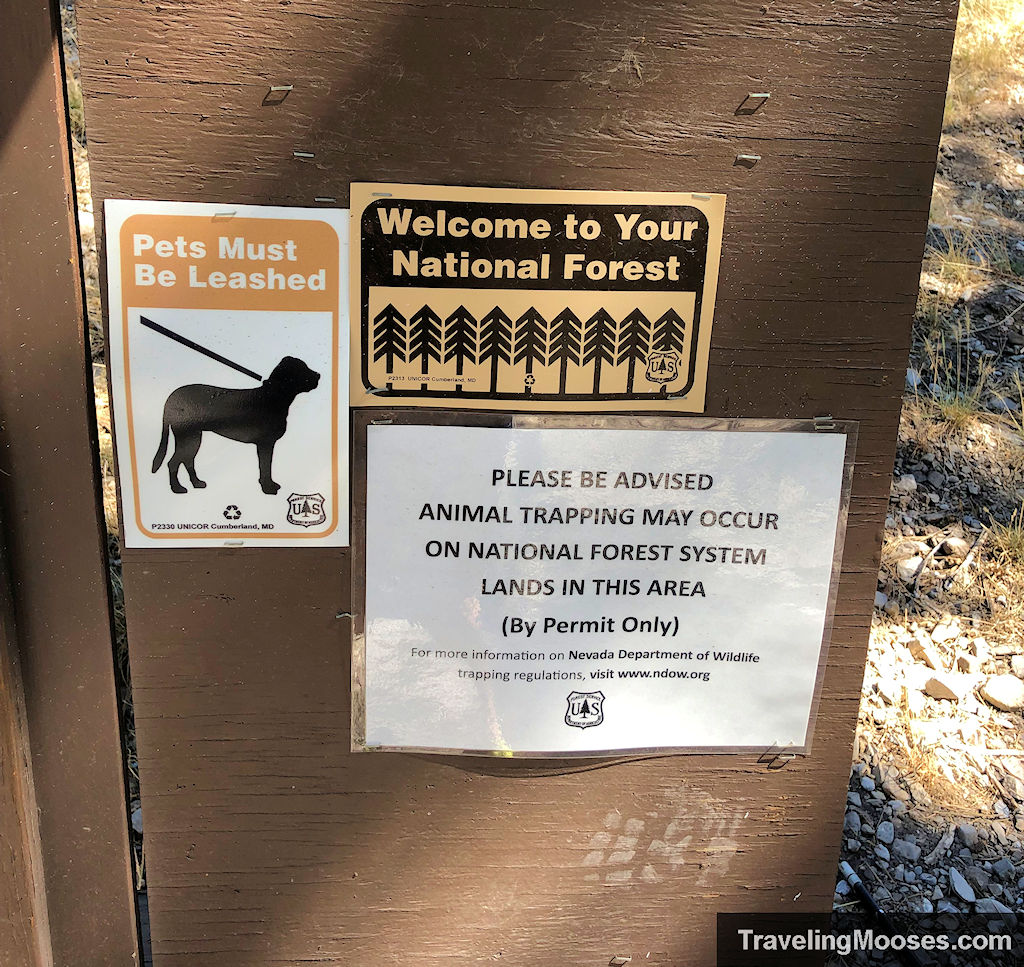 We saw several hikers bring their dogs and some were not leashed. You would need to lift your dog up the trail if you decide to continue up and over the scramble at the end of the trail.
Trailhead Amenities
Two parking lots
Bathrooms (primitive)
Trash receptacles
Hiking boot brush
Trail Information and trail map
Access to three different trails, Acatus, Fletcher Canyon and Eagle's Nest Loop
Nearby Fletcher View Campground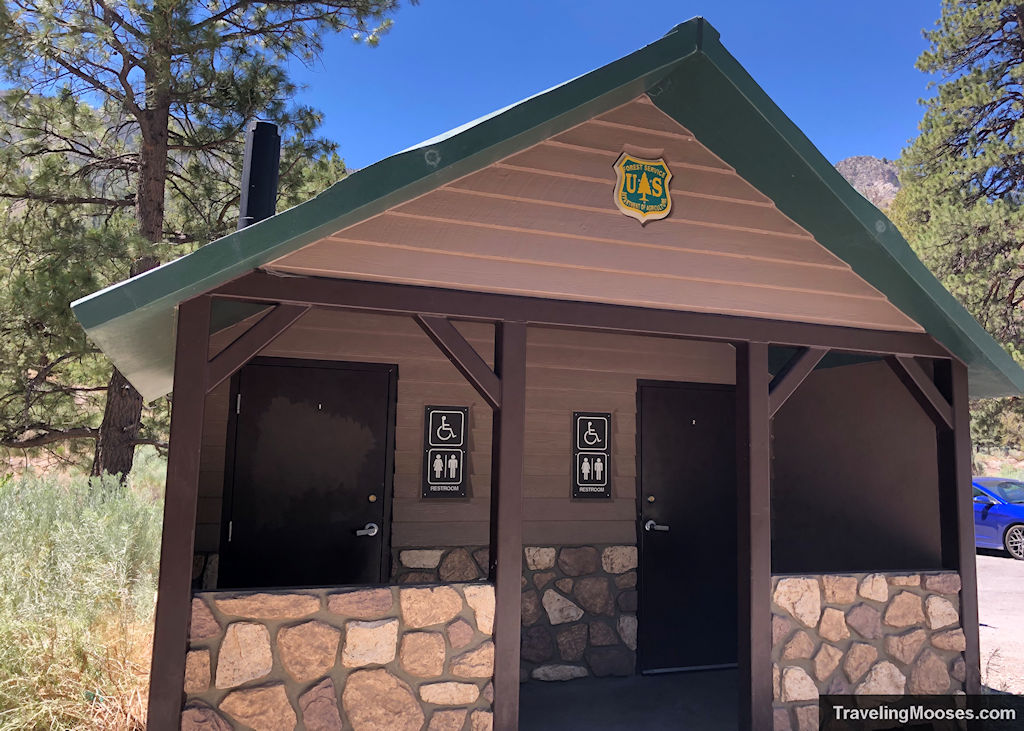 Trail Information
The Spring Mountains National Recreation Area recommends the following when utilizing the Fletcher Canyon Trail:
Bring extra water
Wear sturdy hiking shoes or boots
Wear sunscreen and a hat. At higher elevations, the atmosphere provides less protection from the sun's harmful rays.
Flashlight – Allow for ample hiking time.
Bring clothing for cool or wet weather. Weather changes rapidly in the mountains.
Leave wildflowers, plants and artifacts. Please leave these behind to be enjoyed by others.
Take photographs and memories and pack out any trash.
Stay on trails.
Let family or friends know where you plan on hiking and when you expect to return. Know your limits and remember, you will need to walk back as far as you have walked in.
More hiking trails around Mt. Charleston
Slot canyons near Las Vegas