If you plan on driving and not stopping to look around, it takes around 30 minutes to go through Red Rock Canyon.
Most visitors spend around two to three hours visiting the park.
This includes a stop at the visitor center, a few view points and a short hike at one of the many trailheads in the area.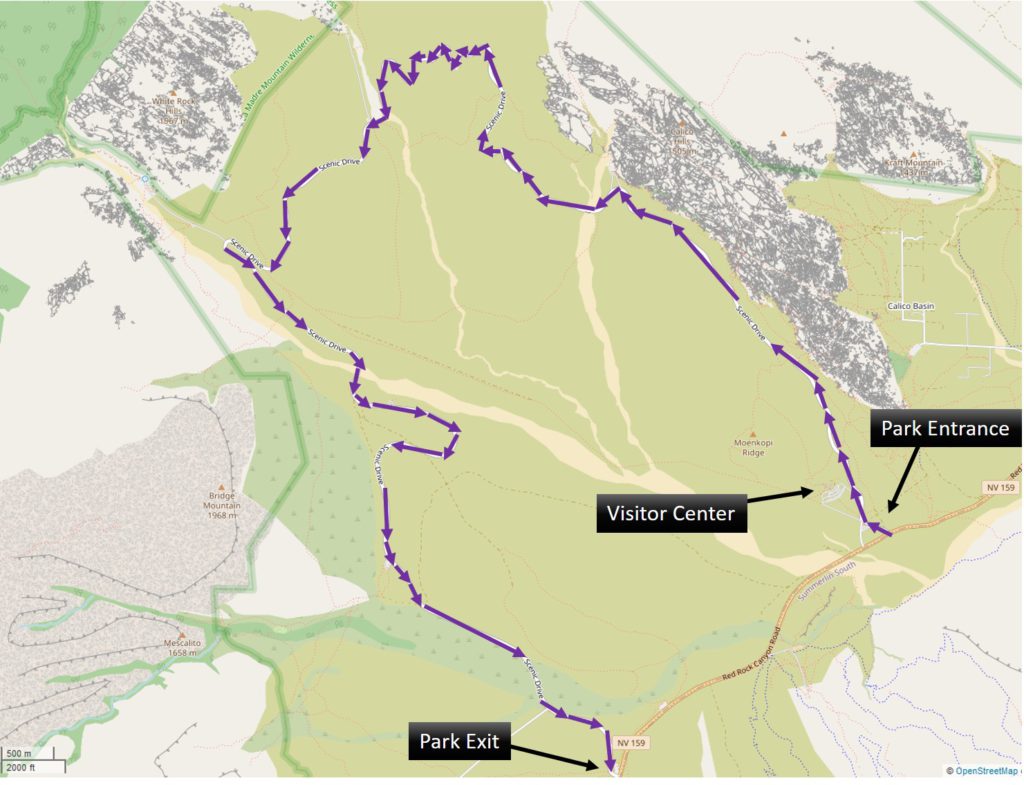 Visitors can also spend an entire day exploring the multitude of longer trails, rock climbing opportunities, petroglyphs and beautiful red rocks.
Ways to explore Red Rock Canyon
Explore Red Rock via a Car
The most popular way to explore the park is via a rental car. Visitors may enter the scenic drive from the Fee Station located just off NV-159 which is about 25 minutes from the Las Vegas Strip.
A day pass costs $20 (pricing subject to change), or the America the Beautiful pass is accepted. During high season (Oct 1 through May 31), you'll need reservations to enter the park between 8 a.m. and 5 p.m.
Reservations can be made at Recreation.gov or you can see current park conditions here.
If you're interested in stopping at the visitor center, make sure you don't enter the park before 9 a.m. The scenic loop is a 13-mile one way loop and the visitor center (which is at the start of the loop), doesn't open until 9 a.m.
Looking a 1-day itinerary? Check out this map or see below.
Explore Red Rock via a Bicycle
Another popular choice to explore the scenic loop through Red Rock Canyon is via bicycle.
Bikes may enter at the same fee station that is used by vehicles. There is a $5 charge (pricing subject to change) per bike to enter the park.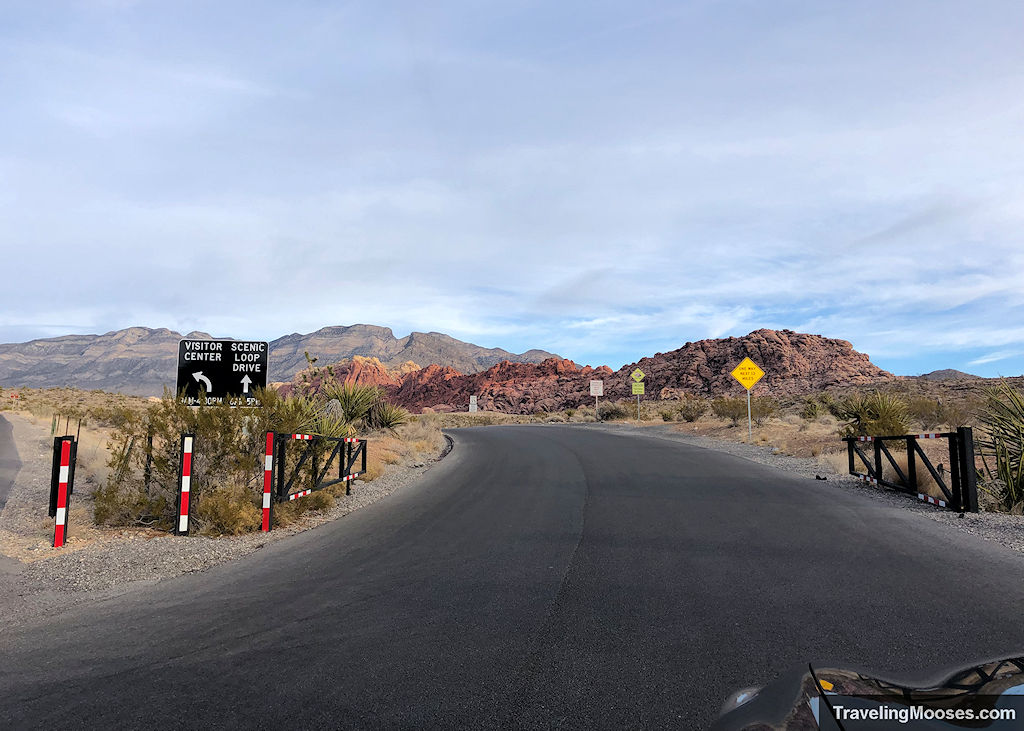 We've always driven the scenic loop, but can share a few of our observations about the road itself.
The majority (if not the entire loop) is wide enough for two vehicles to drive side-by-side. This means there should be plenty of room for bikes to share the road with vehicles.
We have observed in the first portion of the loop, drivers tend to go slower. We believe this is because the most striking parts of the scenic loop are within the first 3 miles.
At around mile 5-6, there are several blind corners that we've witnessed some cars going too quickly and it happens to coincide with needing to go up an incline, which can be challenging for bikes.
The later parts of the loop are generally more open and the speed limit increases. This does mean that some cars will push the speed too quickly.
Both bicyclists and motorists should use caution when driving the scenic loop and obey all speed limits.
If you're planning on biking through Red Rock, we recommend booking with a tour group to use an electric bike. This also means you won't end up having to traverse NV-159 on the way back to town.
Explore Red Rock via a Tour
Many visitors decide they don't want to rent a car or be bothered by getting reservations during high season.
Quite frankly, if you're at all second guessing whether you should rent a car in Las Vegas, just don't do it. We have never driven in such an aggressive city filled with bad drivers and hate driving around the strip.
The majority of the tours will pick you up directly from your hotel and transport you to and from Red Rock Canyon.
There are plenty of tour options to explore the Red Rock Canyon area including:
Horseback Riding
Biking
Scooter Cars & Trikes
Helicopter Ride
Small Group Tour in a private Van
Hiking
And many more…
You Might Also Like: