Teddy's Teeth, also known as Ram's Horn Mountain, is located near Estes Park, CO, just outside the official boundary of the Rocky Mountain National Park.
This 2.0-mile round trip hike, features incredible 180-degree views of the surrounding mountains and the city of Estes Park.
In this guide:
Teddy's Teeth Trail Stats
| | |
| --- | --- |
| Trail Name | Teddy's Teeth aka Ram's Horn Trail |
| Trail description | Out and back |
| Trail Start | St Moritz Trail, Estes Park, CO 80517 |
| Round trip mileage | ~2.0 Miles |
| Average time | 2 Hours |
| Difficulty | Moderate |
| Elevation gain | ~900 feet |
| Elevation start | ~8,630′ |
| Elevation max | ~9,507 |
| Best time to visit | June – Sept (weather permitting depending on snow conditions) |
| Trailhead Amenities | None |
| Rating | 4.0 Mooses |
Trail Maps
Our route starting from the Windcliff Estates
Below you'll find an interactive map with the route we took as recorded by our Garmin Fenix watch. You can see various pictures from along the trail. If you can't see the map, click here.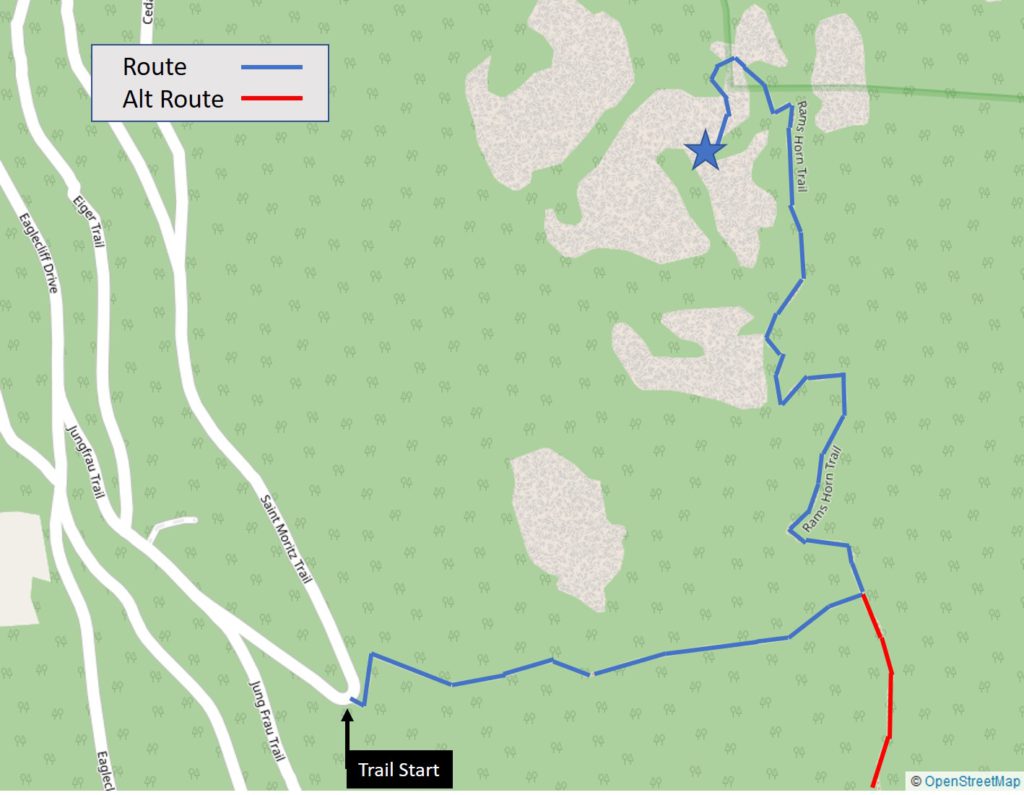 Alternate Route to Teddy's Teeth via Lily Mountain Trail
If you're not staying in the Windcliff Estates, we believe it's possible to connect into the Ram's Horn trail via Lily Mountain. We haven't done it ourselves and therefore can't vouch for it, but found this route outlined on OpenStreetMap.
If anyone tries it out, let us know!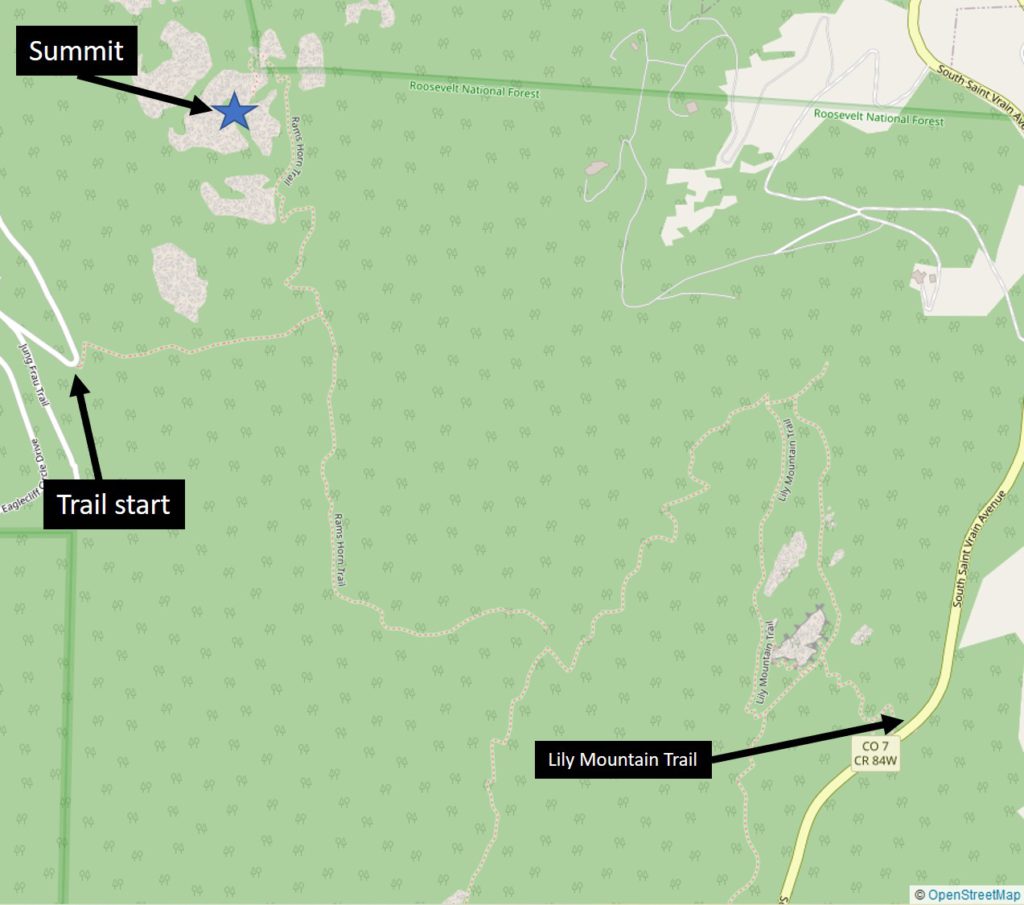 What to expect on the trail
We learned about the Teddy's Teeth hike from the helpful staff at Windcliff.
They showed us on a map where the trail started from and we decided to check it out.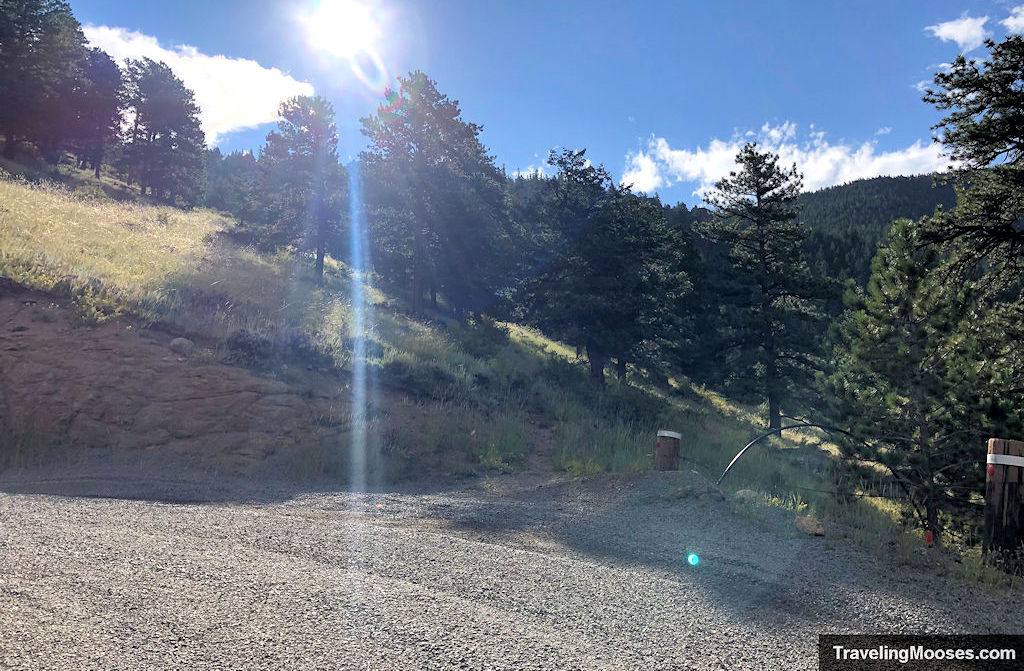 The trail immediately starts ascending elevation through a meadow and a grove of trees dotting the hillside.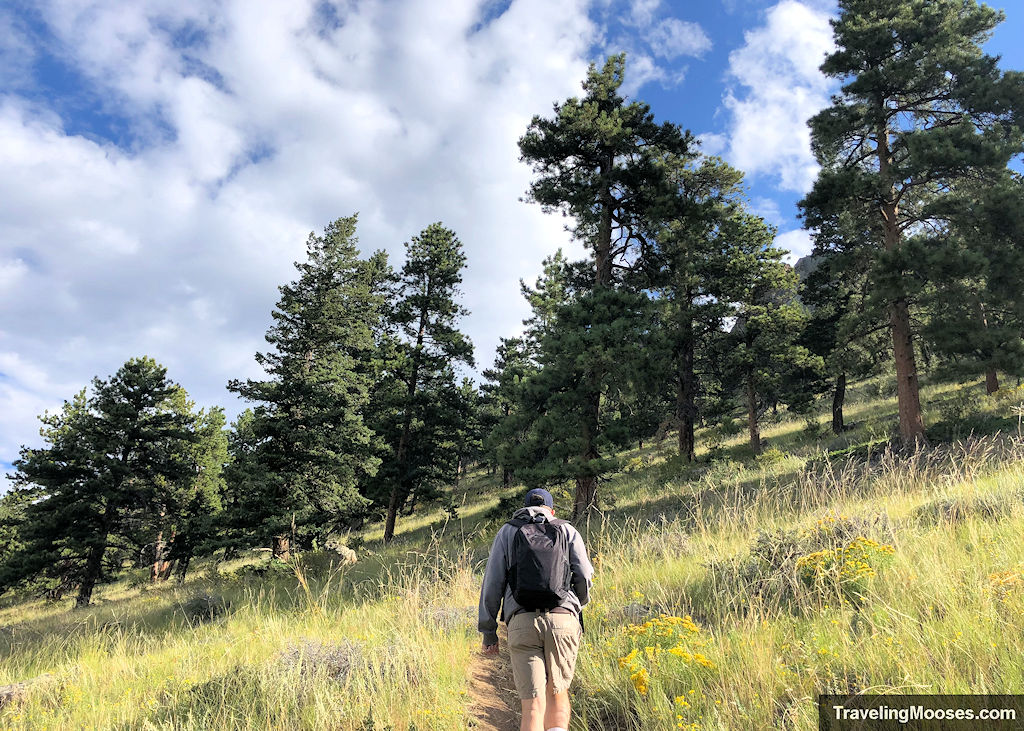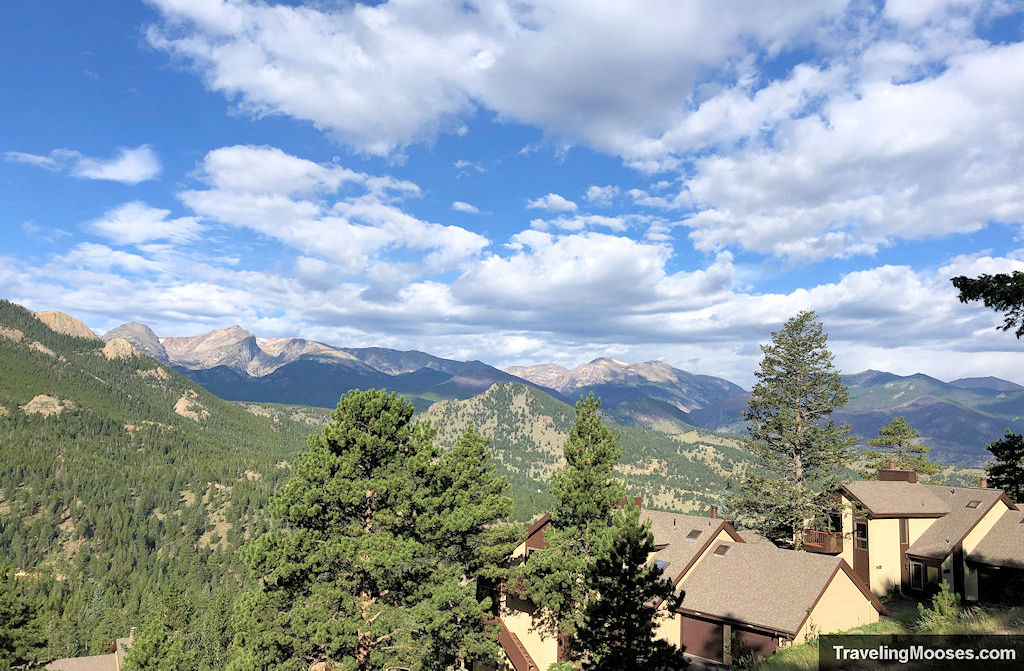 The trail fluctuates from being well defined, such as the photo below: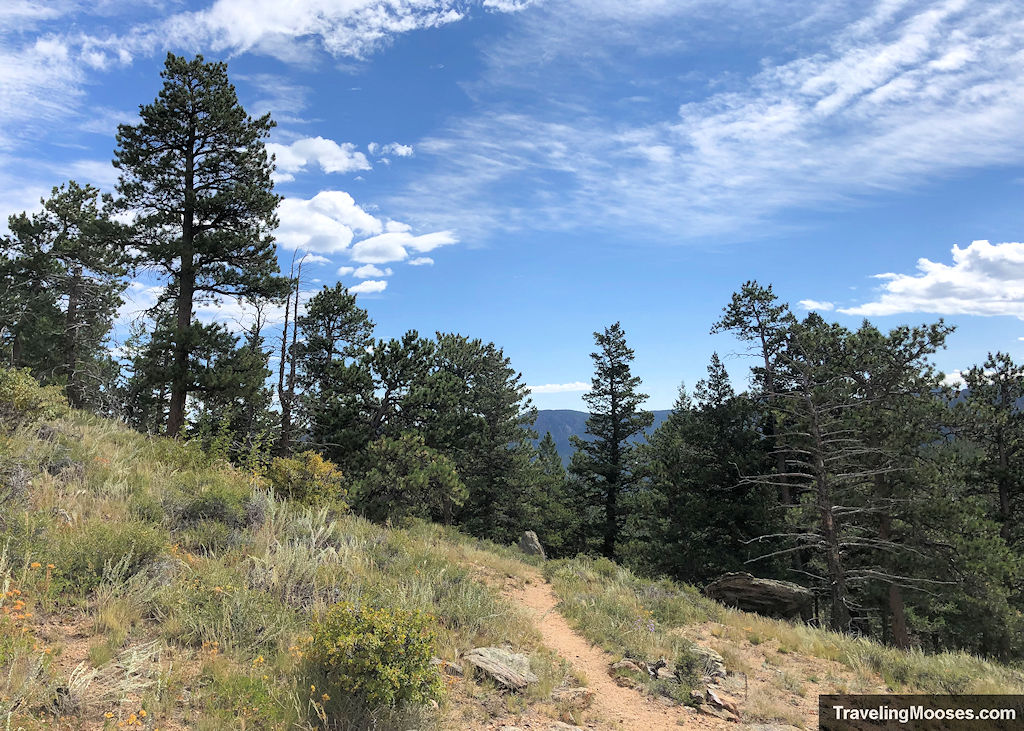 To less defined: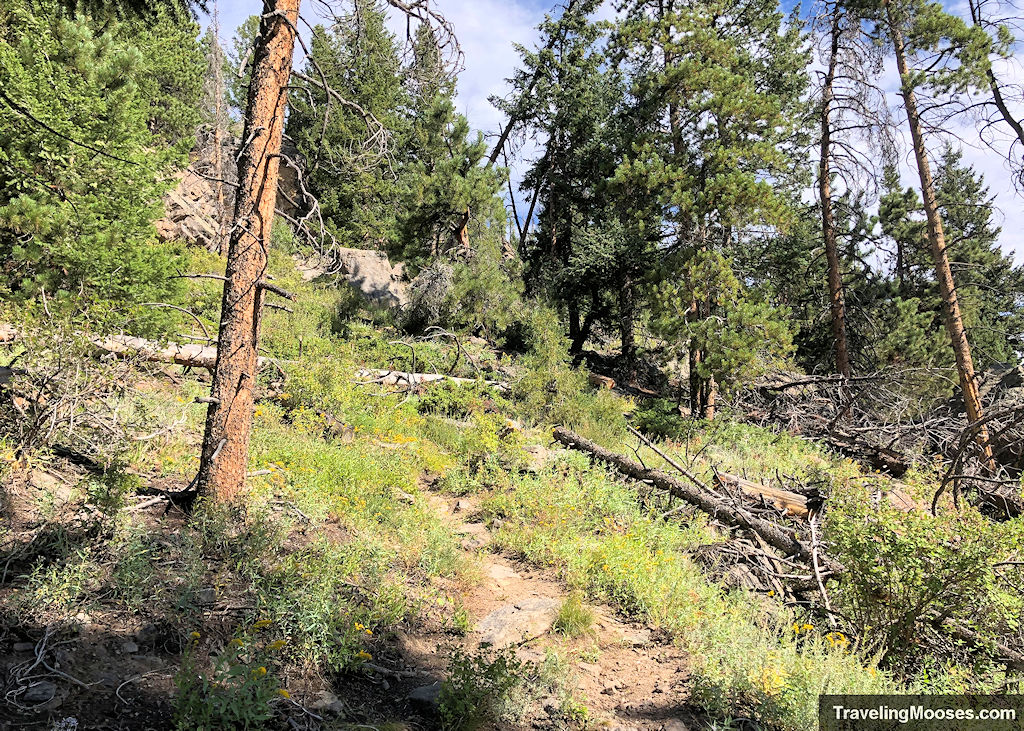 And sometimes fairly average.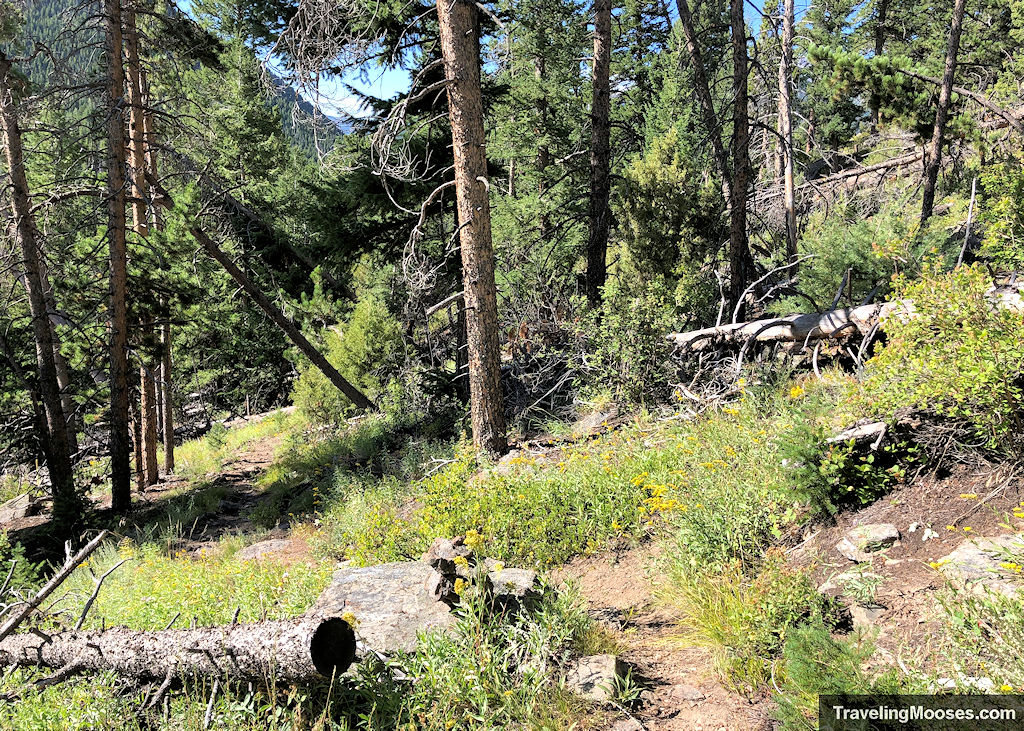 After around 0.3 miles or so, you'll come to a fork in the trail. Keep to the left to head further up in elevation and towards the summit. If you went right, we believe you'd continue down Ram's Horn trail and eventually end up on the Lily Mountain trail, but we're not 100% sure.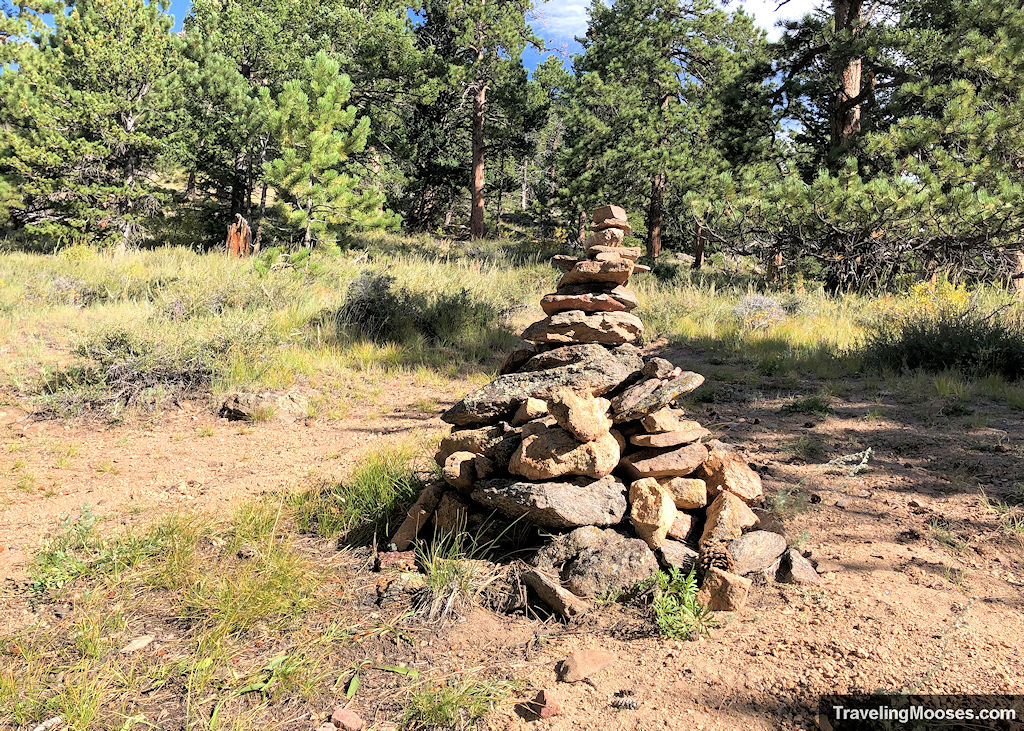 Past the turn off, continue heading up the trail and soak in the views.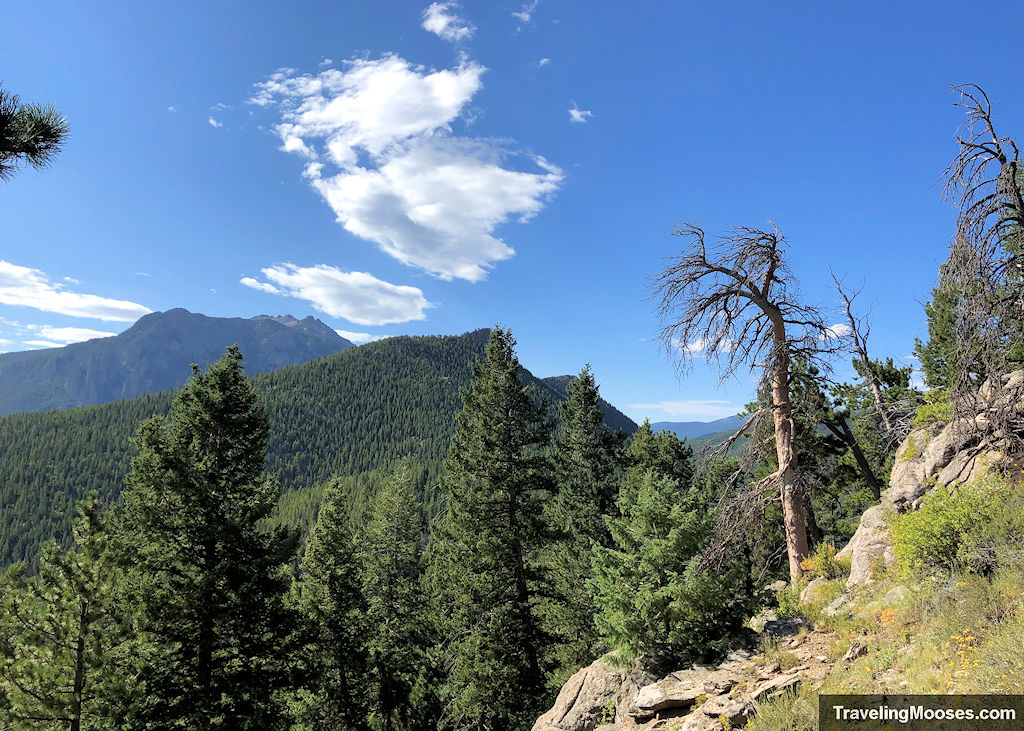 We came across this lovely area to stop for a quick photo op not too far from the summit.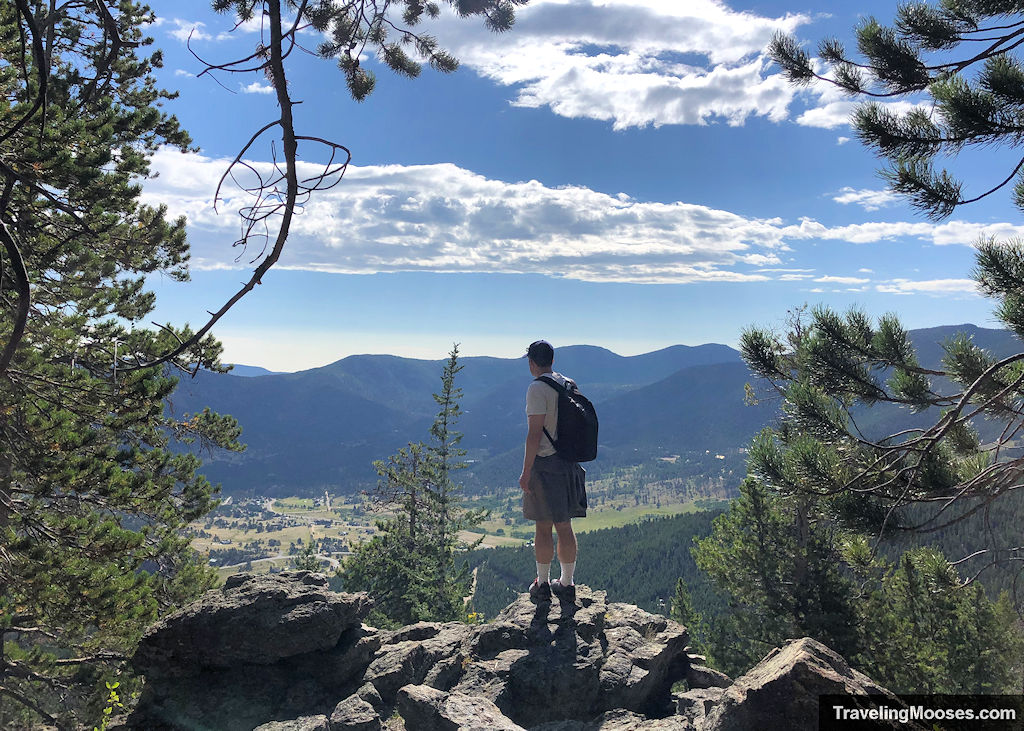 The summit area
Once you reach the summit, you'll enjoy spectacular views in all directions.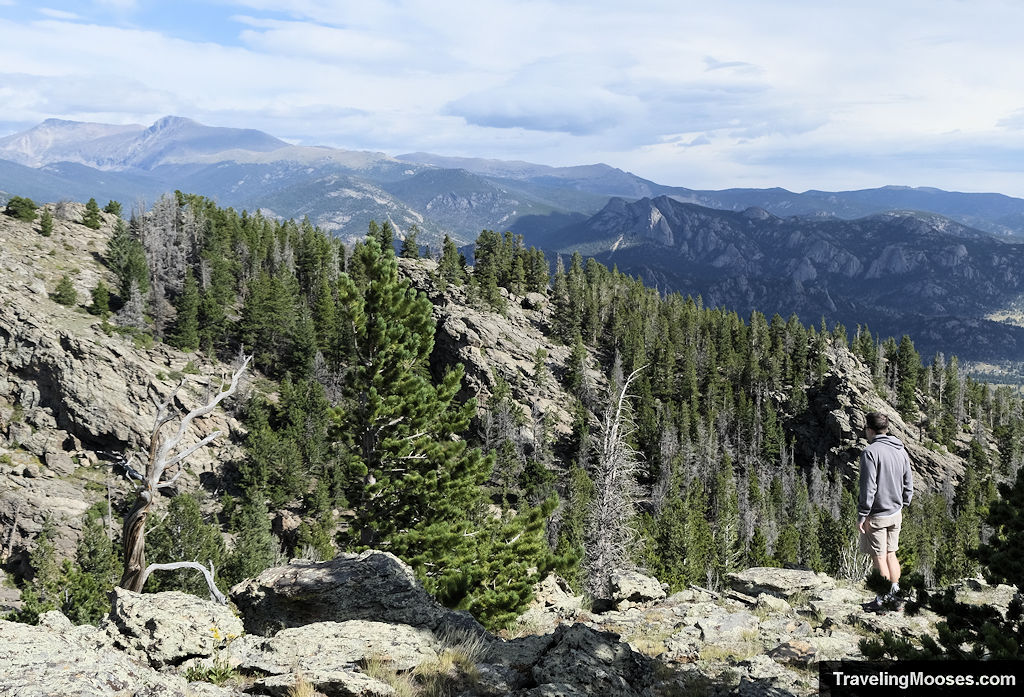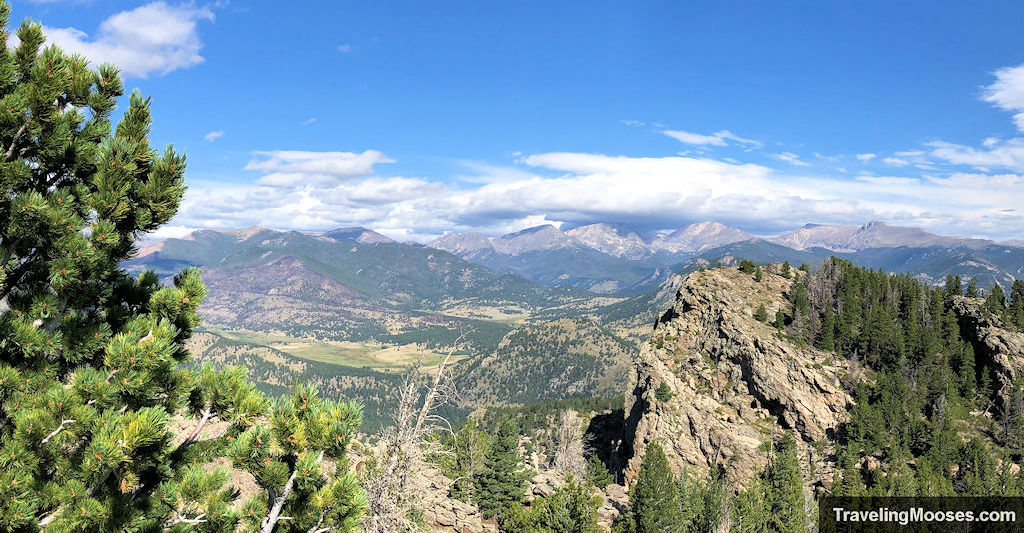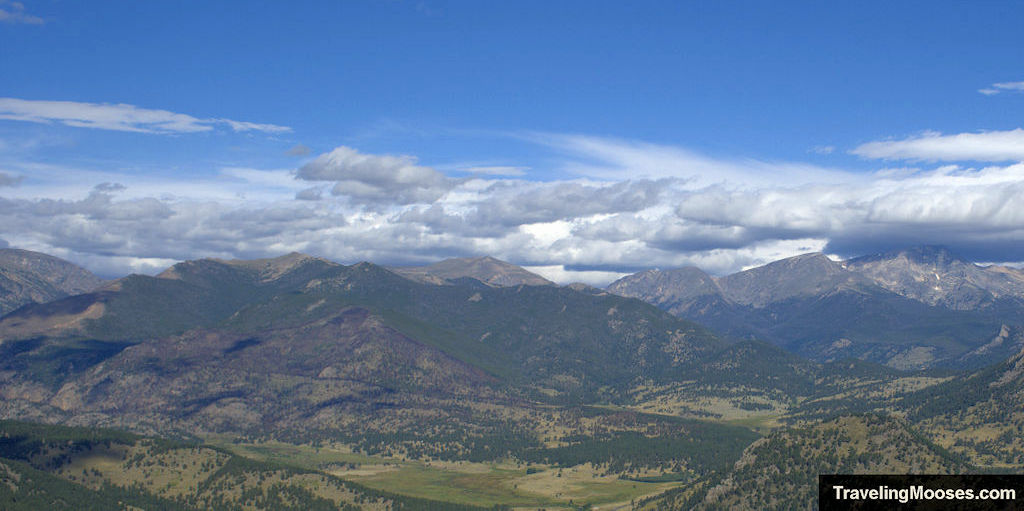 As we were looking around, we noticed another area that would afford us a better view, but required some light scrambling.
The view really didn't change much, and it wasn't an official trail, so use caution if you decide to explore the area further.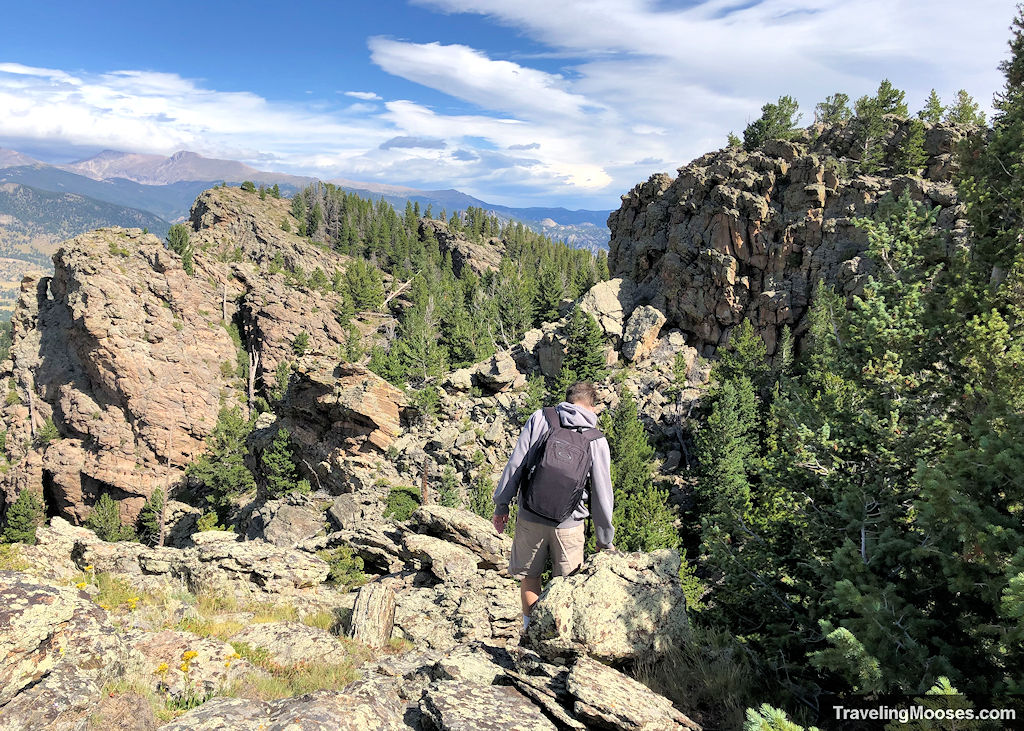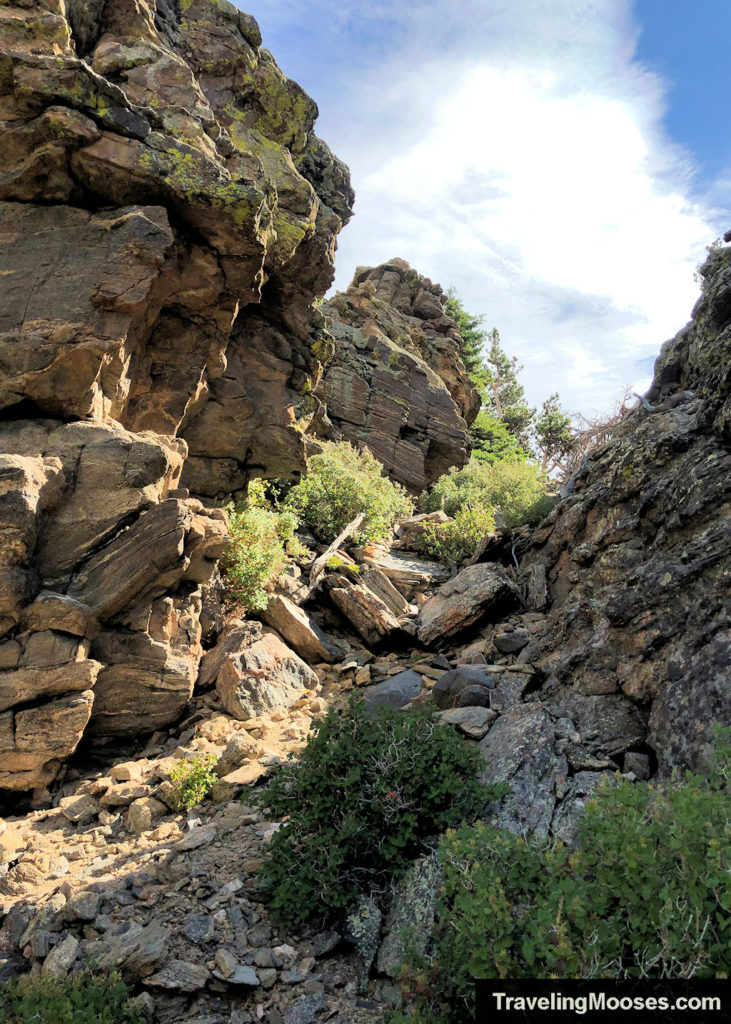 The new view (very similar to prior views).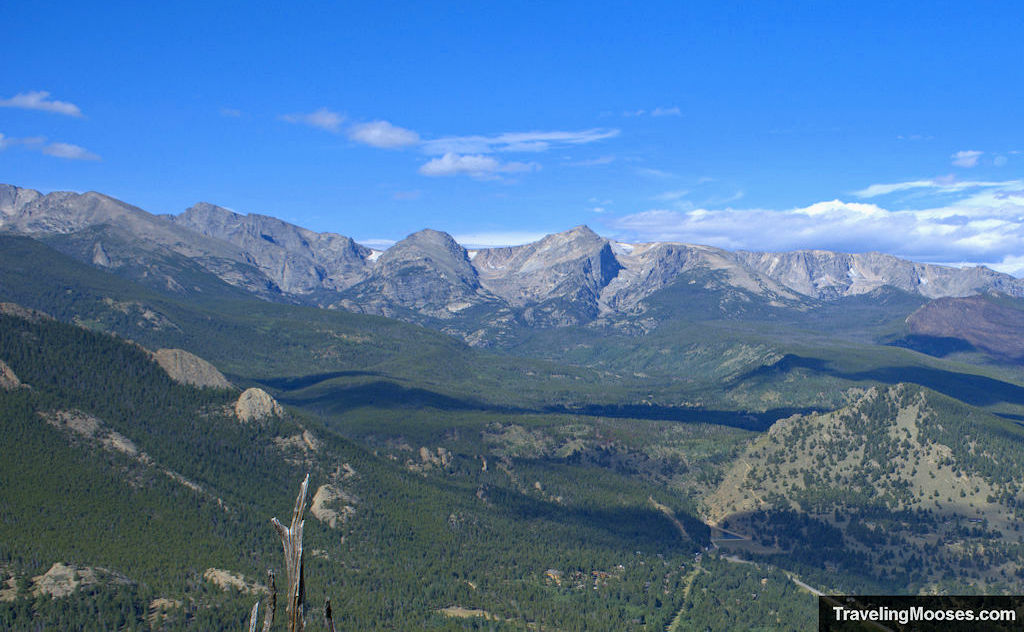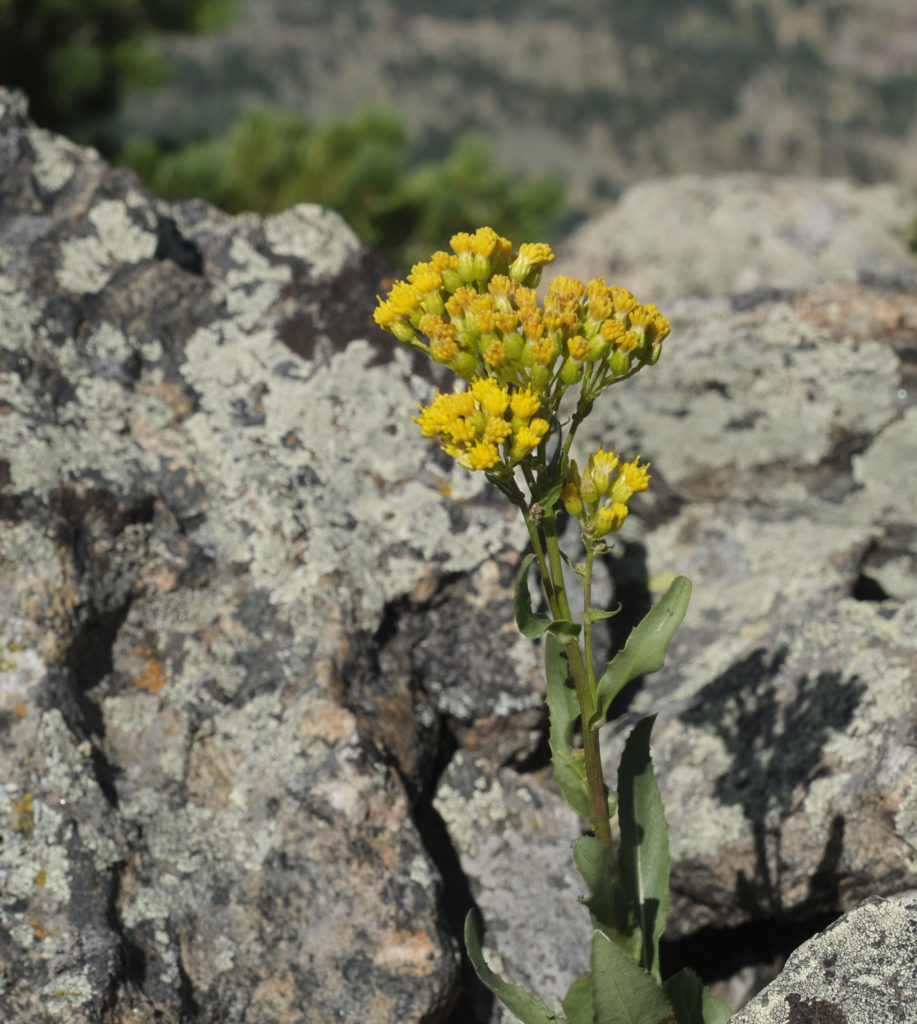 We had the area all to ourselves on a perfectly sunny day and really enjoyed the hike. When you're done exploring, head back the way you came.
Our total hike lasted around 2 hours.
Views of Teddy's Teeth
Here are a few shots of Teddy's Teeth from down below in the Windcliff Estates.
It was neat to think we had stood on top of the teeth.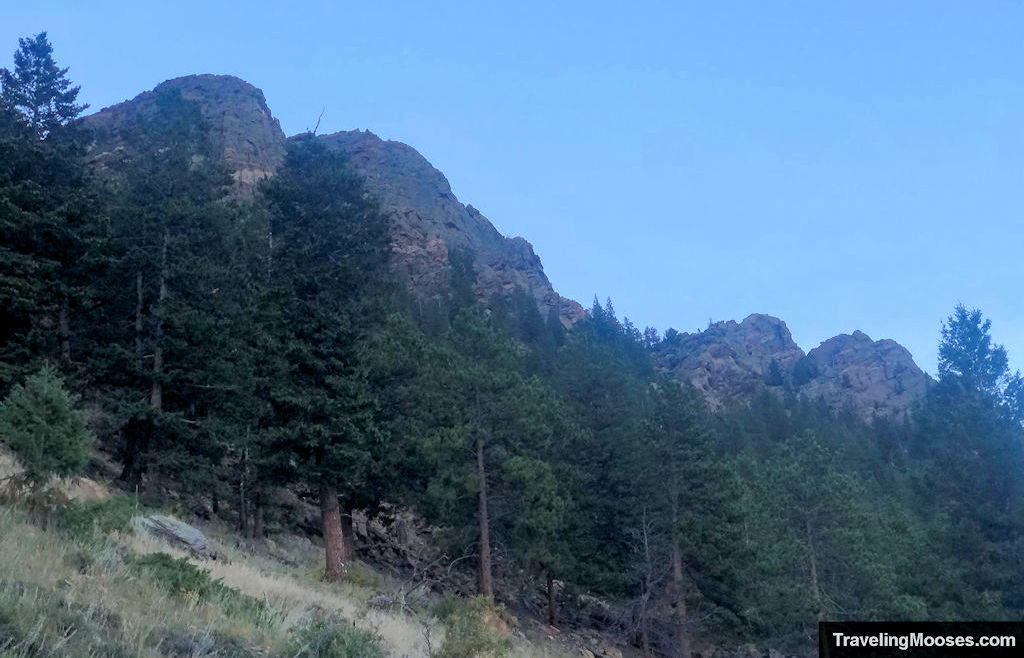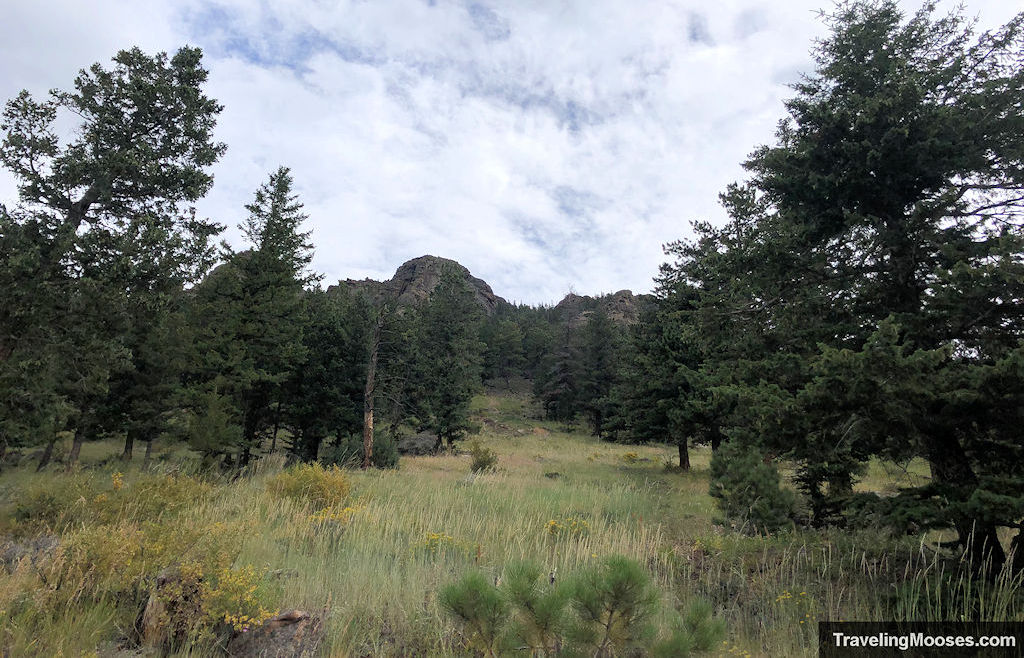 Is hiking Teddy's Teeth trail worth it?
Rating: 4.0 Mooses


What we liked:
Views of the surrounding mountains from the summit. You can see Rocky Mountain National Park and the City of Estes.
There was no one on the trail when we visited. It is a lightly trafficked trail due to the access point.
What we didn't like:
The trail is generally accessed from the Windcliff Estates which is a private community. If you're not staying there, we think there is another way to access the trail as outlined above, but we can't vouch for it.
There are no signs on the trail, other than a few piled rocks that other kind hikers have stacked up to show the way.
Verdict: If you're an avid hiker and you're staying at Windcliff, we highly recommend trying out this hike.
Practical info for your trip
Current trail conditions
We don't know of any resources you could check to verify the conditions for this trail. We do recommend checking the weather service before you go and packing an emergency beacon or other device for calling for help in case it's necessary.
Here's a link to some live webcams at the Windcliff Estates.
What to bring
Be sure to check the weather conditions and pack appropriately. This is what we brought for this hike:
Standard Gear:
Special Items of note:
Hiking Boots or closed toe shoes – There were some rocks on the trail. We recommend wearing either hiking boots or trail shoes with good grip on them. We also did a little bit of scrambling at the top to reach a different vantage point. Grippy shoes would be preferable.
Clothing – Be sure to bring appropriate clothing for rapidly changing conditions. Weather can change extremely fast in the mountains.
Water / Snacks – There is no running water available at the trailhead. Bring plenty of water and snacks.
Navigation – The trailhead isn't marked, but once we found the start, we didn't have any trouble making it to the top. There were a few stone markers along the way.
How to get to the trailhead / parking
If you're starting from the Windcliff Estates (like we did), the GPS coordinates for this hike is: 40°19'39.9″N 105°32'54.2″W. Link here to Google Maps.
There is no parking available at the trailhead. It starts at a bend in the corner of the Saint Moritz Road. We ended up walking the extra distance from our Windcliff rental to the trail start.
We should also note, Windcliff is a private area, so you'll need to be a guest at one of their rentals to access the area.
We believe there is an alternate access route from Lily's Mountain trail, but did not try it ourselves.
On a side note, we always stay at the Windcliff Estates when visiting Estes Park, and would highly recommend checking it out for your next vacation (this isn't a sponsored post, we just love it!).
Trailhead Amenities
There are no amenities at the trailhead and no sign denoting a trail.
More info for your trip to Estes Park / Rocky Mountain National Park