Nestled in the heart of Rocky Mountain National Park, the Sprague Lake trail offers awe-inspiring views of the Colorado Rockies, a pleasant stroll around a beautiful lake, and the occasional wildlife sighting.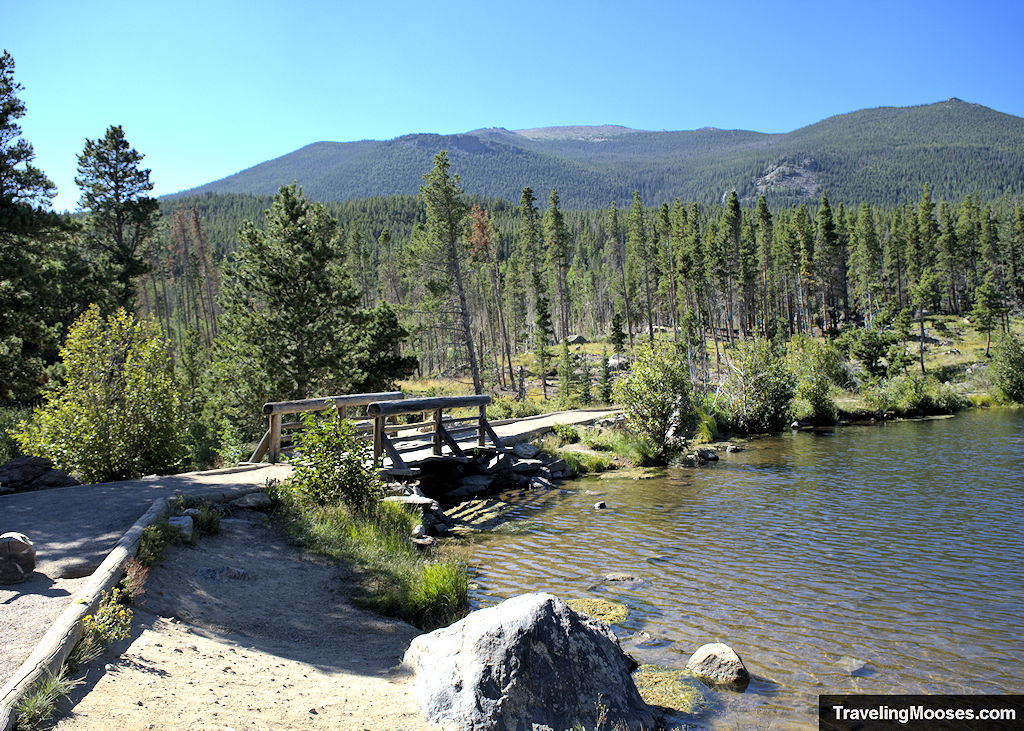 Sprague Lake Trail Hiking Stats
| | |
| --- | --- |
| Trail Description | Loop |
| Trail Location | Sprague Lake Trail, Colorado 80517 – located in the Bear Lake Corridor in the Rocky Mountain National Park |
| Parking Lot | 40.320539, -105.607895 |
| Round Trip Mileage | 0.8 miles |
| Average Time | < 1 Hour |
| Difficulty | Easy |
| Elevation Gain | ~36 feet |
| Elevation of Lake | ~8,684 feet |
| Best time to visit | Accessible year-round |
| Entrance Fee | $25 for a one-day vehicle pass; $35 for a 7-day vehicle pass; America the Beautiful pass is accepted or a variety of other annual passes. (Prices subject to change). Additionally, from late May to early October a timed entry permit (reservation) is required for entrance to the park. The current fee is $2 for reservations. |
| Rating | 4.0 Mooses |
Our Experience on the Sprague Lake Trail
Sprague Lake will always hold a special place in our hearts as we got married at this very location many years ago. We visited the lake twice during our recent visit to Rocky Mountain National Park. Once in the evening after our hike to Sky Pond and once the following morning before we drove up Trail Ridge Road. Both times we visited the crowds were fairly low and we didn't have any trouble getting a parking spot. The free park shuttle does stop at Sprague Lake and may be a good optionif it's a very busy day. Keep in mind the shuttle for Sprague Lake only runs every 30 minutes as opposed to every 15 for the more popular hikes in the Bear Lake Corridor.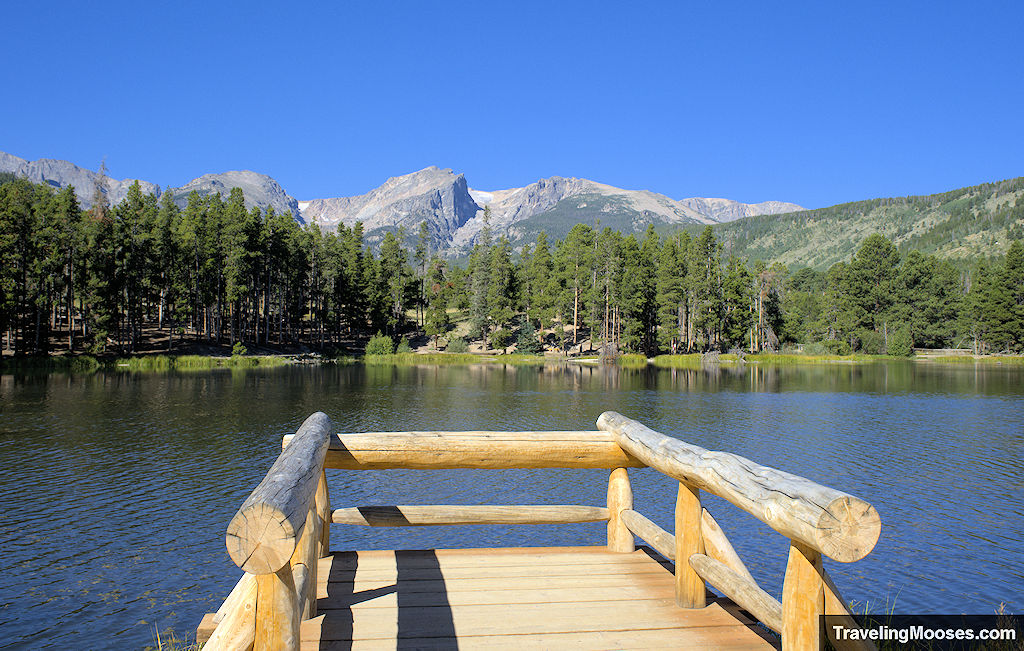 The trail itself is hard packed dirt and gravel and measures approximately 3 feet wide around the entire lake. You'll find several benches, wood bridges and a dock as you make your way around the lake. Additionally, you will find several informational sign boards explaining the history of the area.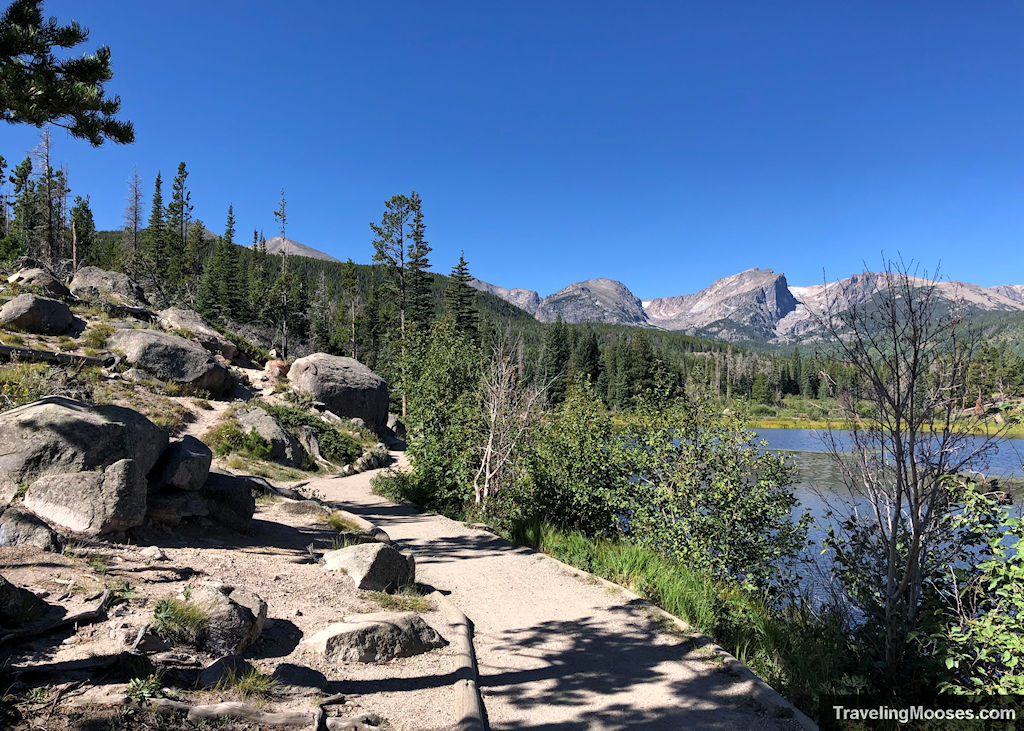 We found the hike to be a pleasant stroll, with clear skies and beautiful views of the Colorado Rockies. It took less than an hour to casually stroll around the lake snapping pictures and reminiscing about memories of old. We even ran into some friendly folks that had been coming to the lake for over 30 years!
Should you visit Sprague Lake?
Rating: 4.0 Mooses


What we liked
What's not to like about the location you got married? Nope, not biased at all.
This part of the park wasn't as busy as the nearby Bear Lake Trail or Sky Pond.
The views of the lake and the mountains were breathtaking.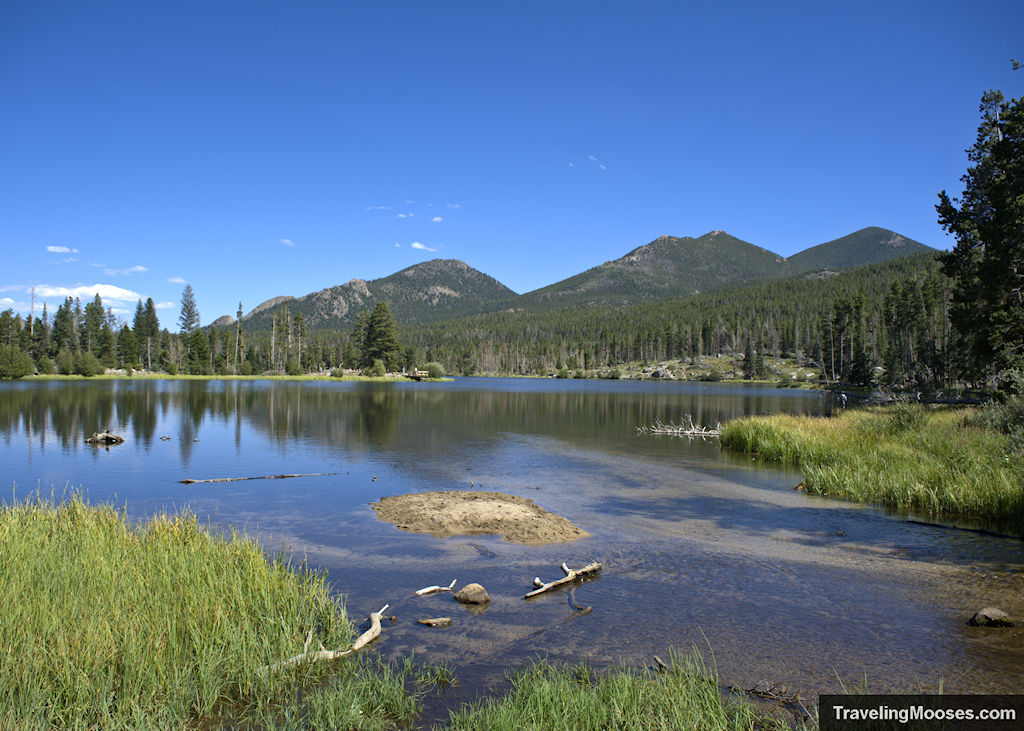 What we didn't like
We didn't experience a highly overcrowded trail, but we've heard it can get very busy on a sunny weekend day.
Mosquitos frequent the lake during certain parts of the year.
It's less of a "hike" and more of a nice stroll. Keep that in mind before you go.
It can get muddy/slushy during the winter months making it difficult to traverse.
We've heard you can see moose at the lake on occasion but we didn't get to see one when we visited.
Verdict: Sprague Lake is worth a visit if you're in the area. It's a quick stroll around the lake with beautiful views and relatively less crowds.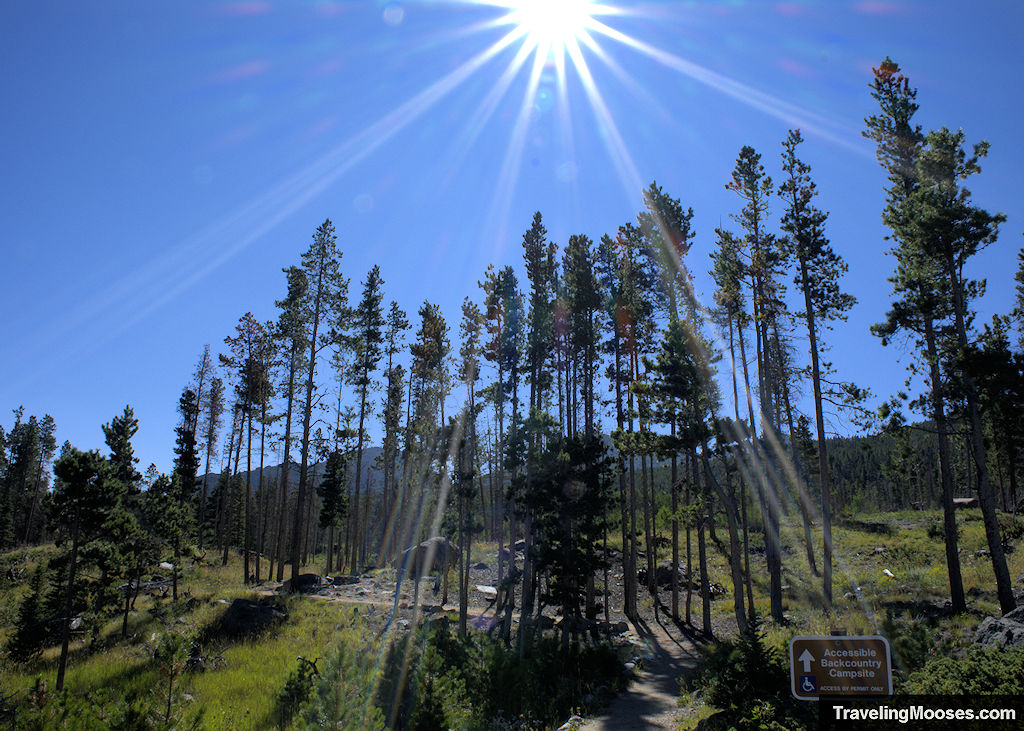 Know before you go
Be sure to reserve your timed entry reservation on the Recreation.gov app before you visit. When you're reserving your ticket, make sure it includes "Bear Lake Corridor – all park access" or you won't be able to visit Sprague Lake.
The parking lot is small at the Sprague Lake trailhead. You'll have better luck going before 9 a.m. or after 4 p.m. to get a spot. As an alternative, you can ride the free park shuttle system and leave your car at the Bear Lake Corridor Park & Ride.
The hike is suitable for all ages and the trail is accessible year-round.
During the snow season, trail can be used for snowshoeing.
Dogs are not allowed in the Rocky Mountain National Park area.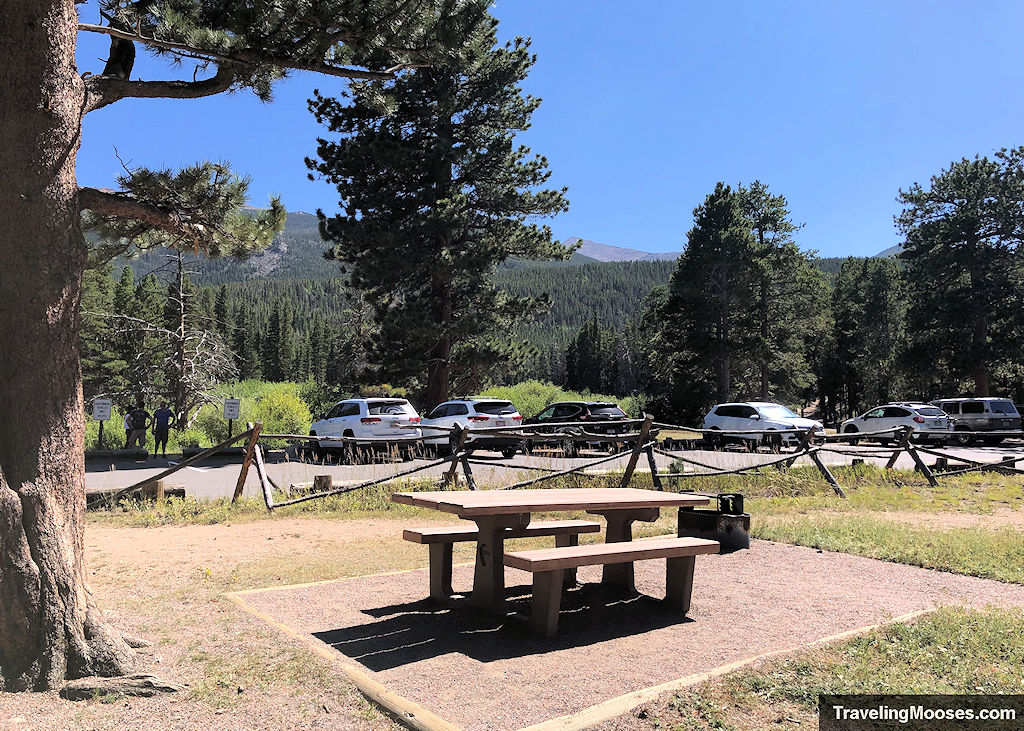 Frequently Asked questions about Sprague Lake:
How long is the Sprague Lake Trial?
The trail is a 0.8 mile loop with minimal elevation gain (~36 feet). The trail is hard packed dirt/gravel and considered ADA compliant.
Where is the entrance to Sprague Lake?
The closest entrance to access Sprague Lake is the Beaver Meadows Entrance Station near Estes Park, CO. After you enter the park, take Trail Ridge Road for approximately 500 feet before turning left on Bear Lake Road. You'll need a timed entry pass for the Bear Lake Corridor during high season. Stay on Bear Lake Road for around 6.0 miles before turning left on Sprague Lake Road. The Sprague Lake Parking area will be 0.3 miles up the road.
Pro-tip: You may enter the Bear Lake Corridor before 5 a.m. or after 6 p.m. without a timed entry permit during high season (approximately late May to early October). You'll still need a national park pass. Alternatively, the park also releases a limited amount of passes the day before at 5 p.m. local time. They usually sell out in less than 5 minutes, so you'll have to be quick!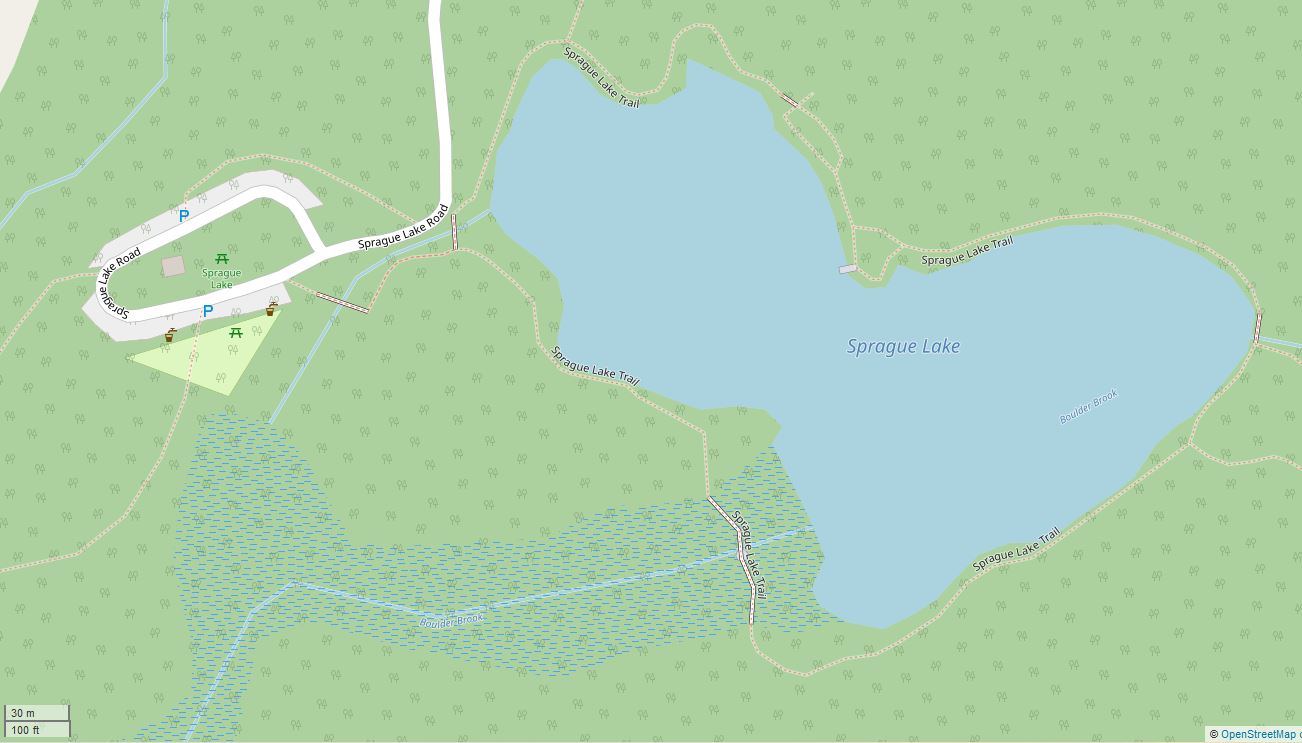 Is Sprague Lake open?
The Sprague Lake Trailhead in Rocky Mountain National Parks remains open and accessible year-round.
More hikes to explore in the Rocky Mountain National Park