In Rocky Mountain National Park, everything is spectacular. The animals wild, the views breathtaking and the lakes sparkling.
Nestled in the heart of RMNP, under the shadows of Hallett Peak and the Continental Divide, you'll find Bear Lake, a gorgeous alpine lake located at 9,475'.
Each year, the Bear Lake Trailhead attracts visitors from all over the world and has remained one of the most popular short hikes in RMNP.
Needless to say, we were excited to check out this marvel.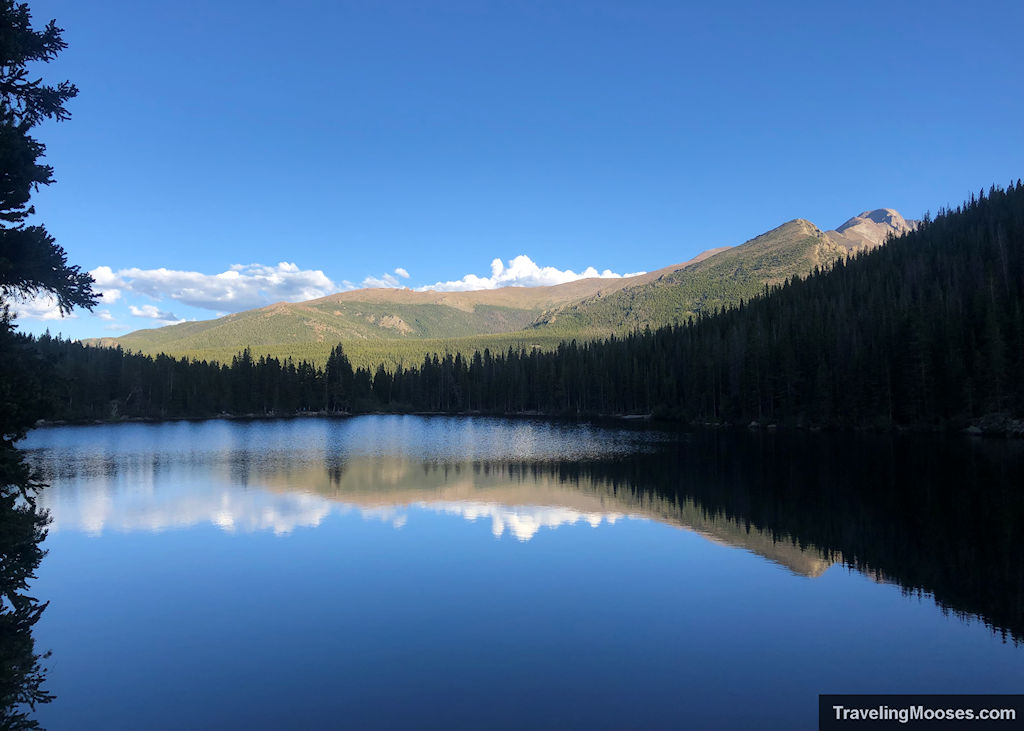 Bear Lake Trailhead (RMNP) quick stats
| | |
| --- | --- |
| Trail Description | Loop |
| Trail Location | Bear Lake, Colorado 80517 – located in the Bear Lake Corridor in Rocky Mountain National Park |
| Parking Lot | 40.31178, -105.64419 |
| Round Trip Mileage | 0.7 miles |
| Average Time | <1 hour |
| Difficulty | Easy |
| Elevation Gain | ~50 feet |
| Elevation at Bear Lake | ~9,475 feet |
| Best time to visit | Accessible year-round, best used March through November. May temporarily close in adverse weather conditions. |
| Entrance Fee | $25 for a one-day vehicle pass; $35 for a 7-day vehicle pass; America the Beautiful pass is accepted or a variety of other annual passes. (Prices subject to change). Additionally, from late May to early October a timed entry permit (reservation) is required for entrance to the park. The current fee is $2 for reservations. |
| Rating | 2.5 Mooses |
Our experience at the Bear Lake Trailhead in RMNP
We didn't have a timed entry permit for the park on the day we wanted to visit Bear Lake, so we decided to enter the Bear Lake Corridor after 6 p.m. and finish our hike before sundown.
Pro-tip: Be sure to check out the "Know before you go" section for tips on how to get access to the park during high season.
We arrived at the turnoff for the corridor promptly at 6 p.m. and found there were many other visitors that had the same idea we did. This made for slow going up the 9.7-mile drive on Bear Lake Road to the trailhead.
Google maps says it takes around 21 minutes to make the drive, but it took much longer than that due to the long line of cars, slow speeds, and twisty roads.
We arrived at the trailhead at 6:30 p.m. and were shocked to see the lot was 75% full. We knew it was a popular hike but we expected the lot to be fairly empty by 6:30 p.m. (especially given it was a weekday). We later learned this is the start of multiple trails in the area which makes the parking situation worse.
After snagging a spot, we made our way to the trailhead and took note of the large number of hikers milling around.
We decided to press ahead given it was getting late and naively hoped the trail would thin out the crowds. That turned out to be wishful thinking.
The Bear Lake Trail
The trail starts out with many informational signs and a few benches to enjoy the lake views. It narrows considerably after leaving the trailhead area and hugs the edge of the water the remainder of the loop.
We noticed there were few places to stop along the trail and it was generally only wide enough for two people (or single file in both directions), which caused a tremendous amount of congestion.
Not long into the loop, we noticed the first of many hikers blocking the trail with callous disregard for others. It was difficult to get around slow moving groups and those stopping for photo ops. This made for a frustrating experience.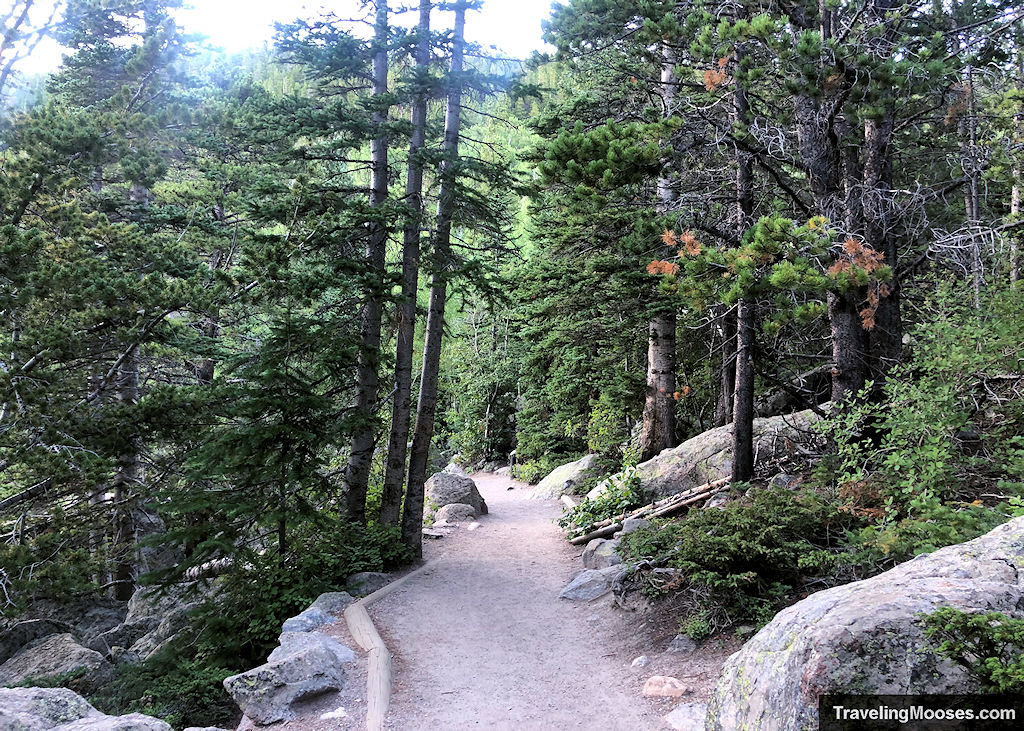 It turns out, we weren't the only ones disappointed in the crowds.
Here's a few of our favorite quotes from other hikers:
"Seemed liked walking into an amusement park."
"Waaaay too crowded. Lots of people that stood in groups in the middle of the trail, blocking your way."
"Trail was also super busy by 7:30 a.m."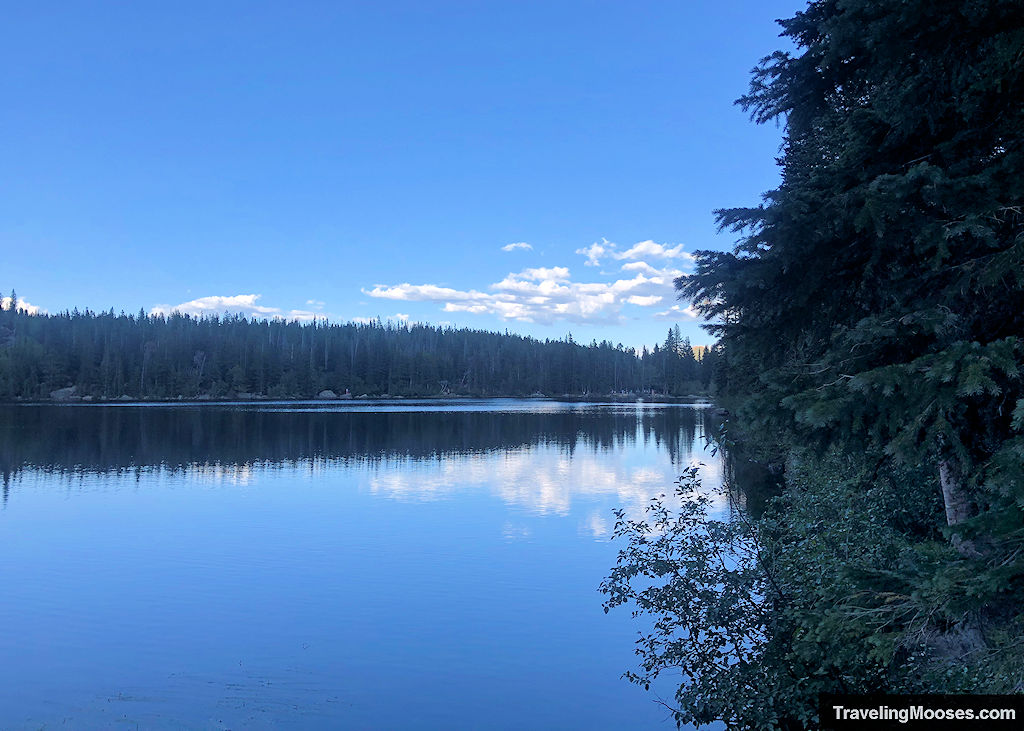 We experienced the crowds and the inconsiderate hikers stopping in the middle of trail while talking on their phone or blaring music on their devices. While we can't speak to what the crowds were at 7:30 a.m., we can fully say the trail was packed at 7:30 p.m.
We hurried to finish the loop and left, highly disappointed in the experience.
Should you visit Bear Lake in RMNP?
Rating: 2.5 Mooses

We really wanted to like this hike. It's absolutely gorgeous, but we just can't recommend it. Unless of course you manage to visit when the crowds are low. Maybe an early winter day before snow has set in?
What we liked
The lake was pleasant and had some great views that made it worth it.
It's an easy trail that would be very relaxing with low crowds.
What we didn't like
The parking situation at the trailhead is nothing short of a nightmare. The road leading to the trailhead and the large number of cars in the lot was utter chaos.
There is zero solitude on this hike. Zero.
We were lucky enough to park at the trailhead and not utilize the shuttle for this particular outing. It would have been extremely frustrating to ride the shuttle to lake, spend less than an hour hiking around it and wait to be shuttled back.
Maybe we were there on a full moon or something because there were a lot of inconsiderate hikers the day we visited.
Verdict: If you're running out of things to do in Rocky Mountain National Park, by all means, check out Bear Lake. If you're willing to hike a little further and go off the beaten path, there are far better places to explore within the park.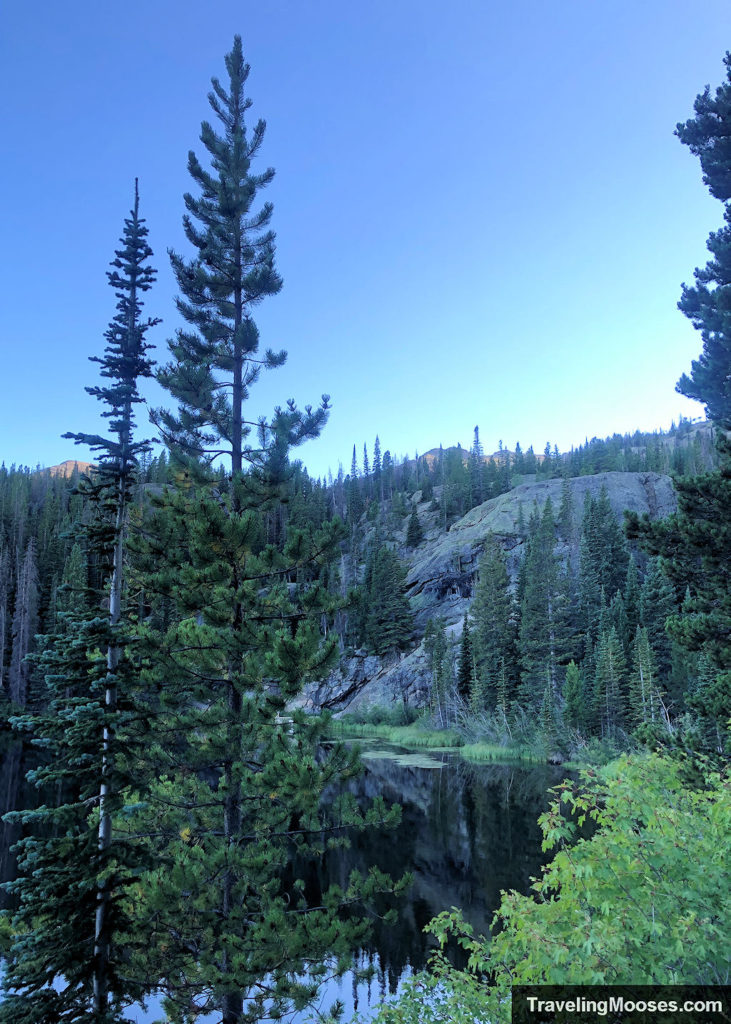 Know before you go
Be sure to reserve your timed entry permit for the "Bear Lake Corridor – all park access" through the Recreation.gov app if you want to visit Bear Lake. If you don't have a permit during high season, you may enter the corridor before 5:30 a.m. or after 6 p.m.
This is a highly trafficked trail at all times of the day and throughout multiple seasons. During the winter season, the trail is still open, but snow shoes are a must.
Be prepared to utilize the shuttle season during high season and be patient getting around.
The Bear Lake Trailhead is the starting point for many other hikes in the area (mileage is one-way) including: Bierstadt Lake Trail (2.0 miles), Sky Pond (5.2 miles), Fern Lake (4.7 miles), Flattop Mountain (4.4 miles), Nymph Lake (0.5 miles), Dream Lake (1.1 miles), Emerald Lake (1.8 miles), Lake Haiyaha (2.2 miles), and Alberta Falls (1.0 miles).
While we didn't see any wildlife on our trip, some hikers will see deer, elk, moose, squirrels and other small critters in the area.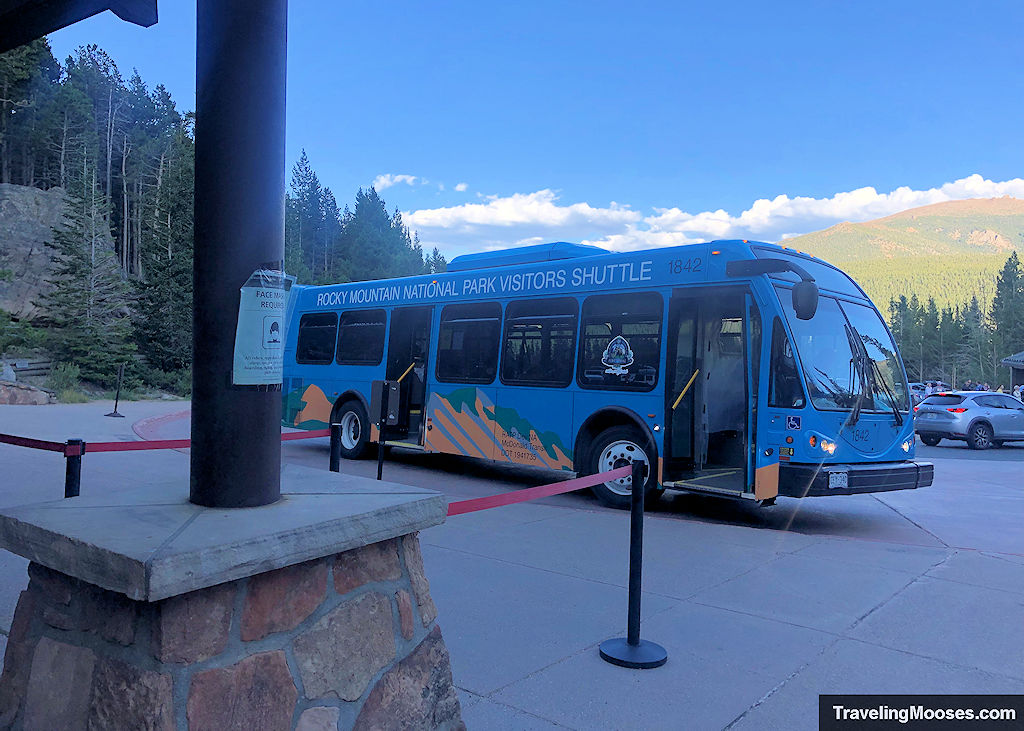 Frequently asked questions about Bear Lake in Rocky Mountain National Park
Where do you park for Bear Lake?
There are two options for parking at Bear Lake.
The first is at the Bear Lake Trailhead located approximately 9.7 miles from the Beaver Meadows Entrance near Estes Park, CO.
The second option is to utilize the park and ride. During high season (May through early October), the park is extremely crowded and visitors are recommended to park at the Bear Lake Park & Ride and utilize the free RMNP shuttle system.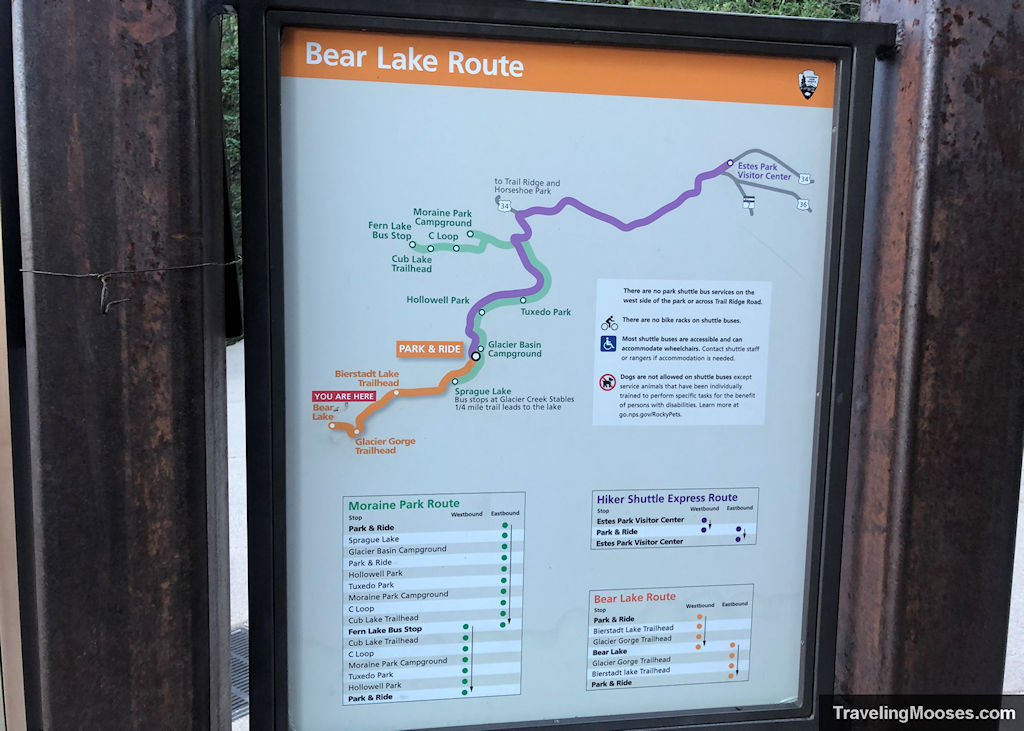 Is fishing allowed in Bear Lake?
Fishing is not allowed in Bear Lake. Fishing is allowed in the nearby Loch Lake with an appropriate Colorado Fishing license.
Is swimming allowed in Bear Lake?
Swimming is prohibited in Bear Lake.
More hikes to explore in the Rocky Mountain National Park