We wanted to kayak Glen Canyon the moment we booked our trip to Page, AZ. We didn't want to miss the 14-mile journey through towering canyon walls, crystal clear waters, a trek through Horseshoe Bend and 3,000-year-old petroglyphs.
In this guide (jump to:)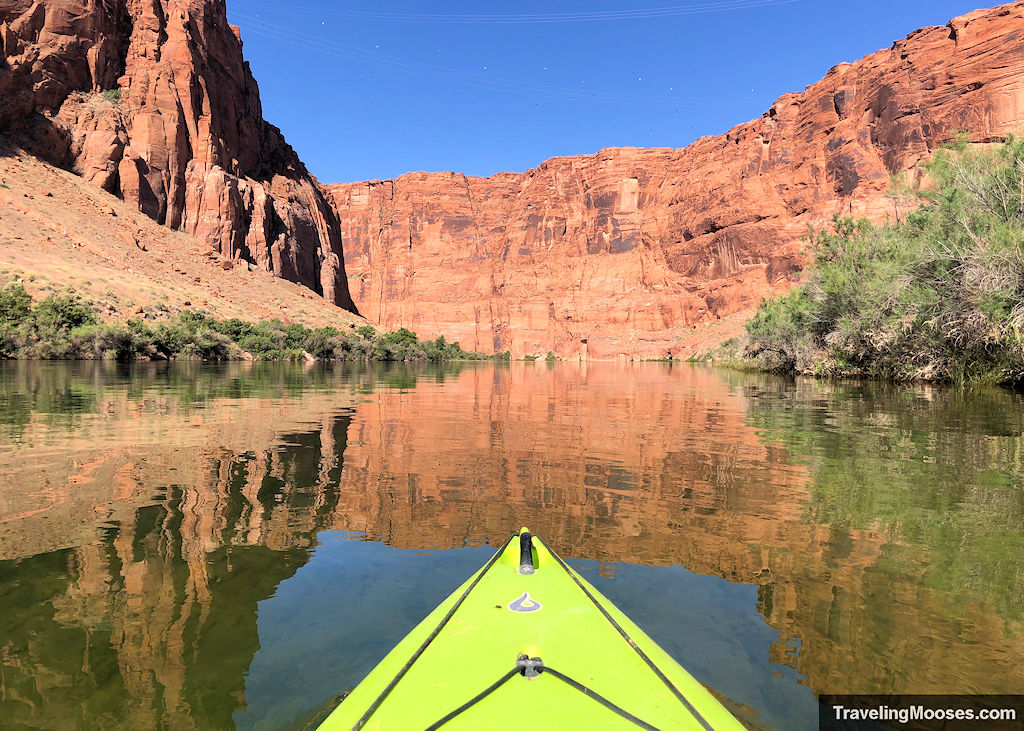 Kayak Glen Canyon Quick Stats
Activity
Kayaking the Colorado River through Glen Canyon, ending at Lees Ferry.
Distance
~14 miles (optional 10-mile journey)
Difficulty
The river is considered Class 1 in this area.

Our rating: Moderate

We feel both the distance (either 10 or 14 miles) and the conditions on the river made this journey moderately difficult.

We found no white water (the river is controlled by a dam), however the current was stronger than we expected and it didn't always go straight downstream.

As water continues to be an issue in the Southwest, the conditions along this stretch of water could change in the future.
Launch
All tours start from Lees Ferry with backhaul service up the river to either Glen Canyon Dam (~14 miles) or a drop off point up river (~10 miles).
Pull Out
Lees Ferry
Cost
Parking – Lees Ferry is within the Glen Canyon National Recreation area which requires either a 7-day ticket ($30) or the America the Beautiful annual pass ($80).

Kayak Rental – Starting at $50 for a tandem kayak.

Backhaul Service – Starting at $75 per person

Prices subject to change and vary based on the company you select.
Estimated Time
7 – 10 Hours

Our trip took 8 hours.
Rating
4.0 Mooses
*We are not affiliated with the tour company we used in any way and paid full price for our rental and backhaul service.
Interactive Map
The map shows our route from the drop off point and return to Lees Ferry. At Lees Ferry, you'll find a day use parking area to leave your car and meet the backhaul service.
If you can't see the map below, you can view it directly on google maps here.
What to expect kayaking Glen Canyon to Lees Ferry (our experience)
After our amazing experience kayaking Topock Gorge near Lake Havasu (a different part of the Colorado River), we were pumped to have a repeat of the experience.
We were excited to check out the famous Glen Canyon area, but first, we needed to rent some gear.
Booking the backhaul service and kayak
Regardless of if you decide to bring your own kayak or not, you'll need to book a trip to haul you up the water.
Note: It is possible to kayak up the river, but we don't recommend it due to the current. Additionally, it wouldn't be doable in one-day.
We know there are at least two companies that offer backhaul service and believe there may be more based on the number of commercial vessels we saw on the water that day.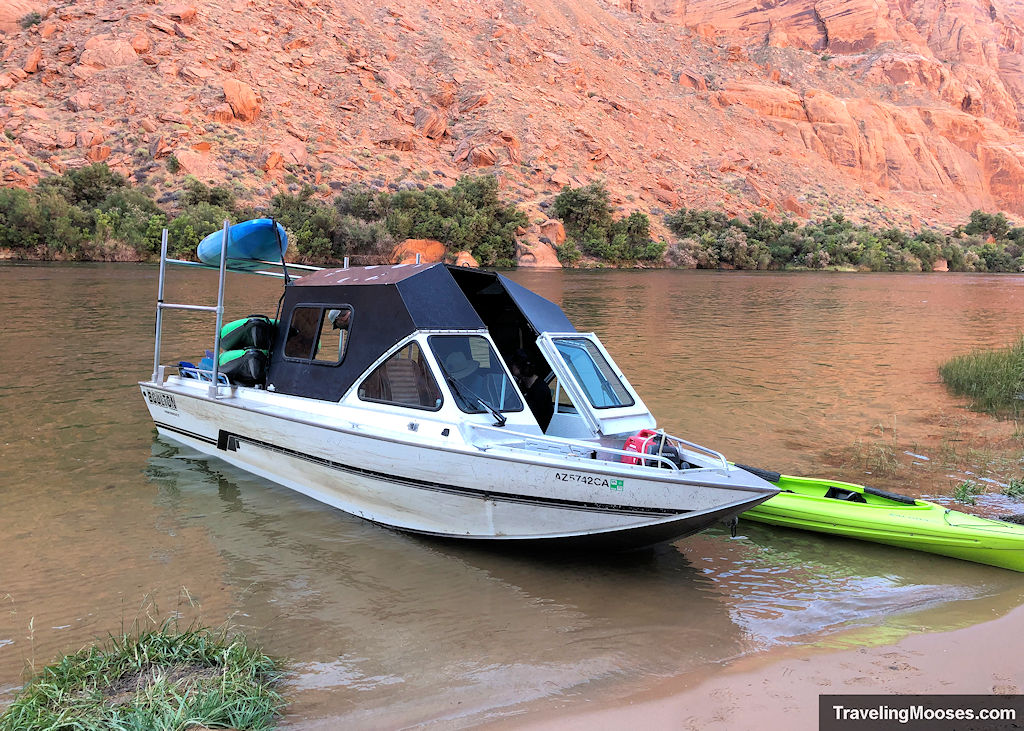 We ended up booking through a website called Advantage Grand Canyon (no affiliation), whom offered two different booking options. Both options offered through their site had slightly different prices, tour times and types of kayaks to rent. We ultimately went with option one, Kayak the Colorado, as they had availability at the time we wanted to go and were the only ones to offer a sit-in kayak (which we prefer).
Our total tour cost: $242.73 for two people (keep in mind prices can change.)
Sit-in Tandem Kayak – $50 + tax
1 Dry Bag – $5 + tax
Backhaul Taxi Service – $80 per person plus tax
The price above did not include the $80 we spent on the America the Beautiful pass, which is good for one year.
Arriving at Lees Ferry
This is a popular trip and books up quickly. Due to this, we ended up getting an early launch of 7 a.m. Ultimately, we're happy we ended up at this time as we didn't get off the water until 3 p.m.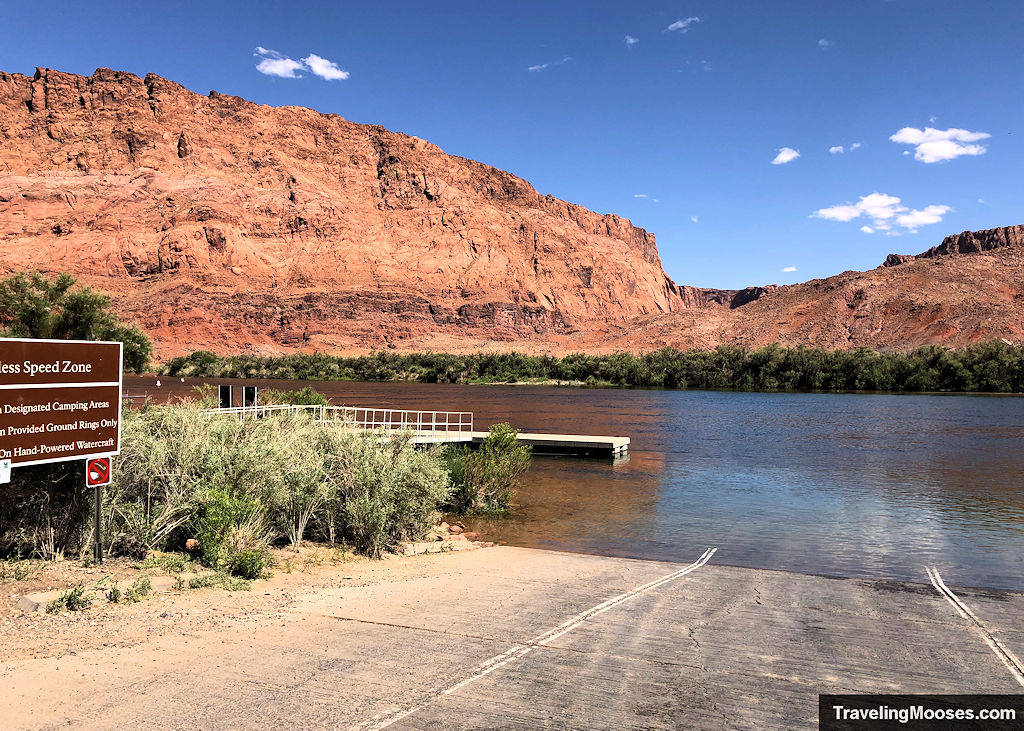 Having stayed in the Page the night before, we needed to drive the approximately 50 minutes from Page to Lees Ferry and were required to arrive a minimum of 15 minutes early.
If you're late for the boat, they will leave you. They do not wait for anyone. Don't be late!
We arrived around 6:40 a.m. at the Ferry and had time to watch the white-water rafters get prepared for their trip down the Colorado. Lees Ferry happens to be the premier (and possibly only) launching point to take a trek down the Colorado and beyond the famous Phantom Ranch.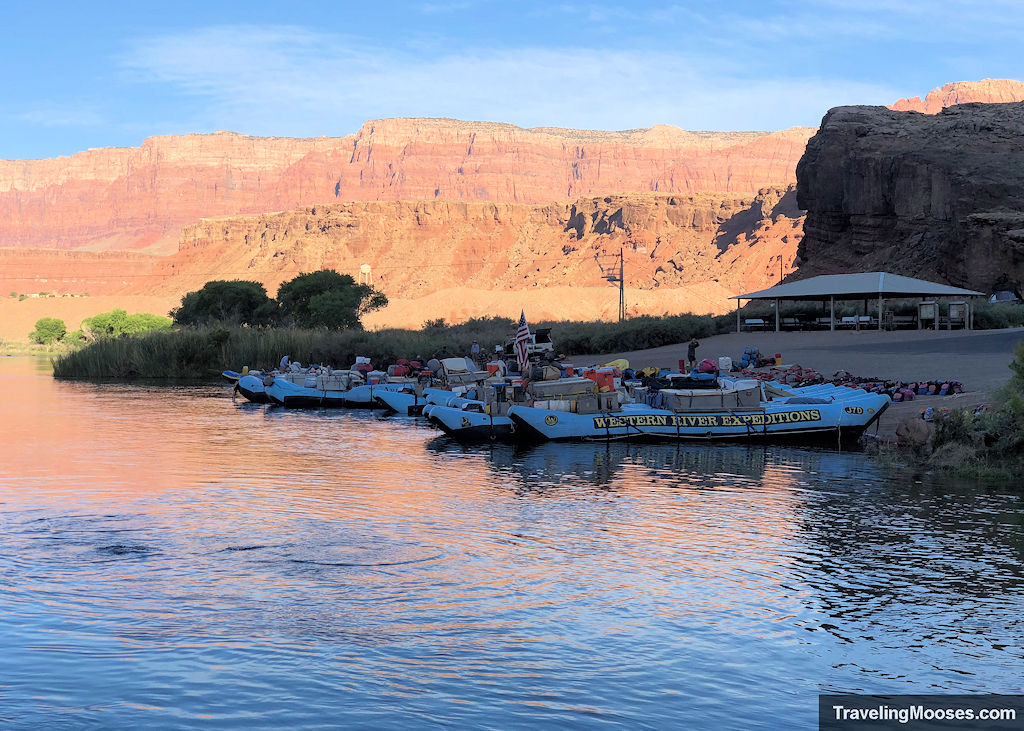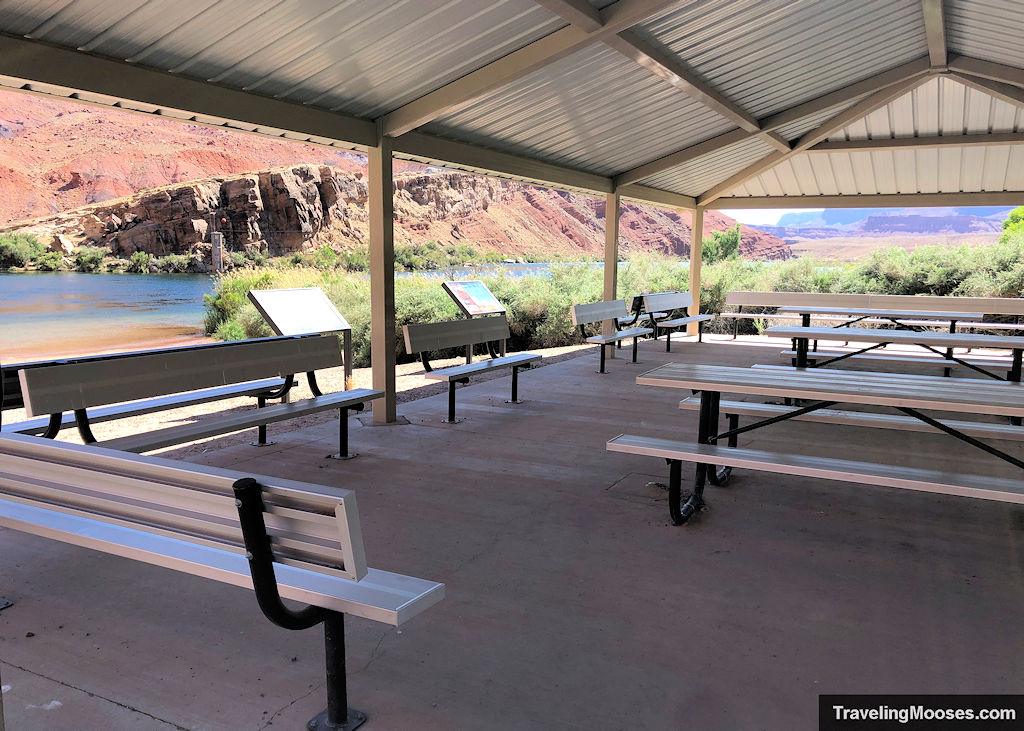 Our boat captain already had the gear loaded on the boat and we waited until the remainder of the guests showed up before blasting off promptly at 7 a.m.
Our vessel was intended to comfortably seat 6 people (including the captain) and carried 8. Three of the guests ended up cramming on a small bench seat (they looked uncomfortable), while one adult stood up in a small area and held on the entire trip.
Granted, the ride only took about 25 minutes, but it wasn't the smoothest to be standing the whole time.
The vessel captain pointed out a few points of interest on the way to the drop off point (some ancient petroglyphs, a few lunch spots, and a secret entrance that leads to a slot canyon (aka Waterholes Canyon).
The backhaul service costs the same whether or not you want to go the whole 14-miles or stop sooner at 10-miles. We opted for the 14-mile trip and were dropped off near the Glen Canyon Dam.
The captain did pause briefly to let us photograph the dam from the river.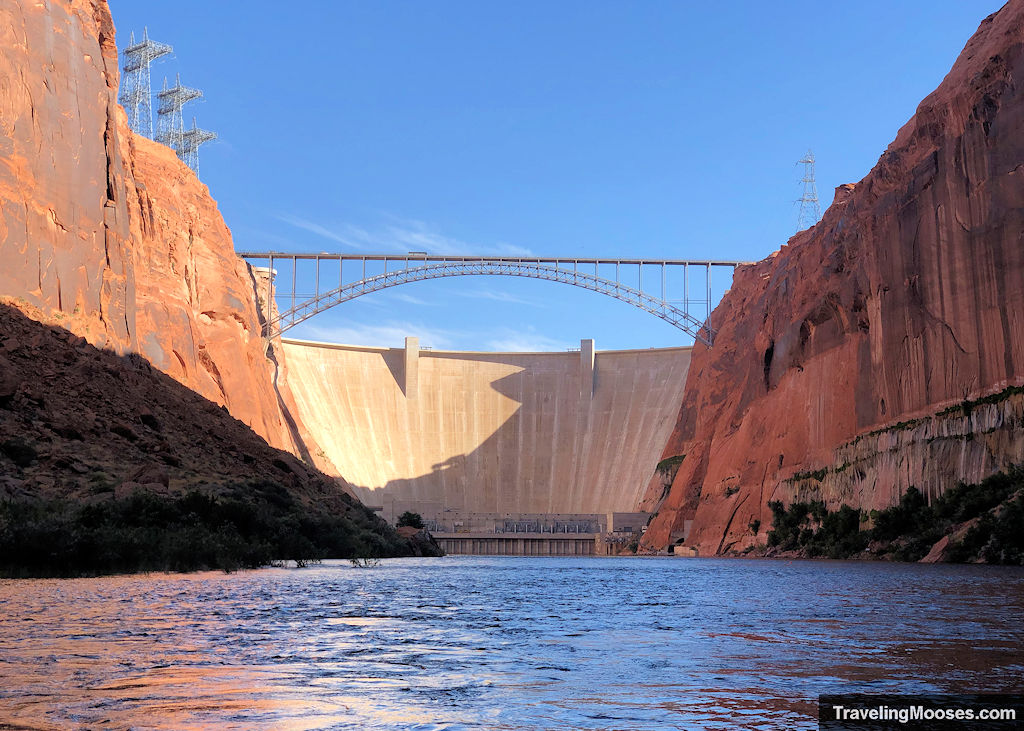 The dam was hidden from our drop off point. Theoretically, you could attempt to paddle upstream to see the dam again, but we didn't feel it was practical with the current.
After we were unceremoniously dumped off at the drop point, we made some adjustments to the kayak and pushed off to enjoy a fun filled day on the water.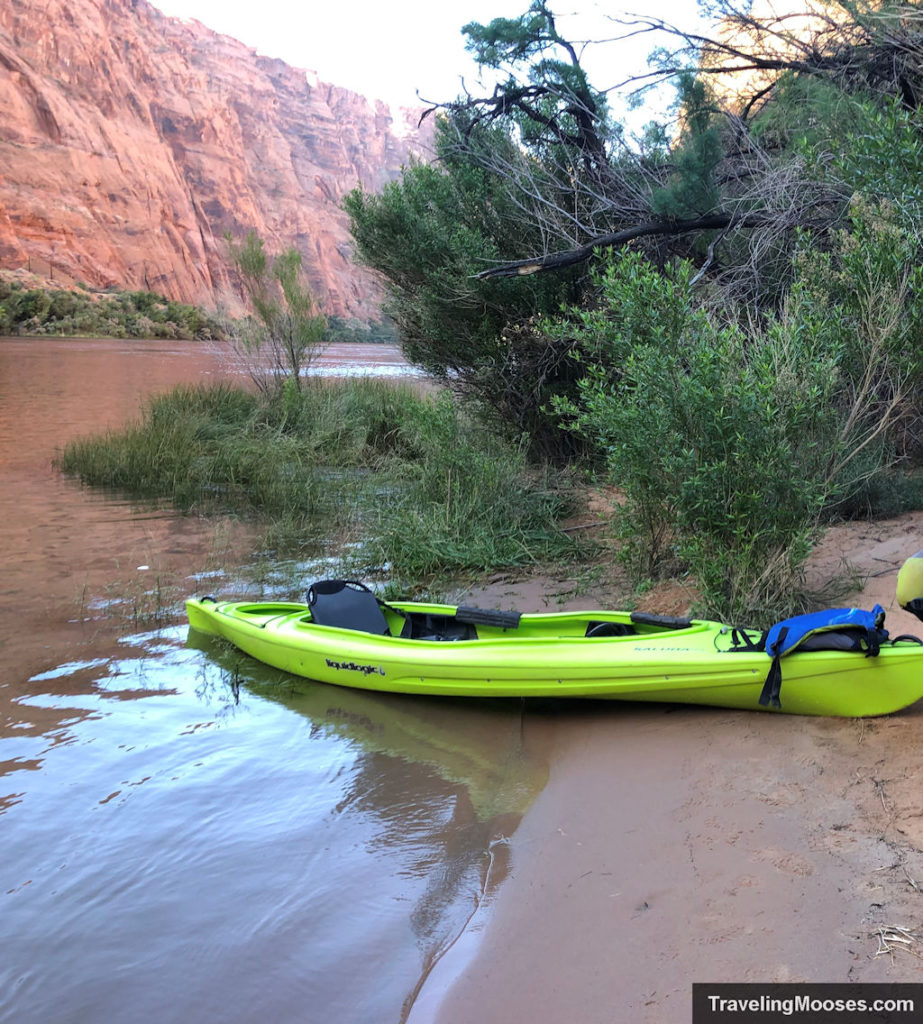 The voyage from Glen Canyon Dam to Lees Ferry
The river width varies throughout the journey. It started out fairly narrow where we began.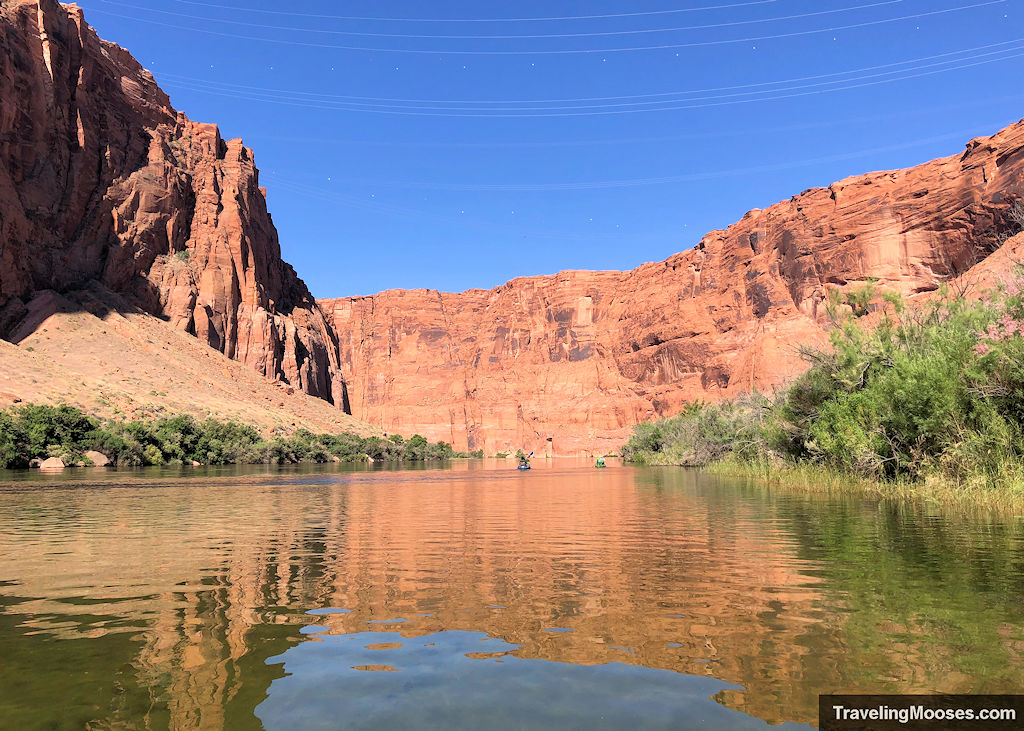 As we pushed off down the river, the canyon walls towered above us and we thought about what it must have been like for the early explorers. In fact, just a few days before, we read this at the Carl Hayden Visitor Center.
"Floating the 15 miles (24 km) of river between the Glen Canyon Dam and Lees Ferry is the closest one can come to experiencing Glen Canyon the way famous explorer John Wesley Powell did on his 1869 maiden voyage."
We are inclined to agree, though passing airplanes and the powerboats racing up the river do spoil the moment just a bit.
The water near the dam was gentle and slowly helped nudge us down the river.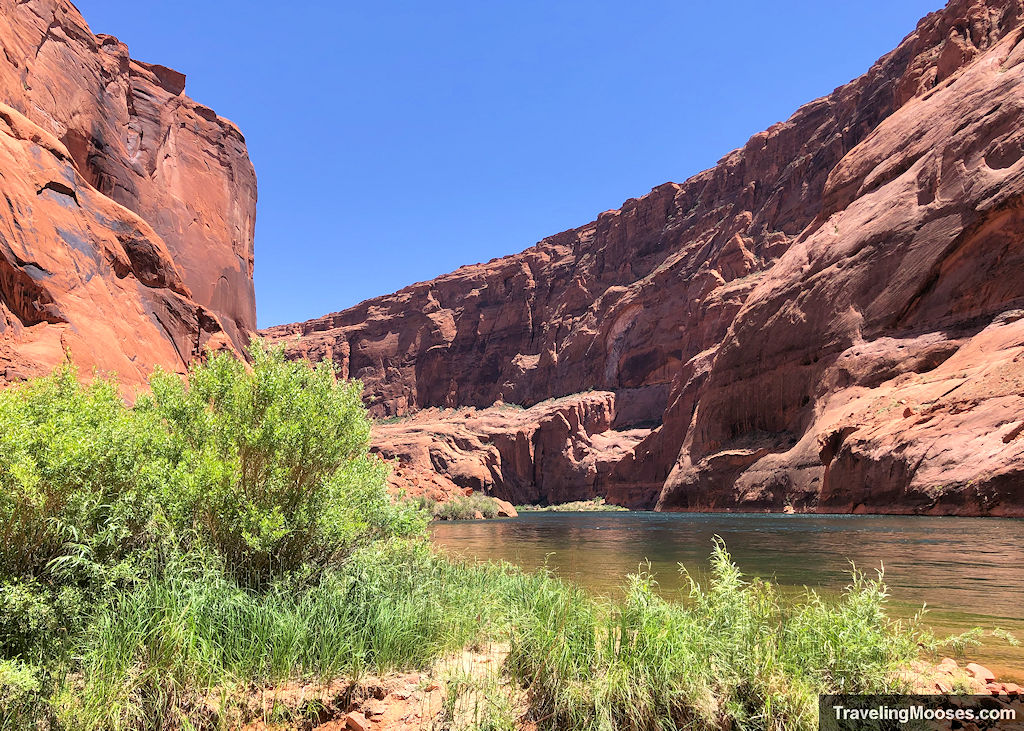 We enjoyed the tranquility and occasional sounds of ducks frolicking in the water in search of food.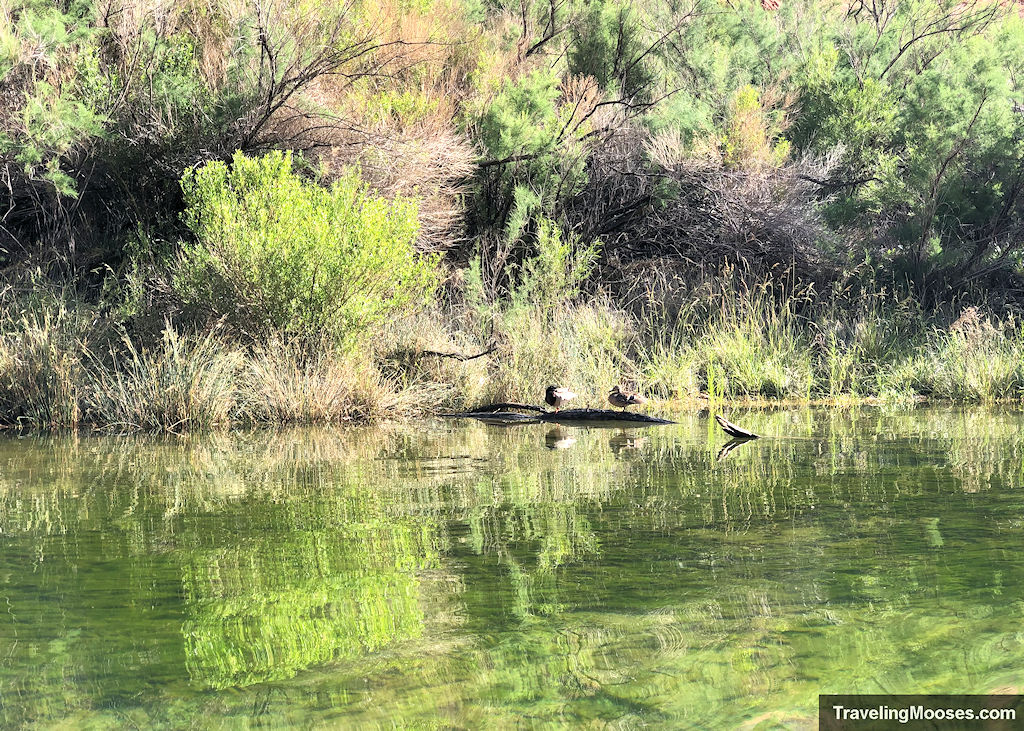 We had flash backs to our serene journey down the Colorado in Havasu.
This continued on for around an hour. A fun waterfall on the side of the canyon walls, more ducks and a peaceful journey on the cool water.
As it began to get later, the frequency of the tour boats increased. There were fishing boats, sightseeing vessels and backhaul services like we had used.
Generally, it was wide enough we could stay by the canyon walls and avoid most of the wake they created. Our luck would soon run out.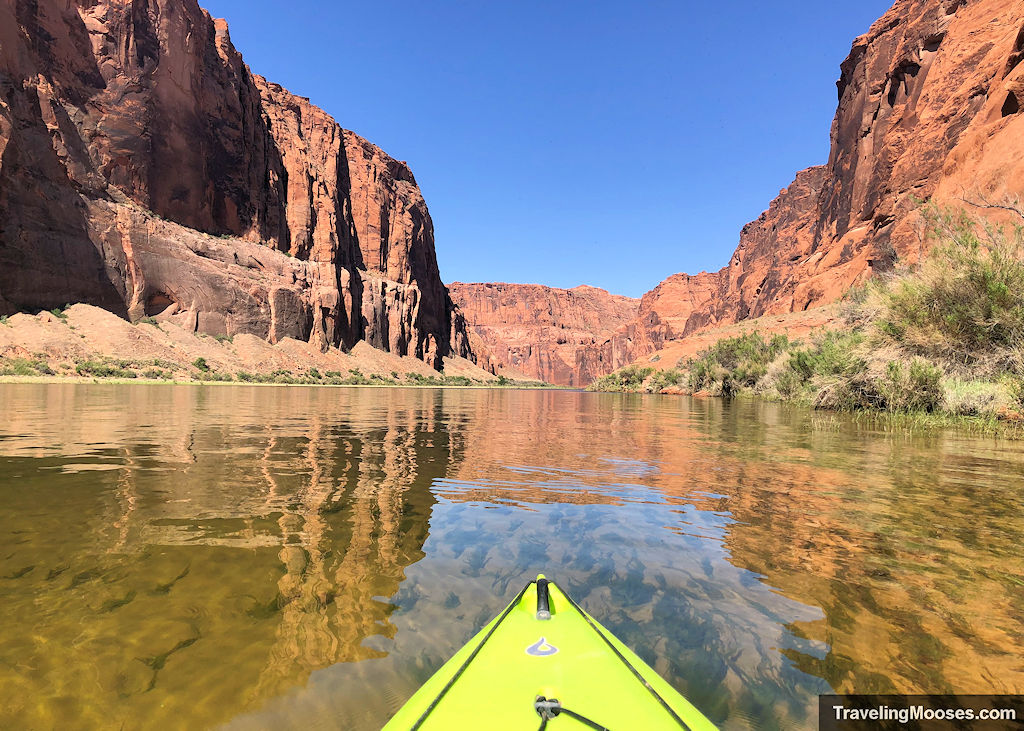 Just before 9 a.m., we happened upon a narrower part of the canyon and saw a vessel rapidly approaching. Of course, I was happily snapping photos and quickly tried to put my iPhone safely away in its zip loc bag. I ran out of time to seal the bag before I needed to grab the paddle and brace for the rapidly approach waves. Too late.
The vessel was too close and water flew over the side of our tandem sit-in kayak. I ended up with about 3 inches of water covering my iPhone "safely" in its unsealed zip lock bag. Not to mention, we were both soaked and our kayak now had standing water in it.
We quickly looked for a place to pull over. Luckily there are many alcoves and beaches you can stop along the journey.
We dumped out the kayak and stood in the sun trying to dry out.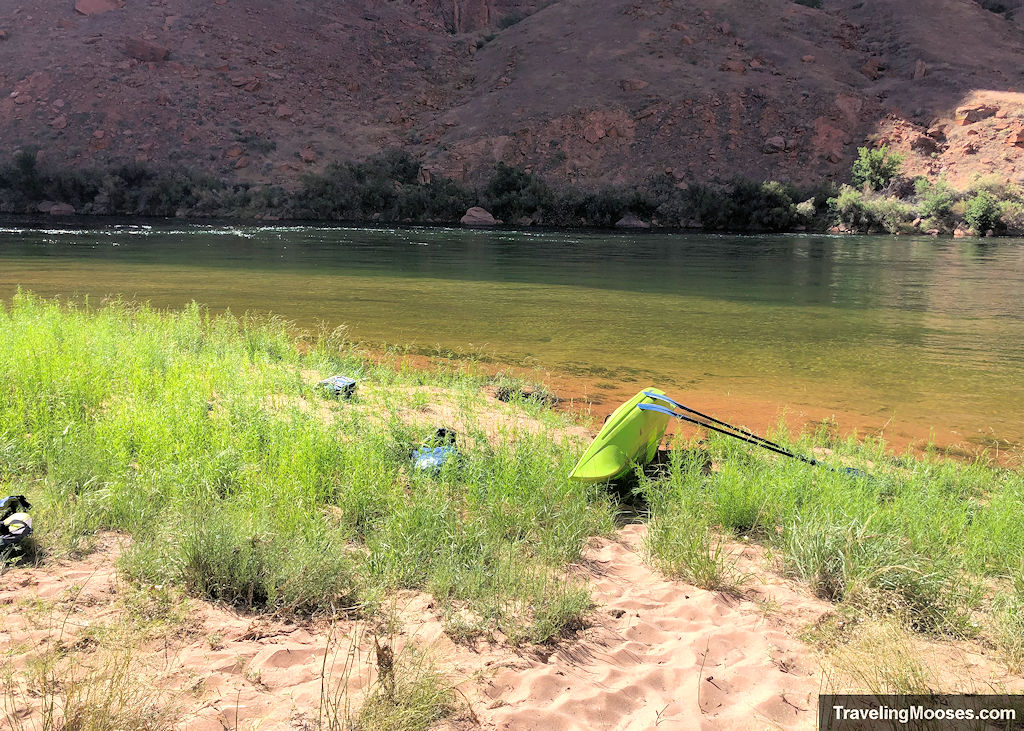 A few things we learned from getting soaked.
When you hear a vessel coming (and you can absolutely hear the sounds echoing off the canyon walls), get as close to the shore as possible and turn perpendicular to the waves. We were parallel to the waves when we got drenched.
We recommend a safer place for your expensive phone rather than a zip loc bag. There's plenty of options you can buy-online.
Plan on getting wet on your trip, whether intentional or not. Quick drying clothing is a must. I was not wearing quick drying clothing but Mr. Moose was. You can imagine who was more comfortable after 20 minutes in the hot sun.
Utilize a dry bag for your goods in the kayak. We only had one dry bag but two backpacks.
The good news in all of this? Apparently newer iPhone models are water resistant. My version, had up to 30 minutes, fully submersed, before it had a problem. I thought it was a goner, but it still works perfectly.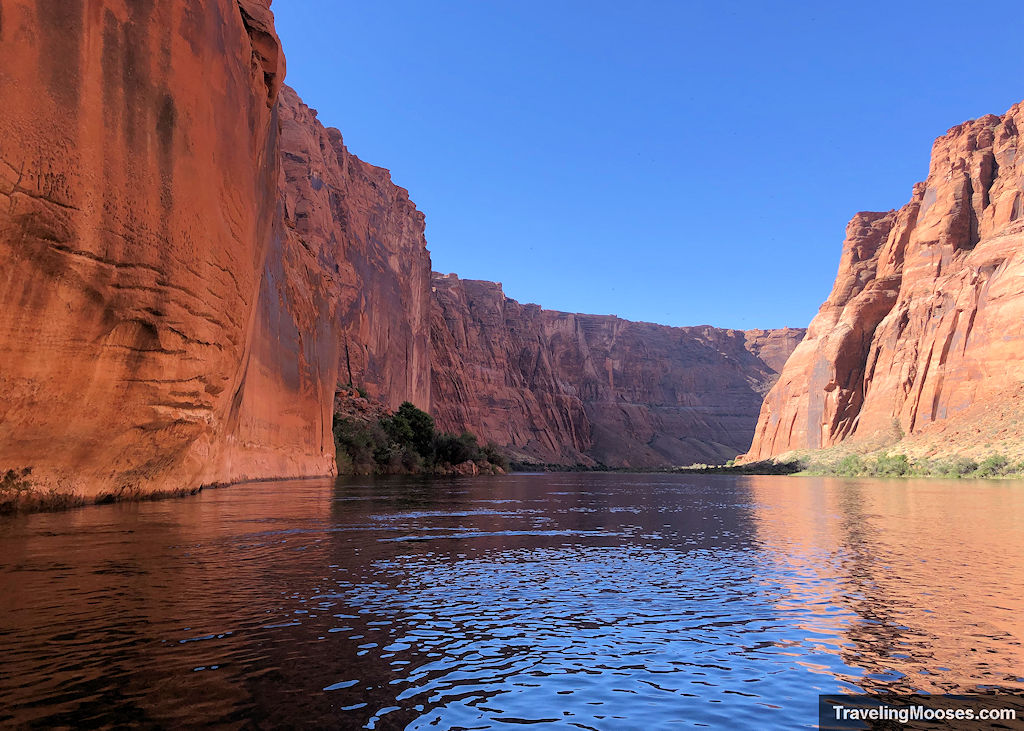 Exploring 3,000-year-old petroglyphs
Back on the water, we began to look for the landing area to visit the petroglyphs.
You'll know you're arrived when you see four wooden structures along the left shore line and more than likely a bunch of kayaks lined up wanting to visit the same spot.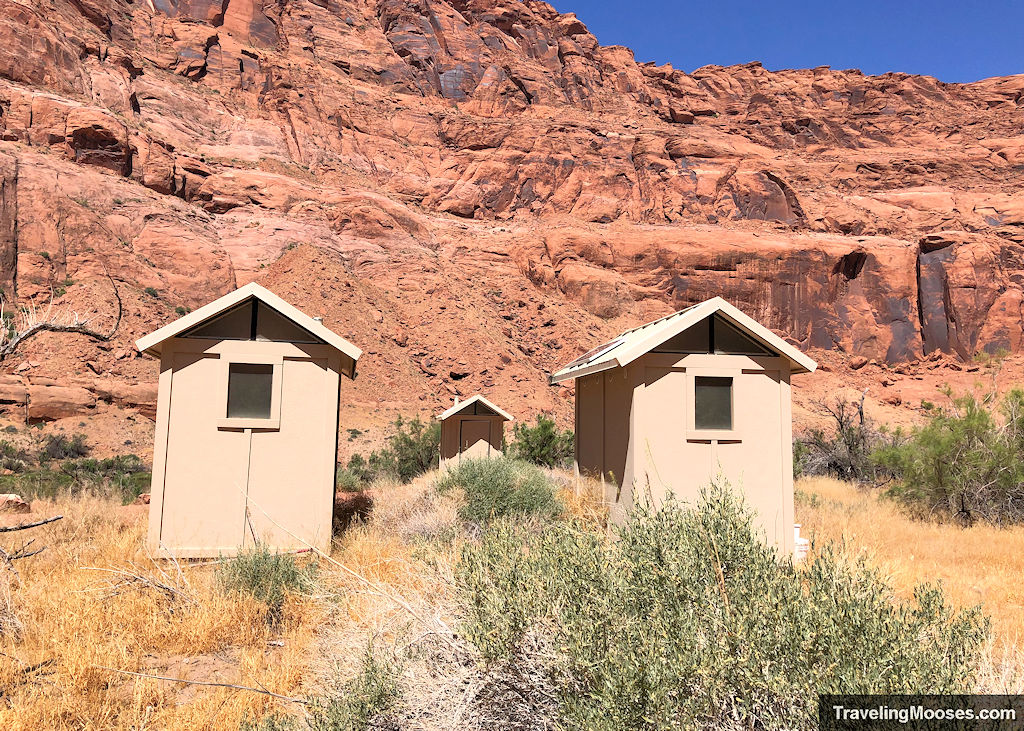 This is a good spot to stop and stretch your legs and complete the short walk to the petroglyphs.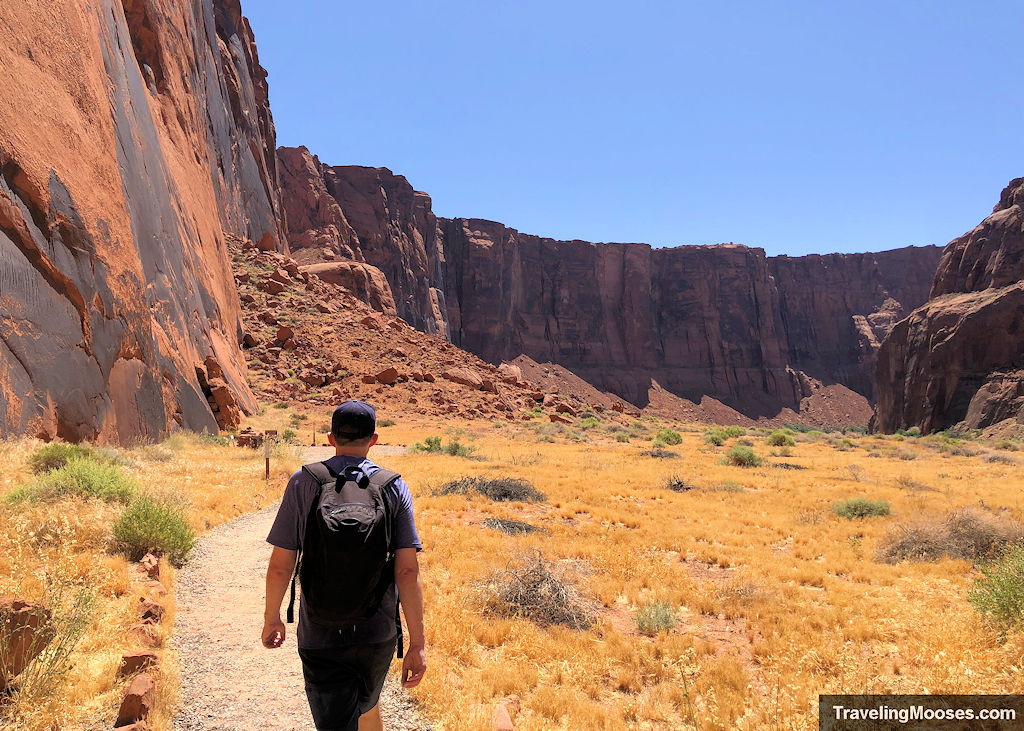 Start off at the outhouses and continuing walking past them (downriver), on an easy-to-follow path for less than 0.25 miles. The trail will end and you'll see some signage that talks about the petroglyphs.
They are estimated to be somewhere between 3,000 to 6,000 years old.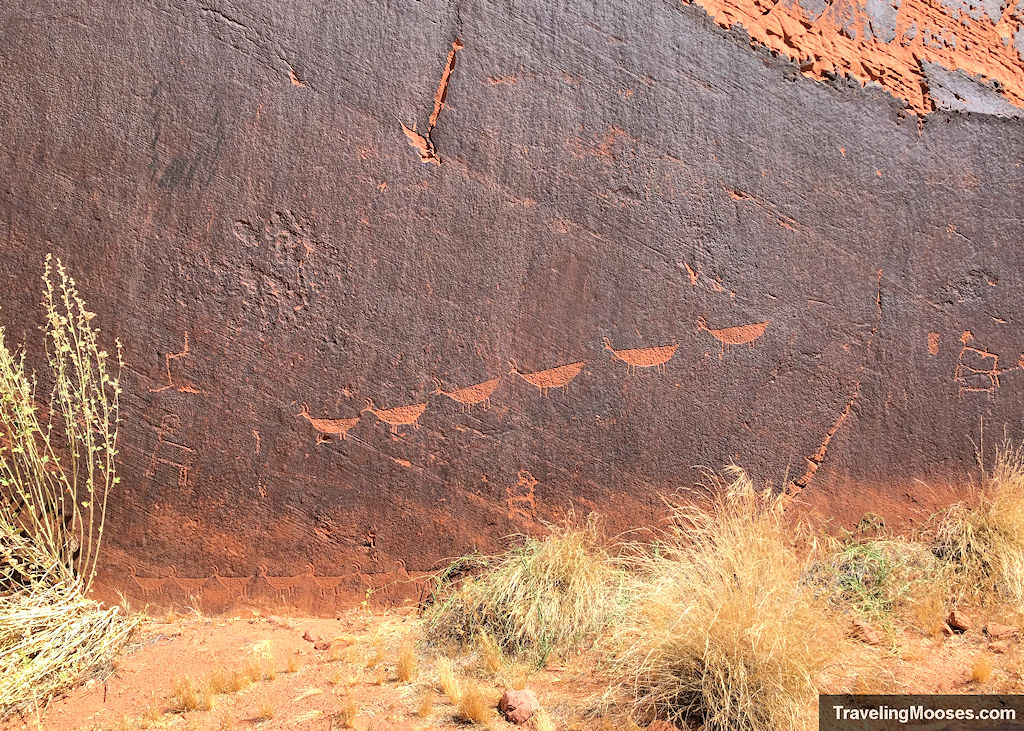 After examining the art, head back the way you came to continue your journey down river.
Kayaking through Horseshoe Bend
Back on the water, we continued our journey towards Lees Ferry.
After the petroglyphs, the next point of interest is to traverse through Horseshoe Bend.
Read more: You won't want to miss Horseshoe Bend Overlook!
Horseshoe Bend looks very different from the official overlook vs being in a kayak on the river.
In fact, if you didn't know it, you would say it was "just another bend in the river". Look up the 1,000-foot-high canyon walls and you'll see tiny specks walking around on the canyon's edge. This is the official spot of the Horseshoe Bend Overlook.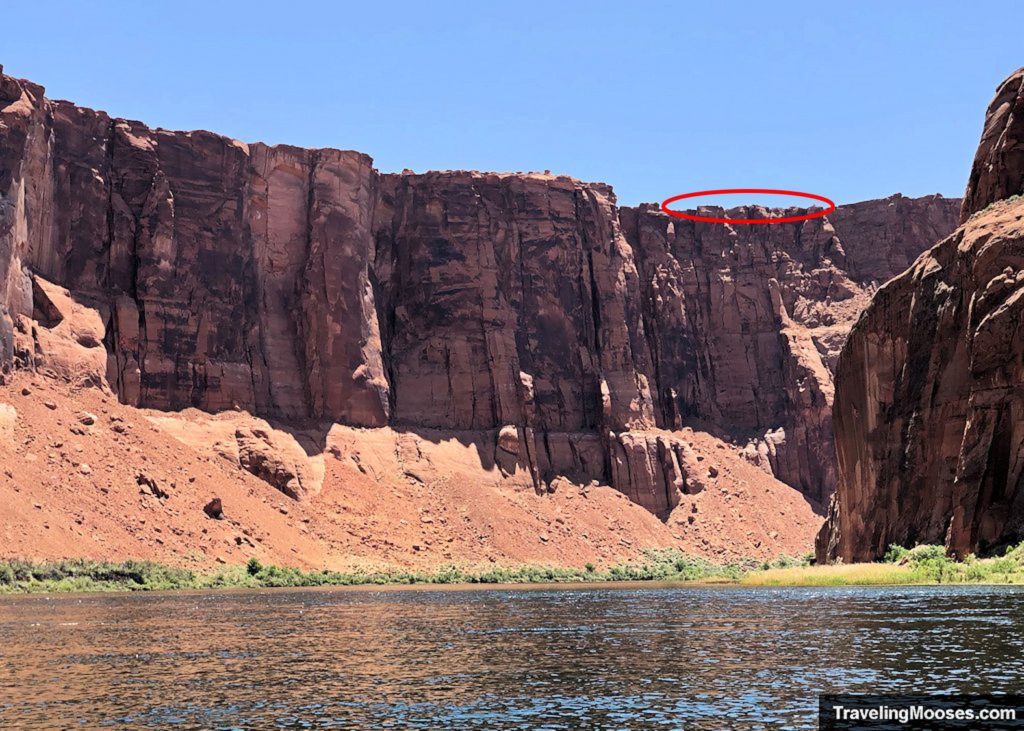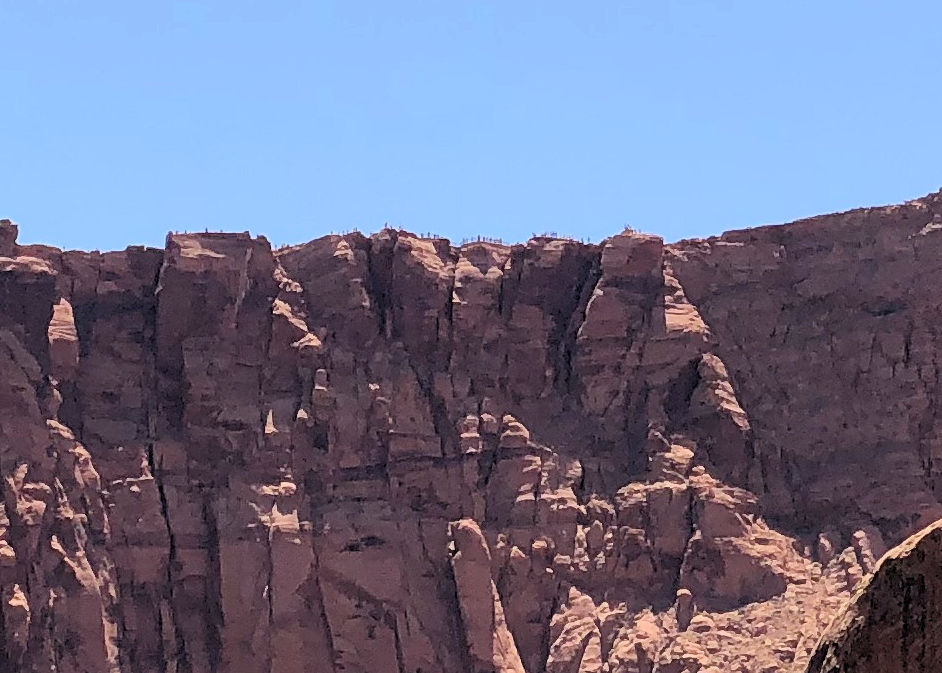 We tried to wave at the people, but no one waved back. The next day, when we visited the overlook, we found out why.
This is what kayaks look like from above.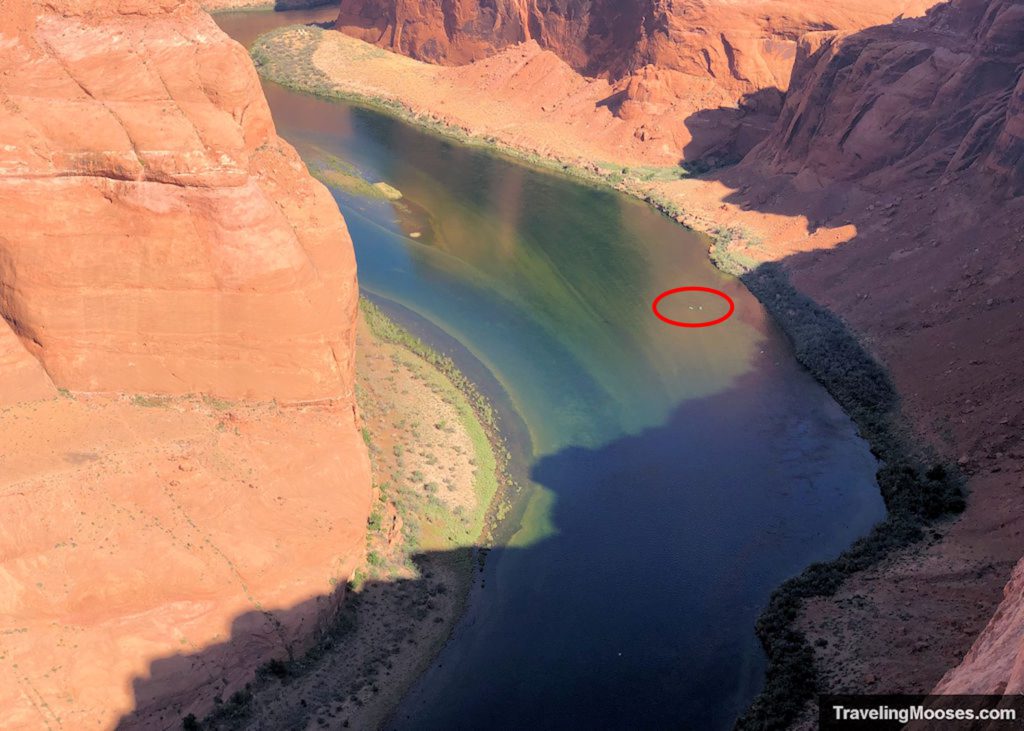 After Horseshoe Bend, you'll pass by the 8-mile and 6-mile camps before reaching the trailhead for Waterholes Canyon.
We were exhausted by the time we reached the area and decided not to stop, but found the entrance packed with kayakers. We're told if you venture away from the river for a bit, it will end up in a beautiful slot canyon.
Later, after doing a bit of googling, we found out there is a guided tour to visit the Waterholes Canyon that can be accessed off of Highway 89. In fact, you can't enter this area anymore without a guided tour. We aren't sure if you're allowed to visit the slot canyon from the water without a permit, but we didn't get the impression anyone was there stopping visitors.
Just after Waterholes Canyon, you'll see a large sand dune in front of you. This denotes the last landmark you'll see before arriving back at Lees Ferry.
Our vessel captain had originally said it was a 45-minute paddle from the sand dunes. We aren't sure if he meant when you can first see them or once you reach them. Regardless, it took us far longer than 45 minutes to finally reach Lees Ferry.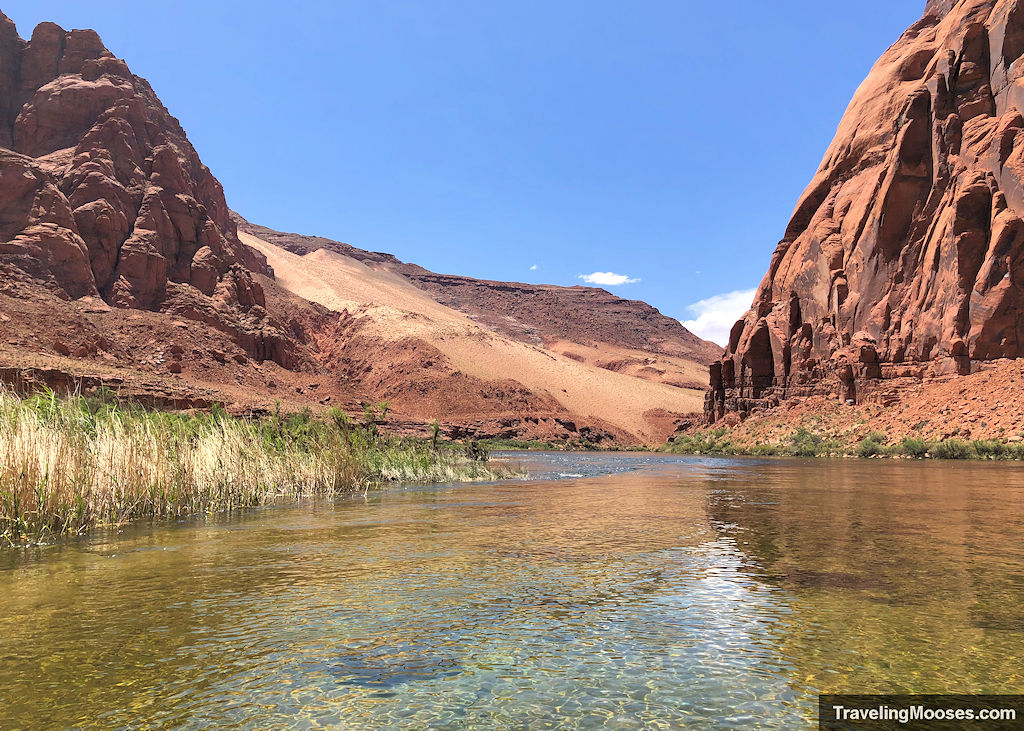 To be fair, we aren't conditioned for kayaking and the river was far more difficult to paddle than we expected. We believe this was for a few reasons:
The frequent power boats racing up and down the river caused additional stress and maneuvering to avoid being drenched.
While the current does generally go downriver, we noticed a lot of cross currents throughout the journey. The river current was strong enough that if it wanted to take you sideways, that's what was happening. We periodically wondered (and joked) what would happen if we did not paddle at all. Would we ever end up at Lees Ferry or in some never-ending spiral on the side of a canyon wall somewhere?
The vessel captain also highly encouraged us to stay near the sides of the canyons and "cross like hell" to reach the other side if needed. He also said the current was far less on the "inside" of various bends. We mostly his followed his advice but determined it made our journey much harder. We watched other kayakers effortlessly float down the middle of the channel smack dab in the current. Those same kayakers also didn't seem phased when a boat sped past them causing a giant wake.
Somewhere around the sand dunes, we were treated to a few horses munching on some grass. We aren't sure if they were wild or not, but they were beautiful.
By the time we reached Lees Ferry, we couldn't have been more excited to call it a day. While we had fun and do still recommend the trip to others, it was far more exhausting and stressful than our trip through Topock Gorge.
If we had to do it over again, I think we would have done the 10-mile trip and tried to see the slot canyon instead.
Is kayaking Glen Canyon worth it?
Rating: 4.0 Mooses


What we liked:
You can't beat the views along the water.
The peaceful and quiet moments when we could relax and float downstream.
Exploring 3,000 – 6,000-year-old petroglyphs.
Seeing Glen Canyon Dam from the water.
Watching visitors enjoy Horseshoe Bend from the overlook.
What we didn't like:
The river was tougher to paddle than expected. Between the boat traffic, winds and sometimes erratic current, it was more challenging than we anticipated.
We would have liked a map to see how far we were along on the journey and to know the best places to stop.
The captain that took us upriver wasn't too interested in giving us much information. We had to ask basic information such as, when were the kayaks due back, who should we check in with when we are back and where do we put them? He also seemed surprised and a tad annoyed we wanted to go all the way to the dam. The fee for the backhaul service is the same whether or not you are dropped off at 10 miles or 14.
While we got to sit on the boat ride up, not everyone did. One person had to stand and three others shared a space meant for two. They looked uncomfortable. The boat captain seemed to think it was normal.
There was little to no shade along the route. We never could find a lunch spot that offered any protection from the sun. This would be quite challenging in the hot summer months.
Verdict: We're glad we went, but I don't think we'd take a second float down the river. If we did go back, we'd pick the 10-mile option and start as early as possible to minimize the boat traffic.
Bonus tip: Don't leave your America the Beautiful pass on your dashboard like we did. It was so hot in the car that it melted / warped. We would hang it up next time.
Here's a few bonus photos: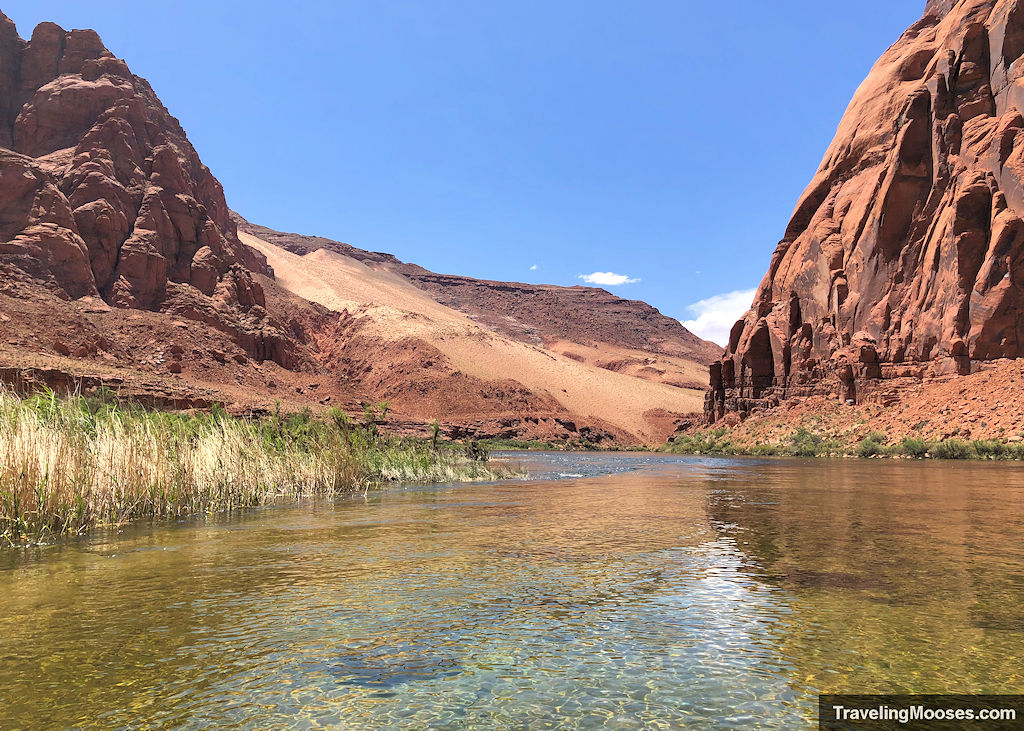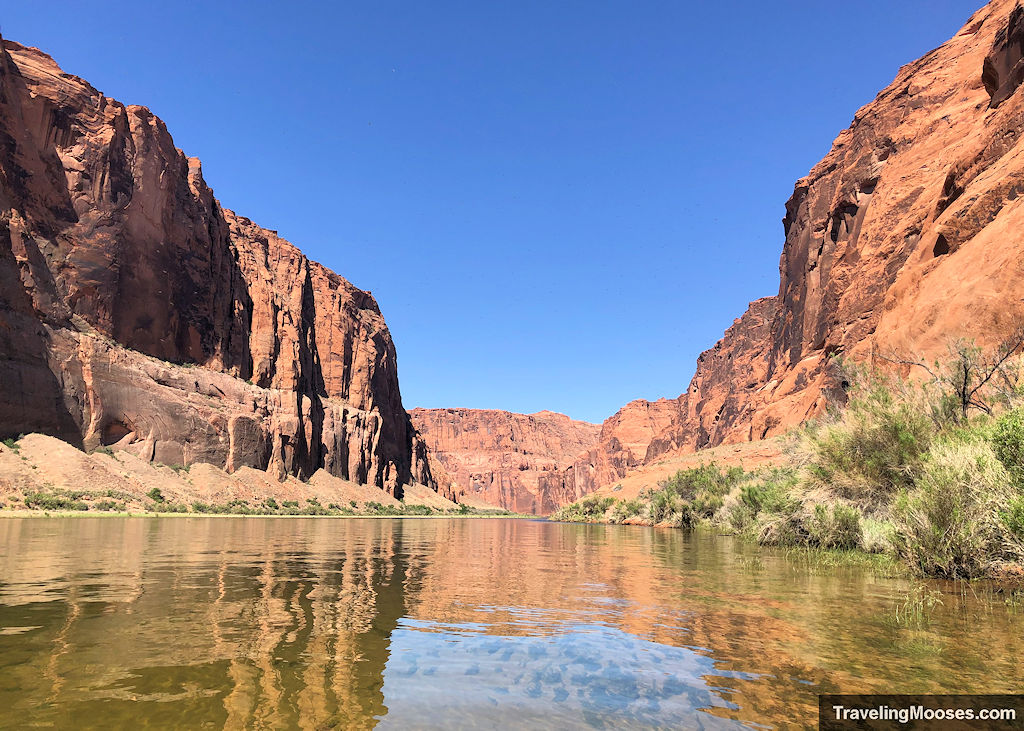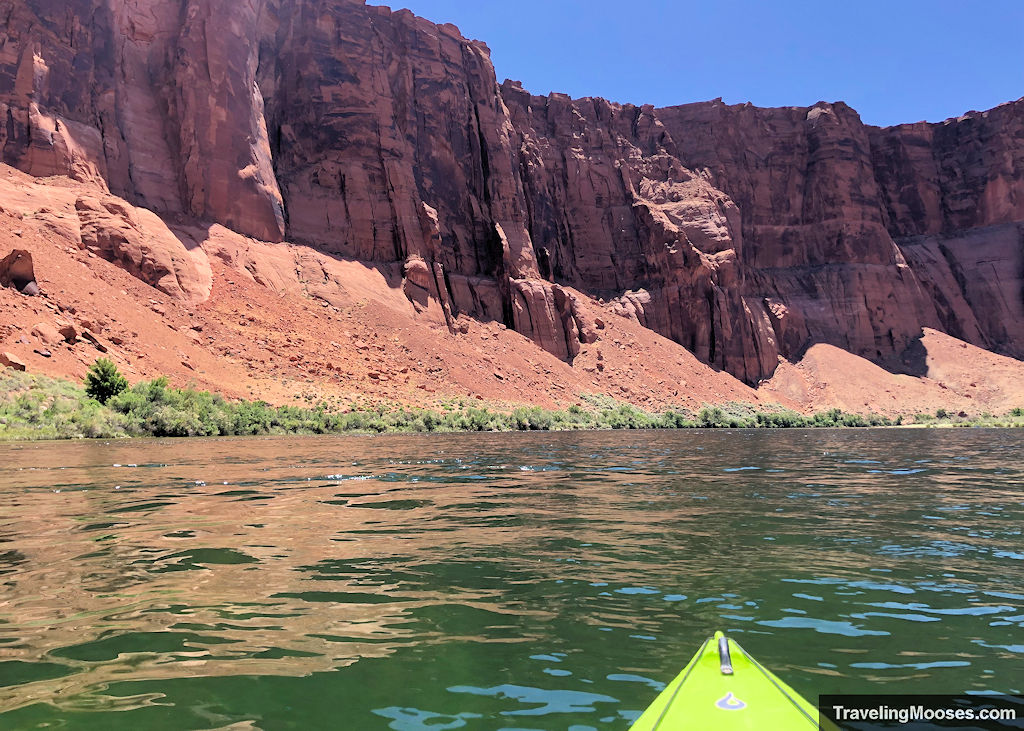 Know before you go
You'll need to pay for a backhaul service to bring your kayaks to either Glen Canyon Dam or the 10-mile drop-off area.
Once they drop you off, there's no turning back. The good news is if something went wrong you could probably flag someone down to help.
The water can get choppy from the wakes the boats create. Be sure to protect everything you don't want to get wet.
There was plenty of parking at Lees Ferry when we visited (though we did arrive early). You'll need a national park pass to enter the area.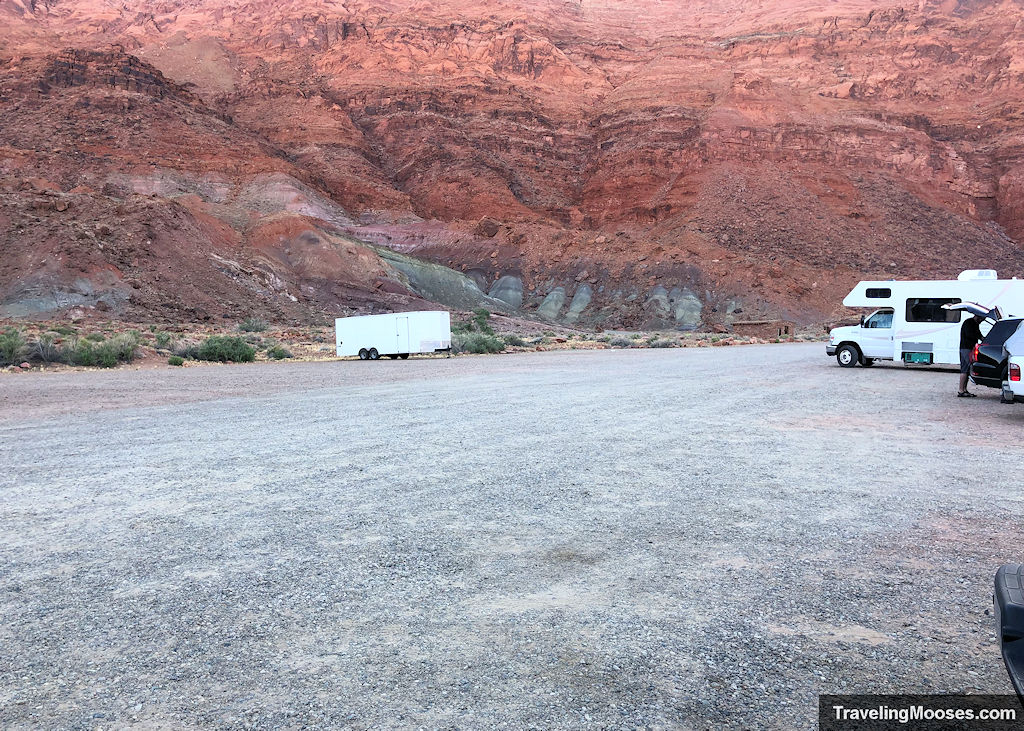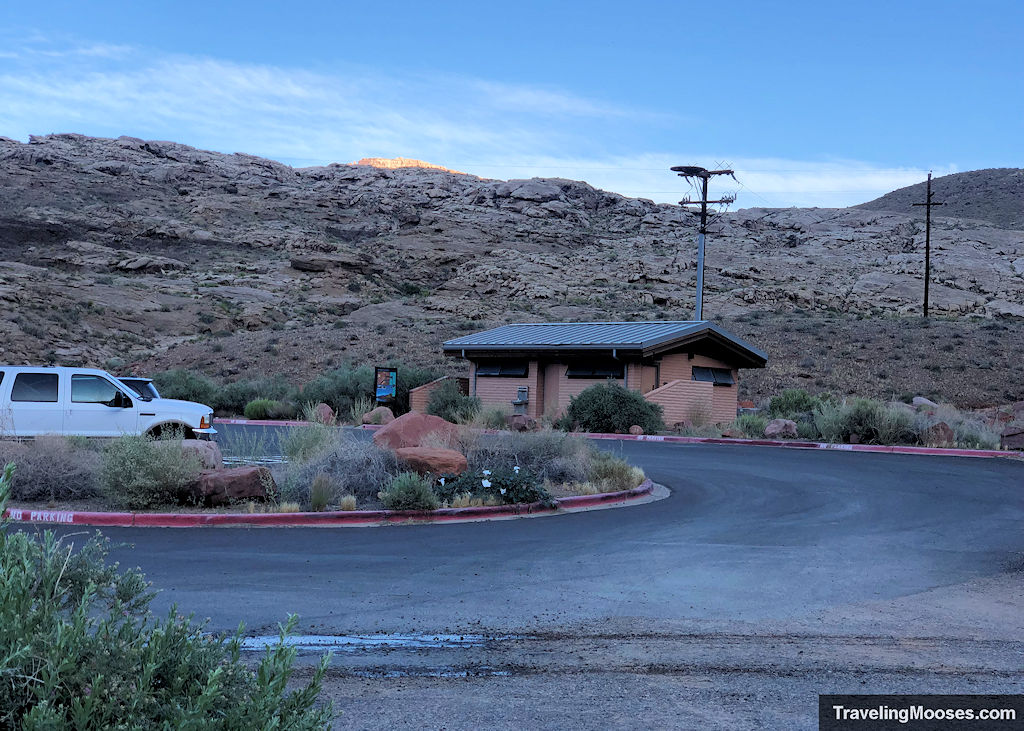 What to bring
Sunscreen, sunglasses and a hat – There's not much shade along the river. You'll be in direct sun most of the time.
Snacks and water – Sorry, there's no dairy queen along the river banks for a quick refreshment stop. Anything you want to eat or drink on your paddle; you'll need to bring it with you.
Water shoes or sandals – We recommend bringing water shoes or sandals on the trip, or at least something you don't mind getting wet. We definitely got wet, especially when stopping for a break or to eat lunch onshore.
Camera – We brought our iPhones with us to take pictures. We recommend bringing a protective waterproof case for your phone if you decide to bring it. At the very least, make sure you put it away when you hear a boat coming.
Band-Aids – If you haven't kayaked for a while, you might develop blisters on your hand. It can happen quickly if you paddle too long on one spot. We recommend bringing something to cover up any blisters you might get.
Dry Bag – This is necessary to keep anything dry you don't want getting wet. We rented one from the tour company for $5.
Life jacket – Don't ever go on the water without one and be sure to wear it at all times. We were advised to stay close to the edges of the canyon and stay out of the main channel. Our boat captain warned us the water was extremely cold (he was right). If you do fall in, get to shore as soon as possible, hypothermia can happen fast.
Other items – Here's a good article from REI that you may want to check out for other items to bring.
Frequently Asked Questions
Is kayaking Horseshoe Bend hard?
We found this stretch of the Colorado to be moderate in difficulty. It is considred a Class 1. While the current generally helped us down river, we found many areas with cross currents toward the canyon walls. Additionally, the wake from the commercial vessels and wind the day we visited made things more difficult.
In comparison to our 14-mile trek through Topock Gorge (also on the Colorado River), we felt this part of the river was more difficult and had to paddle more (often strenuously) to make it back to Lees Ferry.
Read more about kayaking Topock Gorge.
We were exhausted by the time we finished and were glad to be done.
Can I bring my own kayak to Horseshoe Bend?
Yes! You'll still need to purchase a ticket with a backhaul service to be dropped off up river. They will allow you to bring your own kayak. The charge is per person for the backhaul service.
Can you kayak Glen Canyon without a guide?
Yes, we kayaked Glen Canyon without a guide. The river's path through the canyon walls is well defined and we didn't see any places we could have become lost. There was also no white water. We did see rocks under the water, so it's possible that could change in the future if less water is released through the Glen Canyon Dam.
More information for your trip to Page, AZ