In this guide:
Topock Gorge to Crystal Beach Kayak Tour
Activity
Kayaking the lower Colorado River through Topock Gorge and ending at Castle Rock Bay.
Distance
14-mile paddle
Difficulty
Easy/Moderate

We feel like the distance makes this a "moderate" difficulty, but as far as paddling, we would consider it "easy". The water could almost be described as a peaceful lake with a current. If you decided not to paddle much and only steer the kayak, the current would eventually take you all the way to Lake Havasu without much effort.

There is no white water along the river. If there is a head wind the day you visit or a lot of boats on the water, we would up the rating to moderate/strenuous.

Due to the distance and remoteness of the area, this may not be the ideal adventure for someone who has never kayaked before. Converserly, if you're looking for bone jarring white water rapids, this likely isn't the trip for you.
Launch
Topock 66 Marina – 14999 Historic Rte. 66, Topock, AZ 86436
Pull-out
Crystal Beach in Castle Rock Bay
Cost
Launch Fees at Topock 66 Marina – $7 per kayak

Tour Fees: We paid $67 per person for the Topock Gorge tour through AZ WACKO* (Western Arizona Canoe & Kayak Outfitters) which included the launch fee & transportation.

All prices subject to change.
Estimated Time
5 – 7 hours.

Our trip took 3.5 hours.
Rating
5.0 Mooses
*We are not affiliated with the tour company in any way and paid full price for our tickets.
What to expect
We were looking forward to spending some time on the water during our trip to Lake Havasu. Unfortunately, because it was Christmas, most of the commercial boat trips weren't running.
Luckily, AZ Wacko was still open and running kayak tours.
We booked the Topock Gorge trip and met the AZ Wacko crew at the Castle Rock parking lot at 7:00 a.m.
After jumping in the van, we drove around 30 miles to the Topock 66 Marina to launch the kayak. We opted for a tandem, but they do have singles available as well.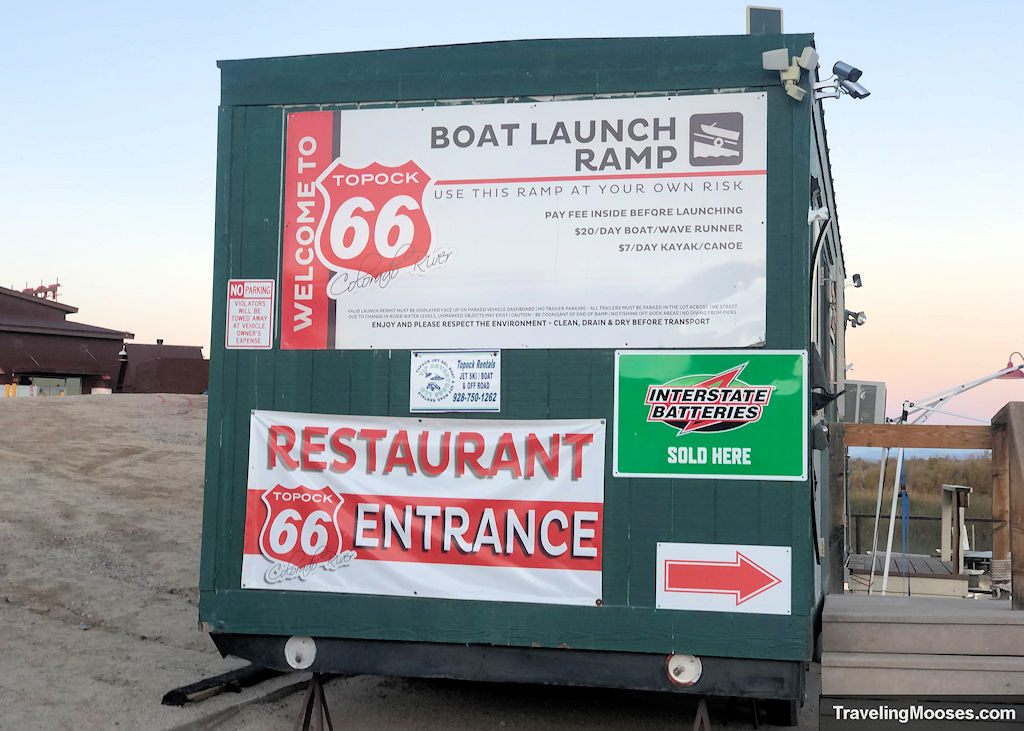 Launching at Topock 66 Marina
We arrived at the marina and found that AZ Wacko had taken care of everything for us. They had a dry bag, special case for our phone, paddles, life jackets, a map and went inside to pay the launch fee while we prepared.
After unloading the kayak, they even helped push us off on our great adventure.
The Route
After launching at the marina, we would take a left, and then another left into the main channel. We would then paddle around 13 miles downstream before taking another left for the final leg to Castle Rock Bay. The total journey would be 14 miles.
Main highlights:
Topock Gorge
Devil's Elbow
Sand Dunes
Picture Rock
Mohave Rock
The Sandbar / Blankenship Bend
A map of our journey is below. You can see photos along the route at various points of interest.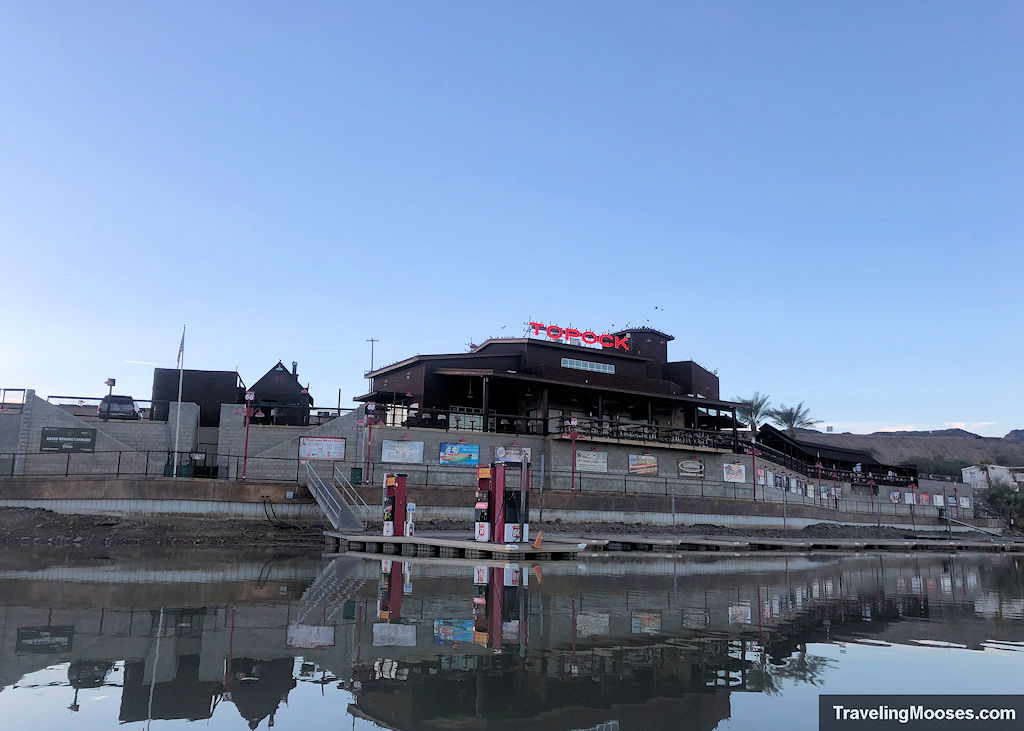 Once in the water, you'll paddle through the outlet of Topock Marsh, and pass in front of the Topock 66 Marina. We were in the water at 8 a.m. sharp.
The first major point of interest is a railroad bridge that was built in 1945 for AT&SF (Atchison, Topeka and Sante Fe Railroad). Today, it is owned by the Burlington Northern Sante Fe Railroad (BNSF).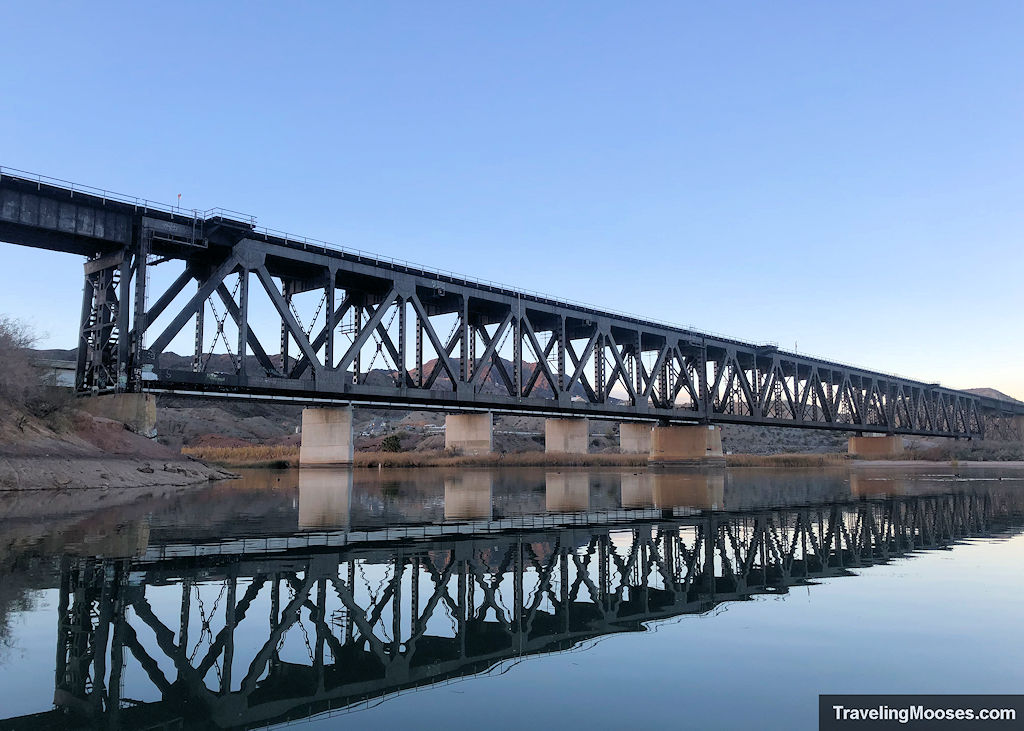 The bridge is constructed from three 350-foot Warren deck trusses, one 50-foot beam span and four 100-foot deck girder spans.
Next up you'll pass under the I-40 bridge and come across the iconic "Old Trails Colorado River Bridge." The bridge opened for road traffic in 1916 and was used along the old route 66 until 1948. They decommissioned the bridge when it was deemed no longer suitable for the volume of traffic it was carrying.
The bridge is now used for a natural gas pipeline.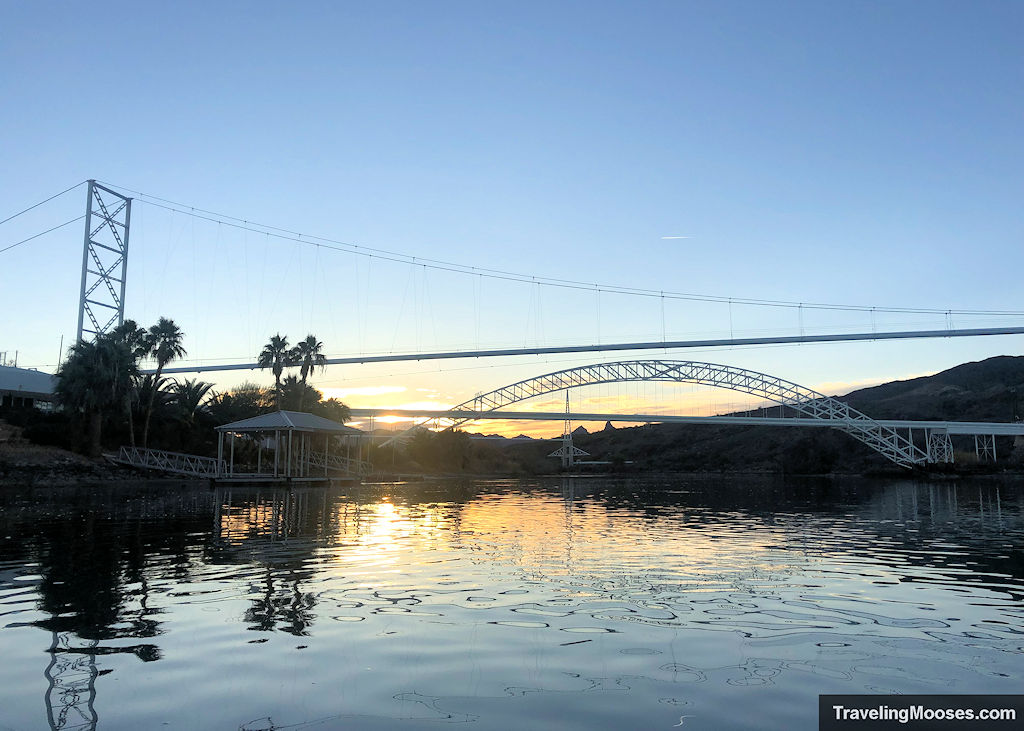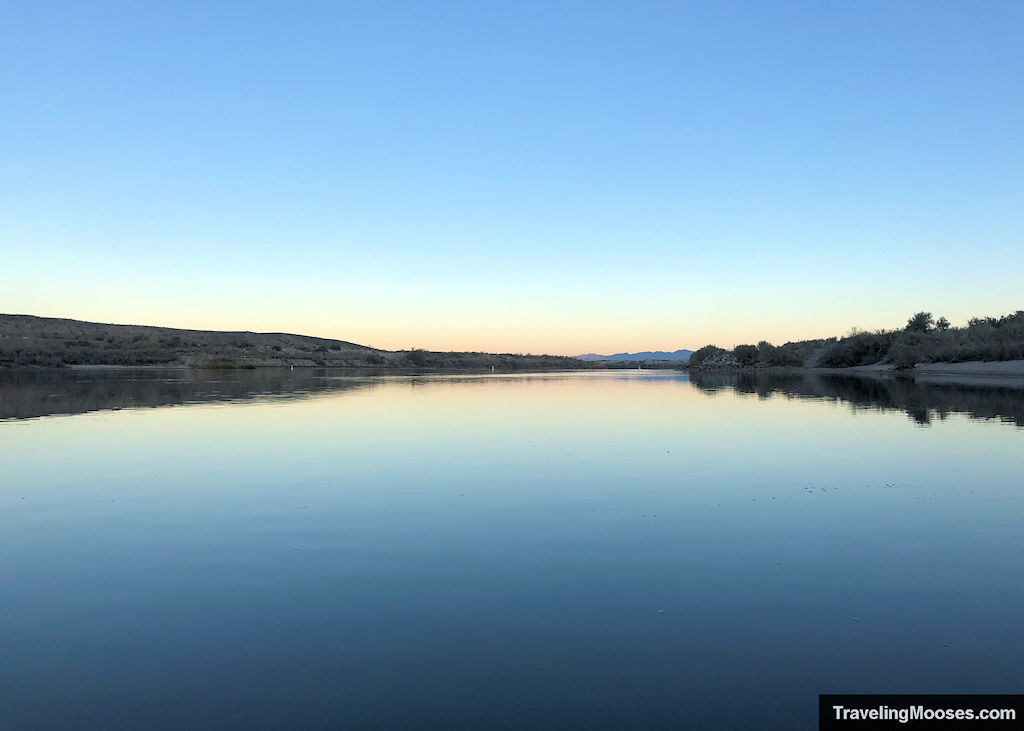 The waters were clear and calm and though we didn't know it at the time, we wouldn't see anyone else on the water that day.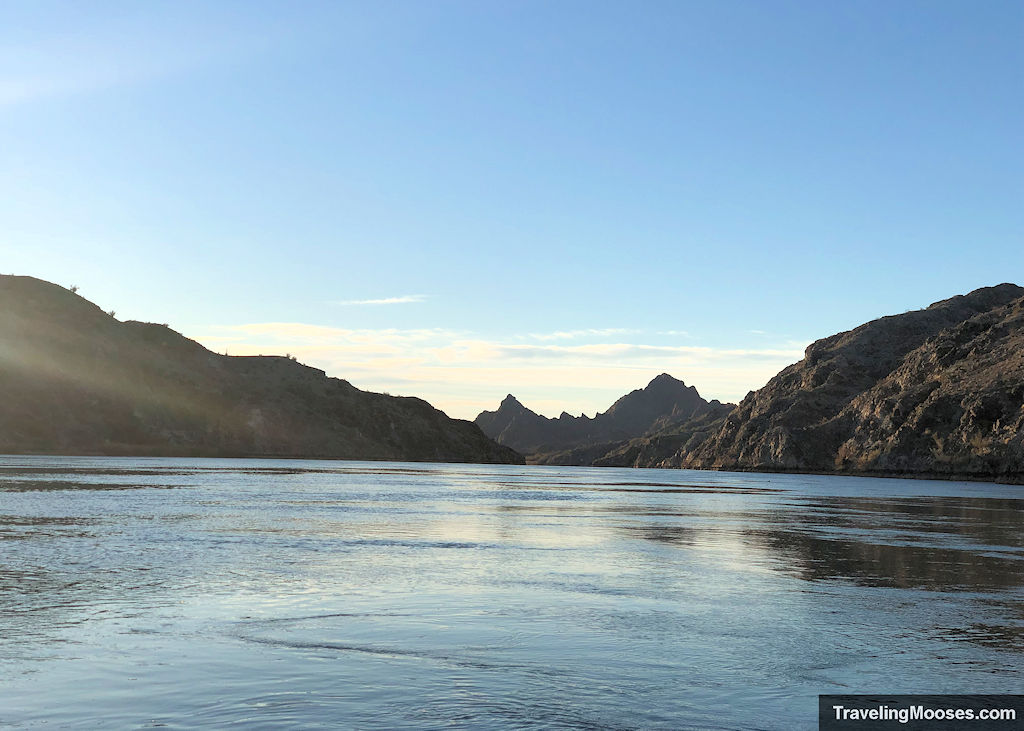 As there was no boat traffic, we paddled whereever we wanted and mostly stayed in the middle as the current gently swept us downstream.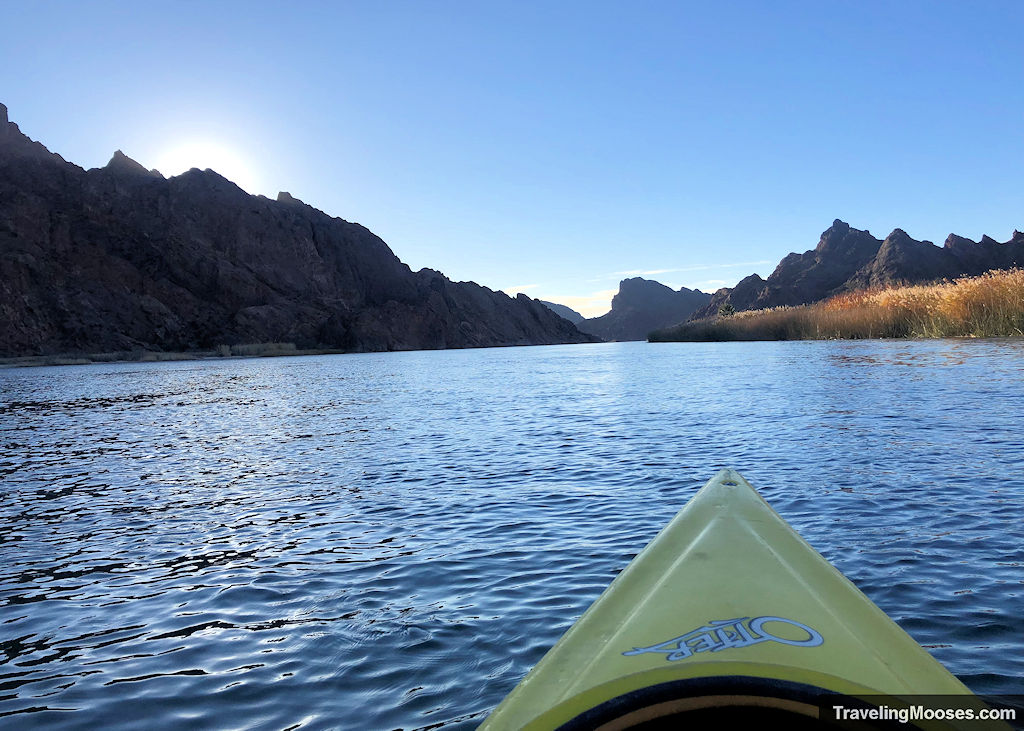 We enjoyed the calm waters and the multitude of ducks lounging around by the grasses near the shore. They seemed quite skittish as they would take off flying if we paddled anywhere within 50 feet of them.
Topock Gorge
Around 3.5 miles south of the I-40 bridge, the Topock Gorge begins and lasts for around 4.0 miles. Large rock formations will tower above you on both sides of the river.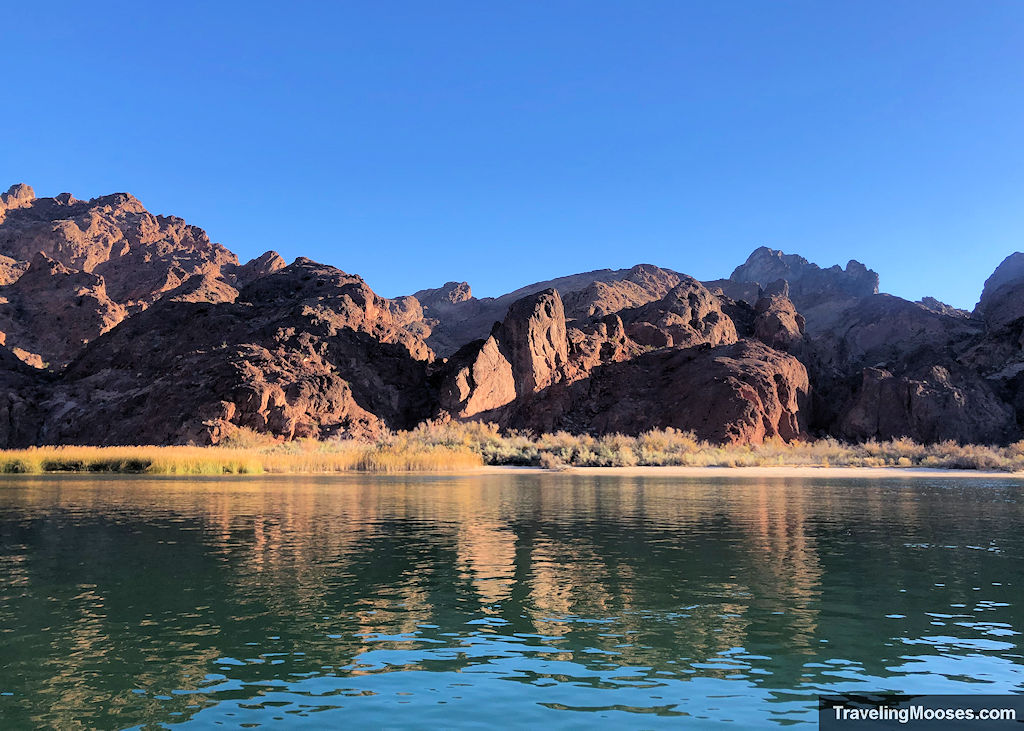 Topock Gorge was our favorite part of the trip and many refer to the area as a "mini-Grand Canyon." We've never rafted down the Grand Canyon, but the rocks were quite impressive.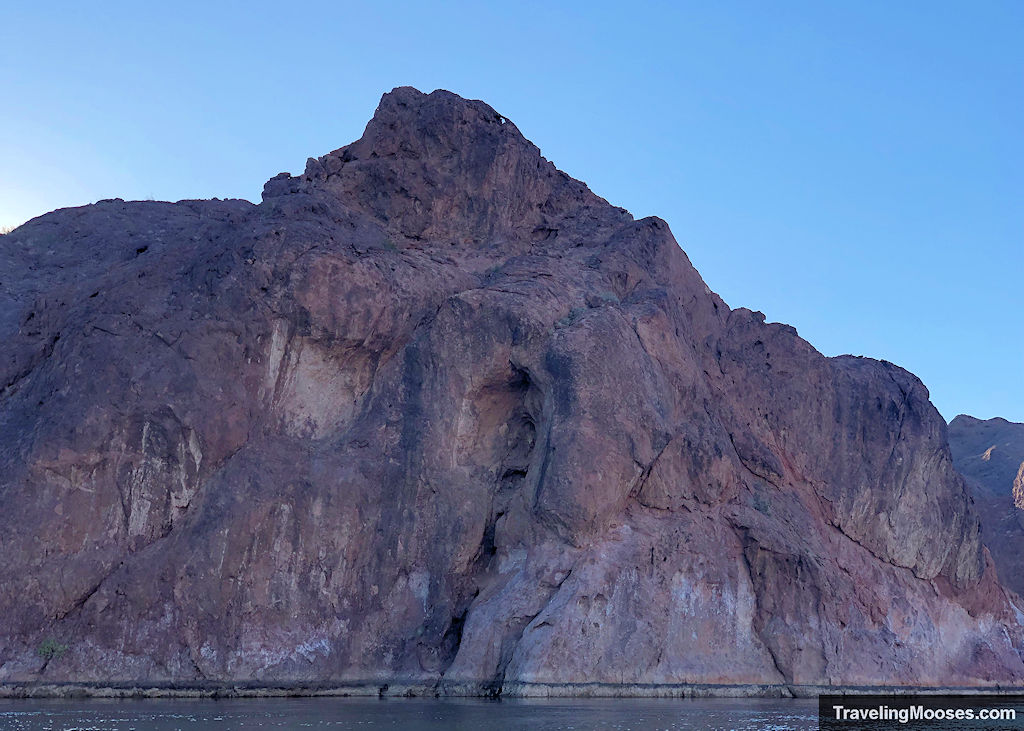 We took our time through this portion of the journey and enjoyed the scenic views.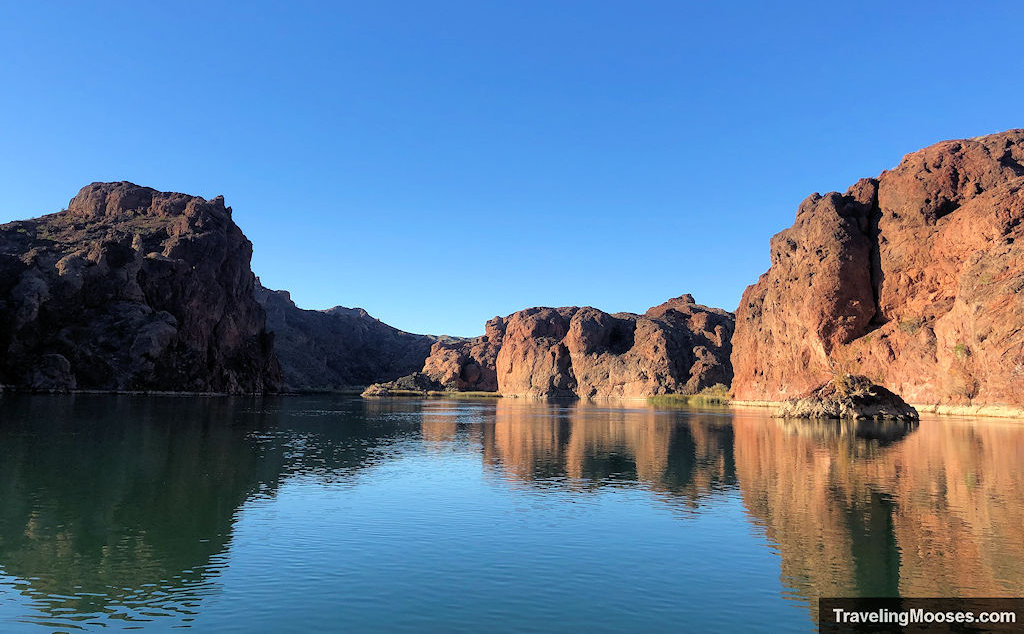 There are many places to stop and explore, whether in an alcove by the rocks or on a sandy beach.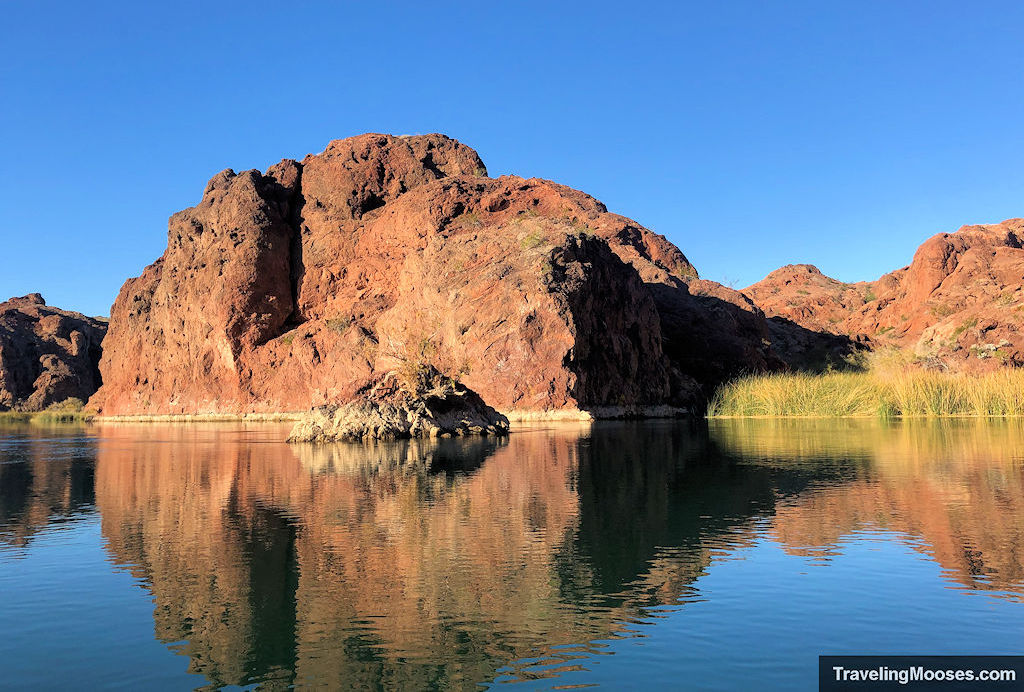 Devil's Elbow
As you progress down the river, you'll soon come upon "Devil's Elbow." Other than the water turning "like an elbow" through the canyon, we couldn't find any history on how it got its name.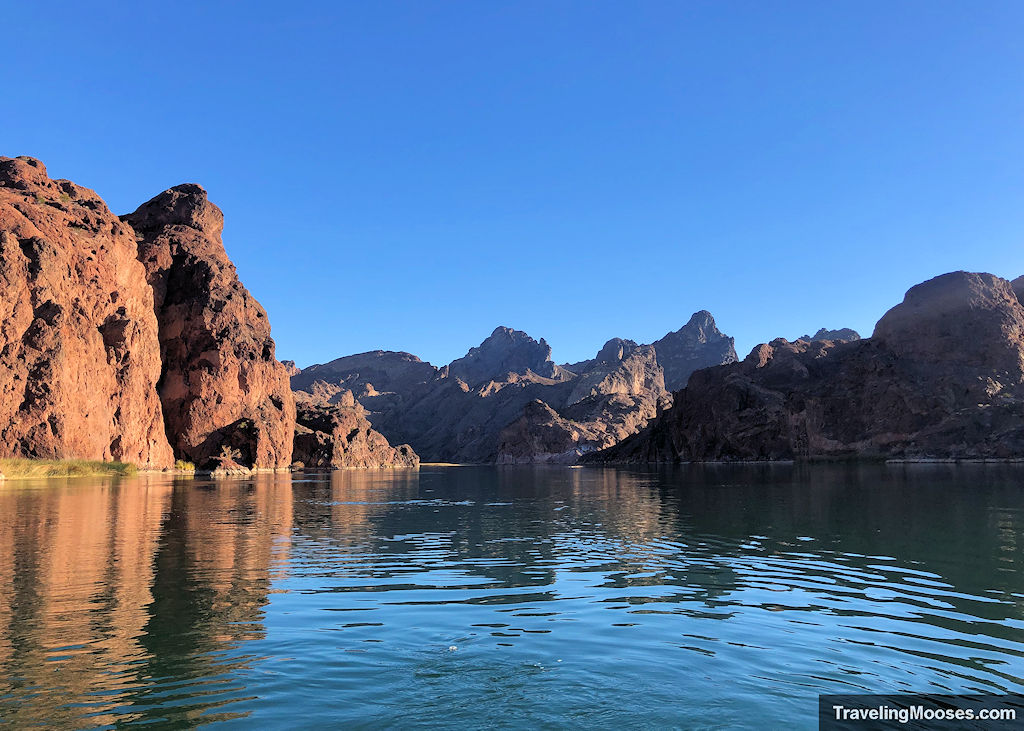 Here is a view at the corner of Devil's Elbow.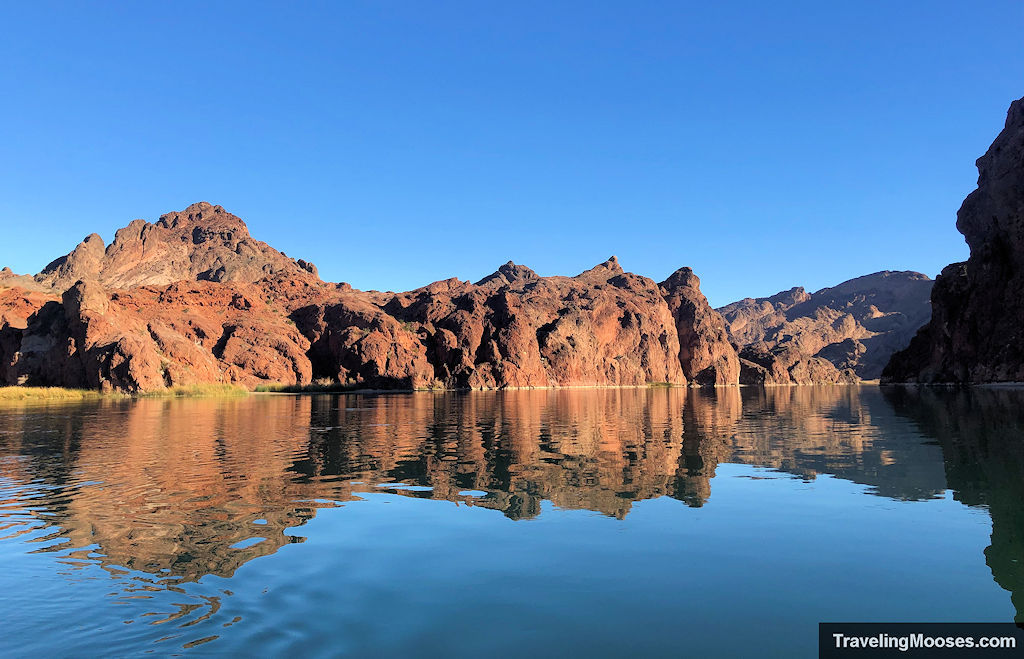 Not long after Devil's Elbow, the grand cliffs of Topock Gorge begin to fade.
Luckily, before it ended, we spotted this beautiful blue heron.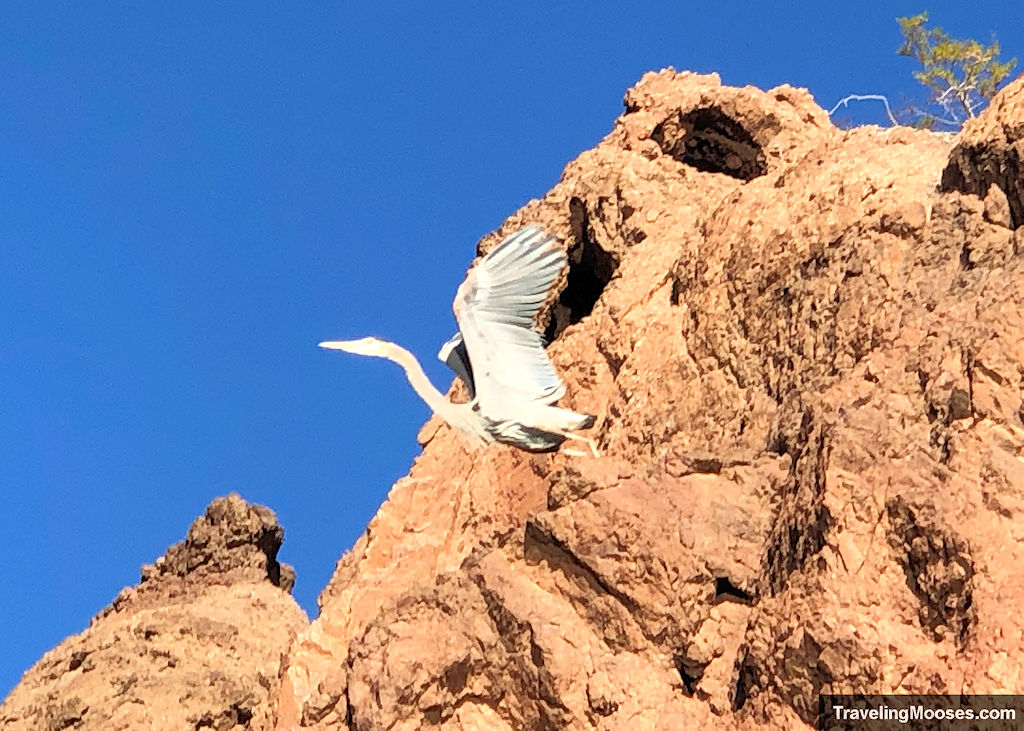 The photo doesn't do it justice, but it was an amazing sight to see.
Sand Dunes
About a half-mile south of Topock Gorge, you'll see sand dunes on your left.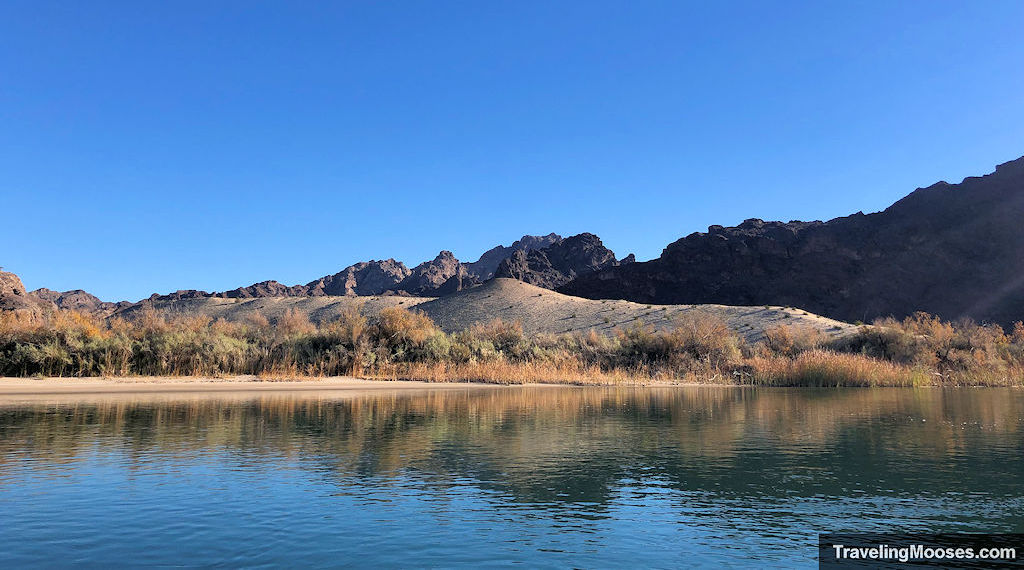 This wouldn't be a bad place to take a break, plus, there's a palm tree and a lounge chair patiently waiting for its next visitor.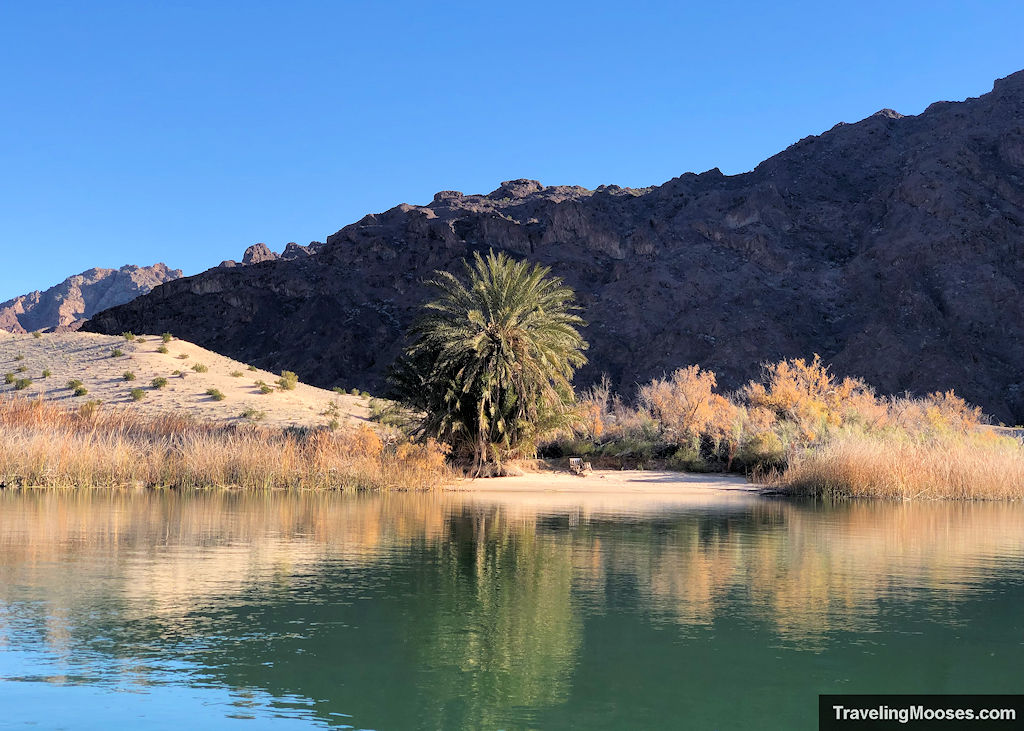 Picture Rock and Hum-Me-Chomp Petroglyphs
Off to the left of the river, you'll see some large rock formations. This is the area where mile marker 226 is and where you can find the Hum-Me-Chomp petroglyphs and Picture Rock.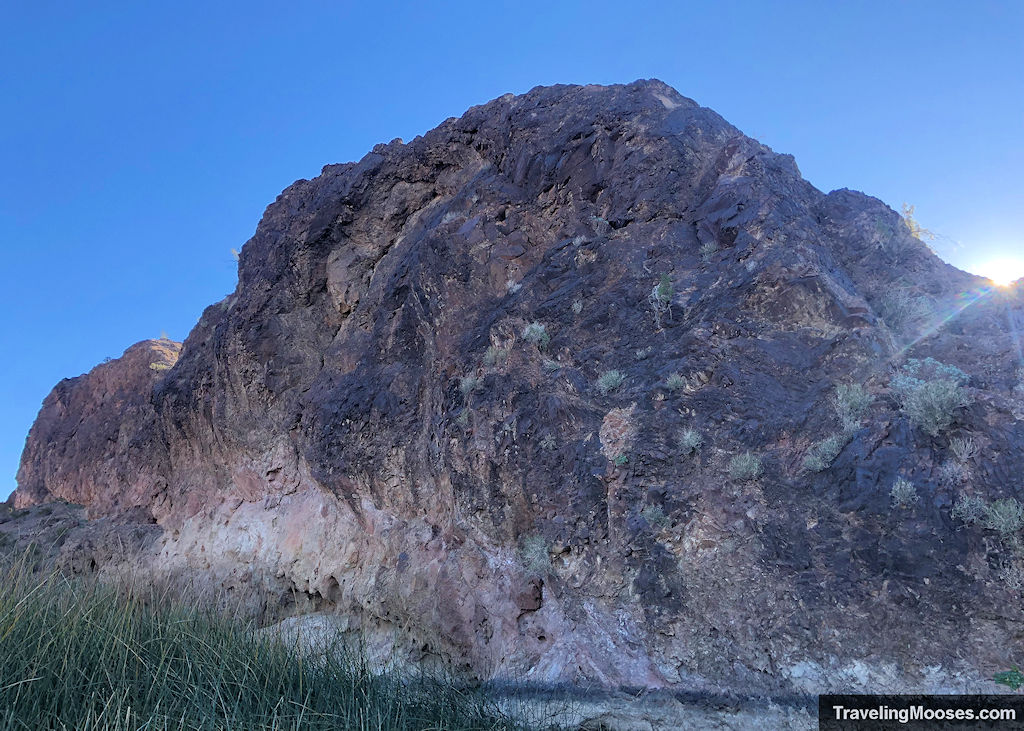 We floated around this area looking in vain for the petroglyphs and decided to give up and move on.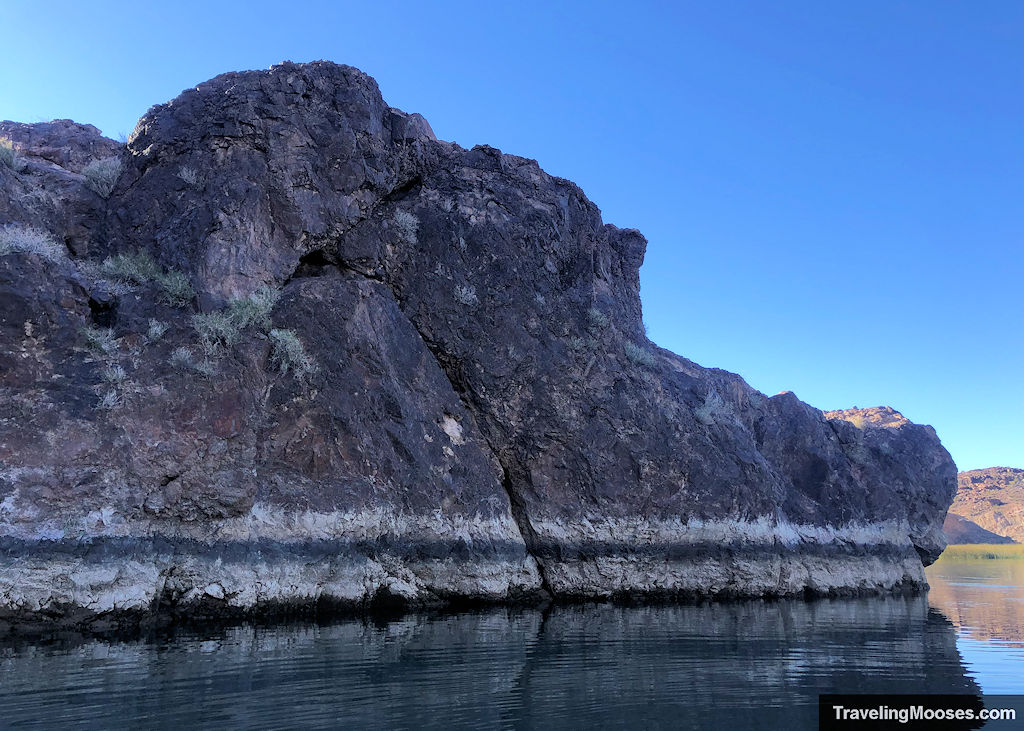 We believe we may have needed to get off the boat to find the petroglyphs, but we didn't know it at the time.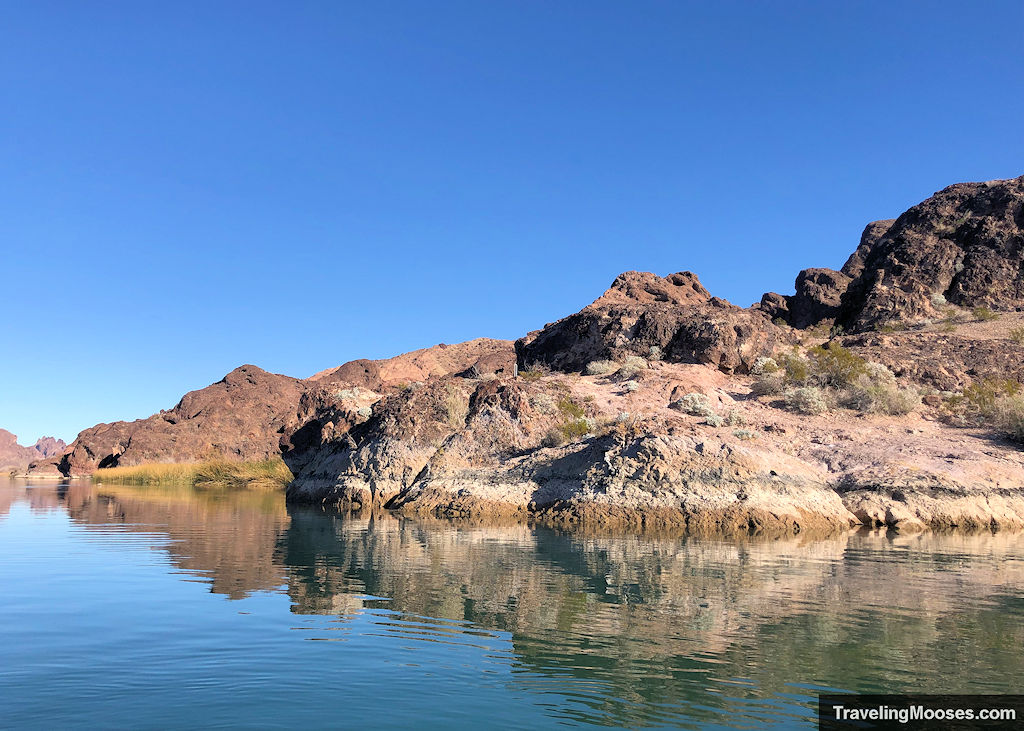 The video below shows the petroglyphs at the Picture Rock landing area. Maybe you'll have better luck than we did!
Mohave Rock
The last major rock feature before reaching Blankenship Bend and the Sandbar is Mohave Rock.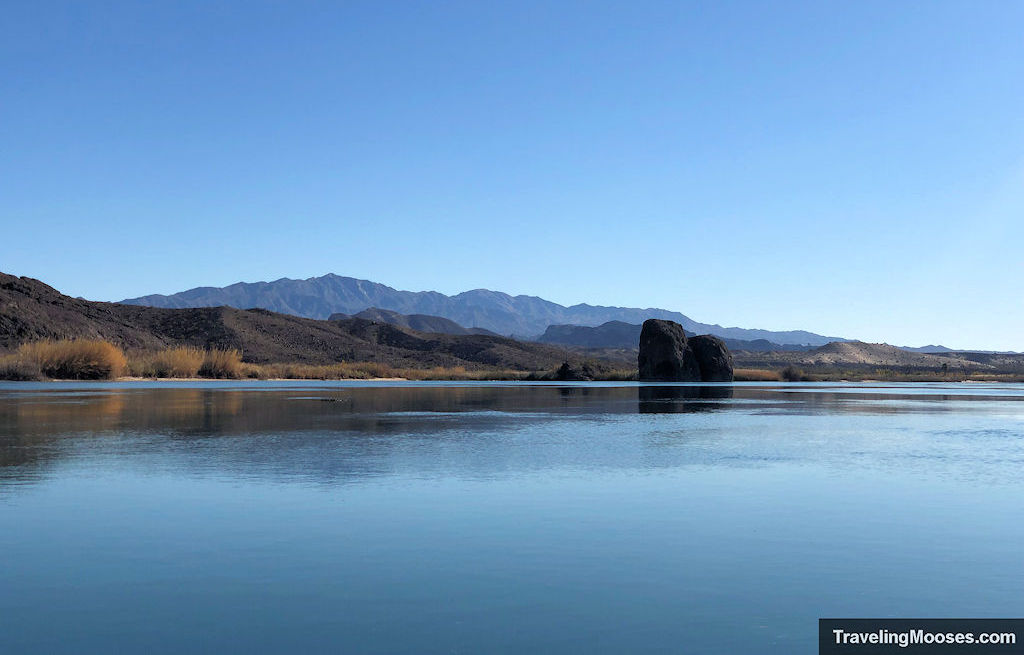 It is visible for a long way down the river, but we decided to take a closer look.
We did wonder how many people had climbed to the top of the rock as there seemed to be a way up on the back side. We subsequently hoped no one had ever tried to jump off it considering the water is quite shallow.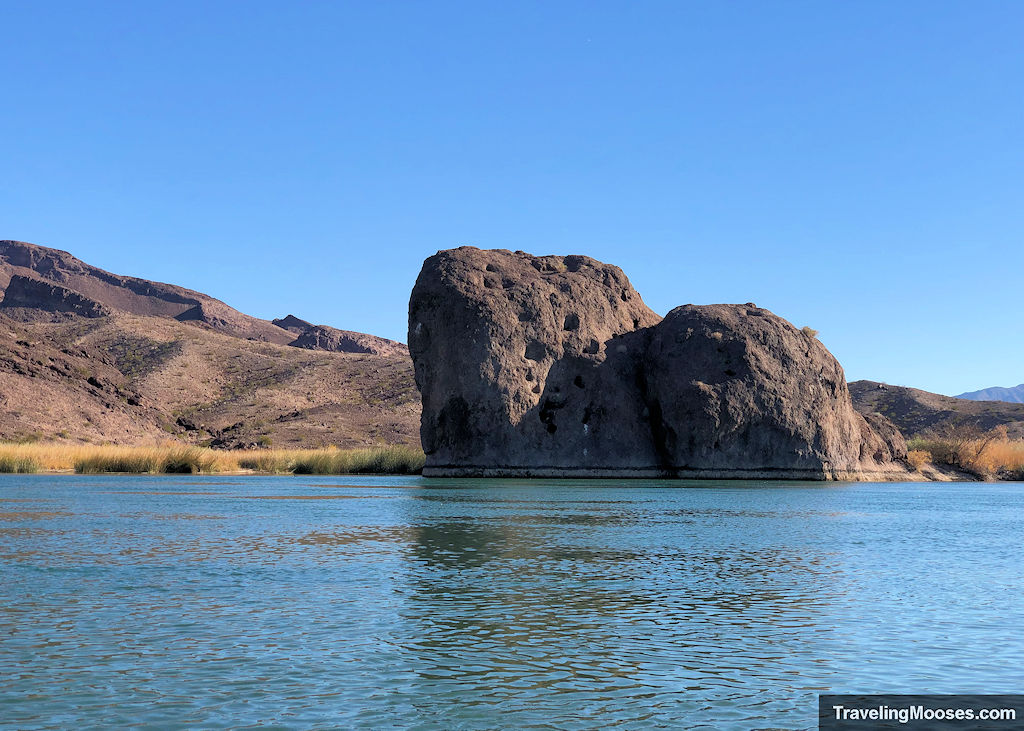 The Sandbar / Blankenship Bend
We continued on and soon came upon the famous "sandbar" through Blankenship Bend.
We didn't realize it at the time, but the fact we saw zero people on the river was remarkable.
The photo below is what we experienced.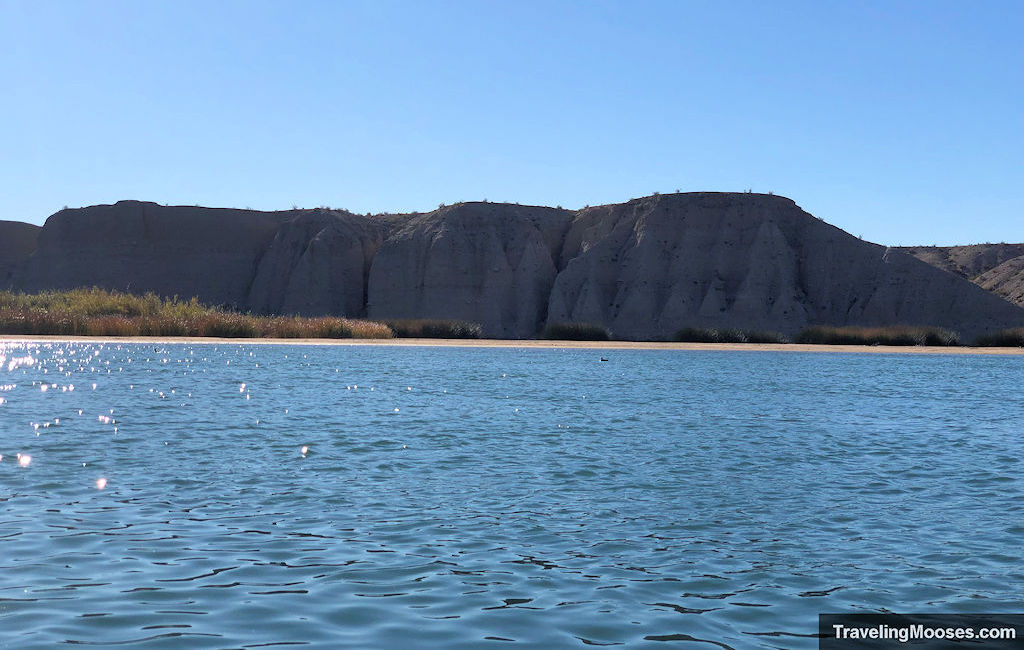 During high season, the area looks like this and this.
We would never want to kayak through that madness. It seems like a serious safety hazard.
It did sound like our tour company limits tours on certain parts of the river during the busy season and we can now understand why.
The last leg of the journey
After passing through the sandbar area and Blankenship Bend, the river widens. The wind also picked up a bit through here and we no longer enjoyed the quiet glass like water.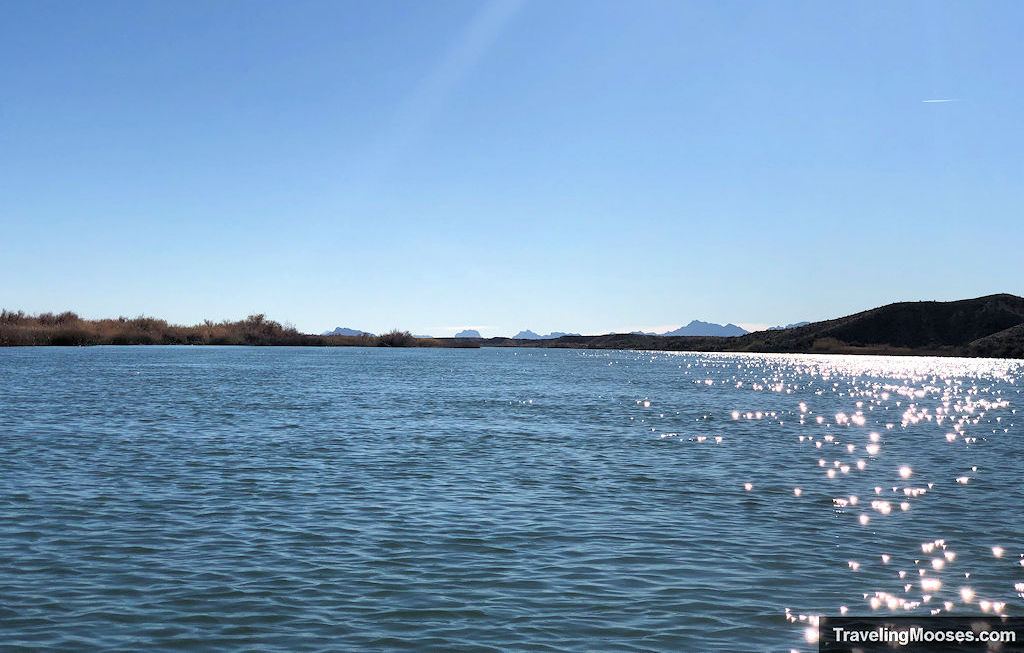 If you keep your eyes out on the right-hand side of the water way, you'll see a mile marker sign reading 222.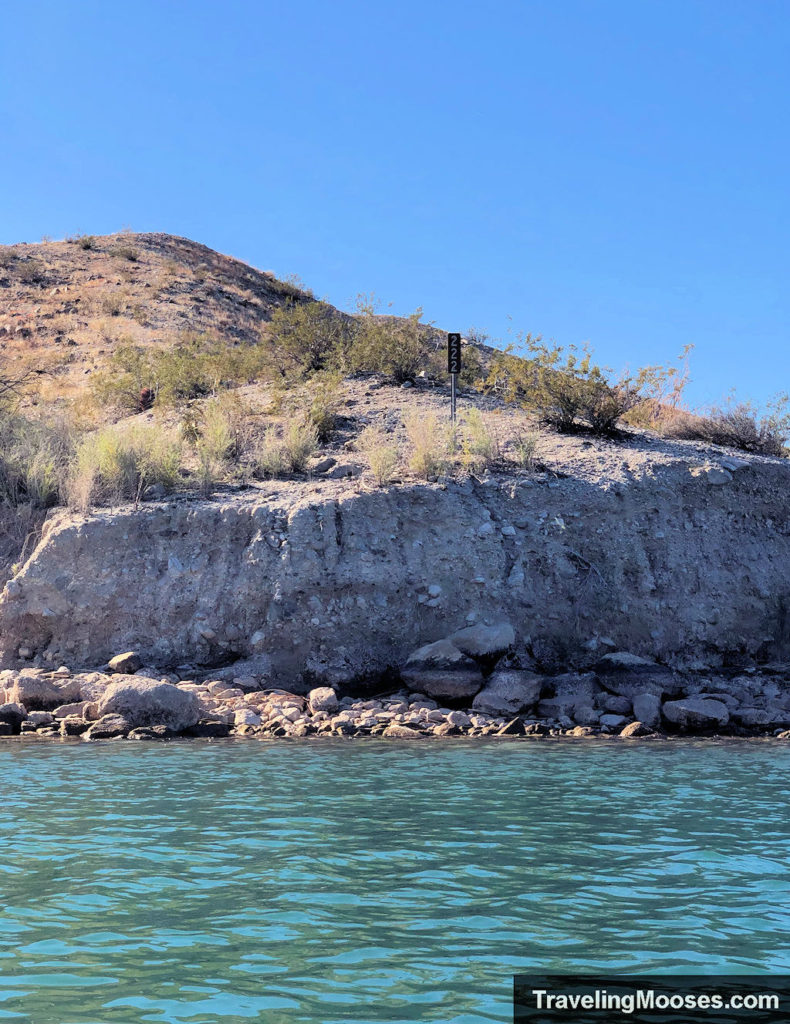 This is meaningful as the turn-off to Castle Rock Bay is around mile 220. You'll know you have about two miles left on the main channel when you see the sign.
We enjoyed the last bit of the open water, and admired the many ducks playing on the grasses near shore.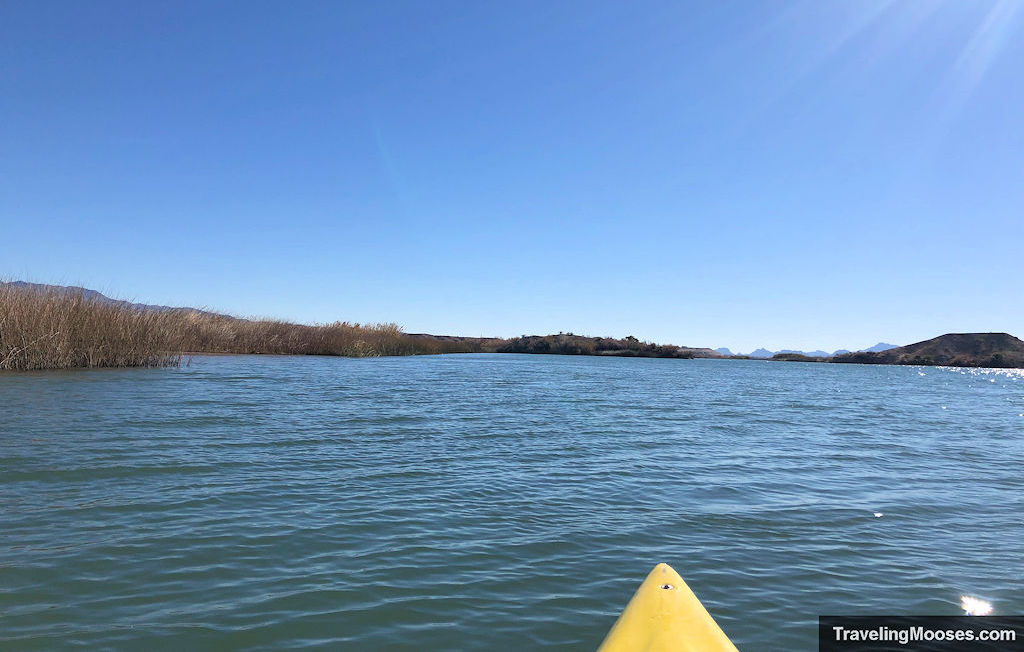 You'll see a hill in the distance and as you get closer several signs on the hillside. This is the official turn off for Castle Rock Bay. Turn left before you pass the hill.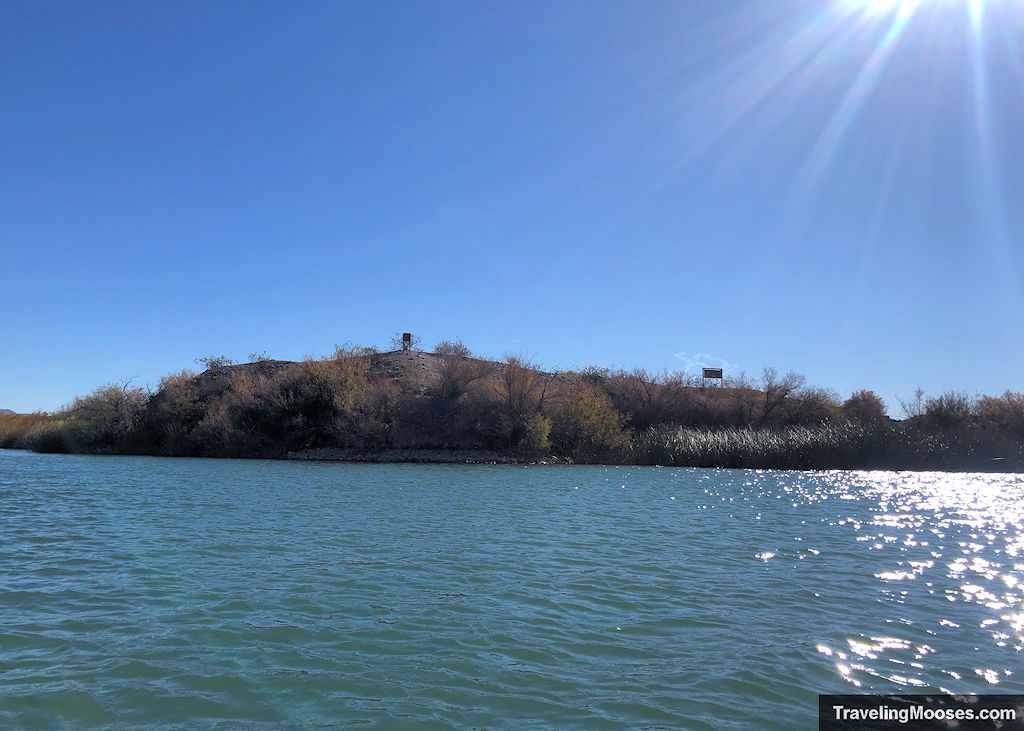 After turning left and paddling down the water awhile, you'll see some houses on the hill in the front of you. Continue until the channel stops and take a right.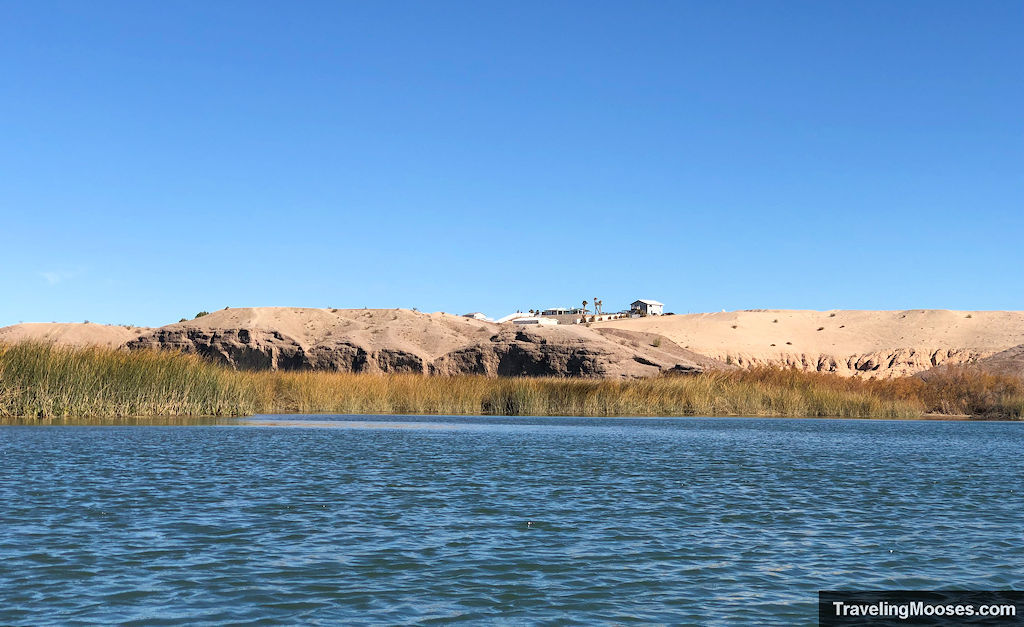 After turning right at the houses, this is where things get sticky.
A map of the aerial view of Google Maps is below. This may help visualize what is to come.
You'll see a line of grasses / reeds on your left. These will continue for a while. Keep your eyes peeled for when they end, as you'll need to take another left to reach the final cut leading to Castle Rock Bay.
When you get close, you should be able to see Castle Rock from your Kayak. If you miss the turn, it won't be fun to try and paddle back upstream.
Tip: Our phone's GPS was working at that time, so you might want to open Google Maps and make sure you haven't completely passed the bay. The entrance is at the southernmost point you can reach in your kayak.
When you've found the area you think is the cut through (depending on how high the water level is) you may end up stuck on a "sandbar". You'll likely need to go around it as we did.
We ended up almost getting stuck in the sand (it seemed more like mud or some sort of evil quicksand that you picture as a kid).
Go around the sand bar and then look for a small break in the reeds. Once you've entered the reed area, just keep going until you come out in the bay.
Here's a video of the reed area:
Our tour company did warn us the water level can drop and it can be difficult to get through the cut. Luckily, we didn't have to get out of the kayak, but we did use our paddles quite a bit in the soft sand / mud to keep going.
Return to Crystal Beach and Castle Rock Parking Area
After breaking through the reed cut, it's a quick paddle across Castle Rock Bay to land on Crystal Beach.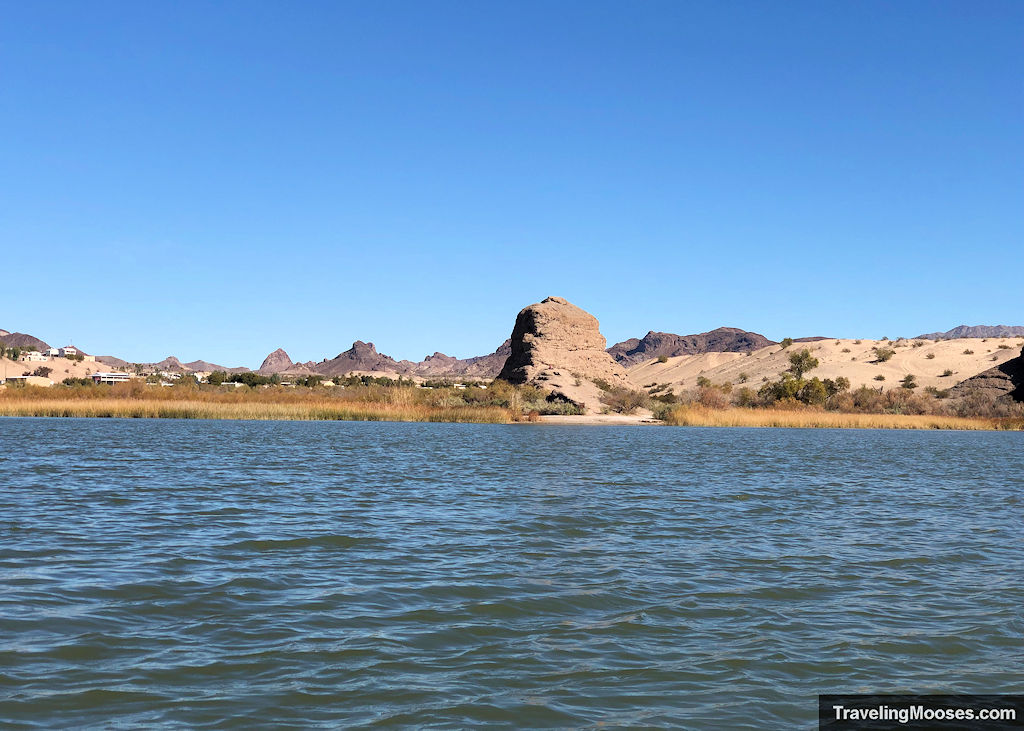 We finally saw a person (the first one on our entire journey), enjoying the views of Castle Rock Bay.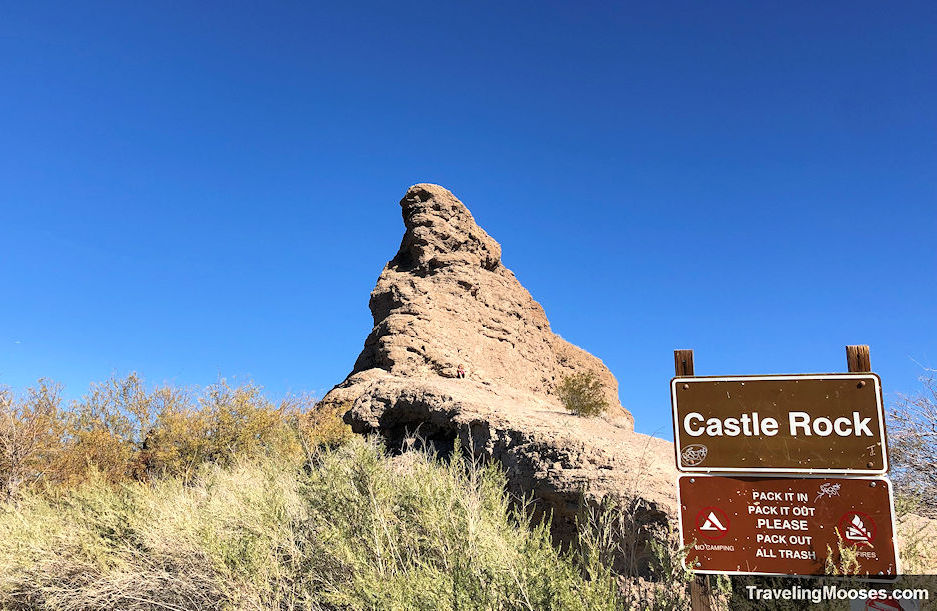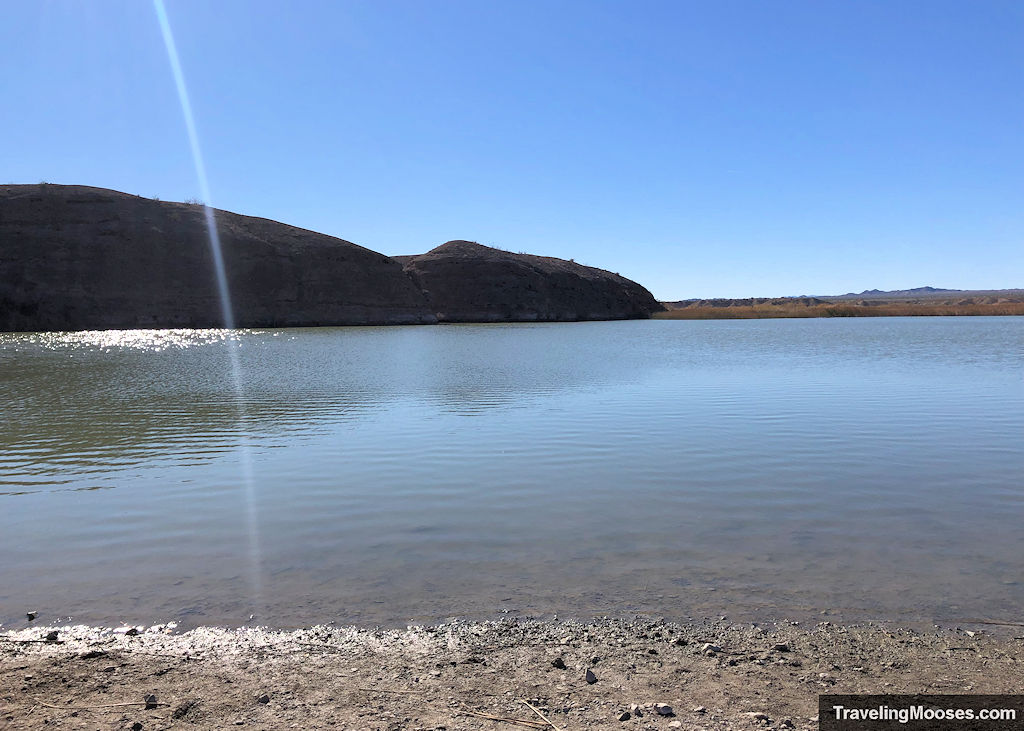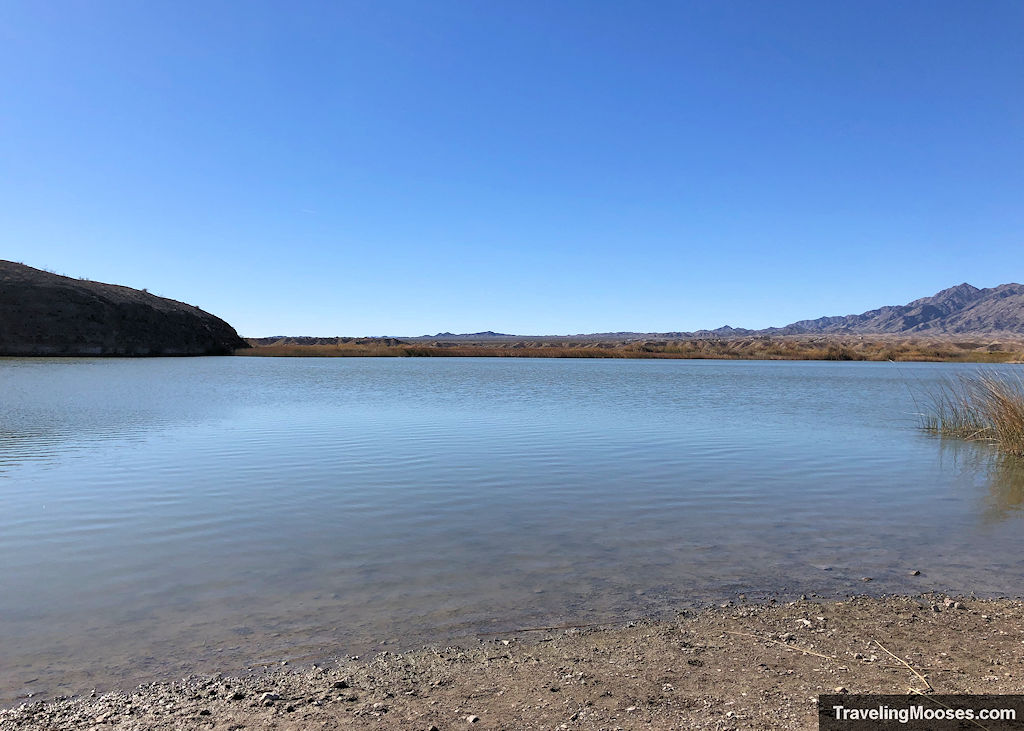 One challenge awaits. Carrying your kayak back up the path to the parking area.
You'll find a trail directly to the left of Castle Rock as you're facing it which will lead you back to the parking area.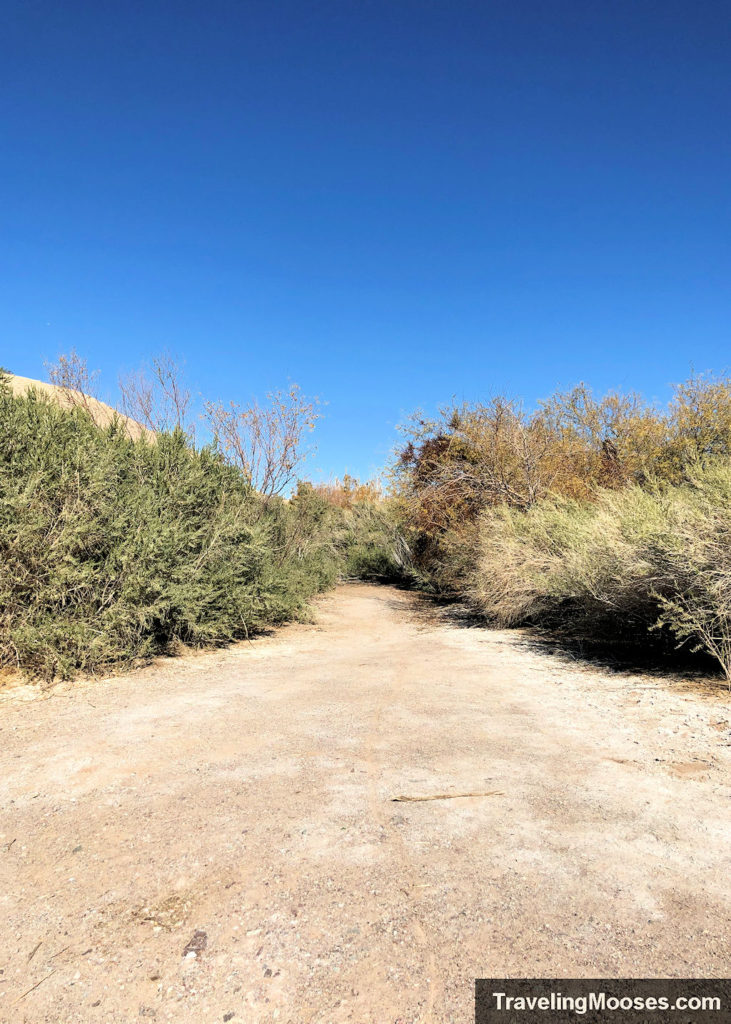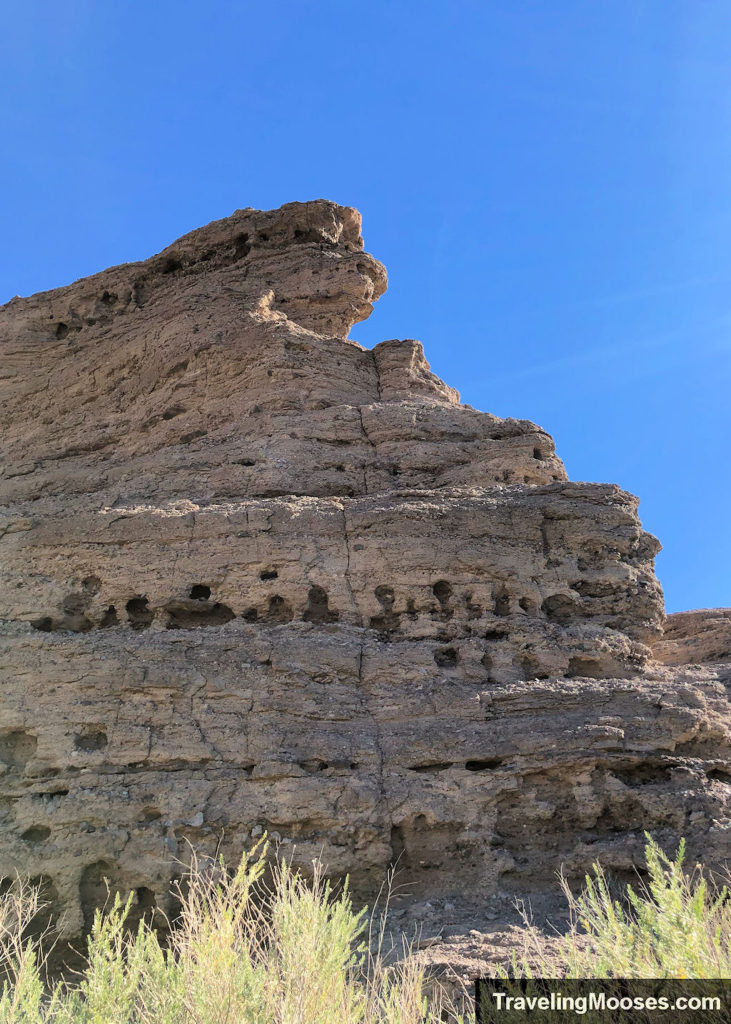 Some people like to stash wheels in their kayak to make this section easier. I'm not sure it would help as the sand was pretty soft.
It didn't take us long to carry back the kayak, but if you're tired from a long day of rowing, you'll want to take your time.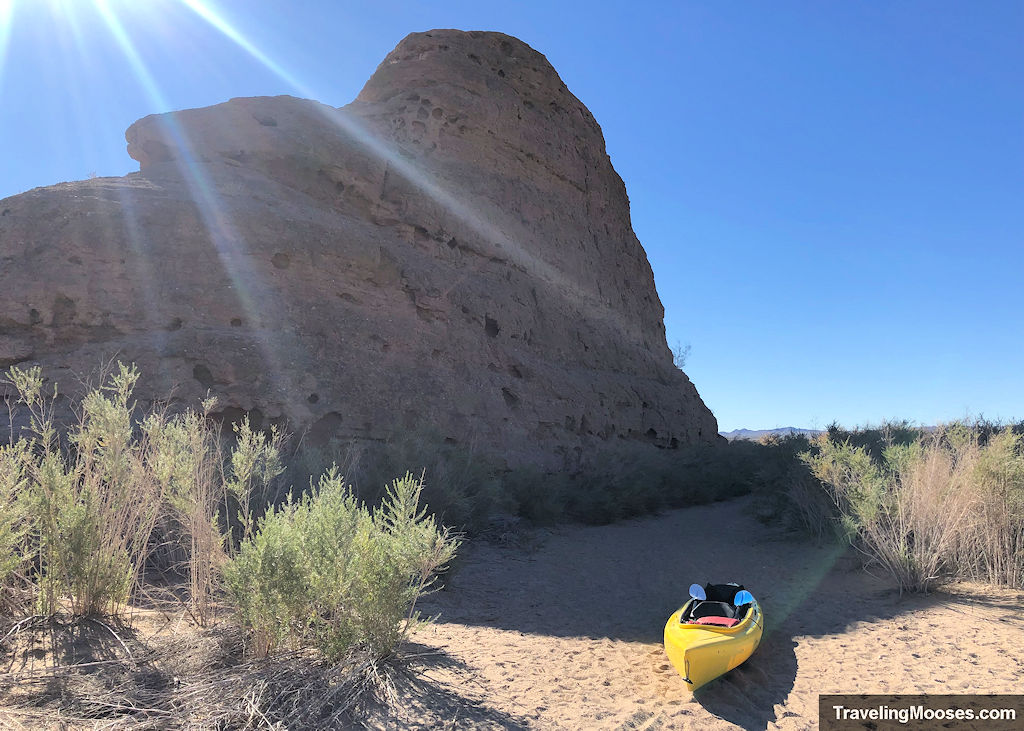 We had safely arrived back at our destination and didn't have to wait long for the tour company to come pick up the kayak.
Is kayaking Topock Gorge worth it?
Rating: 5.0 Mooses


What we liked:
We had the entire river to ourselves. Definitely unusual, but it was Christmas day and we didn't see a soul on the river.
Topock gorge was breathtakingly beautiful.
The weather conditions and temperatures were perfect and much of the water was like glass.
We were pleasantly surprised with how easy it was to row 14 miles. Yes, the helpful current and light wind was definitely in our favor.
We saw many birds along the river including white storks and a blue heron.
What we didn't like:
A more detailed map with recommendations on where to stop and explore from the tour company would have been helpful. To be fair, we didn't stop at all and they did encourage us multiple times to take our time and explore.
Having sandals on board the kayak would've made us feel better about stopping to explore.
The sun rises in the east which makes the light shine in your eyes the first part of the trip. Be sure to bring sunglasses.
Sadly, no wildlife other than birds made an appearance. No javalinas, wild burros, bobcats, or beavers. We did hear something that resembled a wild burro, but we never saw anything.
Verdict: This was the best kayaking journey we've ever done. We'd love to go again one day. We'd also highly recommend AZ Wacko.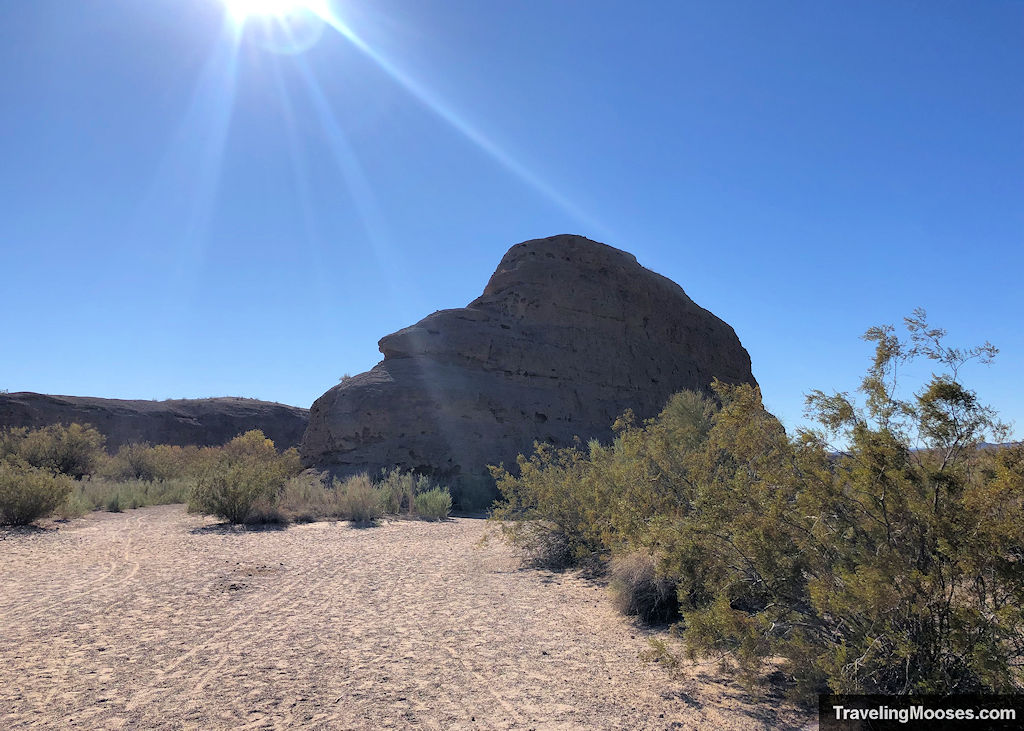 Know before you go
Cell service was basically non-existent on the trip. Luckily Mr. Moose was able to get one bar on his cell when we got back to Castle Rock. Mine wasn't working at all. We brought our RescueME PLB in case of emergencies. You'll most likely be able to flag down a boat if something goes wrong, but don't count on it.
Once you launch at the Topock 66 Marina, you're committed to 14 miles of paddling. There are no places to stop before that. The good news is you're going with the current, so you could theoretically stop paddling and still make it. It would take a while.
Paddling back upstream is tiring, so be sure to stop at all the places you want before you pass them.
We were told a fair number of people miss the turn-off back to Castle Rock Bay. After having made the trek, I'm not sure how you miss the initial turn-off, but finding the narrow passageway to the bay was challenging.
We were dropped off at the Topock 66 Marina and didn't need parking. If you are shuttling yourself, you may want to contact the marina to see what the parking situation is.
What to bring
Sunscreen, sunglasses and a hat – There's a bit of shade through the Topock Gorge area of the trip, but mostly you'll be in direct sunlight throughout the trip. Especially if you plan to do a lot of exploring, bring extra sunscreen.
Snacks and water – Sorry, there's no dairy queen along the river banks for a quick refreshment stop. Anything you want to eat or drink on your paddle; you'll need to bring it with you.
Water shoes or sandals – We recommend bringing water shoes or sandals on the trip, or at least something you don't mind getting wet. We were wearing tennis shoes (it was all we had for our trip to Lake Havasu), and it made us reluctant to stop along the tour.
Camera – We brought our iPhones with us to take pictures, but the water was so smooth the day we visited, we could have brought our nicer camera. Most likely, there will be more activity on the river the day you visit, so it might get choppy when other boats go by. Whatever you decide to bring, be ultra-careful not to drop it in the water. We also recommend bringing some sort of dry bag on the off chance you tip your kayak over.
Band-Aids – If you haven't kayaked for a while, you might develop blisters on your hand. It can happen quickly if you paddle too long on one spot. We recommend bringing something to cover up any blisters you might get.
Dry Bag – This is necessary to keep anything dry you don't want getting wet. Our tour company provided us with one to use.
Life jacket – Don't ever go on the water without one and be sure to wear it at all times. We were told there was a strong current throughout the Topock Gorge area and we could see miniature swirling whirlpools in that section.
Other items – Here's a good article from REI that you may want to check out for other items to bring.
Frequently asked questions
I'm a beginner kayaker, can I really paddle 14 miles?
Most likely.
We are beginner kayakers and generally only paddle in lakes for an hour at a time. Our longest kayaking trek was 10 years ago and consisted of eight miles on Lake Tahoe (the last few miles were miserable). To be fair, Lake Tahoe was filled with boats and the water was rough the day we were there. We are in decent shape (we hiked up Humphrey's Peak a few months before this trip), but we had zero conditioning for kayaking.
There is a steady current to help you down the river and if you're lucky, you might also get a light breeze to push you along faster. Be sure to check the weather before you go.
My shoulders and arms were pretty sore the next day, but of course, Mr. Moose felt nothing (so unfair).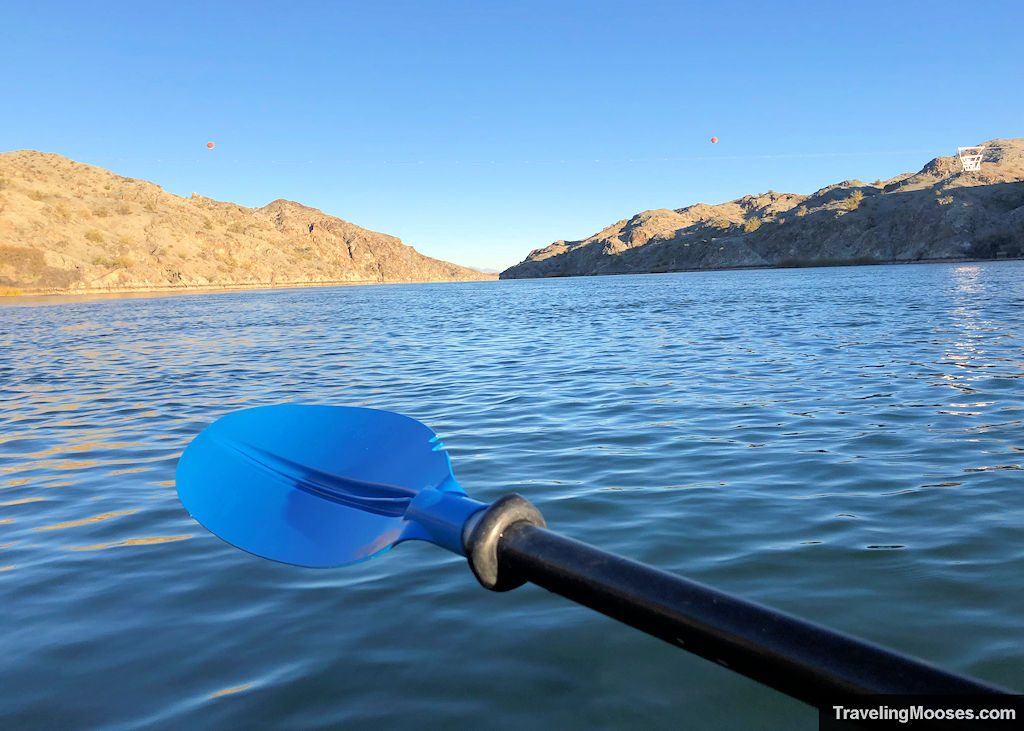 Do I need to a tour company to complete the voyage?
If you have your own kayak and two vehicles for shuttle service, a tour company would not be needed. It's a straight shot from the Topock 66 Marina to Crystal Beach (or beyond), and you really can't get lost. It is possible to miss the turn the off to Crystal Beach and end up further down the river into Lake Havasu.
If you want to hire a guide, the company we used would provide one for an additional fee. ($80 at the time of writing, pricing/availability subject to change.)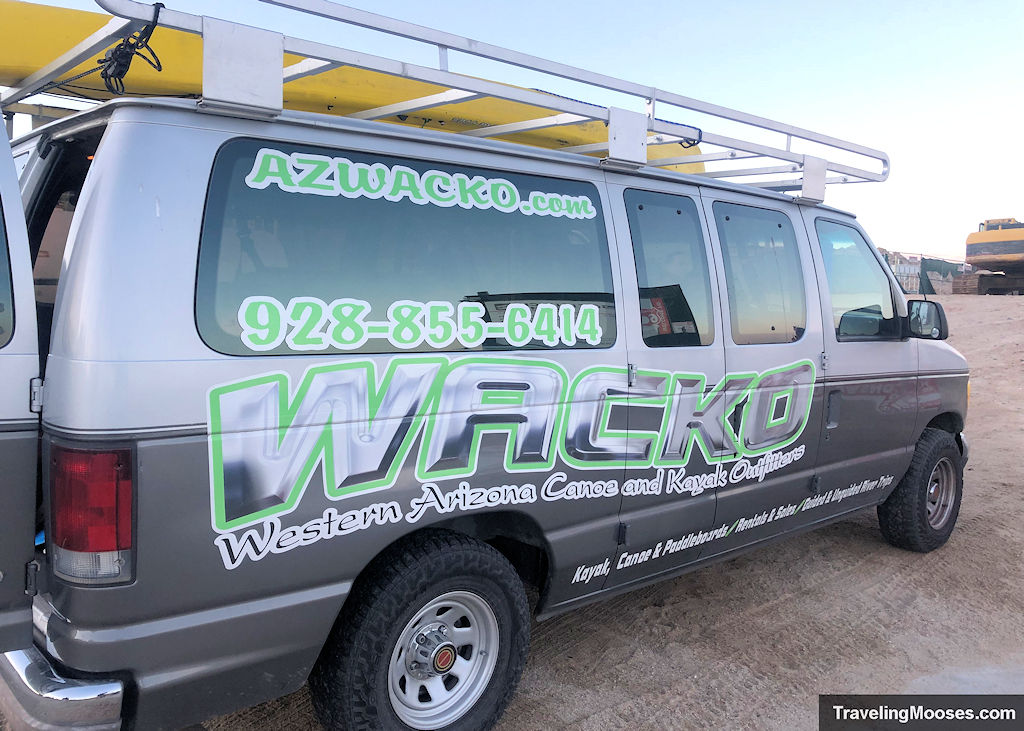 How long does it take to paddle Topock Gorge?
The average time from the Topock 66 Marina to Crystal Beach/Castle Rock is around 5 to 7 hours. This is highly dependent on whether or not you stop along the route and what the wind might be doing that day. If the river is busy with a large number of watercrafts, it may also slow you down.
Our journey ended up being 3.5 hours, but we decided not to stop anywhere and had favorable winds.
Parking at Castle Rock
We met the kayak company at the parking area for Castle Rock Bay. You can get directions to the parking lot here. Parking was free and didn't require any sort of pass.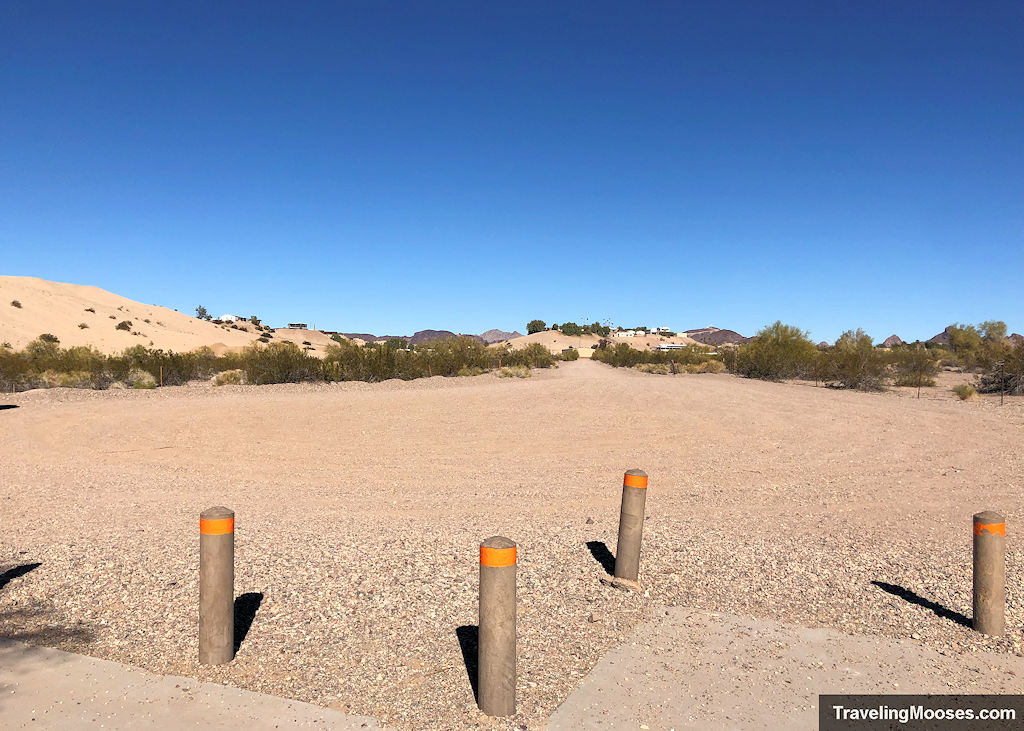 Map of Havasu National Wildlife Refuge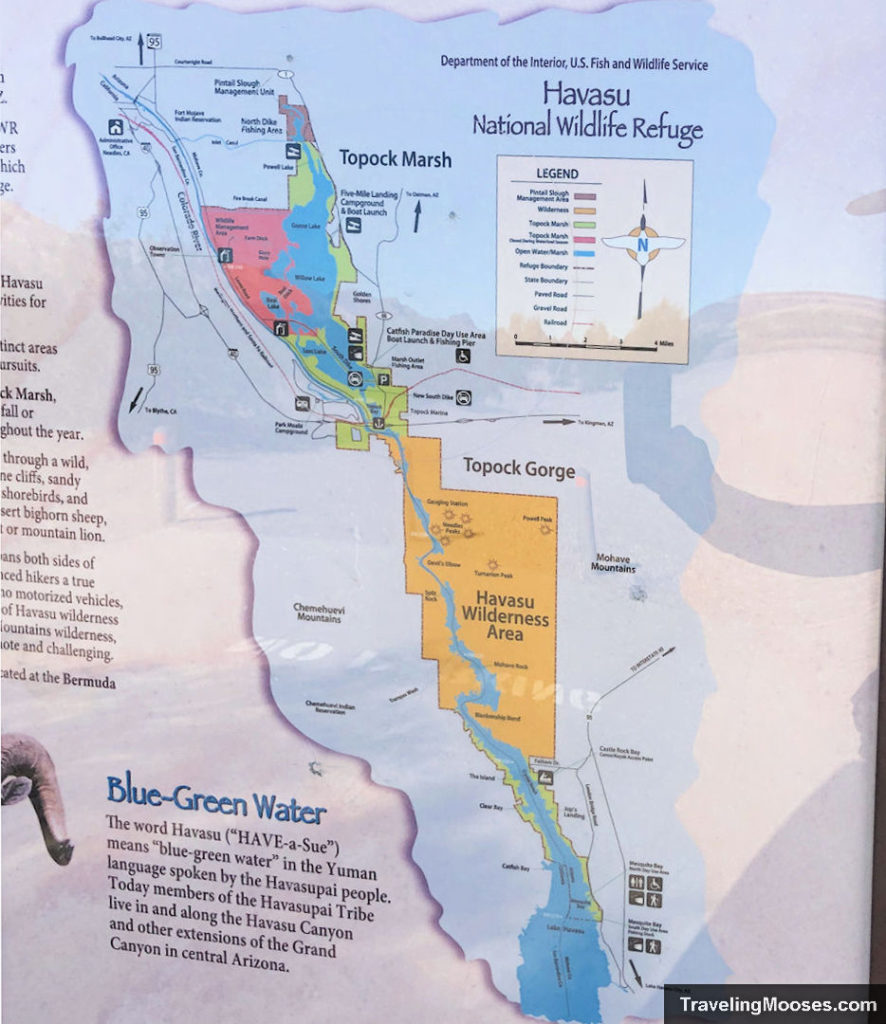 More information for your trip to Lake Havasu