The Carl Hayden Visitor Center is the gateway to the Glen Canyon National Recreation Area. Visitors can explore the abundance of informational exhibits and soak in views of the Glen Canyon Dam and Colorado River.
In this guide: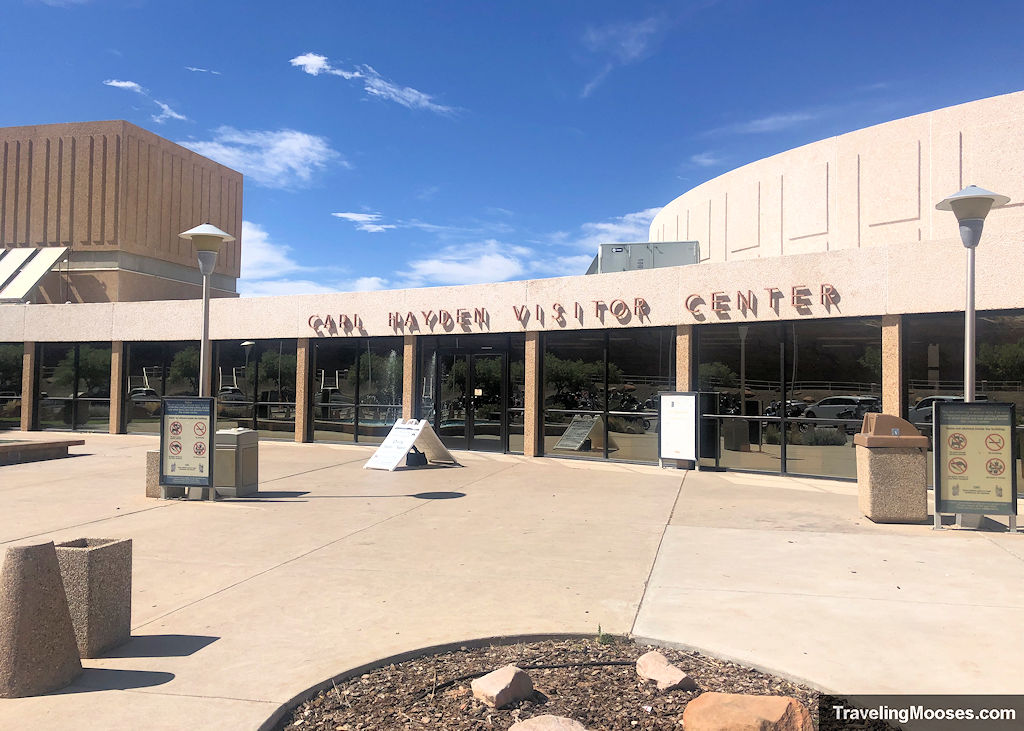 Carl Hayden Visitor Center Quick Stats
Hours of Operation
9 a.m. to 5 p.m. (subject to change)
Closed on several holidays (New Years, Thanksgiving & Christmas).
Address
Hwy 89 at Glen Canyon Dam, Page AZ 86040
Parking
Free
Admission
Free (donations are accepted)
Average time
<1 Hour
Current info
Carl Hayden Visitor Center
Things to see / do
Various informational and interpretive exhibits, scenic views, theater area with various videos and passport stamp available.
Amenities
Information booth staffed by rangers, gift shop, water fountain, restrooms, bike rack, benches/seating, and abundant parking.
Rating
5.0 Mooses
*We have no affiliation with the visitor center, our experience is our own.
What to expect at the visitor center
We knew we wanted to check out the visitor center while we were in town and happened to drive by it. Actually, you have to pass by the center when you're driving into Page from Kanab, so you might as well check it out.
We arrived around 4:30 p.m. on a busy Monday of Memorial Day weekend. We were surprised how many people were there despite it closing at 5 p.m.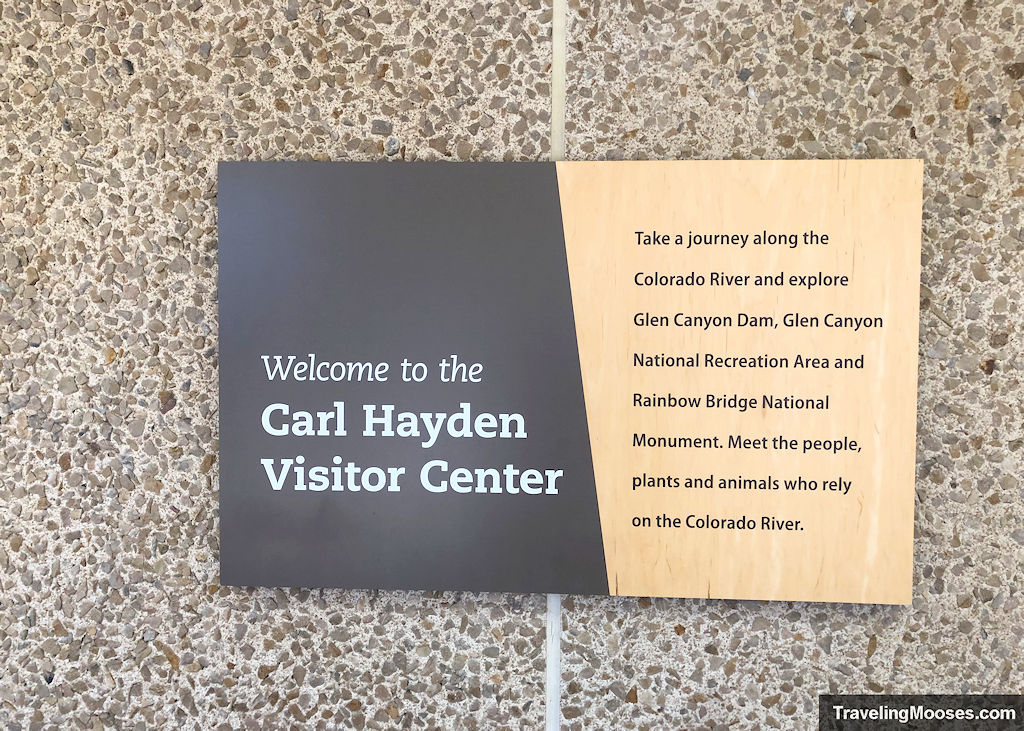 We wasted no time checking out the exhibits and scenic views.
First up, inside the visitor center.
You'll find many exhibits and informational signboards. Far too many to read in 30 minutes.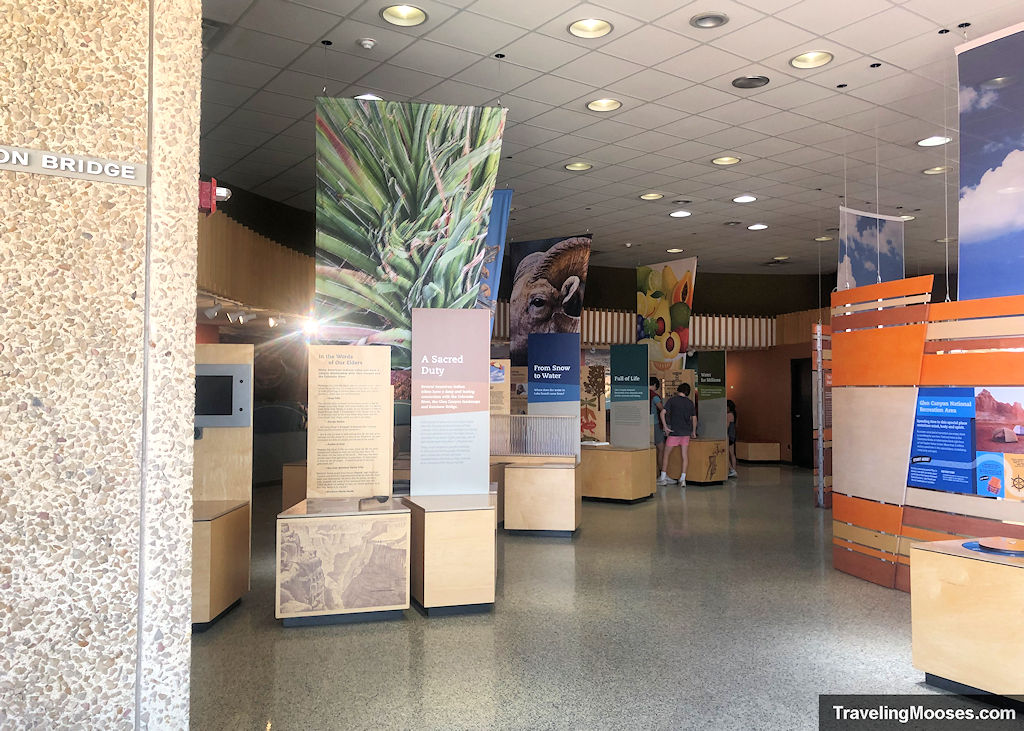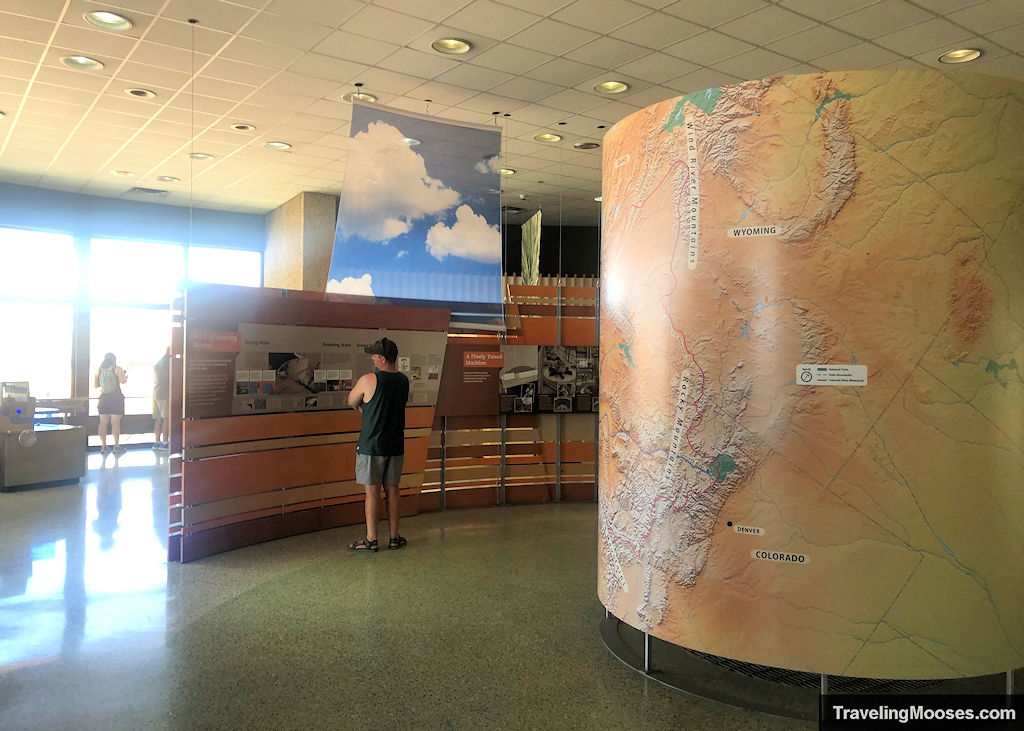 We did take some time to learn about the powerplant and current water levels of the Lake.
Glen Canyon Dam Information
The Glen Canyon Dam was completed on September 13, 1963. Towering at 710 feet tall (just a few feet shy of Hoover Dam), the project was estimated to use "five million barrels of cement, ten million cubic yards of aggregate, three million board-feet of lumber, 130,000 tons of steel, 20,000 tons of aluminum, 5,000 tons of copper, and a peak workforce of 2,500 men."
It utilizes eight generators capable of producing 1,320 megawatts of power when Lake Powell is mostly full. The electricity it generates is used across many cities and towns in Arizona, Colorado, Utah, Wyoming, New Mexico and Nevada serving around 1.7 million people.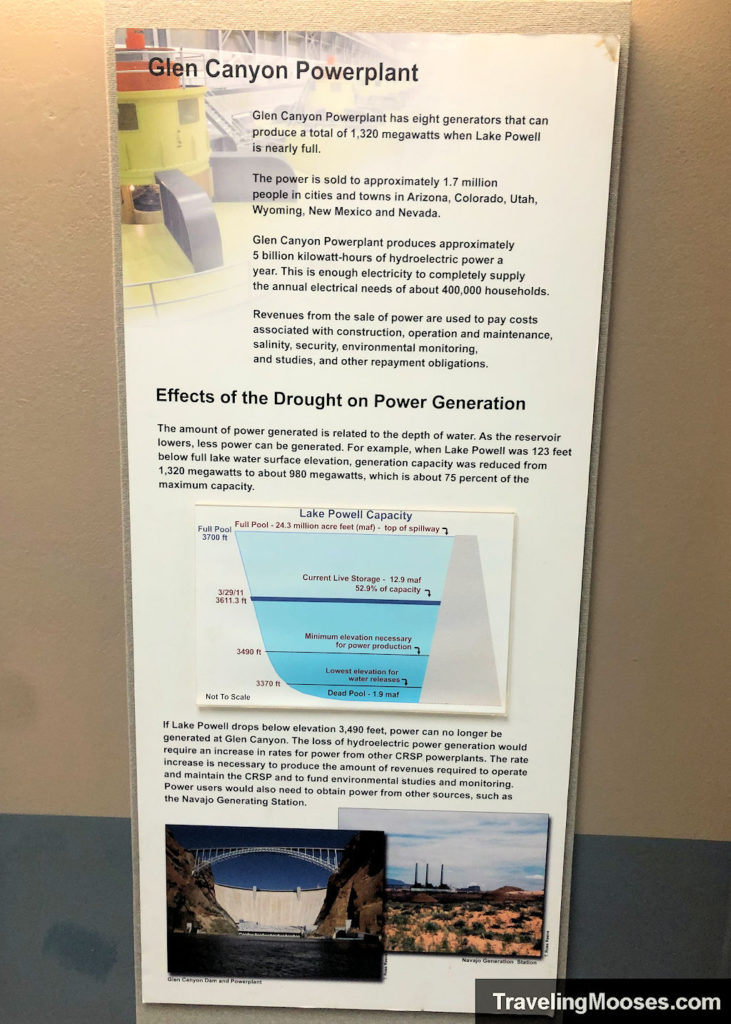 Today, with water levels plummeting in the area due to drought and overuse, many are calling for drastic measures to ensure the dam does not drop below its power generating threshold.
The Bureau of Reclamation is examining options to avoid a collapse of the system. Some options proposed include investing in solar or wind energy to make up for the loss of power, adjusting operations to maximize power at lower reservoir levels or make major structural modifications to the dam.
You can learn more about the history of the dam here.
You can learn more about the water levels here and here.
You can learn more about the options for overhauling the dam here.
Scenic Views
The crown jewel of the visitor center is the spectacular view from inside (and out) of the Glen Canyon Dam.
Rain or shine, the large glass bay windows make for an excellent view from inside the facility.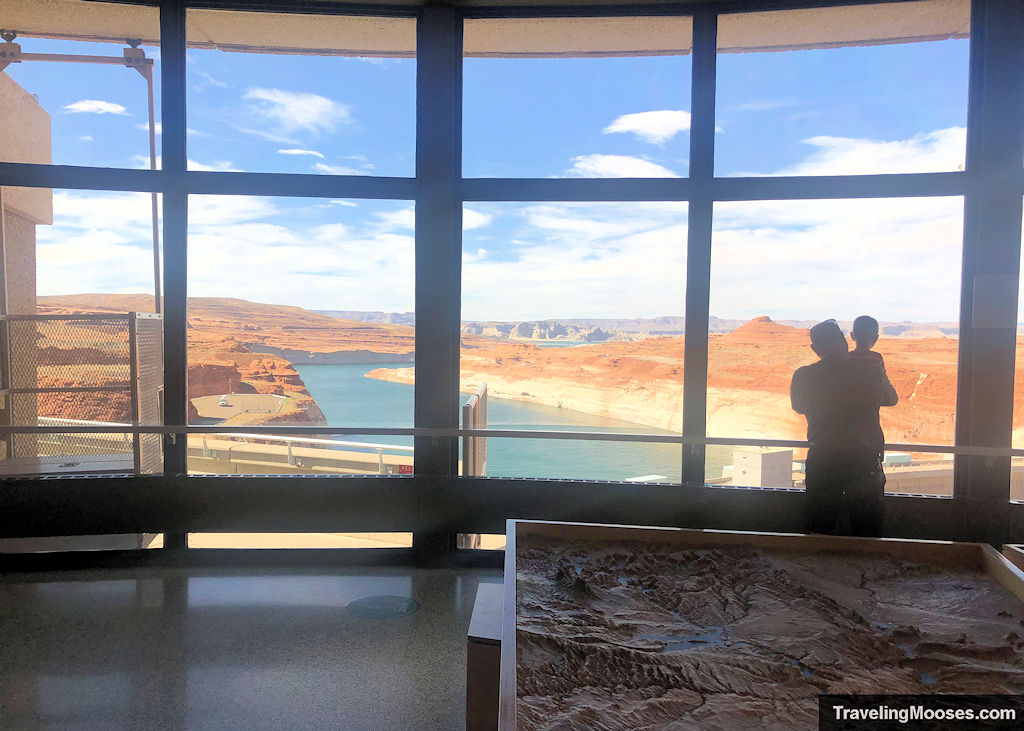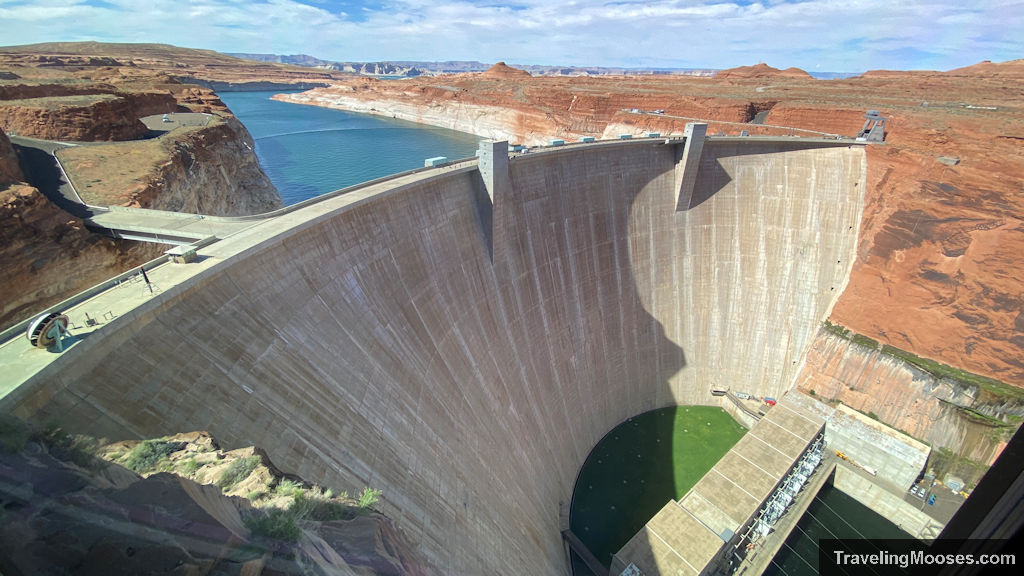 When you're done reading about the history of the area, you can check out their gift shop.
There was also a small theater that played various informational videos. We were a bit disappointed we didn't have more time to watch them.
After getting our fill of exhibits, we went outside to soak in more views.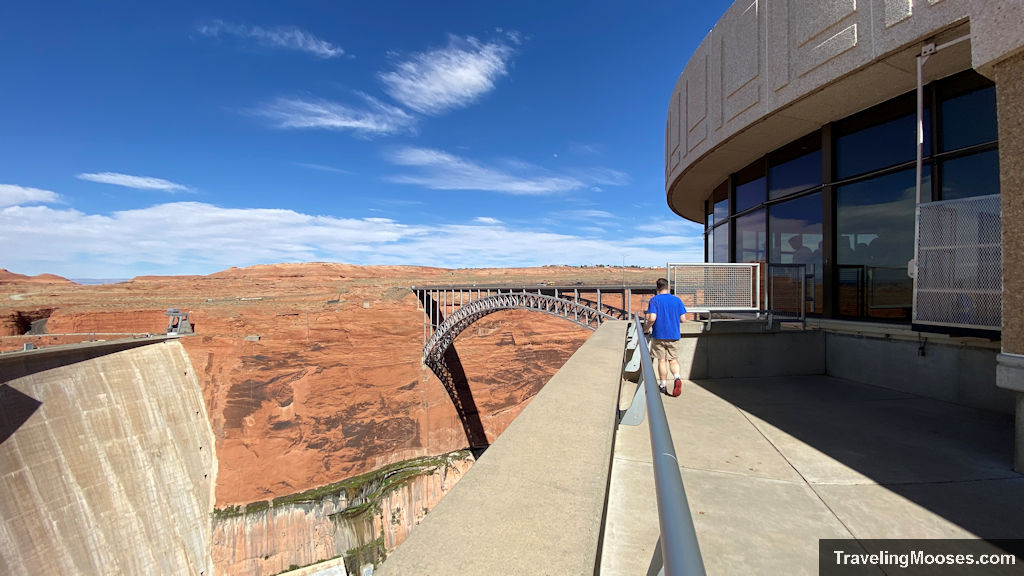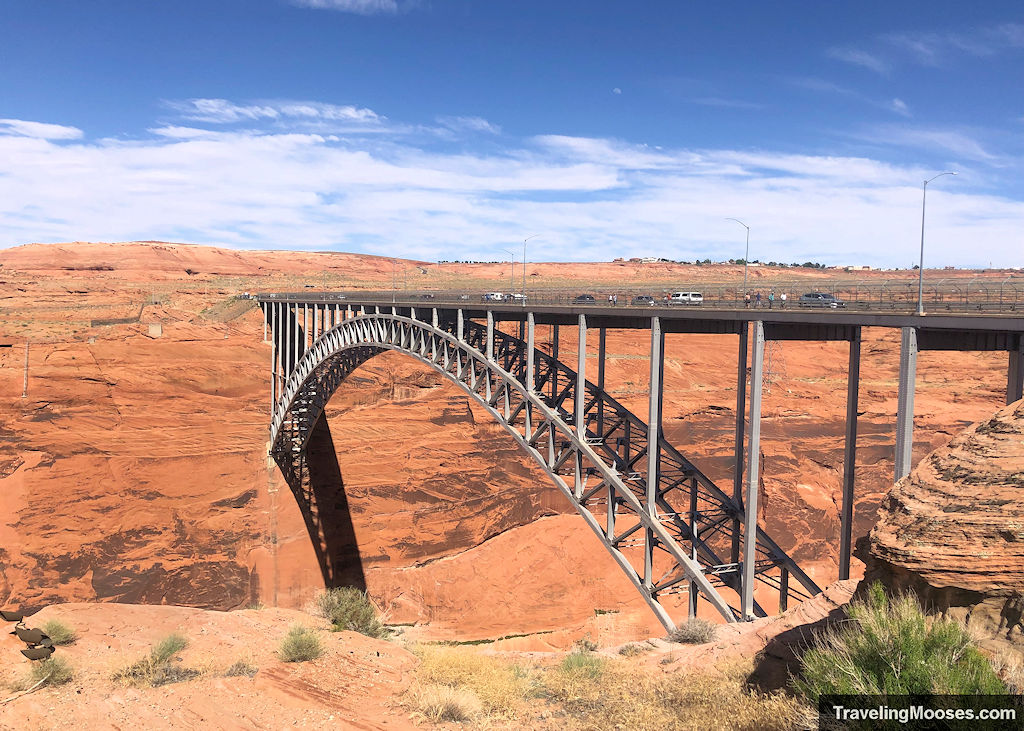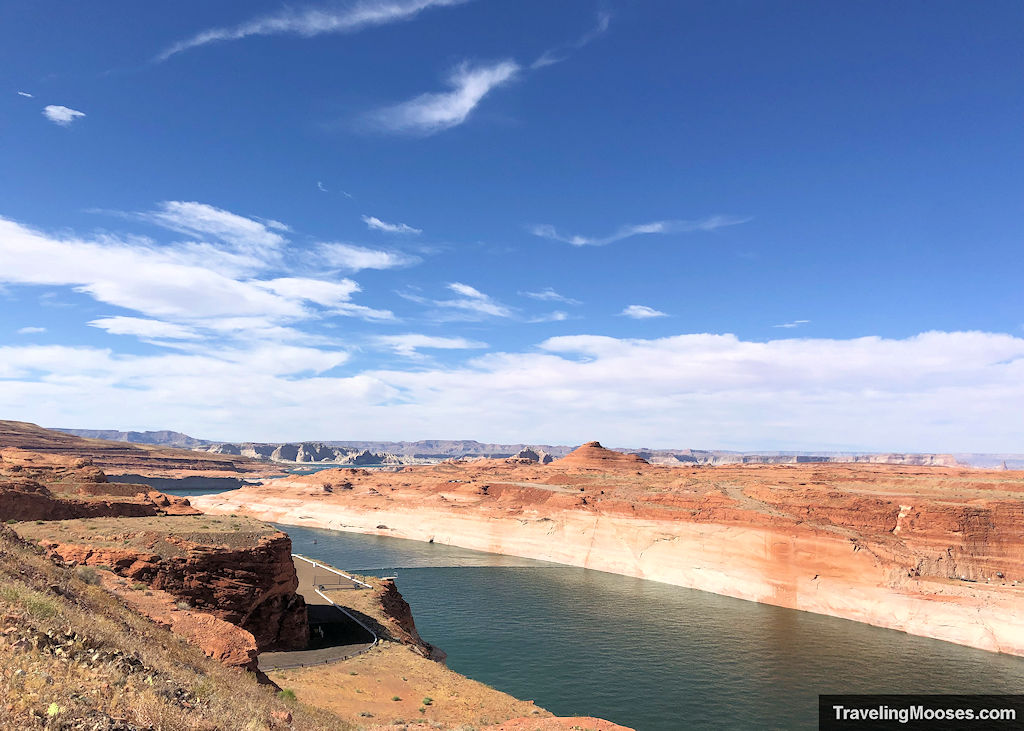 Once outside, you can make your way over to the bridge and walk out on the pedestrian access path.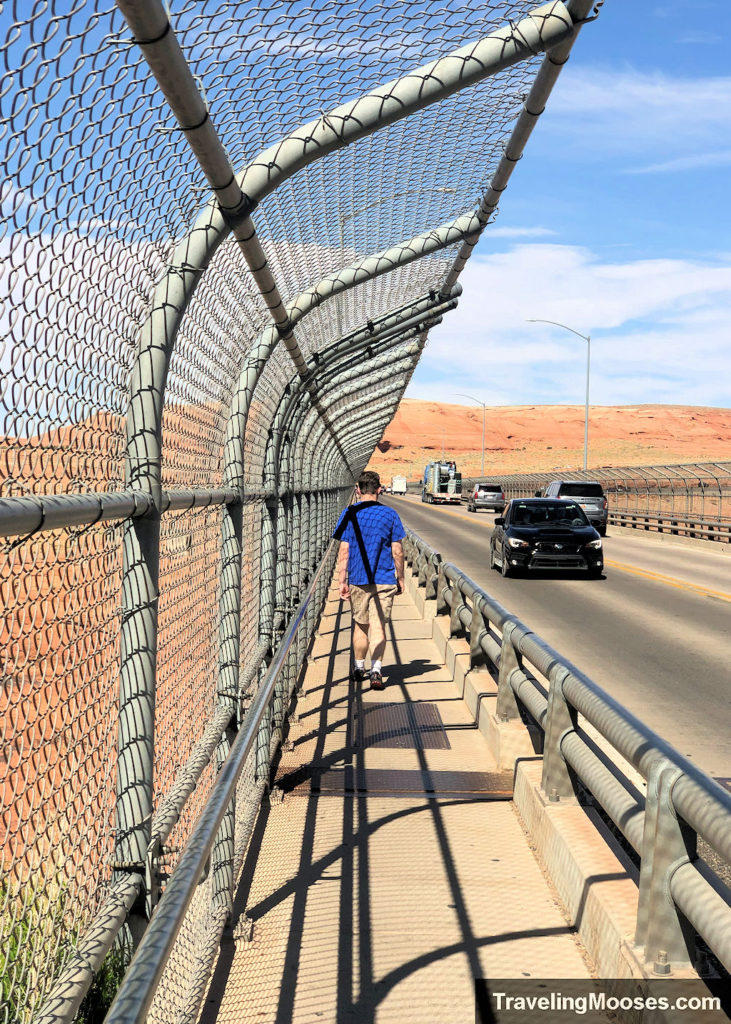 Both sides of the bridge are open to foot traffic (be careful crossing). On the north side of the bridge, you can see the Glen Canyon Dam and on the south side you can see the Colorado River flowing through the steep canyon walls.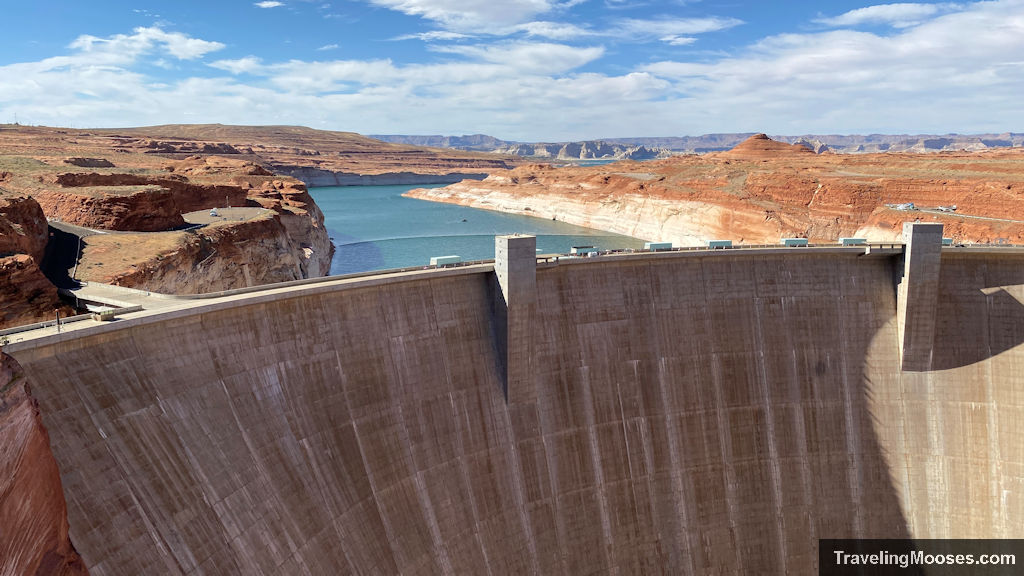 We recommend checking out both sides!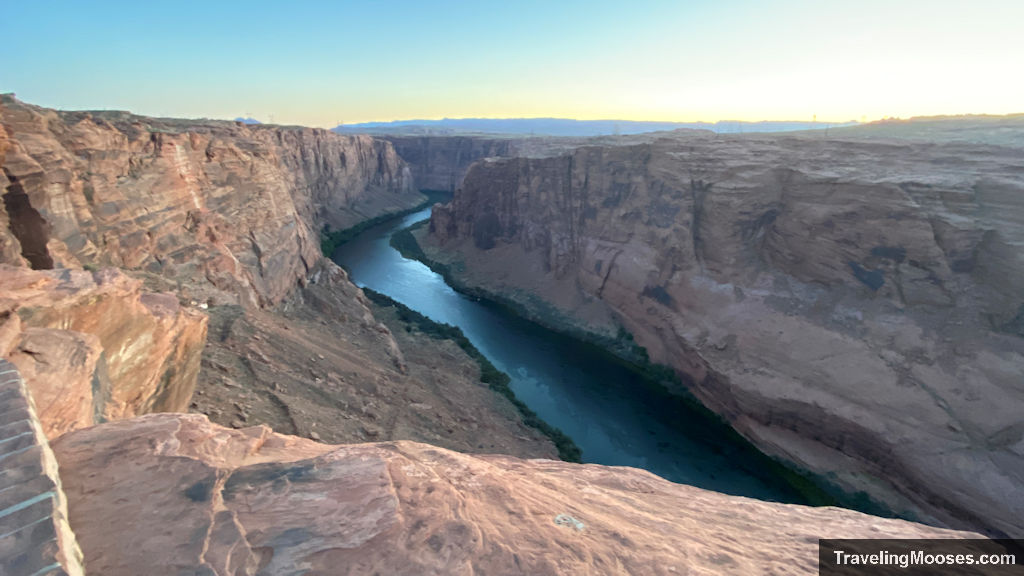 Is visiting the Carl Hayden Visitor Center worth it?
Rating: 5.0 Mooses


What we liked:
The visitor center was chock full of informational material. You could spend hours reading all the exhibits.
They had several interactive exhibits that appealed to both children and adults.
There was a viewing area of the dam both inside and outside of the visitor center. You could also walk out on the bridge next to the dam for another view.
There was plenty of parking for all sizes and types of vehicles.
What we didn't like:
The dam tours weren't running when we visited.
We should have allowed for more time before they closed.
Verdict: We highly recommend a stop at the visitor center on your way into town!
Practical info for your trip
Hours of Operation
The visitor center is open daily from 9 a.m. to 5 p.m. They are closed on a couple of holidays: New Years, Thanksgiving and Christmas.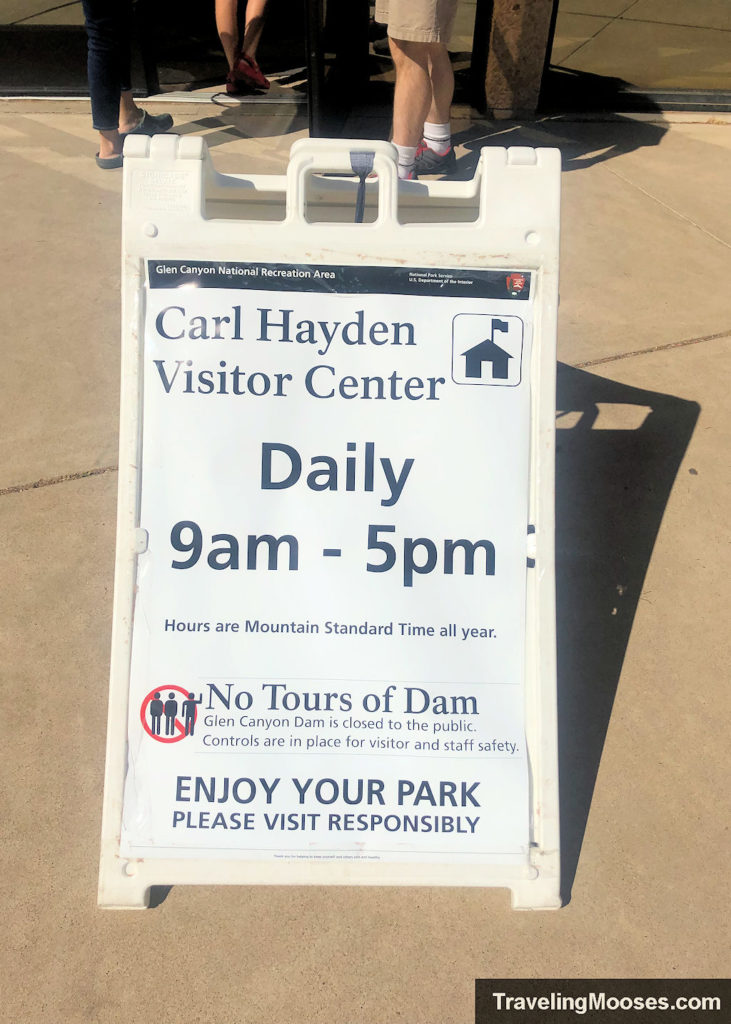 The guided dam tours weren't running when we visited.
Parking
We found abundant and free parking at the visitor center. There is plenty of room for RVs, busses and regular vehicles.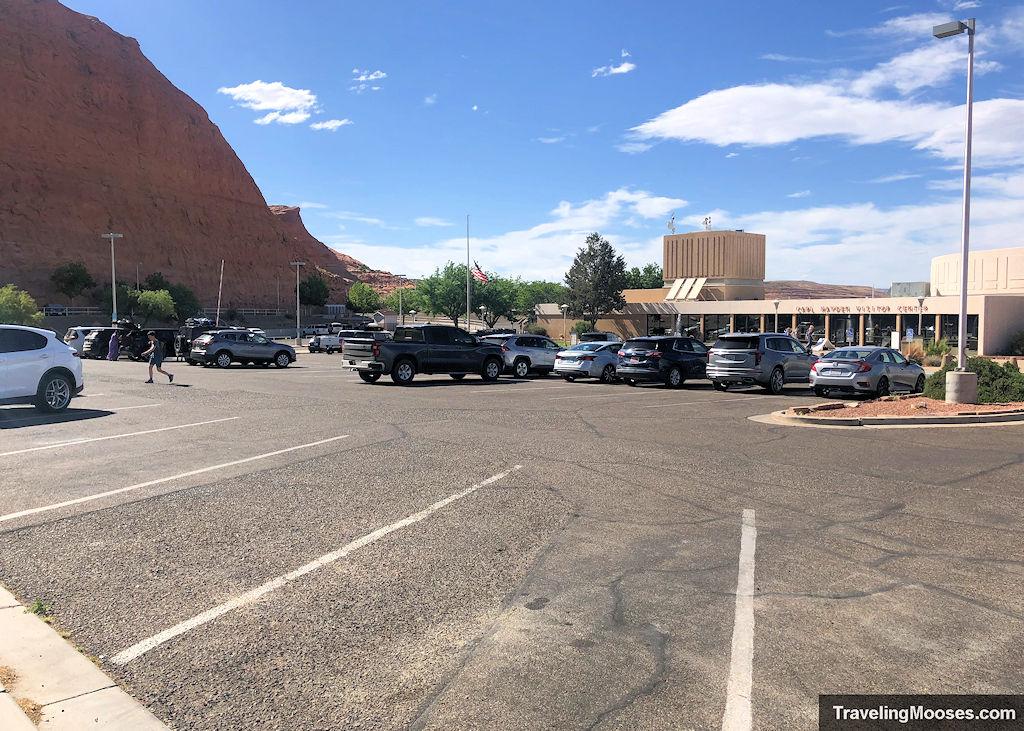 Rules & Regulations
There are a few rules you must follow while at the visitor center.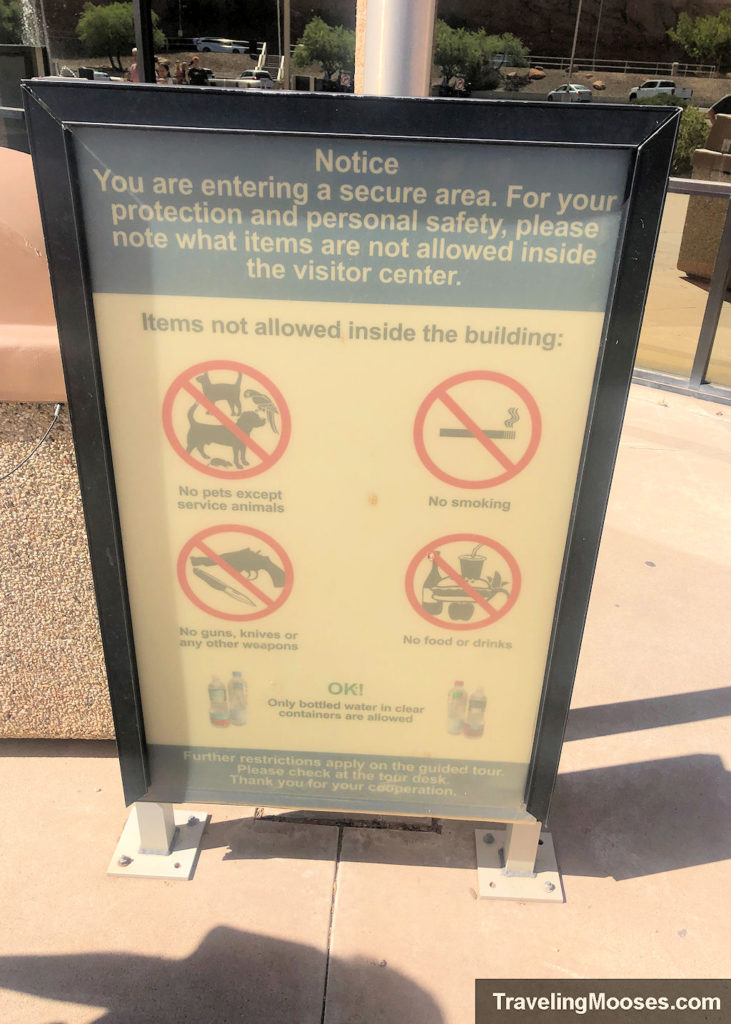 No pets are allowed except for service animals.
No smoking is allowed.
No food or drinks are allowed, except for bottled water in a clear container.
No guns, knives, or any other weapons.
When the guided dam tour is running, there are additional restrictions.
More info for your trip to Page, Arizona
You might also like