Yes! The 13-mile scenic loop allows visitors to drive through Red Rock Canyon. Located about 25 minutes from the Las Vegas Strip, the scenic loop is the perfect way to visit the famed Red Rock Canyon National Conservation area in Nevada.
Red Rock Canyon At a Glance
Scenic Loop Drive Entrance
36.1324601973412, -115.42361424258087
Hours
November through February: 6 a.m. – 5 p.m.
March & October: 6 a.m. – 7 p.m.
April through September: 6 a.m. – 8 p.m.
Visitor Info
Redrockcanyonlv.org
Entry Fees
$20 daily pass (subject to change), or an America the Beautiful Pass. Reservations are also required from October 1 – May 31.
Activities
Scenic view points, visitor center, hiking, biking, climbing, bouldering, wildlife viewing, epic views and more.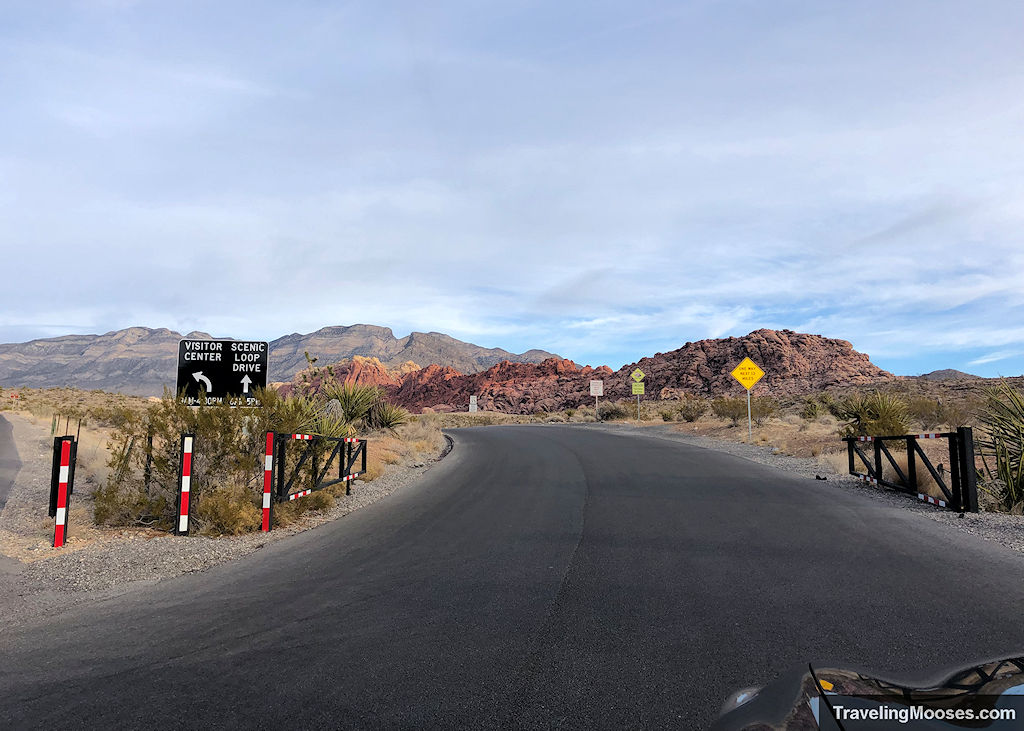 How to drive through Red Rock Canyon
The most popular choice for visitors looking to see Red Rock Canyon is to rent a car and drive through the scenic loop.
The fee station entrance is located along NV-159 just outside the north western corner of Las Vegas. The coordinates for the fee station can be found here.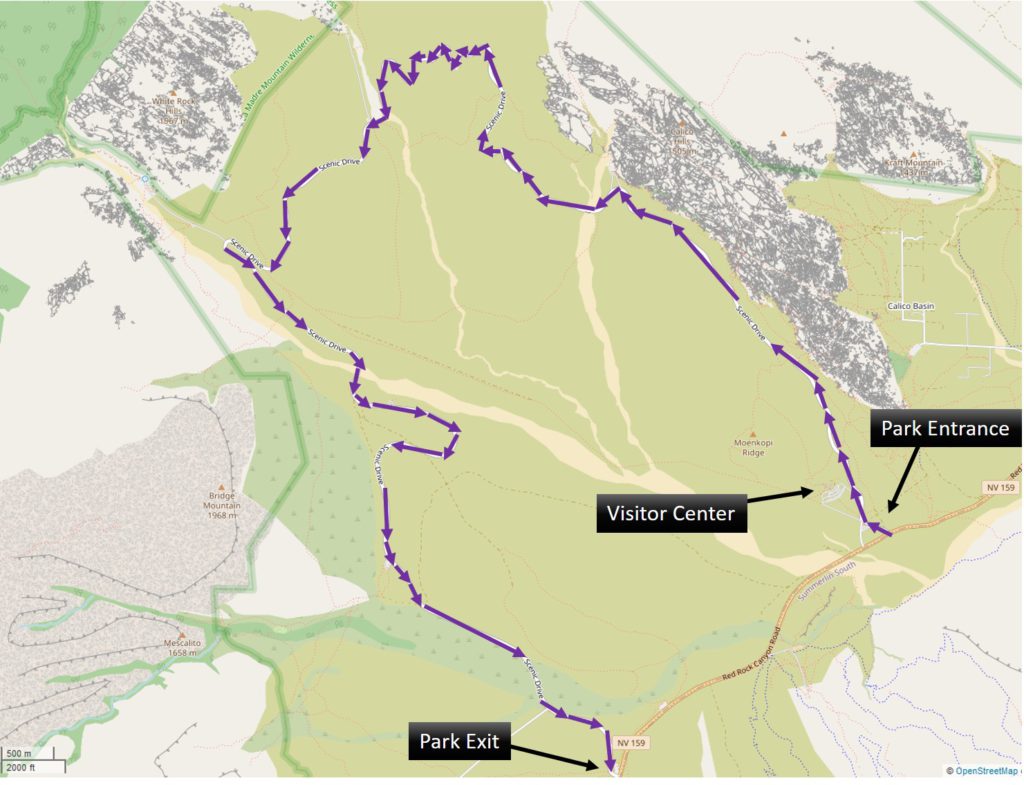 The road itself is wide (room enough for two cars), and the speed limit is 25 – 35 mph the entire length. You'll often find bikes along the route.
Before you can enter the fee station, you'll need to purchase an entry pass and get reservations if it's high season.
Red Rock Canyon Reservations
Reservations to get into national parks exploded during covid. They needed to limit entry into parks across the country and it was the easiest way to accomplish it.
With the continued popularity of national parks, we don't see the reservation system ever going away.
During high season, which is October 1 – May 31st, you'll need to book a reservation on the recreation.gov website (or the app is preferred).
Reservations are required between 8 a.m. and 5 p.m.
Related: How to visit Red Rock without reservations
Red Rock Canyon Entry Pass
In addition to the reservations, you'll also need to purchase a pass to enter the park. The current daily fee is $20 per vehicle (pricing subject to change), or you can also use the America the Beautiful Pass.
We recommend purchasing an American the Beautiful pass if you plan on visiting other national parks throughout the year. It pays for itself quickly.
For example, if you want to check out the best hikes near Lake Mead, you'll pay $25 for a daily entry pass into the area, or you can use your America the Beautiful pass (which currently costs $80 annually).
Then if you decide to head on off to Death Valley, you'll pay another $30. It adds up quick!
Related: How to visit Red Rock Canyon for Free
Is there public transportation to Red Rock Canyon?
We get asked this a lot.
There isn't a public transportation option to visit Red Rock Canyon. Buses don't frequent the area and if you opt for an uber or lyft, you'll be left at the entrance of the park without a ride back. You could pay the uber to drive you through the park, but it would be far cheaper to rent a car and make the trek yourself.
Other ways to visit Red Rock Canyon
The best way to visit Red Rock Canyon if you don't want to rent a car (and we don't blame you, driving in Las Vegas sucks), is to utilize a tour group.
The sky is the limit when it comes to tours offered in the area. They have options that include horseback riding, scooters, helicopters, vans, hiking, bikes and more.
What to see on your driving tour through Red Rock Canyon
You've decided to drive yourself through the park, what is there to see anyway?
We've put together a 1-day itinerary that we recommend for first timers seeing the park. It can be covered in as little as 2 to 3 hours or over multiple days if you want to go on the most popular hikes.
Below you'll find an interactive map of the top things we recommend. If you can't see it for some reason, here's a link.
At a minimum, we recommend checking out the Visitor Center, stopping at Calico Hills 1, and the High Point Overlook. Round out the day by doing a quick hike to Calico Tanks (includes views of the Las Vegas Cityscape) and check out some petroglyphs after a picnic lunch.
If you'd like a more comprehensive look at Red Rock Canyon, check out our guide below.
If you have time while you're in Las Vegas, we also recommend checking out the Valley of Fire. It's an epic and out of this world experience.