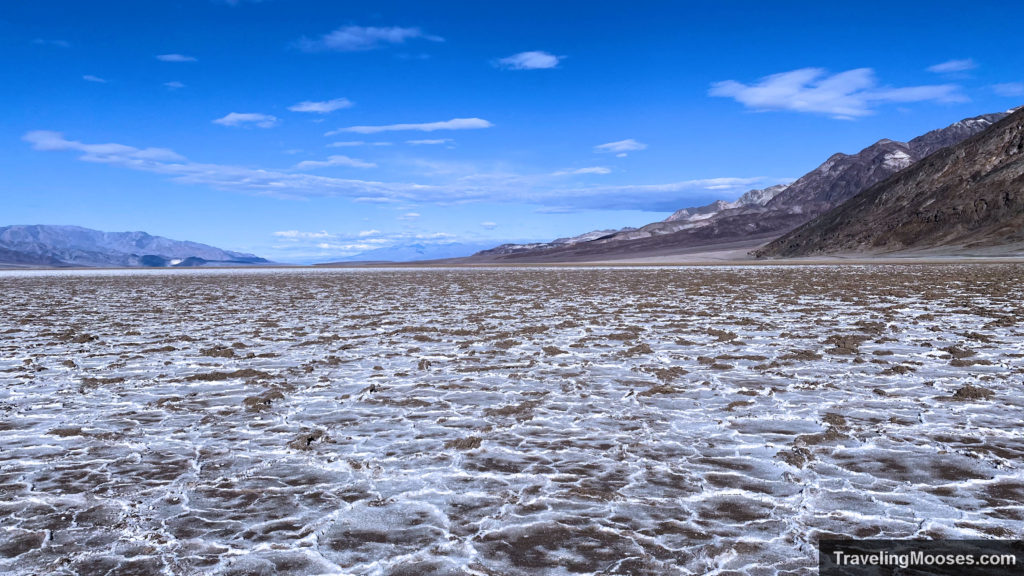 Badwater Basin at a Glance
| | |
| --- | --- |
| Attraction | Salt Flats, Badwater Pool, Lowest elevation in North America |
| Round trip mileage | 1 mile |
| Elevation Gain | Flat |
| Average Visit Time | 15 min – 1 hour |
| Difficulty | Easy |
| Dog Friendly | No, pets are not allowed, even when carried. |
| Facilities | Vault Toilet in Parking lot |
| Rating | 3 Mooses |
Located 282 feet below sea level, this expansive basin located in Death Valley is one giant salt flat. It stretches on for nearly 200 square miles and is composed mainly of table salt, calcite, gypsum and borax.
The biggest draw to this area is the salty flats and the distinction of being the lowest point in all of North America.
The hike starts at the parking lot and exits immediately onto the boardwalk. Inpretive signs explain where the salt came from, including the Badwater Pools.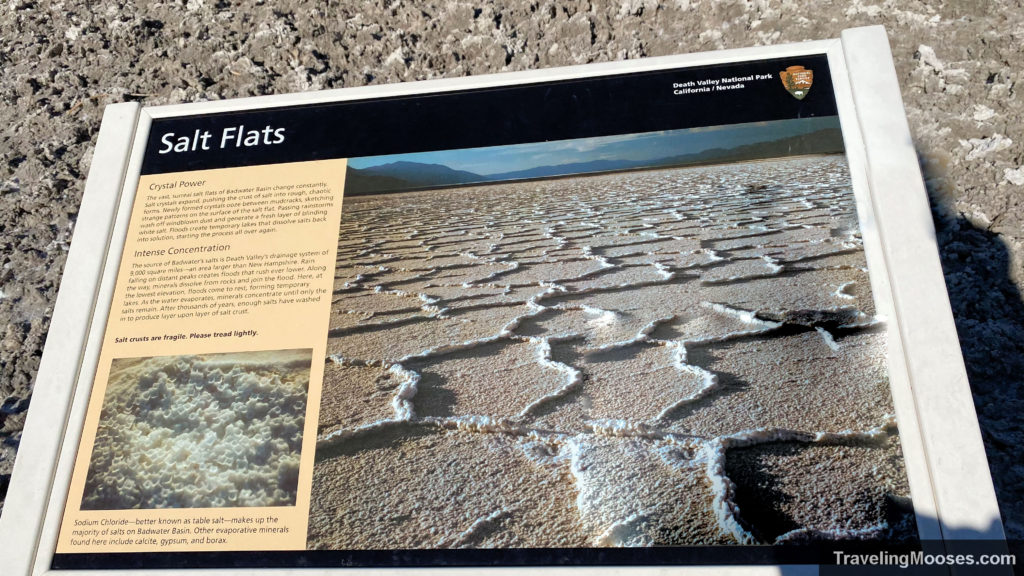 After the boardwalk ends, the trail heads straight out onto the salt flats for at least 0.5 miles. The scenery doesn't change much as you meander through the flats. Turn around at any time and head back to the car to continue your journey in Death Valley.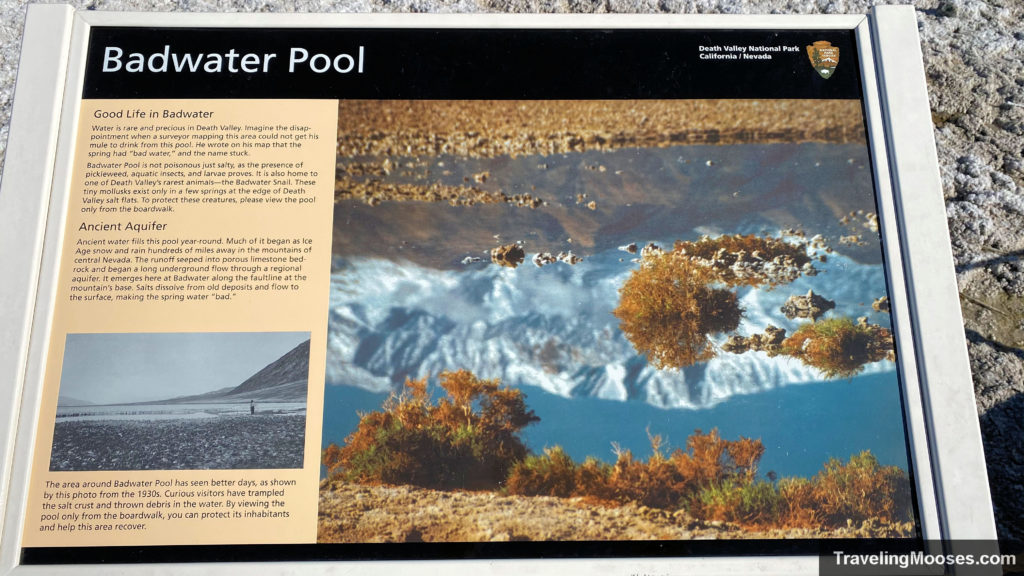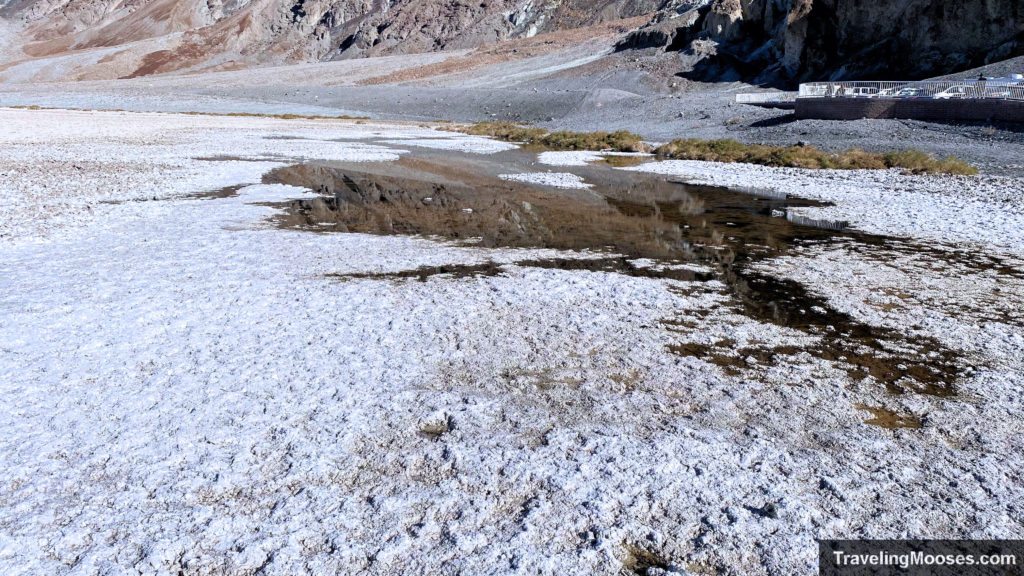 Pros
Easy to get to
Short hike right next to the parking lot
Flat
Beautiful photo ops
Cons
Crowded at most times of the day (except the heat of summer)
Limited parking at the trailhead
The hike is repetitive… the first 0.25 miles look like all the rest
Is it worth visiting Badwater Basin?
Rating: 3 Mooses

You can't go to Death Valley without making a quick stop at Badwater Basin. Snap a couple pictures at the lowest elevation in North America, check out the salt flats and move on to better things in the park.
Verdict: We recommend stopping for a quick photo op and a spin on the salt flats.
Frequently Asked Questions about Badwater Basin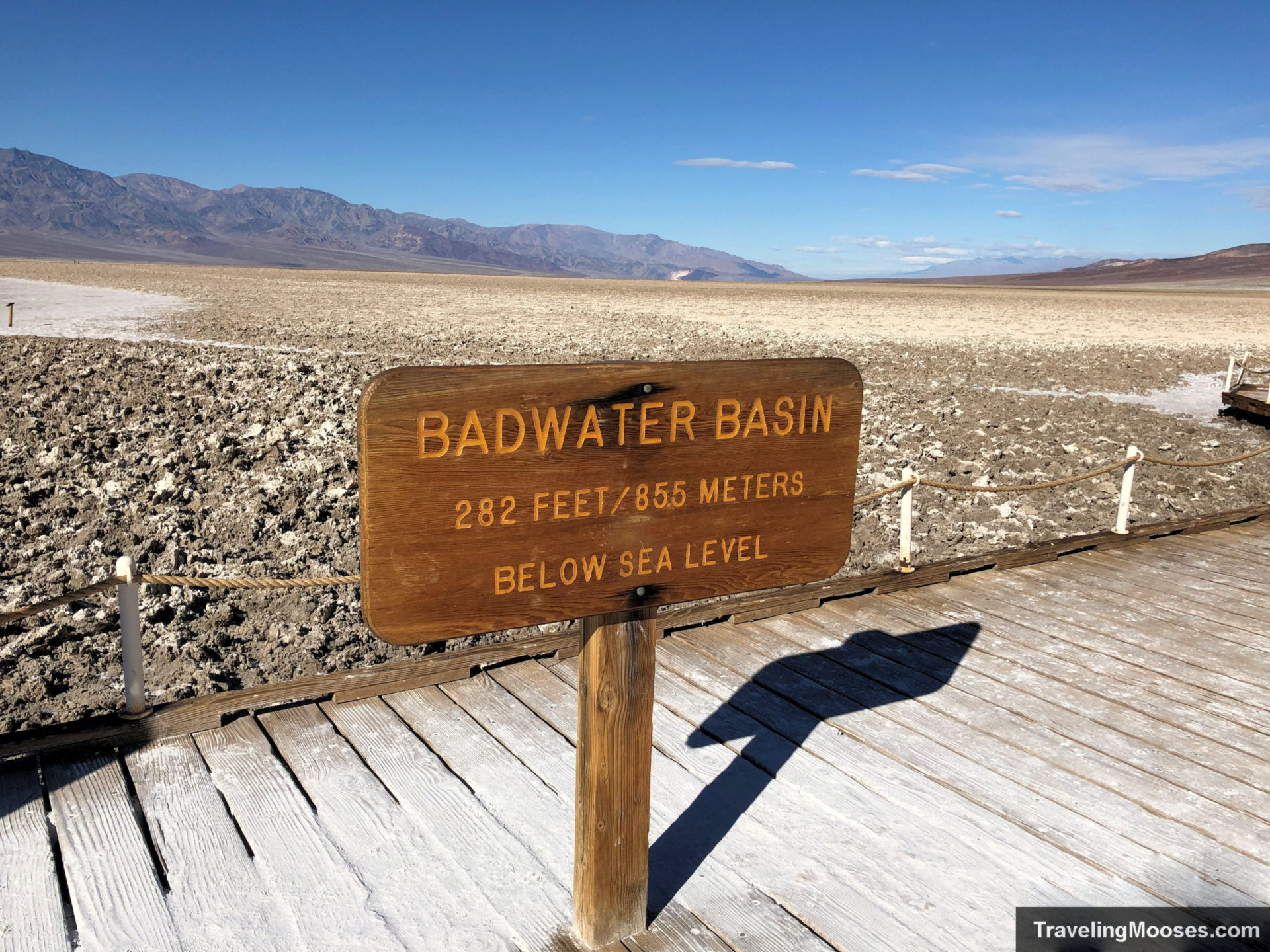 What is the best time to visit Badwater Basin?
During the summer, hiking is not advised after 10AM. This goes for anywhere in Death Valley. The temperatures rise to potentially lethal highs. The best time to visit is during the week, either in the morning or at sunset.
Where is Badwater Basin located?
The trail head is located on Badwater Road, approx 30 minutes south of Furnace Creek.
What is the parking situation like at Badwater Basin?
We arrived at 10:45 a.m. at the parking lot for Badwater on a popular Thursday and snagged one of the last parking spots in the medium size lot. Not long after we arrived, we saw cars trying to double park or stalking visitors that were going to leave soon.
Are there restroom facilities?
Yes, there is a vault toilet in the parking lot.
Are pets allowed on the Badwater Basin boardwalk trail?
No. Pets are not allowed on any trails in Death Valley, even if they are carried. It is also not safe to leave your pets in the car due to the temperatures in the park. Leave fido at home.
Note: This doesn't stop many pet owners from bringing their pets anyways. We saw dogs on the flats both times we've visited.
More information for your trip to Death Valley
You might also enjoy