Death Valley is turning out to be one of my favorite National Park's of all time. The park is huge and needs several days to do it justice…not to mention having a four wheel drive to see all the secret spots.
One not so secret spot? Head over to Zabriskie's point and take in the glorious views without little effort.
Zabriskie Point at a Glance
| | |
| --- | --- |
| Round Trip Mileage | 0.4 |
| Elevation Gain | ~52 feet |
| Average Visit Time | 20 – 40 Minutes |
| Difficulty | Easy |
| Rating | 5 Mooses |
| | |
Zabriskie Point is located off highway 190, the main highway which cuts through Death Valley. This well marked, but small parking lot, is easy to find.
The trail is wide, paved and accessible to strollers. Just a short 0.2 mile walk up the hill and you're rewarded with sweeping views of the Badlands and the famed Manly Beacon off in the distance.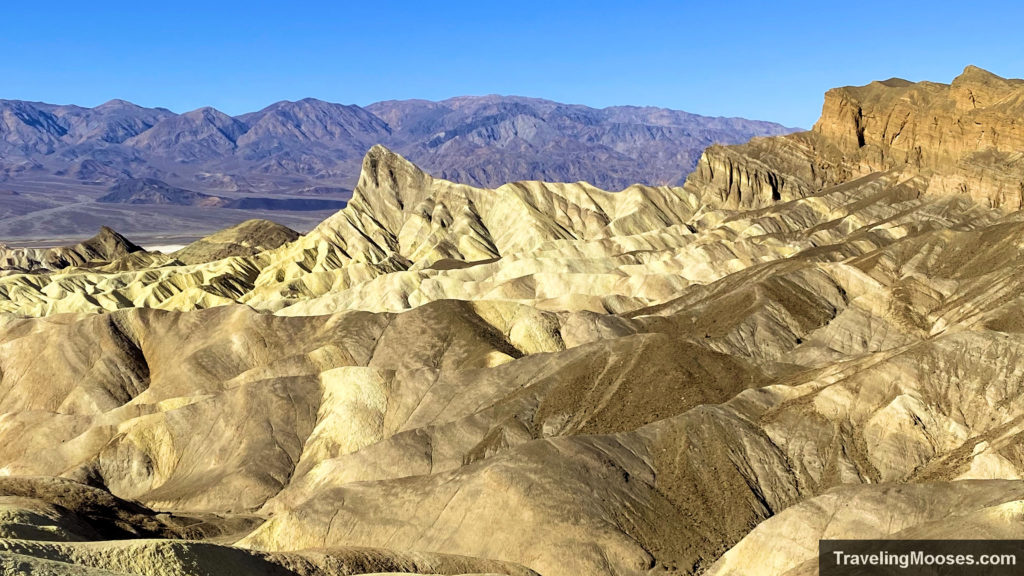 This is a popular place to watch the sun set after a long day of sightseeing in the desert.
Zabriskie Point is also one of the locations that leads to the famed Golden Canyon / Gower Gulch loop. While it adds a little more distance than starting from the Golden Canyon trailhead, Zabriskie point is a convenient spot to start your hike out to Red Cathedral, or the full loop to Golden Canyon & Gower Gulch.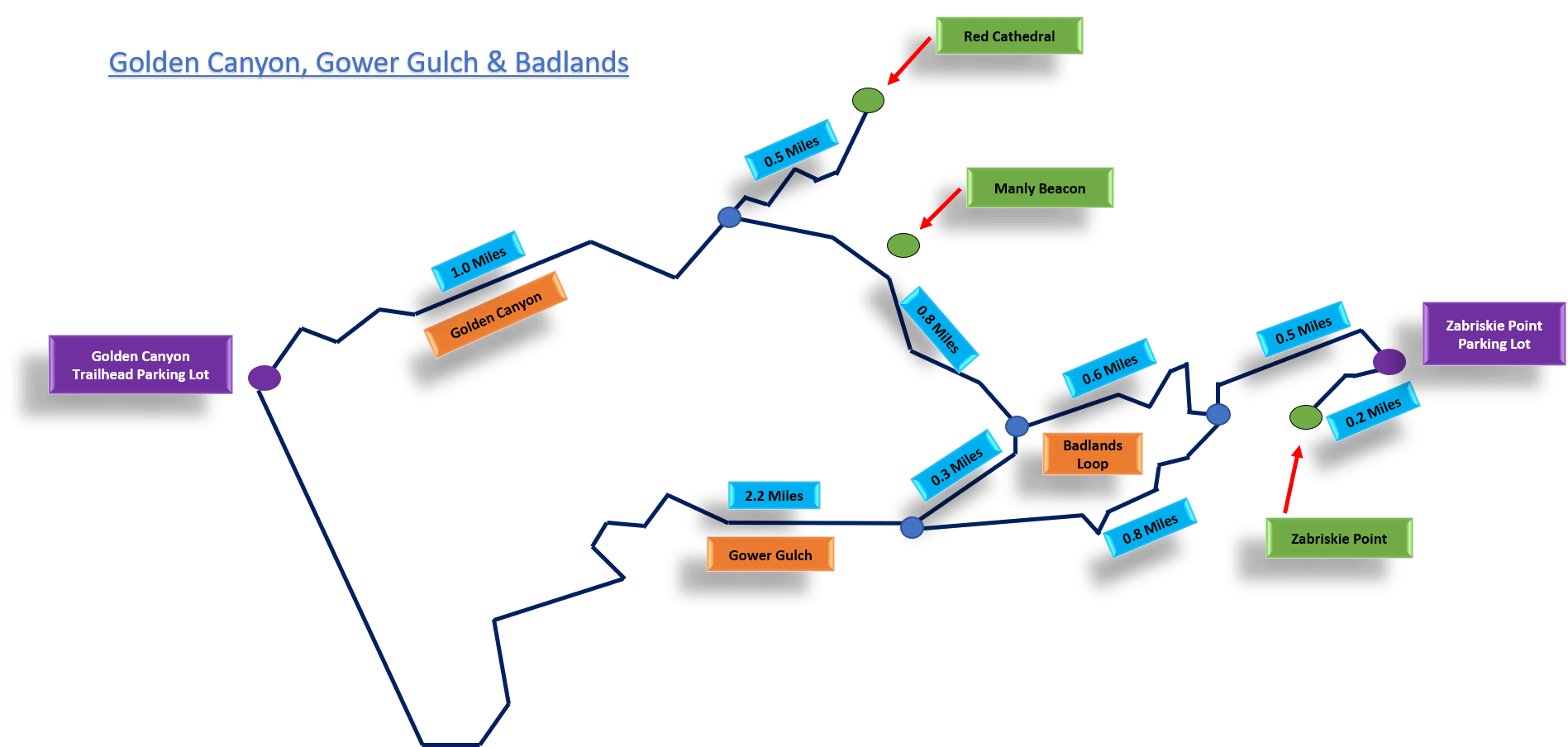 Checkout our complete review of the Golden Canyon loop here.
The parking lot at Zabriskie's fills up pretty quick. The average visitor spends around 20 – 40 minutes at this iconic spot, so you shouldn't have wait too long for parking. Get there early if you want to snap some pics without the crowds!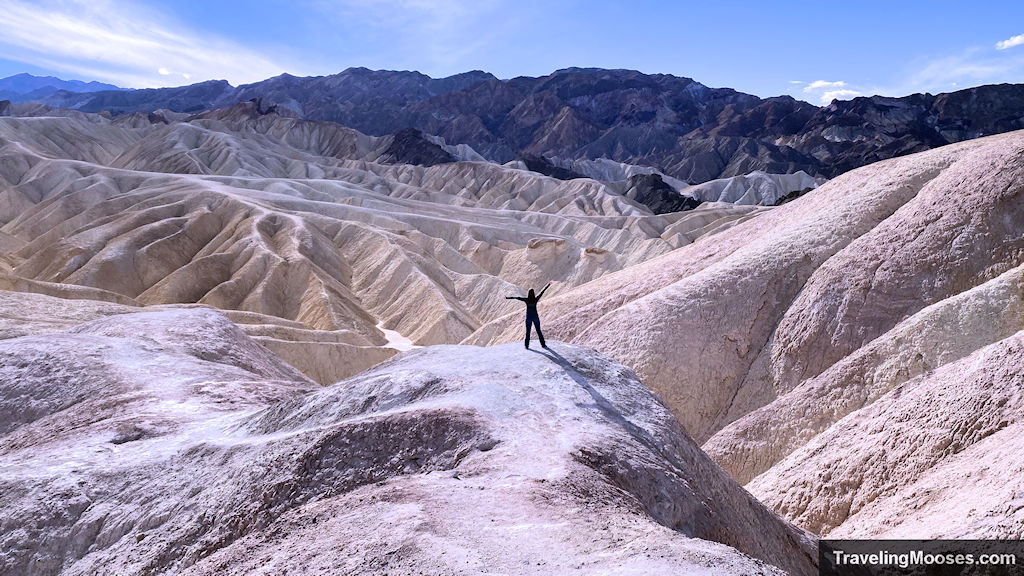 Visit or Stay Home?
Rating: 5 Mooses


This is a check-the-box activity when visiting Death Valley, but you will surely want to check it off. It's a little effort for a big pay-off.
Verdict: Worth a quick stop as you travel through Death Valley.
Frequently Asked Questions about Zabriskie Point
What is the address of Zabriskie Point?
Zabriskie Point is located in Death Valley National Park off Highway 190 in California. The Latitude is 36° 25′ 7.19″ N and Longitude is: -116° 48′ 23.99″ W.
What is the best spot to watch the sunset in Death Valley?
Hands down, Zabriskie Point is the best place we found to watch the sunset. It's easily accessible and offers phenomenal views.
When is the best time to visit Zabriskie Point?
The best time to visit would either be in the early morning (less crowds and morning light), or early evening around sunset (more crowds, but great lighting).
Is Zabriskie Point wheel chair accessible?
Yes, the path is wide and accessible to wheel chairs and strollers.
Are their restrooms at Zabriskie Point?
Yes, there are restroom facilities at the parking lot of Zabriskie Point.
Is there a cost to see Zabriskie Point?
Yes, you will need either a day pass to enter Death Valley National Park ($30 as of 2021) or the America the Beautiful Pass ($80 as of 2021).
More information for your trip to Death Valley