| | |
| --- | --- |
| Description | Hot Shot Miniature Golf is an 18-hole novelty golf course including fun obstacles, corners and quirky signs located in the heart of Big Bear Lake, CA. |
| Hours of Operation | Daily from 12 p.m. to 5 p.m. |
| Admission | $6 per round for adults or $5 for seniors over 60 and kids under 12, cash or Venmo only (pricing subject to change) |
| Website | https://www.facebook.com/Hot-Shot-Miniature-Golf-196071233786427/ |
| Address | 42143 Big Bear Blvd, Big Bear Lake, CA 92315 |
| Coordinates | 34.24756, -116.88201 |
| Parking | Free |
| Rating | 5 Mooses |
| | |
Note: We have no affiliation with this company and purchased our own tickets. Our thoughts and opinions are our own.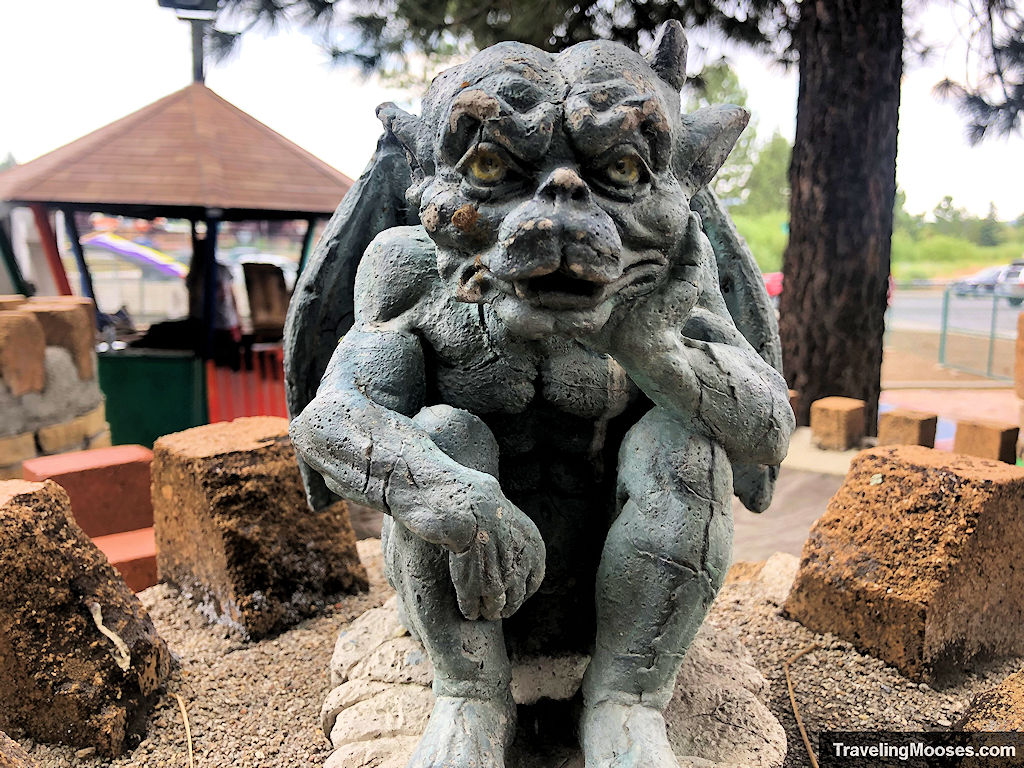 Our experience at the Hot Shot Mini Golf course
We were getting hungry and wanted to try out the local "Get the Burger" restaurant. Unfortunately, upon arrival the place was packed and there was a minimum 45-minute wait to get food. Needless to say, we decided to leave.
It was around 12:30 p.m. and at this point and we knew getting lunch was going to be a challenge so we decided to pop over to the Hot Shot Miniature Golf course (which happened to be really close by) and play a quick round.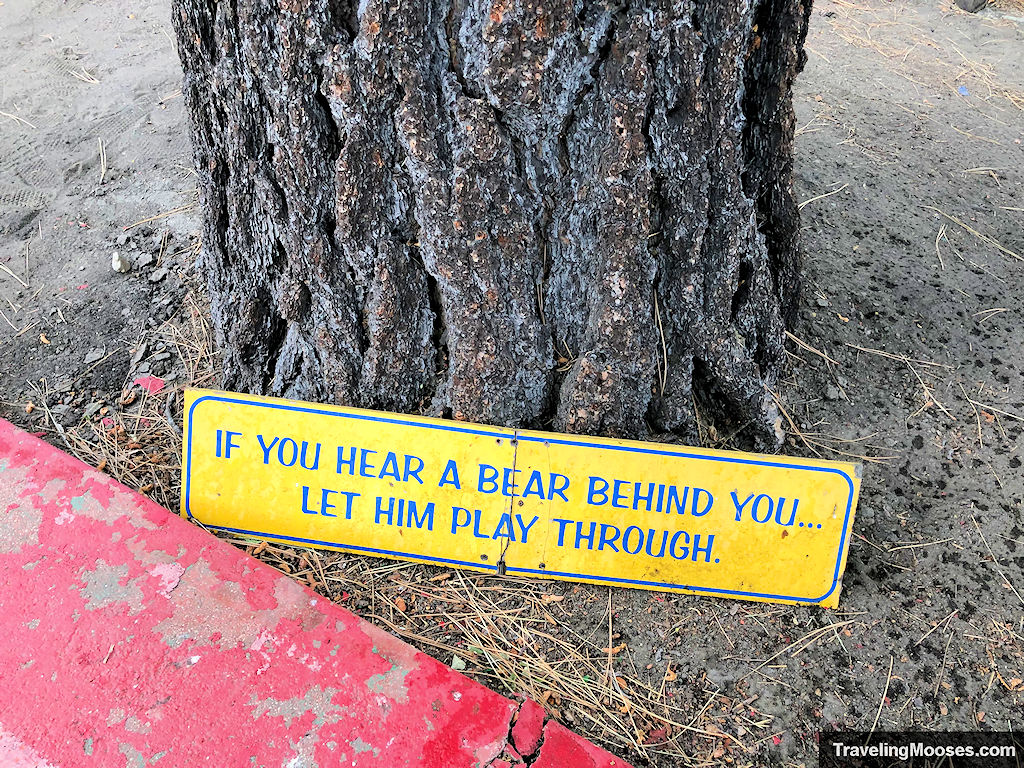 We arrived to find abundant parking along the fence outside the course and no wait to start playing.
The first hole starts off pretty run of the mill but after not too long you're putting around sharp corners, over hills, through castles and other obstacles. Each hole seemed progressively more fun than the last.
We were about 7 holes in when the sudden rain started. It scattered most of the players off the course but we decided to stick it out (we're originally from Seattle after all). We're glad we kept playing as the latter part of the course was great fun and we thoroughly enjoyed ourselves. I even got a hole-in-one on the volcano shot!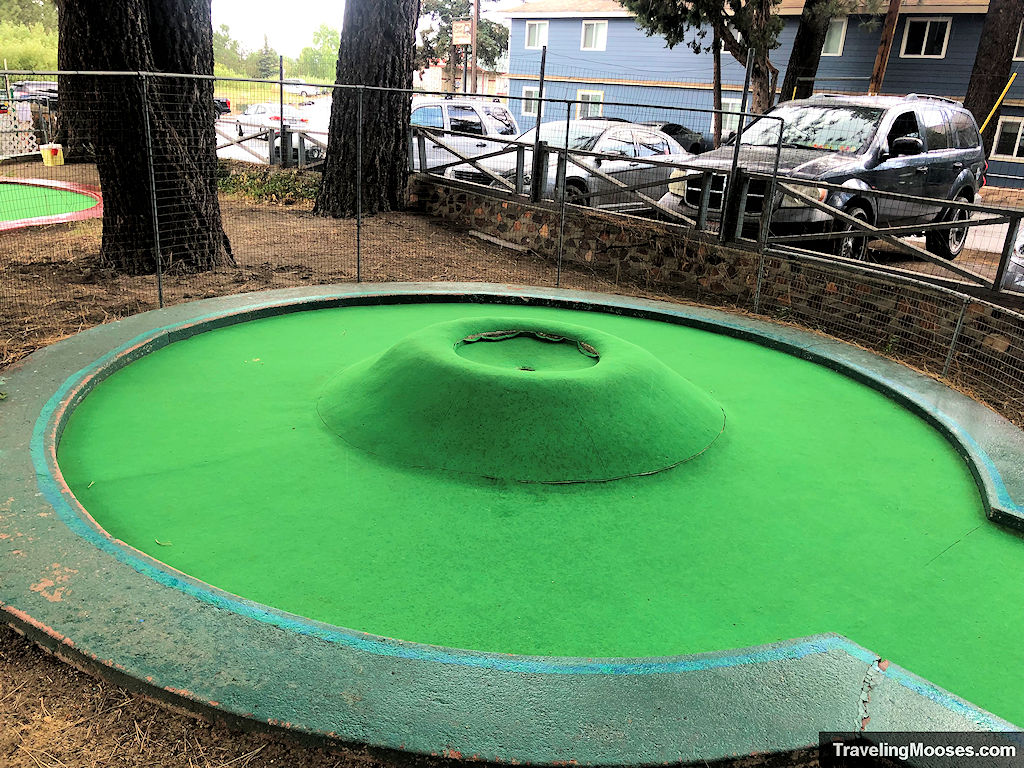 Our total game play ended up just around 50 minutes for the two of us.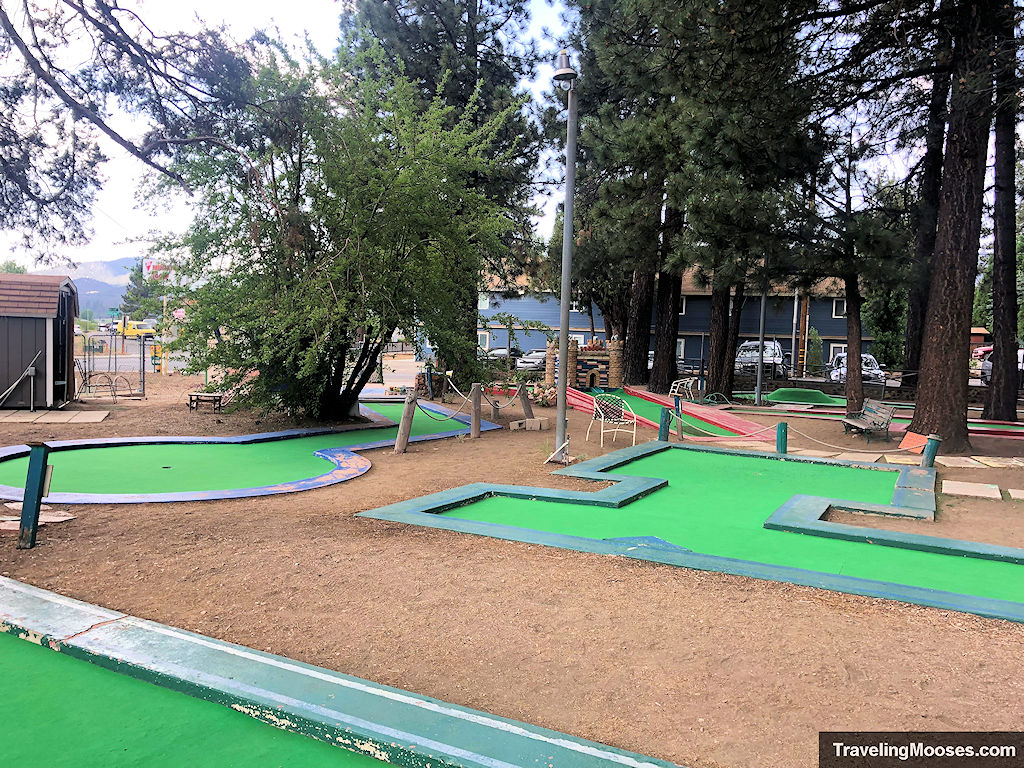 We'd love to go back and play another round if we find ourselves in Big Bear Lake again.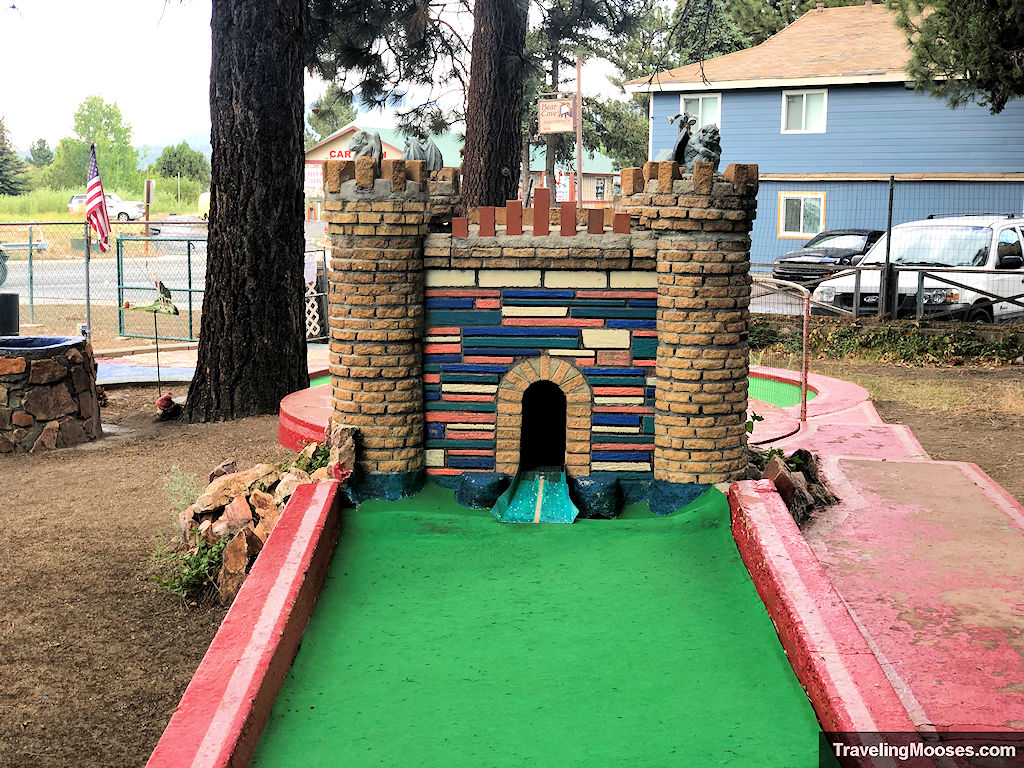 Know before you visit
Be sure to take cash or be prepared to pay with Venmo.
Cosmic golf is no longer an option at this course. Unfortunately, when the business changed hands, the hours changed and there was no longer an option to play cosmic golf.
Plan accordingly for the weather as the course weaves between many tall trees which can provide some great shade on sunny days, but still allows for rain to get through.
There's a lot of pine tree needles which are tough to keep off the course. I say it just makes things more interesting.
There's no official max score on each hole which can slow down play between groups. Some of the holes were pretty tough, so you may want to agree on a max stroke count per hole before playing.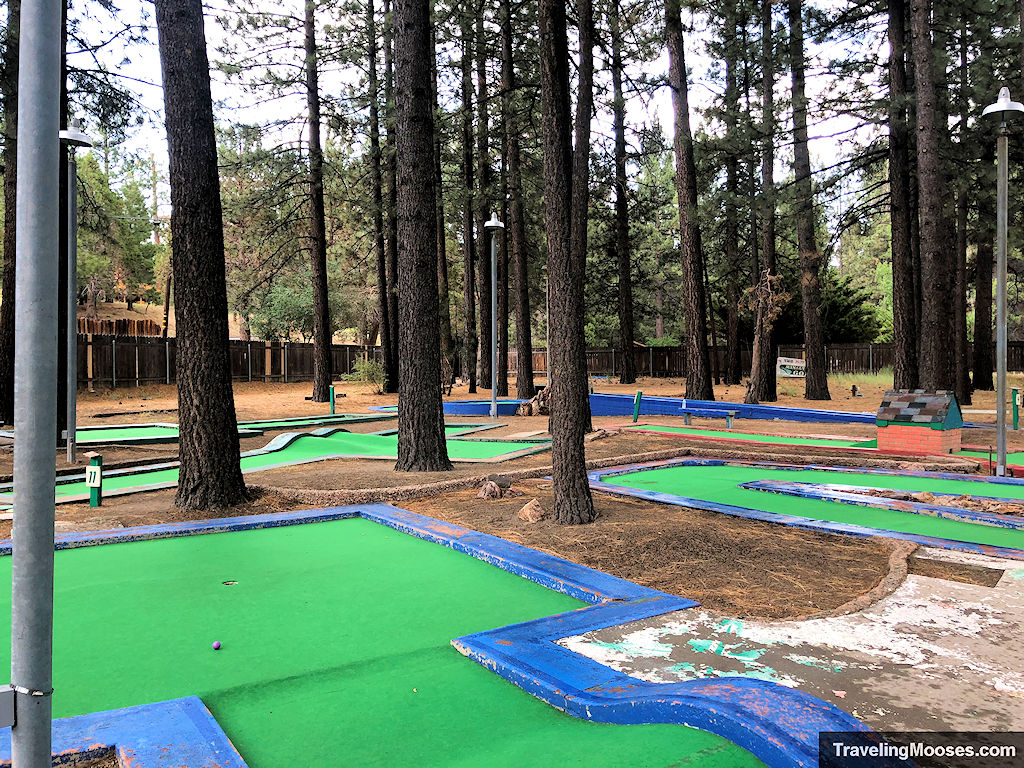 Should you visit Hot Shot Mini golf or skip it?
Rating: 5.0 Mooses


What we liked

The holes were challenging and had a variety of obstacles to keep us entertained

The quirky signs placed throughout the course were entertaining

What we didn't like

The random rain storm in the middle of our game, but we pushed through!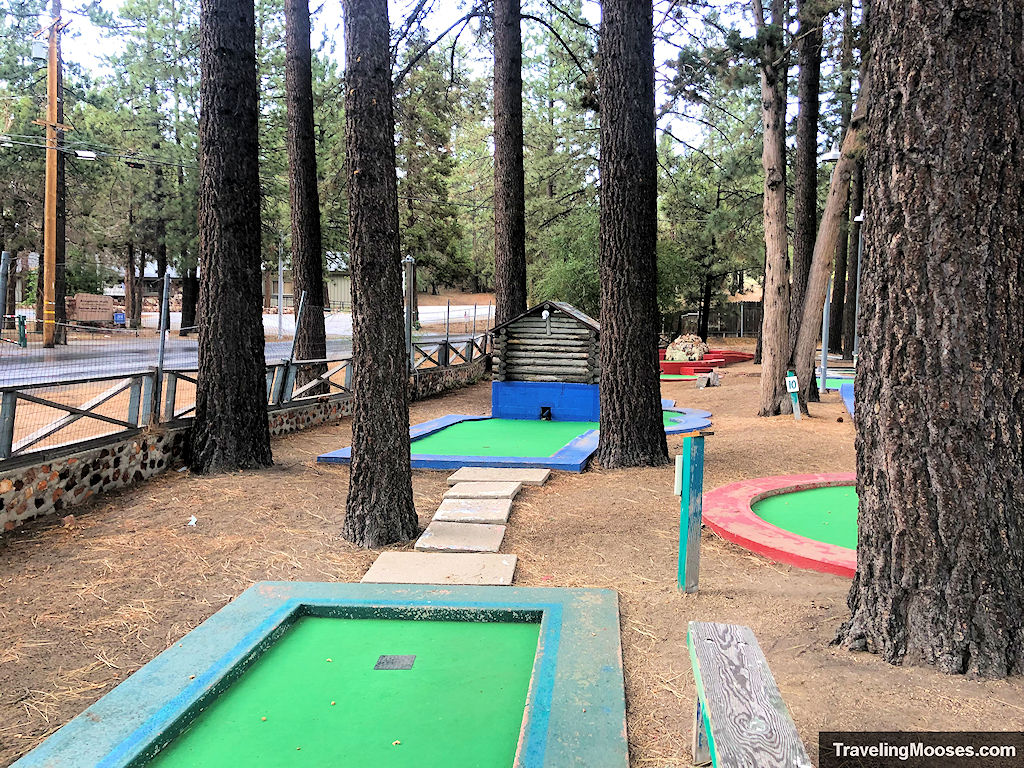 Other Mini Golf locations in Big Bear Lake
There's another mini golf course at the Alpine Slide at Magic Mountain in Big Bear Lake. We checked out the course at our visit to the Alpine Slide at Magic Mountain, but it didn't look like that fun, so we didn't play.
More Information for your trip to Big Bear Lake
You might also like: