Brian Head Resort, dubbed the "premier ski resort in Southern Utah" is located just 3 hours from Las Vegas. Desert dwellers can take advantage of the free lodging promotion and enjoy a perfect weekend getaway on the slopes.
Spoiler alert, we can't wait to go back.
In this guide:
Part 1: Brian Head Resort
Why did we choose Brian Head?
Our experience on the slopes

Rentals and getting our gear
Brian Head ski lifts & slopes
Giant Steps Lodge Restaurant

Is Brian Head Resort worth visiting?
Part 2: Brian Head Lodge
Our experience at Brian Head Lodge
How to get a free night stay at Brian Head Lodge
Is Brian Head Lodge worth staying at?
FAQs for Brian Head Lodge
Brian Head Resort offers a fun filled day with well-groomed runs and a cozy hometown feel. Boasting both Giant Steps Mountain and Navajo Mountain, Brian Head Peak clocks in at 11,307 feet in elevation and has 71 runs over 650 skiable acres.
Hours of Operation (Winter)
Monday – Friday
Lift Hours: 10:00 a.m. – 4:00 p.m.

Saturday, Sunday and Holidays
Lift Hours: 9:30 a.m. – 4:30 p.m.
Night Skiing: 4:00 p.m. – 9:00 p.m.

*Hours subject to change, check their website for updates / closures.
Address
329 UT-143, Brian Head, UT 84719
Base Elevation
9,600′
Top Chairlift
11,000′
Cost
Variable: pricing fluctuates based on day and what part of the season it is. We paid: $69 per lift ticket the day we visited.
Parking
Free
Average Time at the Resort
All Day
Current info/Closures
Brian Head Resort
Rating
4.5 Mooses
*Note: This is an unsponsored post, we fully paid for our lift tickets and received the "free-lodging" promo that is available to anyone. We have no affiliation with the ski resort or lodge. Our opinions are our own.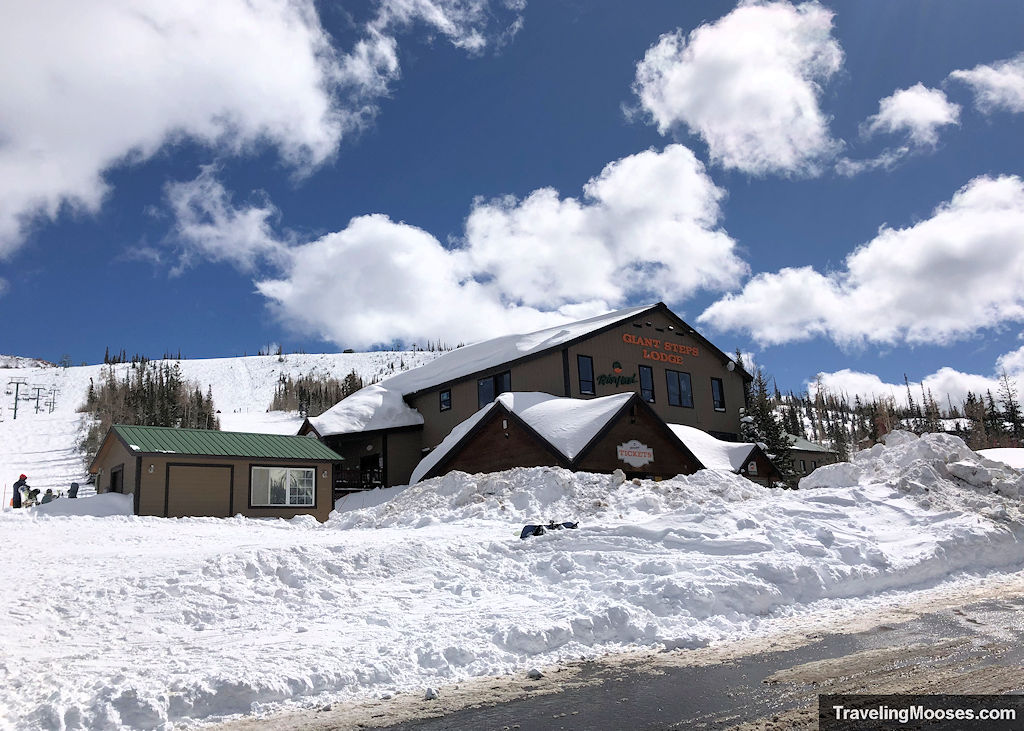 Why did we choose Brian Head?
Anyone who lives in Las Vegas knows that skiing options are limited. The closest resort is Lee Canyon, which is about 50% smaller than Brian Head and tiny in comparison to major ski resorts.
We also weren't interested in driving seven hours to reach resorts such as Tahoe or Park City. Even better, we determined the cost would be about half price (and that was before the free lodging).
Our experience on the slopes at Brian Head Resort
After spending the night at Brian Head Lodge (more on that later), we drove to Giants Steps lodge to get our gear and hit the slopes. There is a free shuttle that runs throughout the area and we imagine it would be critical to use it on busy weekends.
Rentals and getting our gear
To start, we needed rentals and selected the shop at the Giant Steps Lodge. When we visited, the lifts didn't open until 10 a.m. but the rental area opened at 9:30 a.m.
Note: You can also get rental gear from the Navajo Lodge, but Giants Steps is the more common side of Brian Head and they have better hours.
When we arrived at 9:20, there was already a line formed at the ticket window.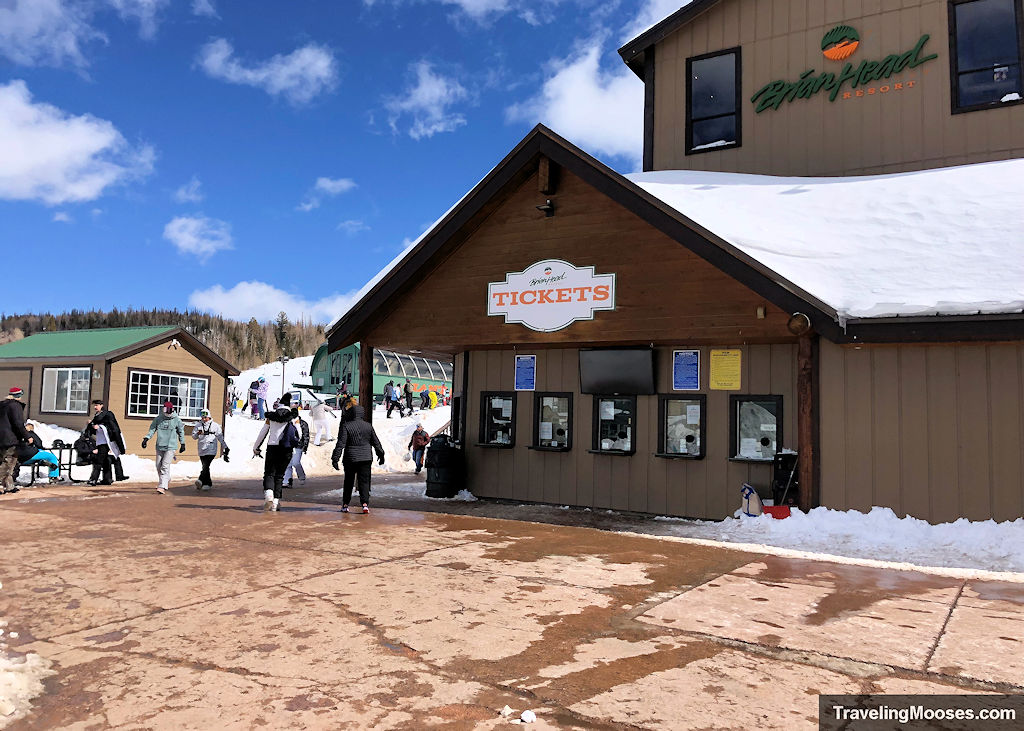 Luckily, since we had purchased the lift ticket and lodging special, our lift tickets were waiting for us at the hotel the night before and we didn't have to wait!
Just to the right of the ticket window you'll find a set of double glass doors. Enter through the doors and you'll see a desk straight ahead. Once you reach the desk take a right to procure your rentals (skis or snowboards).
There you'll be greeted by employees who will scan your barcode (if you prebooked) and will ask you to step up a couple of stairs and be fitted with boots.
It was a unique (and quite efficient) experience. They have you step in a shoe sizer while asking your preferred size. You put the boots on right there and then with the employee helping you tighten up the straps.
After your boots are fitted, head down the stairs and speak with another employee to get your skis.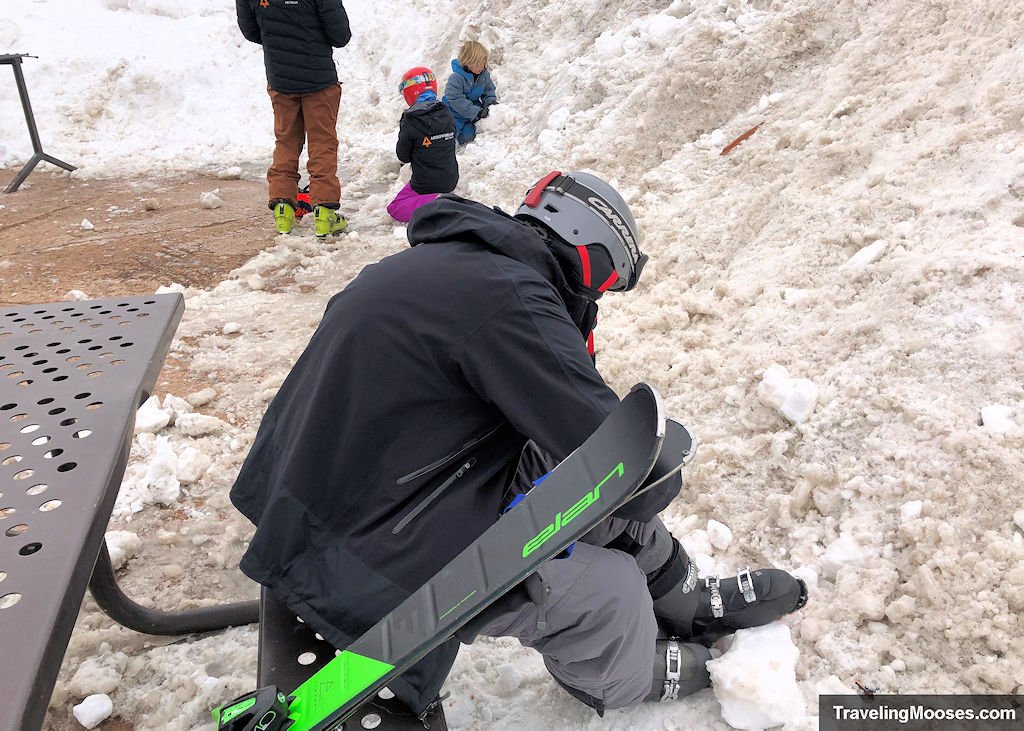 Note: They do have lockers available for your gear. I think the cheapest and smallest option was like $8. We recommend taking any extra gear back to your vehicle (unless you took the shuttle, then prepare to pay up). We did see a couple of shoes randomly placed under benches, but I can't say if that's a good idea or not.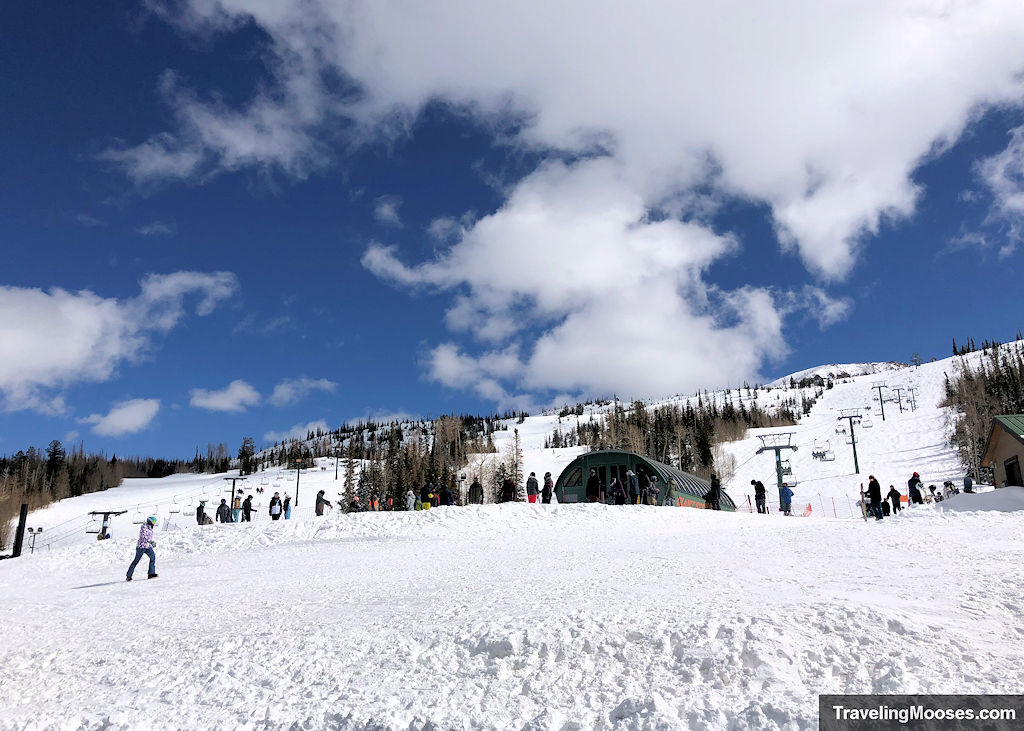 Brian Head Ski Lifts and Slopes
Brian Head has two ski areas which are included in your lift ticket, Giant Steps Mountain and Navajo Mountain. There is a cat track that will take you back and forth, but we opted to stay on the Giant Steps Mountain for our entire visit.
You can find a map of mountain here.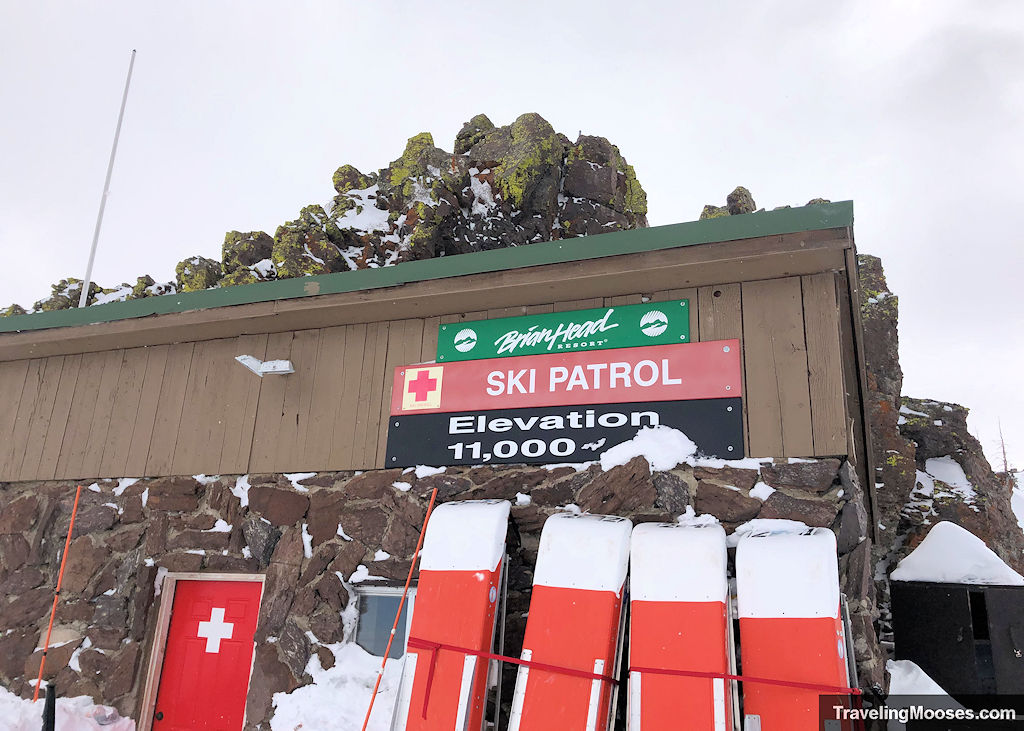 We prefer to stay on blue runs and "soft" black runs. The mountain seemed to be on easier side, which was perfect since we hadn't been skiing for a while.
If you're an avid skier that lives for double black diamond runs, this is not the mountain for you.
If you're a fan of mostly blue runs or you haven't been skiing for a while, this is what you're looking for!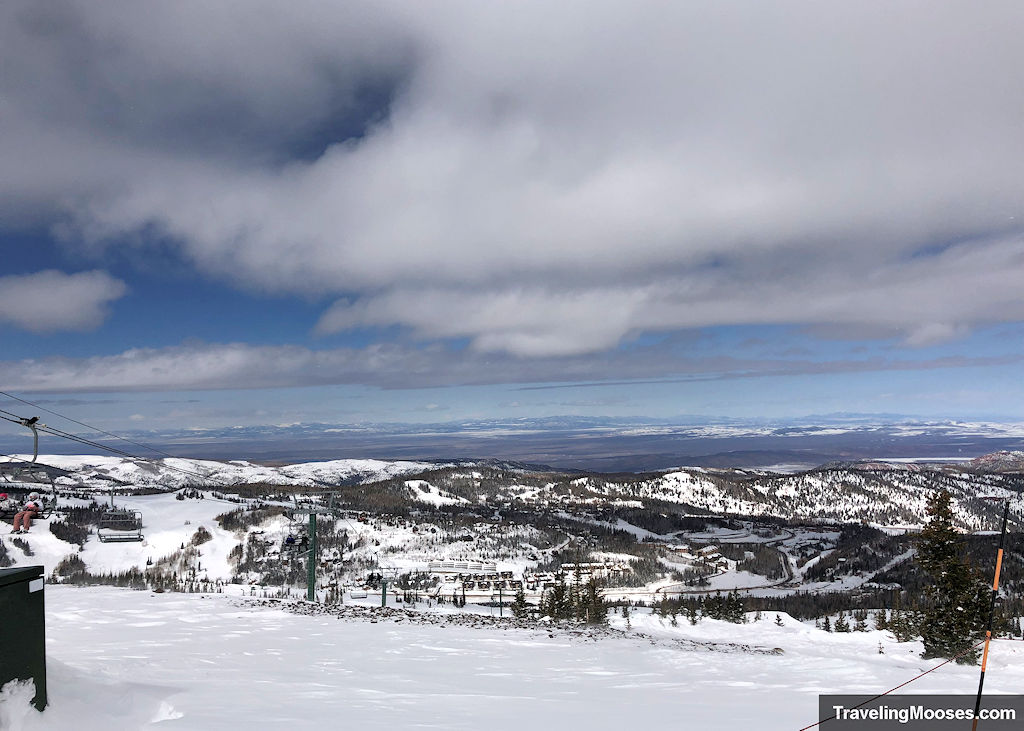 We hit the majority of the blue runs on our visit.
Our favorite long run was: Sunburst to Bearpaw connecting across Blackfoot and finishing up on Overtime down to the Giant Express.
We also liked Last Chance and Daybreak, though "the Dunes" chairlift is one of the older models. We found less people were on the slopes near those lifts.
The runs were well groomed and lines manageable on our visit.
Giant Steps Lodge Cafe & Restaurant
After a few hours on the slopes, we decided to stop and grab some lunch at the Giant Steps Cafe.
There are two options, a cafe and a full-service restaurant upstairs.
We opted for the cafe to keep things quick.
We found the prices to be pretty reasonable and a decent selection.
What wasn't great was the seating at the cafe. This has to be one of the smallest cafes we have ever been to at a ski resort. About half of the maybe 15 tables were filled with obvious non-skiing family members. The rest were filled with hungry skiers that had to double up at 4 person tables with people they didn't know.
If you're planning on eating at the cafe, avoid the lunch hour at all costs. Go early or go late after the rush is over.
Is skiing Brian Head Resort worth it?
Rating: 4.5 Mooses

What we liked:
All of the lifts were open and the crowds were manageable on a Friday. This was surprising considering the resort had just received several feet of new snow.
The gear rental process was pretty smooth. We had pre-booked our rental online (which we recommend), and we just had to show a barcode before being fitted with boots and skis.
The food at the Giants Steps Cafe was pretty tasty, and fairly reasonable in cost, however the seating area is dreadfully small (go early to get a spot).
What we didn't like:
Their website was frustrating. After booking our lift tickets and lodging, we were required to call the hotel to confirm. It also wasn't obvious how to book the lift tickets correctly.
Since we booked our tickets wrong online, we missed out on the $10 dining credit at the Giant Steps Cafe. Don't fall for our mistake.
My barcode wasn't working when it was time to get my skis, though Mr. Moose's worked fine. The staff were able to look up my name instead and we were on our way.
Verdict: Yes! We had a great time and we'd love to go back for another day of skiing. We'd also like to check out the area in the summer.
Brian Head Lodge
Address
314 Hunter Ridge Dr, Brian Head UT 84719
Website
Brian Head Lodge
Parking
Free
Amenities
Pool, hot tub, game room, restaurant, free WIFI, free tesla charger, outdoor patio area with fire pits, fitness room

*Amenities subject to change, check out their website for current offerings.
Rating
3.5 Mooses
Our experience at Brian Head Lodge
We arrived at the lodge late. If you're coming from Las Vegas, keep in mind that Utah is in a different time zone.
When we arrived, it was dark and the area had received a record amount of snow. The parking lot was mostly full and we found large snow piles everywhere.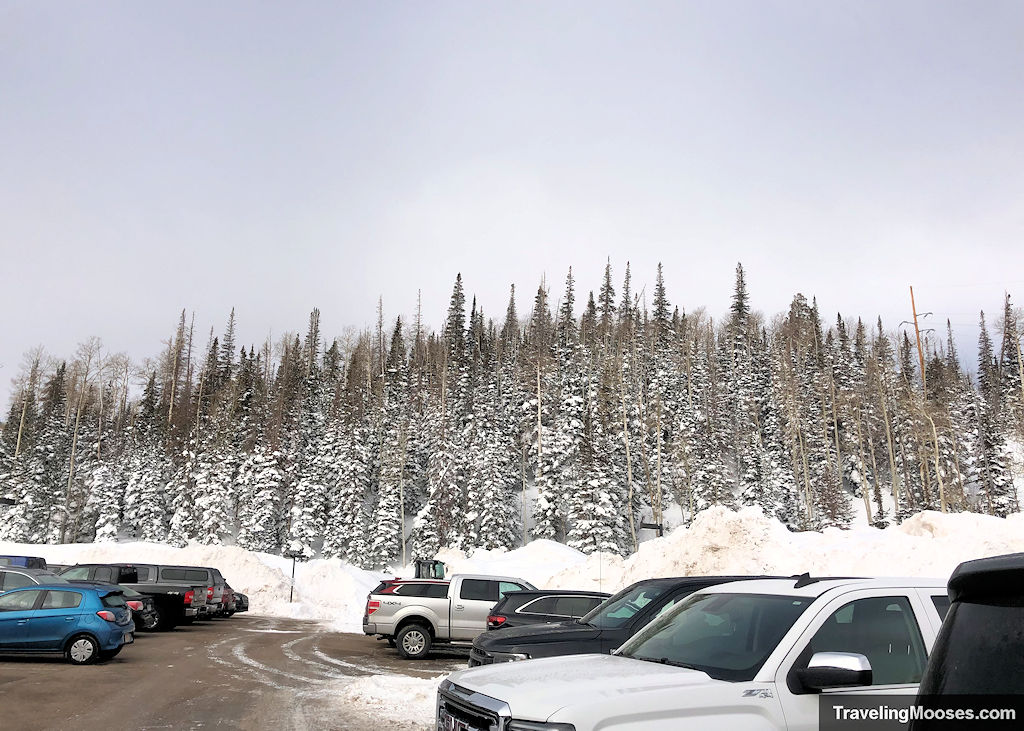 We snagged one of the last spots we could find and made our way to the entrance.
The parking area had many ice spots in it, so use caution!
It was extremely cold when we arrived, but I snapped the picture below the next morning.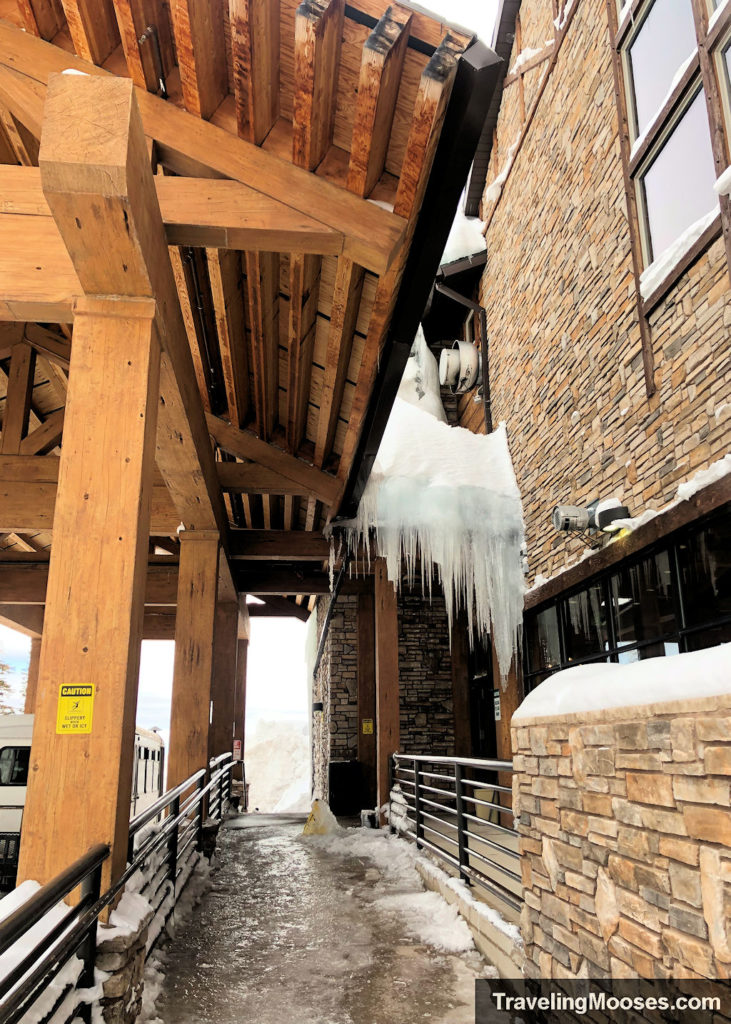 The check in-area had a large desk with only one worker available. This was a common issue throughout our stay.
After waiting for what seemed like an eternity to get checked in and fill out their antiquated check-in paperwork, we headed up to the third floor to see our room. We were given a 25% off coupon for a breakfast sandwich at the Giant Steps Cafe since they no longer serve breakfast. This was quite disappointing as our friend had just been there the month before and her room included a complimentary breakfast. Sad.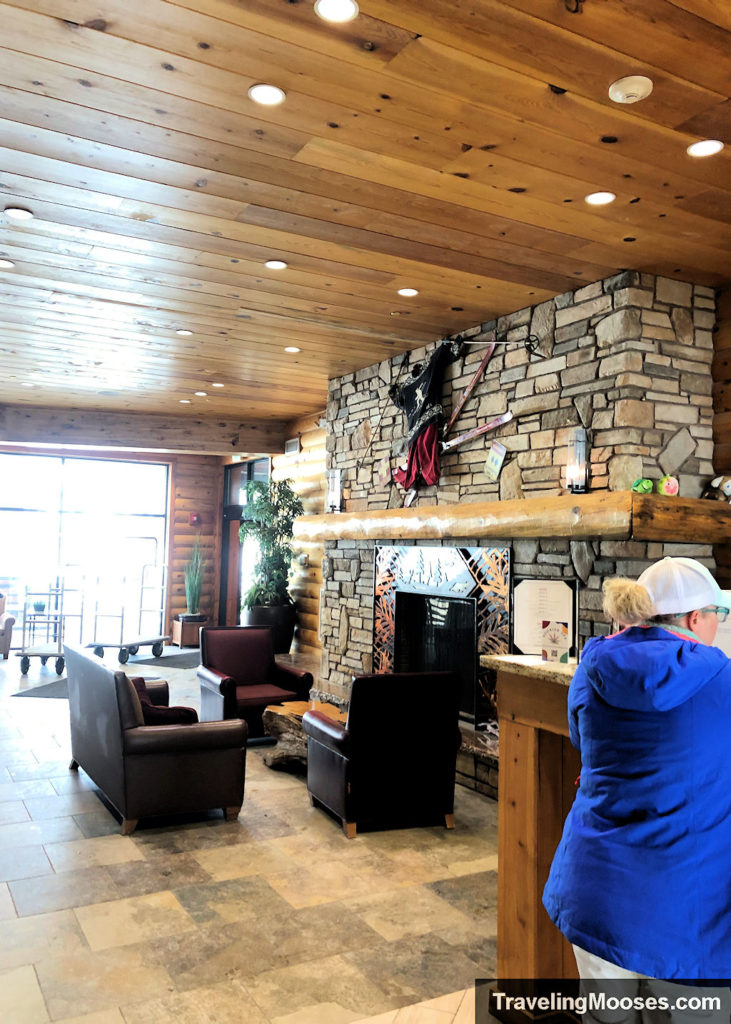 We were pleasantly surprised the room was clean and a reasonable size. The room included WIFI and a complimentary mini-fridge.
Since we had arrived late, the restaurant was getting ready to close as well as the pool. To be fair, we weren't planning on swimming that late anyway, but were disappointed the hot tub was drained.
We did take time to play a few games of air hockey in their game room, as well as a target practice shooting game (of which the name escapes me). You can purchase tokens in the game room.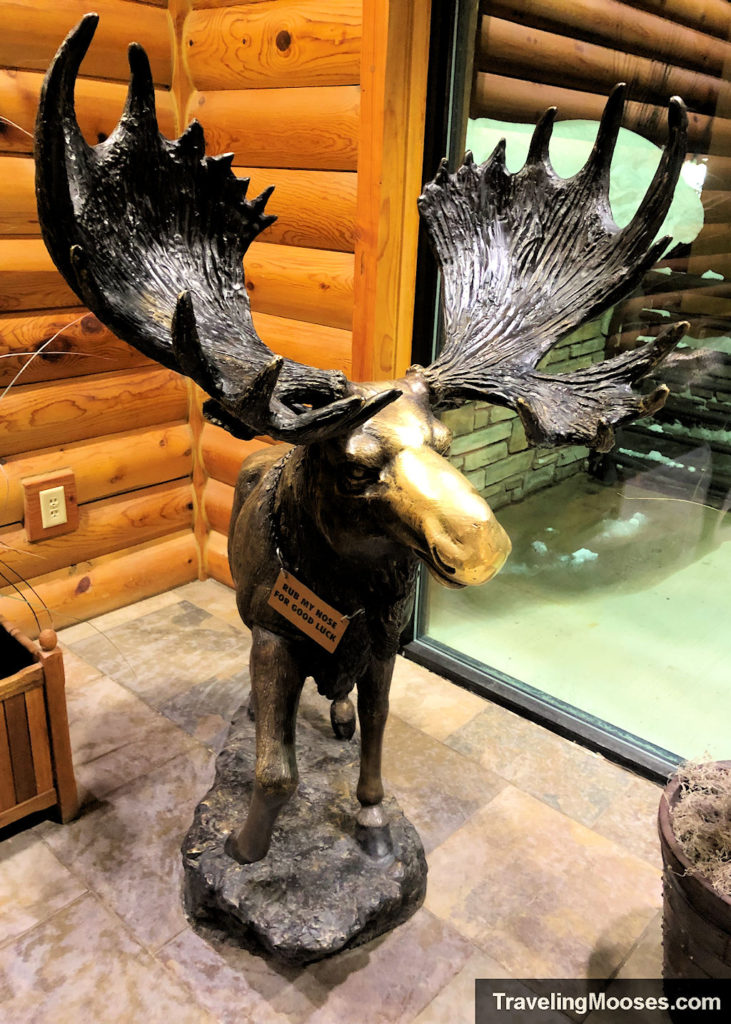 After checking out the game room, we retired for the night to get ready for our big ski adventure.
Back in the room, we did notice the walls were a bit thin, but thankfully we didn't have any long-lasting noise issues. We also noticed the beds were quite noisy. If you're a light sleeper, this might not be the best hotel for you.
Checking out the next morning went out about as well as the check-in process. Slower than molasses, and included a few angry patrons that the free coffee had run out.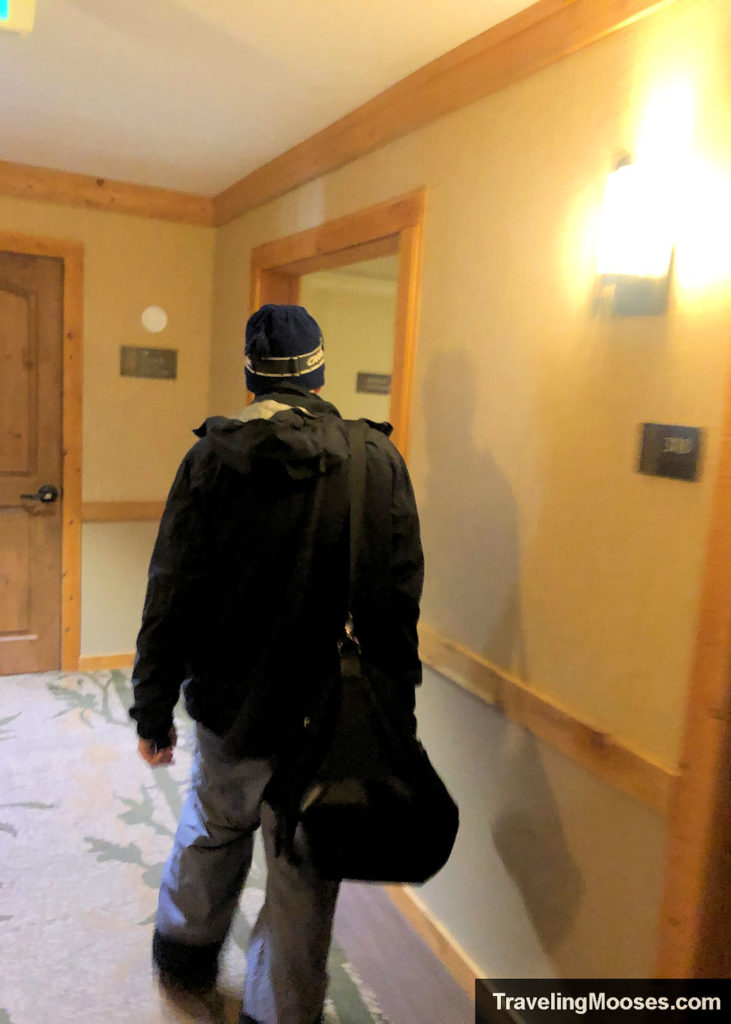 We chocked it up to being short staffed. The issues we experienced were minor and made better since we stayed on the free night promo.
At this point, you're probably wondering how to get the free night!
How to get free lodging at the Brian Head Lodge
If you head over to the Brian Head Resort website, you'll find an option to get "free" lodging with the purchase of a lift ticket (on select days). Note: If you get a 404 error on their website it's because the ski season is over. Try again during the next ski season!
The reason I put quotes around the free lodging, is personally I didn't feel like it was "free" despite our invoice showing a zero when we arrived at the hotel.
Let me explain.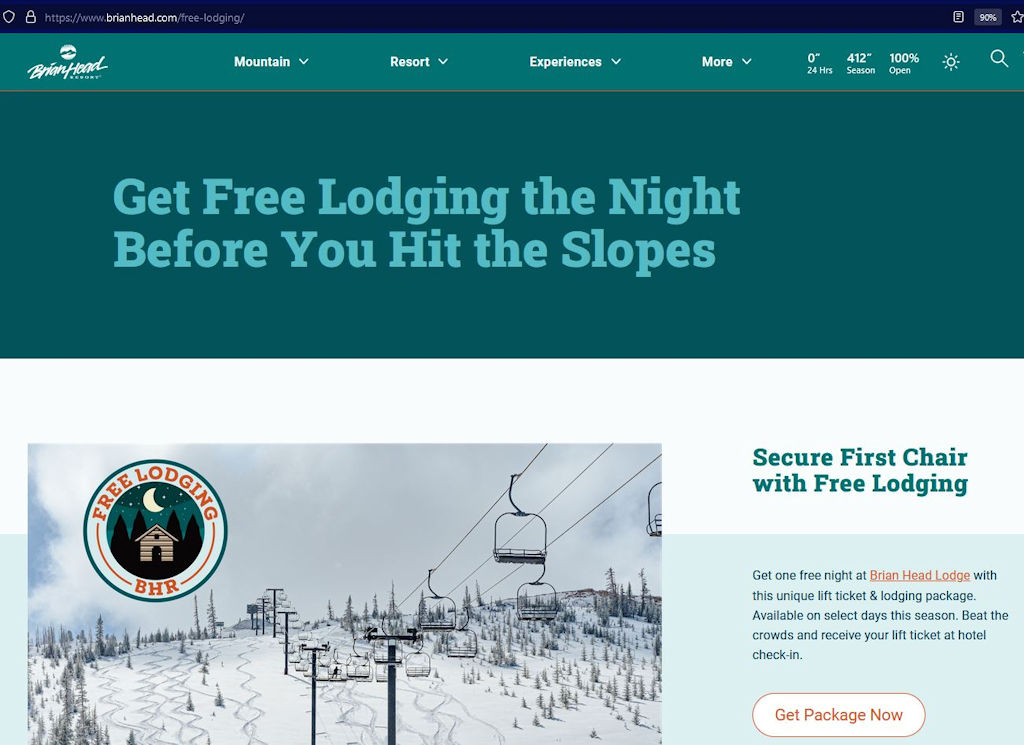 We were planning on skiing on a Friday and therefore our free lodging night would be on Thursday. The "free" lodging lift ticket cost $99. A second lift ticket (without lodging) cost $69 (which is $30 less). Still a phenomenal deal, but not quite the free that I was expecting.
As another example, for March 24th, their website had a free lodging option for the same $99 that we paid. The same day for a lift ticket was only $59. That is $10 less than we paid for our second lift ticket, but in late March the snow was surely worse. On March 24th, the room was basically $40 extra.
In total, we paid $30 extra (plus tax) for the free room (which was totally worth it.) So, free lodging? I guess. Semantics maybe.
On a side note, if you're wondering why pricing fluctuates so much, the owners of Brian Head Resort employ something called "dynamic pricing" for their lift tickets. Their sister resort, Arizona Snowbowl actually reached over $300 one weekend. You can read the article here.
Tips for booking on the Brian Head Resort website
We booked online and accidentally selected, 2 "lift tickets with free lodging" which meant we were going to end up with two rooms. We didn't know that until we called to confirm our reservation, which is mandatory after you book online. That part seemed to defeat the purpose of online reservations. ¯\_(ツ)_/¯
The good news is that when we called to confirm our booking, the gal we talked to kindly fixed our mistake and refunded us the $30 we overpaid.
Avoid our booking mistake
When you're ready to book, go to the "free lodging" section, pick an available day and follow the prompts to complete your name and birthday. Then click "add to cart".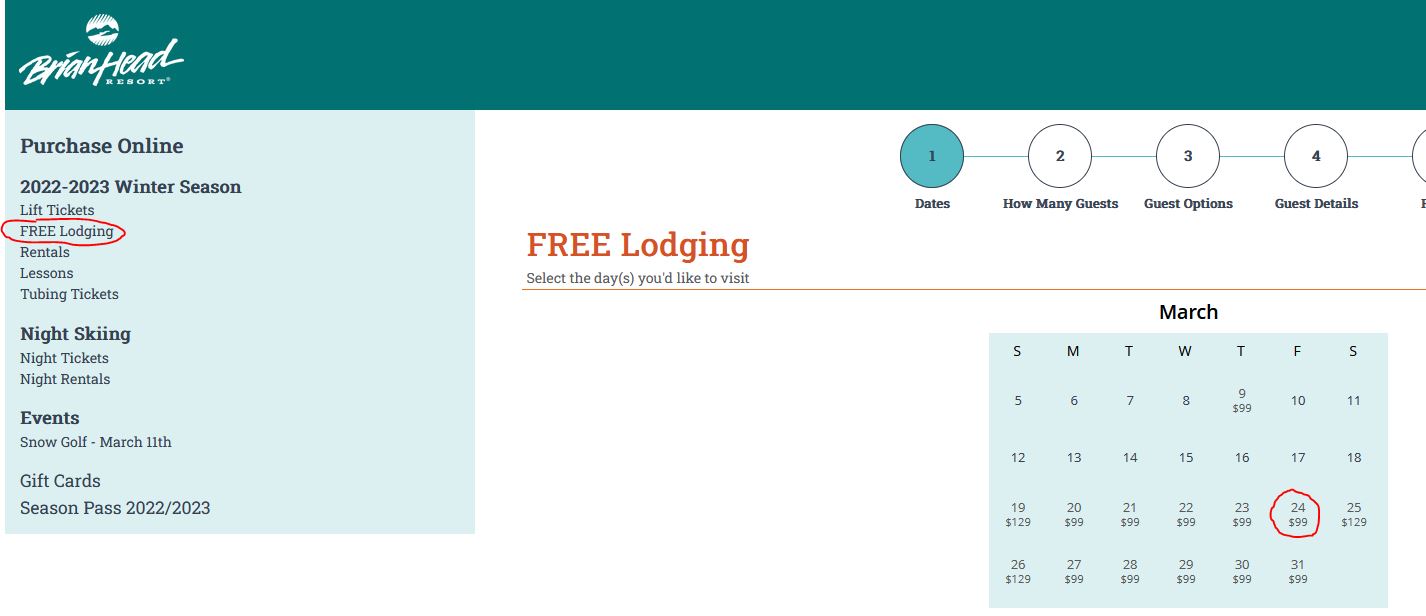 Then, click on "lift tickets" (on the left-hand side of the screen) and repeat the process for each additional person you want to go skiing and "add to cart." After you're done, proceed to check out and it should calculate correctly.

Make sure you do this, as we missed out on a $10 resort dining credit for booking a mid-week visit, since we accidently chose 2 free lodging options. The fine print says you only get a $10 resort dining credit for mid-week lift tickets only. You do not get the $10 resort credit when purchasing the free lodging version.
It was definitely user error when I booked, but I'd like to think I'm decently tech savvy (I built this website). Basically, their website is really unintuitive.
Is Brian Head Lodge worth staying at?
Rating: 3.5 Mooses

What we liked:
The hotel was room was clean and contained a mini-fridge.
The hotel is really close to the ski resort and offers a complimentary shuttle to the slopes. If you're there during busy season, we highly recommend taking advantage as the parking area at Giant Steps wasn't large.
The room was "free" given we purchased a lift ticket through the Brian Head Resort promo. Can't beat that!
They provided complimentary coffee and tea in the lobby. Sadly, no hot chocolate.
They had a small but fun game room with air hockey and various other video games.
What we didn't like:
Parking at the lodge was a little precarious in the snow. There was a lot of snow piled up in the parking lot and some of the areas were icy.
There was no breakfast option at the hotel. They did have a snack area where you could purchase a limited number of items.
The hotel can be a bit noisy depending on who your neighbors are (but this is not unusual for hotels).
We felt the beds were loud and would be an issue if you're a light sleeper and your bedmate tosses and turns.
We didn't end up swimming in the pool, but it was a bit sad the waterfall wasn't working and hot tub was drained.
We felt the hotel was understaffed we visited. Long lines, limited restaurant hours, pool features not working and a few unhappy guests wanting their free coffee.
Verdict: We would stay at Brian Head again, especially with the offer of "free" lodging.
FAQs about Brian Head Lodge
What was the pool like at the Brian Head Lodge?
We didn't end up swimming when we visited. We arrived late to the hotel after a long day and were pretty tired. We felt the pool was really small and the waterfall wasn't running. Additionally, the incredibly small hot tub was empty.
The area did look really clean, but keep in mind, you do have to pass by the pool to get to the elevators for the room so everyone will be looking at you if you choose to swim.
We did see a couple of kids using the pool and it felt a little awkward to take a photo while they were there, so you can see a picture here.
What type of food is available at Brian Head lodge?
There is a restaurant on the second floor of the lodge and when we visited it was only open for dinner from 4 p.m. to 9 p.m. Those hours may vary.
We had been told a month before we visited, that a breakfast was available, however, when we were there, no breakfast was available.
When we checked in, we were given a 25% off coupon for a breakfast sandwich at the Giants Steps Cafe. We didn't end up eating breakfast there, but did have lunch and it was pretty good.
More information about Utah
Attractions near Las Vegas