We were excited to check out the Sara Park disc golf course when visiting Lake Havasu and it didn't disappoint.
In this guide: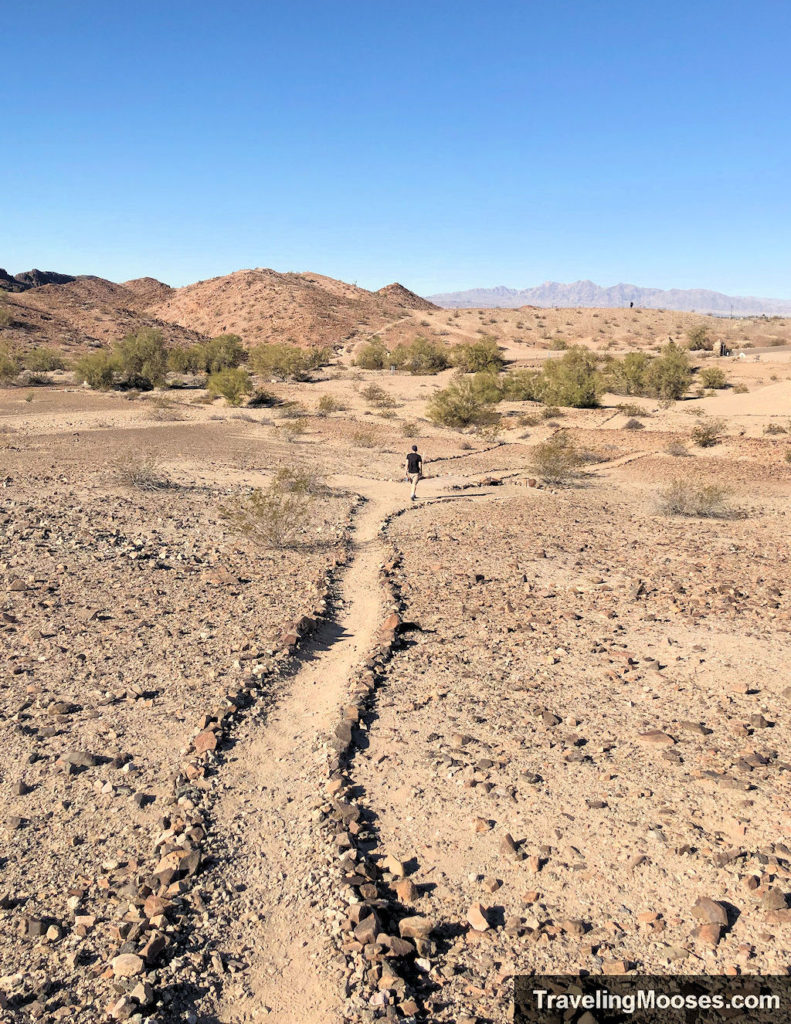 Sara Park Disc Golf Course at a Glance
Sara Park Disc Golf Course Map
Or check out the map on Udisc. They also have an app you can download but it didn't work well for us (more on that later).
What to expect along the course
We arrived at the parking lot around 10:30 a.m. on a weekend.
The parking area had plenty of spots and there was also overflow across the street. There were maybe seven cars in the parking lot when we arrived.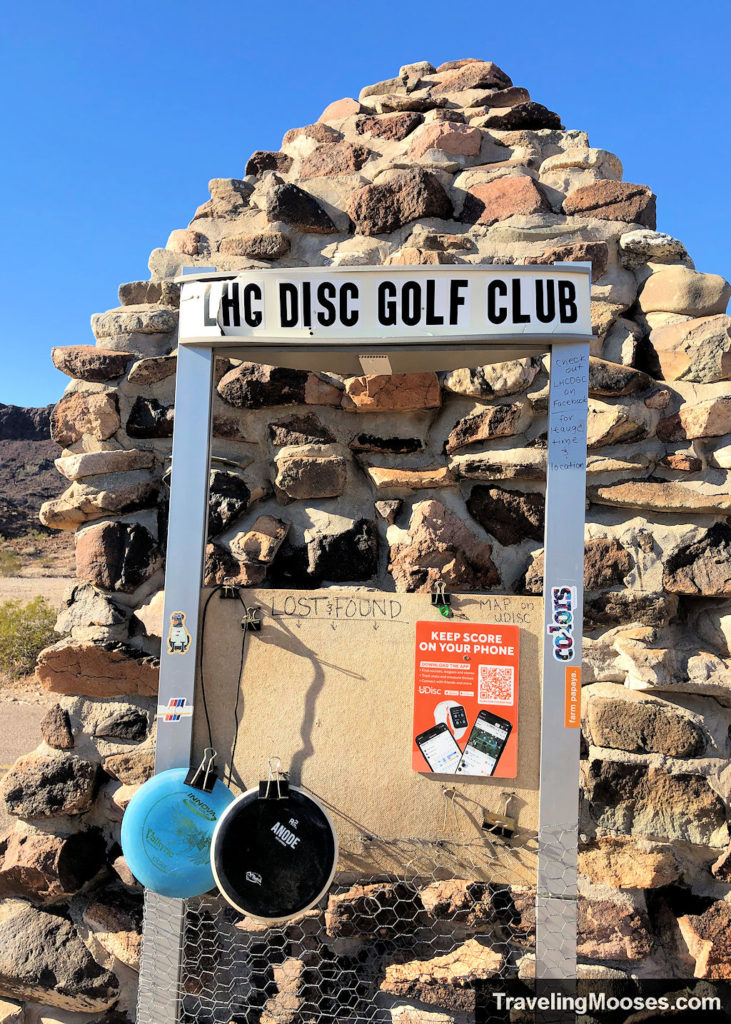 We made our way to the official start and tried to download the Udisc app to access the course map. The app downloaded, but we never could find where in the app it was located, so we gave up. Probably user error, but maybe you'll have better luck than we did.
Because of that, we put together our own course map.
Hole # 1, 360 feet to target
At many disc golf courses, finding the first hole can be challenging. (We're looking at you Arizona Snowbowl). At this course we easily found the start, and luckily could see the basket off in the distance. There was also a distance estimate to the basket.
Be careful with this hole as the road runs parallel to the first basket, and it would be easy to throw your disc into oncoming traffic. Luckily, it's a lightly trafficked road.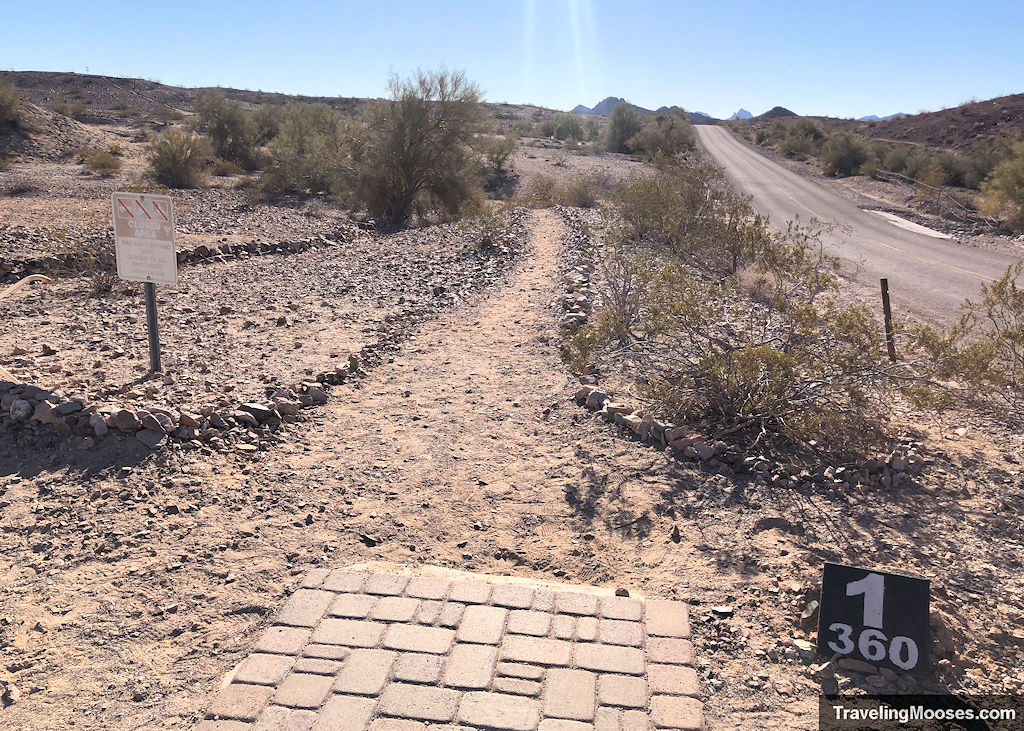 As we began to play and get acclimated to the course, we noticed some players across the street staring at us. It took a moment to realize they felt we were in their way.
This seemed strange as we had started at the first hole and it appeared they had just finished their game.
They continued to gesture wildly at us to "get out of their way" and it completely ruined our first hole. We decided to give up and move on.
It turns out, there is an alternative number one tee that starts across the road. The group wanted to play one last hole before leaving the course and it was just bad timing.
This was an odd way to start the game but we were glad we didn't let it ruin the mood.
Hole # 2, 190 feet to the target
After arriving at the start of the second hole, we decided to ignore the oddity at the first hole and enjoy ourselves.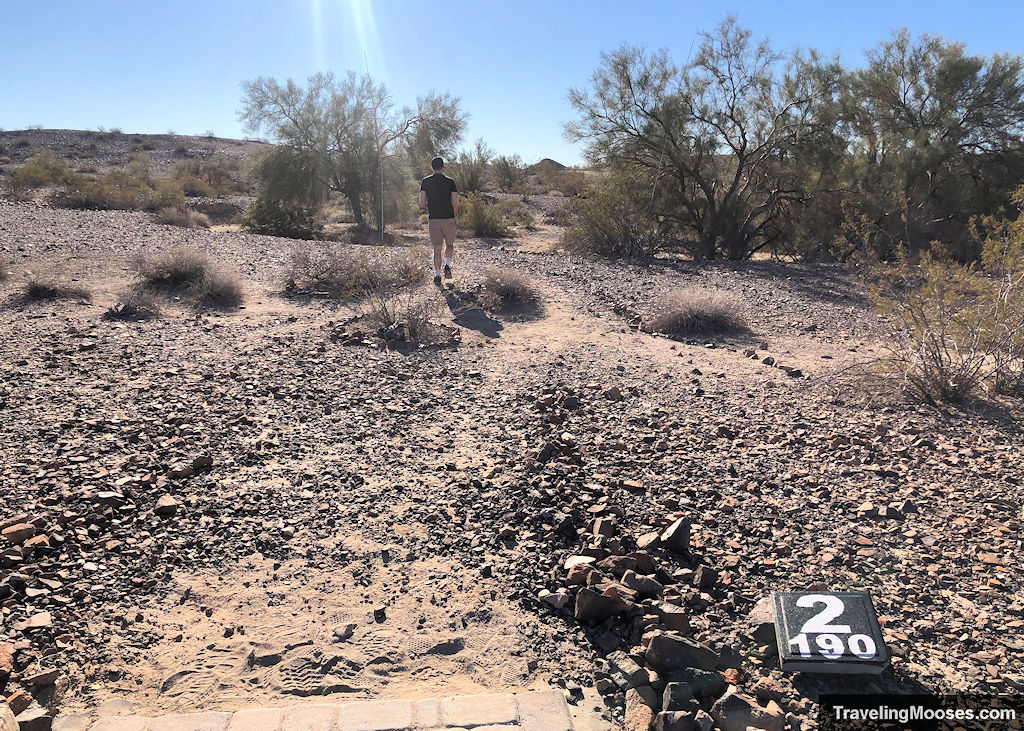 The second hole was short and sweet. It's only 190 feet to the target and was readily visible from the tee box. It's a straight shot, but there were a few desert tree obstacles here and there.
One thing to keep your eye out for on this course is the coloring of the baskets.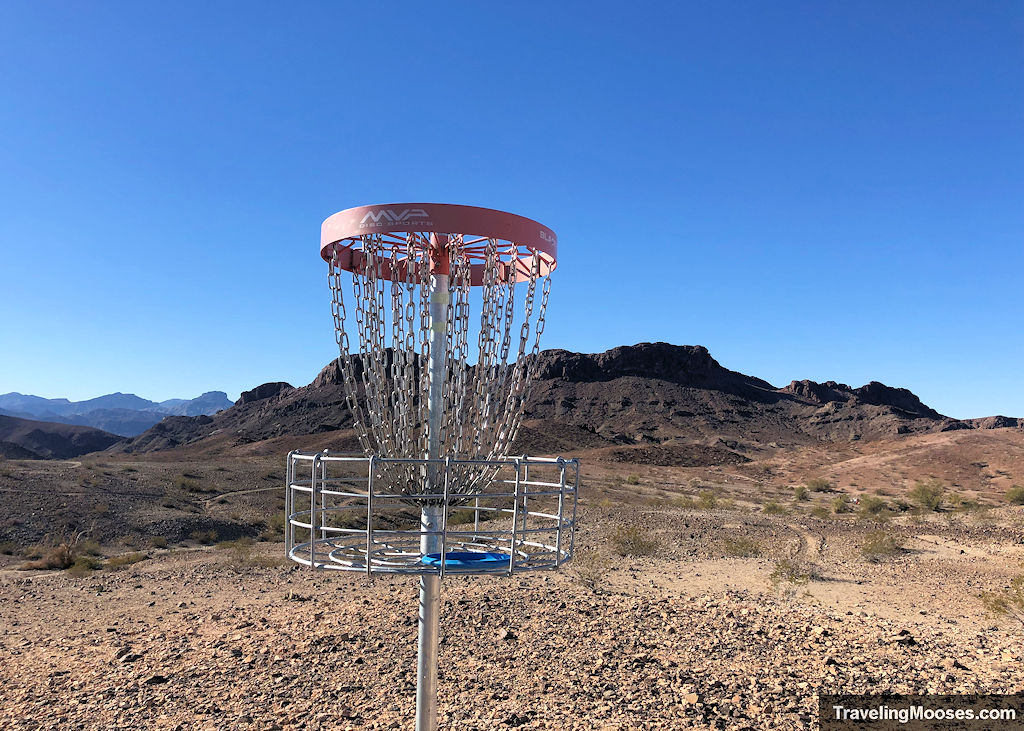 The first basket is red, the second is white and the third is black. Then the color scheme continues consistently throughout the course.
We found the color coding to be helpful as we were searching for the baskets.
Hole # 3, 340 feet to the target
Next up was hole three. A medium length shot of 340 feet, with a few shrubs, but otherwise little to get in the way.
We made quick work of this hole.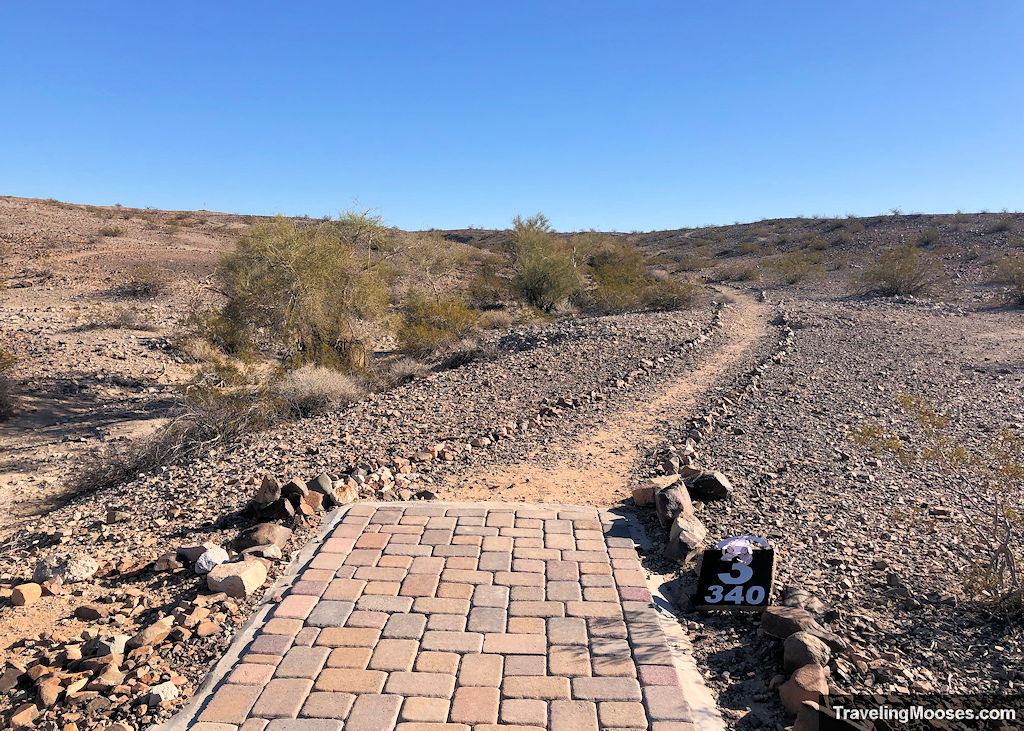 As we set off to the fourth tee, we noticed a small arrow pointing away from the basket showing which way we should go.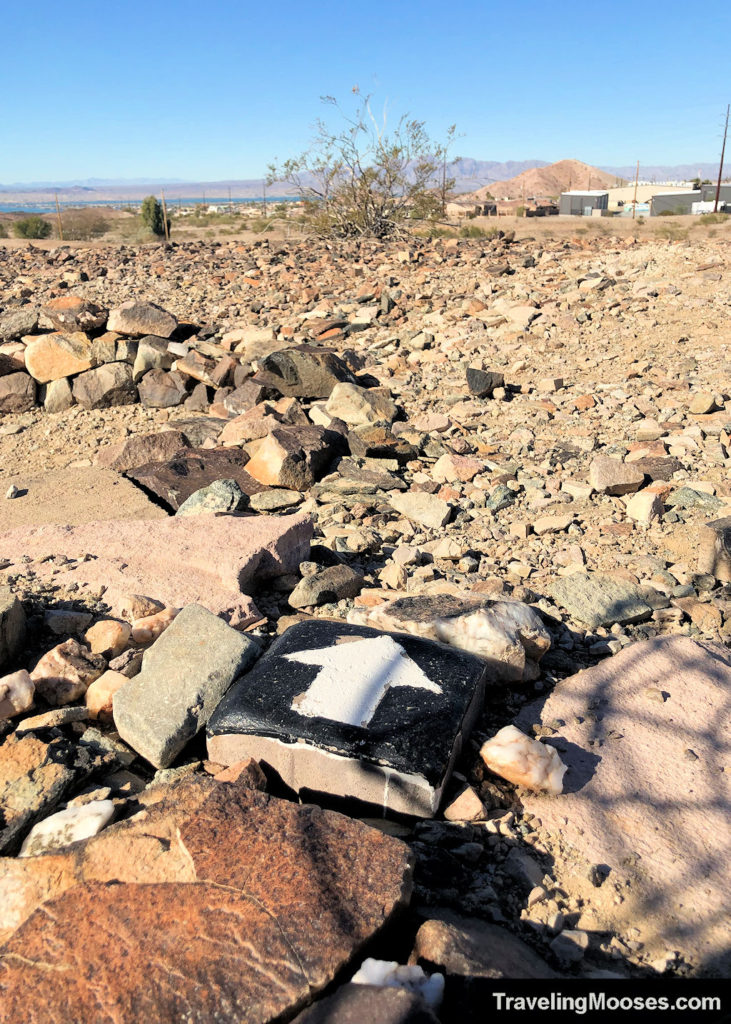 We found this incredibly helpful and realized this was probably one of the most well-designed courses we'd ever played.
For example, throughout the course, we found many of plants protected in carefully constructed rock "vases."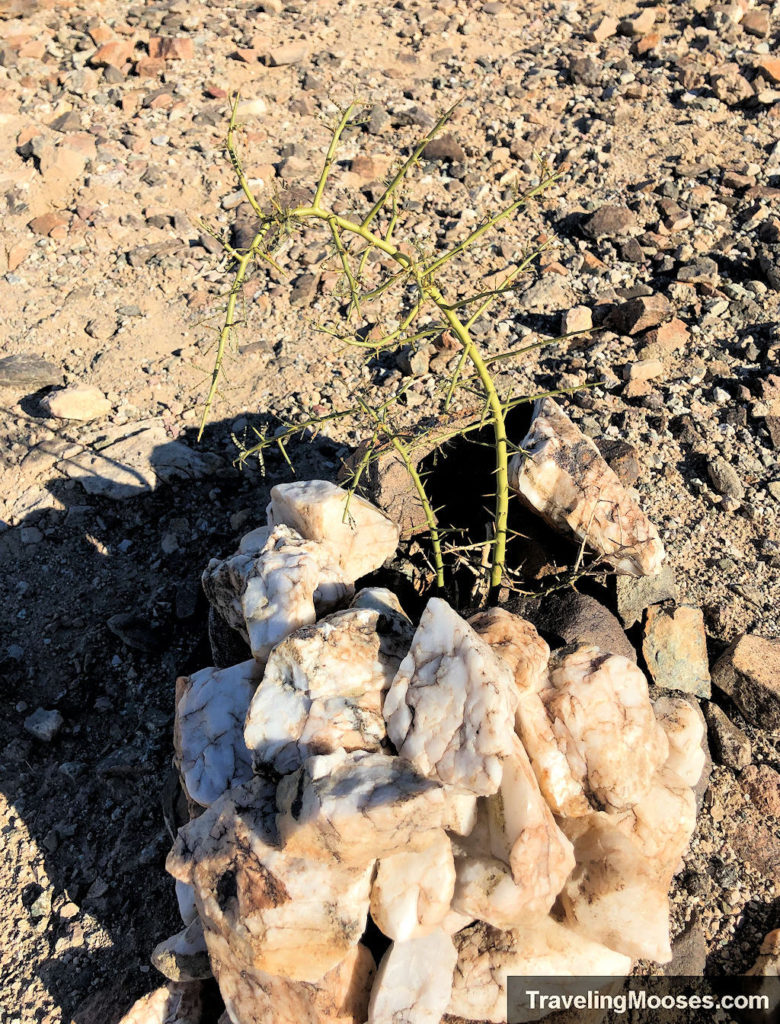 Hole # 4, 263 feet to target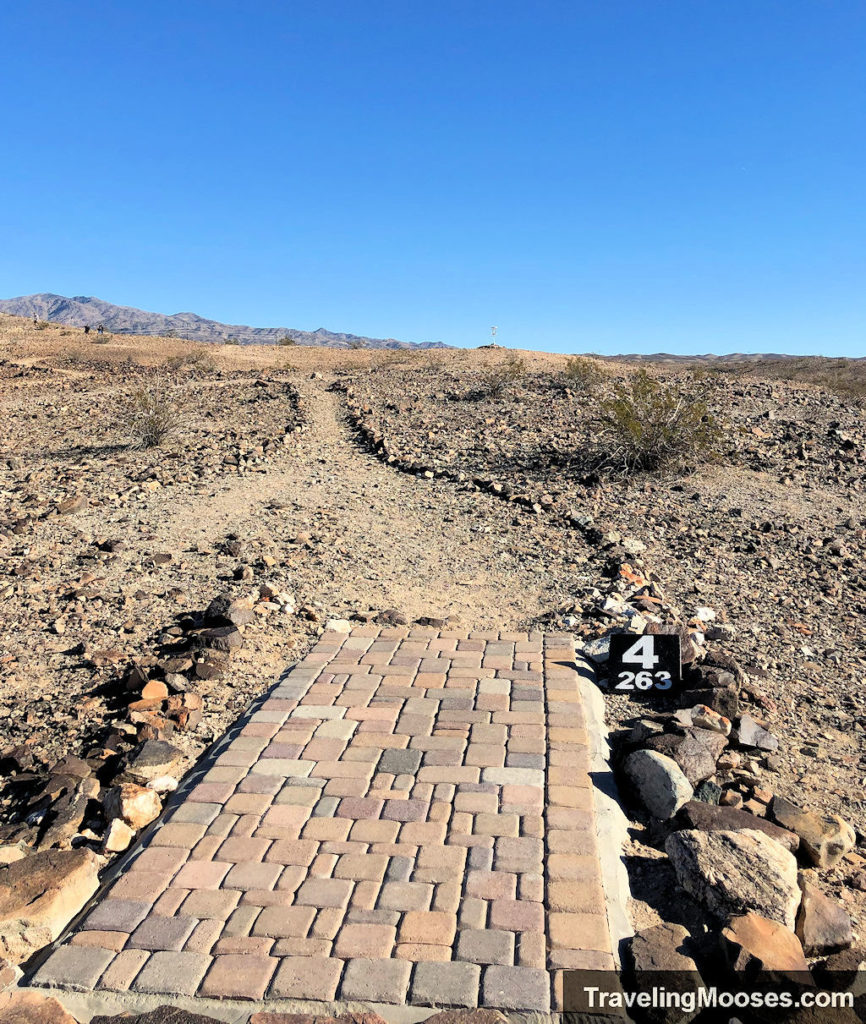 The next hole had us continuing east across the course. With only 263 feet to the basket, it was a quick par 3.
Hole # 5, 406 feet to target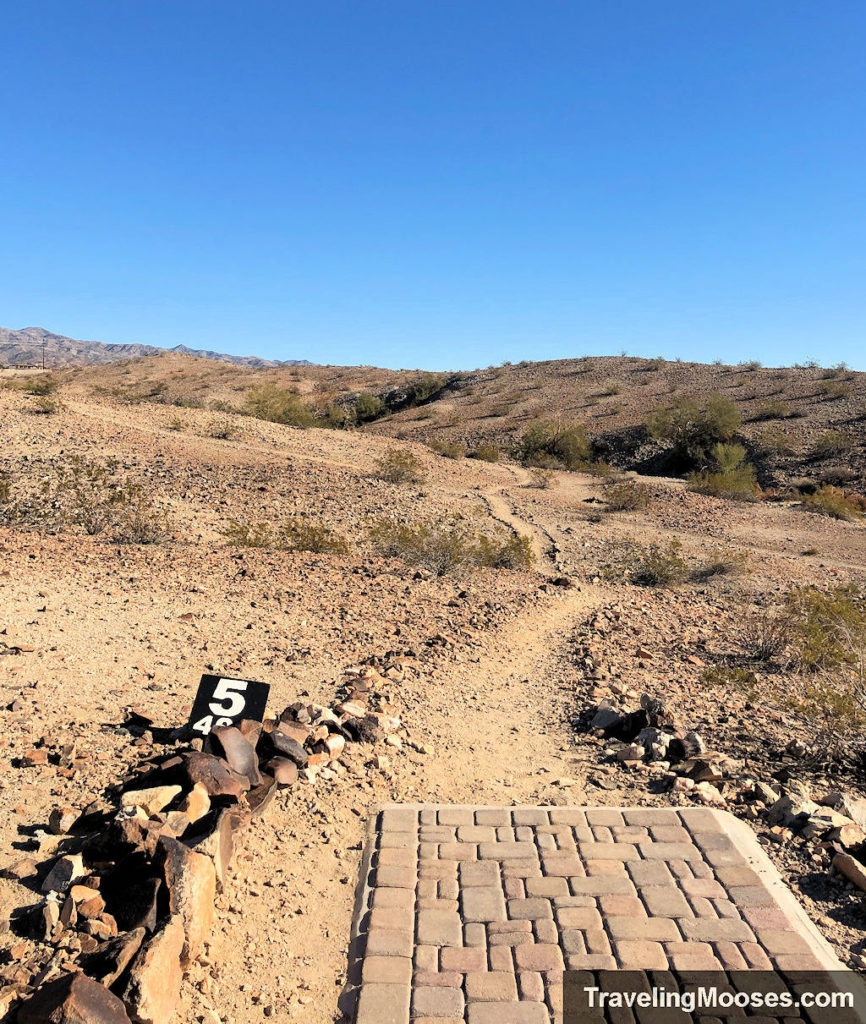 At hole number five, it really sunk in how much effort had been made to create the course as we came across a larger-than-life lizard carefully crafted with quartz eyes staring up at us.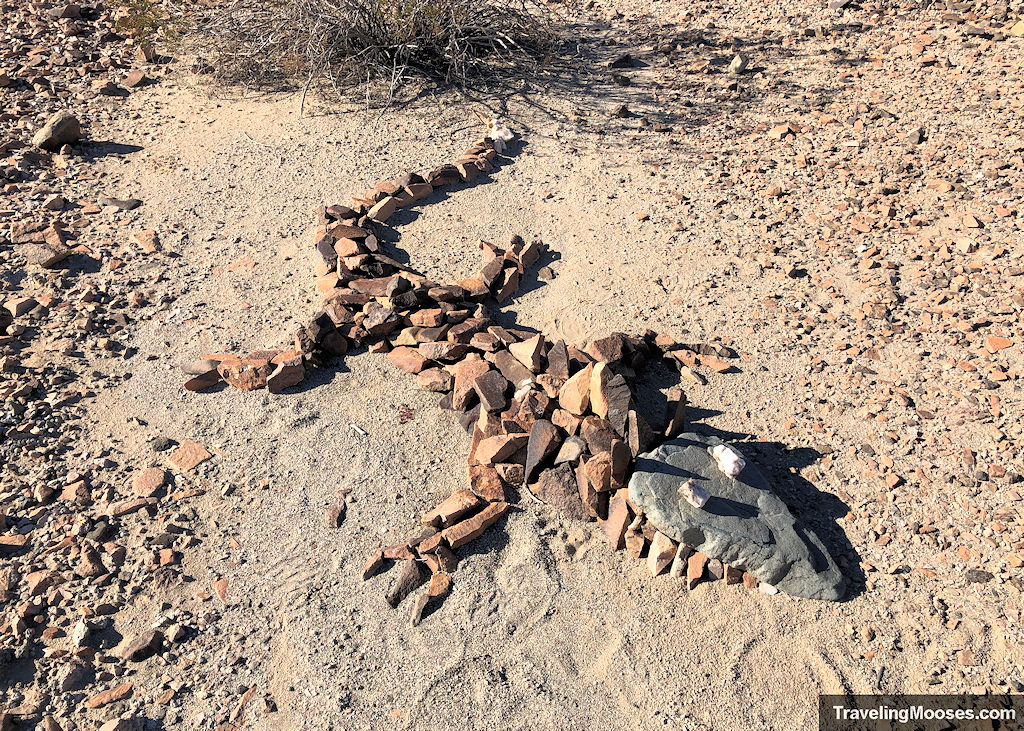 This would be the first of many different types of rock sculptures we would find.
Hole # 6, 253 feet to target
Hole number six was a straight shot up the hill towards the mountains.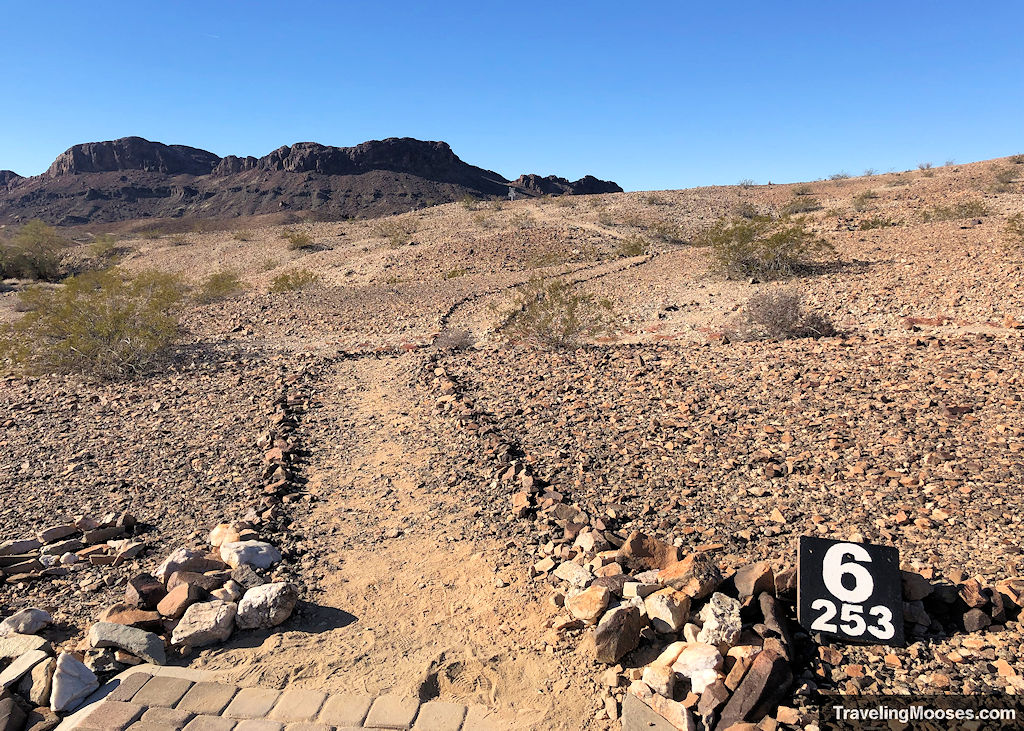 You'll notice along the course that much of it alternates between uphill and downhill shots. Luckily, you can enjoy various mountain views as you trek up and down the desert hills.
And if that isn't enough, you can enjoy this lovely dragonfly made of stone.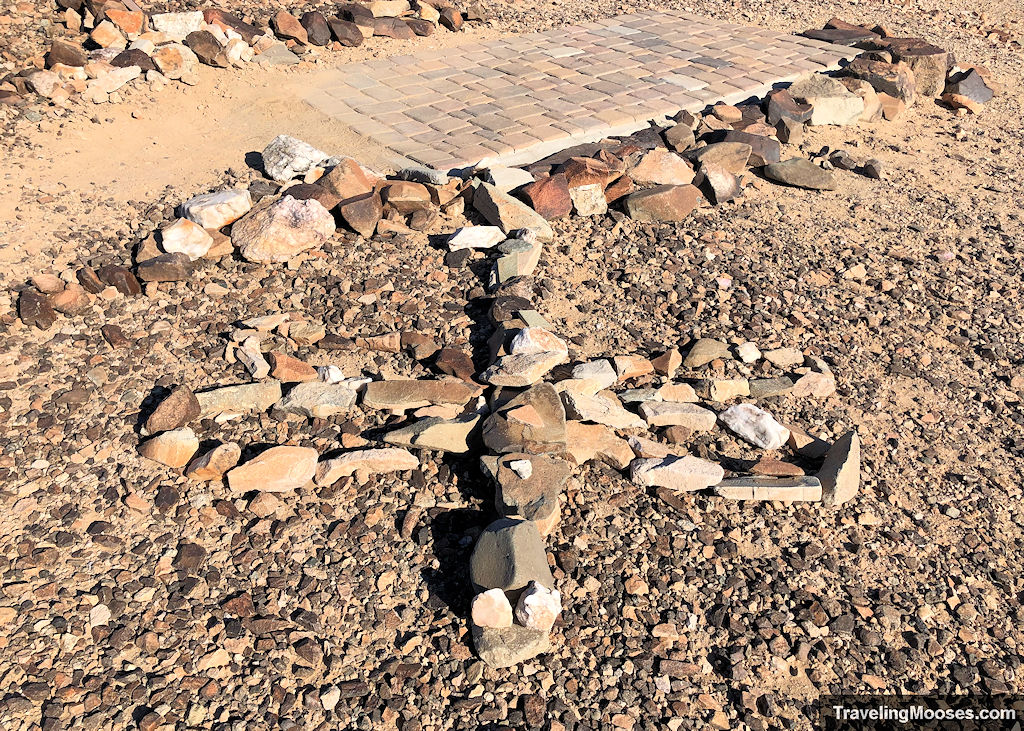 Hole # 7, 360 feet to target
Lake Havasu makes its first appearance as you travel back west towards the parking area and hole seven.
We were not expecting water views along this course but were pleasantly surprised when they showed up.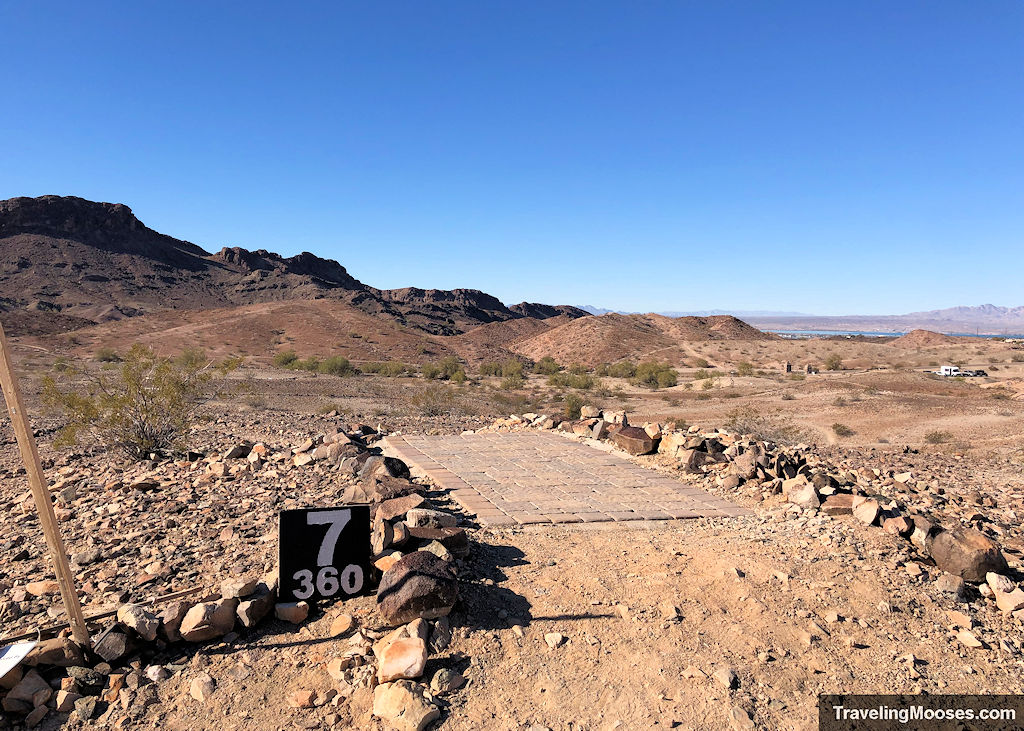 This hole also included a junior tee box. We didn't notice many alternate tee boxes along the course but to be fair we really weren't looking for them.
Nearing the basket, you'll see a stone mushroom with a series of rocks surrounding it.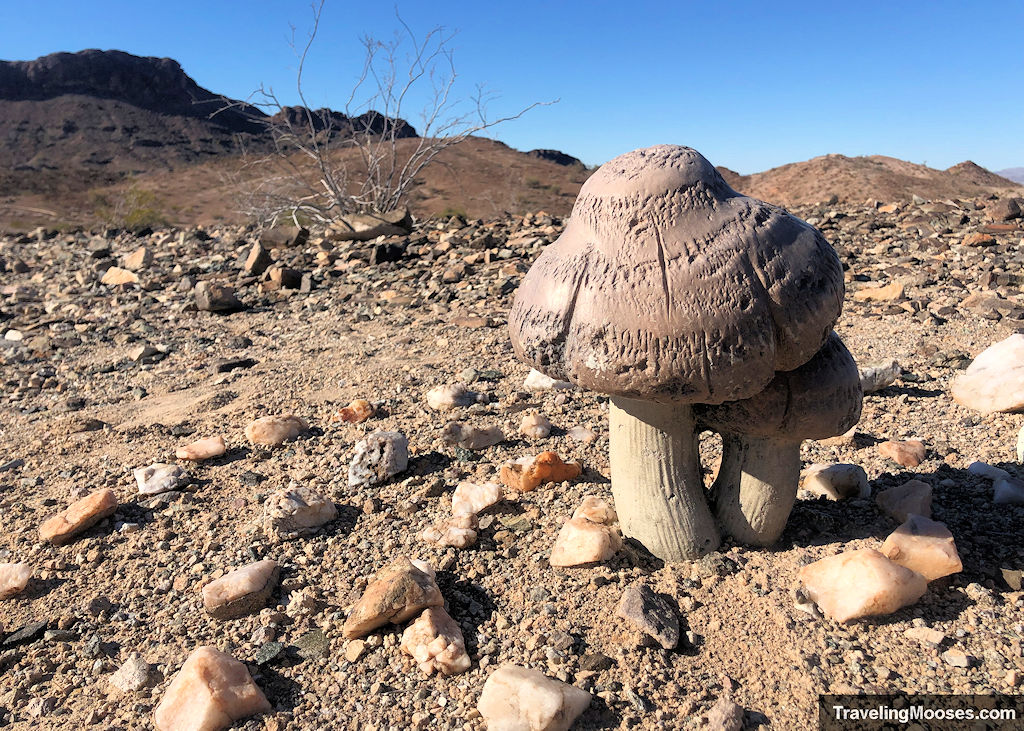 Hole # 8, 220 feet to target
Hole eight was on the short side and a bit unremarkable.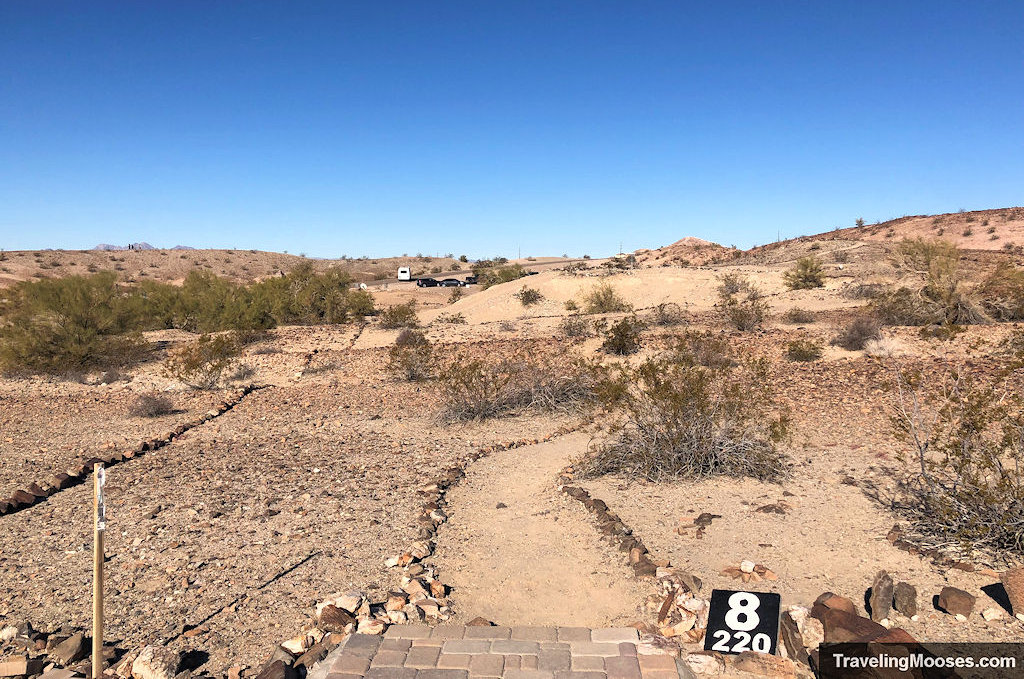 Hole # 9, 212 feet to target
The start of hole number nine leads you up a hill with a nice view of the lake and ends next to the parking area.
This is a perfect stopping point to grab a quick snack or some water if you don't want to carry them throughout the course.
This could also be your stopping point if don't want to play the back nine.
Hole # 10, 273 feet to target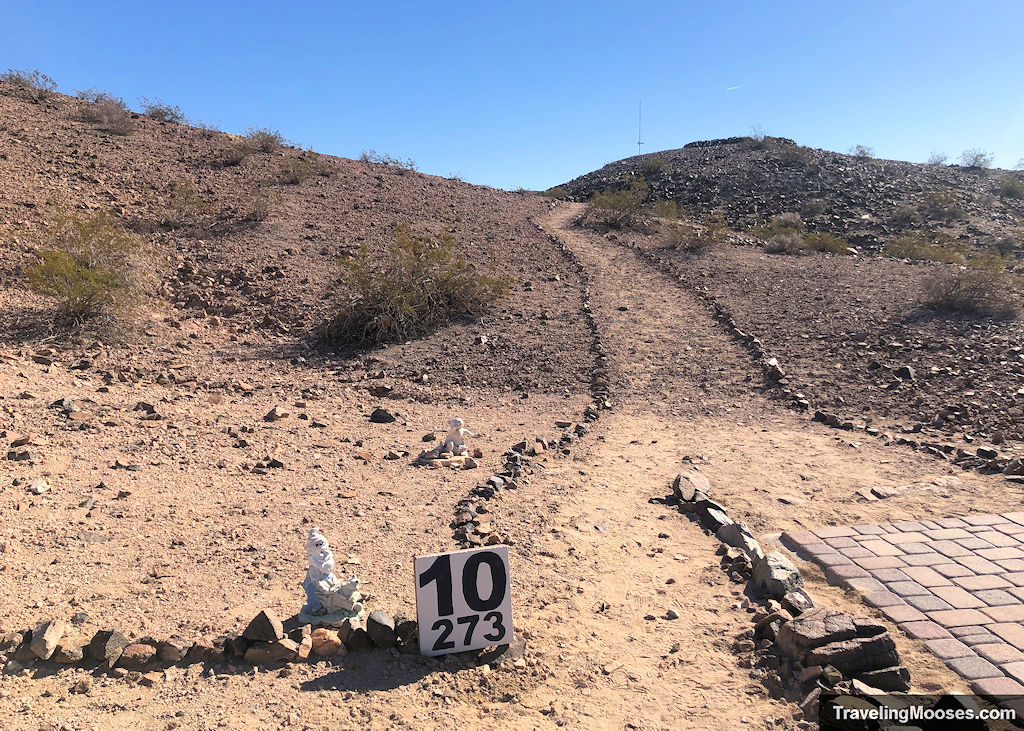 Hole # 10 started with fun statues.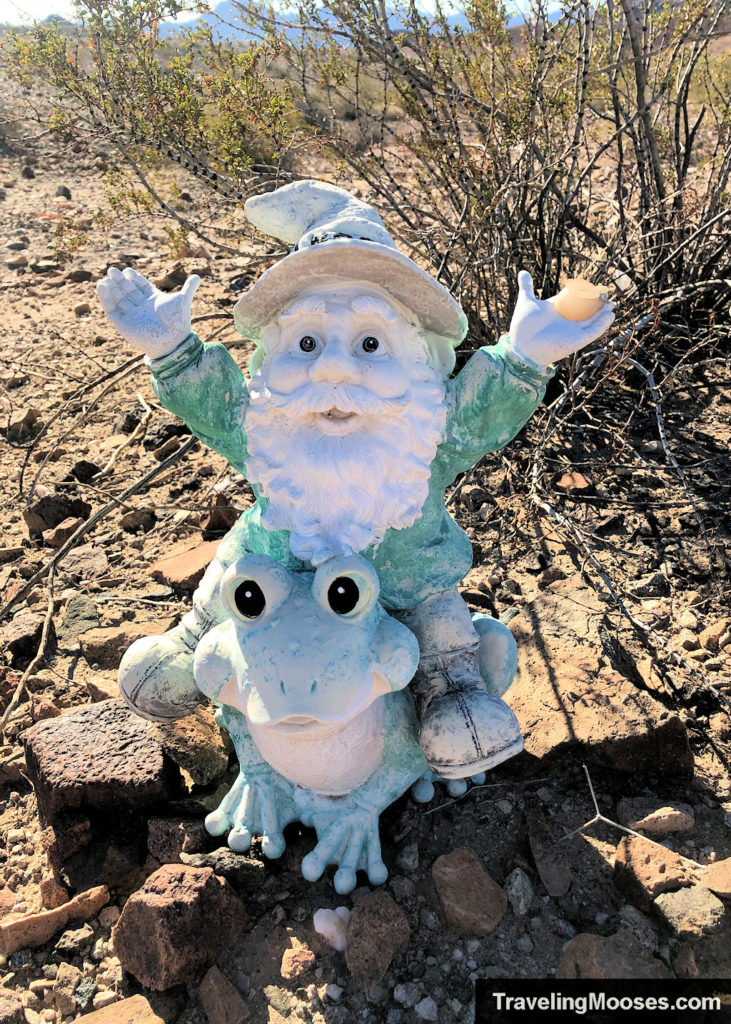 The basket is hidden over the hill, and a fairly straight shot from the tee box.
Between holes 10 and 11, keep your eyes out for snakes and scorpions. Oh my!
Not to worry, it's just more rock art.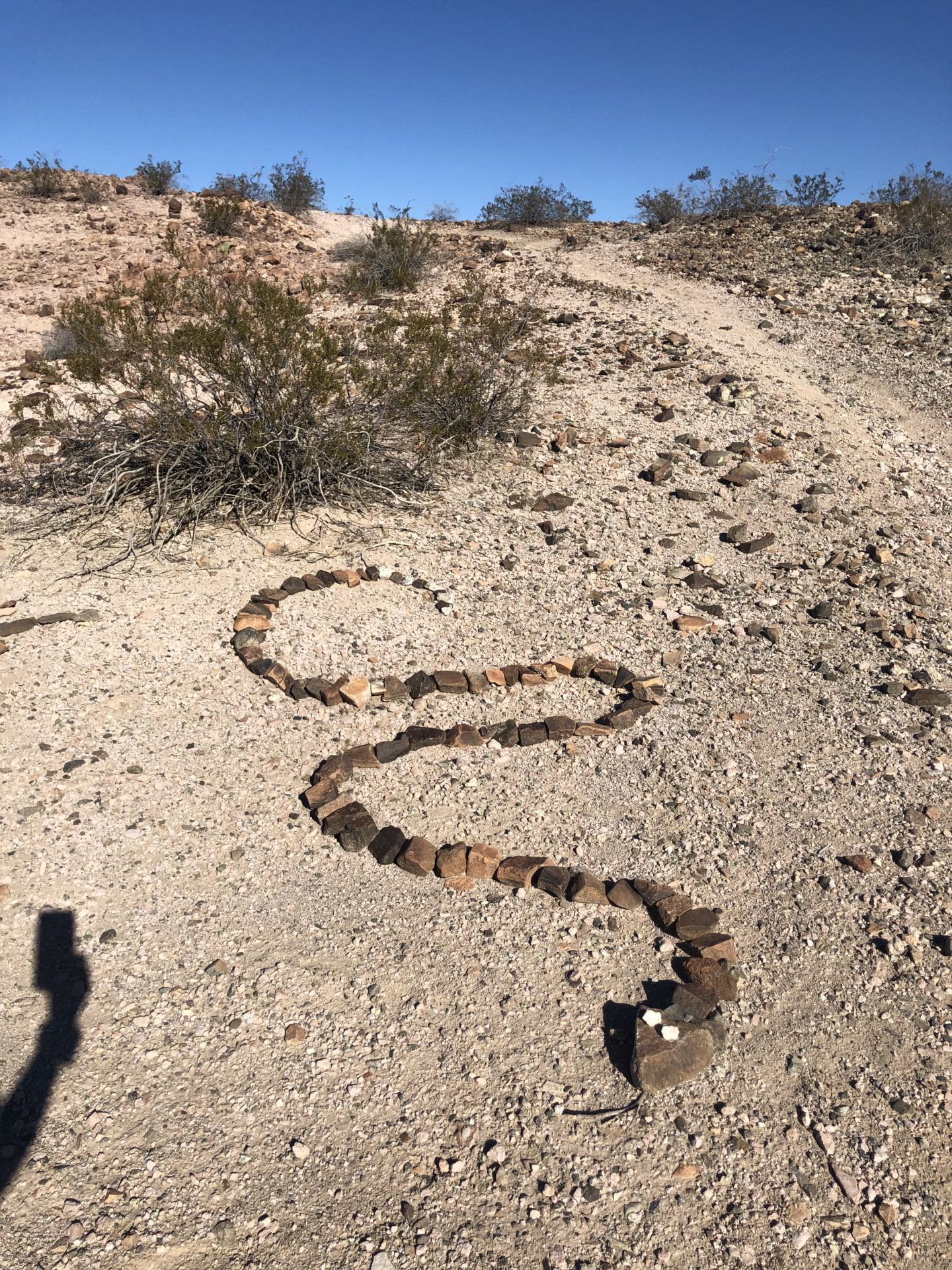 Hole # 11, 511 feet to target
This is the first incredibly long hole along the course. The basket is uphill and you can actually see it off in the distance.
As you get closer you will begin to see additional signs that indicates how close you are to the basket.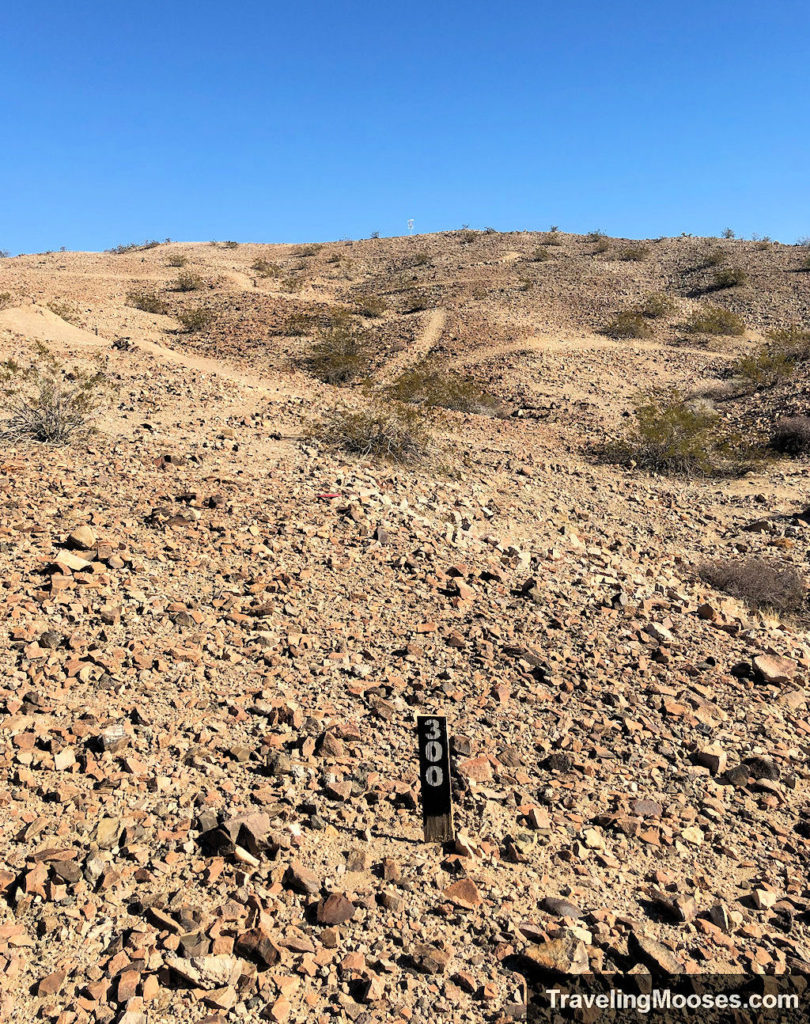 Once reaching the basket, you'll be at the highest location on the course and can enjoy 180° views of the surrounding valley.
Hole # 12, 539 feet to target, (alt tee 360 feet)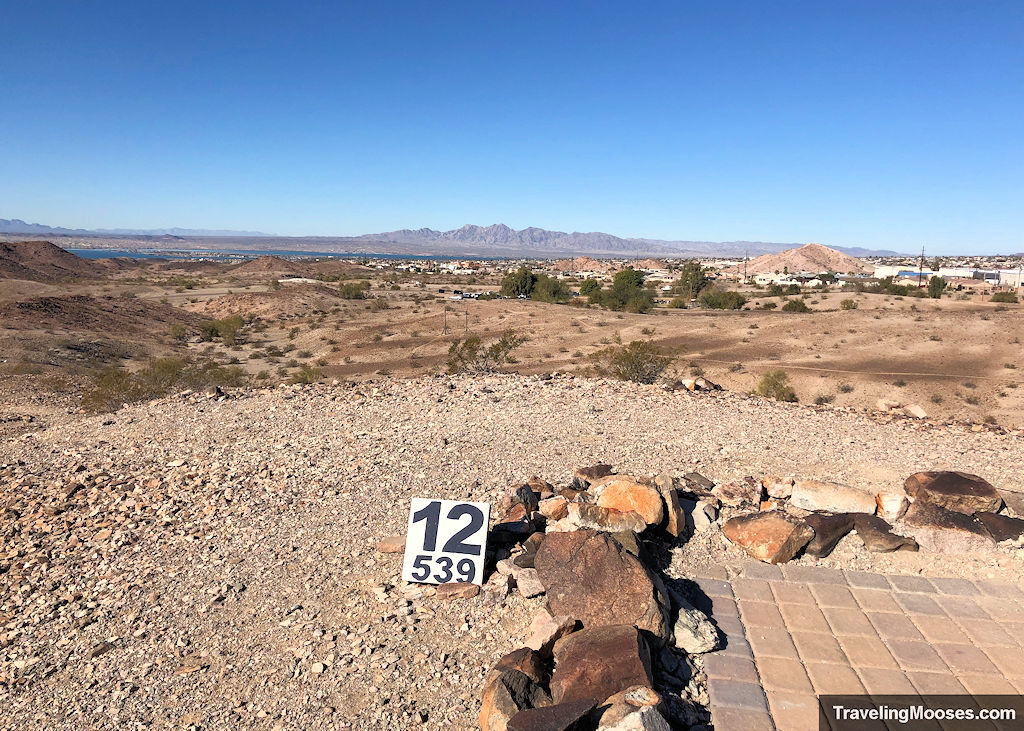 This was one of our favorite holes as it was incredibly long and downhill.
You can also choose from two different baskets one shorter (360 feet) and one longer (539 feet).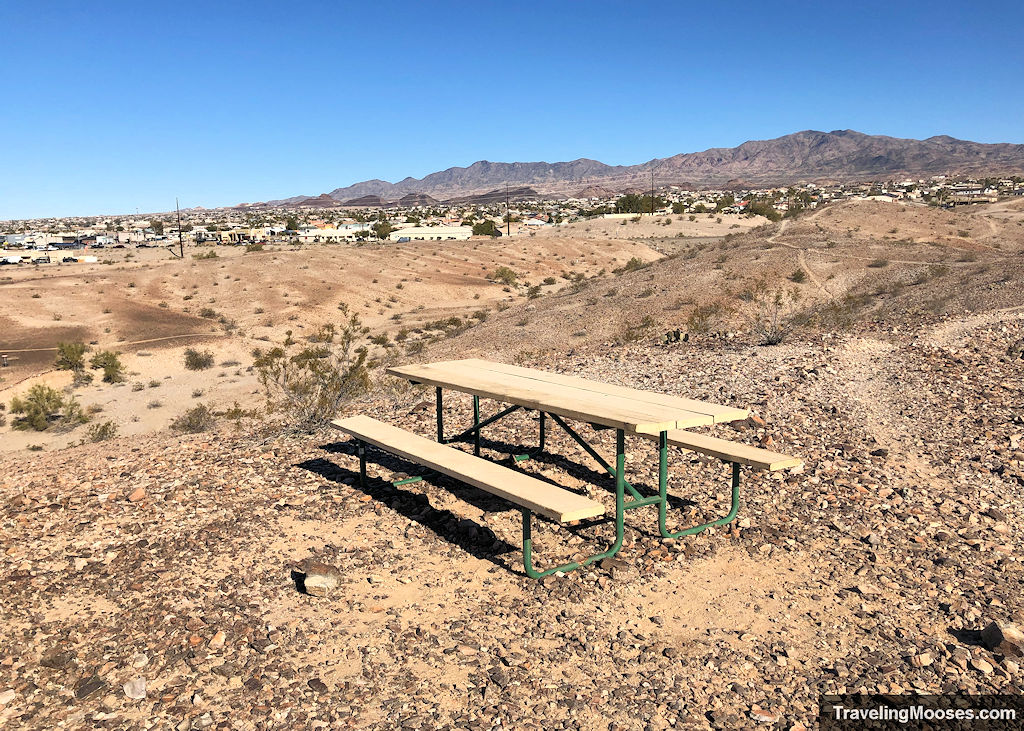 If you want to take a break and enjoy the scenic views, we also found a picnic table at this hole.
Hole # 13, 373 feet to target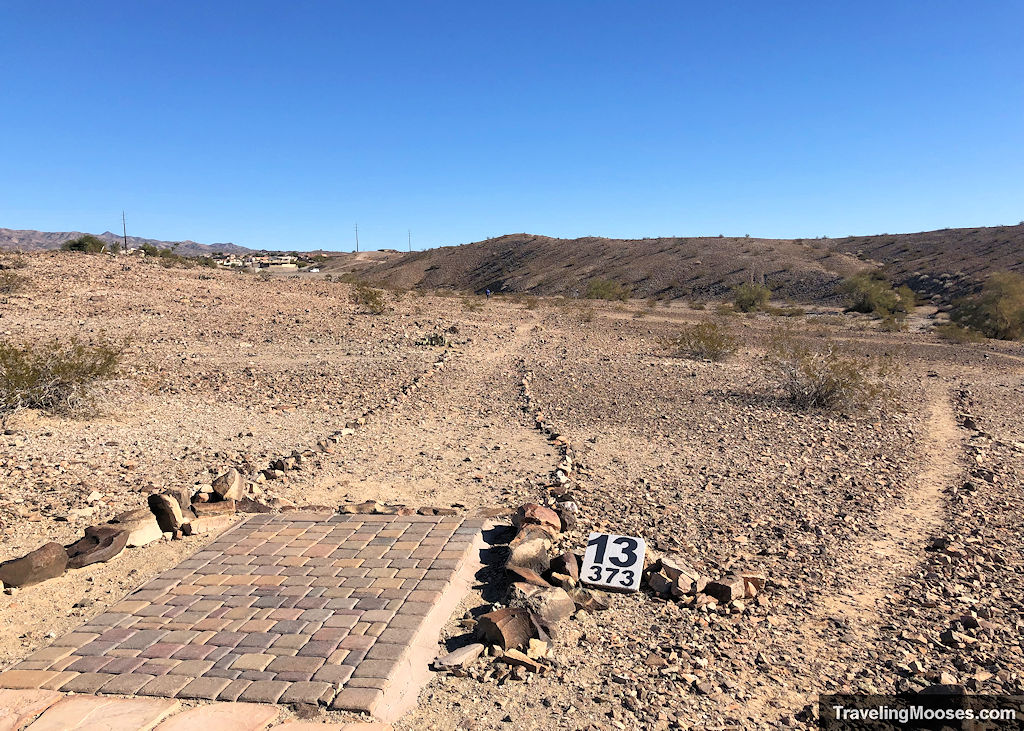 The course continues winding away from the parking area for a few more holes. Hole 13 is a pretty straight shot off in the distance. It is also close to a few trees at the end.
Watch your step as you traverse in this area as we found quite a few cacti bushes.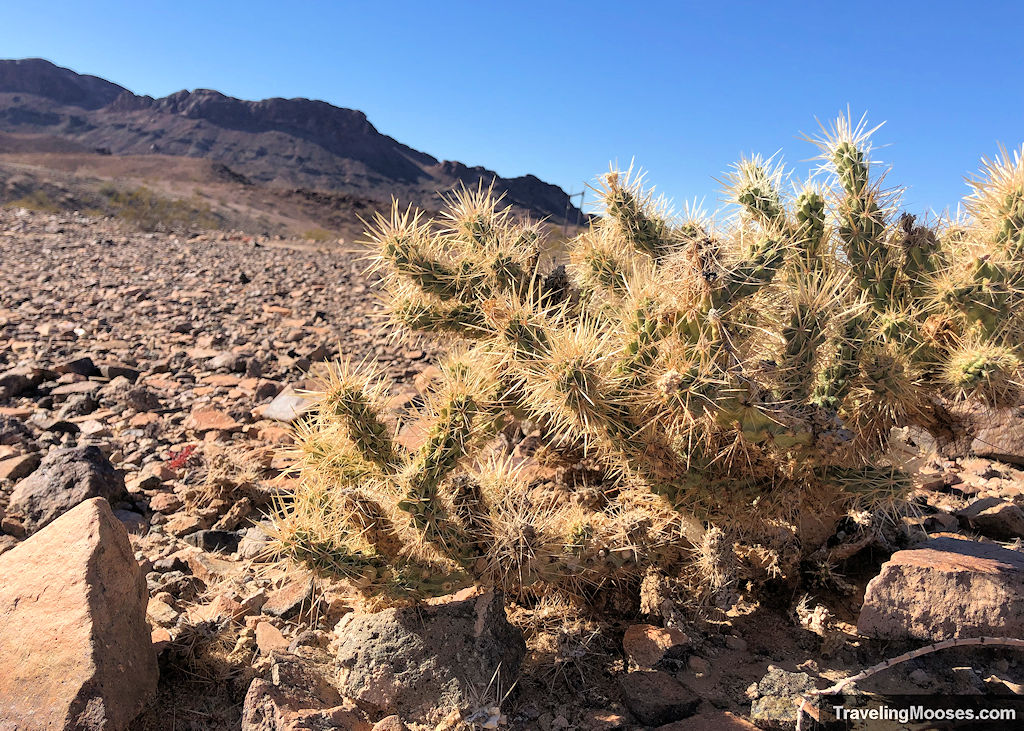 Hole # 14, 403 feet to target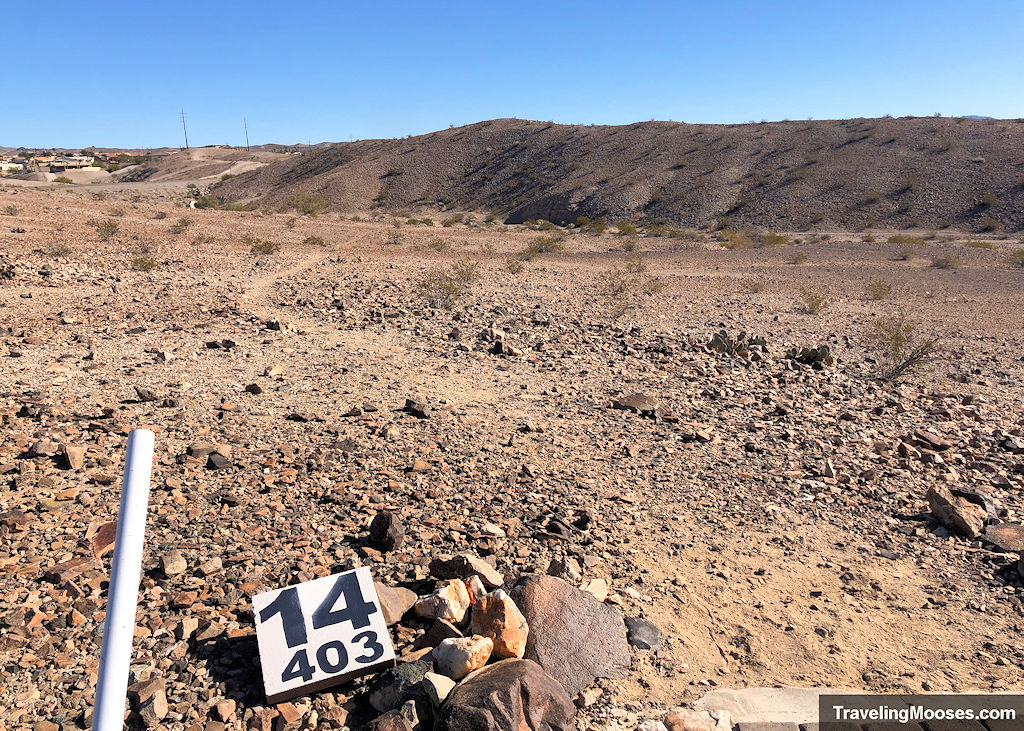 This is one of the last holes before you start traversing back across the valley and to the parking area.
Hole # 15, 266 feet to target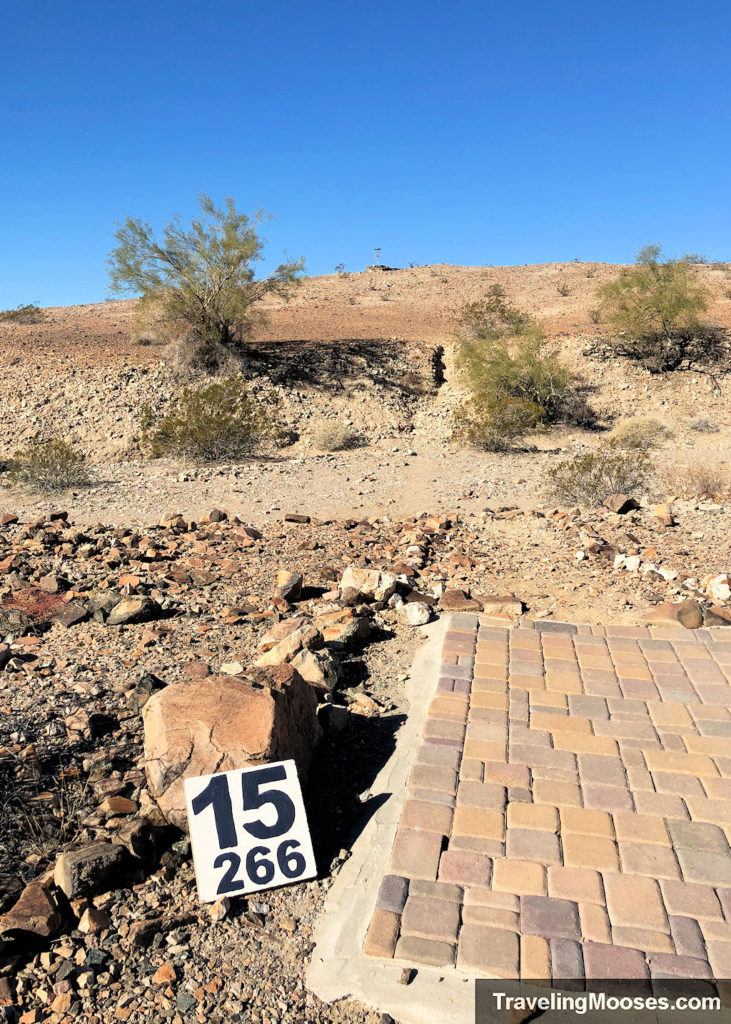 Next up is to head back up hill with a straight shot towards the 15th basket.
As an alternative that they did include two additional baskets in this area that are yellow and not part of the official course. If you have time and want to get in some extra shots, they are considered 15A and 15B.
Otherwise continue on to hole number 16.
Hole # 16, 716 feet to target
This is the longest hole on the entire course.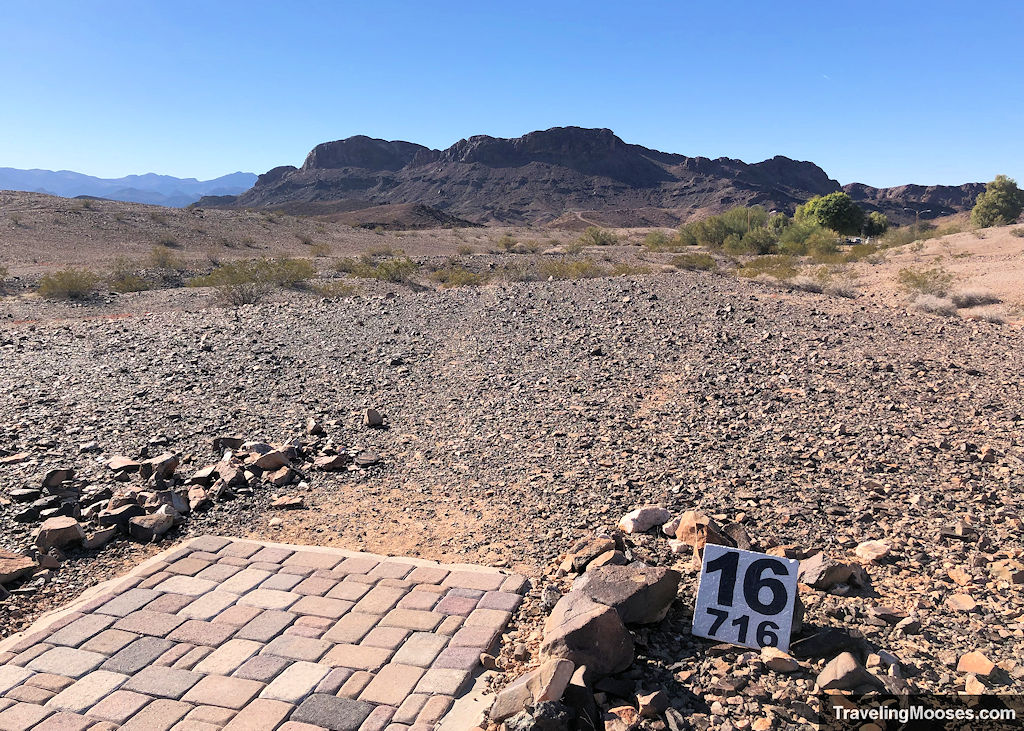 The basket is mostly a straight line from the tee box, even though you can't see it. The patch of trees you see over to your right is a dog park. You'll want to avoid your disc heading in that direction.
Hole # 17, 273 feet to target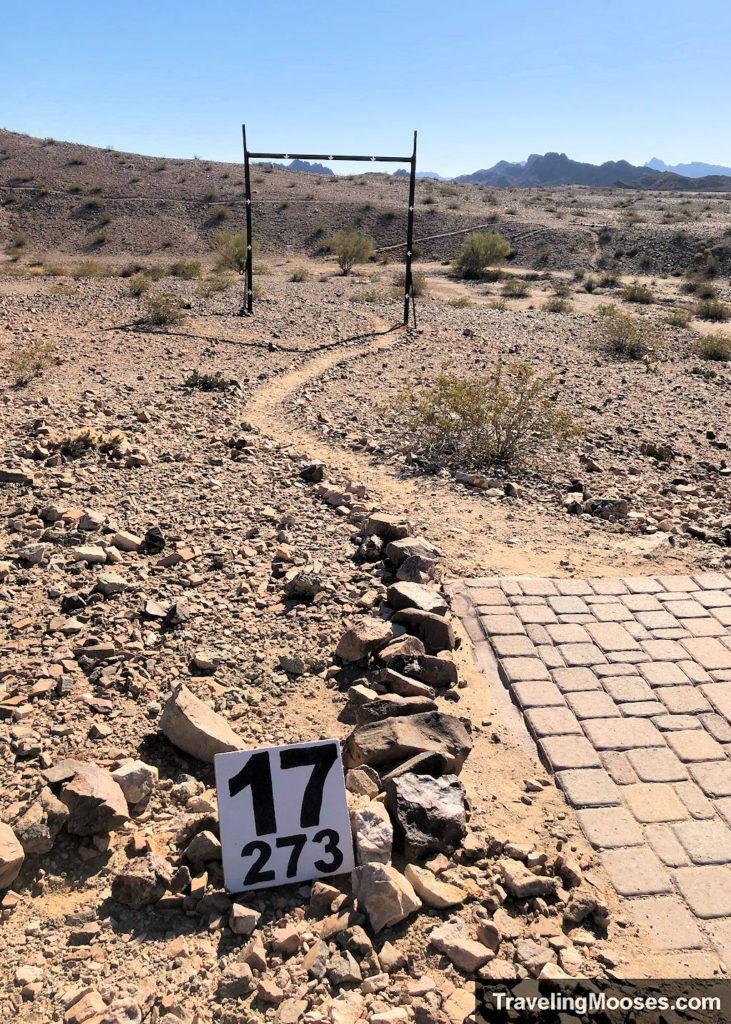 This is a fun hole as you are required to go through the wooden structure directly in front of you. If you miss it for some reason there is a drop zone on the other side near the basket.
Our disc perfectly hit the top of the structure, bounced off the side and landed not far from the drop zone.
We had a good laugh wondering what the odds were if we tried to recreate that specific shot.
Hole # 18, 545 feet to target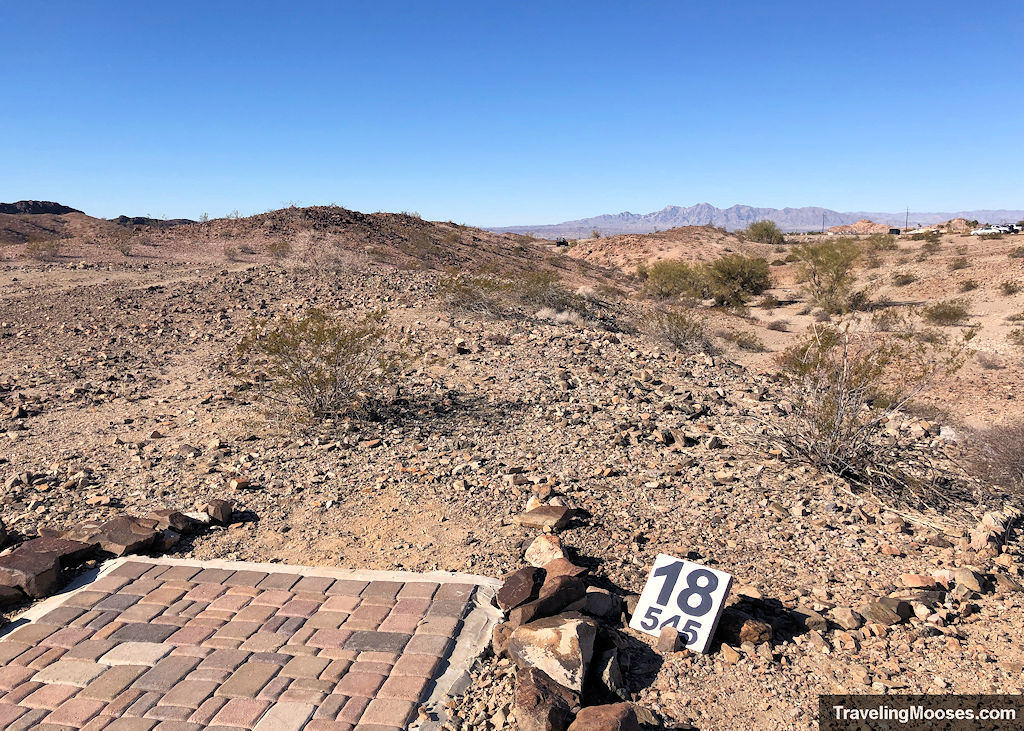 We reached the final hole. You can see the basket straight in front of you nestled in front of the distant mountains.
After reaching the basket on the last hole you'll be met with the lovely view of Lake Havasu.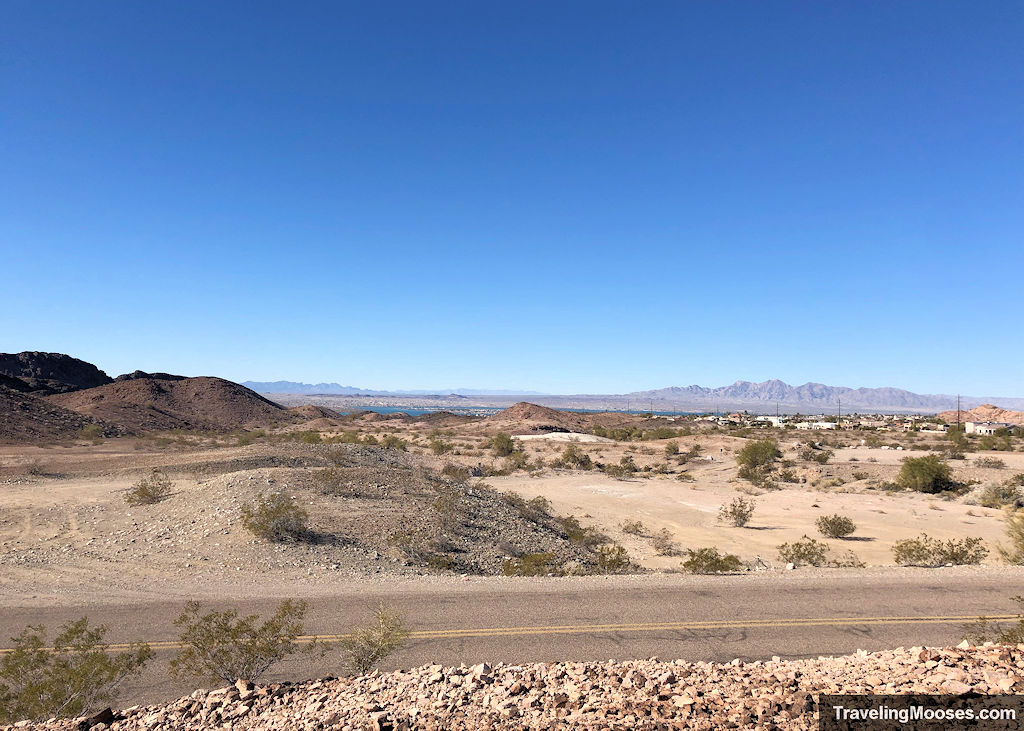 Turn to your left to head back to the parking area a short distance away.
Is playing the Sara Park disc golf course worth it?
Rating: 4.0 Mooses


What we liked:
The course was impeccably constructed.
The weather was perfect the day we visited with only a light wind and 70° temperatures.
After the first hole we had the entire course to ourselves.
We enjoyed the various rock art and artistic touches along the course.
What we didn't like:
The holes felt repetitive at times, with many blurring together. Especially given the desert landscape didn't change much.
There are no amenities on site.
Our discs became chewed up as they landed on the sharp rocks.
Verdict: If we find ourselves in Lake Havasu, we would go back and play another round.
Practical information for your visit
About Sara Park
Sara (Special Activities and Recreational Area) Park is an 1100-acre regional park. It boasts many activities: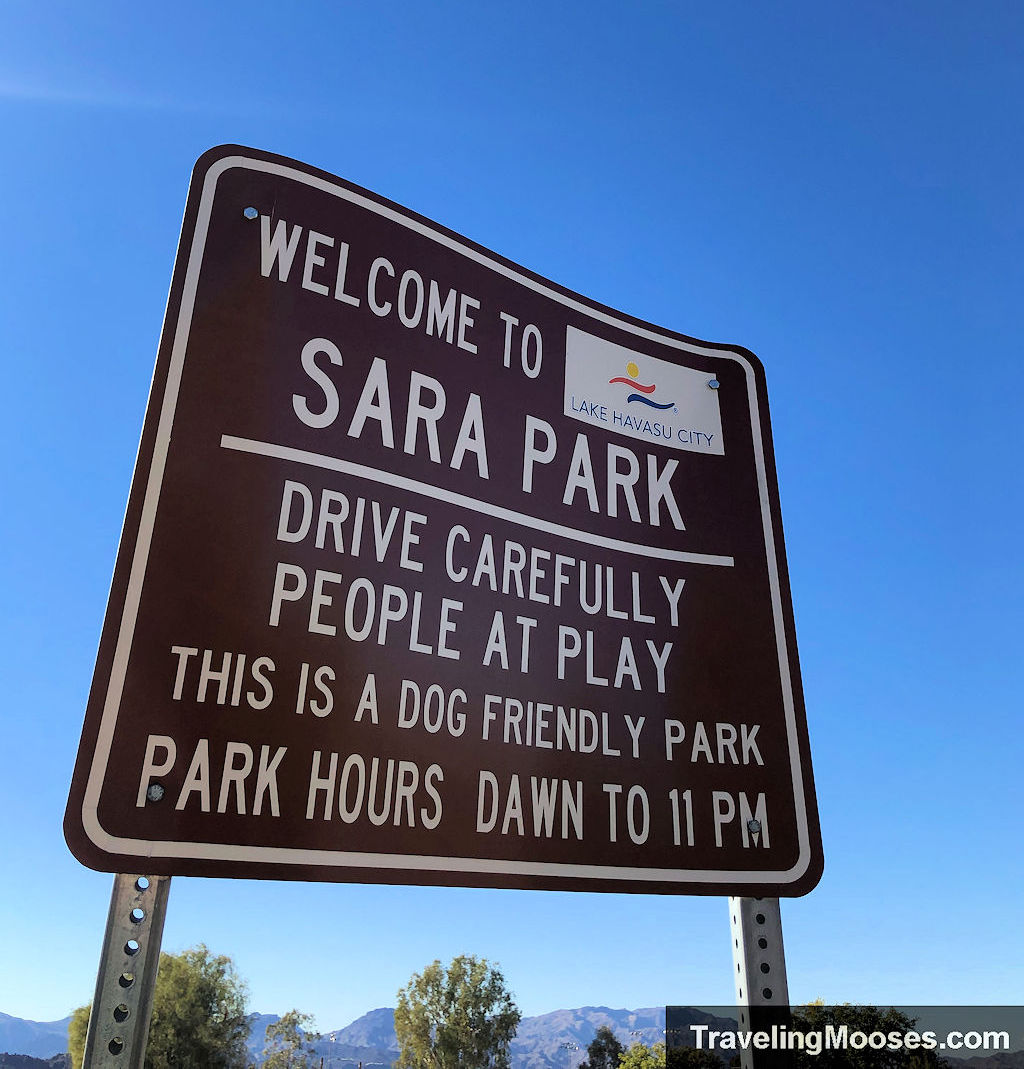 Hiking
Disc Golf
Dog Park
BMX & Motocross track
Rodeo Grounds
Baseball & Softball Fields
Shooting and archery range
RC plane field
Hockey field (in-line skating)
Havasu 95 Speedway
Mountain Bike trails
The park is open daily from dawn to 11 p.m.
Disc Golf Score Card
| | | |
| --- | --- | --- |
| Hole | Par | Distance |
| 1 | 3 | 360 feet |
| 2 | 3 | 190 feet |
| 3 | 3 | 340 feet |
| 4 | 3 | 263 feet |
| 5 | 3 | 406 feet |
| 6 | 3 | 253 feet |
| 7 | 3 | 360 feet |
| 8 | 3 | 220 feet |
| 9 | 3 | 212 feet |
| 10 | 3 | 273 feet |
| 11 | 4 | 511 feet |
| 12 | 3 | 539 feet |
| 13 | 3 | 373 feet |
| 14 | 3 | 403 feet |
| 15 | 3 | 266 feet |
| 16 | 4 | 716 feet |
| 17 | 3 | 273 feet |
| 18 | 4 | 545 feet |
Parking at Sara Park
Parking is abundant and free at Sara Park, especially around the disc golf course. The parking area is hard-packed dirt & gravel. There are no defined spots in the lot, but we didn't have any issues finding parking.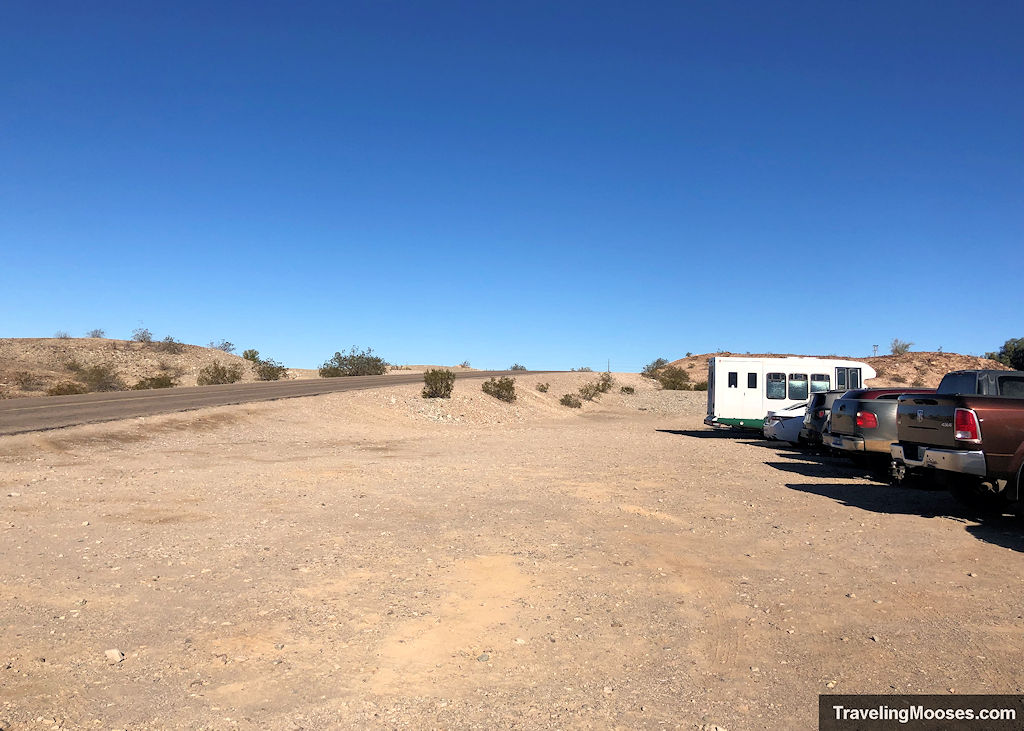 Insider-tip: Try not to park closest to the start of the course as it's right next to the 9th hole. Your car may be the target of some errant discs!
More information for your trip to Lake Havasu