In this guide:
Arizona Snowbowl Disc Golf Quick Stats
| | |
| --- | --- |
| Location | Snowbowl Ski Resort |
| Parking | Free during summer months |
| Course Type | Seasonal |
| Holes | 18 |
| Length | 6,126′ |
| Elevation start | ~9,200 feet |
| Tee Type | Rubber |
| Course Map | Flagstaffdiscgolf.com |
| Cost | Free (discs not provided) |
| Rating | 4.0 Mooses |
*We have no affiliation with Snowbowl Ski Resort, our thoughts/opinions are our own.
What to expect on the course (our experience)
We arrived at the Snowbowl Ski Resort around 10 a.m. on a weekday to play a round of disc golf.
When we arrived, there weren't many people around and we weren't sure where the course actually started. Since it ultimately took us a good 10-15 minutes to find it, we put together explicit instructions to hopefully save you the trouble.
Finding the first tee
By far, the biggest complaint of this course is finding the first tee box. We also struggled with it and had to ask an employee twice as the instructions were unclear. We can see why people just gave up.
Summary: Head under the Arizona Gondola Lift and walk up the left side of the greenway until you reach a road that leads left (with a sign to hole #1).
Once arriving at the ski resort, head over to the Arizona Gondola. You'll notice a sign that points players to the course. The sign is small and easy to miss (you can see it in the photo below).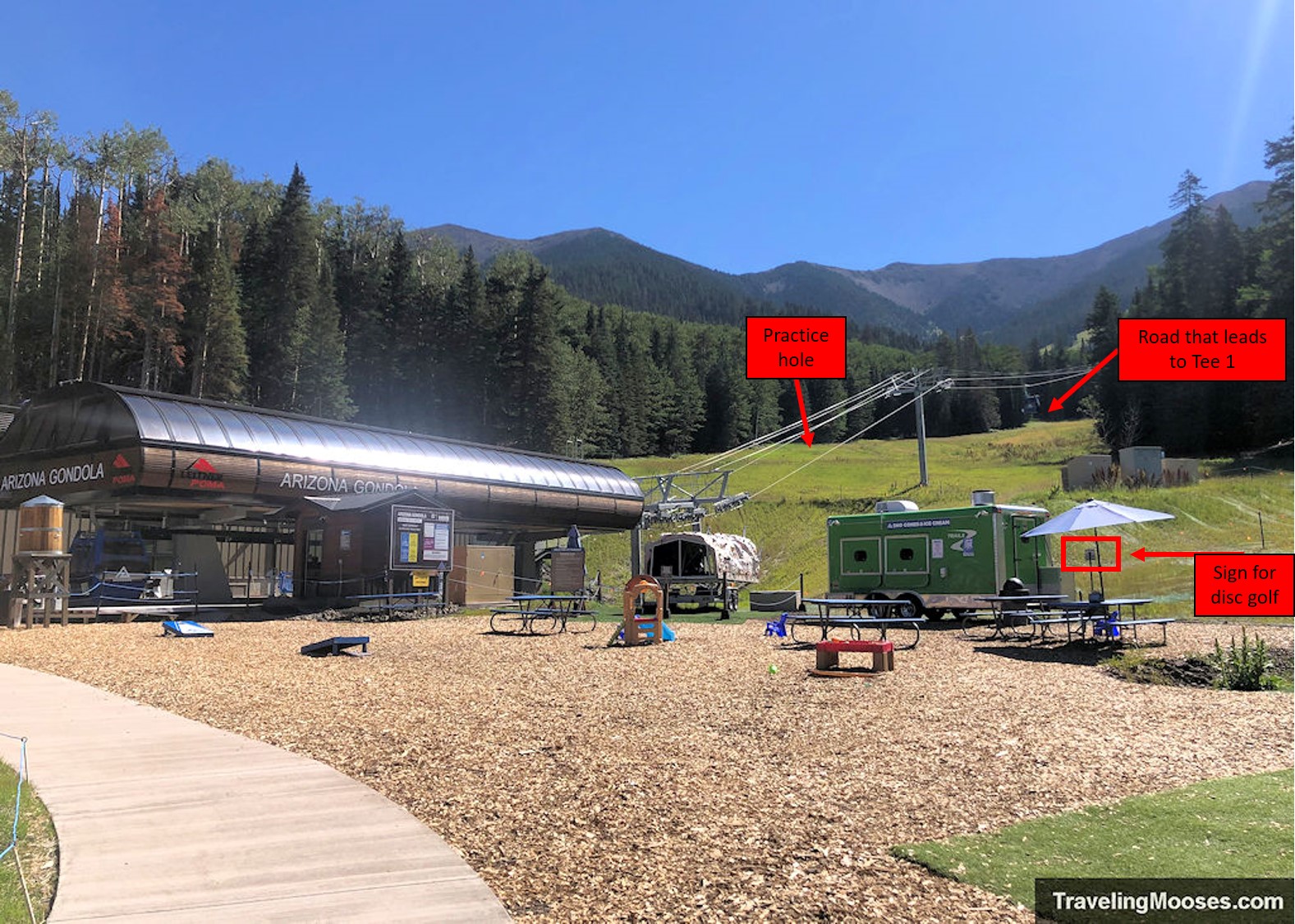 When looking at the sign, it appears to point you straight up the hill to the right nearest the inner tube area for kids. Do not go up that hill. The course actually starts up the hill to the left (see the photo above).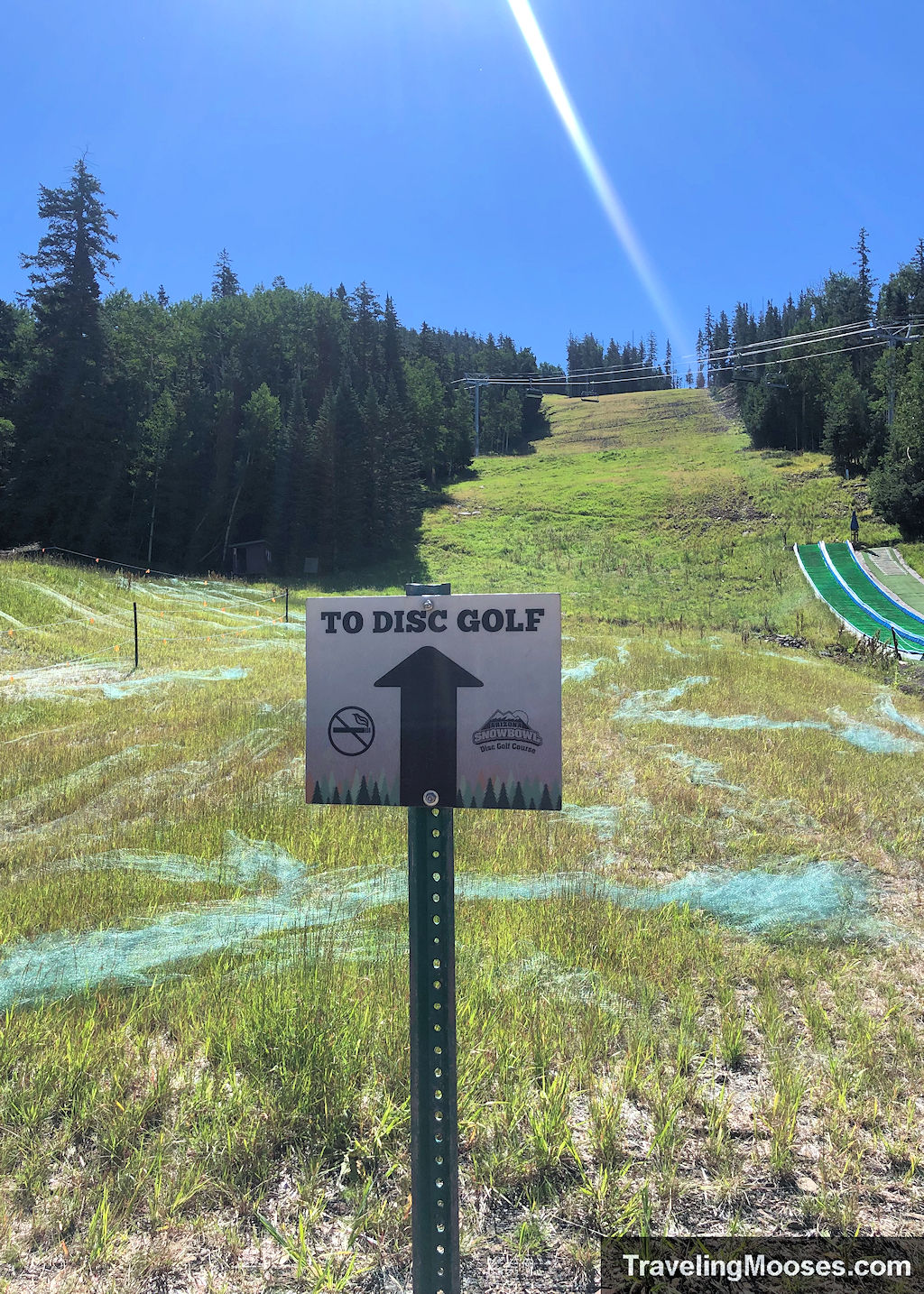 When we visited, there was a bunch of green netting that we needed to carefully step through to get to the other side of the ski lift, so watch your step.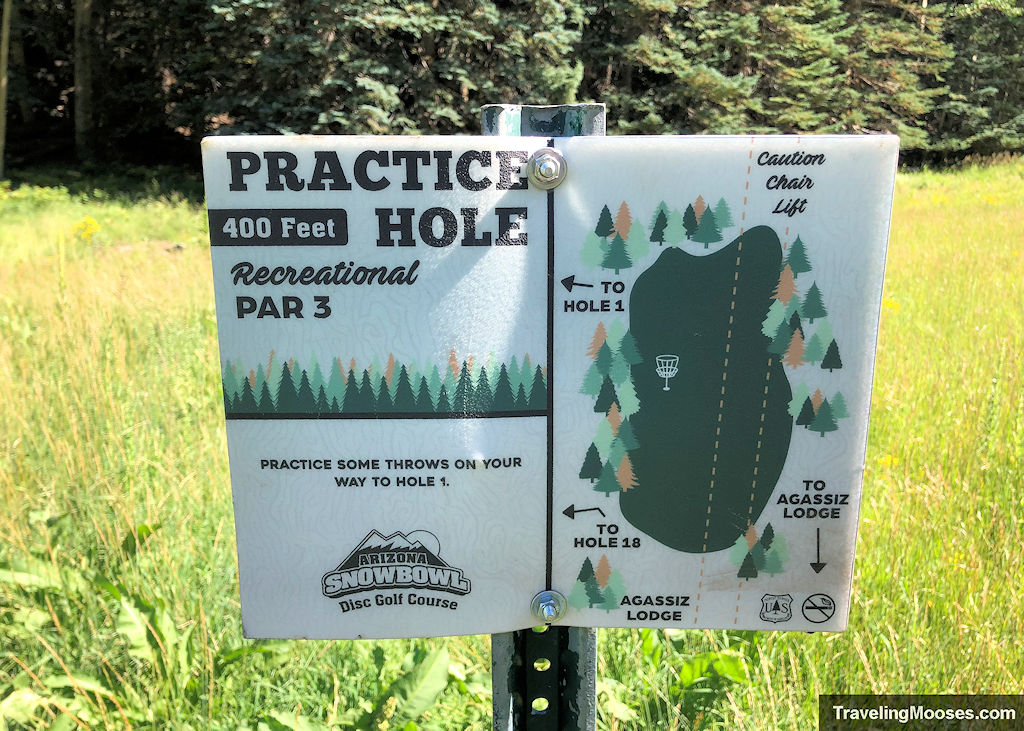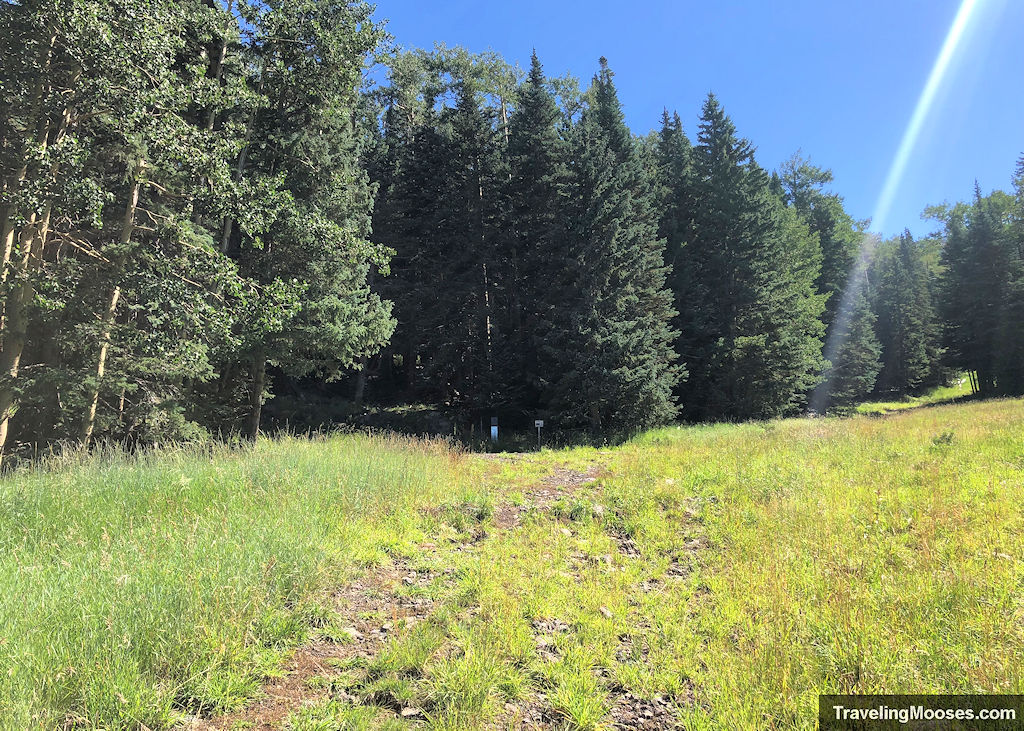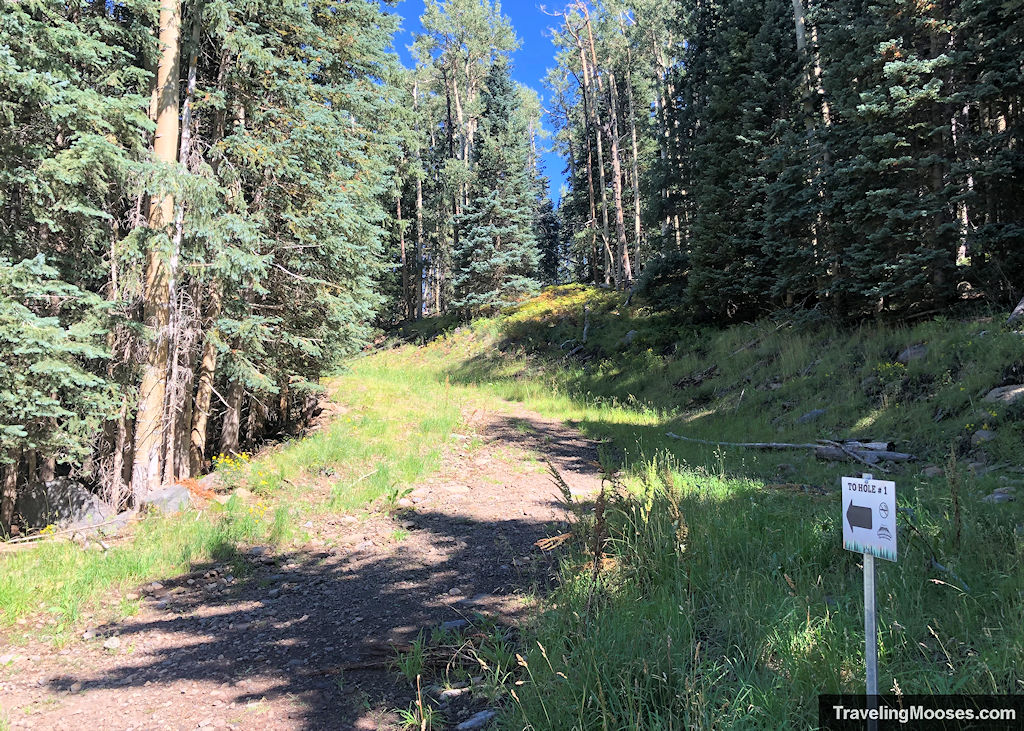 After you've turned left and you're following the road, you may run into a false tee box.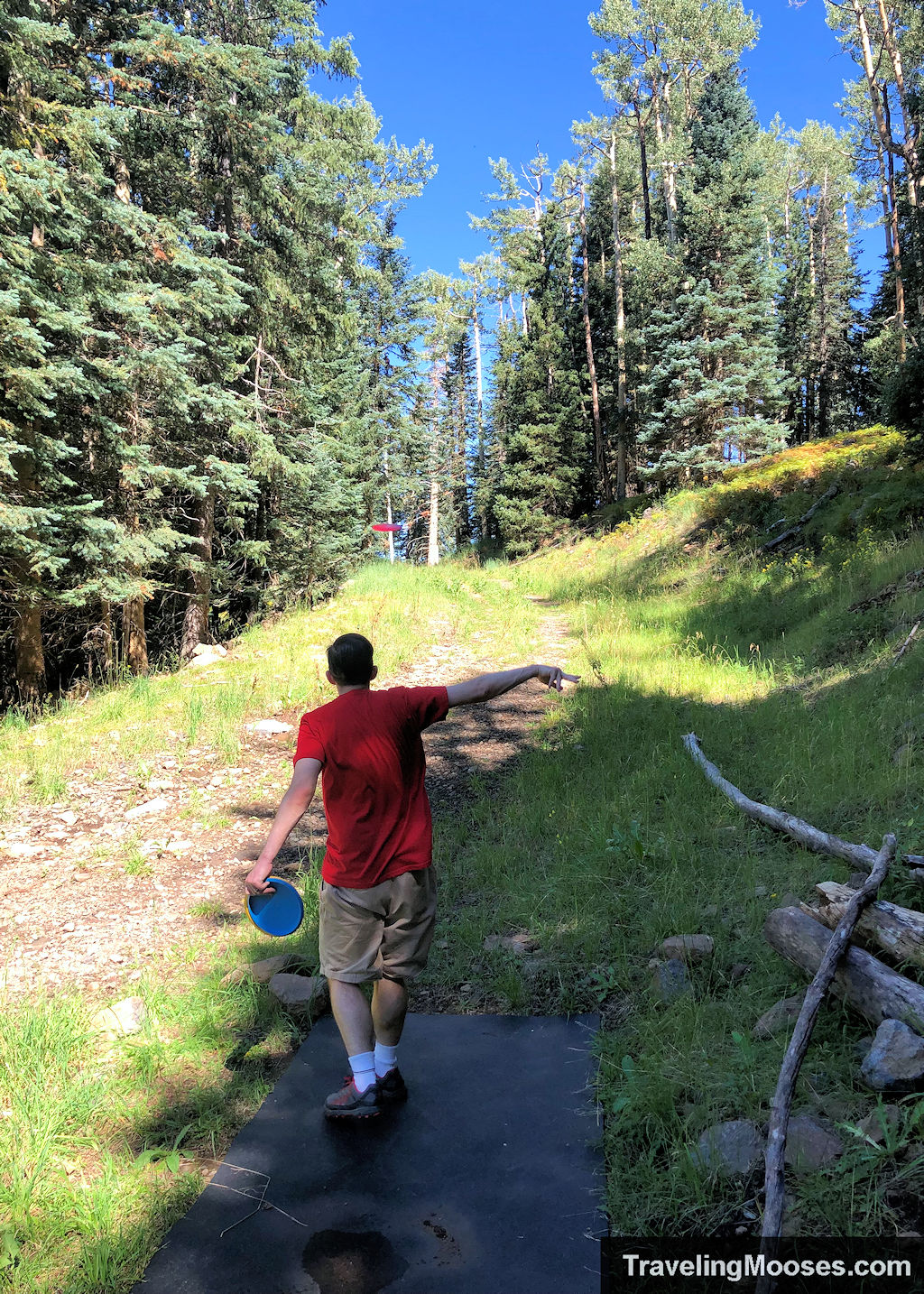 We've been to a lot of courses that aren't marked well and really thought this was the start of the first hole, but it wasn't. Keep going up the road.
You'll finally find the real hole number one at the top of the hill off to the right.
Hole # 1, Par 3, 242 feet
After we finally arrived at hole number one, we found what would be extremely helpful maps at each hole. We highly recommend taking a photo of each hole as you play, so you can remember directionally where the next basket is.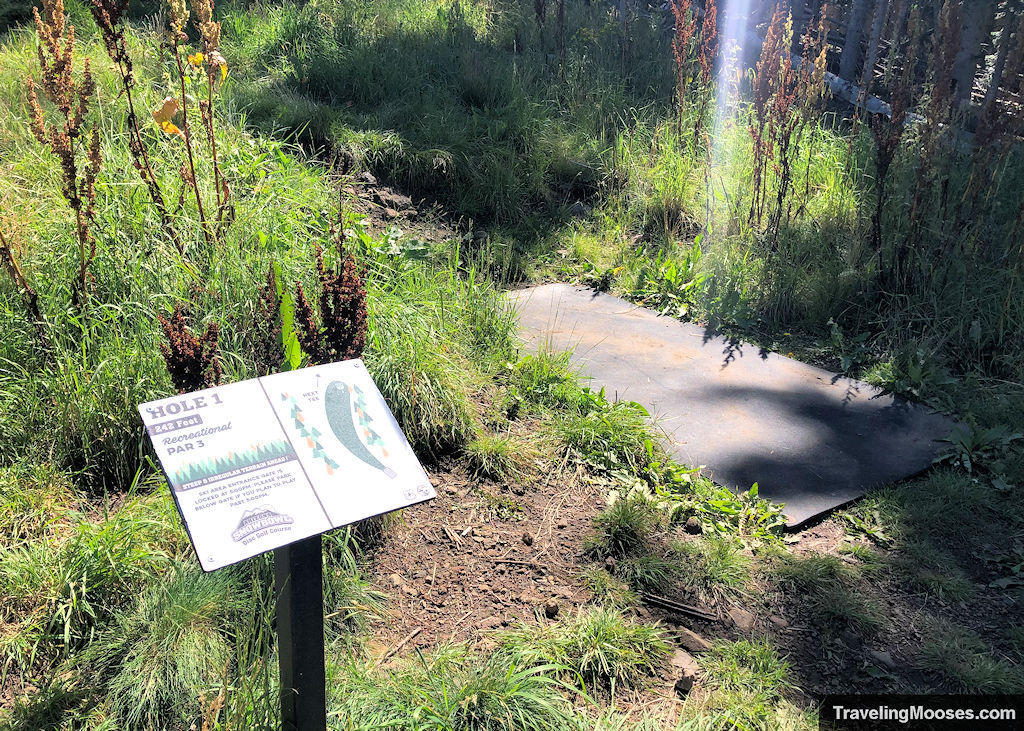 You'll also find some helpful hints on the signs:
Hole # 1 helpful hint: Ski area gate entrance is locked at 5 p.m. Please park below the gate if you plan to play past 5 p.m.
We're not sure what happens if you end up in the ski gate area after 5 p.m., but we sure didn't want to find out.
As a point of reference, it took us three hours to play a round on this course. We took our time enjoying the sights and a had a snack around the halfway point.
Back to the hole, it goes straight up and slightly to the right, for a distance of 242 feet for a par three.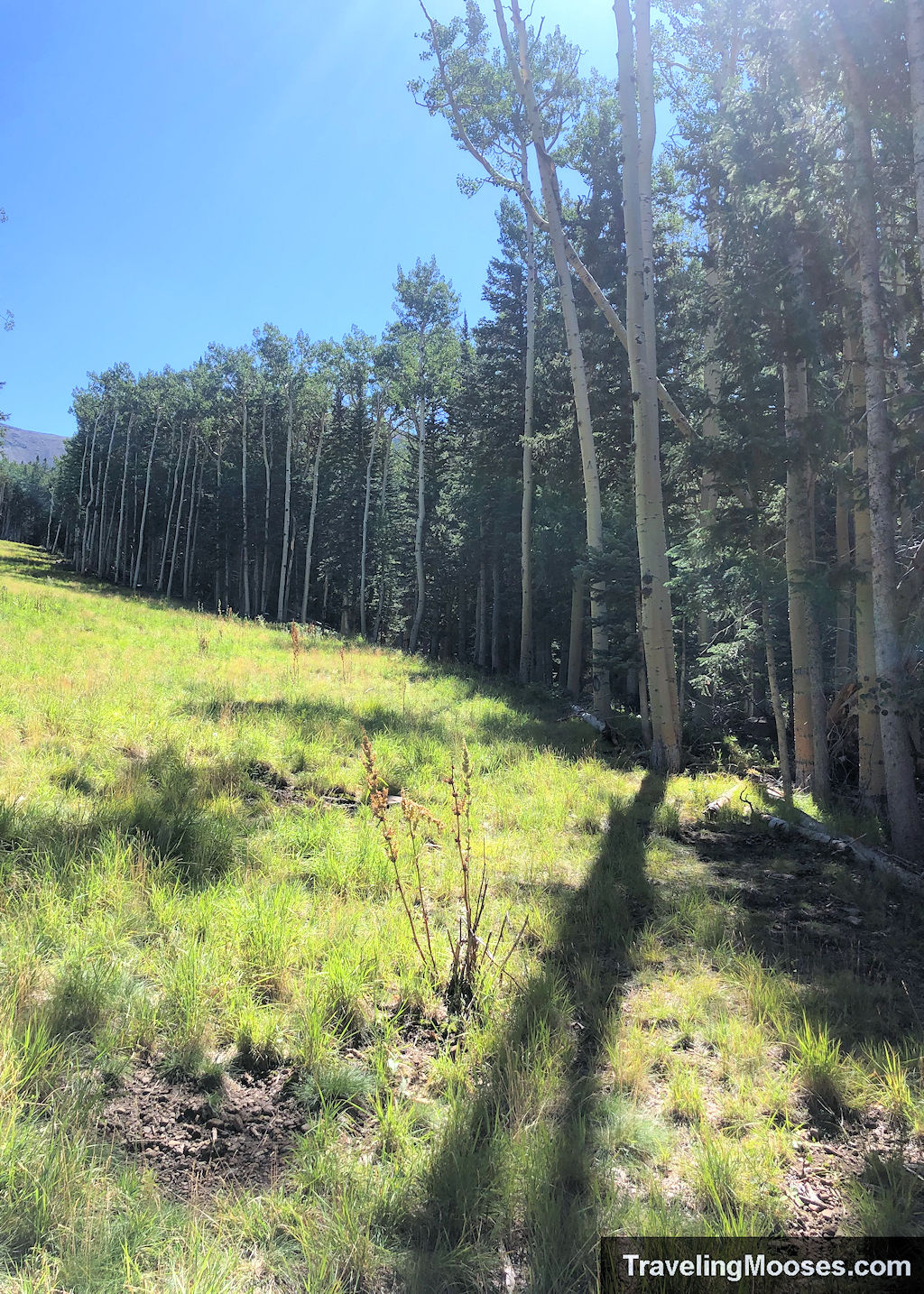 Hole # 2, Par 3, 189 feet
Hole # 2 helpful hint: No littering, please respect this sensitive mountain environment. Pack it in, pack it out.
Hole number two was pretty uneventful. It was easy to find and navigate across a wide-open field. You shouldn't have any trouble finding this hole.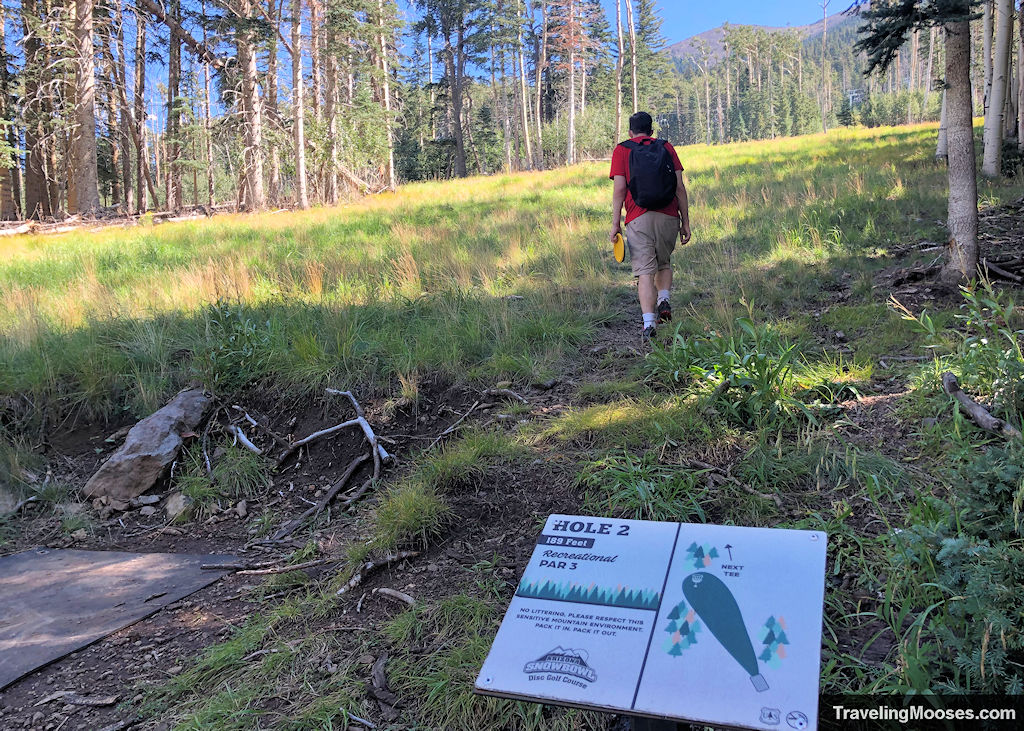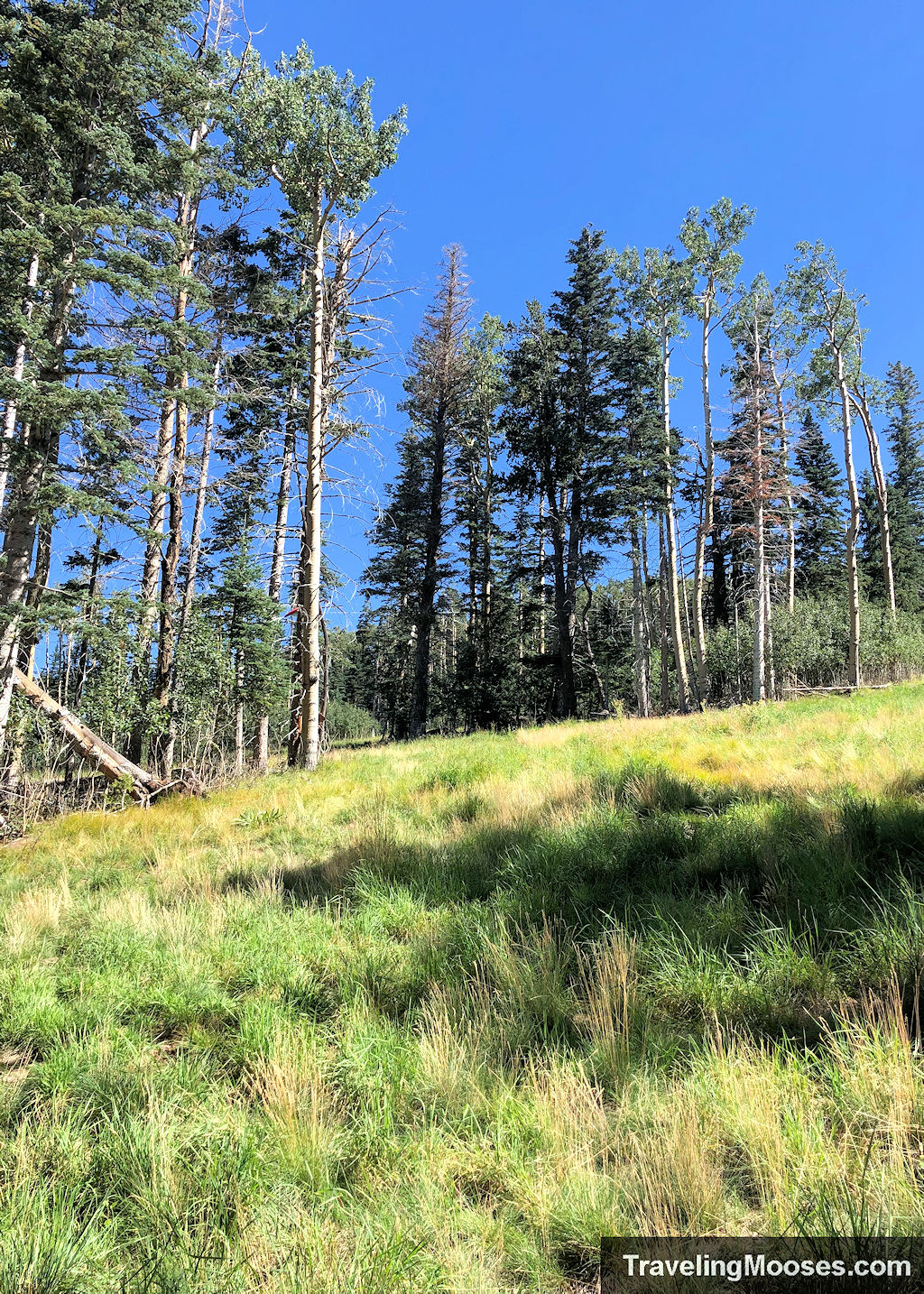 Hole # 3, Par 3, 237 feet
Hole # 3 helpful hint: Smoking is only permitted in designated areas at Agassiz lodge.
The first couple holes are over rough terrain and uphill. The entire course consists of heading up and down the mountain until you end up back at the gondola.
Hole number three was uneventful. A pretty straight shot on a nice wide fairway with a par three and about 237 feet.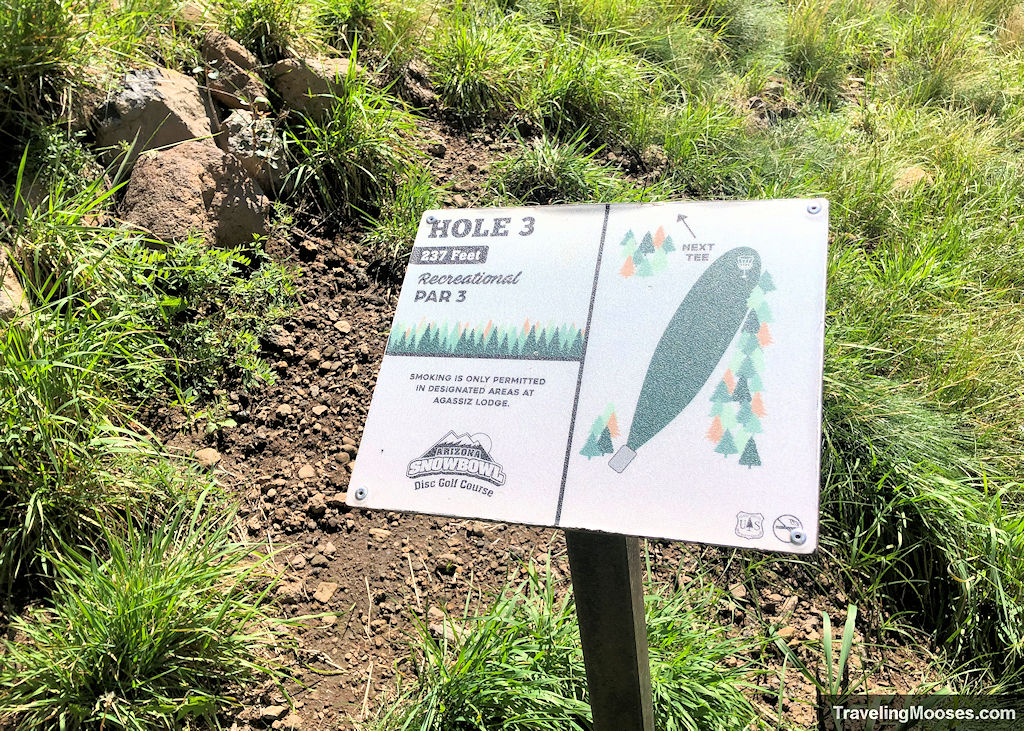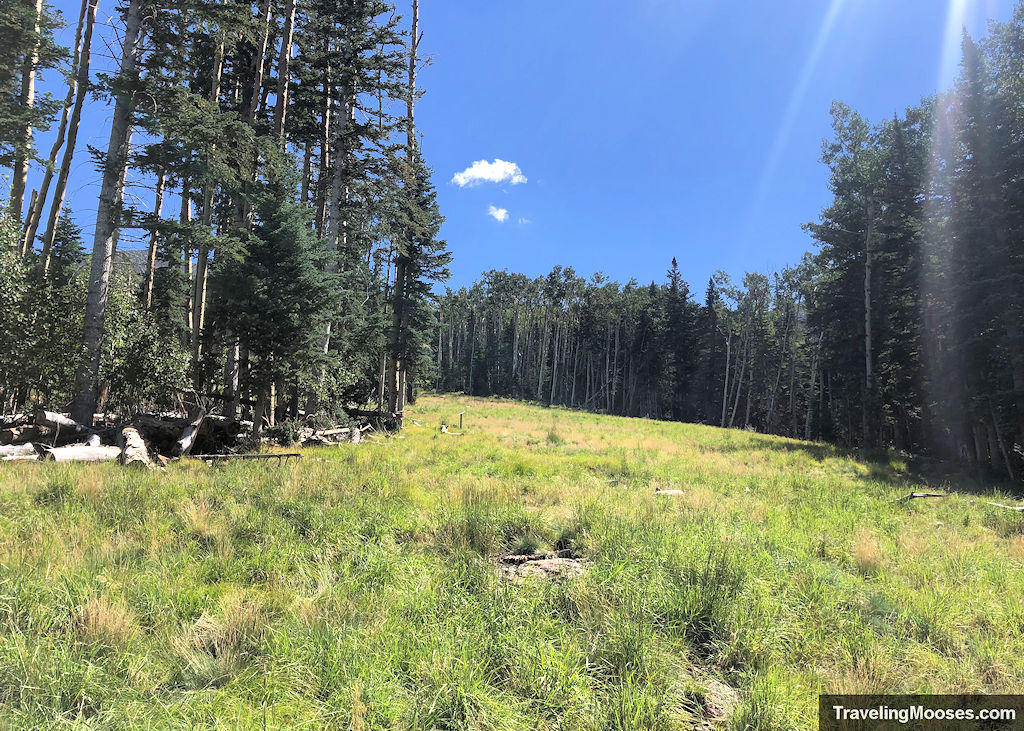 The basket is found near the tree line.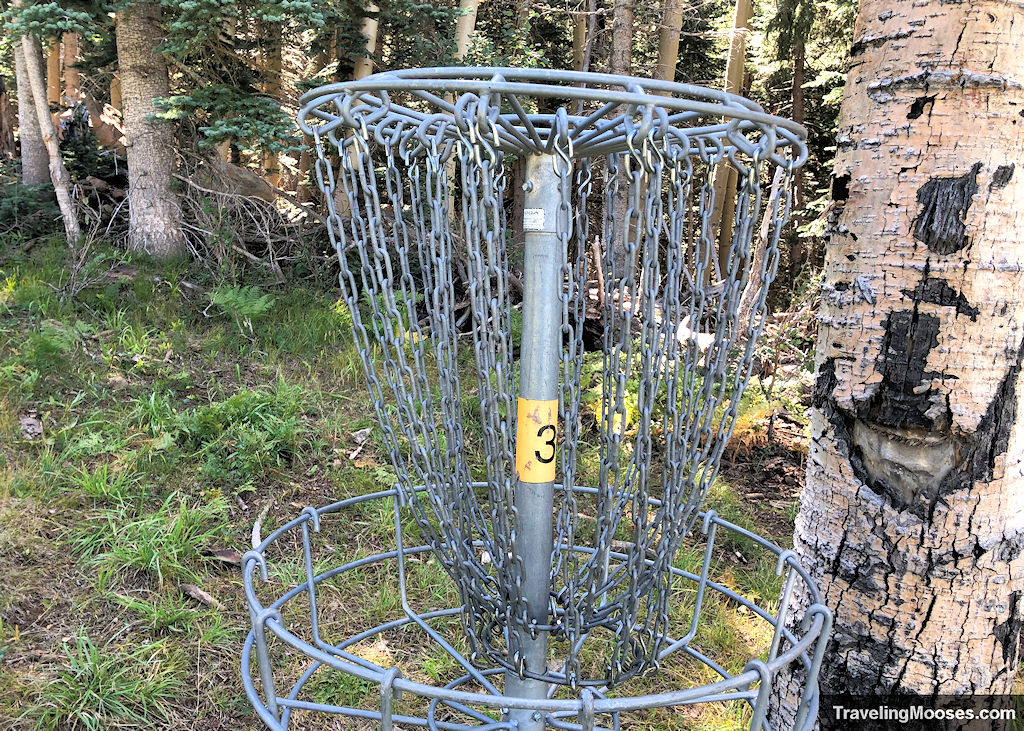 Hole # 4, Par 3, 162 feet
Hole # 4 helpful hint: Use caution, thick treed area around basket.
You'll find the fourth tee box off to the left of hole number three. This hole, while short, has a basket that is smack dab in the middle of a wooded area.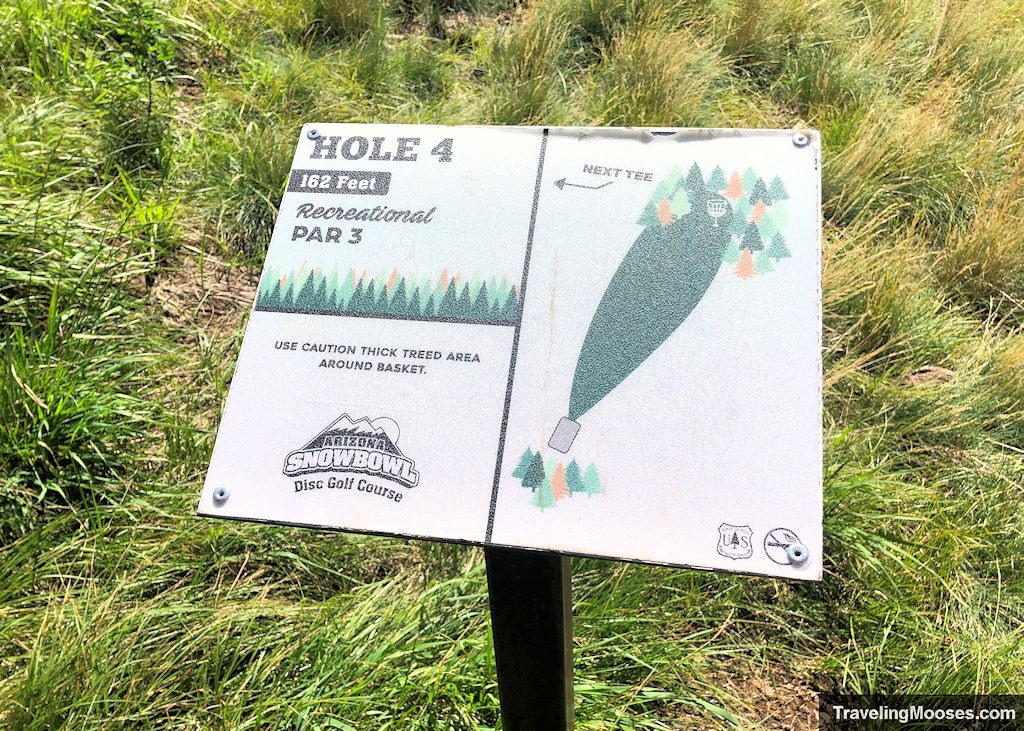 The good news is that it's a pretty straight shot and only 162 feet long. This is a prime spot to have your disc ricochet off the trees and take a while to find.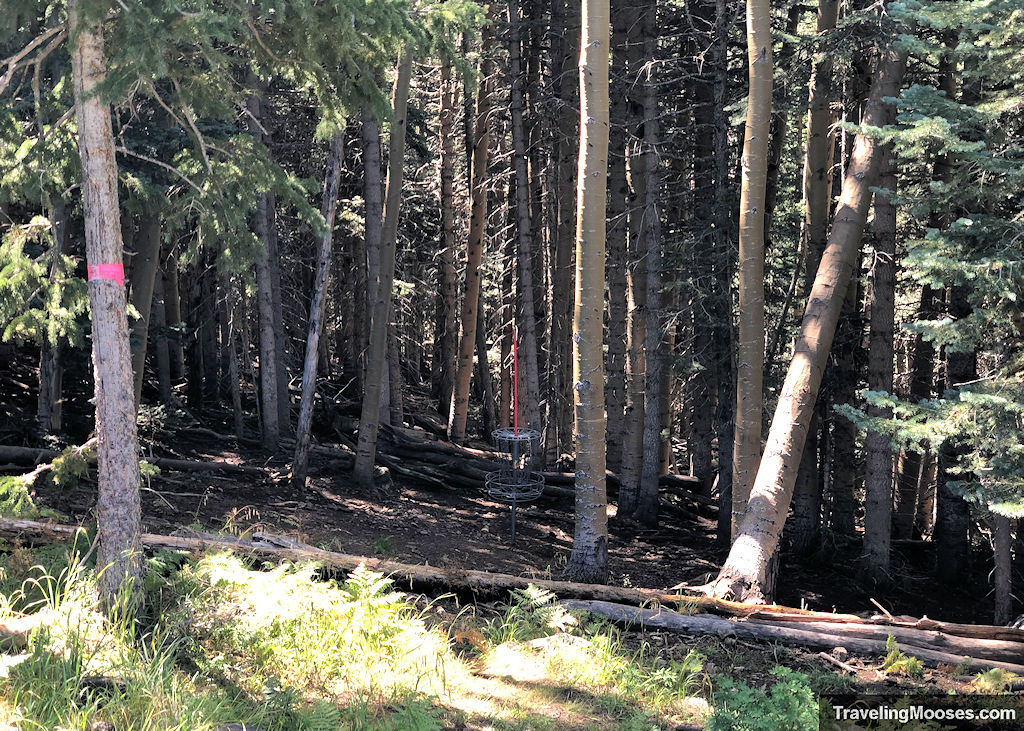 Hole # 5, Par 3, 184 or 364 feet
Hole # 5 helpful hint: Be cautious of golfers on the next tee.
For hole five, you'll have two choices of baskets, coming in at 184 or 364 feet.
There are several holes on the course that claim to have two buckets, though we did not always find the second one. It was probably user error. ¯\_(ツ)_/¯
Before heading off to hole six, we stopped to enjoy the beautiful views along the course.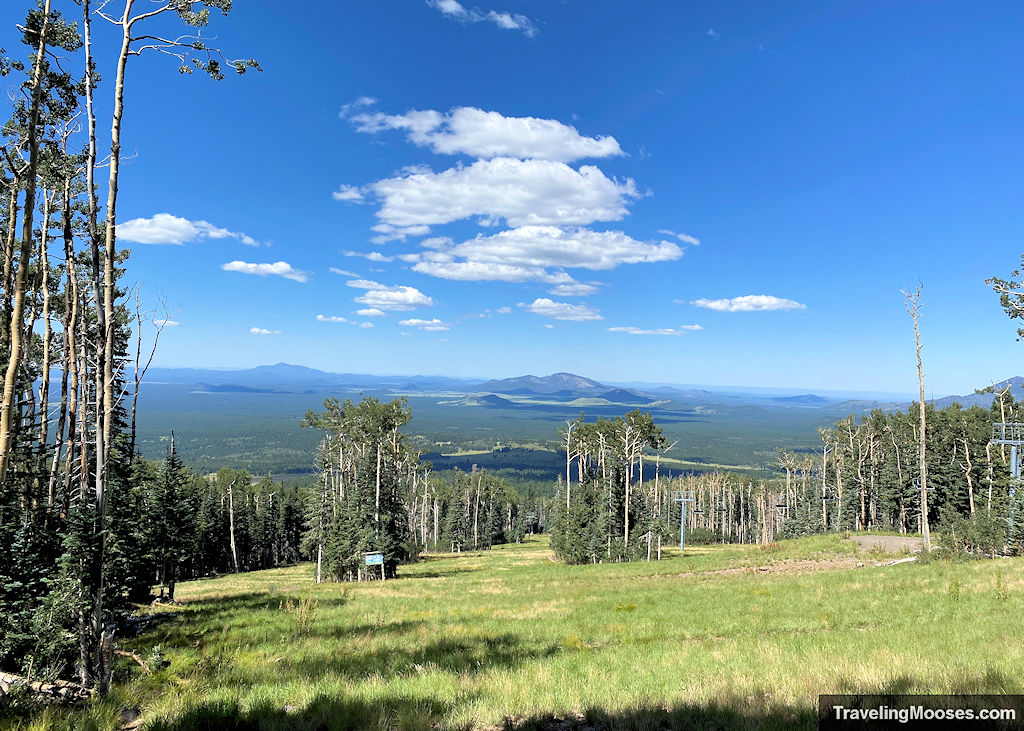 Hole # 6, Par 3, 230 feet
Hole # 6 helpful hint: High traffic service road, yield to vehicle traffic.
We almost had the mountain to ourselves the day we visited, but use caution when approaching the basket for hole six, as there is a road just beyond the basket.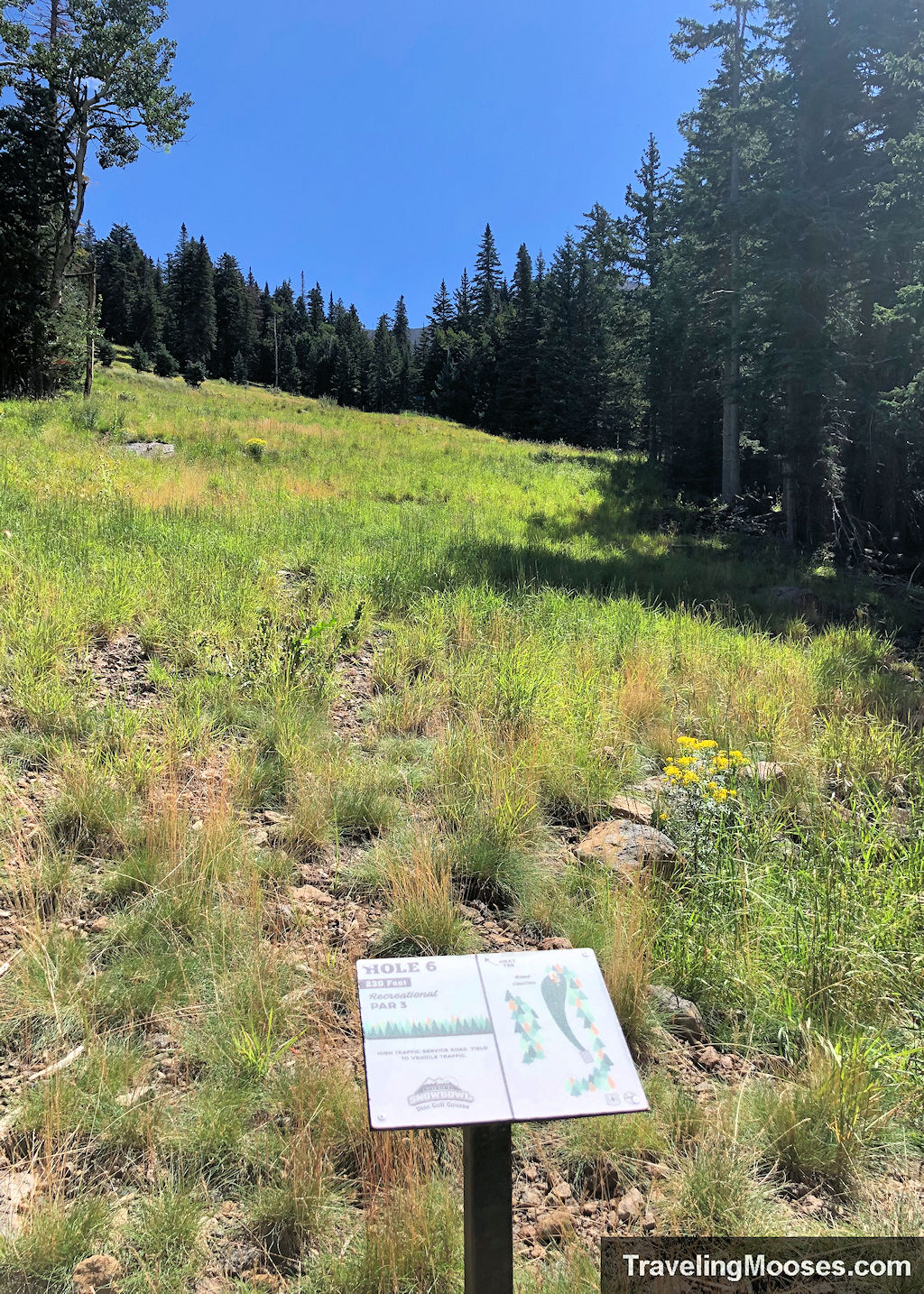 Hole number six tees off uphill, with the basket slightly off to the right about 230 feet.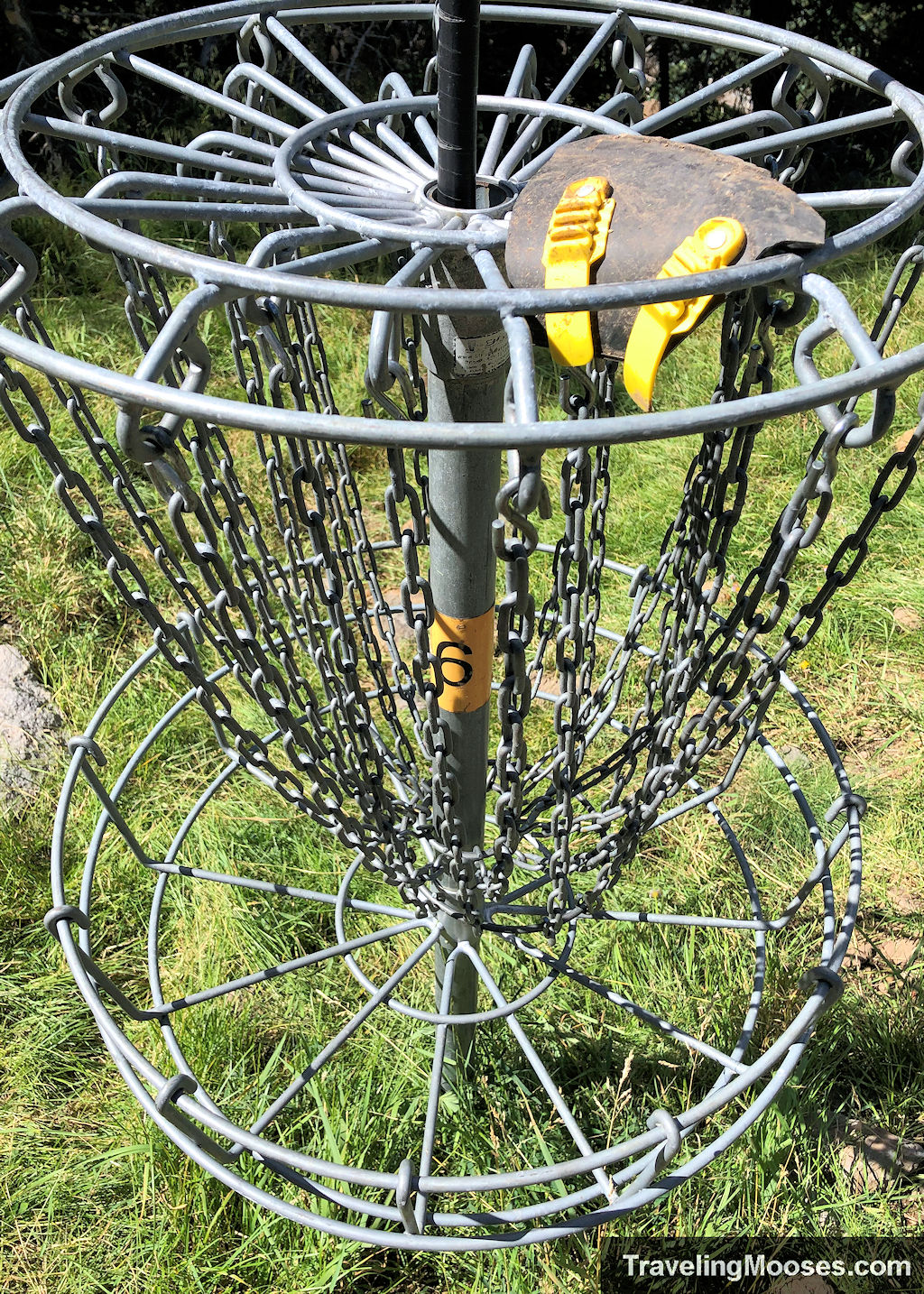 The basket itself was wide open and not blocked by any trees.
Hole # 7, Par 4, 189 or 318 feet
After completing hole six, you'll need to transit a decent way to reach hole seven.
You'll leave the basket and head off to the left and across the service road. Don't worry, there will be signs to help guide you.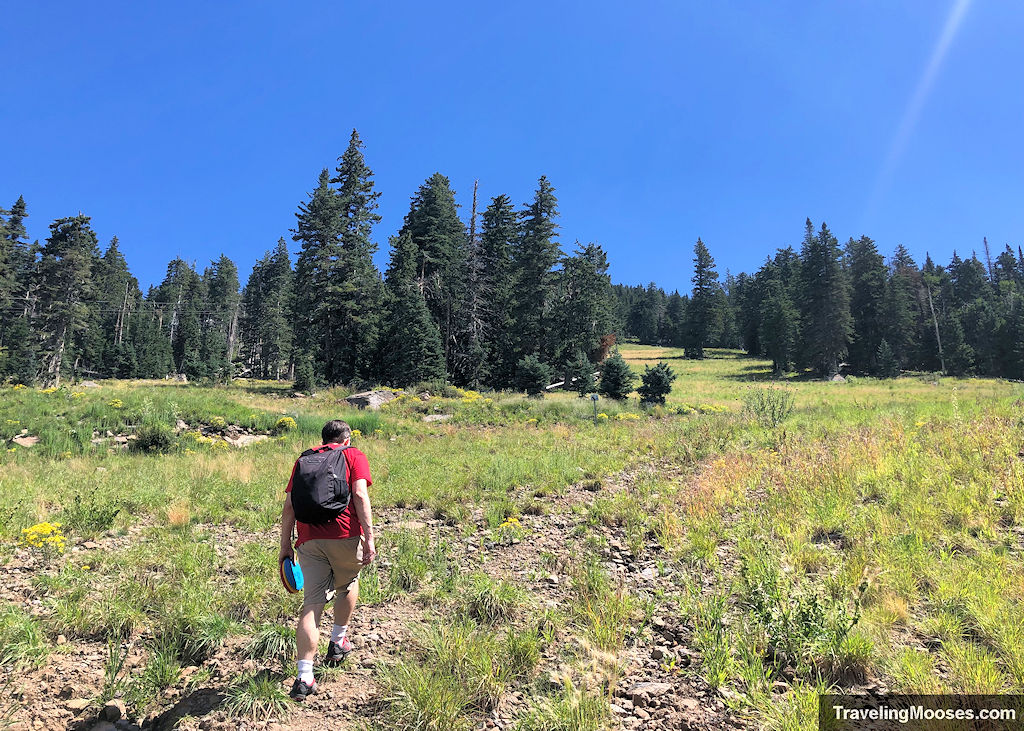 Along the way you can enjoy some of the many wildflowers found along the course.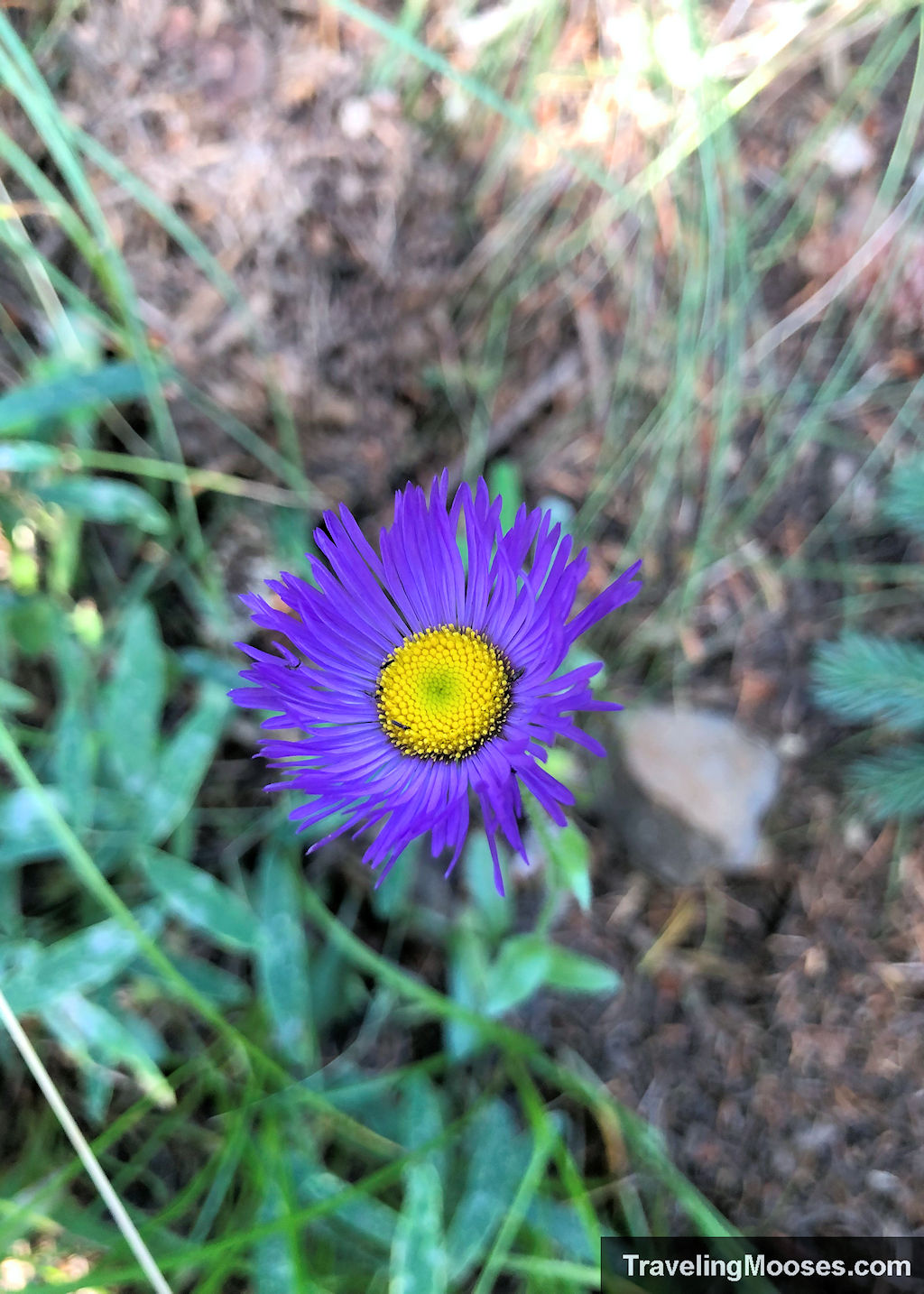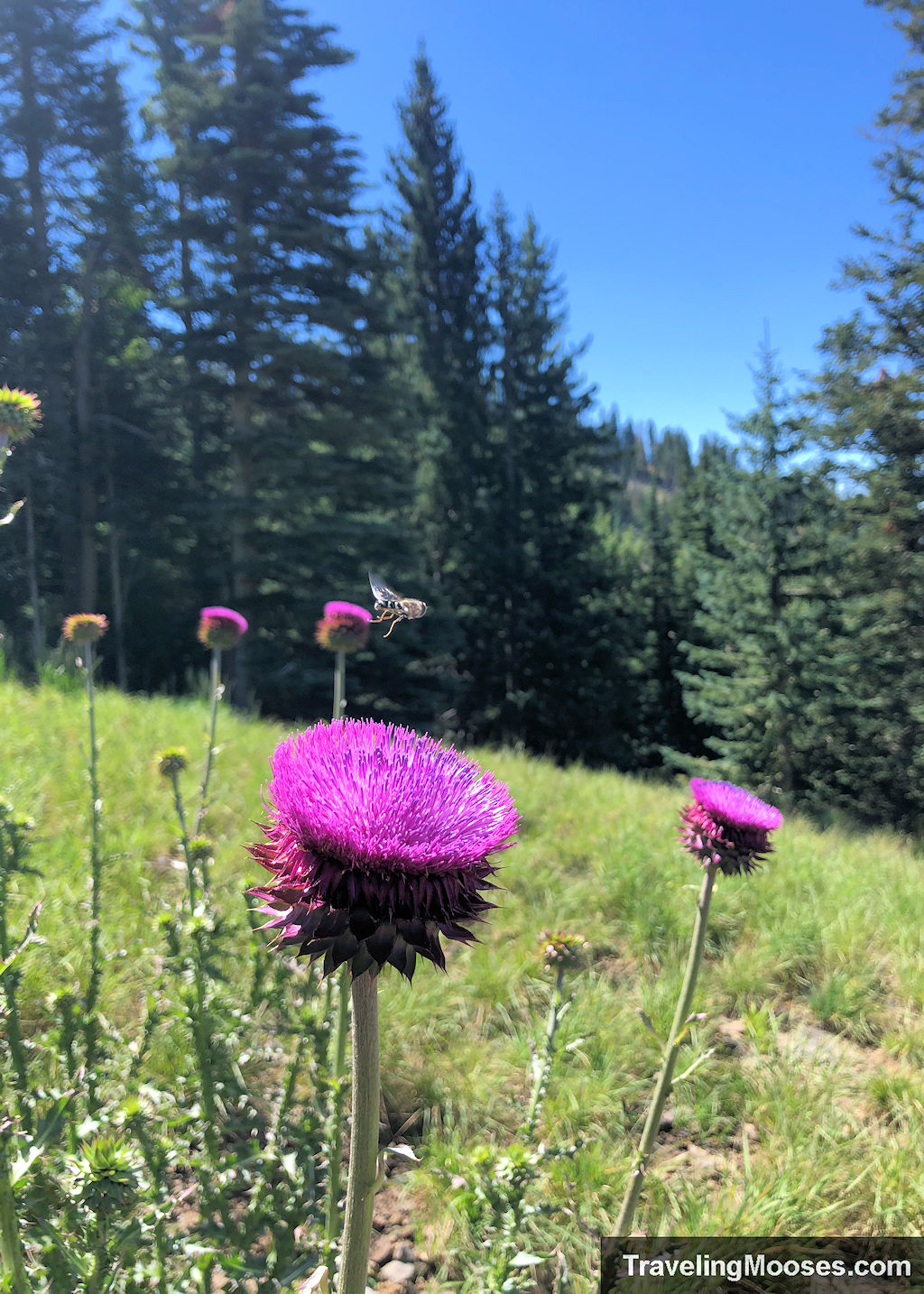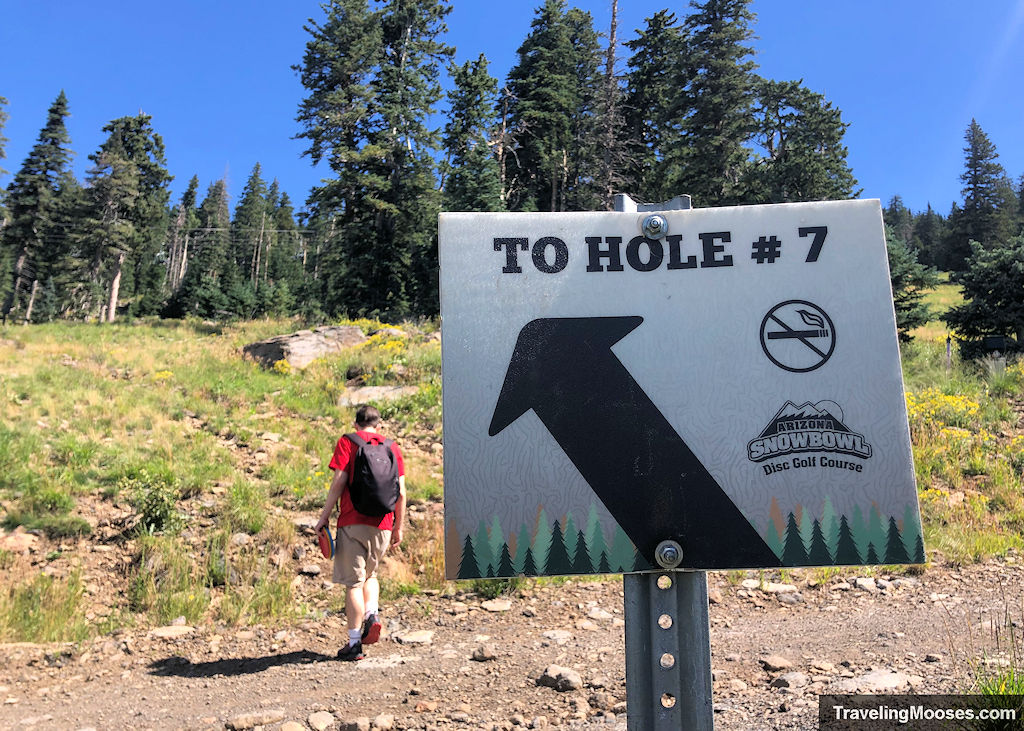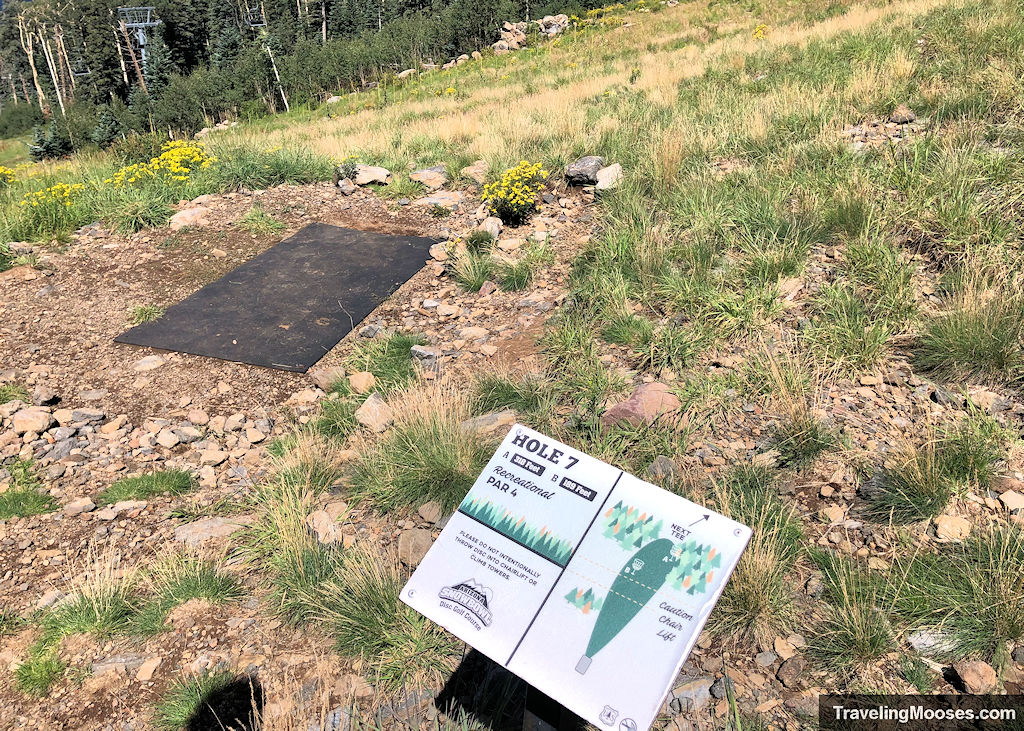 Once you reach the official start of hole seven, the basket is located on a fairly straight shot. You'll go under the chair lift and find the basket in a grove of trees.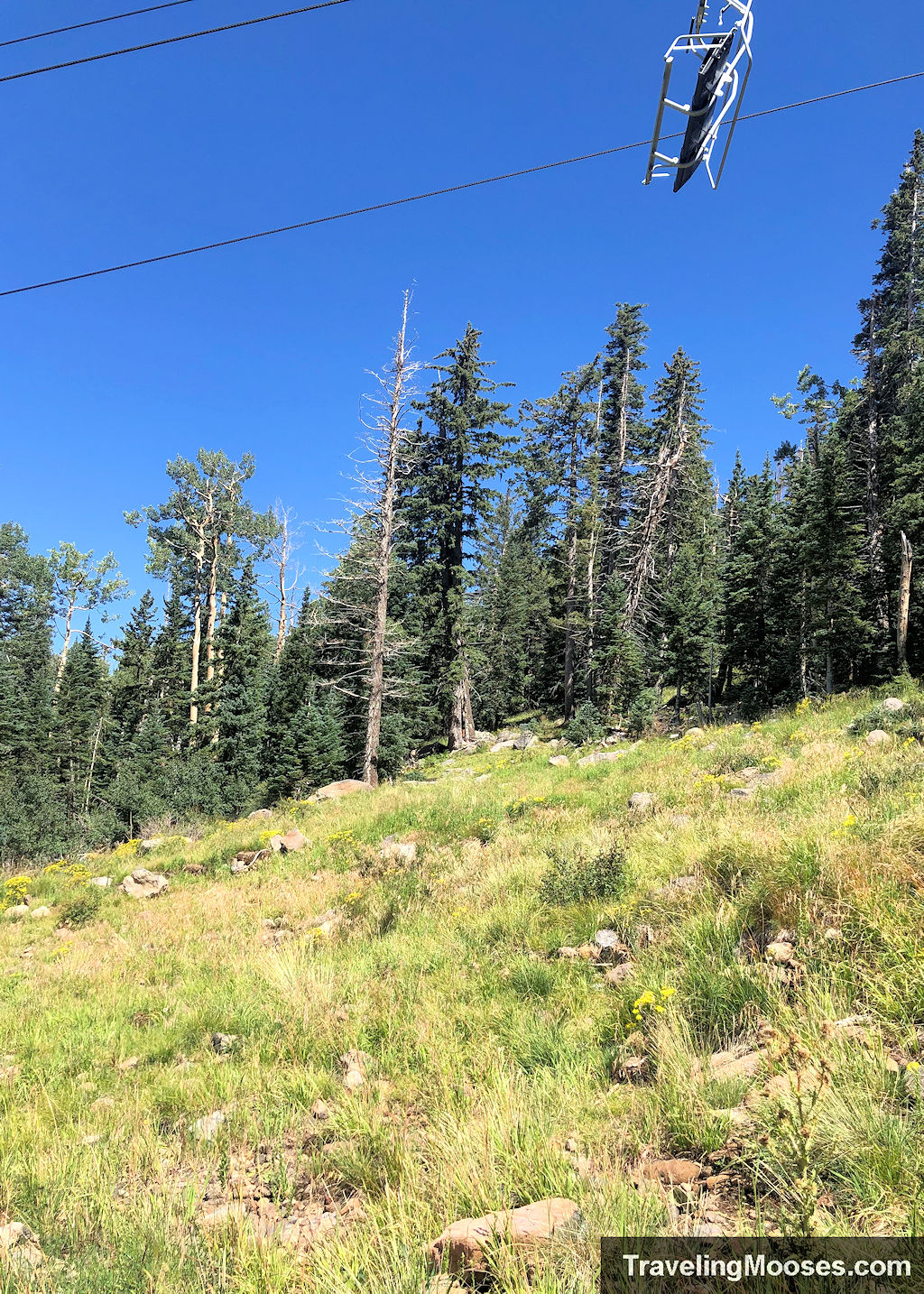 Hole # 8, Par 4, 276 or 341 feet
Hole # 8 helpful hint: Watch for vehicle traffic on service road below basket.
Next up is hole number eight, which we found to be pretty easy. The basket is a gentle slope to the right and ends right before a service road.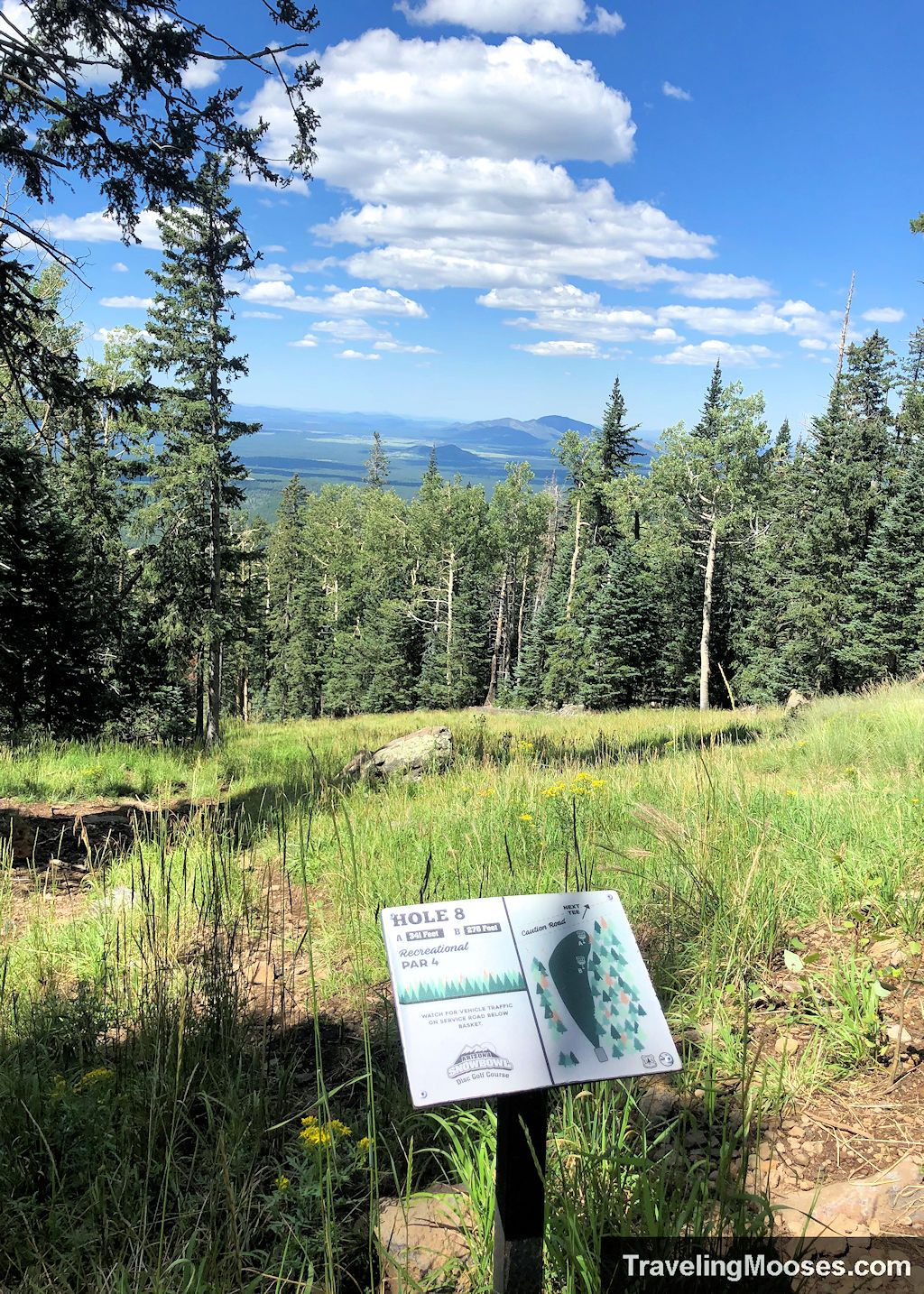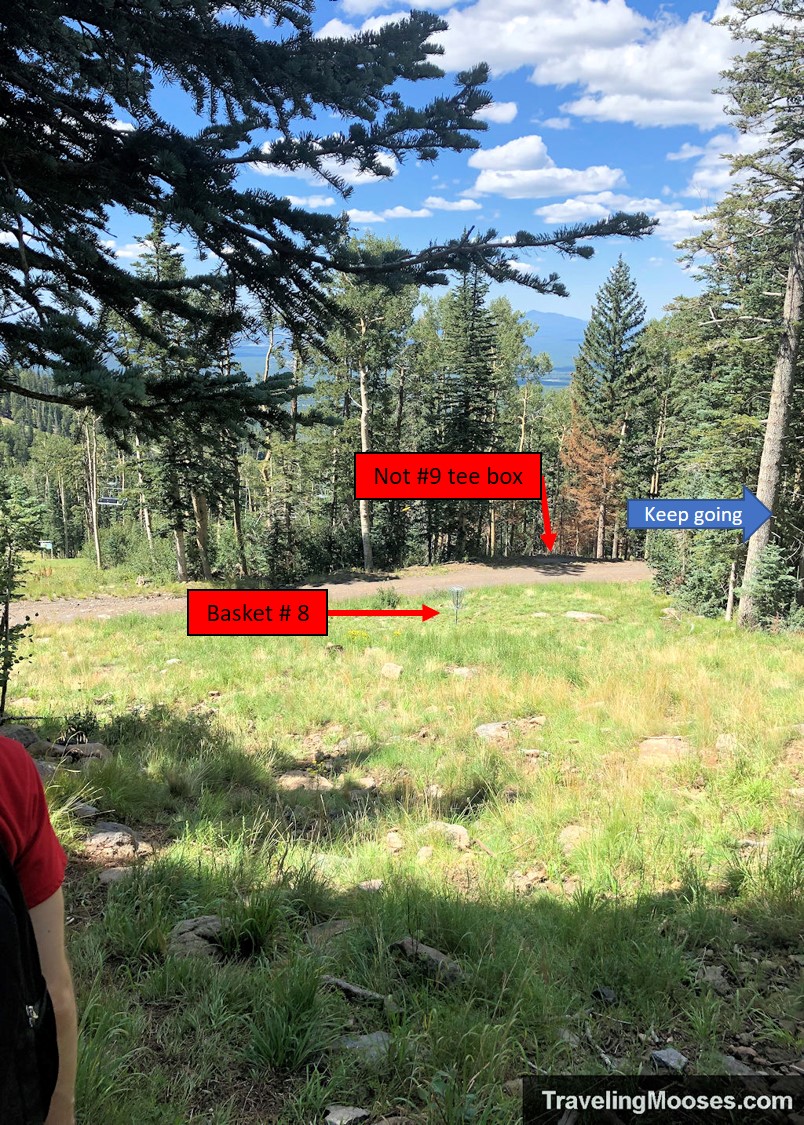 After we completed hole eight, we were once again tricked into playing a false hole number nine.
Hole # 9, Par 3, 243 feet
Hole # 9 helpful hint: Watch for service vehicles on road. Yield to vehicle traffic.
After you cross the service road, you'll immediately see a rubber mat that appears to be the next hole. We're really not sure why it's there. We figured there was no sign for the next hole, so we started playing.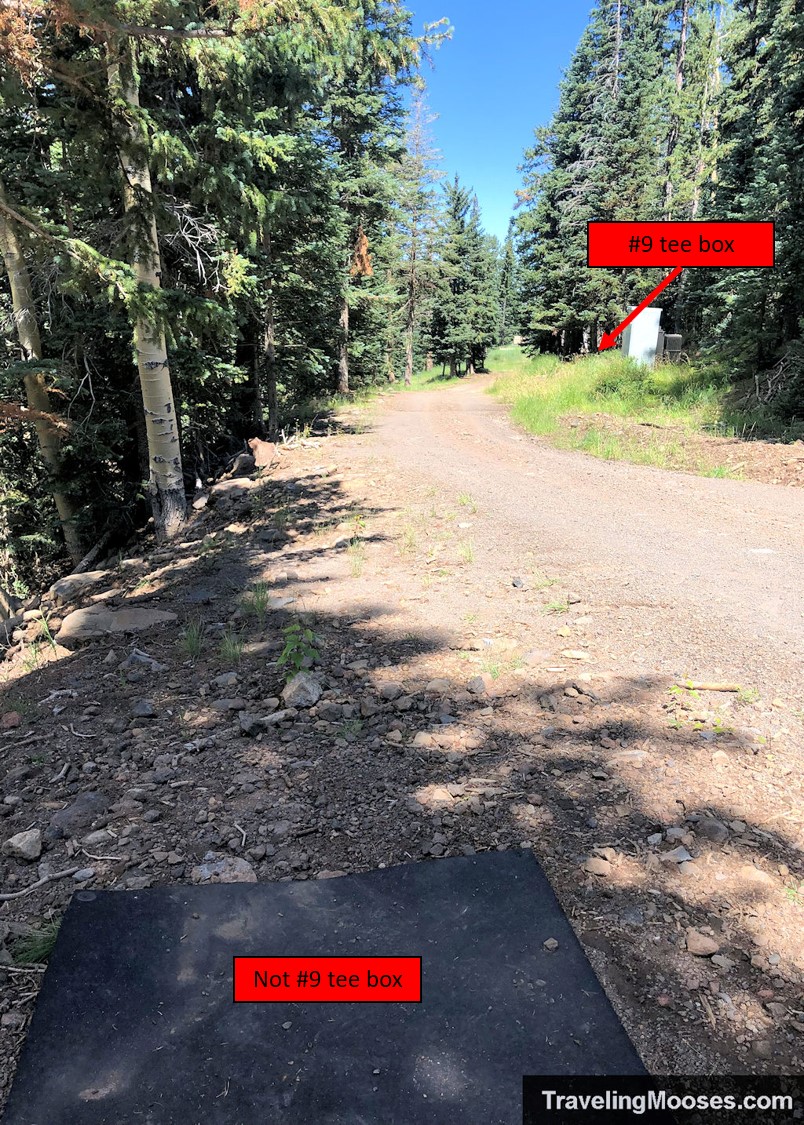 It turns out, we needed to turn right and head up the service road a short way before finding the real tee box.
You'll find the start on the right-hand side of the road.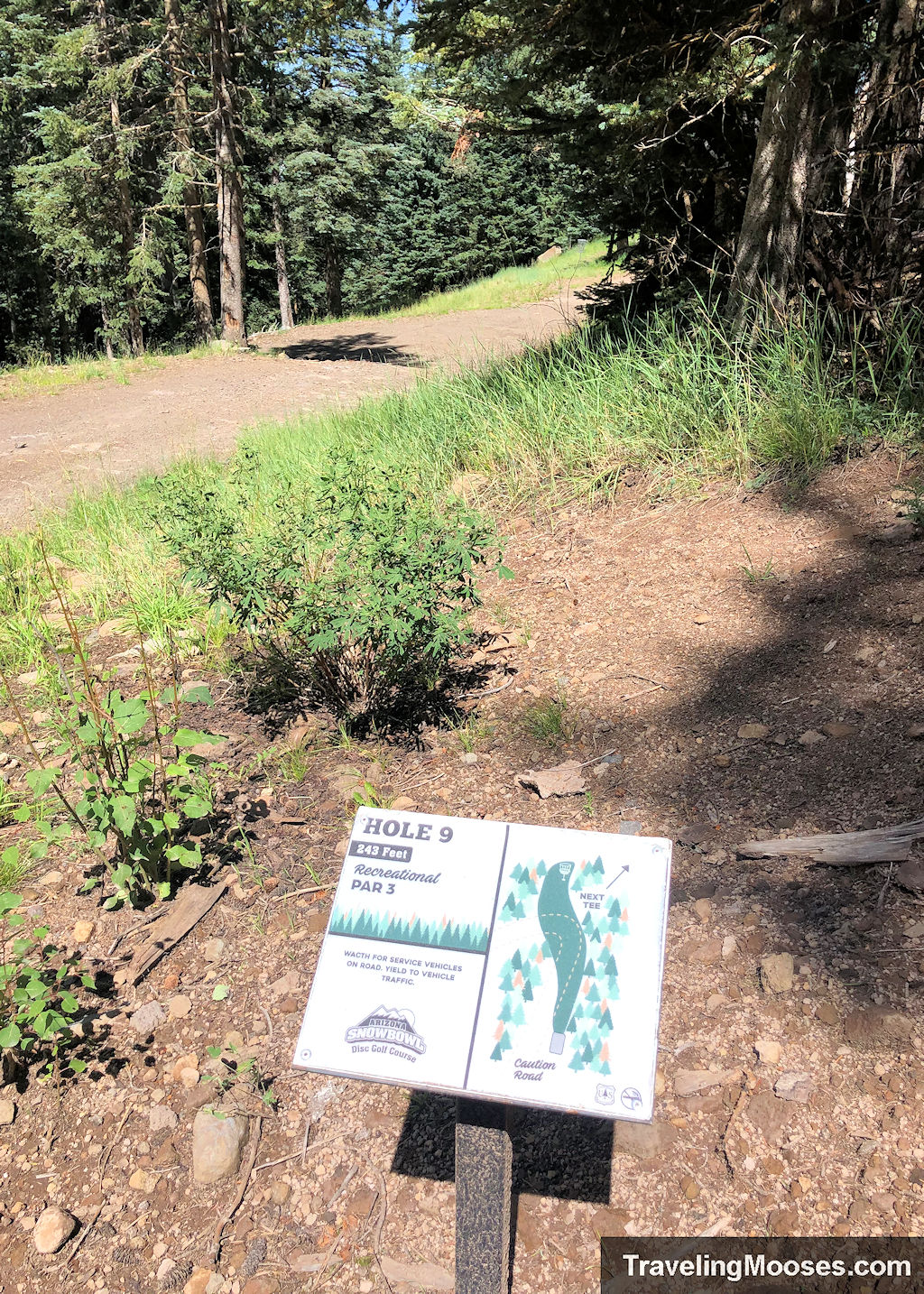 We found this hole a little awkward with the curving road and not being able to see the basket off in the distance.
We did enjoy seeing this little critter hiding in the bushes near the hole start.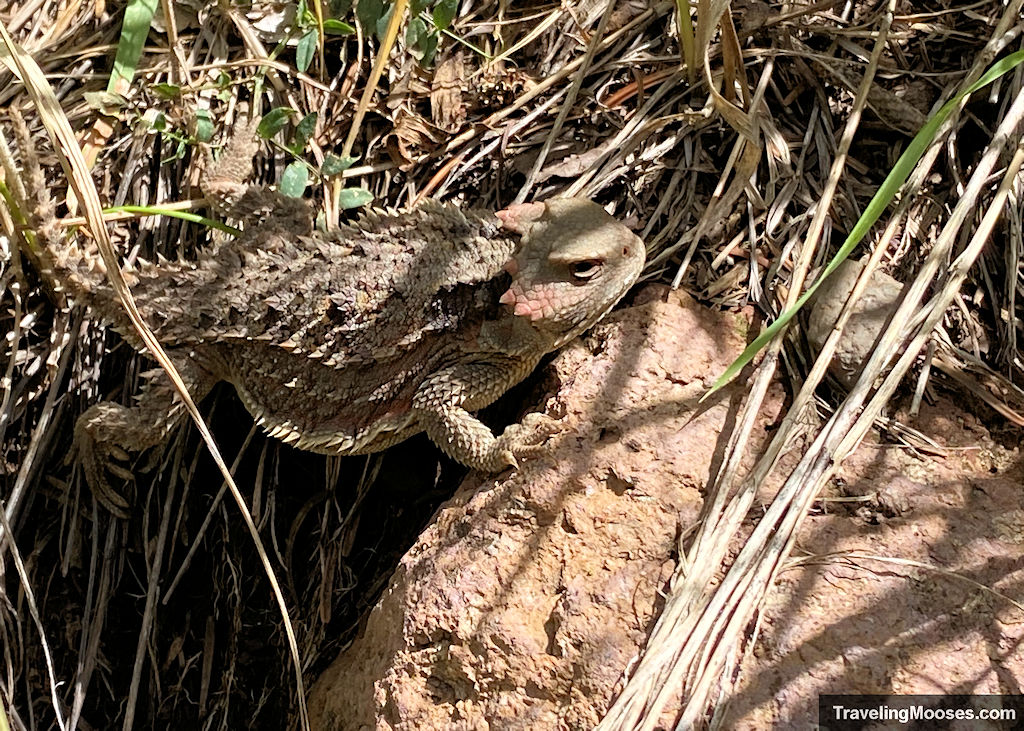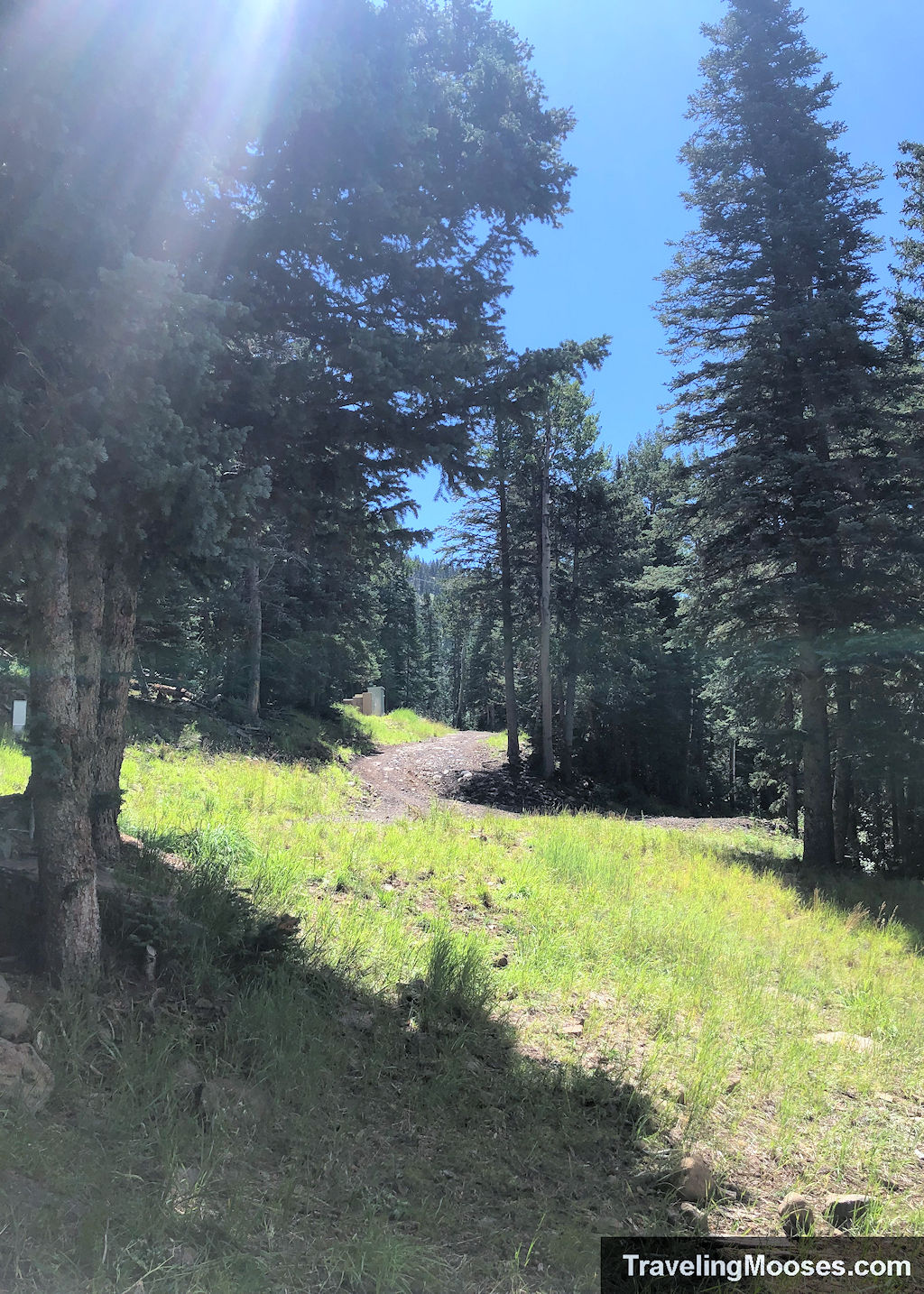 After completing hole nine, you'll make your way to a structure that we believe may have been created for the PDGA Pro World Championship contest in 2003.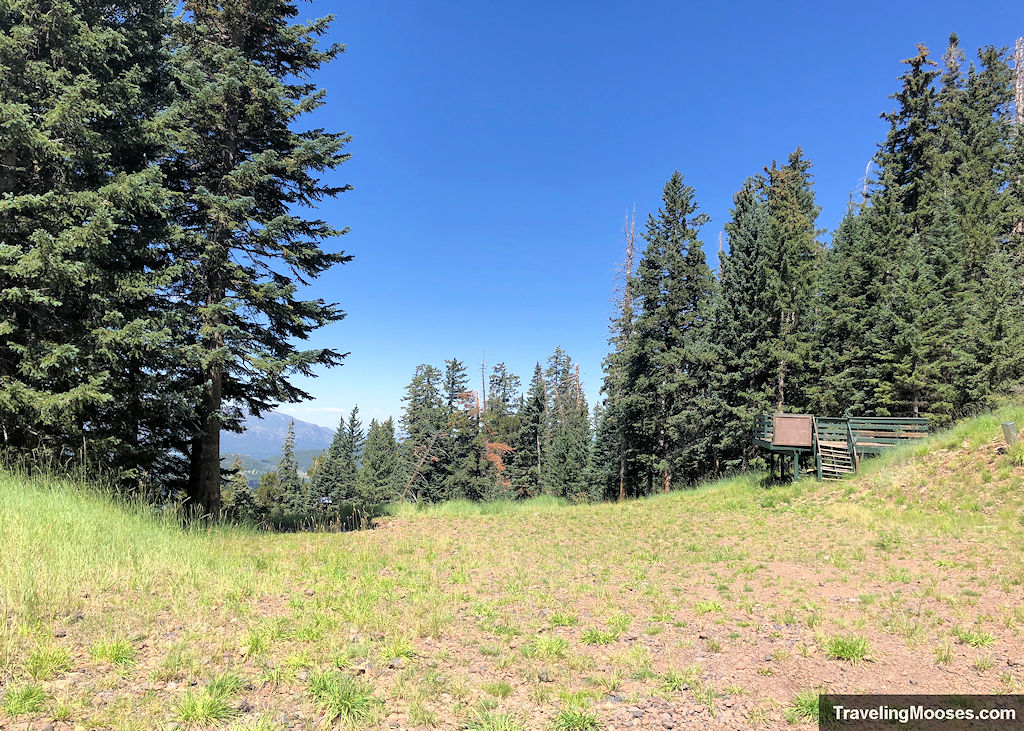 Hole # 10, Par 4, 282 or 445 feet
Hole # 10 helpful hint: Tall grass on course. Watch your disc.
Hole number ten is a long shot that veers slightly off to the right. It is also downwards sloping and filled with tall grass. Trees line both sides of the fairway, which makes for an easy place to lose your disc.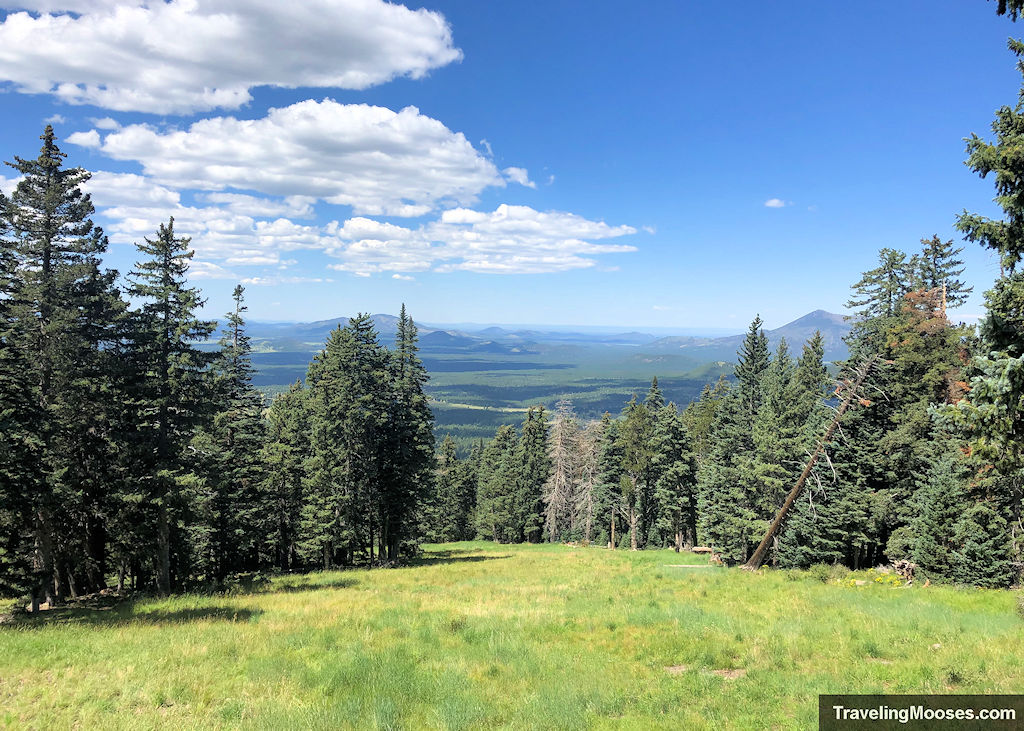 Hole # 11, Par 3, 190 feet
Hole # 11 helpful hint: No littering. Please pack it in, pack it out.
To find hole eleven, you'll need to traverse to the opposite side of the fairway near the tree line. It would be helpful to refer to a picture of the sign at hole ten if you get turned around.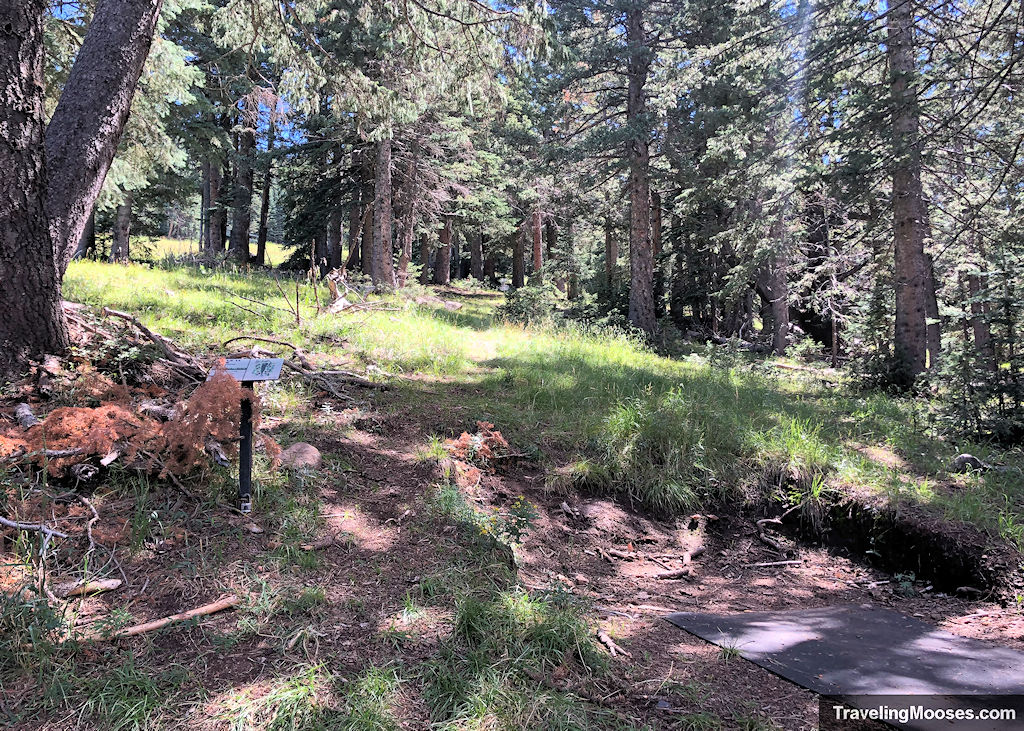 The basket, while a straight shot, is surrounded by trees on all sides. Watch your discs on this one!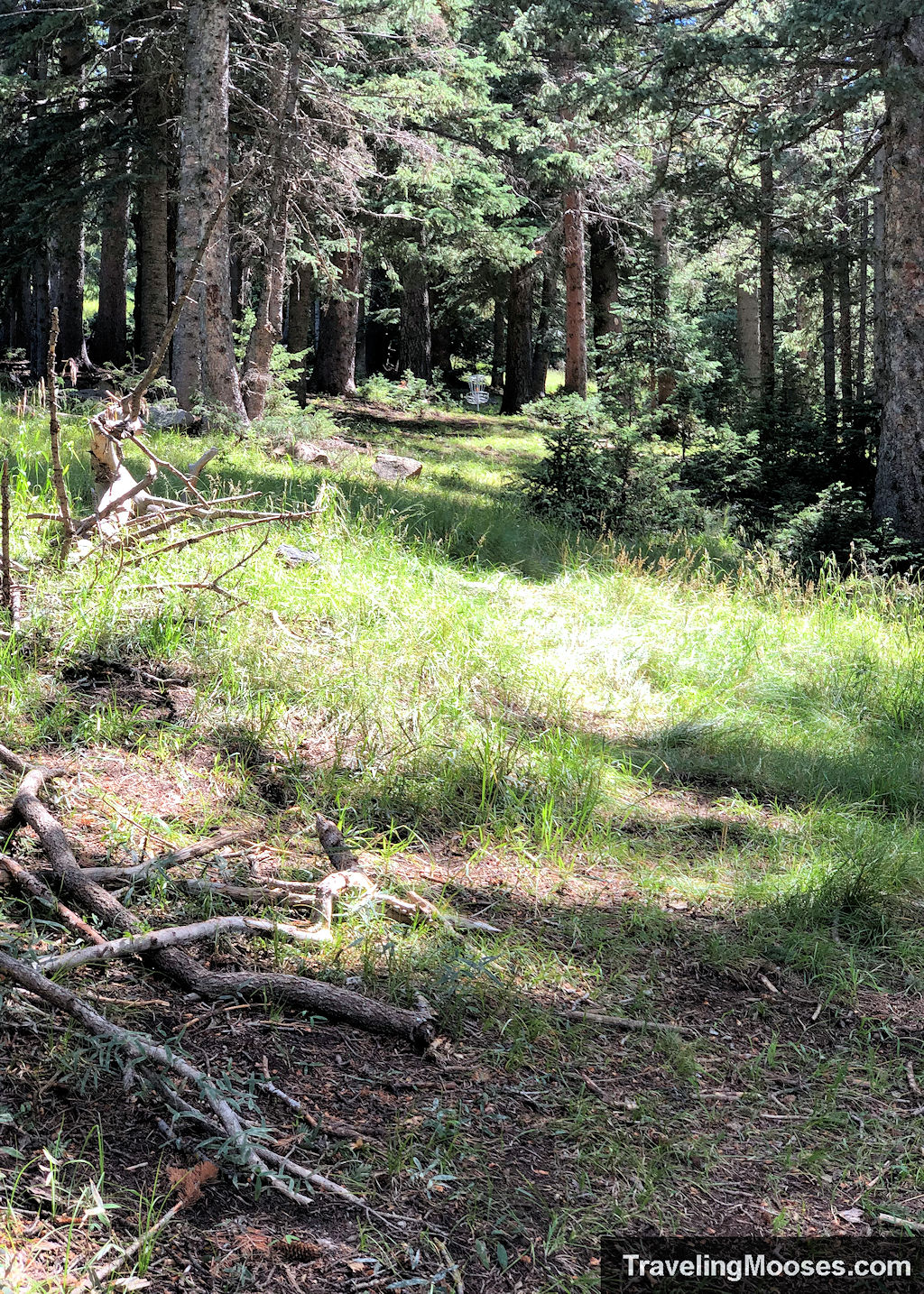 Hole # 12, Par 3, 226 feet
Hole # 12 helpful hint: Watch for golfers from previous hole.
Hole number twelve is a quick par three, 226 ft distance, that heads straight through some trees and back towards a chairlift and the valley below.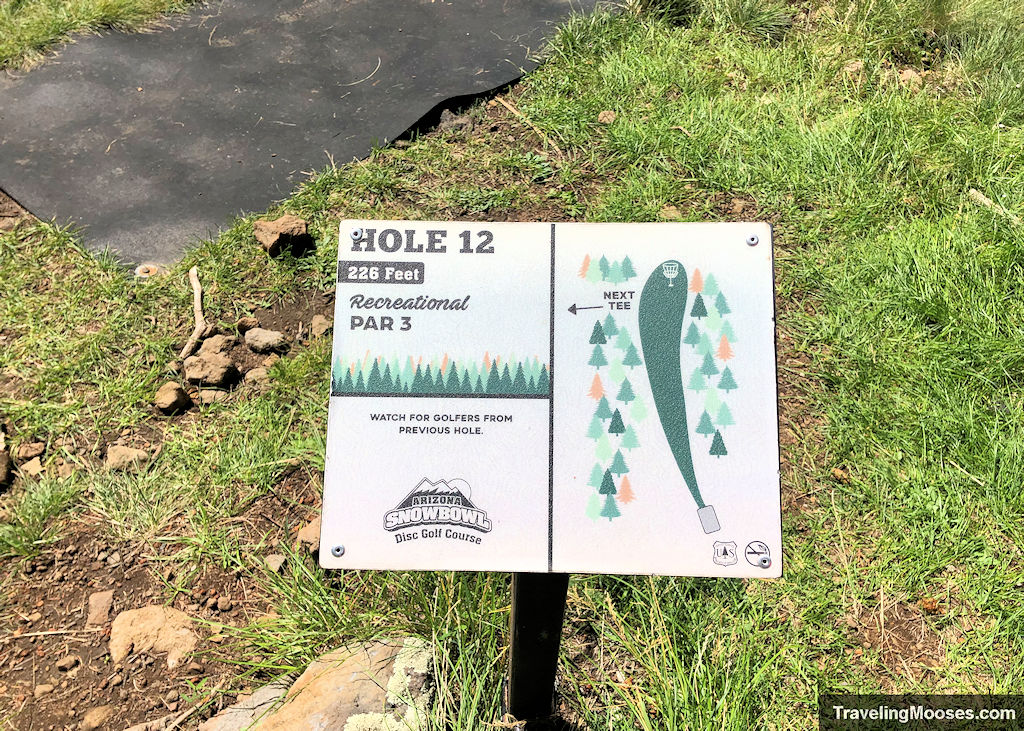 If you can keep your disc straight, you'll have a pretty good shot of hitting the basket. Otherwise, you might hit some trees like we did and have it bounce off and land in an out-of-the-way area.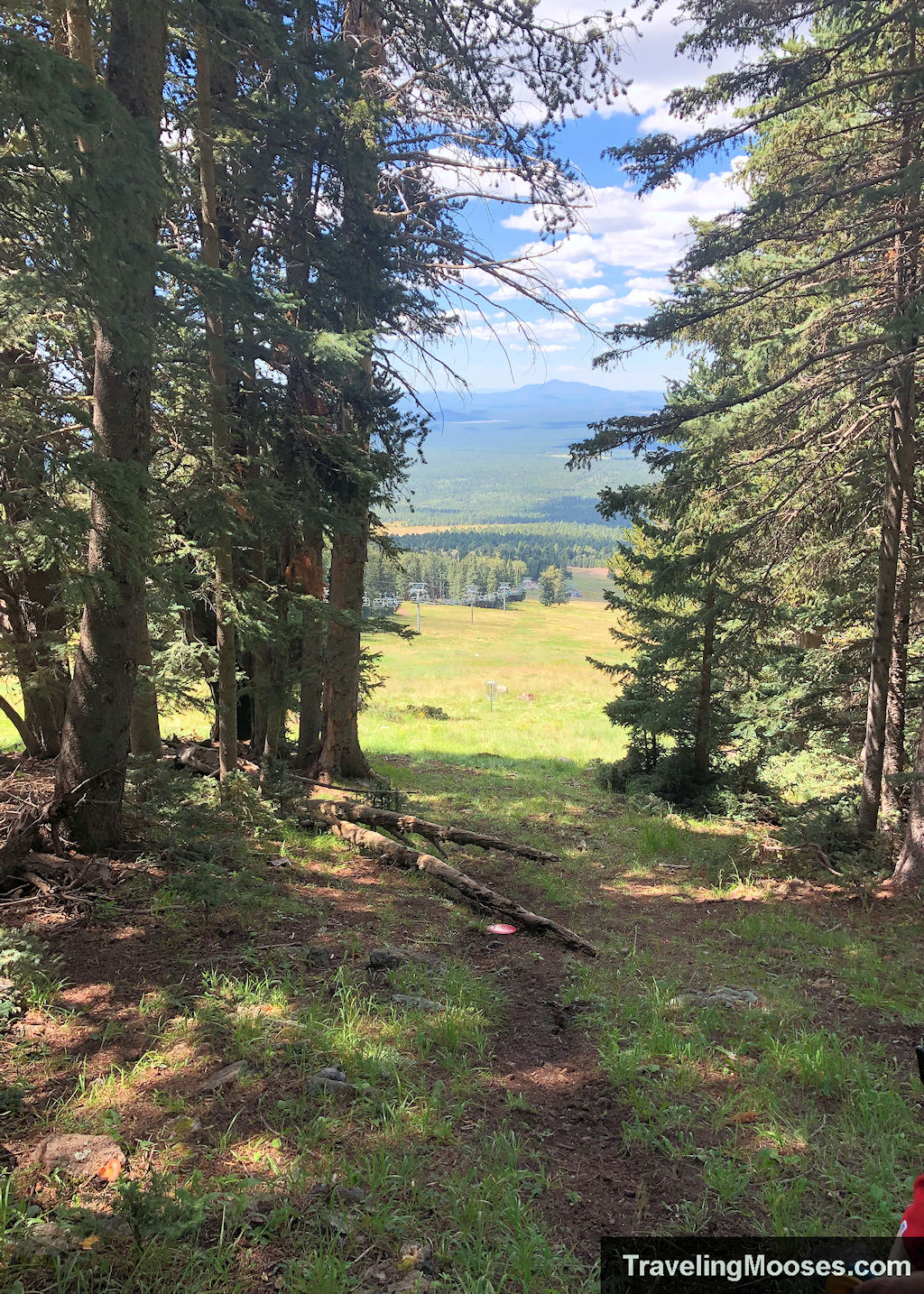 Hole # 13, Par 3, 255 feet
Hole # 13 helpful hint: Please do not intentionally throw disc into chair lift or climb tower.
After completing hole twelve you'll be marching back up hill. The thirteenth hole is a quick par three with a 255 foot distance.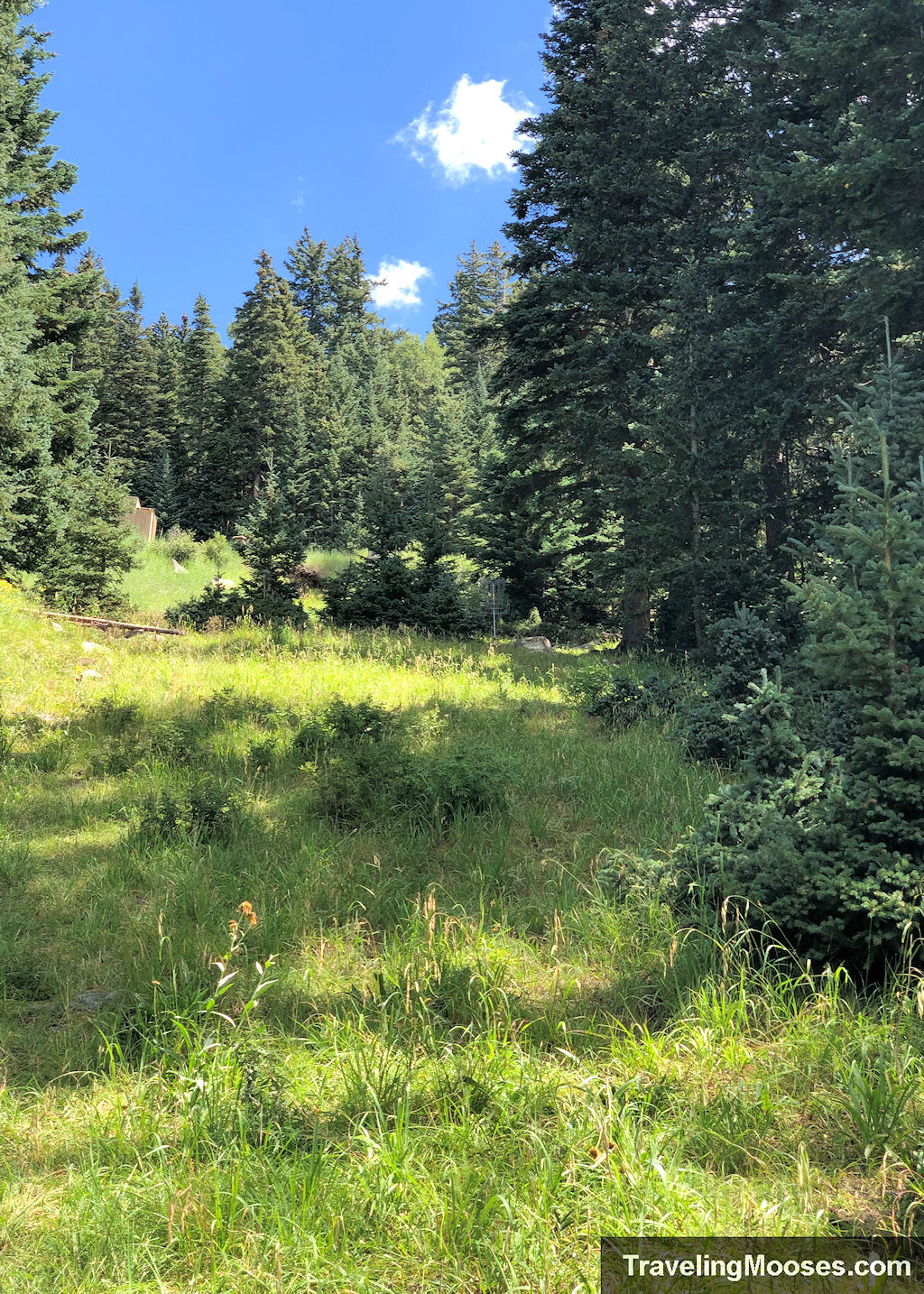 The challenge with this one is the tall grass. If you lose your disc, you'll have that plus the trees in the area. The holes for this area were also quite close, so keep an eye out for fellow players and errant disc throws.
At the top of this hole, we decided to take a quick water break and were rewarded with a beautiful black and white butterfly.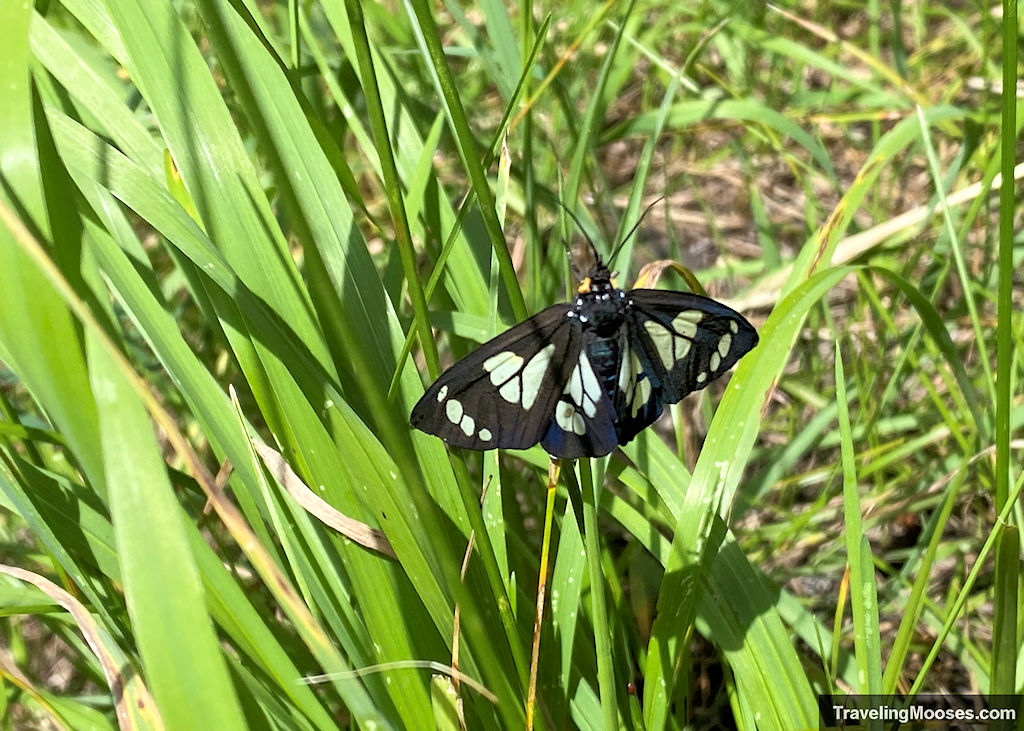 It was quite a marvel and while we're not sure what type of butterfly it was, we were able to snap a couple of pics.
Hole # 14, Par 3, 192 feet
Hole # 14 helpful hint: Watch for wayward discs from previous holes.
Moving on to hole fourteen, we were looking at another par three with about 192 feet to the basket. This was also a fairly straight shot but it did end in some trees and we were unable to see the basket until we got a little bit closer.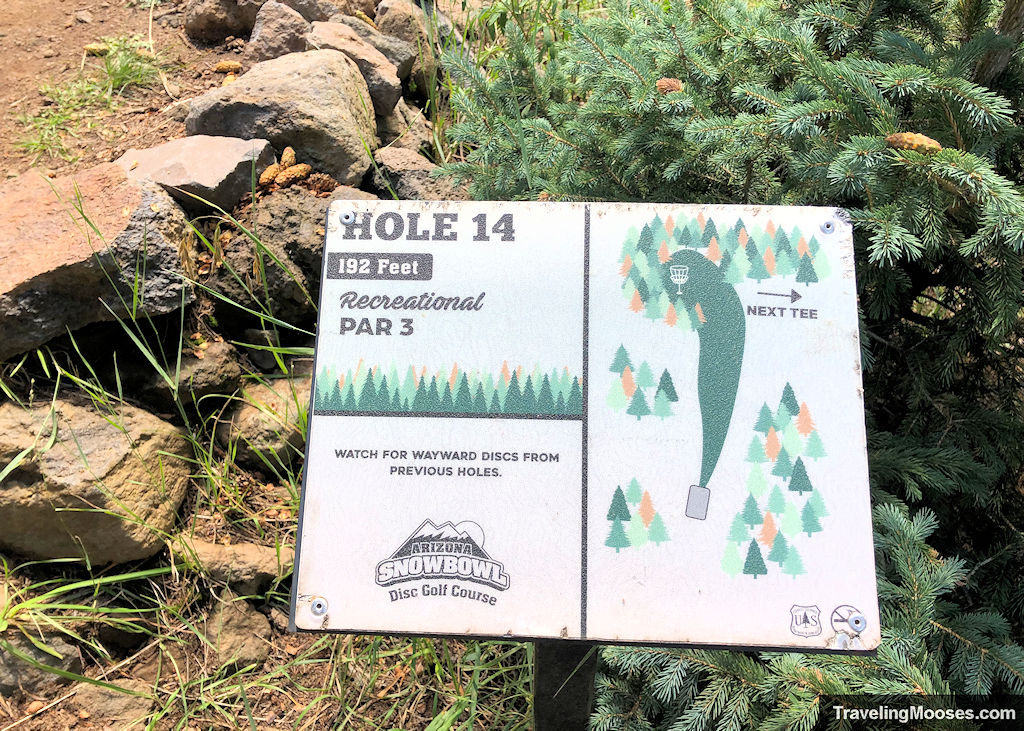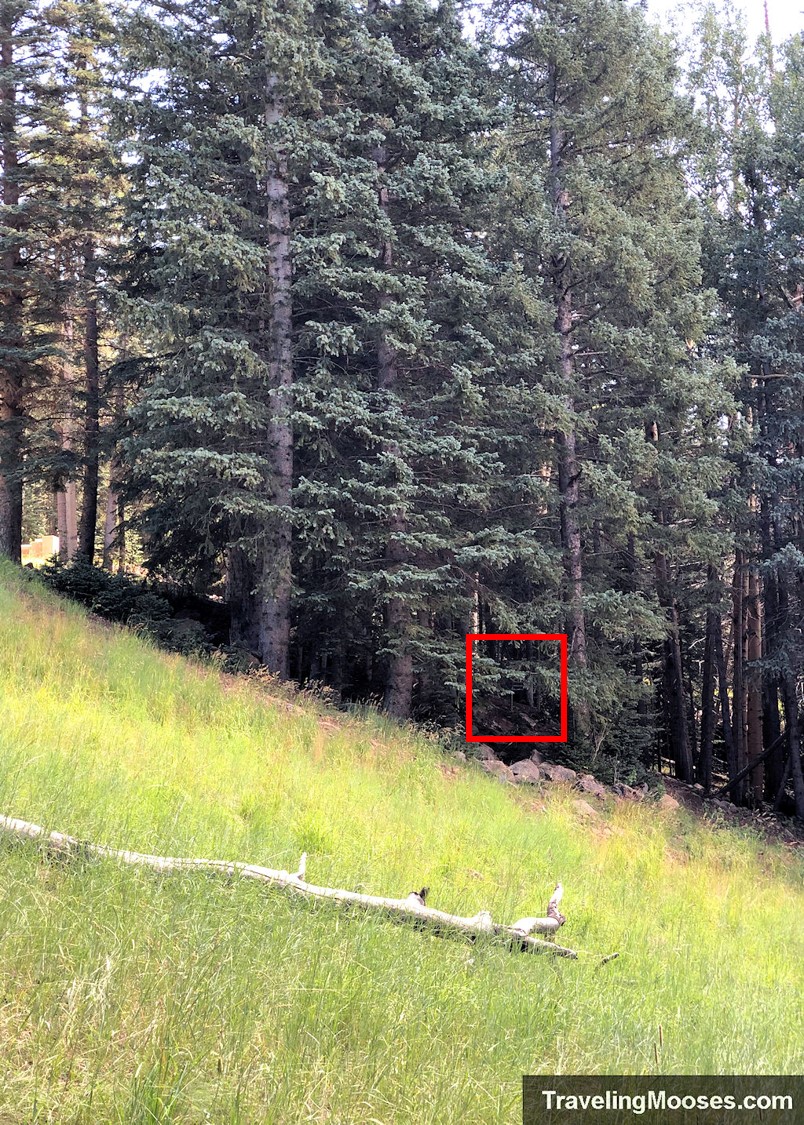 Hole # 15, Par 4, 190 or 362 feet
Hole # 15 helpful hint: Watch for vehicle traffic on service road. Yield to traffic.
After finishing the fourteenth hole you'll head slightly downhill to the start of fifteen.
Hole fifteen has two baskets, one on the right side of the fairway and one on the left.
This Is a fairly gentle downward-sloping hole that we really enjoyed.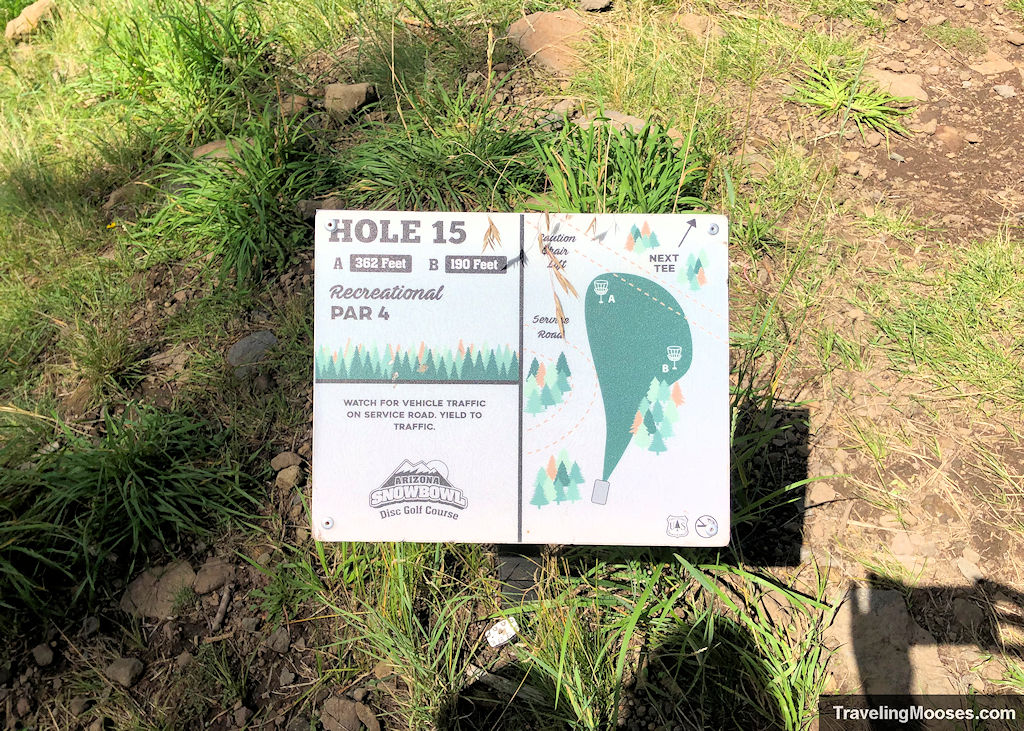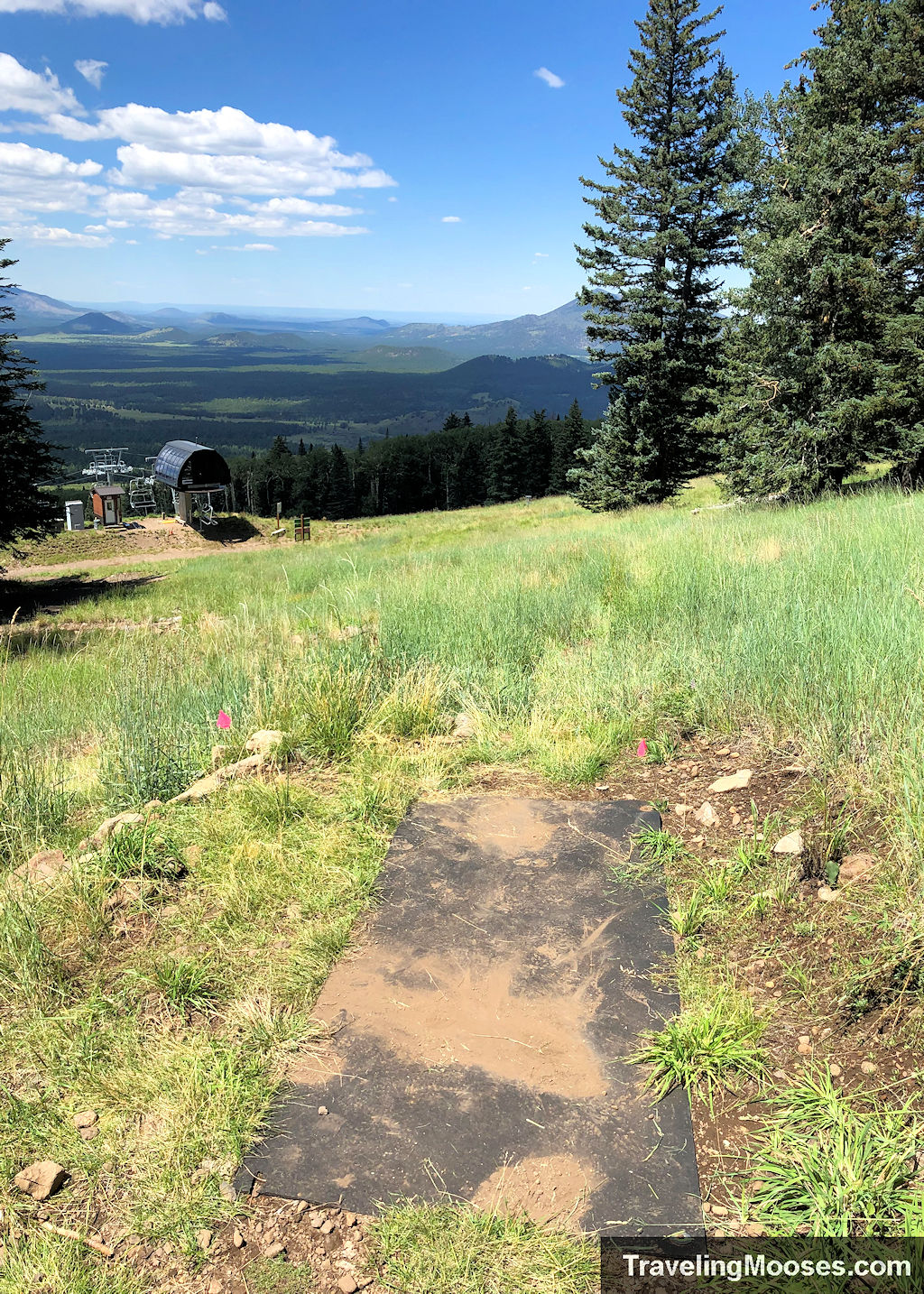 When you're done with fifteen, you will find a lovely bench that you can rest on and soak in the views of the valley.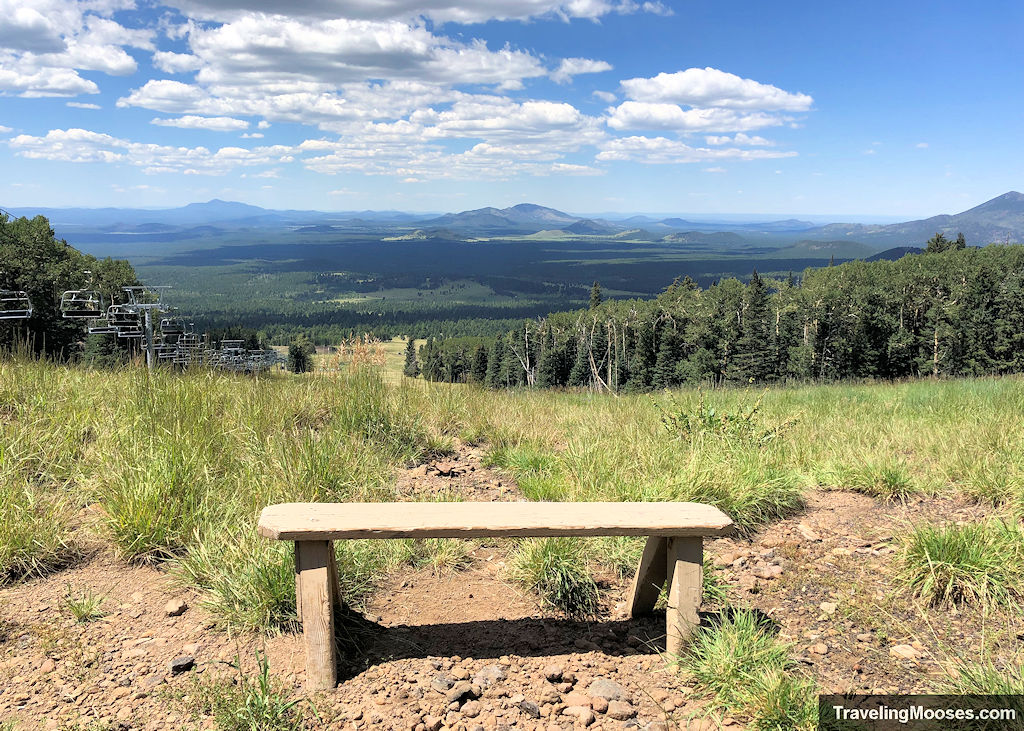 Hole # 16, Par 4, 230 or 360 feet
Hole # 16 helpful hint: Tall grass on course, watch your disc.
Hole sixteen leads you further downhill and slightly to the right. The basket was easy to find though it was located in the middle of thick grass.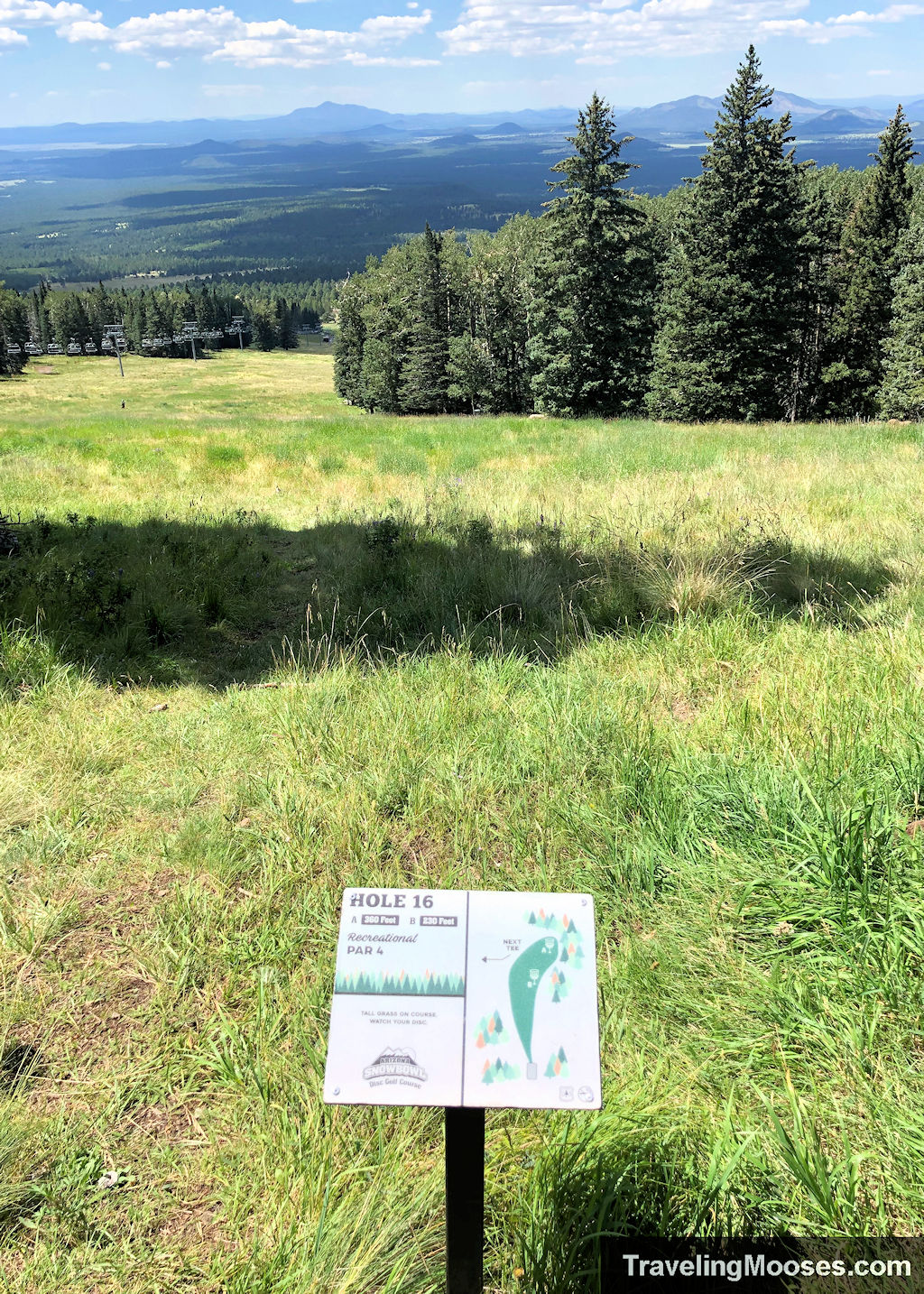 Hole # 17, Par 4, 237 or 437 feet
Hole # 17 helpful hint: Caution: yield to traffic on service road and avoid chairlift.
Hole seventeen was one of our favorites. It's a super long and wide-open downhill shot. It's fun to wind up your shot and not worry about it getting lost in the trees.
One word of caution, however, the grass is very tall and its easy to lose your disc. Be sure have someone keep an eye out where it lands.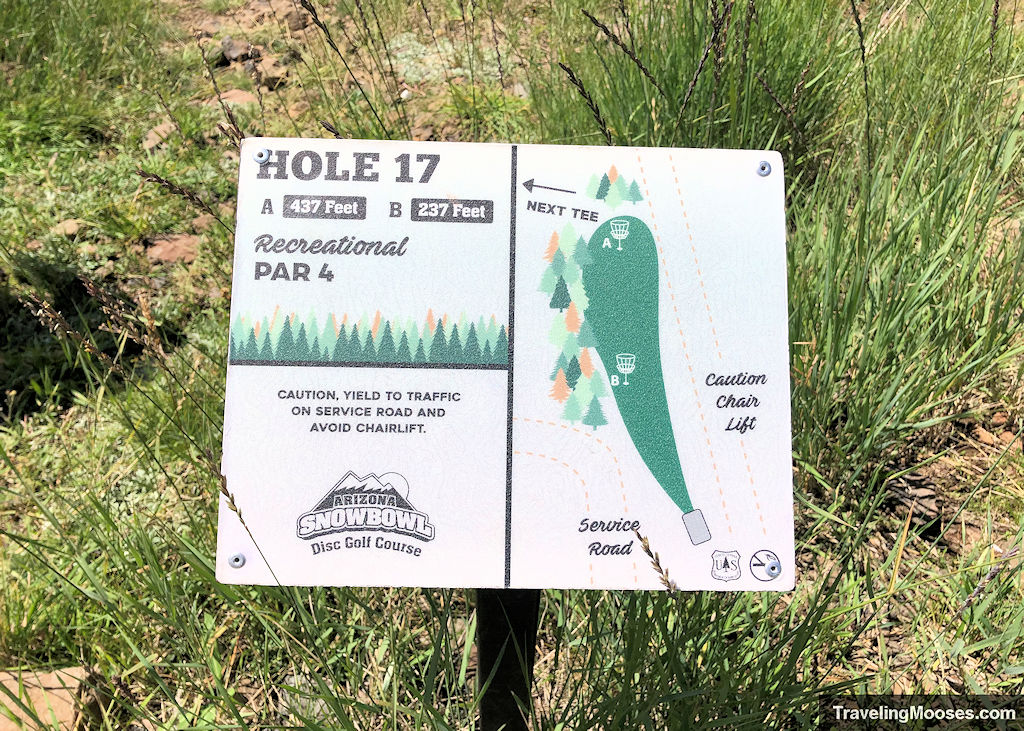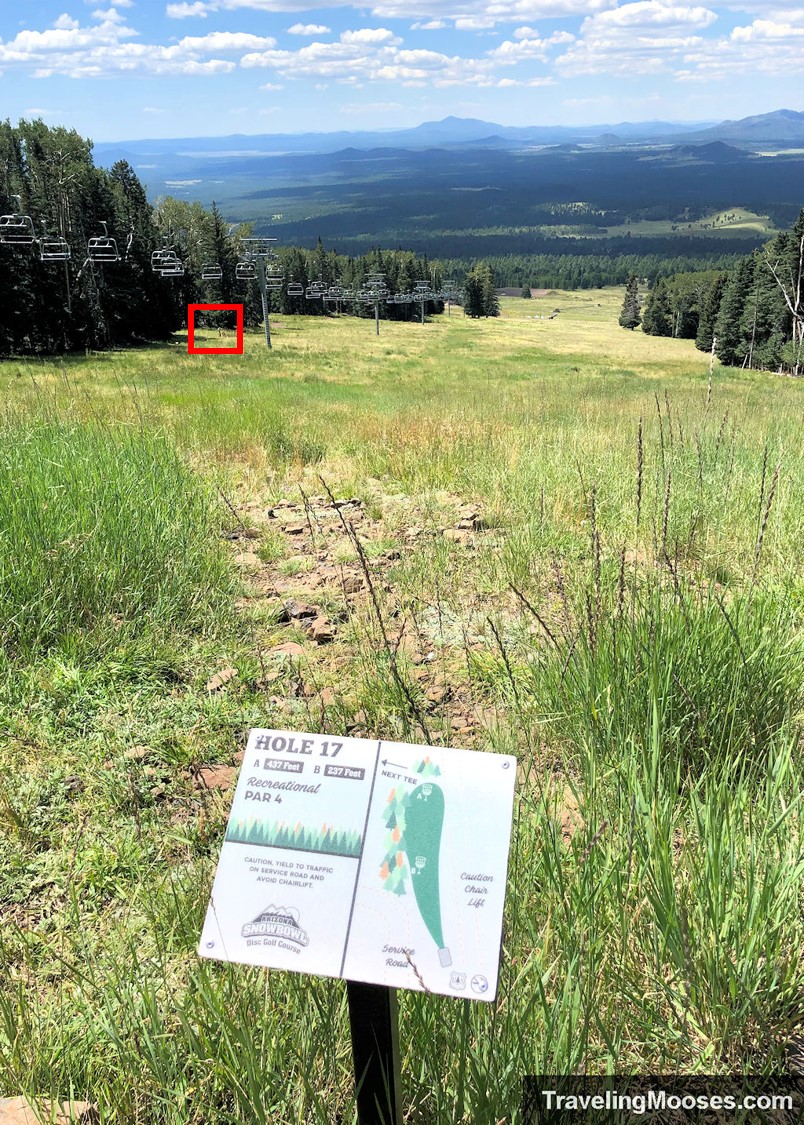 Hole # 18, Par 5, 205 or 520 feet
We made it the final hole of the day. Another long shot to the final basket.
Hole # 18 helpful hint: Please do not intentionally throw disc into lift or climb towers.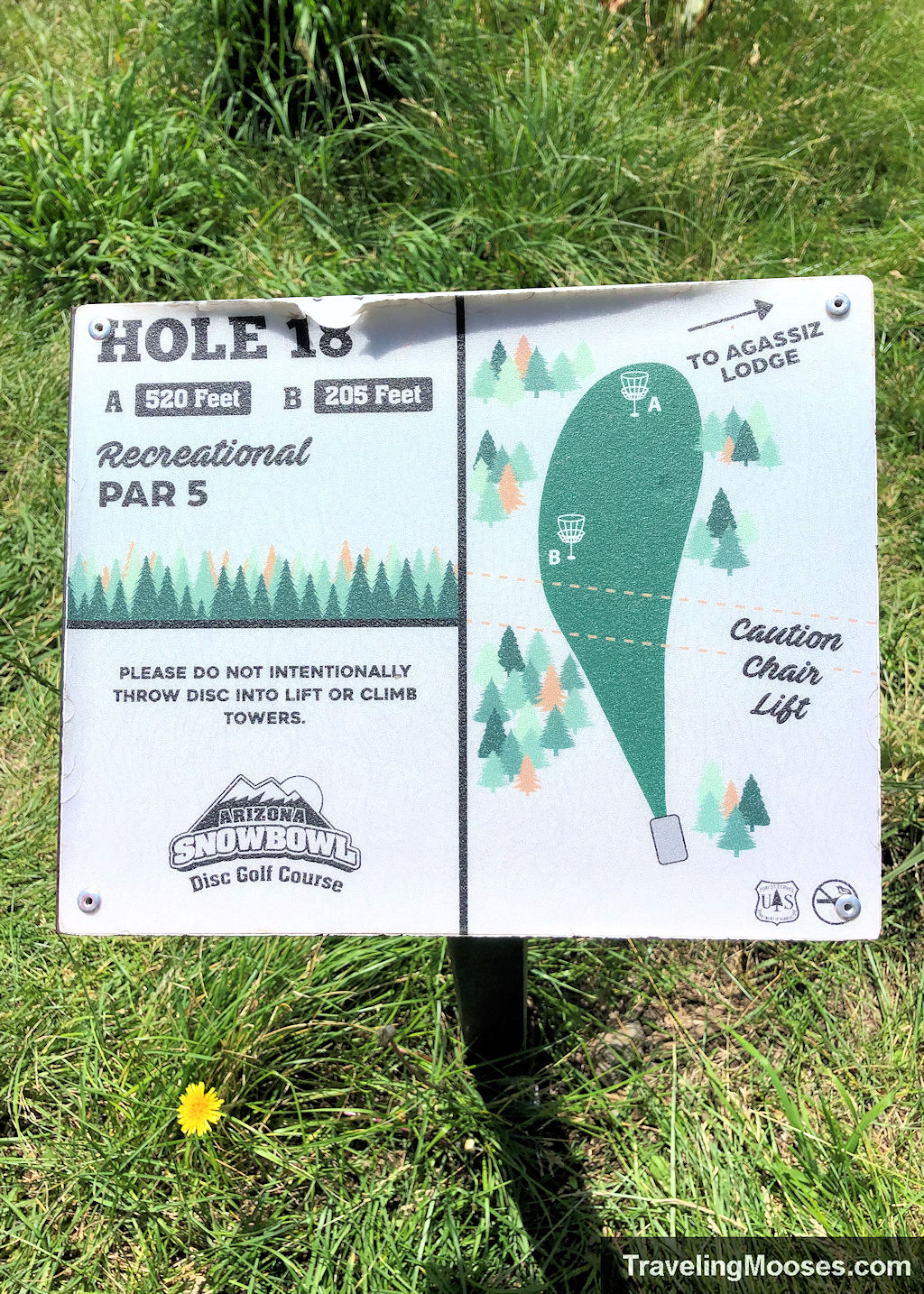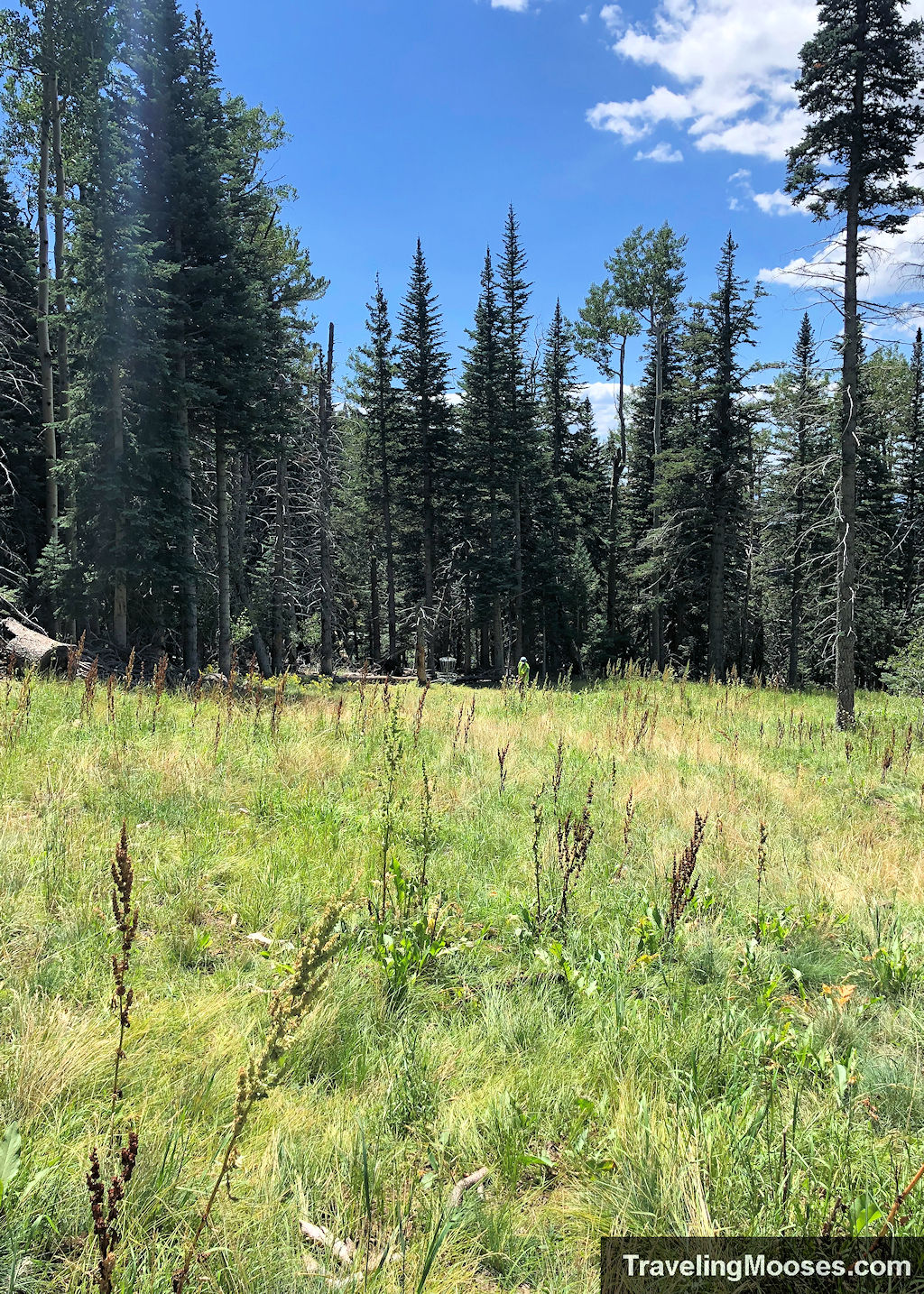 After you finish up hole eighteen, you won't be far from the Agassiz Lodge and the Arizona Gondola base. Enjoy a much-deserved snack or check out the scenic gondola ride if you're feeling up to it!
Is playing the Snowbowl disc golf course worth it?
Rating: 4.0 Mooses


What we liked:
There was almost no one on the course when we played. Granted it was a weekday, but it was a perfect sunny day after a long monsoon season.
We enjoyed the expansive views along the course.
A variety of short and long holes through trees and sloping meadows kept things interesting.
It's a great workout starting at 9,200 feet in elevation and trapsing up the mountain to find the tees.
What we didn't like:
It was difficult finding the first tee box and many people give up looking for it.
The ground is uneven and some of the tees are challenging to find.
It's easy to lose your disc in the tall grass or wooded areas on the course.
Verdict: We enjoyed the course and would play again if we find ourselves back in the area.
Practical Information for your trip to Snowbowl
Score Card
Hole
Par
Distance
1
3
242 feet
2
2
189 feet
3
3
237 feet
4
4
162 feet
5
3
A, 364 feet
B, 184 feet
6
3
230 feet
7
4
A, 318 feet
B, 189 feet
8
4
A, 341 feet
B, 276 feet
9
3
243 feet
10
4
A, 445 feet
B, 282 feet
11
3
190 feet
12
3
226 feet
13
3
255 feet
14
3
192 feet
15
4
A, 362 feet
B, 190 feet
16
4
A, 360 feet
B, 230 feet
17
4
A, 437 feet
B, 237 feet
18
5
A, 520 feet
B, 205 feet
Parking at the Snowbowl Ski Resort in the summer
In the summer months, parking is abundant and free at the Snowbowl Ski Resort.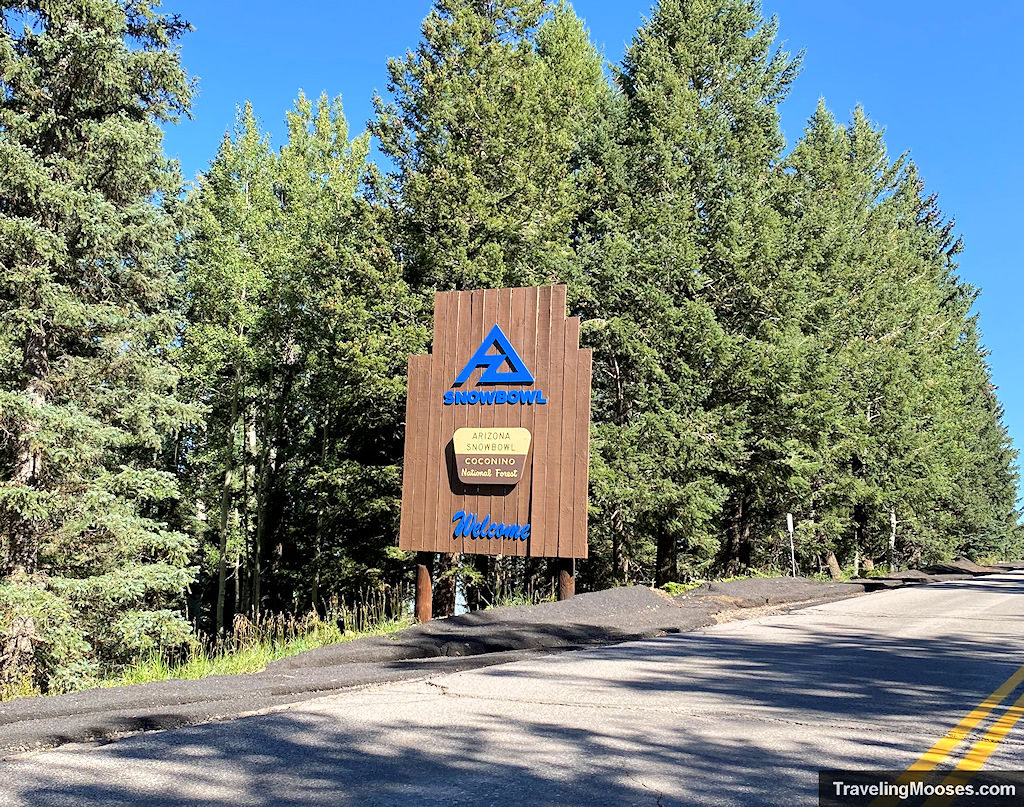 You'll want to drive to the end of the road as far as possible and park in one of the two closest lots to the ski lodge area.
Here's a parking map on their website.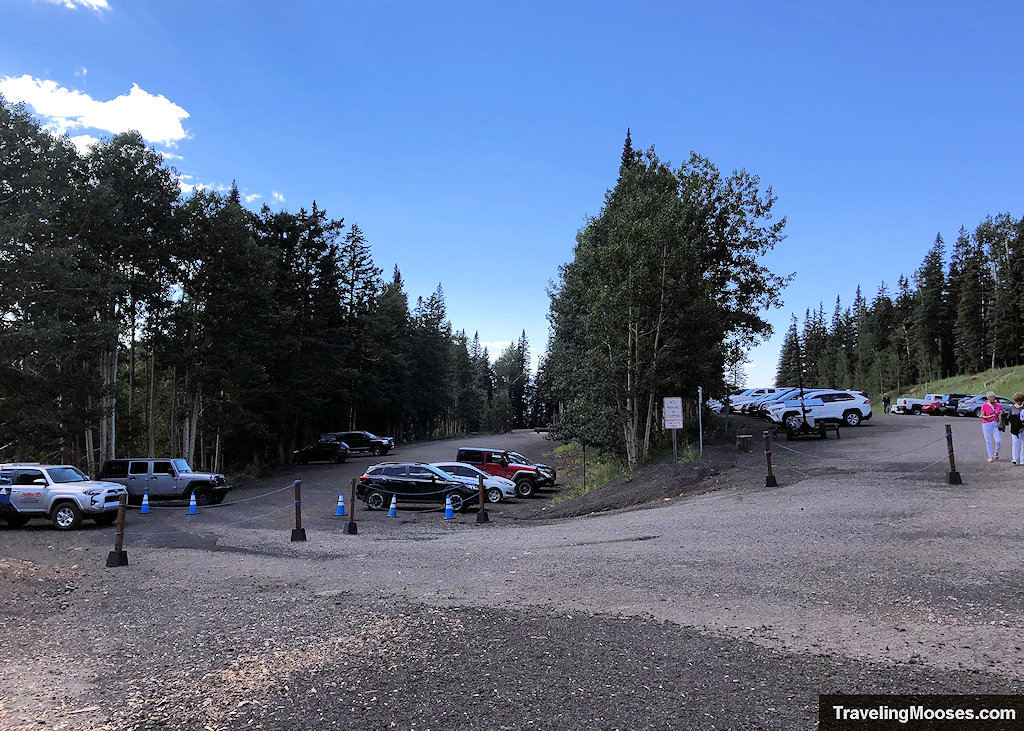 When we visited, monsoon season had just passed and the road was a little torn up but passable. We were in a sedan and didn't have any issues, but keep in mind the parking area was dirt/gravel.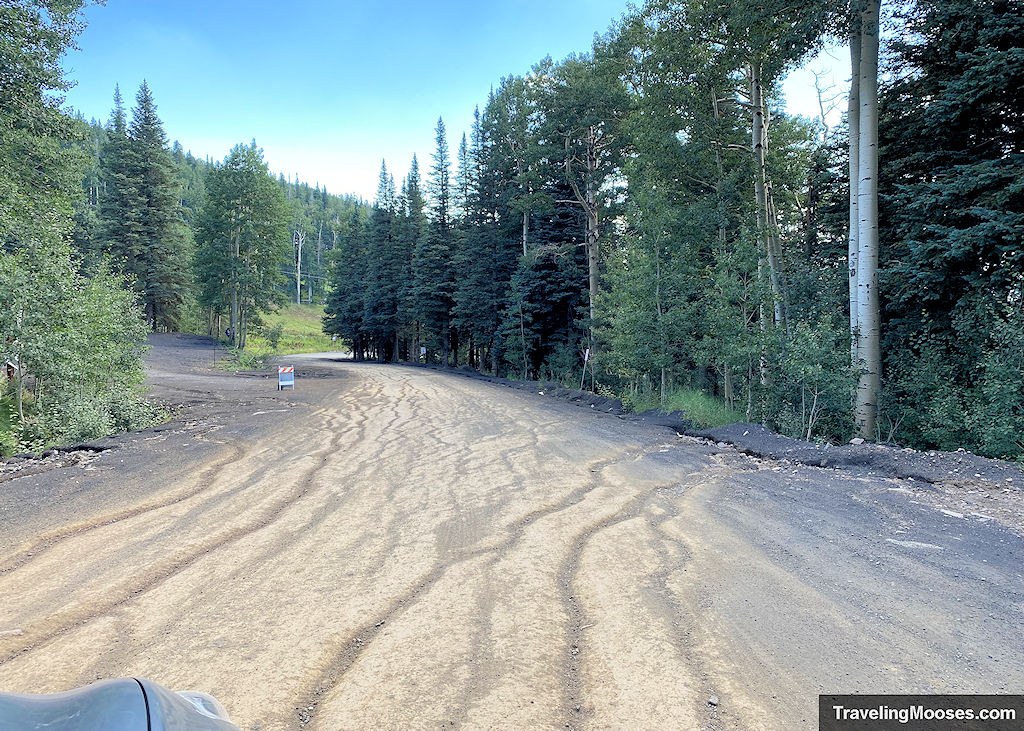 Other things to do at Snowbowl
In the summer, there are several other activities you may want to consider on your trip.
Enjoy the Agassiz Restaurant and bar at the base
Take a ride up the gondola
Relax around the fire pit
Play different games including connect four, corn hole or checkers
Hike several different trails in the area including Aspen Loop trail or Humphreys Peak
Other activities for kids include the bungee trampoline, summer tubing, rock wall, treasure panning, or barrel rolling.
More Information for your trip to Flagstaff