We spent 3-days in Lake Havasu, Arizona. Here is everything we did and the things we wish we had time for.
In this guide (jump to section):
Lake Havasu Quick Stats
| | |
| --- | --- |
| Location | Lake Havasu City, Arizona |
| Population | ~58,284 |
| Popular Things to Do | See the London Bridge, rent a boat, visit Sara Park, explore the lighthouses at Rotary Park, visit the Bill Williams National Wildlife Refuge, visit the museum of history, hike the Sara Crack Mountain trail and more. |
| Official Website | Lake Havasu City |
| Popular Day Trips | Mojave National Preserve (~1 hour 15 minutes), Hualapai Mountain Park (~1 hour 20 minutes), Laughlin (~1 hour 20 minutes), Oatman (~1 hour 10 minutes), Joshua Tree National Park (~3 hours), Valley of Fire (~3 hours). |
| Rating | 3.5 Mooses |
3-Day Itinerary for Lake Havasu, AZ
Day 1: Arrival, dinner and exploring the Lake Havasu City Bridgewater Channel
1. Photo op at the London Bridge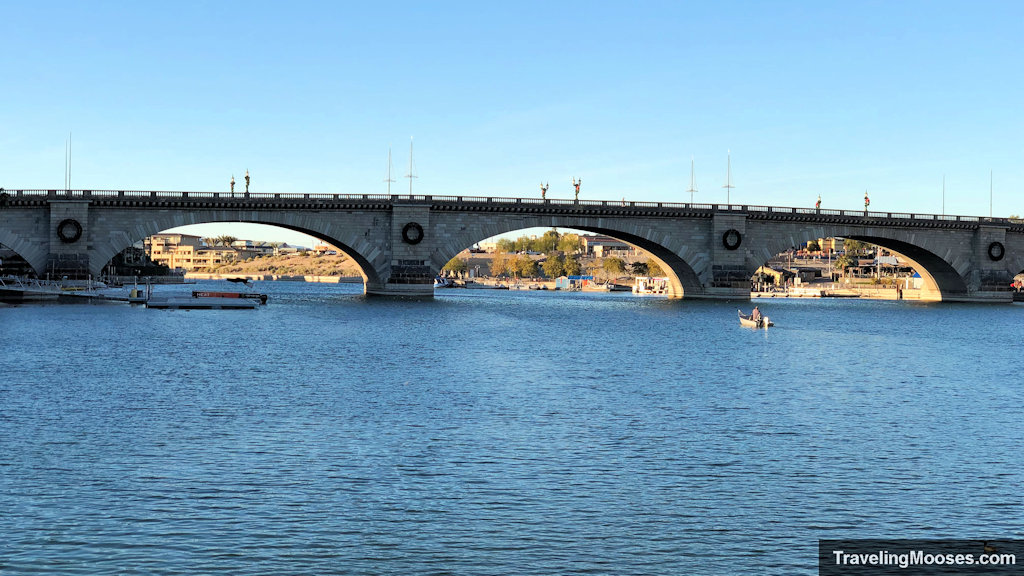 Built in the 1830s, the London Bridge originally spanned the River Thames in England. Robert P. McCulloch, purchased the bridge and had it shipped in pieces to Lake Havasu, Arizona. Yes, the actual London Bridge is now in Arizona. It was completed in 1971. You can learn more about its history here.
Cost: Free
Average Time: <30 minutes
Highlights: The bridge is accessible to both pedestrians and vehicles. It has been featured on the TV show Ghost Adventures, referenced in the song London Homesick Blues (25 seconds in) and featured in the movie Bridge Across Time.
2. Exploring the Shoreline Trail and Bridgewater Channel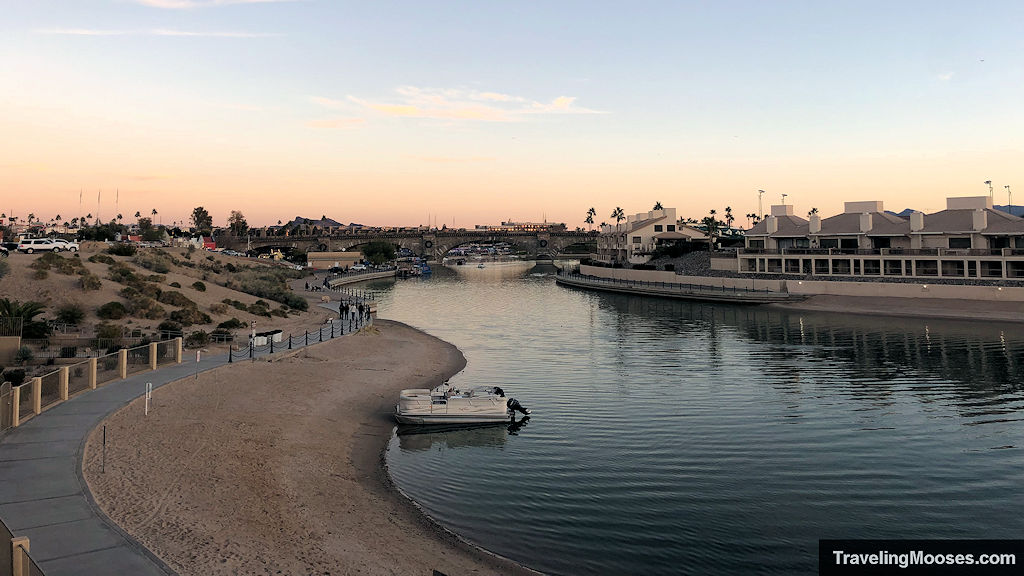 The Shoreline Trail, built in 1991, provides a walkway through the Bridgewater Channel and into Rotary Park. It's an easy access point to local hotels, a swimming beach, boat tours, restaurants, and people watching.
Cost: Free
Average Time: 1 – 2 hours
Highlights: Wide walking path, shops, restaurants, seasonal decorations, famous red telephone booth, historic statutes and more. Parking is limited nearby.
3. Dinner at the Javelina Cantina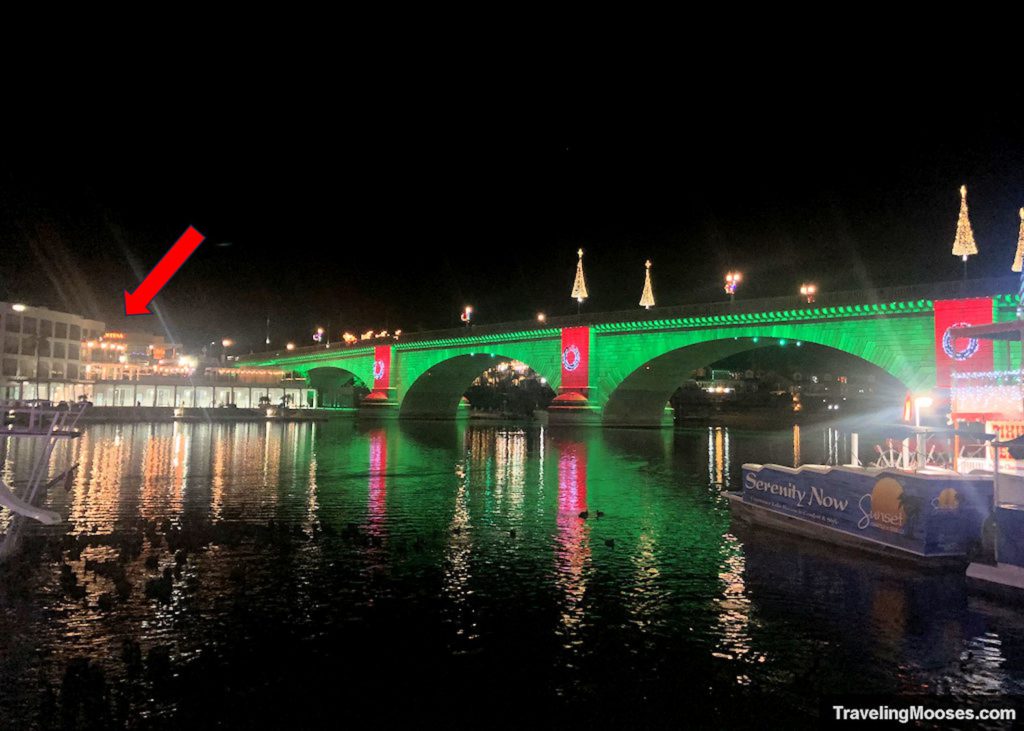 Dinner at the Javelina Cantina – 1420 McCulloch Blvd N, Lake Havasu City, AZ
Cuisine: Authentic Sonoran style Mexican food
Official Website: Javelina Cantina
Cost: $-$$
Our thoughts: Conveniently located near the London Bridge, the cantina boasts a wide variety of dishes and scenic views on their outdoor patio. We enjoyed the generous portions, fresh salsas and crunchy chips. I especially liked their crunchy tacos. We'll absolutely be back on our next trip to the Havasu area.
*Note, we were so excited to eat I forgot to take a photo. Here's a picture of the outside from a distance. ¯\_(ツ)_/¯
Day 2: Disc Golf, Rotary Park and more exploration of the waterfront
1. Playing a round at the Sara Park Disc Golf Course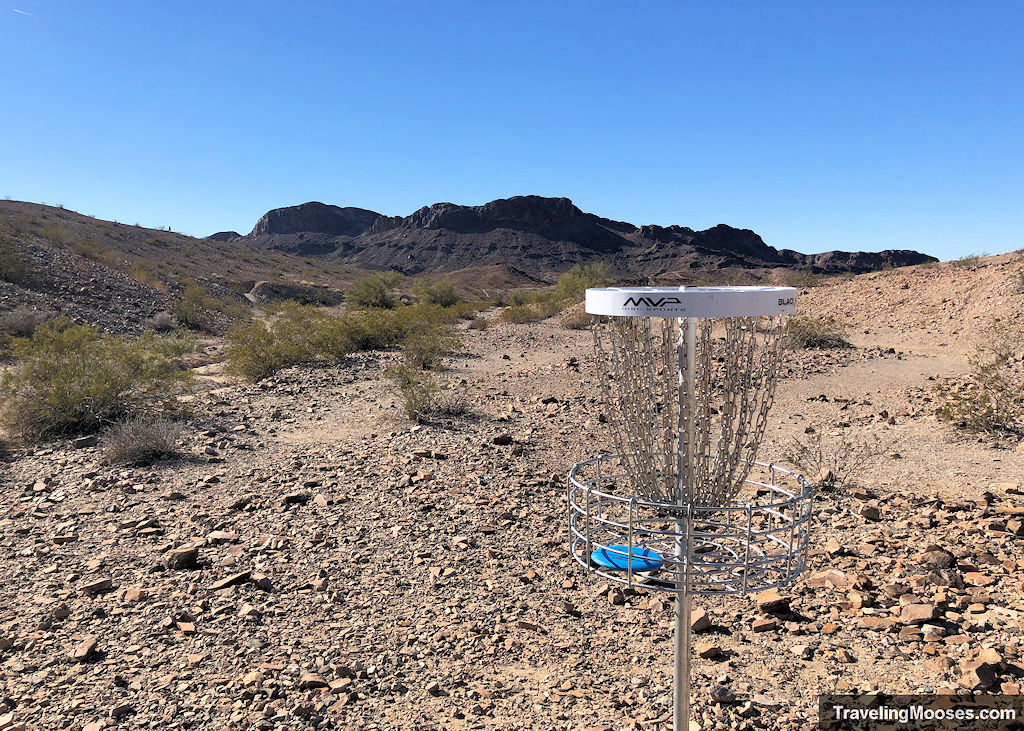 An 18-hole disc course golf located in Sara Park. This well-designed course features color coded baskets, well-made tee boxes and fun rock formations along the way.
Cost: Free (discs not provided)
Average Time: 1 -2 hours
Course Type: Permanent – open year round
Learn more about our experience at the Sara Park disc golf course.
2. Rotary Park and searching for light houses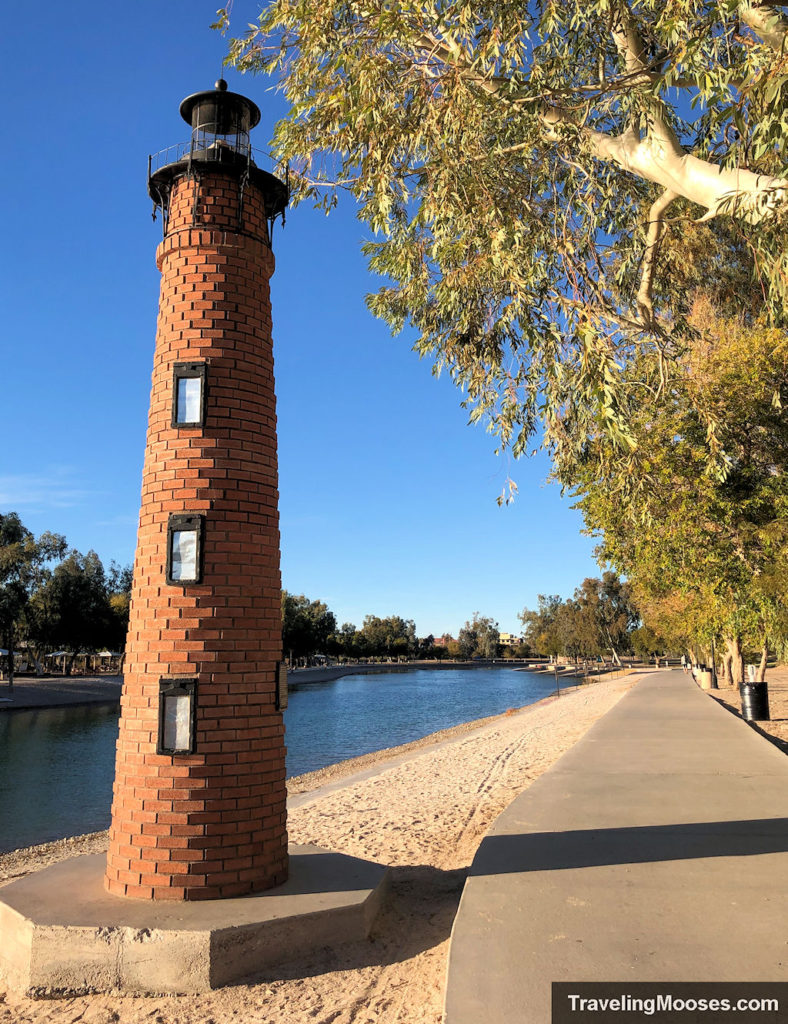 Rotary Park is easily accessible from the waterfront area of Lake Havasu City and features 40 acres of beach and park access. The park features 28 scaled-down lighthouse replicas. They mimic famous lighthouses featured across the U.S.
Location: 1400 Smoketree Ave, Lake Havasu City, AZ 86403
Official website: Rotary Community Park
Cost: Free
Average Time: 1 -2 Hours
Highlights: Scenic views, walking path, picnic area, playgrounds, lake access, swimming area, ball field, skate park, and more.
3. More fun on the waterfront!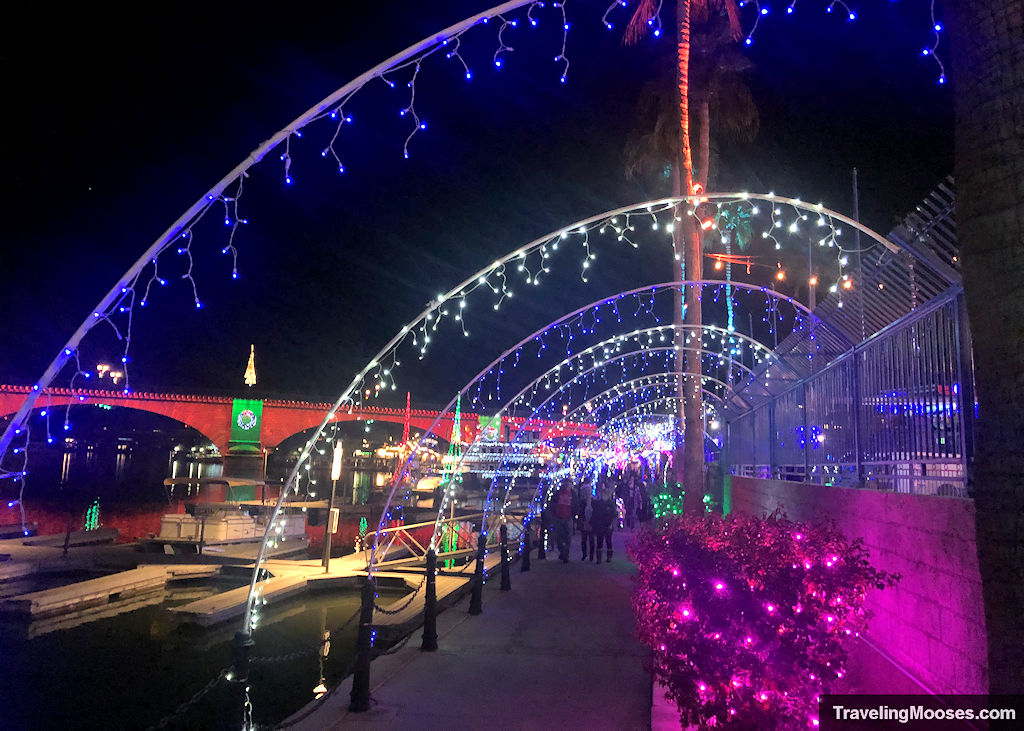 We spent a lot of time walking around on the waterfront and enjoying the local shops and restaurants. There are also historic signs and plenty of people watching.
If you visit during the holidays, they put up lights and decorations throughout the area. They even had a Santa taking photos when we visited.
Day 3: Kayaking Topock Gorge
1. A 14-mile paddle down Topock Gorge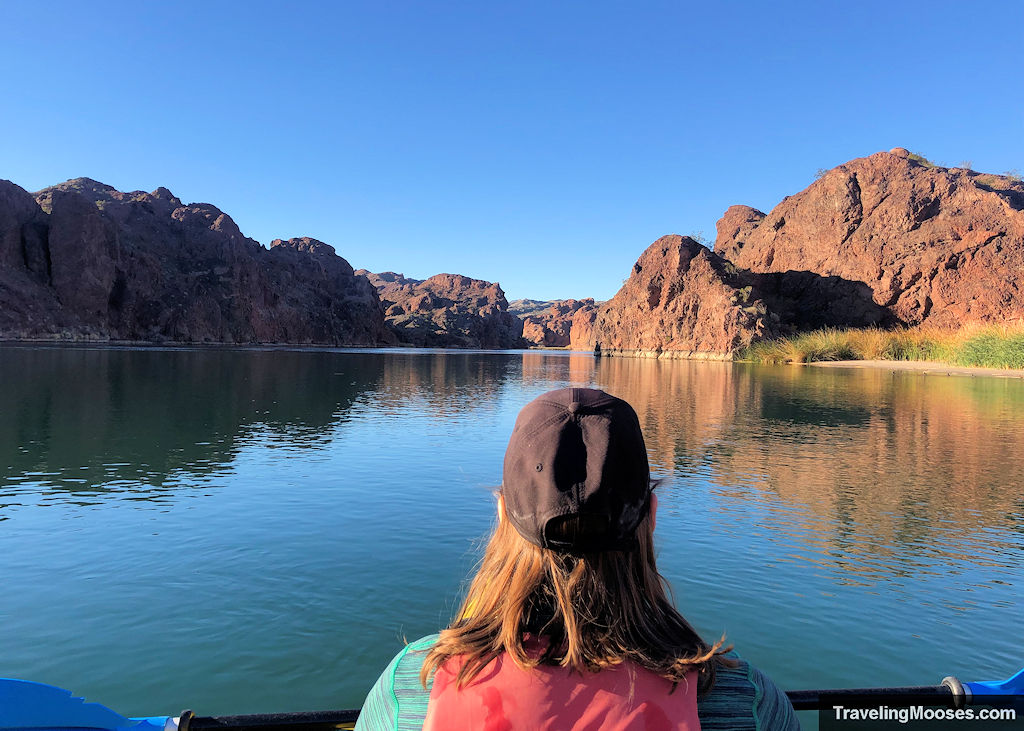 Take a trip down the Colorado through the famous Topock Gorge. This 14-mile paddle starts at the Topock 66 Marina and ends at Castle Rock Bay. We enjoyed the smooth waters of the Colorado on an unforgettable journey through largely untouched wilderness.
Cost: $$-$$$ (We paid $67 per person for our tour).
Average Time: 5 – 7 Hours
Learn more about our experience kayaking Topock Gorge.
2. It was Christmas, so we enjoyed another stroll on the waterfront and a quiet dinner in our rental.
Is visiting Lake Havasu worth it?
Rating: 3.5 Mooses


What we liked:
We were happy with our accommodations, especially with the close proximity to the waterfront.
The lake was beautiful. We hope it remains for many years!
The trip down Topock Gorge was magical. We got lucky with crowds (they were non-existent) and it's a trip we highly recommend.
What we didn't like:
We picked a rather unfortunate time to visit (over Christmas) and many things were closed.
Parking is tough around the waterfront area. We were lucky that we could walk from our Airbnb, or it would have been quite annoying looking for parking everywhere.
There weren't as many things to do in the area as we would have expected. To be fair, this area attracts mostly spring break / summer tourists looking for water recreation.
We weren't there during the hot summer months, but if the party scene isn't your thing, you may want to steer clear. Here's a good video on YouTube that illustrates the environment.
Verdict: We'll be back to Havasu one day to check out the things we didn't have time for. We'll pass on the area in the busy summer months as it's not for us.
Things we wish we had time for
Boat Tour on Lake Havasu. In full disclosure, we did have time for this trip. I made the mistake of "wanting flexibility" on our trip and failed to book soon enough. It, of course, sold out. Then they closed for Christmas and we lost our chance completely. It was quite frustrating to see them drive by our unit on the day we were supposed to go. Sorry, Mr. Moose, totally my fault. Don't make my mistake, book early if you want to go.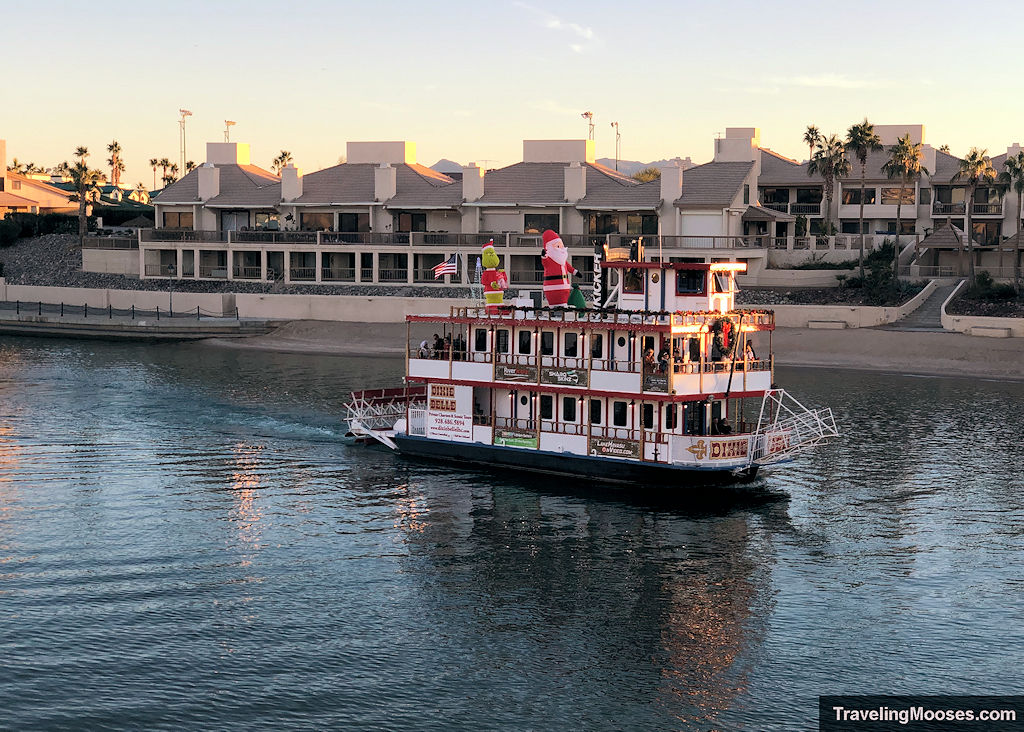 Disc golf – There are two courses in Lake Havasu. Sara Park, which we did check out and Grand Island. Grand Island is only 9 holes, so we opted for Sara Park.
Hikes – We ended up not having any time for a hike, but we picked out several that looked interesting. Sara Crack Trail (3.4 miles), Lizard Peak (2.1 miles), Arch Rock / Watershed Loop (4.4 miles), and Pilot Rock Trail (6.7 miles).
Off road / ATV tour. We've done a few ATV tours over the years and always keep our eyes out for more opportunities. There is a local company that will take you on a desert ride during the cooler months (Late October thru March). We didn't have time to check them out, but they do have a 4-star rating on google.
Practical Information for your trip
Where to stay in Lake Havasu?
There are a fair number of condos and hotels in the area. During the busy season, it can be difficult and expensive to find availability near the channel.
Since it was the off season, we stayed at the Kings View Condos right on the water. If you're interested in staying there, you can look for a listing on Airbnb or VRBO.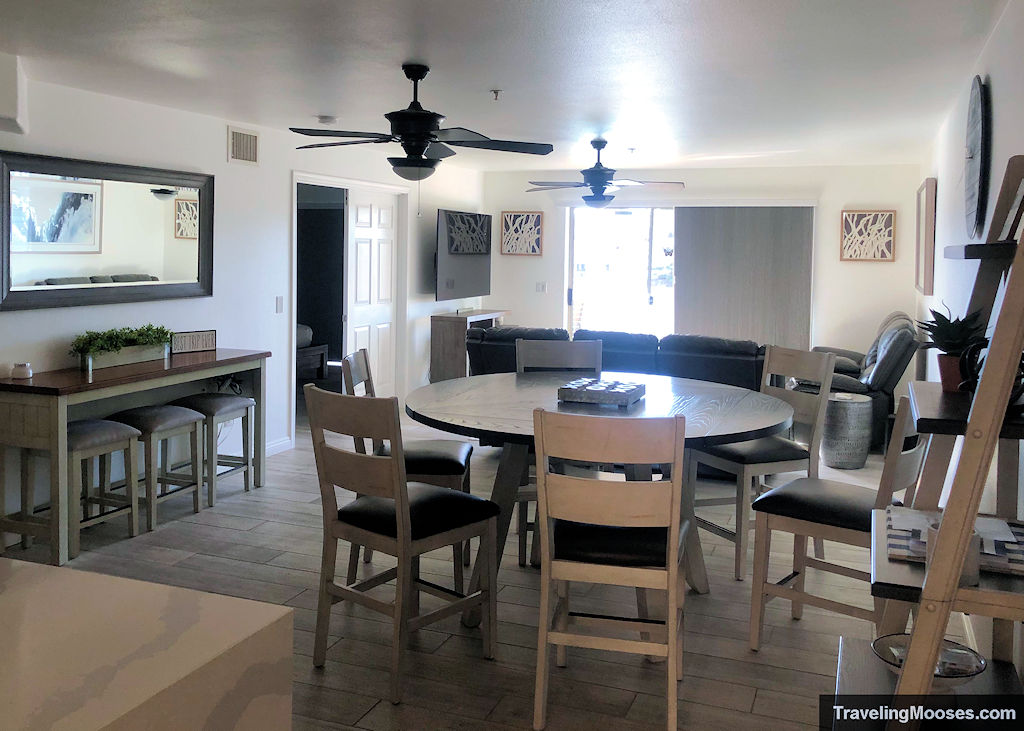 We enjoyed our stay. It was in walking distance of the main waterfront area and included a secure access parking lot. The unit also had a nice water view.
The only downside we experienced was the boat traffic in the channel. This can get noisy and would be especially loud in high season.
More information for your trip to Lake Havasu