The Mandalay Bay Aquarium features more than 2,000 species of aquatic life, including 15 different types of sharks, exotic fish, giant sea turtles, piranha, a Komodo dragon, jelly fish and more.
We were excited to visit another aquarium after we had an amazing time at the Georgia Aquarium in Atlanta and the Monterey Bay Aquarium in California, but we also heard mixed reviews about this one.
Ultimately, we had to find out for ourselves if the Shark Reef Aquarium at Mandalay Bay was worth it.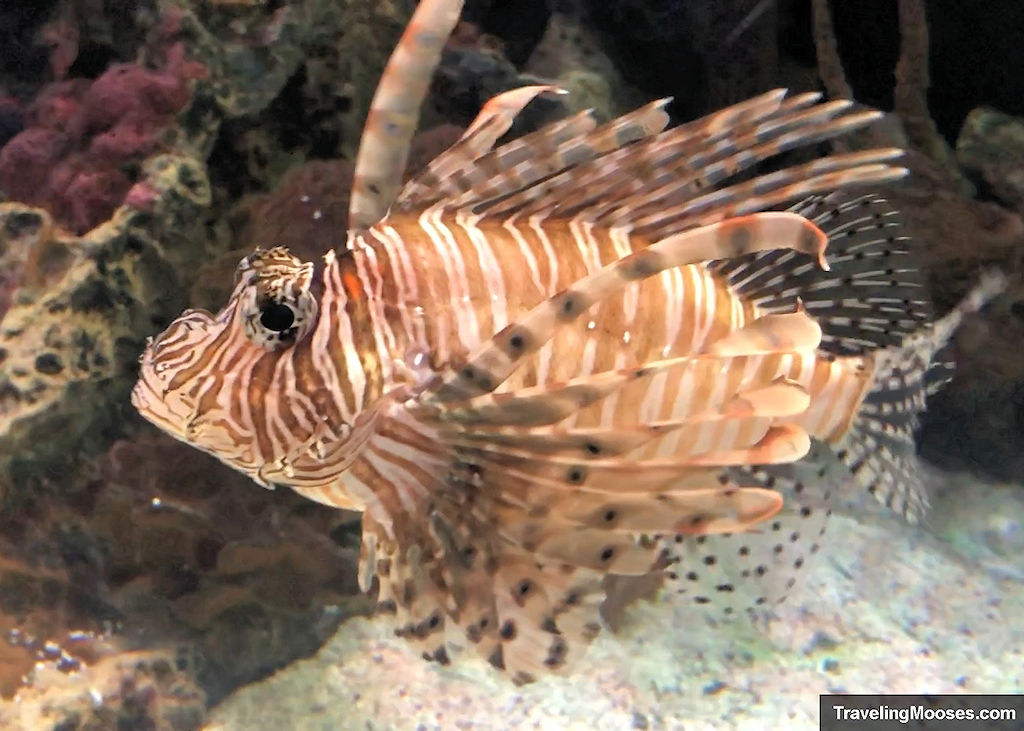 Mandalay Bay Shark Reef Aquarium
Hours of Operation
Daily: 10:00 a.m. to 8:00 p.m.
Last admission at 7:00 p.m.
Address
3950 S Las Vegas Blvd, Las Vegas, NV 89119
Admission
Starting at $29.00 (pricing subject to change)
Add-ons
Stingray, Shark, or Sea Turtle Feed
Parking
Visitor parking: 1st hour free, $15 between 1 and 4 hours, $18 for 4 to 24 hours. (Pricing subject to change). Details here.
*Note: Nevada residents can receive 3 hours of free parking with NV driver license.
Average Visit Time
1 Hour
Website & Ticket Purchase
Mandalay Bay Shark Reef Aquarium
Discounts
$3.00 off for NV locals.
Timed entry tickets are cheaper than "anytime" tickets.
Rating
3.5 Mooses
Note: We are not affiliated with Mandalay Bay or the Shark Reef Aquarium and we purchased our own tickets for admittance. Our thoughts and opinions are our own.
Video of our experience
If you can't see the video, click here to watch on YouTube.
What to expect at the Shark Reef Aquarium
We visited the Shark Reef Aquarium on a weekday in the early afternoon. Because we're Las Vegas locals (and we get a discount), we didn't buy our tickets until we arrived.
Tip for Nevada Local's: Buy your tickets at the box office for a discounted ticket price. You can't purchase online to receive the local's discount. Each person in your party will need to show their I.D.
I'm lamenting that I didn't take a photo of the ticket area. It was packed. When we arrived, the next timed entry was already sold out, and we had to wait an hour before we could enter.
The Undersea Explorer VR Theater is normally included in the price of the admission, however when we visited, tickets were sold out. We did get a slightly cheaper price without the VR experience.
Tip: You can skip the Undersea Explorer VR Experience for a less expensive ticket price if you're not interested or it's sold out.
If you're not a local, we highly recommend pre-purchasing a timed entry ticket online. This way you don't miss valuable vacation time, and it's slightly cheaper for a timed entry than an "anytime" ticket.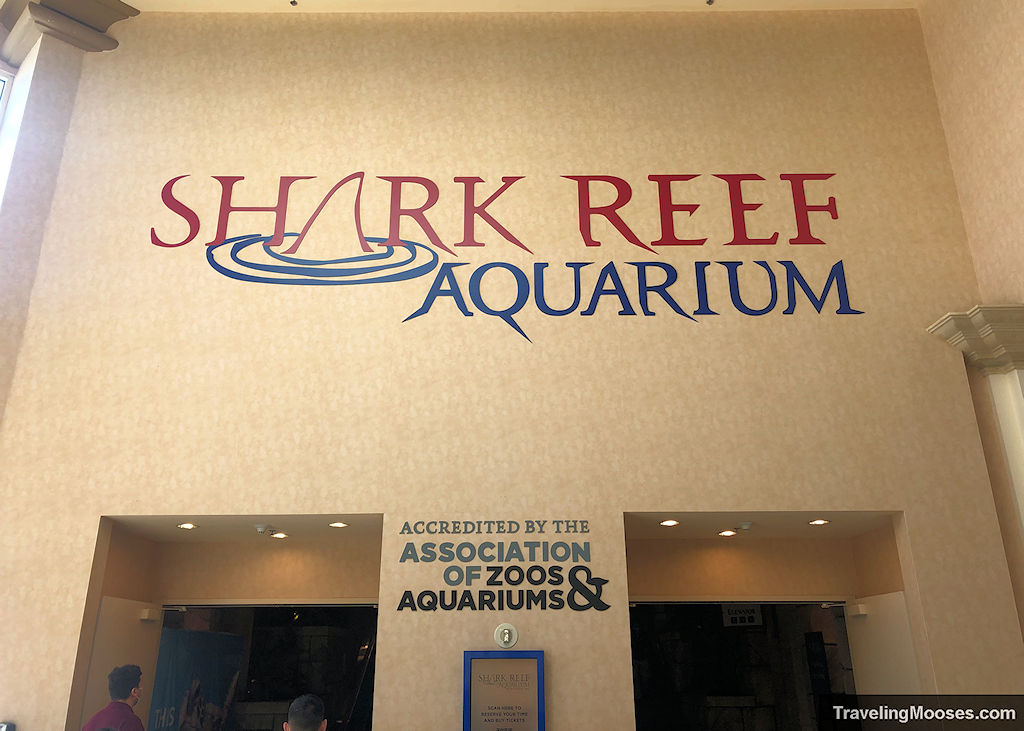 After you enter the shark reef, you'll be met with an escalator and jungle themed decor.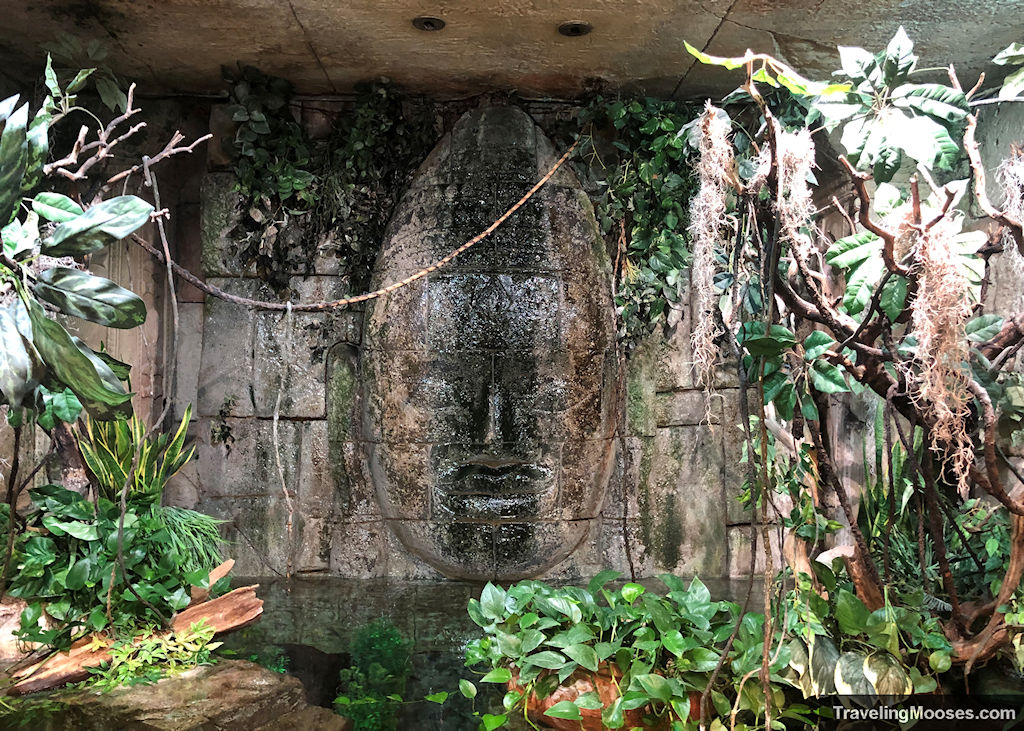 The aquarium itself is quite humid and muggy. This will likely be a shock after walking around in the cold casino area (they like to crank up the AC).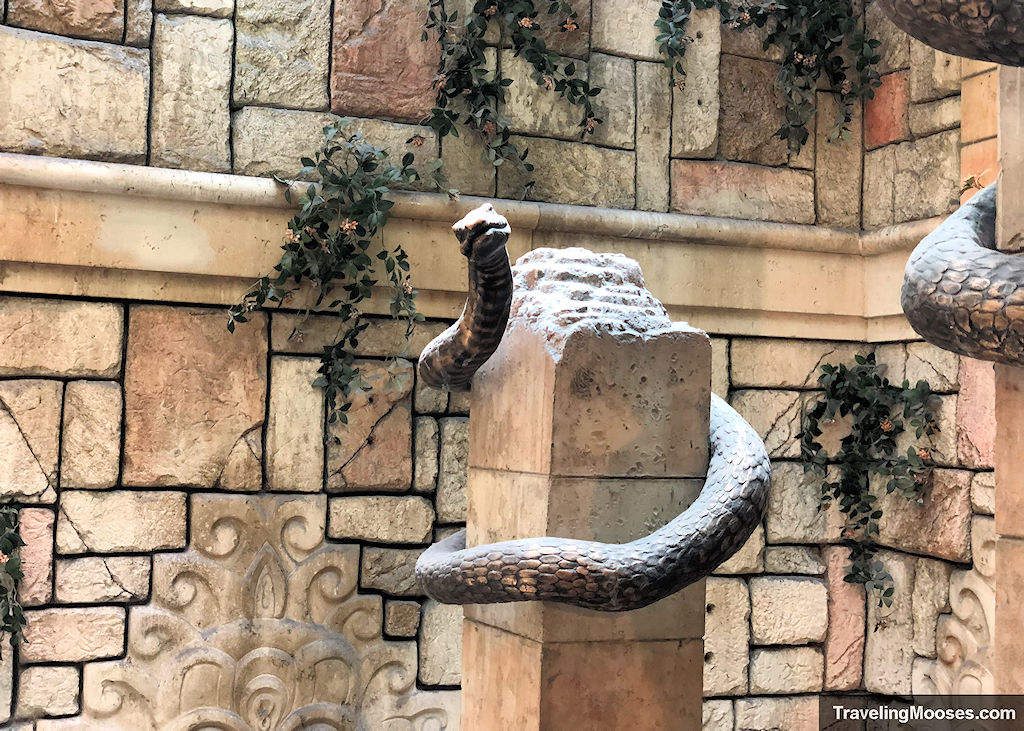 In the first portion of the aquarium, you'll be met with several alligators and a Komodo dragon.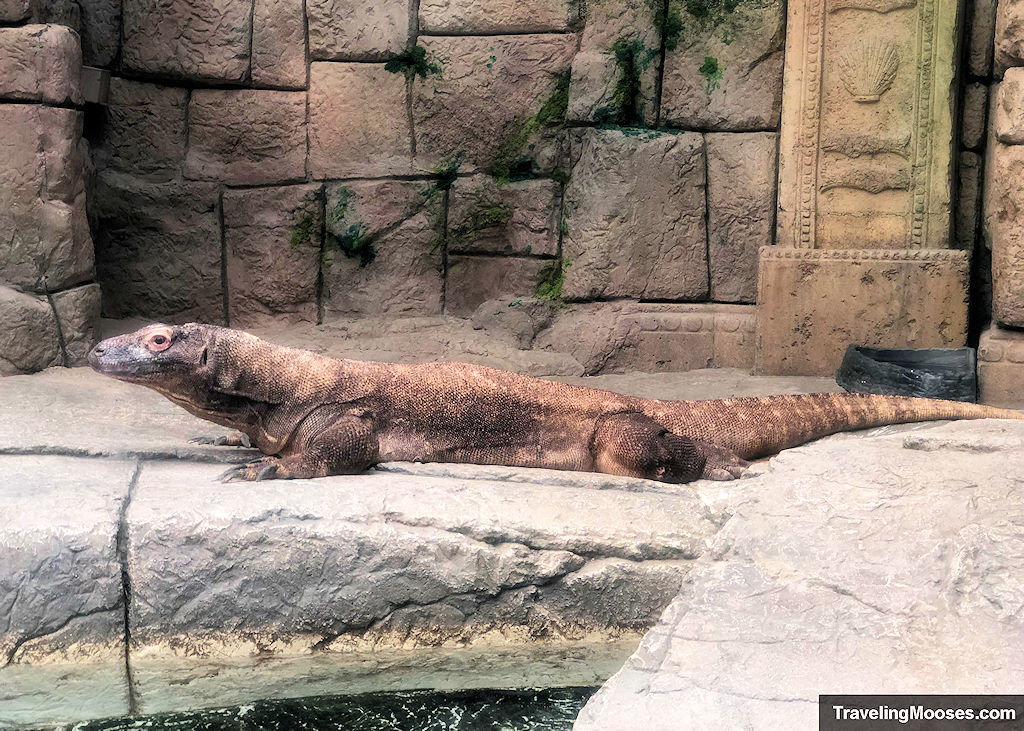 You'll also get to see a whole school of red bellied piranha.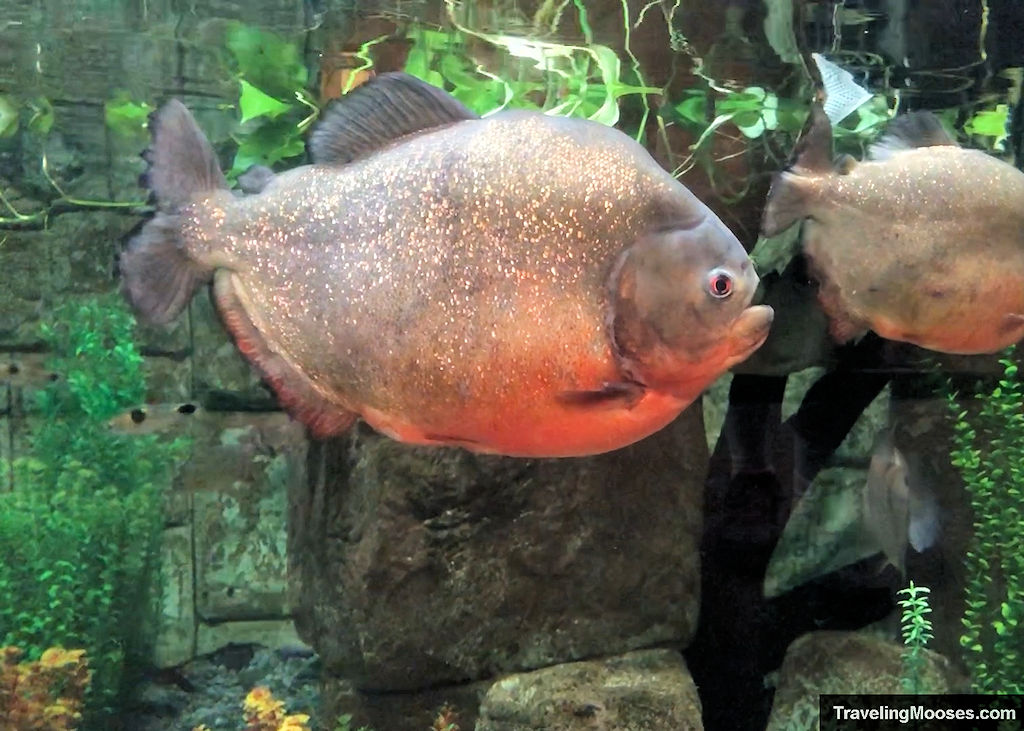 Continuing on, you'll enter a main area with a variety of colorful fish and jellyfish in various exhibits.
The jellyfish exhibit was one of my favorite exhibits (the sharks being the best).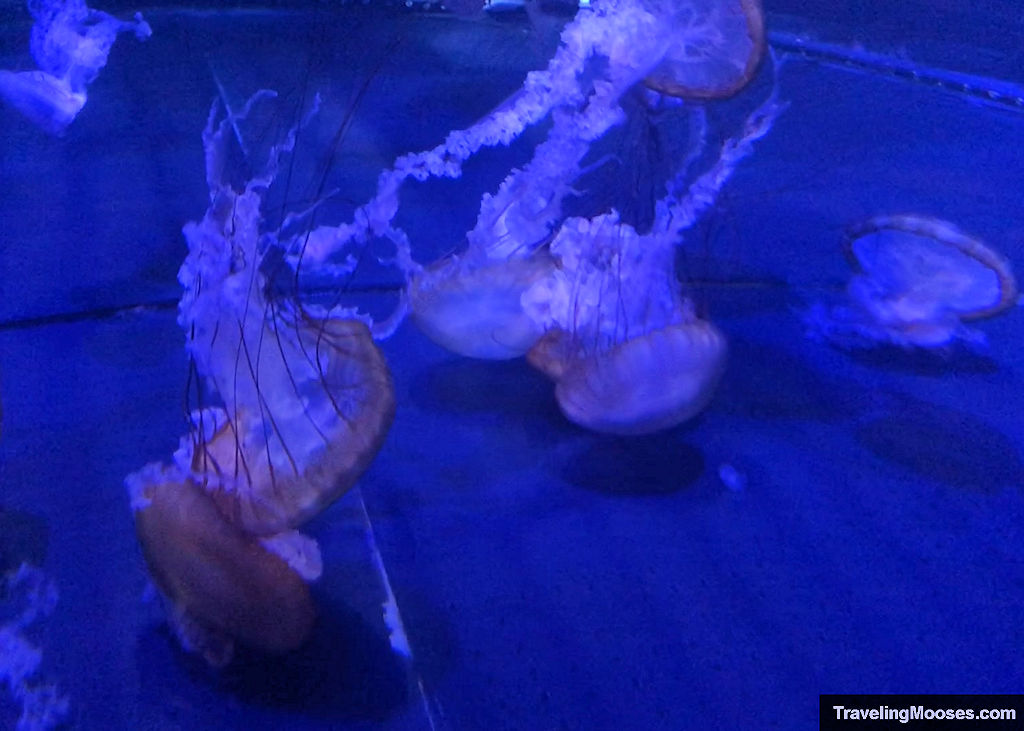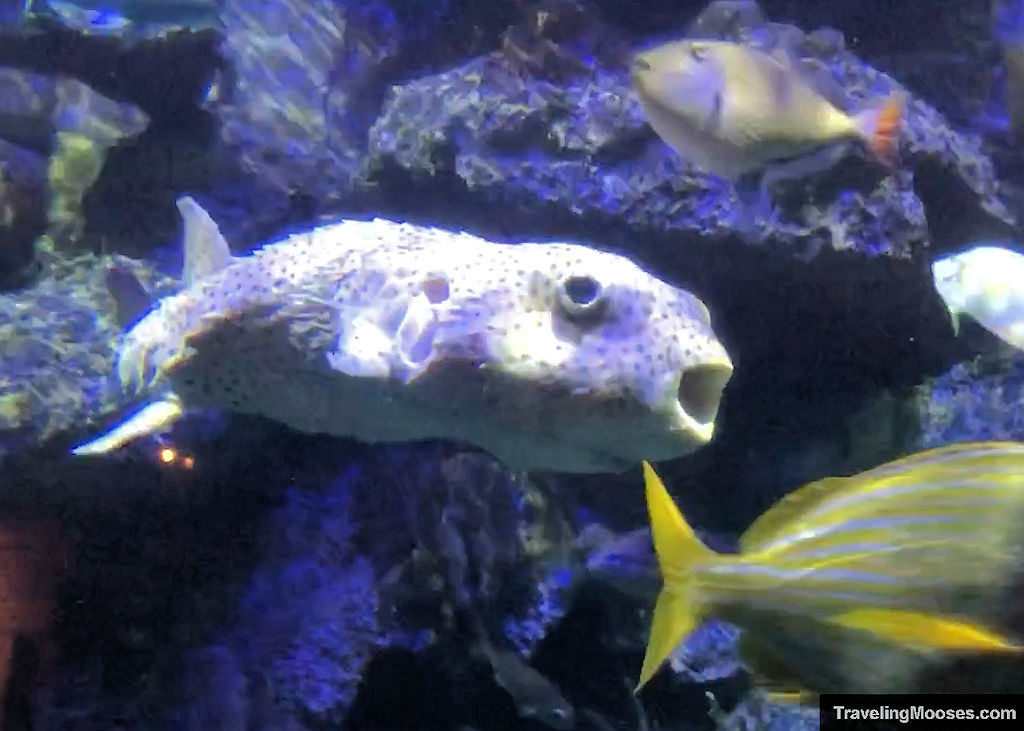 You may even get to see a diver cleaning some of the tanks.
Next, you'll find an open area with a bunch of sting rays swimming around in a touch pool. An employee will invite you to touch them (gently).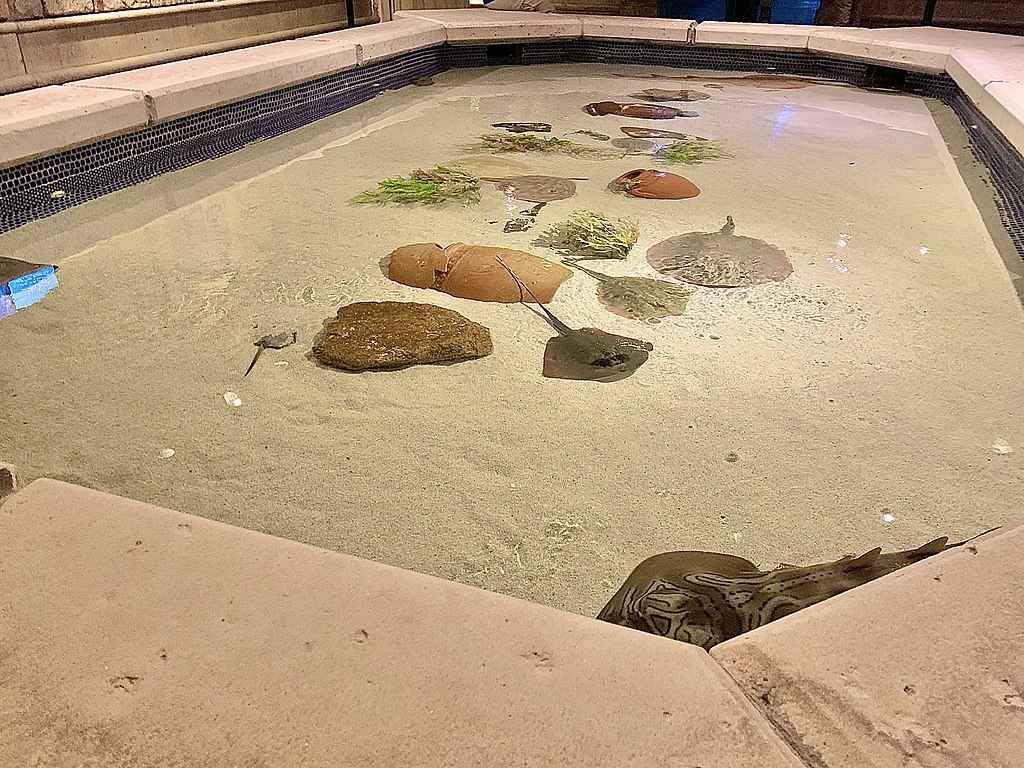 They do give the stingrays regular breaks, so if you catch them on an off-cycle, you shouldn't have wait long for a turn.
After the stingrays, you'll enter the final exhibit of the aquarium, the famous shark tanks.
You'll find a variety of sharks swimming around along with manta rays, large sea turtles and various other colorful fish.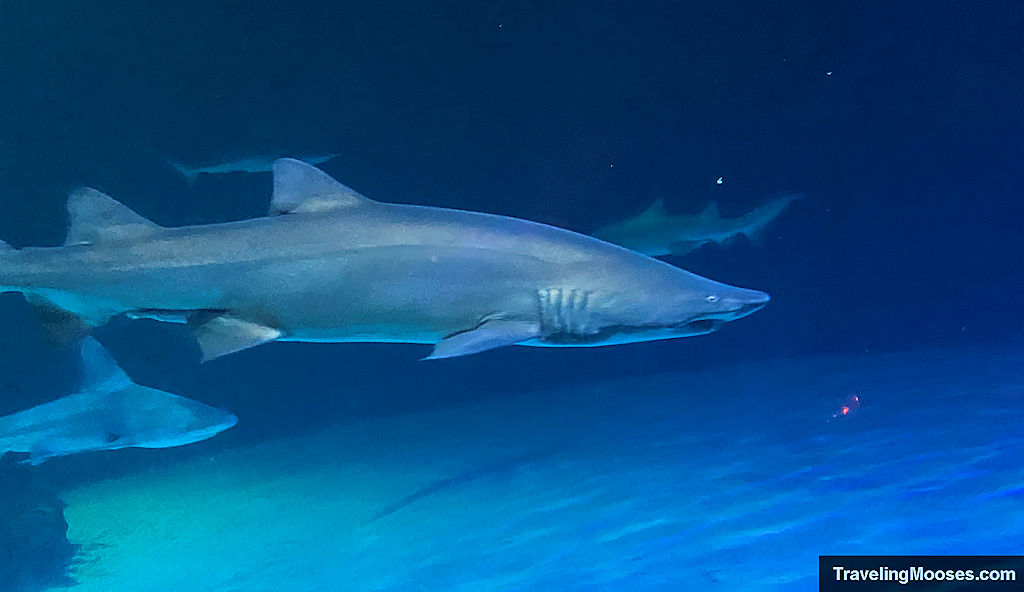 We did find it quite dark in the viewing area, but if you can get your camera pressed up against the glass, you should end up with some fun photos.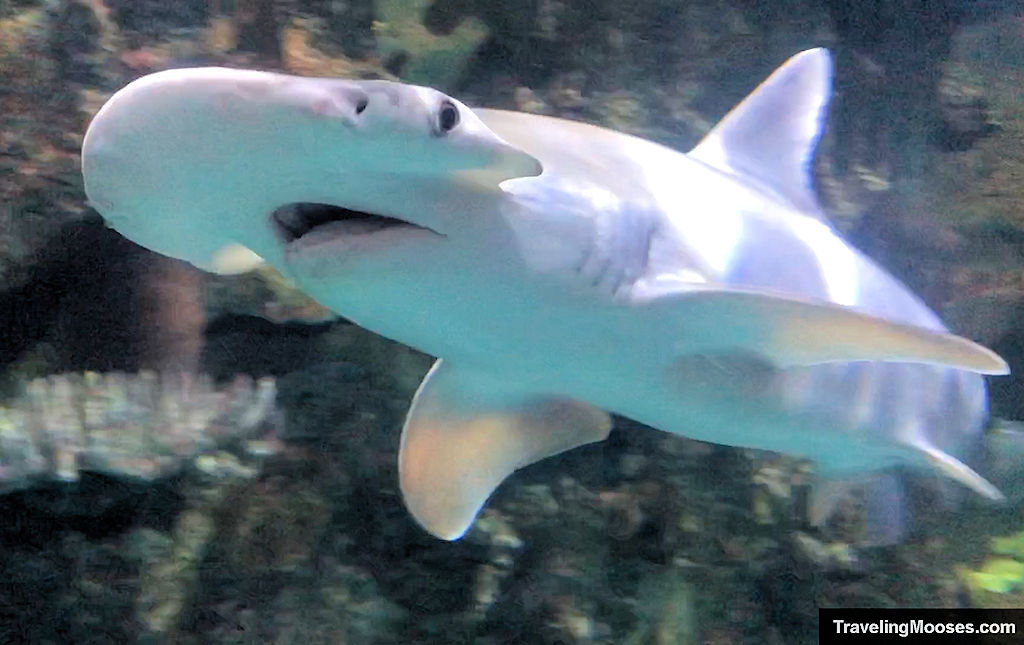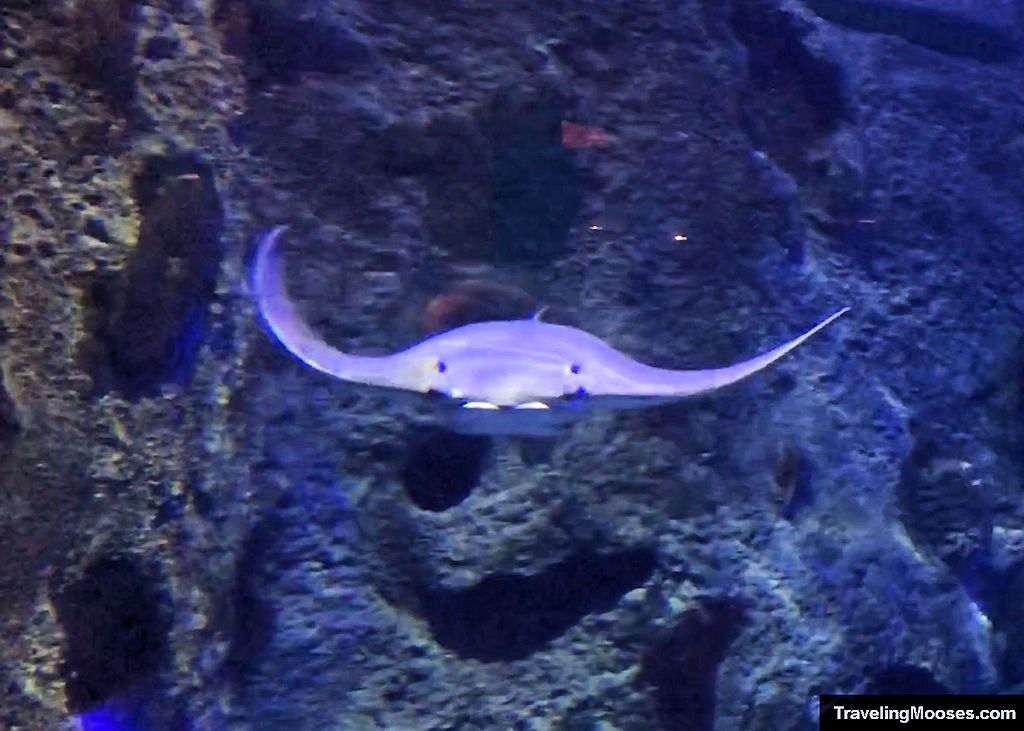 The popular circular tank viewing area is the last chance you have to see any fish. This area of the aquarium can get quite busy, but if you wait a few minutes, you might get a lull in visitors.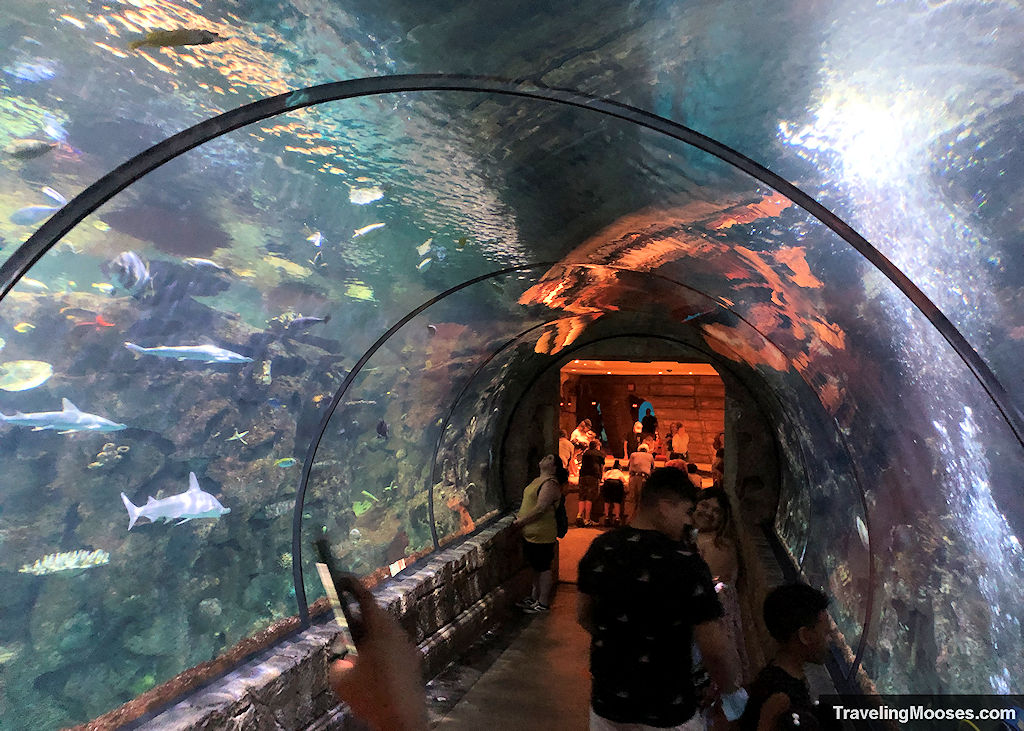 After passing through the circular tube, you'll enter the gift shop area. They have a wide variety of items to choose from.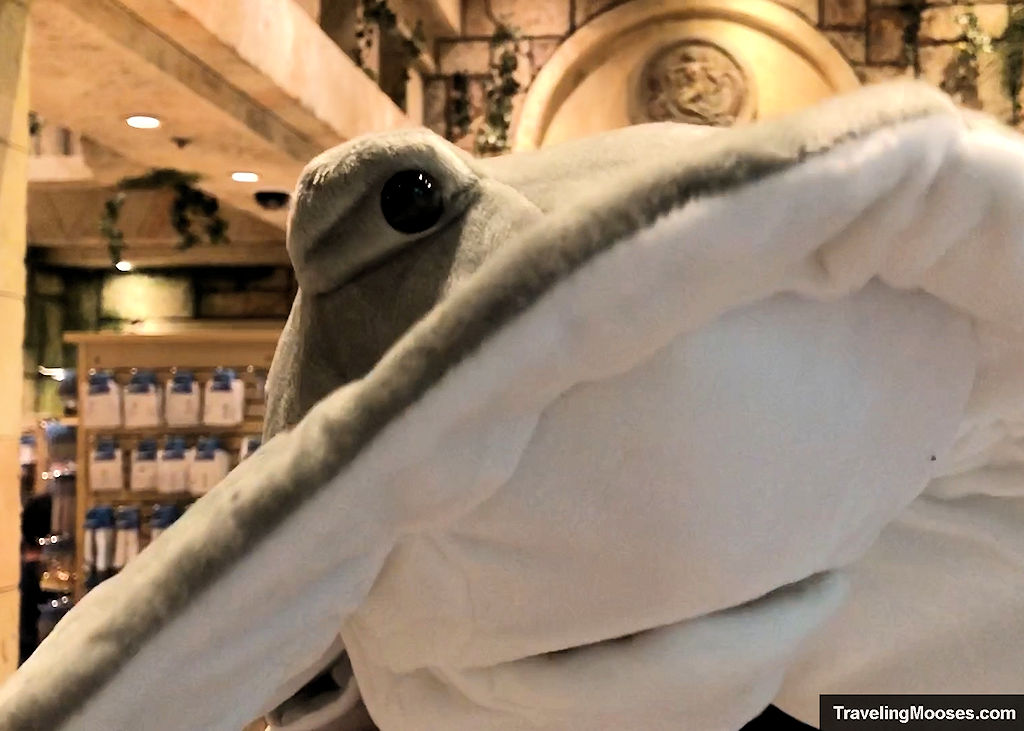 The Bottom Line – is the Mandalay Bay Aquarium worth it?
Rating: 3.5 Mooses


What we liked:
The giant shark tank had a large variety of sharks to enjoy.
Walking under the clear tunnel with a variety of fish and sharks swimming around was fun.
Giant turtles will swim right near the glass so you can see them closely.
Touching stingrays was a unique experience.
They had a unique and very large jellyfish exhibit.
What we didn't like:
It was busy the day we visited with an unusually large group of young children onsite.
The aquarium was smaller than we expected.
The aquarium is located deep within Mandalay Bay, near a food court. Expect a long walk to find the entrance.
The line to purchases tickets moved slowly. We recommend purchasing a time online in advance, unless you're a local. Then you must buy onsite to receive a $3 local discount.
Verdict: Overall, we enjoyed our tour through the aquarium, despite the crowds and short tour. It was a "one and done" activity for us though.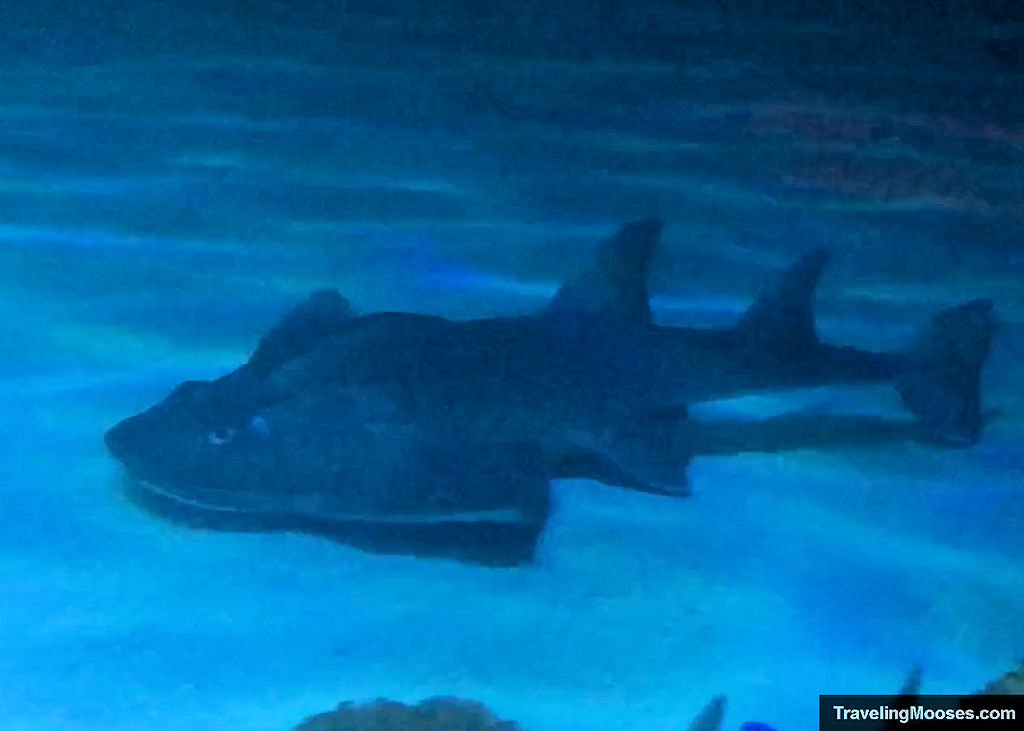 Frequently asked questions about the Mandalay Bay Aquarium
How long does it take to go through Mandalay Bay Aquarium?
It takes around 60 to 90 minutes to complete a self-guided tour of the aquarium. This will vary depending on how long you opt to stop at each exhibit and if you watch the Undersea Explorer VR show.
Is the aquarium free if you stay at Mandalay Bay?
No, admission is a separate fee and is not included in an overnight stay at the property.
Do you have to pay to see the Shark Reef at Mandalay Bay?
Yes, tickets start at $29.00. Tickets may be purchased here.
How much does it cost to go to the aquarium in Las Vegas?
The current pricing is $29 for adults $27 for seniors and $24 for children.  All these admissions include the Shark Reef and Undersea Explorer VR experience.  Children under 4 are free. Pricing is subject to change. Tickets may be reserved online in advance here.
What kind of Sharks are at the Mandalay Aquarium?
You can find up to 15 types of different sharks at the Mandalay Bay Shark Reef Aquarium. Some of them include: blacktip and whitetip reef sharks, sandbars, sand tigers, bonnetheads, white spotted bamboos, port jacksons, zebras, and lemon sharks.
More information for your trip to Las Vegas: