Note: Kitt Peak Observatory is currently closed to outside visitors due to Covid-19. Visit their website to check on current conditions.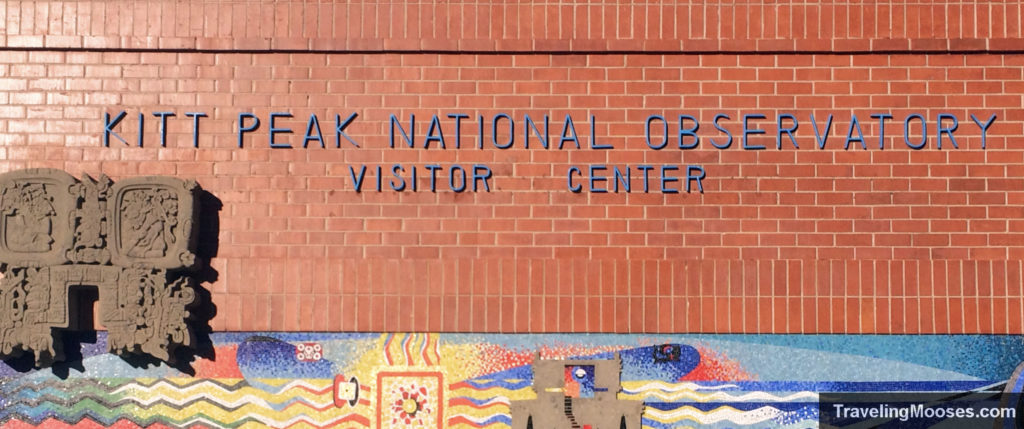 Kitt Peak National Observatory Fast Facts
| | |
| --- | --- |
| Activity | Nightly Observing Program – viewing the stars from the observatory. Other program options available. |
| Time | Arrive by 4pm (varies by season) and the experience ends approx. 3.5 hours past sunset |
| Location | Located at the end of route 386 on the Tohono O'odham Nation, 56 miles west of Tucson |
| Coordinates | 31.98377, -11.59769 |
| Pricing | $55 per adults (as of 2021) |
| Get the best pricing | Pricing is cheaper when pre-purchased on line. There is a surcharge for phone orders. Discounts available for seniors above 62, active duty military and students. |
| Website | Visit Kitt Peak |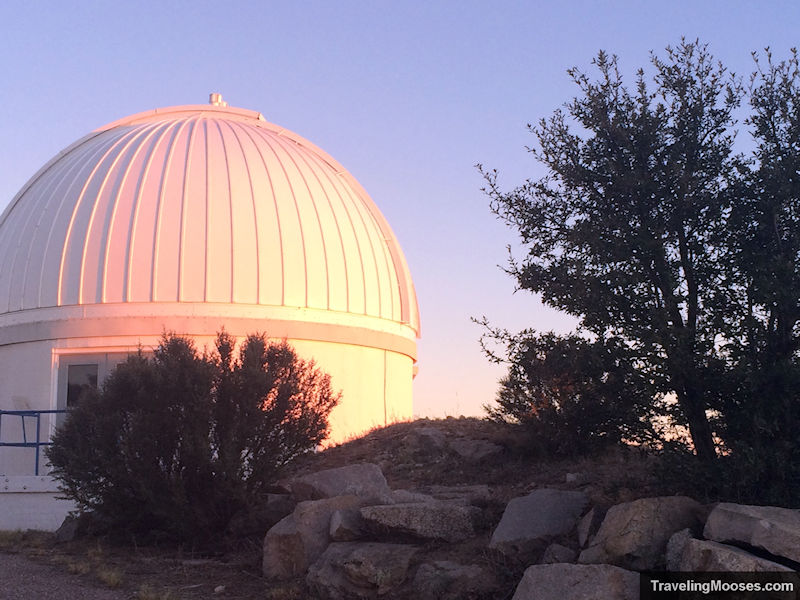 Our experience on Kitt Peak
To answer the burning question of if we felt the Kitt Peak "nightly observatory program" experience was worth it…the answer is a resounding NO. It was not worth it.
To start, we had to arrive at the venue by 4pm (we visited in November). This meant we had to leave Green Valley around 2:30pm to make it there on time (it's only an hour drive from Tucson). We milled around the visitor center for around 30 minutes until everyone checked in and then we had to move our cars into a single file line with our headlights covered by manila file folders. We would need them when we left the visitor center to protect the dark sky.
Introduction to Kitt Peak and a light meal
The evening then kicked off with a long video about light pollution, an introduction to the Observatory by local staff, and some food. The tickets included the "light meal" we were served which consisted of a mediocre turkey sandwich, chips, cookie, granola bar and water. You could also purchase a cup for tea, coffee or hot chocolate (you'll want this if its cold out!!) for a $1 donation.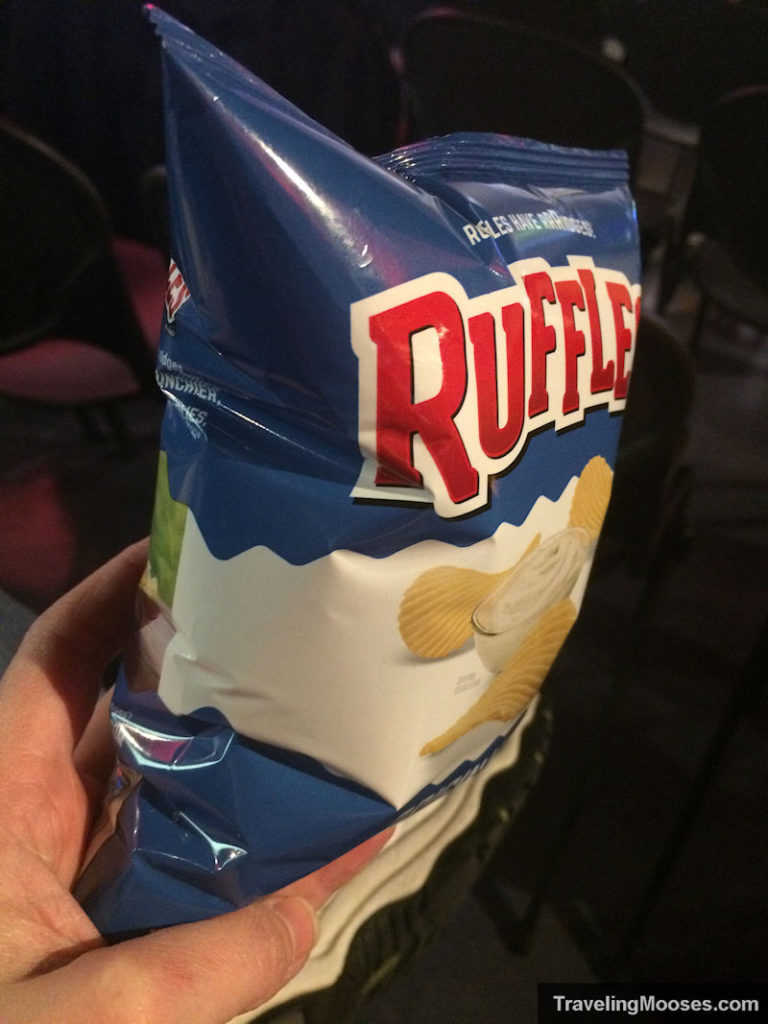 A beautiful sunset at Kitt Peak
We were there for the nightly observatory program, however you can also join the dark sky discovery program or visit one of their day-time tours. After the intro and the meal, they herded us outside to watch the sunset. This was hands down the best part of the event. The sunset was amazing!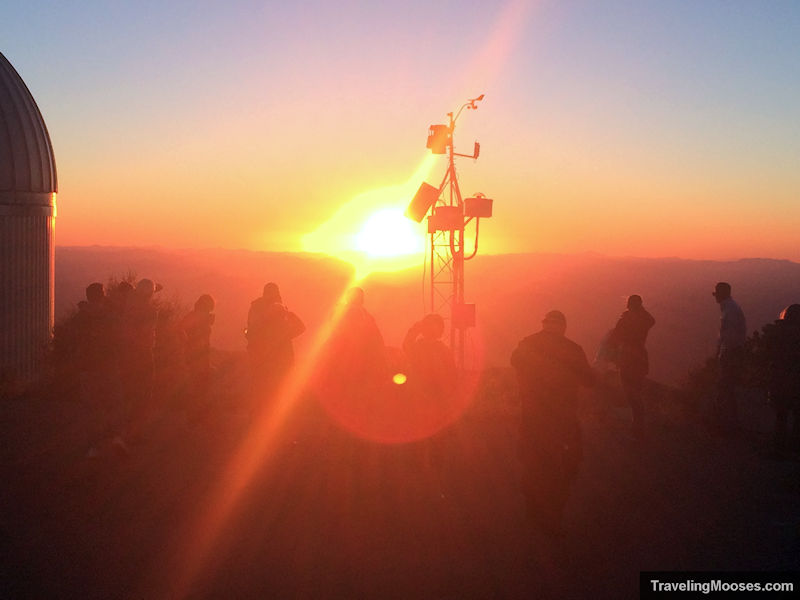 During the sunset, they discuss the "green flash" that occurs in the right conditions at the moment the sun crosses the horizon. The moment is fleeting, only around a second or two if you get to see it. The flash is a result of two optical phenomena, a mirage and the dispersion of sunlight. We were lucky to see it the night we were there, but it was too quick to photograph. You can read more about green flashes here.
It was around 6pm now and the sun was set. It was time to finally start observing some stars (or so we thought). We were sent back into the visitor center for more "discussions" (lasting about 30 minutes) about what we would be doing next, which was viewing the stars from the parking lot.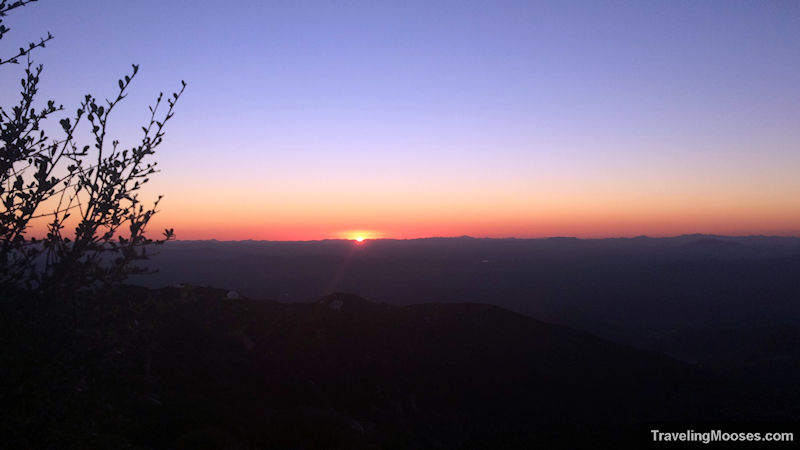 We went out at 6:30 to finally see some stars. The first session was to gaze at the stars with our naked eye. It was nice to see more stars than we were used to rather than the muted view from light pollution in the cities, but it wasn't super special. Our guide went through various constellations, how to find the North Star, and told stories about some of the origins of the constellation names. We were then sent back into the visitor center to "warm up" and wait for the next group to go. It was very cold the night we were there and we weren't fully prepared (especially standing around so much), so going back inside was a welcome respite.
On the second outing back outside, they supplied binoculars to look at the stars. The details are certainly better through the binoculars, but something we could have done at home.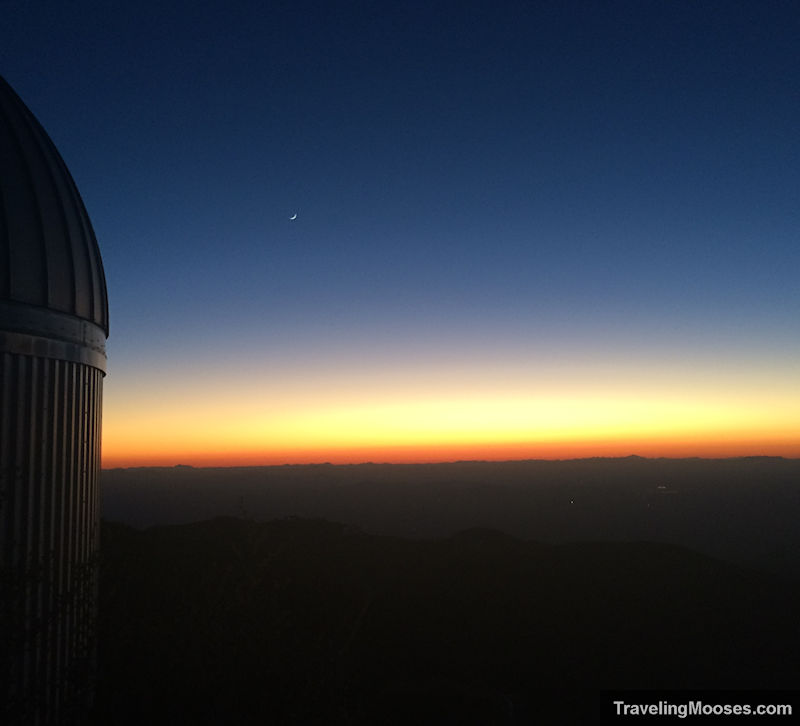 Viewing the stars through the telescope
By now, it was 7:45PM, we had been on the mountain for almost 4 hours and it was FINALLY time to look through a telescope. What a disappointment. They took around 10 people up to the telescope and had us sit in a circle around the unit. One at a time, we got to look through the telescope for maybe 15-20 seconds. There was pressure to keep moving so others could look. Luckily 15 seconds was plenty as the telescope wasn't great and it always looked to me like a large fuzzy blob in the viewer.
We learned the day we were there that earth was in a position that hid many of the planets from view. Between the tilt of the planet and some cloud cover that had blown in, it quickly became a poor night for viewing.
Expectations vs Reality
Having never used a telescope, I'll admit my expectations were potentially a little higher than reasonable. In my defense, paying $55 dollars for a star gazing experience at a renowned National Observatory does have a high level of expectations.
So of course I expected to see something grand like Saturn or Jupiter and instead all I got to see was Uranus.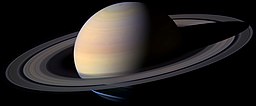 Ultimately, we got to see 5 views of something that looked like a white blob. I estimated the total telescope viewing was approximately 1.5 minutes for the entire evening.
By this point we were freezing and pretty disappointed in the star viewing. We were ushered back in the visitor center to wait for the next group.
It's late at this point, well after 8pm, we're tired, and want to leave. Unfortunately, no one is allowed to leave the mountain until EVERYONE is done with their tours. But don't worry, they open up the gift shop at the end of the night for souvenirs. What a way to spend the end of a really long night; milling around a gift shop for overpriced trinkets when you just want to go home.
Leaving the Kitt Observatory
When it was finally time (just past 9pm) to get in our cars to head down the mountain, we had to drive with our lights off (parking lights only), to prevent too much light from interrupting the scientists studying the night sky. We didn't find the drive down too scary as a lead car heads down the mountain first and everyone follows each other's brake lights. Plus, they go really slow (painfully slow).
The lead car then removes the manila folders after you're far enough down the mountain and everyone can continue on their own. The only downside is you're still about 9 miles from the main freeway on a winding one lane road in the dark and we got stuck behind some very slow cars. Even if your patience is running thin at this point, hang in there as once you get back to the freeway, things speed up considerably.
Is Kitt Peak worth it?
Rating: 2.0 Mooses

What we liked

The sunset was amazing
Learning about the stars and seeing a working telescope was a unique experience

What we didn't like

The length of the program the night we were there lasted over 5 hours from arrival to exit (not including drive time to/from Kitt Peak)
The telescope time was extremely short and the images we saw were disappointing
The weather was very cold and we were not prepared for it (our fault on the preparation)
We couldn't leave the observatory until all the groups were finished
Verdict: If they could find a way to shorten the program to 2 hours max, it might be worth it. As it was, we would not return.
Know before you go
Tickets are cheaper if you buy them online in advance
You can cancel up to 24 hours in advance if the weather looks like it will be bad, otherwise you pay a $25 per person cancellation charge
Bring warm clothing. We knew it might be cold up there, but we didn't have enough warm clothing as we were on vacation. We did the best we could but we were freezing. There is nothing more uncomfortable than standing around outside when you're cold. Temperatures are usually 15 to 20 degrees cooler than Tucson.
Bring snacks if you get hungry easily or aren't keen on a turkey sandwich for a light meal
They only allow you to use a small red flashlight (provided as a keepsake), to walk around outside. You need it to find the restrooms which are not located in the visitor center but nearby. You also need it to walk to and from the telescope and back from the sunset
Some participants felt the winding road was scary. Coming from someone who is scared of heights, I found the road to be perfectly acceptable, even when driving down after dark.
Make sure you do your homework on star/planet placement and go during a time of year that has the planets available you want to see
Be prepared to be extremely patient throughout the experience and know that you can't leave once you start the program
Be sure to fill up your gas tank before you go as there are no stations near Kitt Peak
There is a border control check point on the way back to Tucson that you may need to provide your ID to get through
Frequently Asked Questions about Kitt Peak National Observatory
What is there to do in the Kitt Peak visitor center while you're waiting to see the stars?
The visitor center includes several different interactive / informational displays about the universe and the stars. You can also stand in front of their thermal imaging device.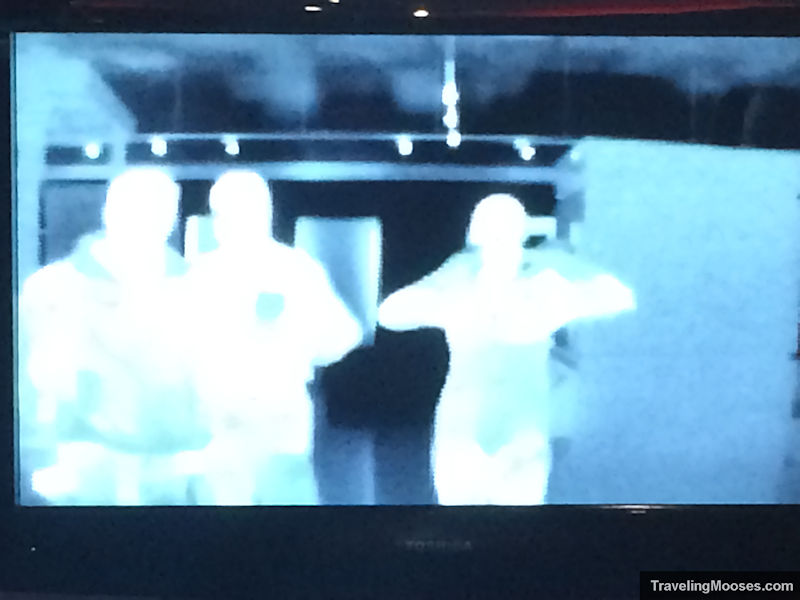 We felt you could experience everything there is in about 20 minutes, but we found ourselves going back to the exhibits multiple times during the long wait between star viewings.
Pro-tip: If you're planning on relying on your cell phone for entertainment, there is no Wi-Fi and they make you turn your phone into airplane mode to avoid interfering with their equipment. Consider bringing a book if you get bored easy.
Can you leave the night program early?
Nope. You can't leave the peak until the entire program is over and everyone is done with their tour. You have to be led down the mountain by a guide car. The only way I could see you getting out quicker is by ambulance or police vehicle, which aren't great options.
What happens in inclement weather?
You can cancel with no penalty 24 hours in advance. After that, there is a $25 charge per person. They do call around noon the day of your tour to describe the weather and say whether they've cancelled the evening program due to poor conditions. The website has a pretty good description of what happens in certain scenarios. Generally, if the program is a go for the evening, even if clouds come up later that afternoon/evening, you're out of luck for a refund.
I don't want to spend over 5 hours on a nightly tour, can I visit during the day?
Sure! There are several different day time tours available. There is a self-guided option, and three different guide-led tours of various telescopes. There is also a more exclusive VIP tour held infrequently that allows for a more behind-the-scenes look at Kitt Peak.
More information for your trip to Tucson, AZ