The South Kaibab trail, located on the south rim of the Grand Canyon, takes hikers along an epic trail into the canyon.  Whether you choose a short-day hike, or traverse all the way to canyon floor, expansive views and adventure awaits. 
In this guide:
South Kaibab Trail Quick Info
Trail Description
Out and back
Trail Start
South Kaibab trailhead
Parking Lot
Grand Canyon Visitor Center
Round Trip Mileage
-1.8 miles RT to Ooh Aah Point
-3.0 miles RT to Cedar Ridge
-6.0 miles RT to Skeleton Point
-12.6 miles RT to the Colorado River
Average Time
~1-2 hours to Ooh Aah Point
~2-4 hours to Cedar Ridge
~4-6 hours to Skeleton Point
Difficulty
Very difficult
Elevation Gain
~760 feet to Ooh Aah Point
~1,120 feet to Cedar Ridge
~2,040 feet to Skeleton Point
~4,860 feet to the Colorado River
Elevation Start
~7,200 feet
Amenities at the Trailhead
Trail map / information board, primitive bathrooms.
Entrance Fee
$35 per private vehicle (valid for 7 days) or $80 for America the Beautiful Pass (prices subject to change)
Rating
5.0 Mooses (for the views from the trailhead)
Our "hike" on the South Kaibab Trail
The temperature was forecasted to be in the mid-70s the day we visited. We planned to hike to Cedar Ridge and continue onto Skeleton Point if we were feeling up to it.
We arrived at the visitor center just before 8 a.m. and hopped on the orange shuttle line to the trailhead.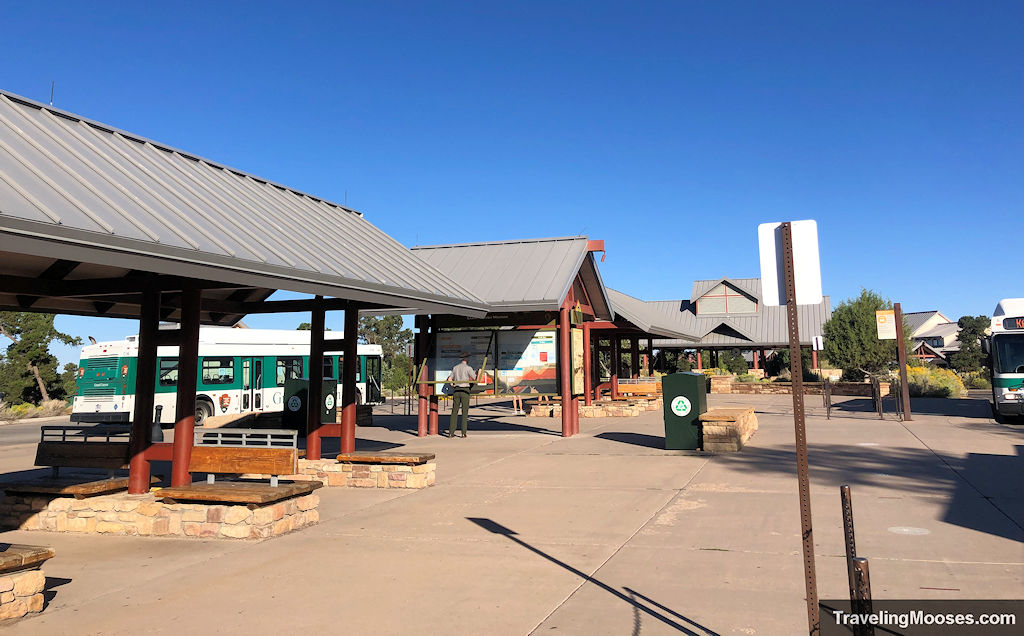 We luckily didn't have to wait long and were whisked off to the "South Kaibab trailhead" stop which is the first stop along the eastbound orange line.
The trailhead had an abundance of picnic tables, a primitive restroom and a place to chain up a bicycle.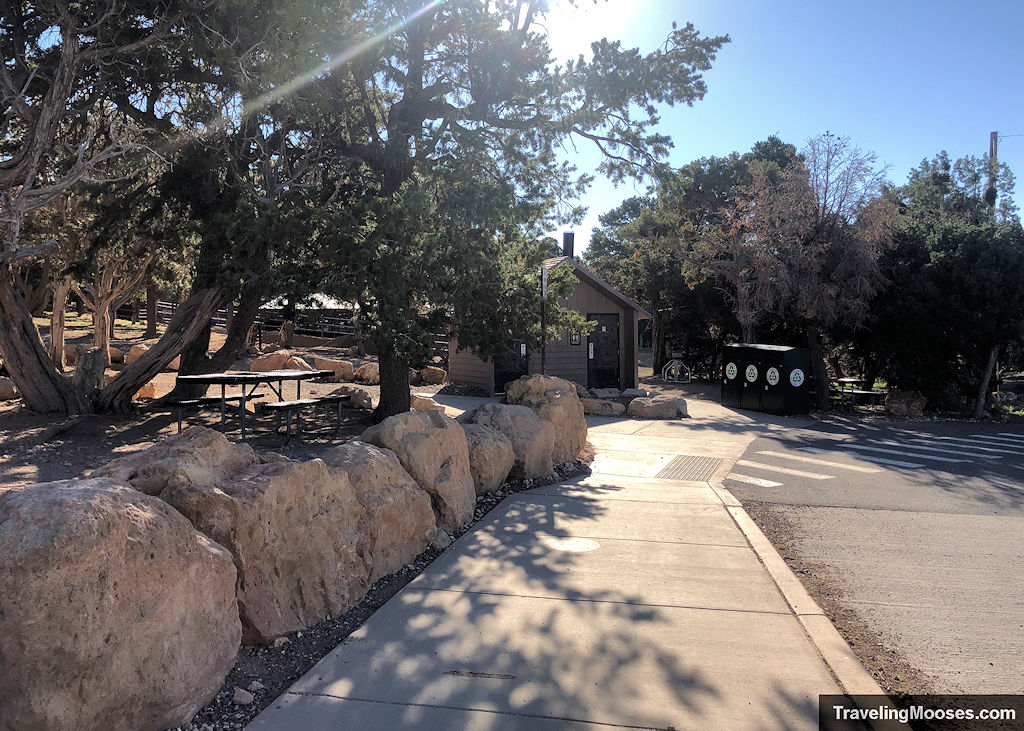 There was also a lot of information about the trail itself, including a map and warning information for the hike.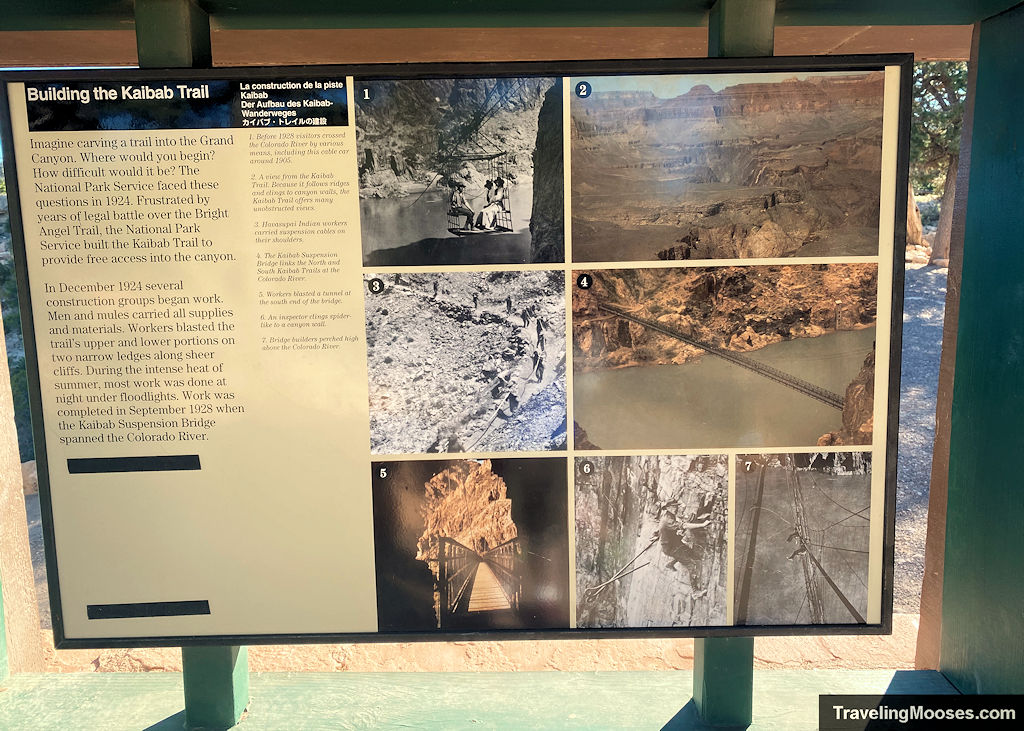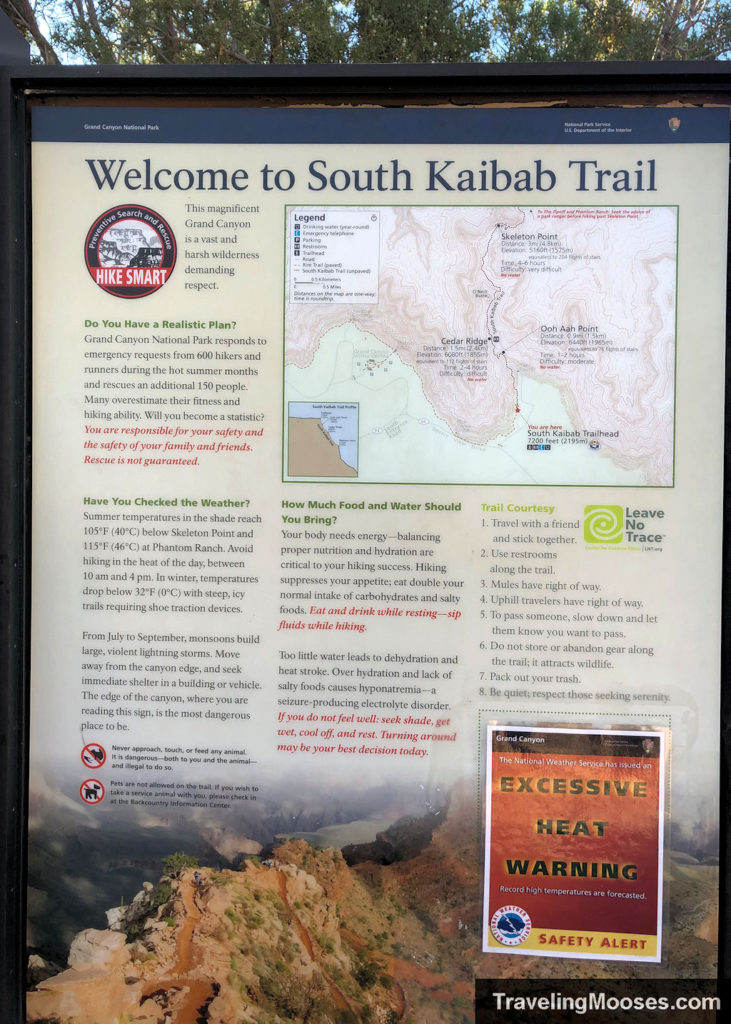 We approached the trailhead start and were met with amazing views of the Grand Canyon.  It was going to be a fun day!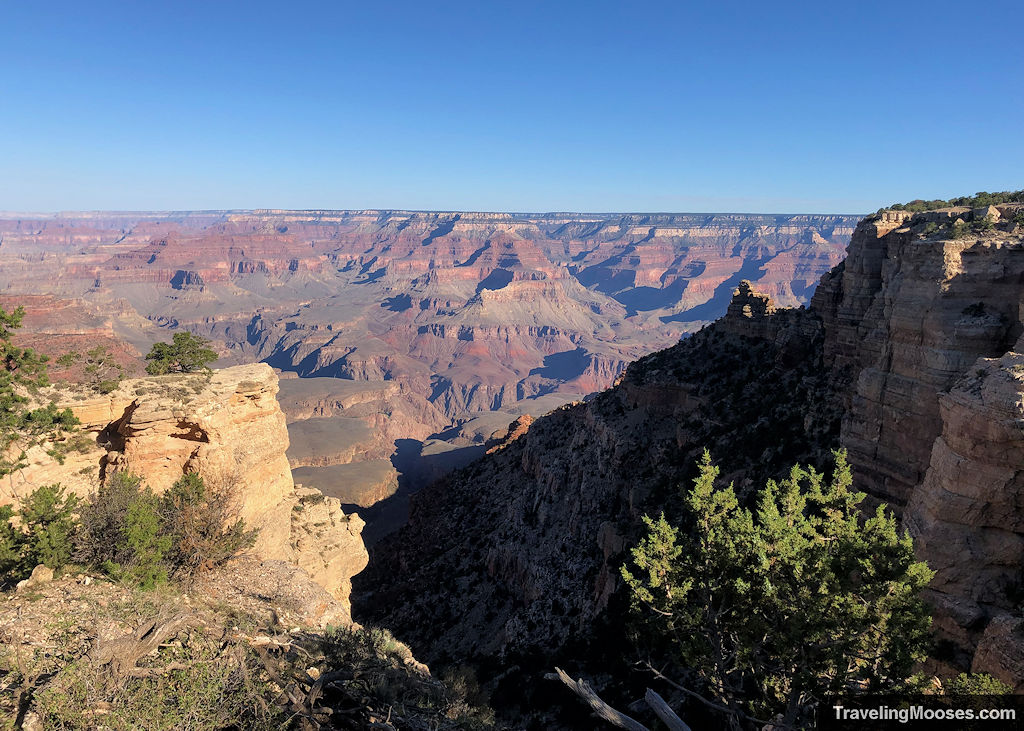 We started off down the wide and gently sloping switchbacks.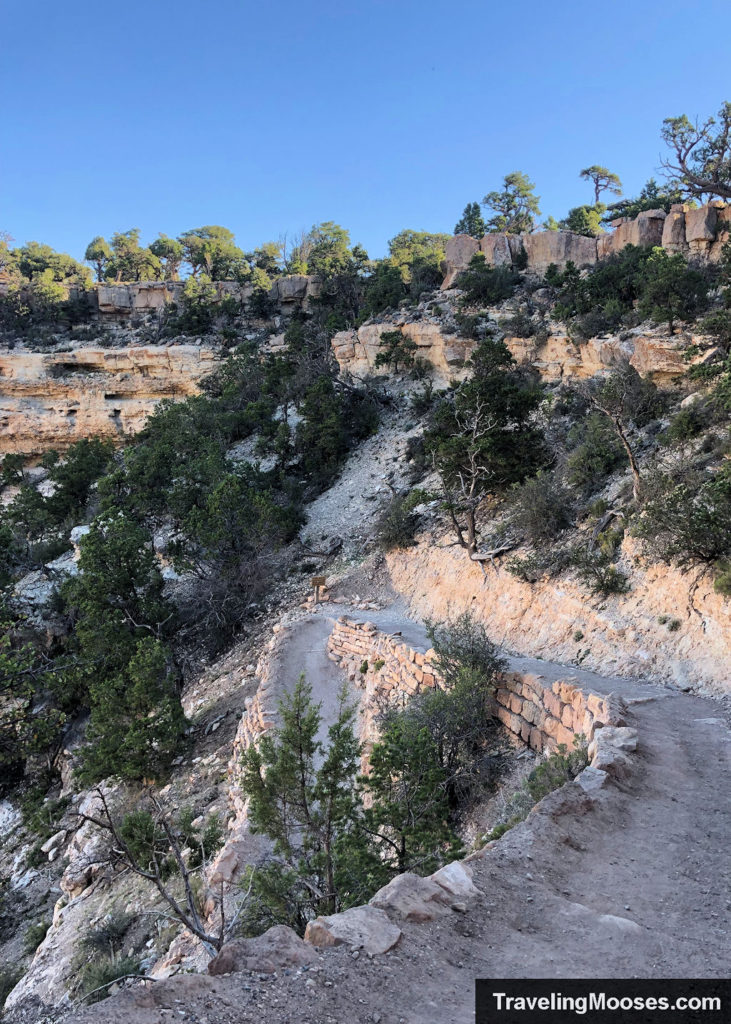 So far, so good.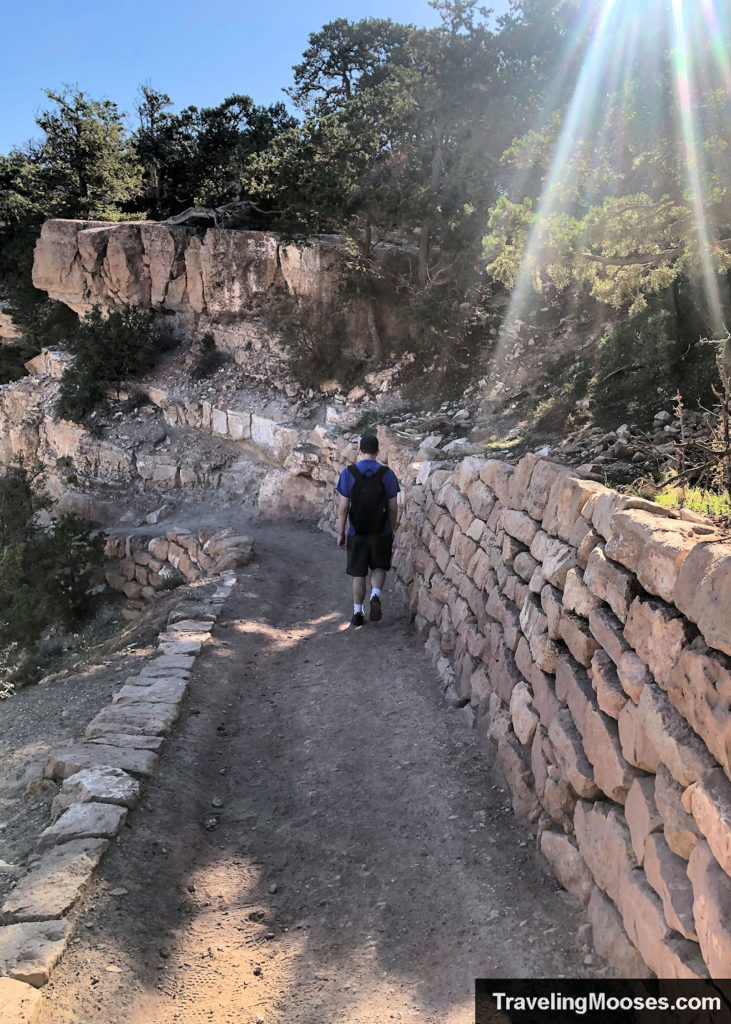 Not far down the trail, you'll run into a sign notifying hikers to yield to mules. You can actually be fined if you don't listen to the mule guide's instructions.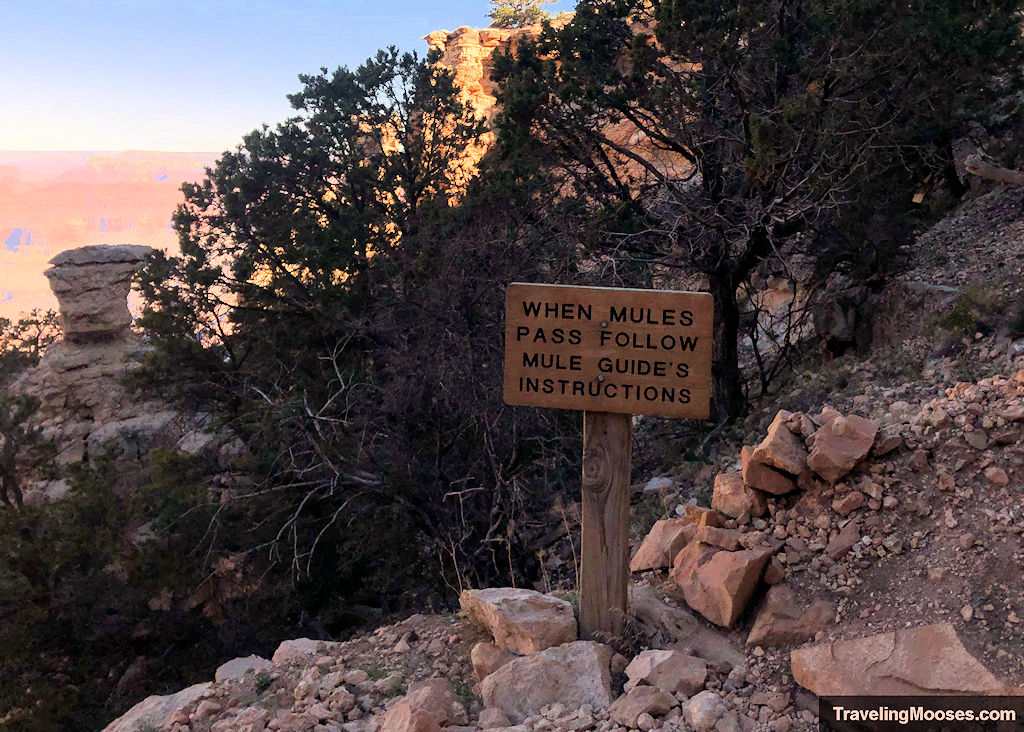 The terrain along the trail was breathtaking.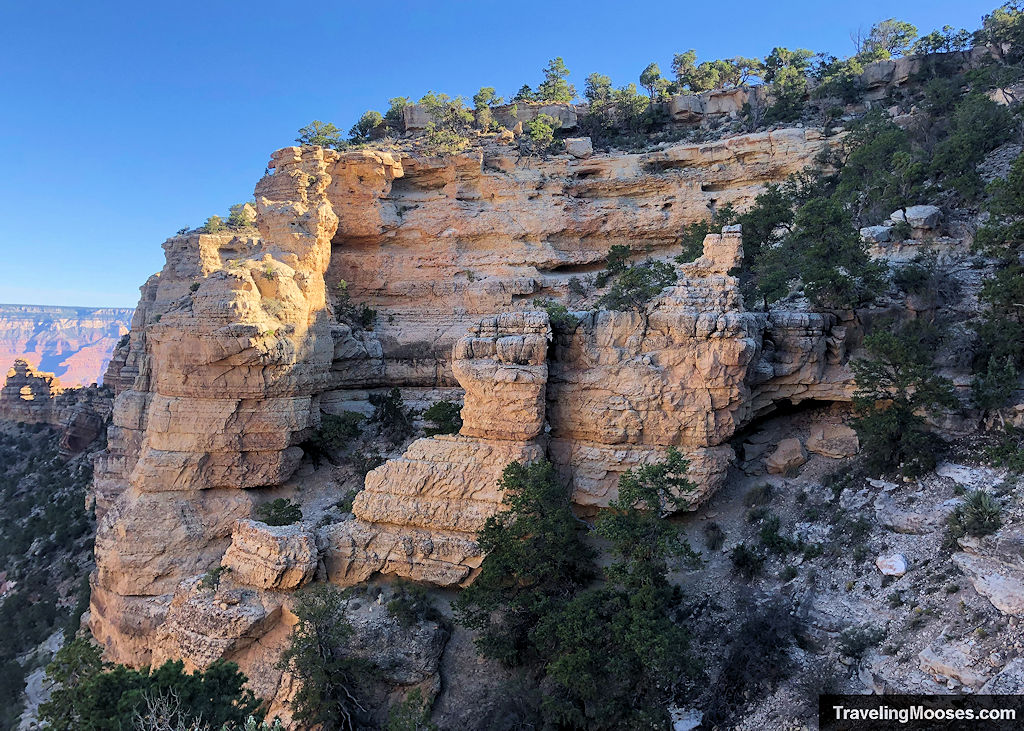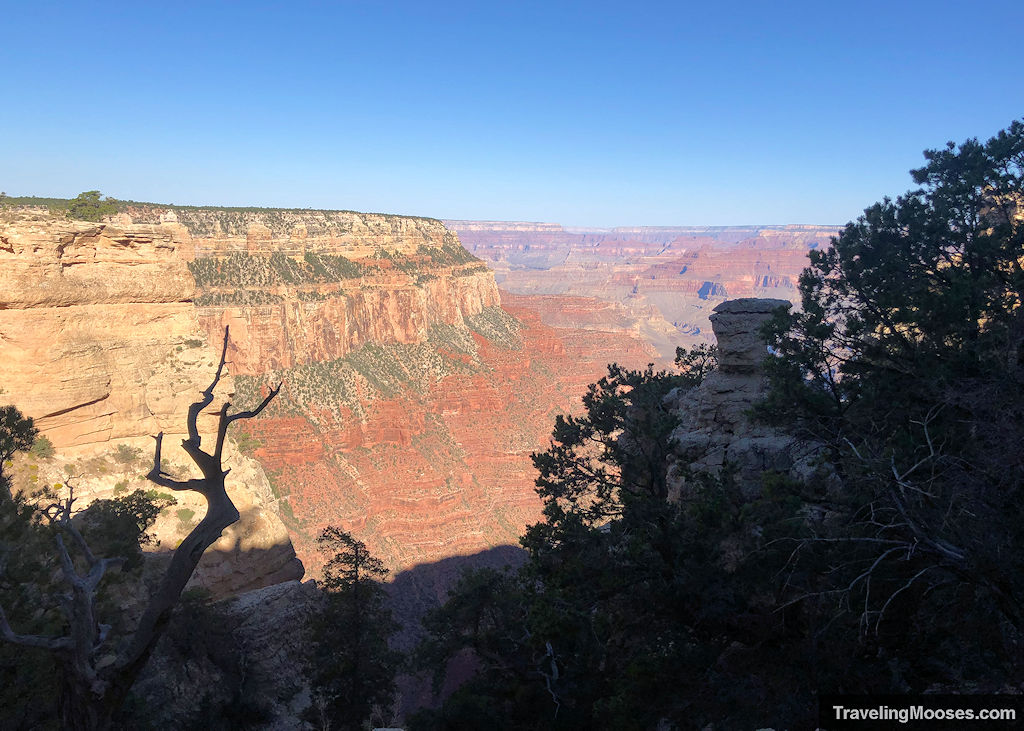 At this point, less than 10 minutes into the hike, I decided I couldn't go any further. The trail felt too slippery and there was too much of a drop-off for my comfort.
Safe and comfortable in my house writing this article now makes me feel quite ridiculous. I'm not quite sure why I thought I could hike this trail.
If you're afraid of heights, you'll probably want to skip this trail. If you decide to go for it, you might try these things to make the journey easier:
Wear shoes with excellent grip on the bottom – the terrain felt slippery to me and that isn't something you want to think about when the cliff next to you would be certain death. (PS: Mr. Moose likes to remind me I would have just fallen to the next part of the path maybe 5 to 10 feet down, but I'm not taking any chances).
Bring trekking poles – I've only hiked with trekking poles once and it was on another precarious trail. Actually, it was a singular pole (which I borrowed) but it somehow tricked my brain into thinking I wasn't about to plummet off the edge. You would think I would have been smart enough to bring some to the South Kaibab trail, I didn't.
If you're wondering what we missed out on, here's some pictures of what the trail looks like further on: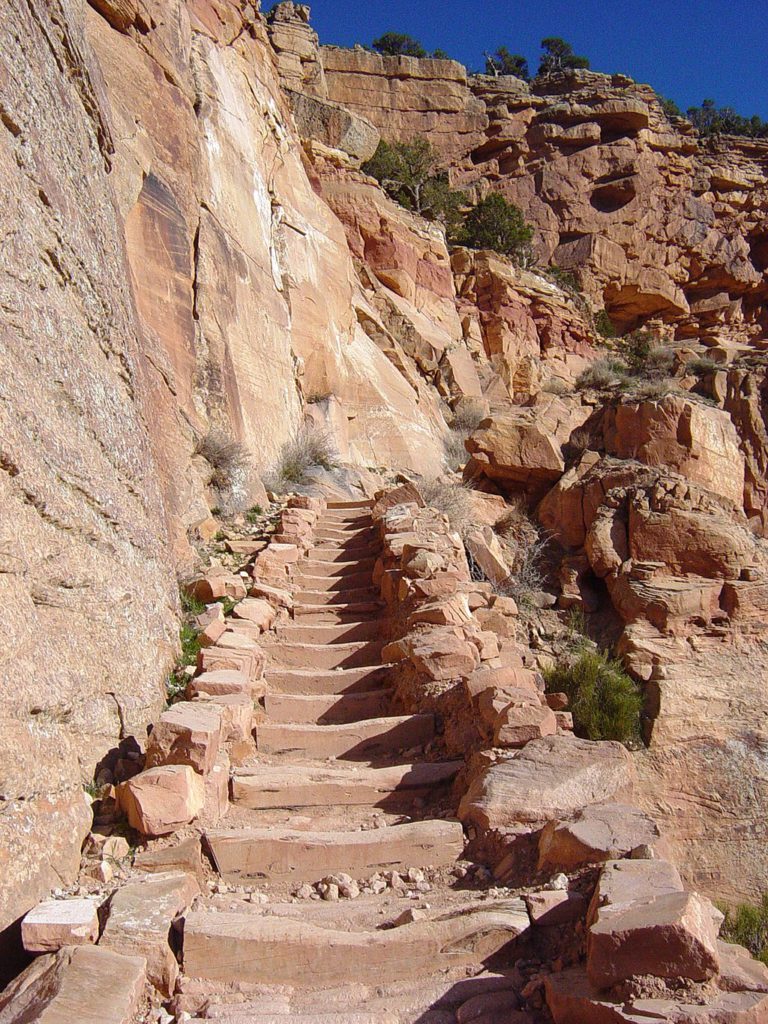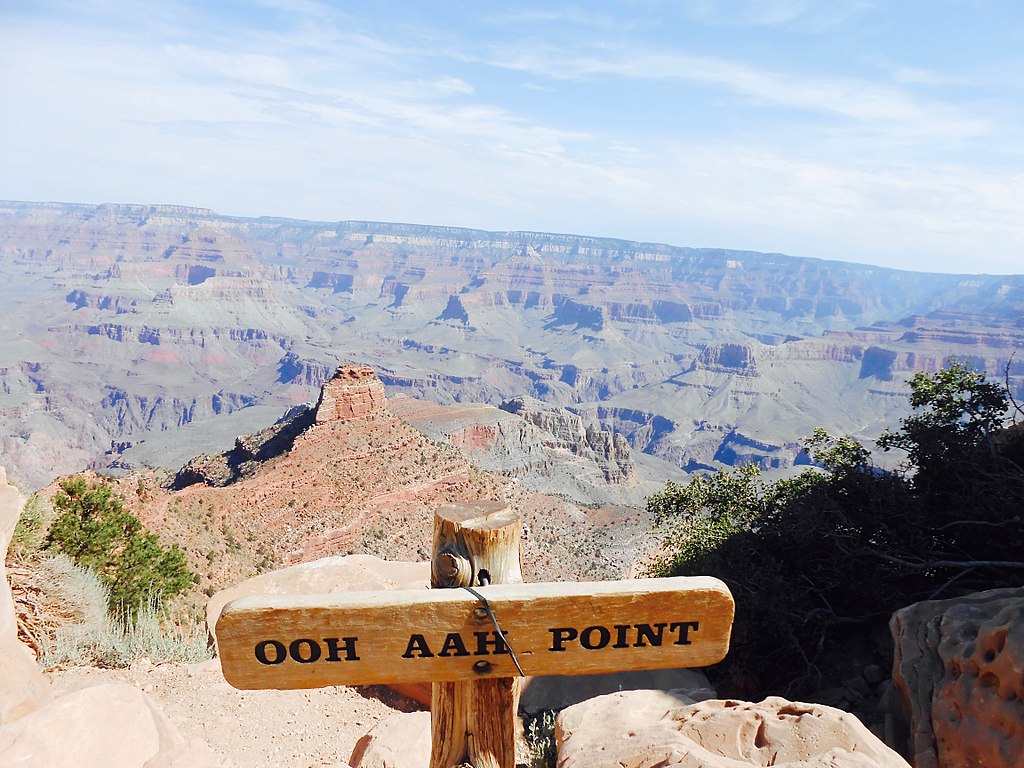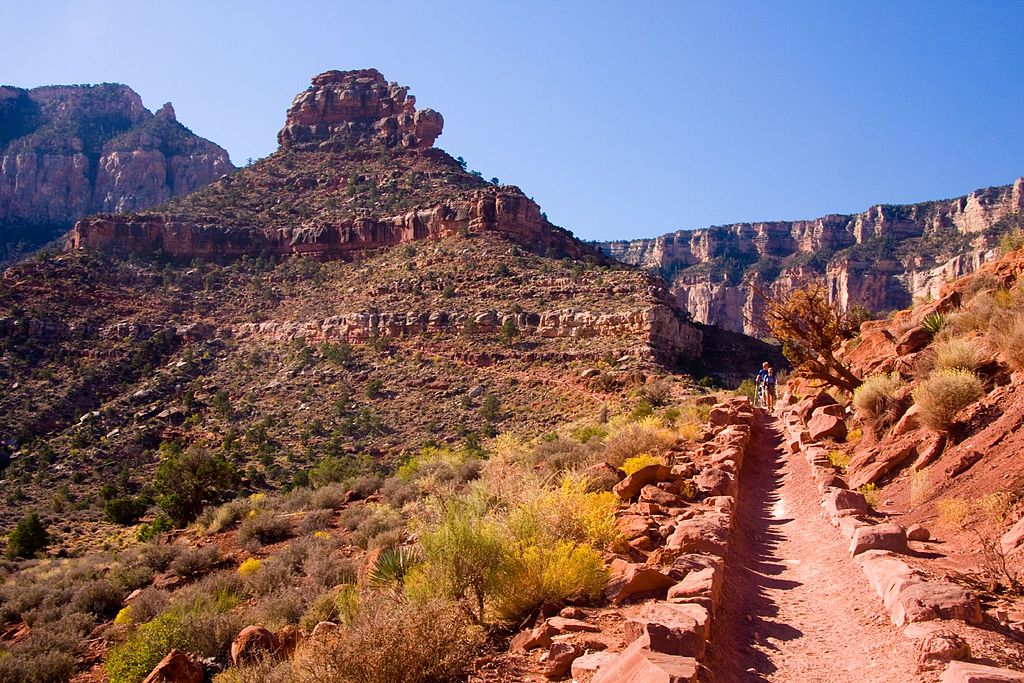 Yep, we missed out. Sorry Mr. Moose, you can't take me anywhere.
Is the trail worth it?
Rating: 5.0 Mooses


This is an odd review as by now, you know that we didn't actually hike the trail. I'm still rating it a 5.0 for the views from the lookout area.
What we liked:
The views from the trailhead were amazing.
There was a lot of signage at the trailhead warning hikers of what is to come.
What we didn't like:
The shuttle system in the park works great and we understand the need for it, but it's still annoying to have to wait for it.
Mules have the right of way on the trail which could be potentially awkward depending on which part of the trail you're on. We've also heard they leave behind some pretty unappetizing presents along the trail.
Verdict: I'm pretty bummed I couldn't muster up the courage to complete this hike.
Practical Info for your hike
Current trail conditions
Check nps.gov for current closures within Grand Canyon Park.
Check weather.com for a local forecast.
Check Alltrails.com for recent reviews from hikers. We use the pro version of Alltrails for all our hikes and have been overall impressed with the app and quality of recent reviews. We have no affiliation with the site.
Parking
The Grand Canyon is an extremely popular National Park and is subject to strict parking rules. To reach the trailhead, you must utilize their shuttle system and park in one of the designated lots near the visitor center or village. Parking is free once you've paid the entrance fee to enter the park.
Tip:  If you pass through Tusayan, AZ on the way to Grand Canyon, there may be signs warning you that parking is full and you need to take a shuttle into the park.  If you have flexible plans and there's no parking left except in Tusayan, we recommend picking another day to visit the canyon.  We felt the parking area was huge inside the park and if it's full, I wouldn't want to visit the park that day.
Entrance fees
For current entrance fees, visit nps.gov. Currently, the Grand Canyon does not have a timed entry (unlike many of other national parks in the U.S.).
Private Vehicle ($35, valid for 7 days)
Motorcycle ($30, valid for 7 days)
Individual (bicyclist, hiker, pedestrian), ($20, valid for 7 days)
America the Beautiful Pass is accepted ($80 / year)
All prices subject to change.
How to get to the trailhead
Once you've found a parking spot near the visitor center, you'll want to get on the orange shuttle bus. Presuming you start at the Grand Canyon Visitor Center (which most visitors will), you'll want to get on the eastbound orange shuttle bus until you reach the South Kaibab Trailhead. The shuttle bus system is free within the park.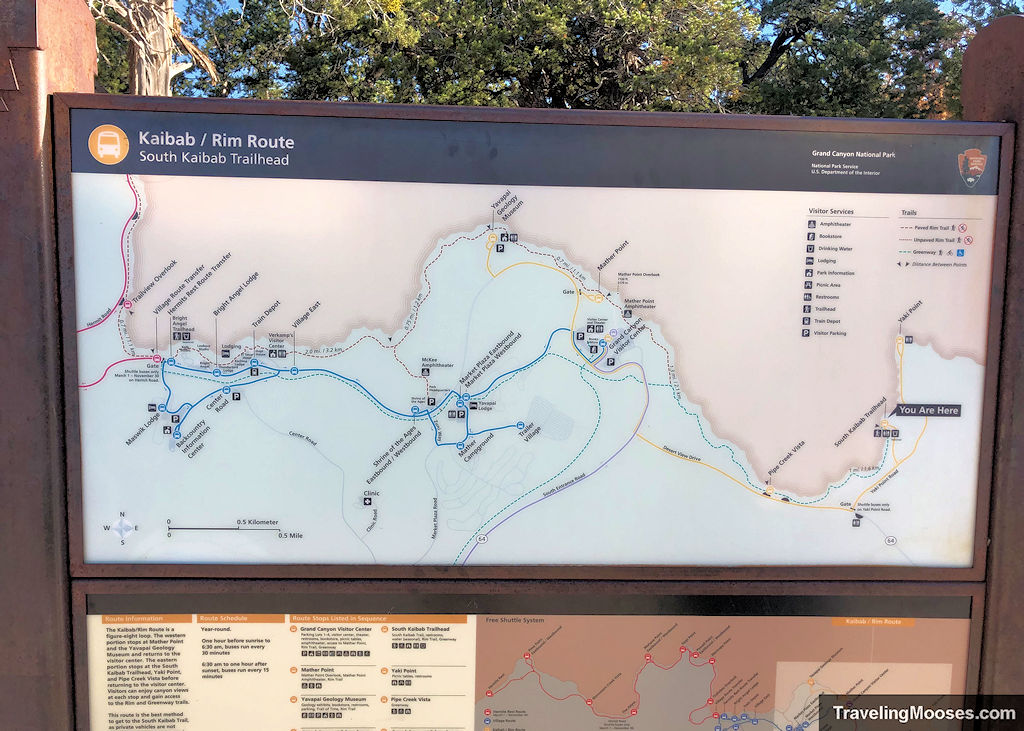 More info on the orange line can be found here.
Warning: Do not attempt to park at the trailhead, you will be towed and fined. The road to the trailhead is closed to all private vehicles.
Trail map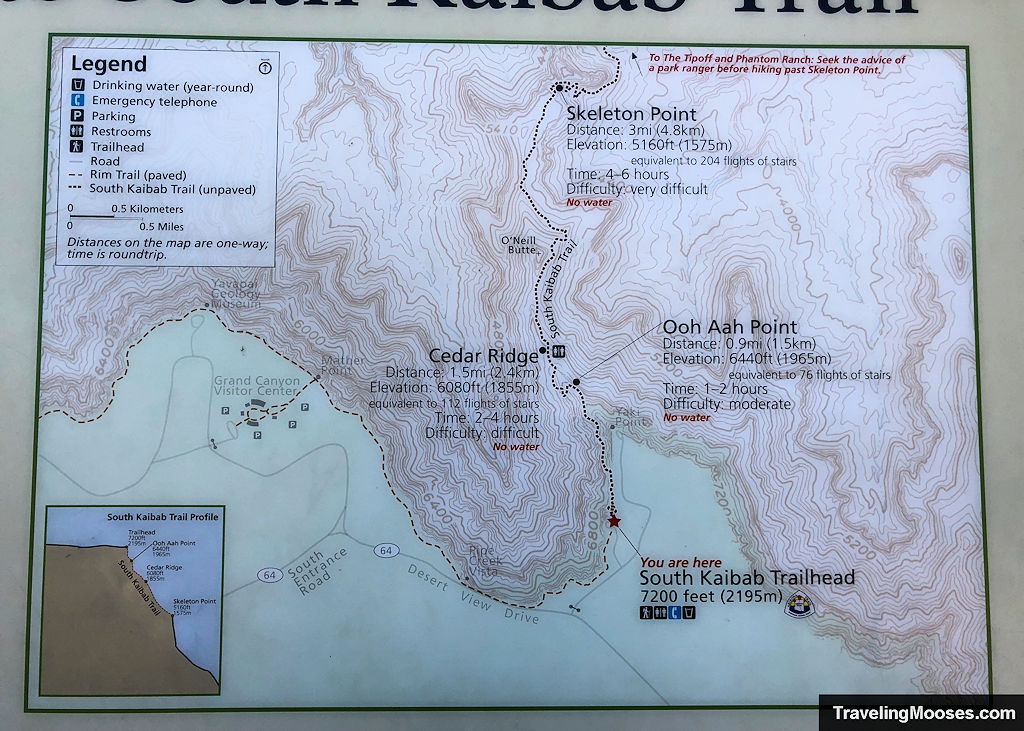 Trailhead amenities
Trail information and trail map
Restrooms
Trash receptacle
Shuttle stop for orange line
Picnic tables
Bike rack
Beautiful views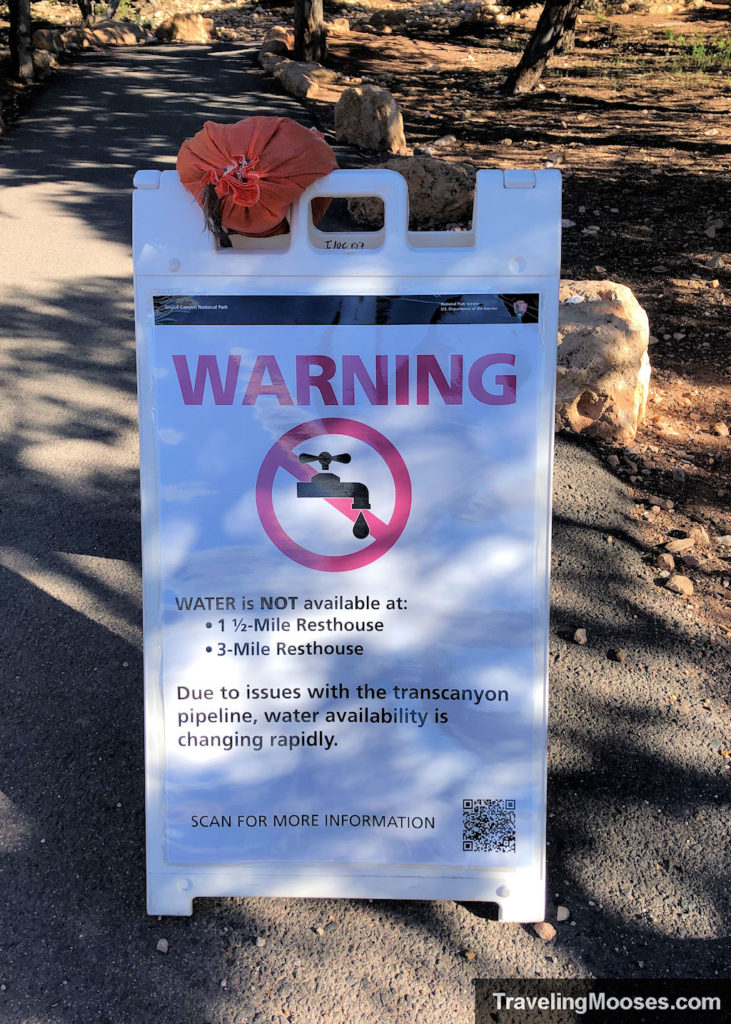 Trail rules / warnings posted at the trailhead
Use your judgement when hiking in the Grand Canyon, these rules/warnings are not exhaustive. You should familiarize yourself with the area and ask for assistance at the visitor center as needed before you head out.
Grand Canyon National Park responds to emergency requests from 600 hikers and runners during the hot summer months and rescues an additional 150 people. Many overestimate their fitness and hiking ability. Will you become a statistic? You are responsible for your safety and the safety of your family and friends. Rescue is NOT guaranteed.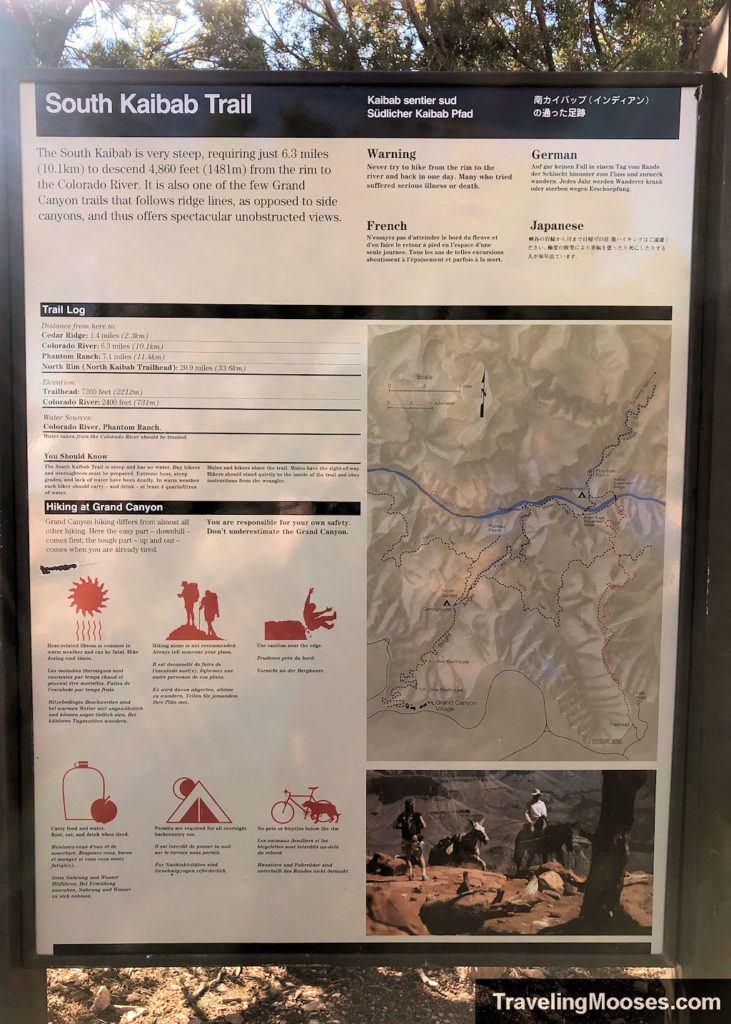 General Warnings
Heat-related illness is common in warm weather and can be fatal. Hike during cool times.
Hiking alone is not recommended. Always tell someone your plans.
Use caution near the edge.
Carry food and water. Rest, eat, and drink when tired.
Permits are required for all overnight backcountry use.
No pets or bicycles below the rim.
Trail Courtesy
Travel with a friend and stick together.
Use restrooms along the trail.
Mules have the right away.
Uphill travelers have the right of way.
To pass someone, slow down and let them know you want to pass.
Do not store or abandon gear along the trail; it attracts wildlife.
Pack out your trash.
Be quiet; respect those seeking serenity.
Other
Water / food – Your body needs energy – balancing proper nutrition and hydration are critical to your hiking success. Hiking suppresses your appetite; eat double your normal intake of carbohydrates and salty foods. Eating and drink while resting – sip fluids while hiking.Too little water leads to dehydration and heat stroke. Over hydration and lack of salty foods cause hyponatremia – a seizure-producing electrolyte disorder. If you do not feel well; seek shade, get wet, cool off and rest. Turning around may be your best decision.
Weather warning – Summer temperatures in the shade reach 105 degrees Fahrenheit (40 degrees Celsius) below Skelton Point and 115 degrees Fahrenheit (46 degrees Celsius) at Phantom Ranch. Avoid hiking in the heat of the day, between 10 a.m. and 4 p.m. In winter, temperatures drop below 32 degrees Fahrenheit (0 degrees Celsius), with steep, ice trails requiring shoe devices. From July to September, monsoons build large, violent lightening storms. Move away from the canyon edge, and seek immediate shelter in a building or vehicle. The edge of the canyon, is the most dangerous place to be.
Pets – Pets are not allowed on the trail. If you wish to take a service animal with you, please check in at the Backcountry Information Center.
Animals – never approach, touch, or feed any animal. It is dangerous – both to you and the animal and illegal to do so.
More information about the trail can be found here.