Humphreys Peak trail is a steep mountain path that takes hikers to highest point in all of Arizona. At approximately 11,000 feet, you'll find the crash site of a B-24 Bomber that smashed into the mountainside, killing all those onboard.
In this guide: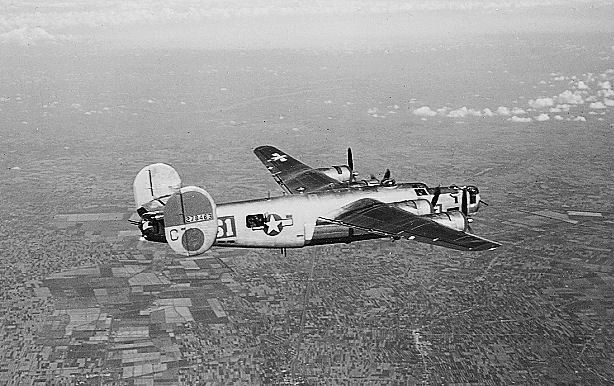 Humphreys Peak Trail to B-24 Bomber Plane Crash Site Summary
Trail Description
Out and back
Location
Humphreys Peak
Parking Lot
Humphreys Peak Trail Parking, Base Lot 1, Arizona Snowbowl, Flagstaff, AZ, 86001,
Round Trip Mileage
~7.0 miles
Average Time
~3 to 4 Hours
Difficulty
Rated as: Strenuous

The trail is considered strenuous/difficult. The length, elevation gain, max elevation and terrain require a good level of fitness.
Elevation Gain
~1,950 feet
Elevation Start
~9,278 (Source)
Elevation Max
~11,200 feet
Best time to visit
June through October. The mountain is open year-round however, conditions during winter can be treacherous and we do not recommend it. Be sure to check the weather forecast before you go.
Amenities at the Trailhead
Parking, trail map / information board, primitive bathrooms.
Entrance Fee
None
Rating
3.5 Mooses
History of Humphreys Peak
Humphreys Peak (12,633') is located ten miles north of Flagstaff, AZ and is the highest mountain in the state.
The peak was named after General Andrew Atkinson Humphreys in 1871. General Humphreys served as a captain with the Ives Expedition in 1851 whose mission was to locate and evaluate routes for railroads and wagon trails in the area. General Humphreys later served as the Chief of Army Corps of Topographical Engineers.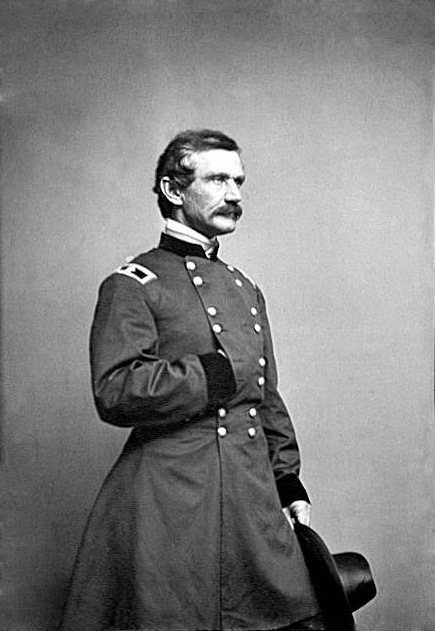 B-24 Bomber Plane Crash
On September 15, 1944, at approximately 3:30 a.m., a TB-24J WWII Plane (aka B-24) crashed into the lower west side of Humphreys Peak (approximately 11,000 feet), instantly killing eight US serviceman. The plane was on a training mission en route from Bakersfield, California to Kirtland Field, New Mexico when poor conditions led those on board to miscalculate where they were by almost 15 miles north of the airfield.
A memorial is erected near the Snowbowl Ski Resort honoring the serviceman.
In memory of those that laid down their lives in the cause of freedom:
2nd Lt. Warren E. Crowther
F/O Patrick E. Pertuset
F/O Ray P. Shipley
S. Sgt. James R. Hartzog
F/O Clyce H. McCelvey
Cpl. John A. Franke, Jr.
F/O Charles W. McDonald
PFC Hugh H Brown, Jr.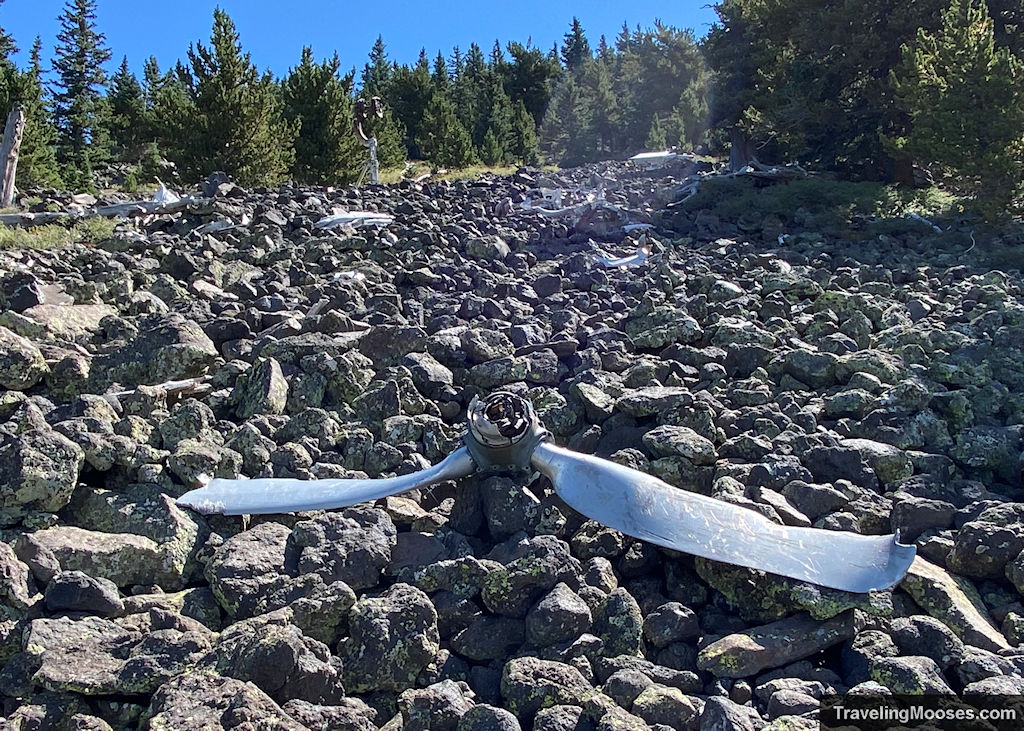 The wreckage can still be found today on the western slope of Humphreys Peak.
What to expect on the trail to the B24 crash site (our experience)
We arrived at the trailhead just after 8 a.m. with the intent to not only find the plane wreckage, but also summit Humphreys Peak.
Related:  Our experience summiting Humphreys Peak
The trail begins on a wide gravel path through a meadow and past several ski chairlifts.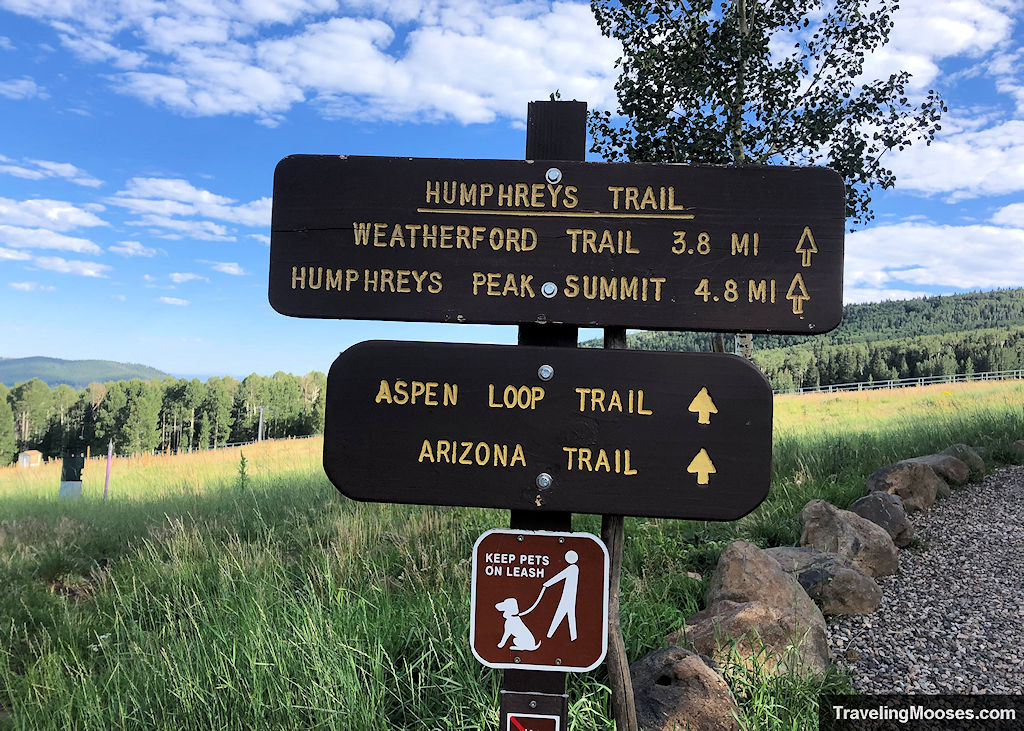 In the summer, you'll find a variety of wildflowers and unique foliage throughout the meadow area.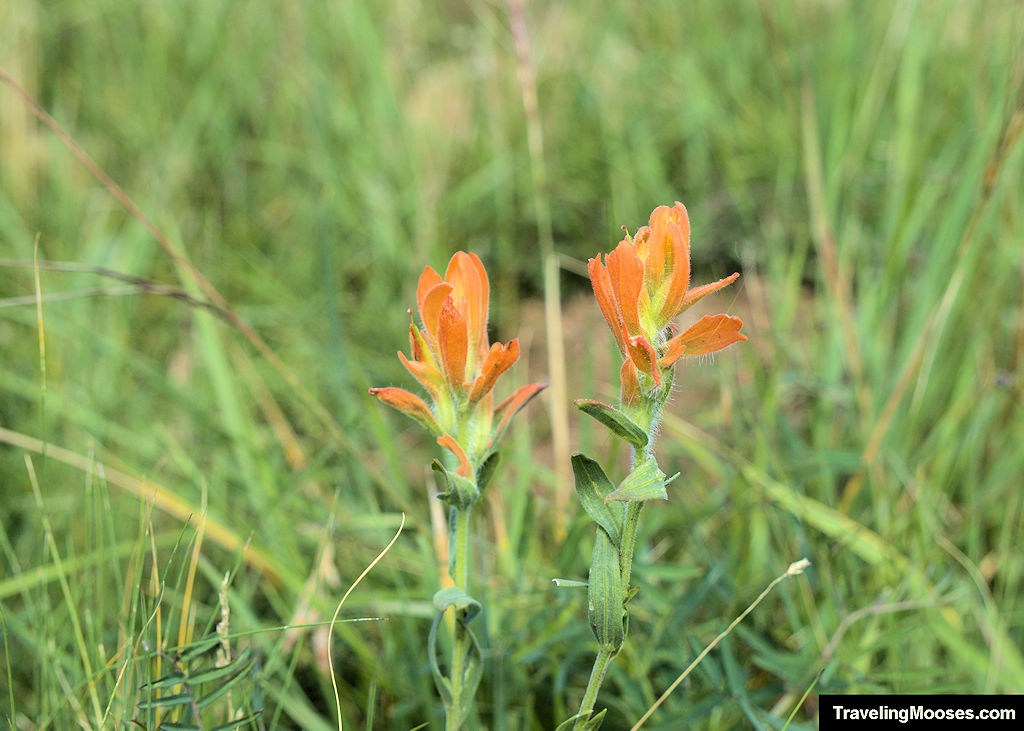 A short distance up the trail, there is a split to the left which takes hikers to the Aspen Loop trail.  We highly recommend checking out that trail on another day as we enjoyed it.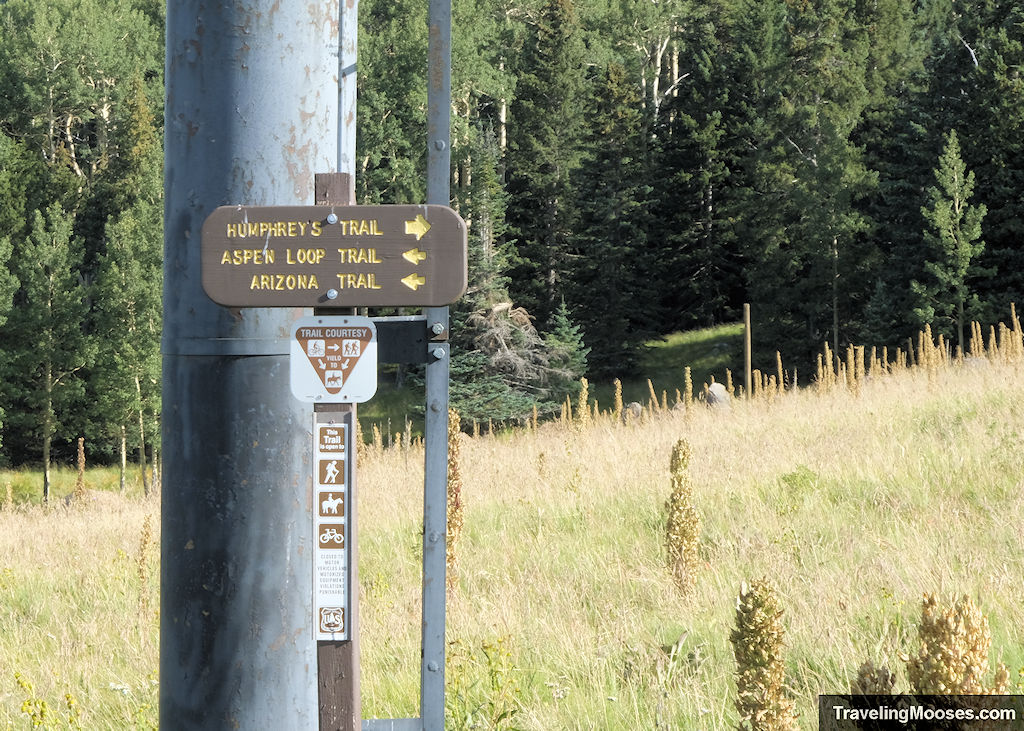 Keep to the right to remain on Humphreys trail and head straight towards the wooded area in front of you.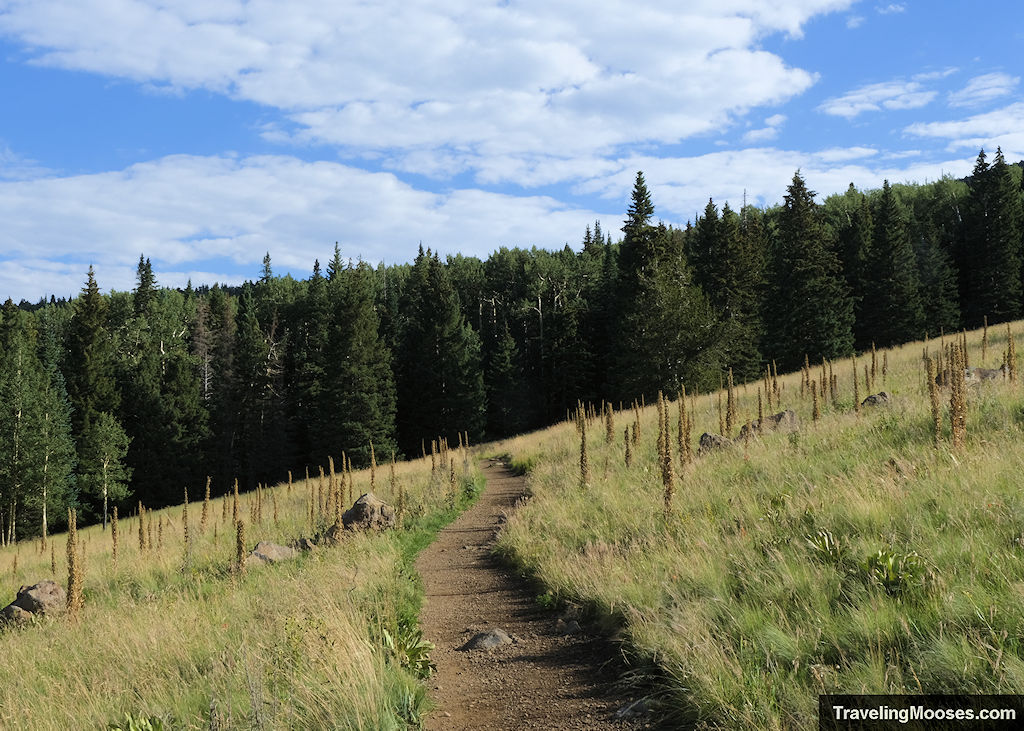 The wooded area marks the boundary of the Kachina Peaks Wilderness area and begins the steady uphill climb to the summit of Humphreys Peak and the turnoff to the plane wreckage.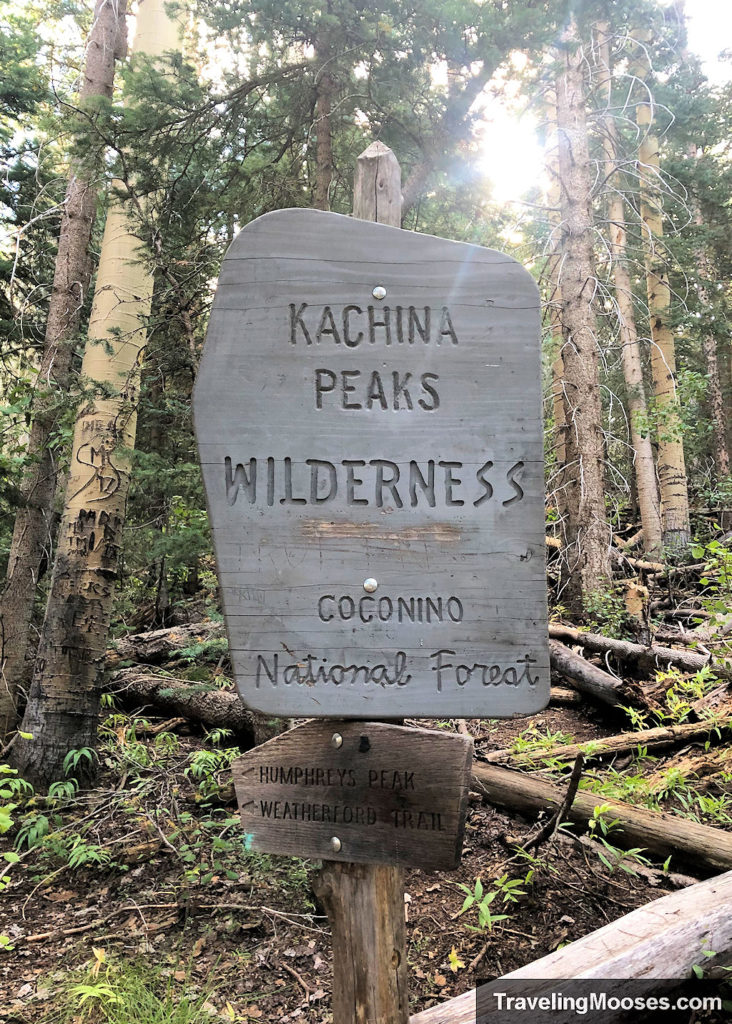 The next three miles of the trail are filled with long switch backs, towering aspen trees, hungry squirrels, and the occasional wild mushroom.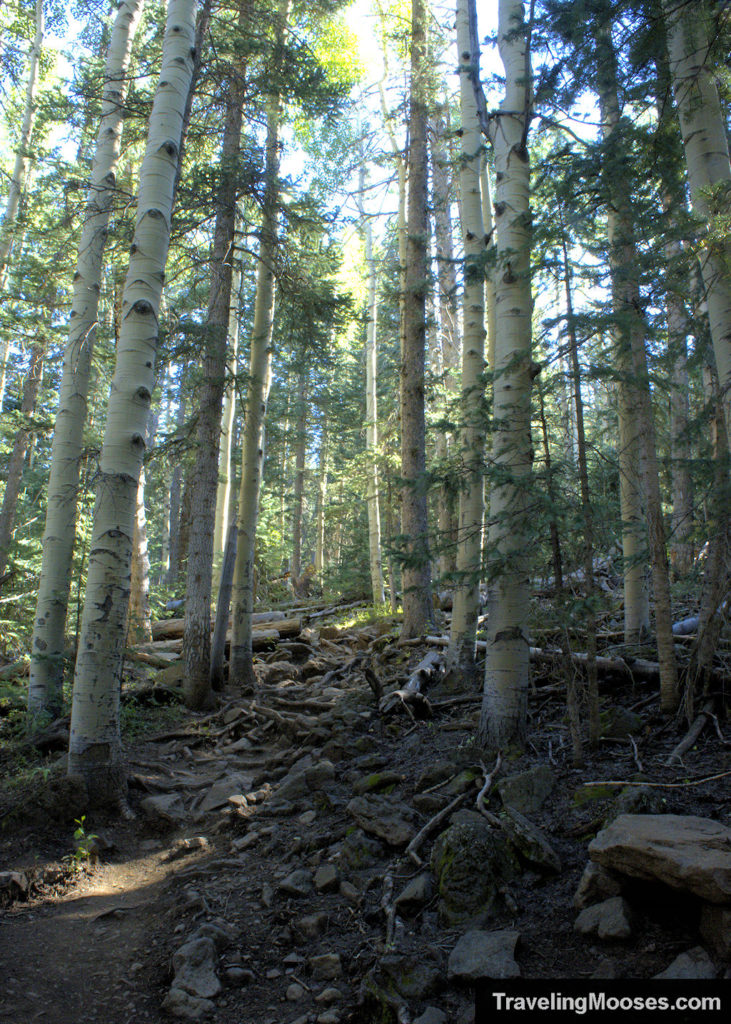 The trail itself is rough with overgrown roots and rocks in many places. This makes moving quickly (especially on the way down) more challenging.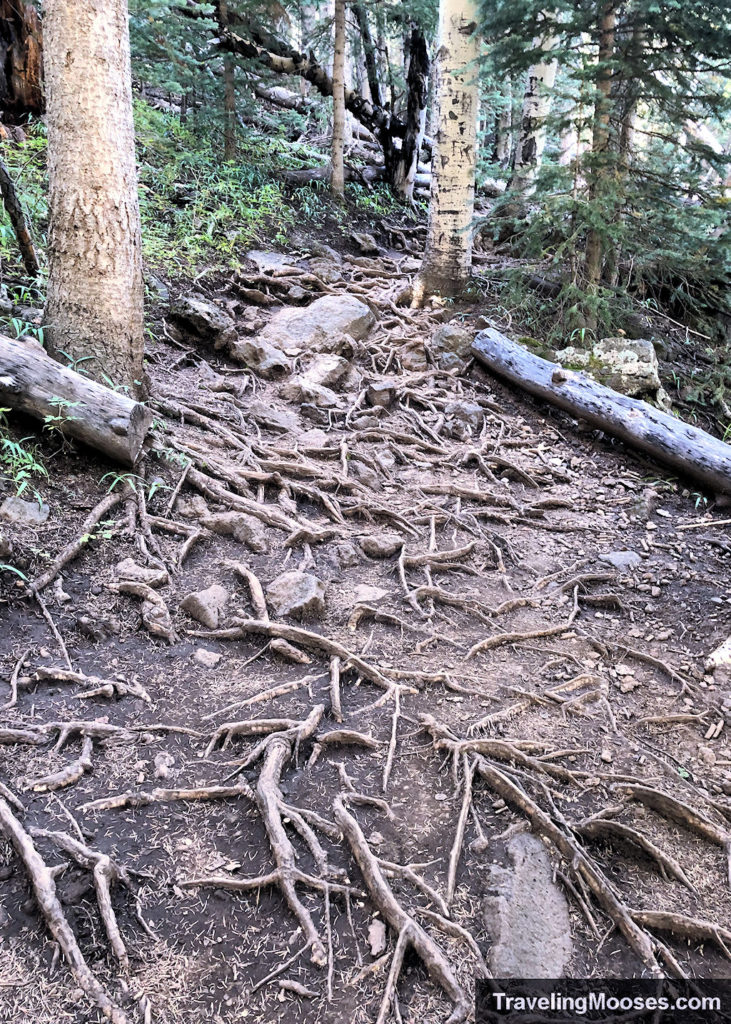 Within the first three miles along the Humphreys Peak Trail, you'll encounter multiple long switchbacks.
At the seventh switchback you'll find the point to wander off the trail in search of the B-24 plane crash site. There is no clear path to reach the wreckage. We would have wandered right by the turnoff if we weren't looking for it.
Unfortunately, we didn't take a photo looking towards where you go off trail, but the picture below is what it looks like when you're standing at the corner of the 7th switchback. Look for a large rock to your right as you're headed up the final switchback.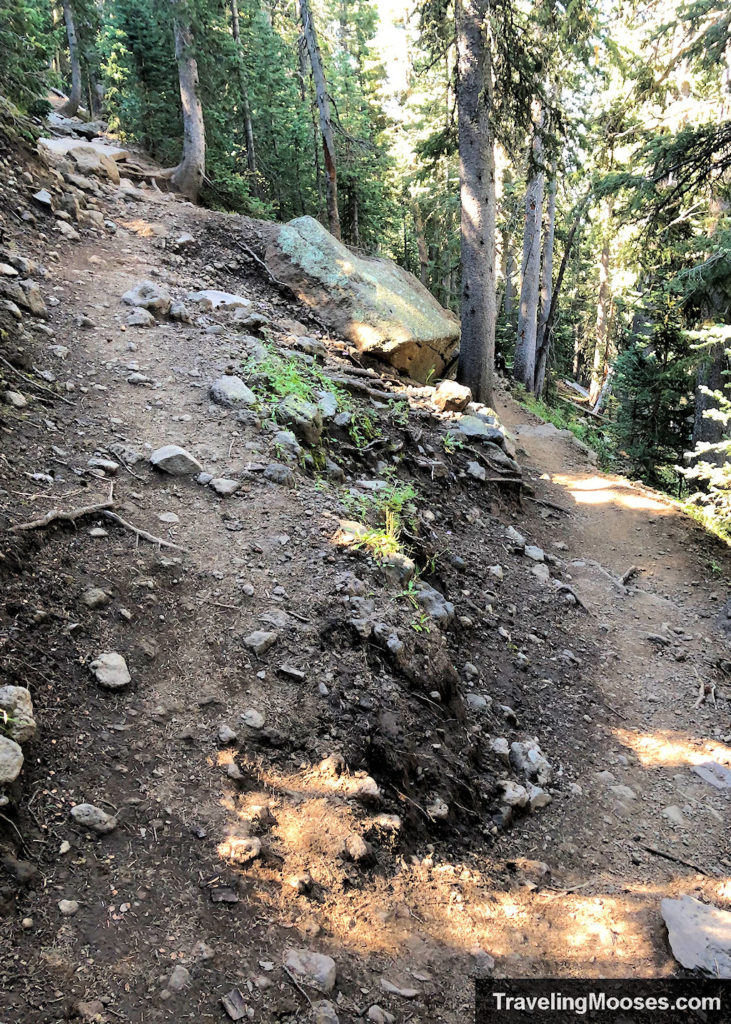 Now that you've reached the 7th switchback, it's time to head off trail.
We do not recommend looking for the plane crash site without navigation equipment or a GPS device. It's easy to get turned around in the mountains and it's not an established trail to find the wreckage.
Once you leave the main trail, you'll need to pick your way through the forest for about a half a mile until you reach a large talus field and find the wreckage. The crash site is fairly large and you could easily spend an hour or more exploring all the different pieces left behind.
A close up of what our GPS path looked like is in the picture below. It's a slightly different path than was listed in Alltrails, but we were glad we had the navigation software.
The route on Alltrails can be found here. Note, you'll need the pro version to download the offline version, or rely on cell service (which we don't recommend).
Aerial view of the talus field.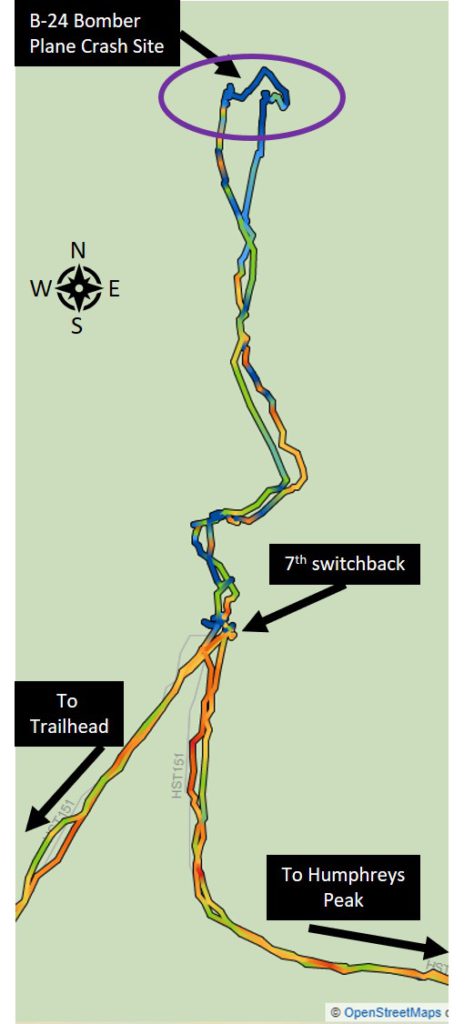 After you leave the official trail, you're basically on your own to find the wreckage. If you could walk in a straight line after leaving the trail, you would run right into the pieces.
There are several ways you could go through the forest and we ended up following a combination of Alltrails and the cairns that others made.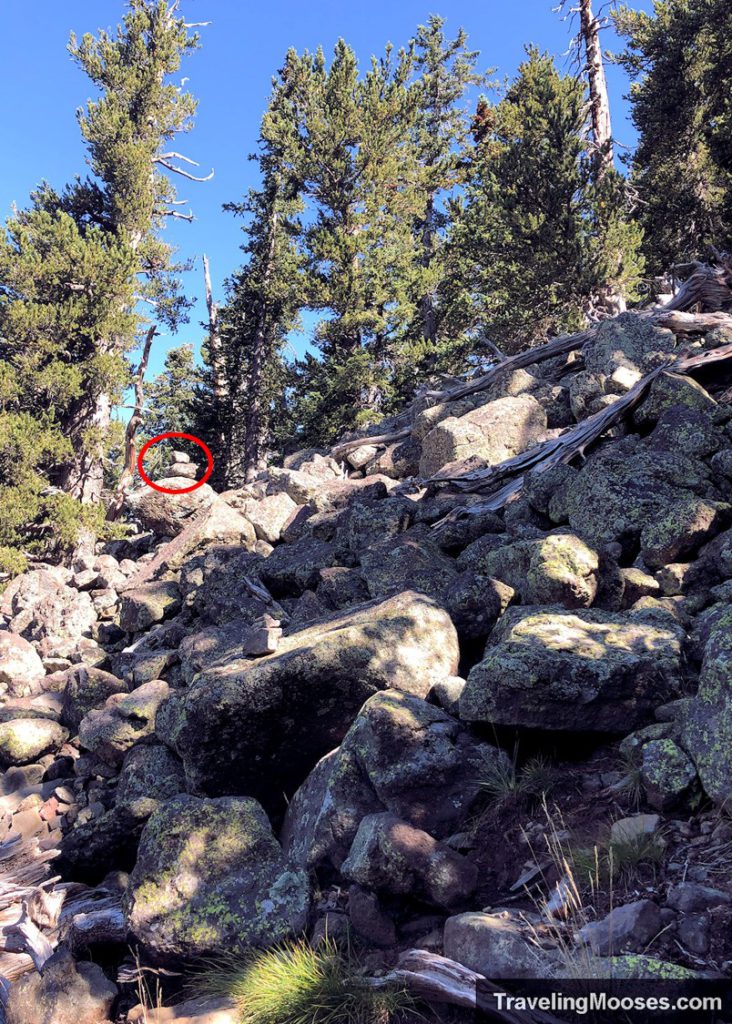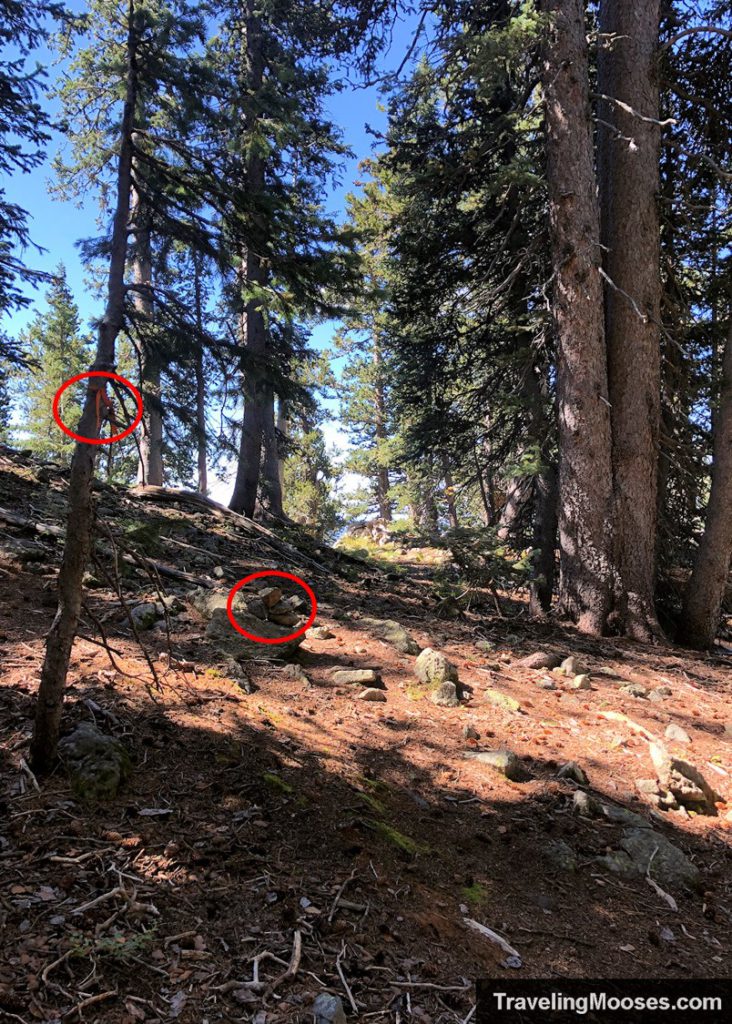 On the other side of the trees in the photo below we found our first piece of wreckage.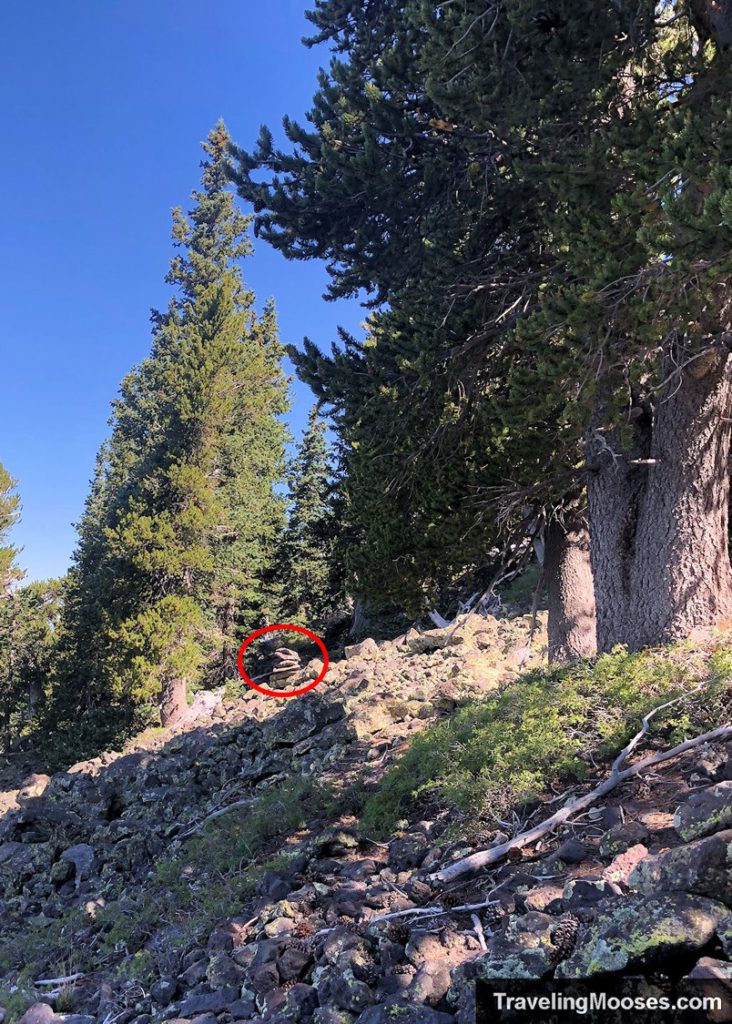 We saw the cairn in the picture below further down in elevation on the talus field. We believe there is more than one way to get to the wreckage based on the variety of cairns we saw throughout the area.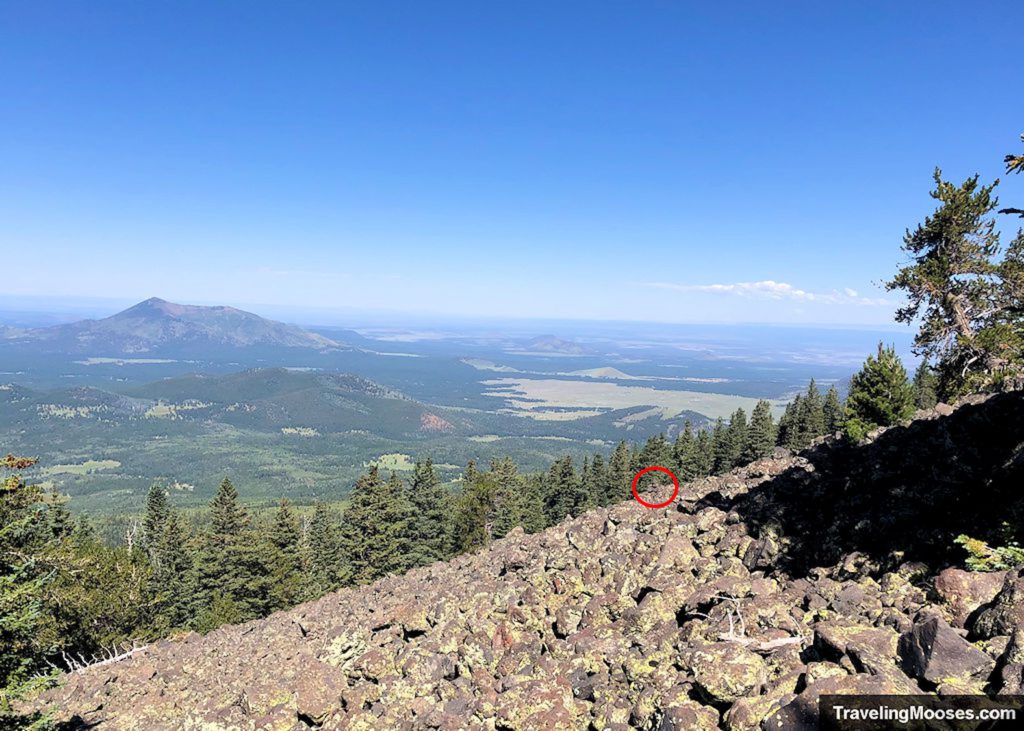 After crossing the talus field, you'll begin to see pieces of the wreckage.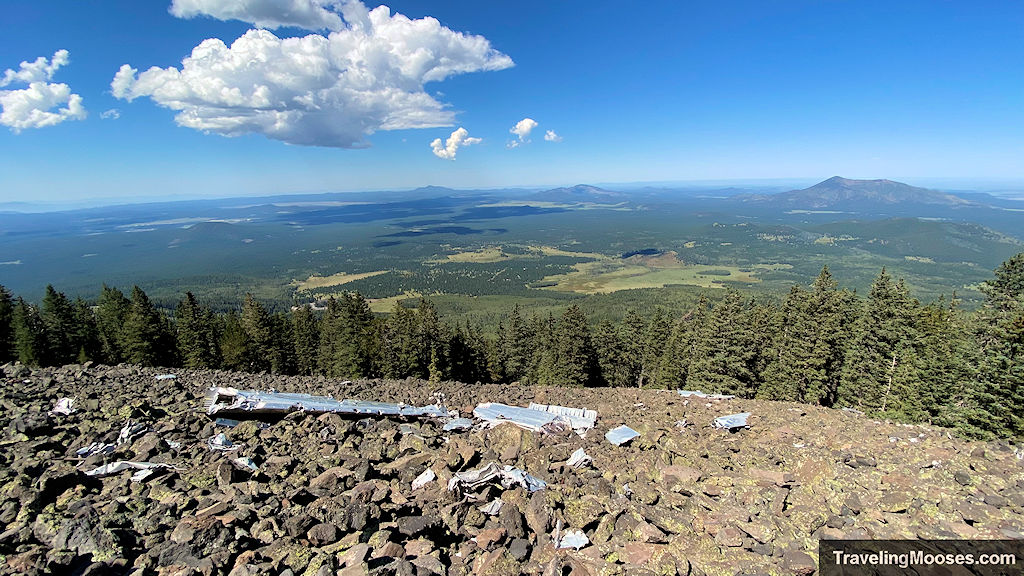 The pieces range from very large to tiny.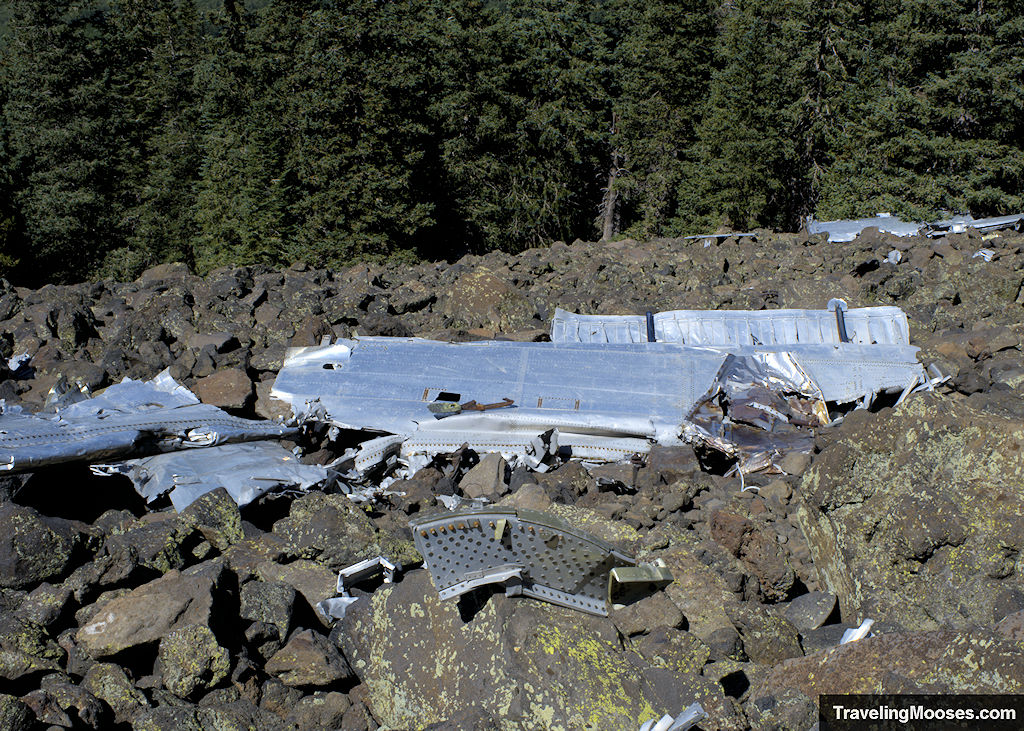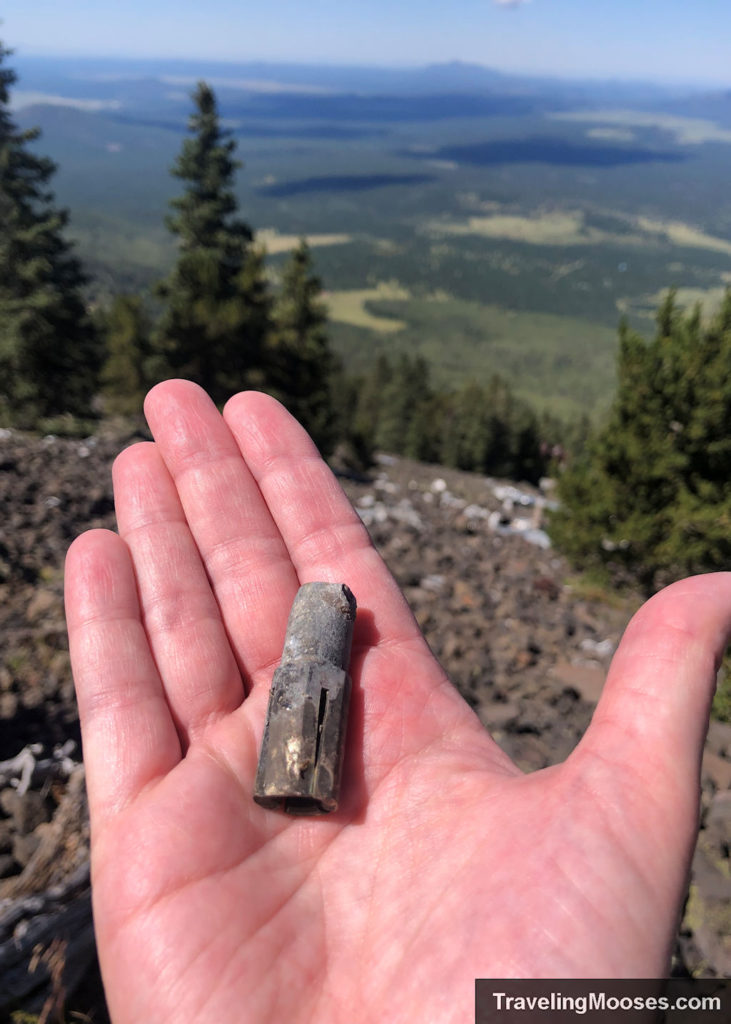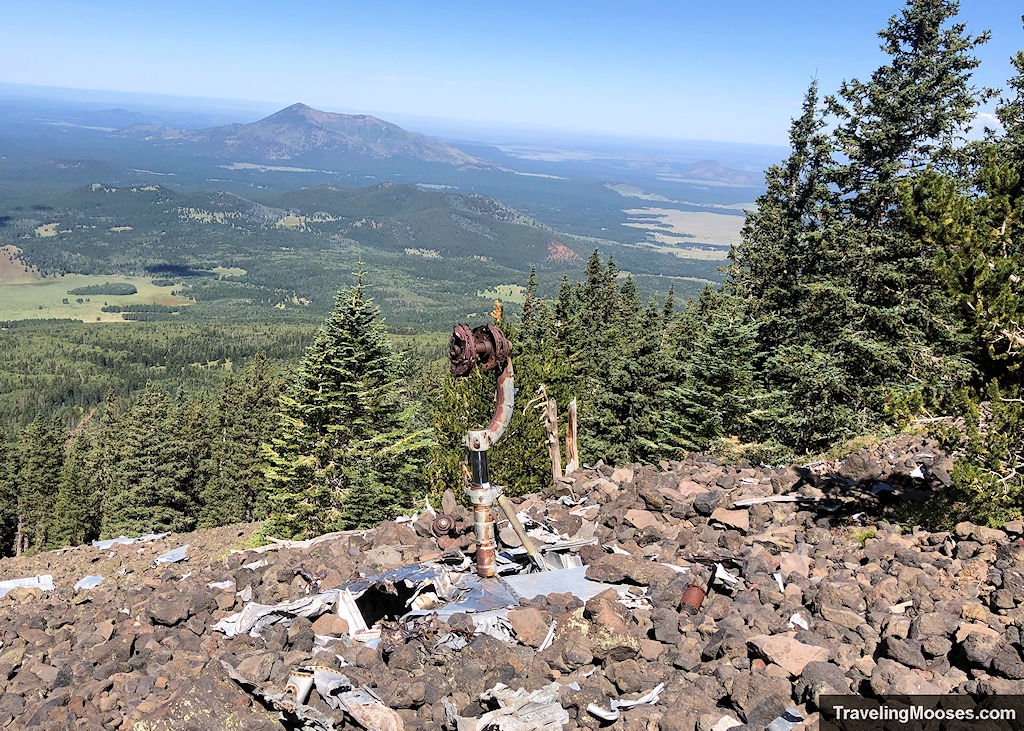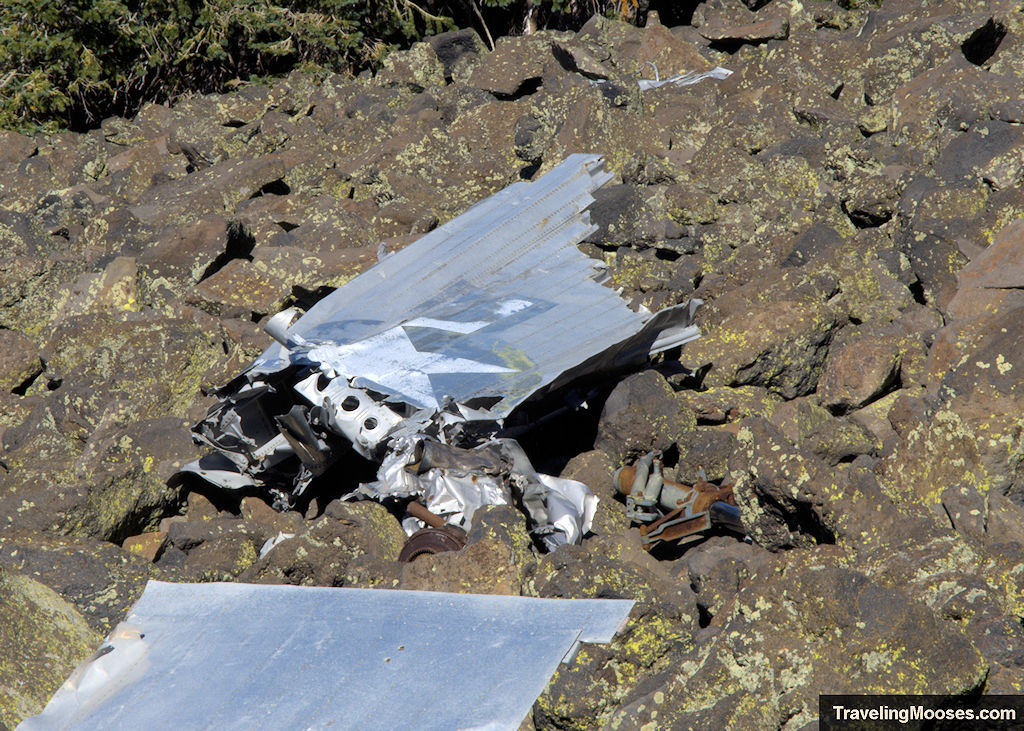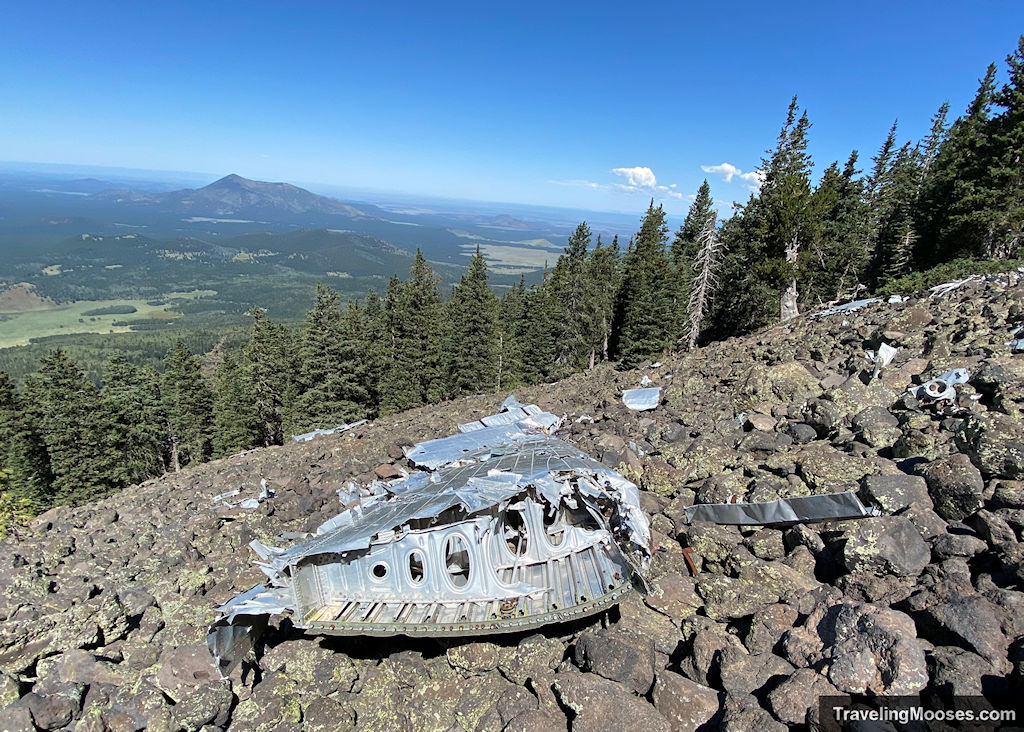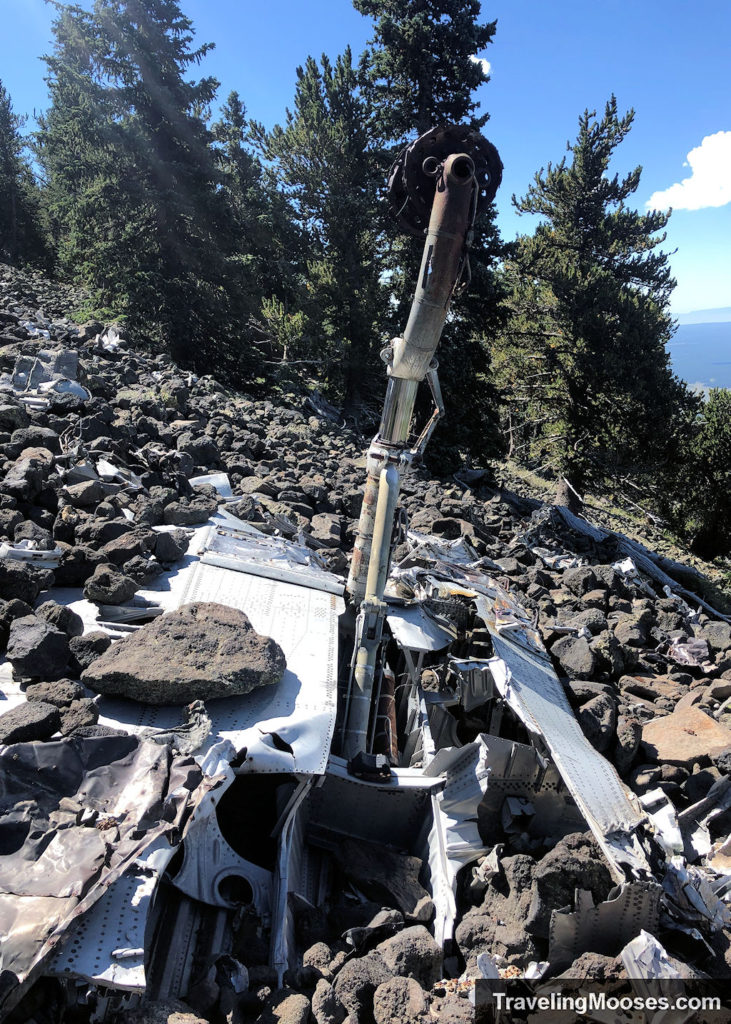 After we finished exploring the wreckage, we needed to head back south across the talus field shown below. Watch your step as some of the rocks were stable and many others were not. They were sharp and it would not be pleasant to fall.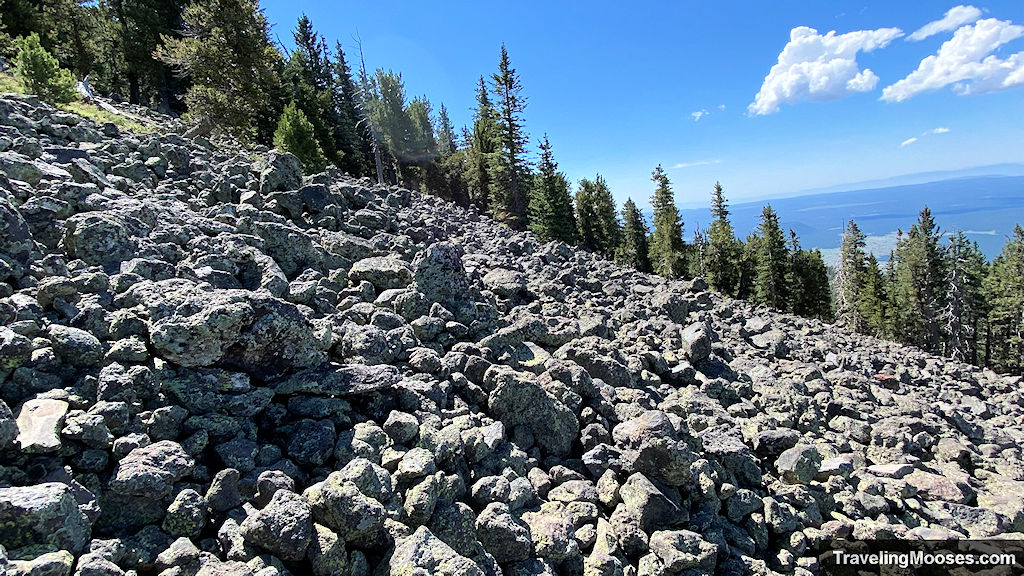 Once you intersect back with Humphreys trail, you can either continue to the summit or head back down the trail you came.
Is finding the B-24 Bomber plane crash site worth it?
Rating: 3.5 Mooses


What we liked:
The trail starts in a beautiful meadow and when we were there it was filled with wildflowers.
While a somber experience, we're glad we made the trek to find the wreckage of the plane crash.
What we didn't like:
Once you leave Humphreys peak trail in search of the crash site, the terrain is difficult to manage and there is no defined trail.
The talus field where the plane is located contains a multitude of sharp, semi-unstable rocks.
Verdict: It was too long of a day for us to find the plane crash site and summit Humphreys. It was an extra hour of hard hiking/light scrambling to reach the wreckage. If we had to do it over again, we would have split up the activities.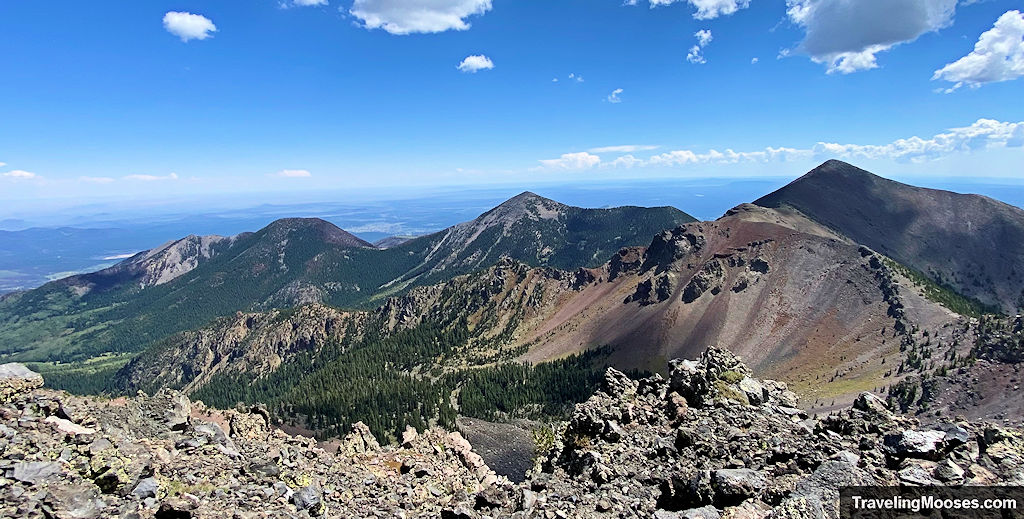 Practical Information for your Hike
Know before you go:
The elevation of this hike is no joke. The air is thinner and some hikers may experience altitude sickness (even at 11,000').
Know your limits and when to turn around, especially if you experience adverse weather conditions.
Bring sturdy shoes with good grip on the bottom. The ground is uneven, especially when you cross the talus field to find the plane wreckage.
We did not have trekking poles with us, but I think it would have been helpful.
Bring more water than you think you'll need.
Current Conditions
This is what we used to determine what the conditions were on the day we hiked. There may be other resources available as well.
Check Alltrails for recent trail conditions on Humphreys Peak.
Check Snowbowl (elevation 9,500') for current conditions at the mountain base including road conditions to parking area.
Check Mountain Forecast for the weather forecast. This is official website the trail recommends when you start the trail. They have a QR code on a sign-board posted at the trailhead that takes you to the website.
What to bring
Be sure to check the weather conditions and pack appropriately. This is what we brought for this hike:
Standard Gear:
Special Items of note:
Hiking Boots or closed toe shoes – There were a lot of rocks on the trail. We recommend wearing shoes with a good grip on them, especially for the talus field surrounding the plane crash.
Clothing – Be sure to bring appropriate clothing for rapidly changing conditions on the mountain. Weather can change extremely fast, especially during monsoon season.
Water / Snacks – When hiking at higher altitudes you generally need more water than normal. Bring extra snacks!
Navigation – We used Alltrails for navigation, and we're glad we did. Be sure to download the map as cell service is spotty. You'll need the pro-version to download maps.
Entrance Fees
There are no fees during the summer months to park at the Snowbowl parking areas.
Getting to Humphrey's Peak Trailhead
Location: Humphrey's Peak Trail Parking
From Flagstaff:
Drive north on: N Humphrey's St.
Turn Left on US-180 West / W Colombus Ave / N Fort Valley Rd
After 6.6 miles, turn Right onto N Snow Bowl Road
Follow for another 6.5 miles.
Turn Left in Parking Lot 1 for Humphreys Peak Trailhead
Parking at Humphreys Peak Trailhead
The Humphreys Peak trailhead parking area is located at Lot 1 at the base of the Snowbowl Ski Resort. It is the first parking area you come to as you're traveling up N Snow Bowl Rd on your left. The lot is extremely large and we had no trouble finding parking.
Parking Lot 1 also doubles at the beginning of the Aspen Loop Trail if you're short on time or looking for something easier.
The parking lot contains an informational sign board, primitive restrooms, trash receptacle and a weather report for Humphreys summit. Keep in mind, the weather report at the base of the trail didn't match what we saw in the forecast the day we hiked. We're not sure if they maintain the report or not.
Trail Map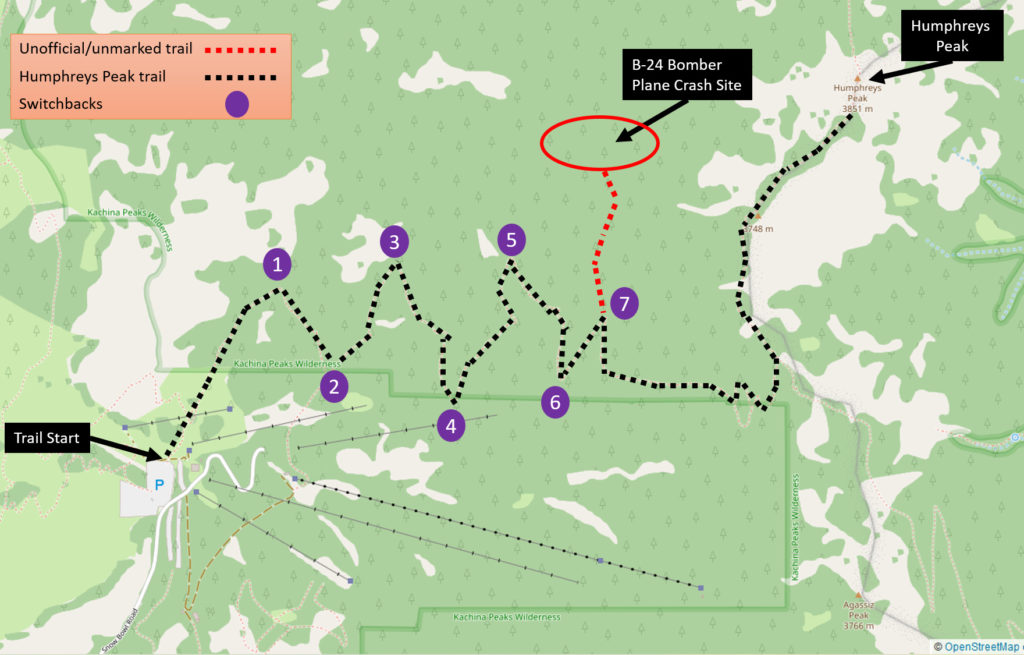 Trailhead Amenities
Parking area in a gravel lot, well-marked
Trail Information and trail map
Primitive Restrooms
Trash Receptacle
Trail Information
The Kachina Peaks Wilderness area which includes the Humphreys Peak Trail had a lot of information and trail warnings.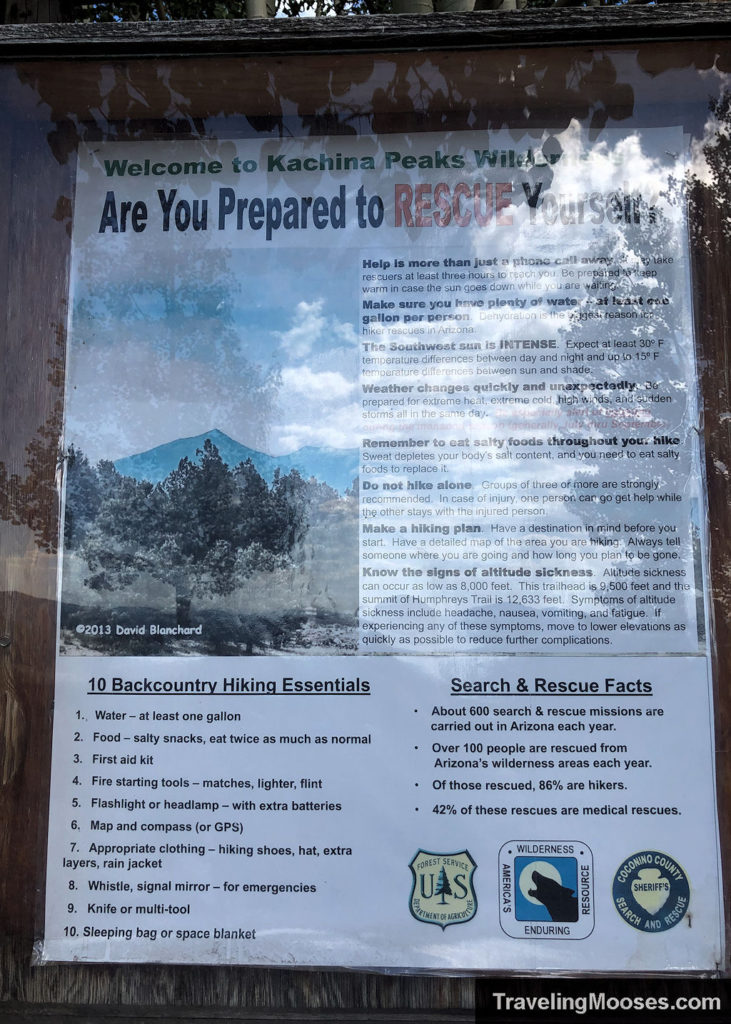 It was difficult to get a clear picture of the warnings, so I've included them below.
Help is more than just a phone call away. It may take rescuers at least three hours to reach you. Be prepared to keep warm in case the sun goes down while you are waiting.
Make sure you have plenty of water at least one gallon per person. Dehydration is the biggest reason for hiker rescues in Arizona.
The Southwest sun is INTENSE. Expect at least 30 degrees Fahrenheit temperature differences between day and night and up to 15 degrees Fahrenheit temperature differences between sun and shade.
Weather changes quickly and unexpectedly. Be prepared for extreme heat, extreme cold, high winds and sudden storms all in the same day. Be especially alert during monsoon season (generally July thru September).
Remember to eat salty foods throughout your hike. Sweat depletes your body's salt content and you need to eat salty foods to replace it.
Do not hike alone. Groups of three or more are strongly recommended. In case of injury, one person can go get help while the other stays with the injured person.
Make a hiking plan. Have a destination in mind before you start. Have a detailed map of the area you are hiking. Always tell someone where you are going and how long you plan to be gone.
Know the signs of altitude sickness. Altitude sickness can occur as low as 8,000 feet. The Humphreys Peak trailhead is 9,500 feet and the summit is 12,633 feet. Symptoms of altitude sickness include headache, nausea, vomiting, and fatigue. If experiencing any of those symptoms, move to lower elevations as quickly as possible to reduce further complications.
They also recommend bringing the 10 essentials (which can be seen in the picture) or you can check out REI's list of the essentials.
More Information about Flagstaff: