The post may contain affiliate links, which means, if you click on a link and make a purchase, I may receive as small commission at no extra cost to you. As an Amazon Affiliate, I earn from qualifying purchases.
Finding the perfect hiking gift for the female in your life can feel like an insurmountable task.
As a female, with thousands of hiking miles behind me, I wanted to share my top picks and put together this list of the best hiking gifts for females, whether you're on a budget or pulling out all the stops.
In this guide you'll find: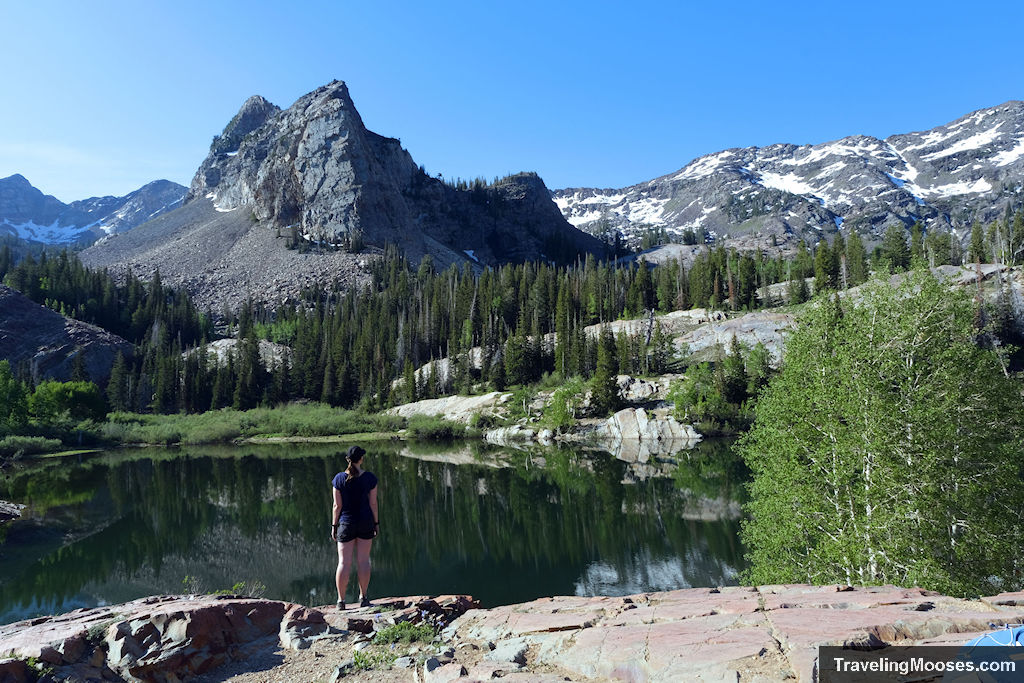 ---
Essential hiking gear
Having a solid hiking shoe is one of the most important parts of having a great experience on the trail. There's a reason Merrell Hiking shoes are so popular, they are worth the hype! These shoes are comfy right out of the box, keep my feet dry and are light enough that I don't get bogged down when I'm out on the trail.
My hiking kit would not be complete without a sturdy pair of trekking poles. But first, a confession. I used to be anti-trekking poles (gasp!). Wow was I wrong. Trekking poles are so handy on the trail, not only to save your knees on the downclimbs, but also to have a sturdier grip on the ground in loose rock or scree conditions. I've also found they help me in places that are a little dicey with steep drop offs. For some reason, trekking poles give me the confidence I need to keep going. If your loved one is afraid of heights, see if this might help! It worked for me.
I hope to never be in a situation where I am reliant upon a lifestraw to help me survive, but even without a life threatening situation, the lifestraw is pretty handy to have if you don't bring enough water on a hike.
This is another item I hope I never have to use, but it gives me peace of mind when I'm out in the wilderness. PLB's are a key piece of safety equipment that everyone should have with them at all times in the wilderness. You can read more about the differences between locator beacons here.
Camera gear and accessories
There are many ways to carry a camera when you're out hiking and none of them are perfect. After many painstaking hours of searching for the best product, I couldn't be happier with Peak Design Clip. It securely holds my camera right on my backpack strap. The quick release button allows to me to capture those coveted photos without struggling to get my camera out of my bag quick enough. I won't be leaving home without this any time soon.
I spent hours researching travel tripods before finding the Peak Design Tripod. It has everything I could ever ask for in a travel pod. It's lightweight, super compact and comes with a built in mobile phone holder. It comes in two different designs, aluminum and carbon fiber. Peak Design offers a lifetime warranty on their products and was built through crowd funding.
Sometimes carrying a travel tripod isn't practical or you need a little more flexibilty than it can provide. In comes the Gorilla Pod. This handy tripod attaches to all kinds of surfaces like tree branches, fences, or even light poles. It's also great for areas that don't allow traditional tripods, (I'm looking at you Las Vegas Strip). This gadget doesn't scream professional photographer and you can often get away with using it in many more places. They come in various sizes, so be sure to pick the best one for your camera and needs.
Just for fun
This book is full of travel inspiration for the avid hiker. It contains 5000 ideas for the ultimate vacation ranging from hiking to biking, exploring and much more.
What's not to love about a fun coffee mug?
You can never have too many carabiners when you're going hiking. This one comes in all different types and shapes.
My hands are always getting cold (even in the house), so keeping them warm when I go on a hike is a must. These handwarmers are sure to keep you nice and toasty on a chilly day in the wilderness.
There are many gifts to choose from when looking for the best gift in your hiker's life, but I hope you found this to be useful.
Happy hiking!